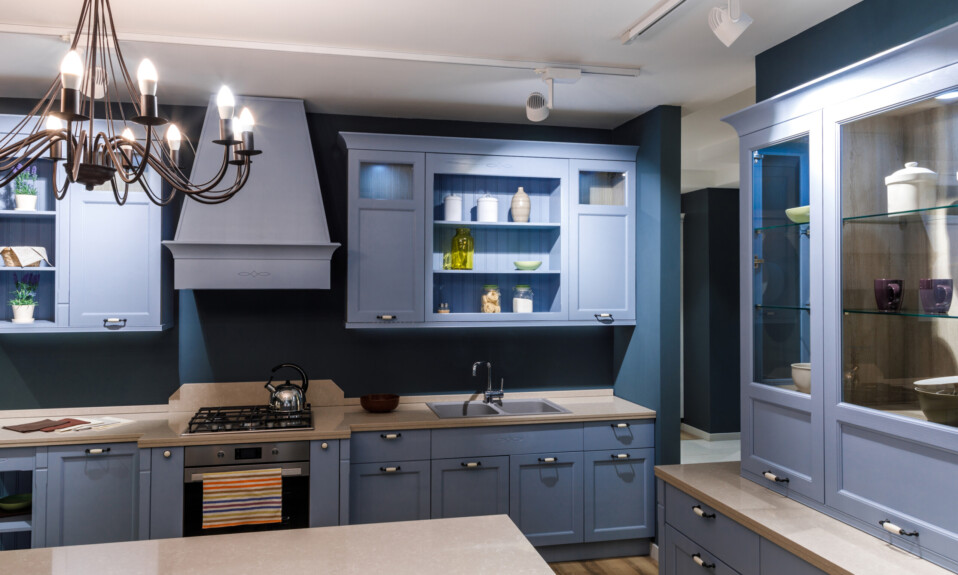 Need to revamp your kitchen and wondering what the best kitchen paint colors are for the long run? Your kitchen is often the hub of your home and where your family gathers to discuss the days' events, a space to entertain your friends, or your very own chef's' paradise to whip up a culinary storm.
Whatever you use your kitchen for daily, the perfect kitchen paint color is out there for you. Here's a list of our favorite kitchen paint colors to help you choose which color to brighten up (or darken) your kitchen walls, culled from our decorators.
BRIGHT WHITE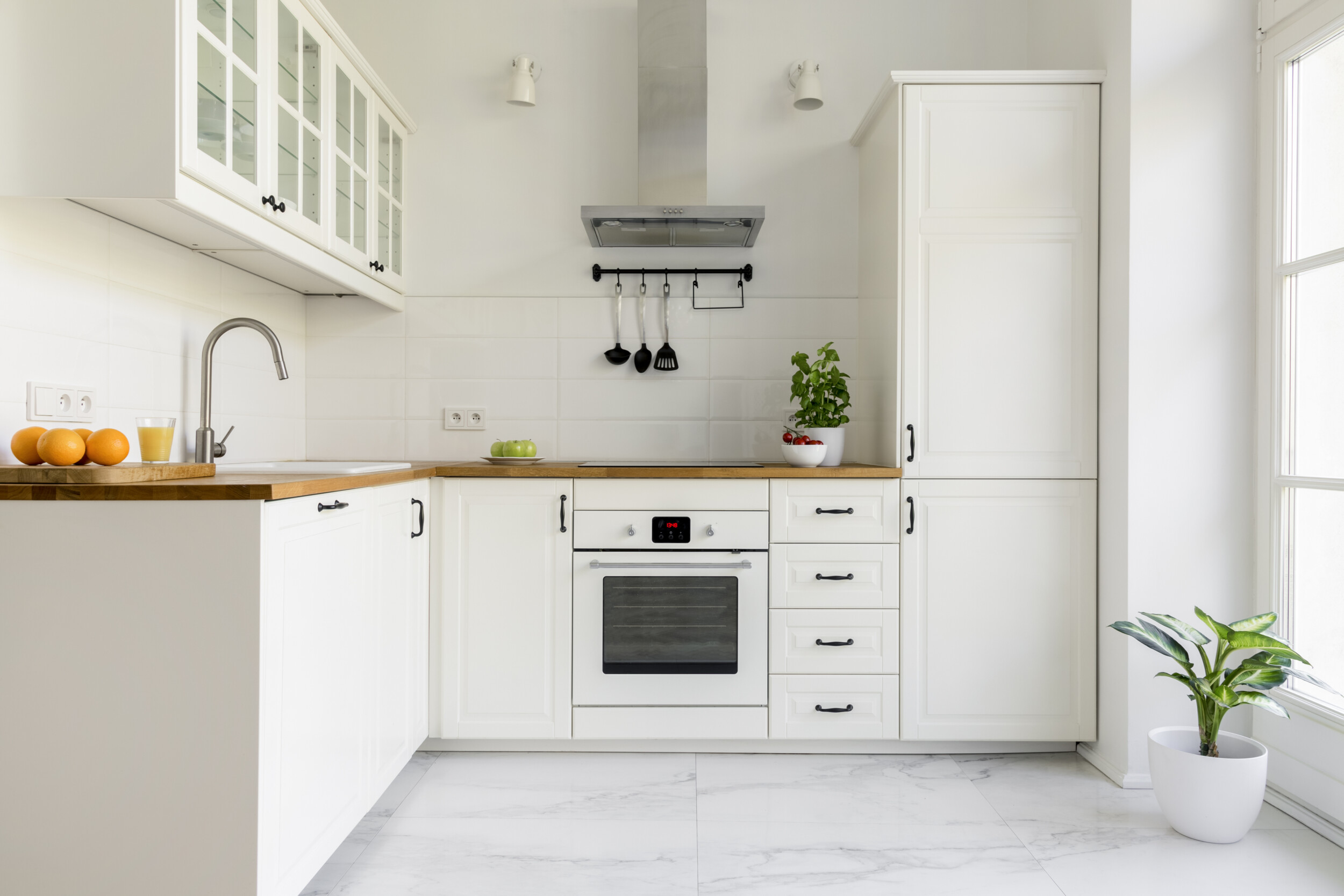 White is clean and crisp and looks great paired with most kitchen cabinetry. It's about as utilitarian as you can get when it comes to kitchen colors, so it will go with most kitchen units and kitchen designs. It's also easy to repainted as time passes, and it's an affordable option too, so if you are on a tight kitchen revamp budget, you're in for a winner.
For a really sleek look, go for chrome fixtures and fittings. If you are feeling brave, go for an all-white kitchen, with white walls, white surfaces, white units, and a white floor. This look is modern and minimalist and will help your kitchen feel abundantly spacious. This is also great if you have a small kitchen or your kitchen features an open plan and you want it to blend into the background.
COOL LIGHT GRAY

Very on-trend at the moment, light gray is high on the go-to list of kitchen paint colors. Whether you have a small space or a large space, gray kitchen paint colors always look great. Light grays are easily accessorized with and they can be contrasted with lighter whites, darker grays and many kitchen wall colors in-between.
Whether you are looking to pair your paint color with bright and bold units or something with a slightly softer tone, gray is timeless and always on-trend. With light gray, you can go for a minimalist no-fuss look and accessorize with chrome and stainless steel – however, if you want something more elegant, consider gold or bronze fittings.
MASCULINE DARK GRAY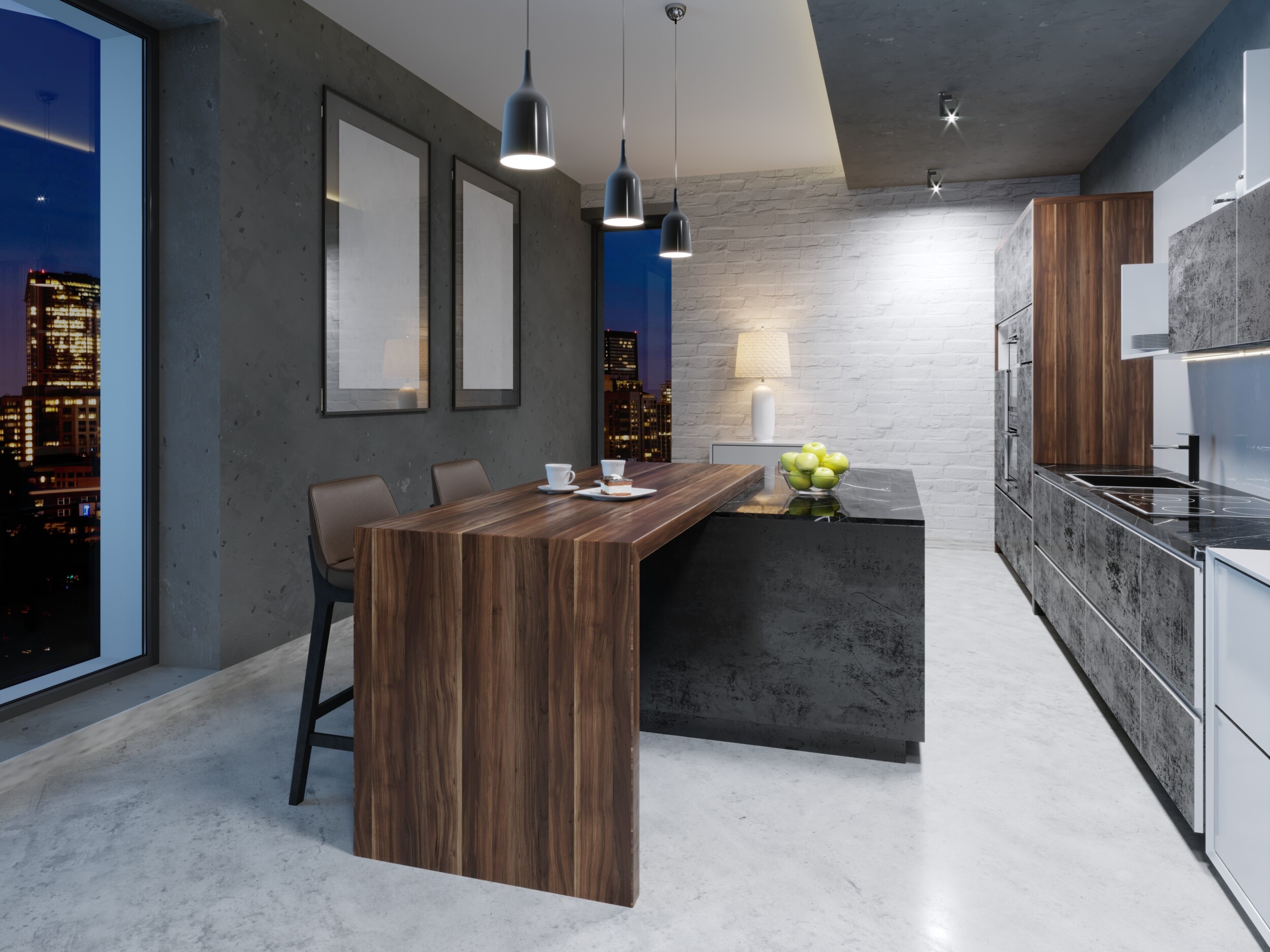 If light gray is a bit too soft for you and you are looking for kitchen paint ideas that are stronger, in terms of color, go for a darker gray.
While it still looks great with your lighter whites and grays, it also adds a more masculine edge to your kitchen, unlike other kitchen wall colors.
BOLD INKY BLUE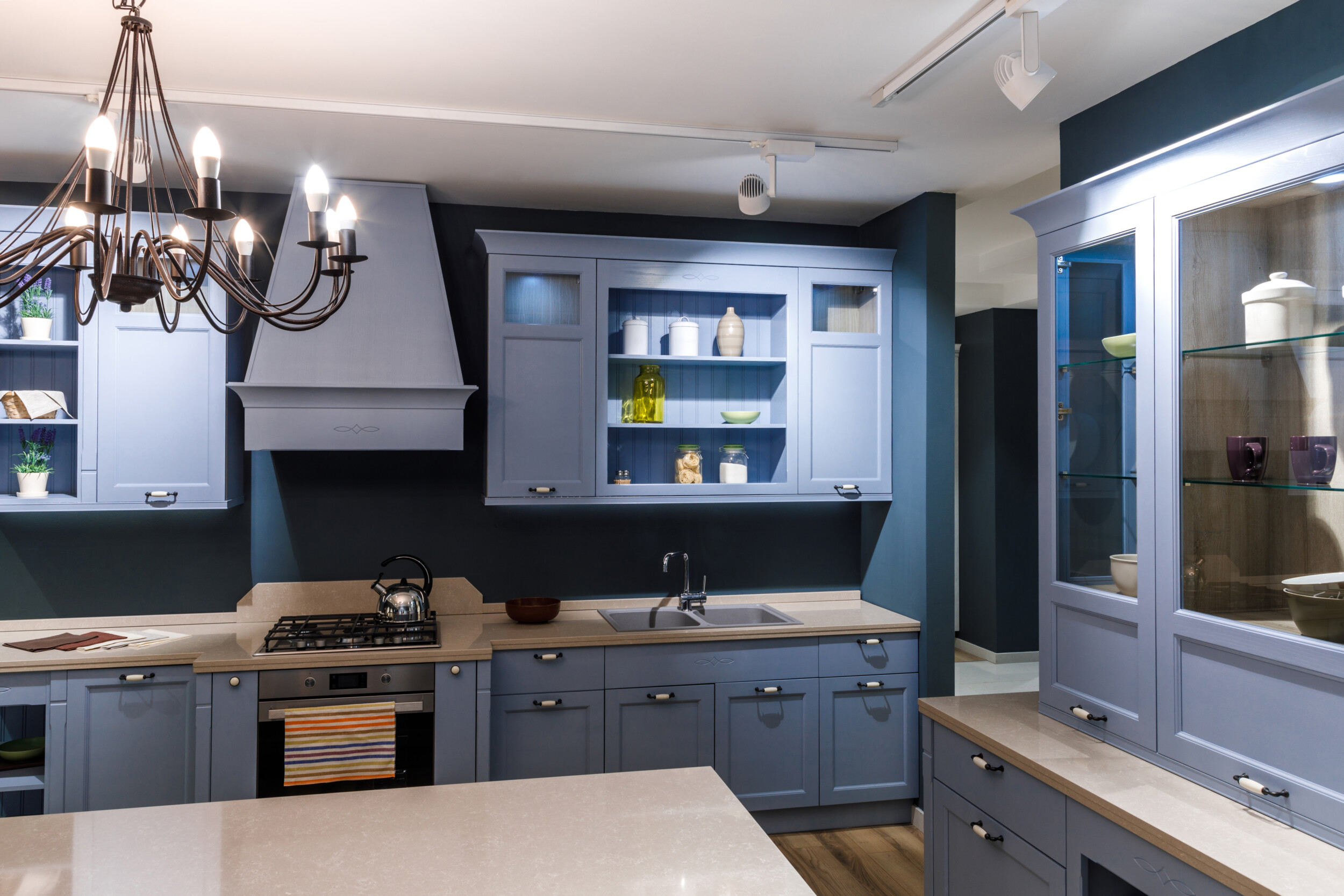 Not a color you would necessarily think about for a kitchen, a dark, unexpected inky blue looks amazing. You can team this with white, cream, or light gray units for the dark blue to contrast perfectly.
Pair inky blue with bronze fixtures and fittings to keep your kitchen on-trend with powerful kitchen colors and elegant accessories.
SAGE GREEN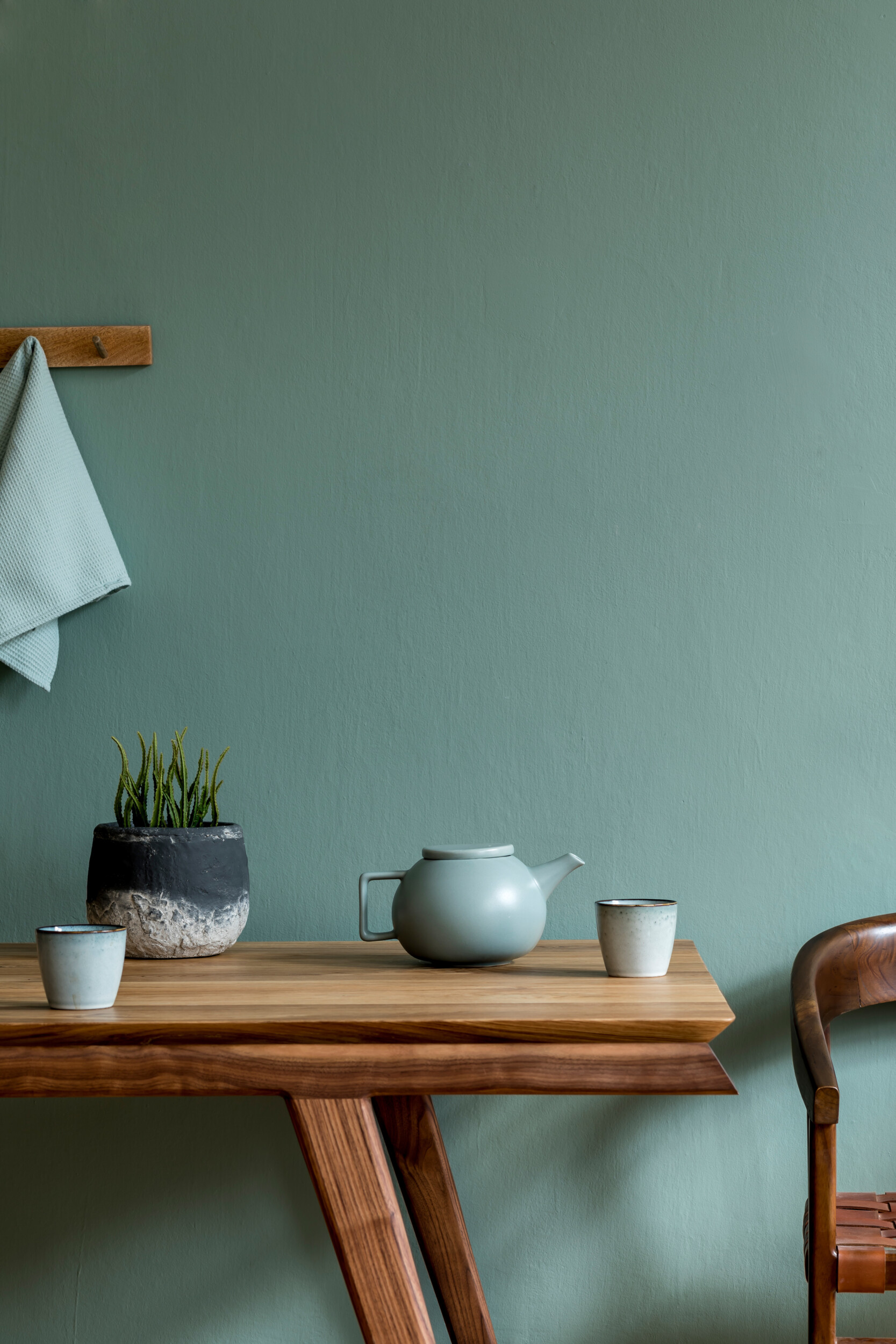 Sage green is a warming and homely hue that is a beautiful option for kitchen color ideas. It looks great against kitchen colors like creams and neutrals, as well as light-toned woods, for a relaxing and warm kitchen.
Sage green also looks wonderful with more earthy, darker browns; ensuring to make your kitchen feel like the most comfortable area in your home.
CLASSIC CREAM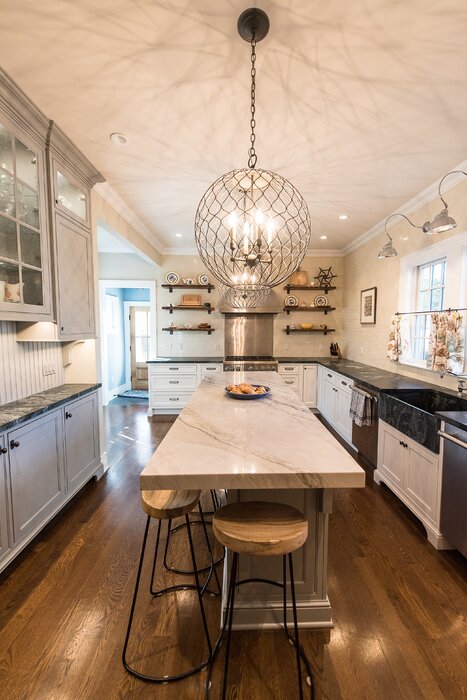 Cream is a classic kitchen color – whether that's for kitchen units or the walls. Cream doesn't highlight stains and marks quite like white does, so you won't feel the need to be repainting quite as often.
It's also inviting and more relaxing than bright white is and makes for a more traditional feeling kitchen.
BRIGHT RED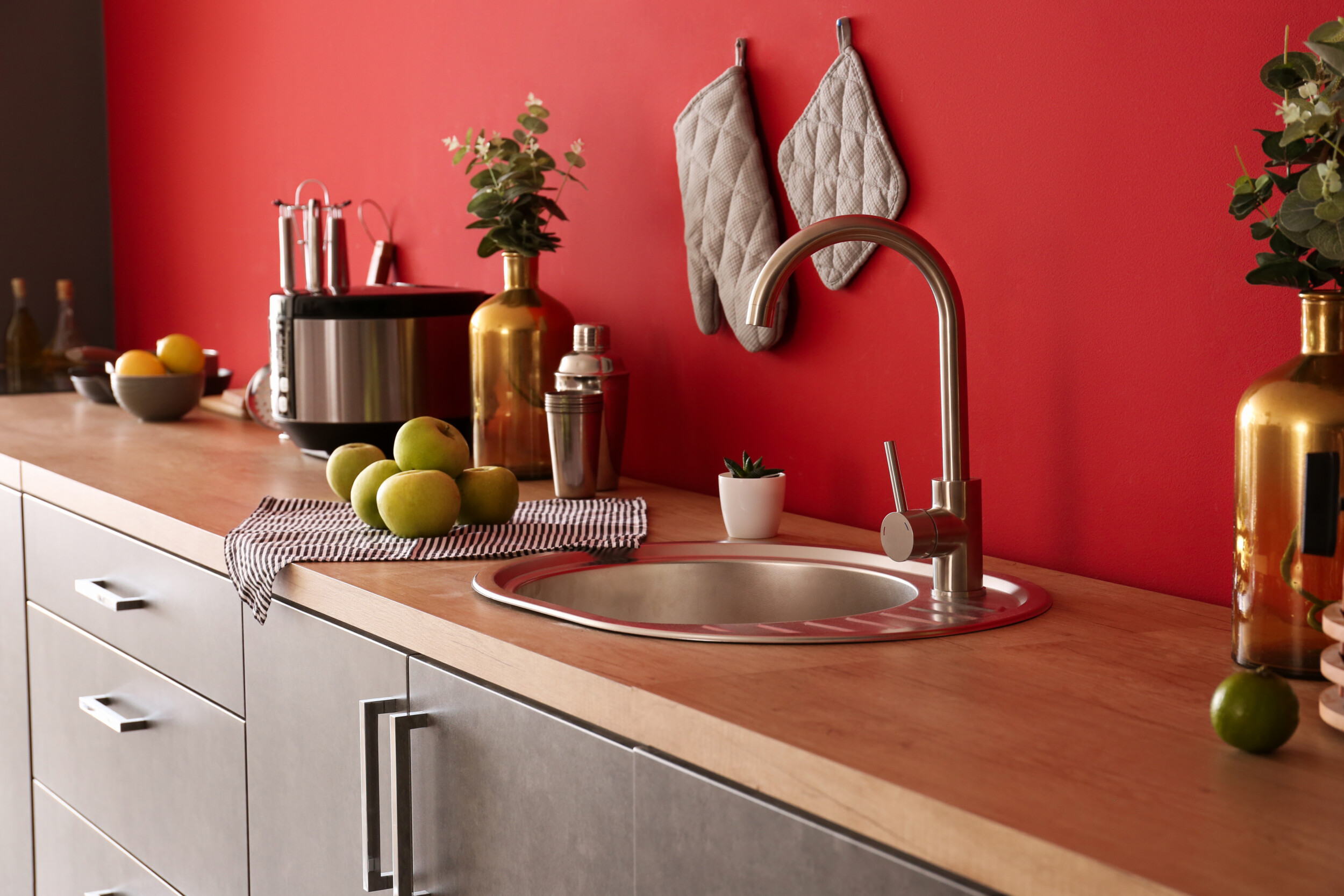 Bright red looks powerful in contrast to lighter kitchen colors – such as antique cream units. It adds a splash of bold and energetic color to a space which can often feel less fun and more about utility in the home.
A bright splash of red will make all the difference when it comes to brightening up your kitchen and adding a sense of play.
EARTHY BROWN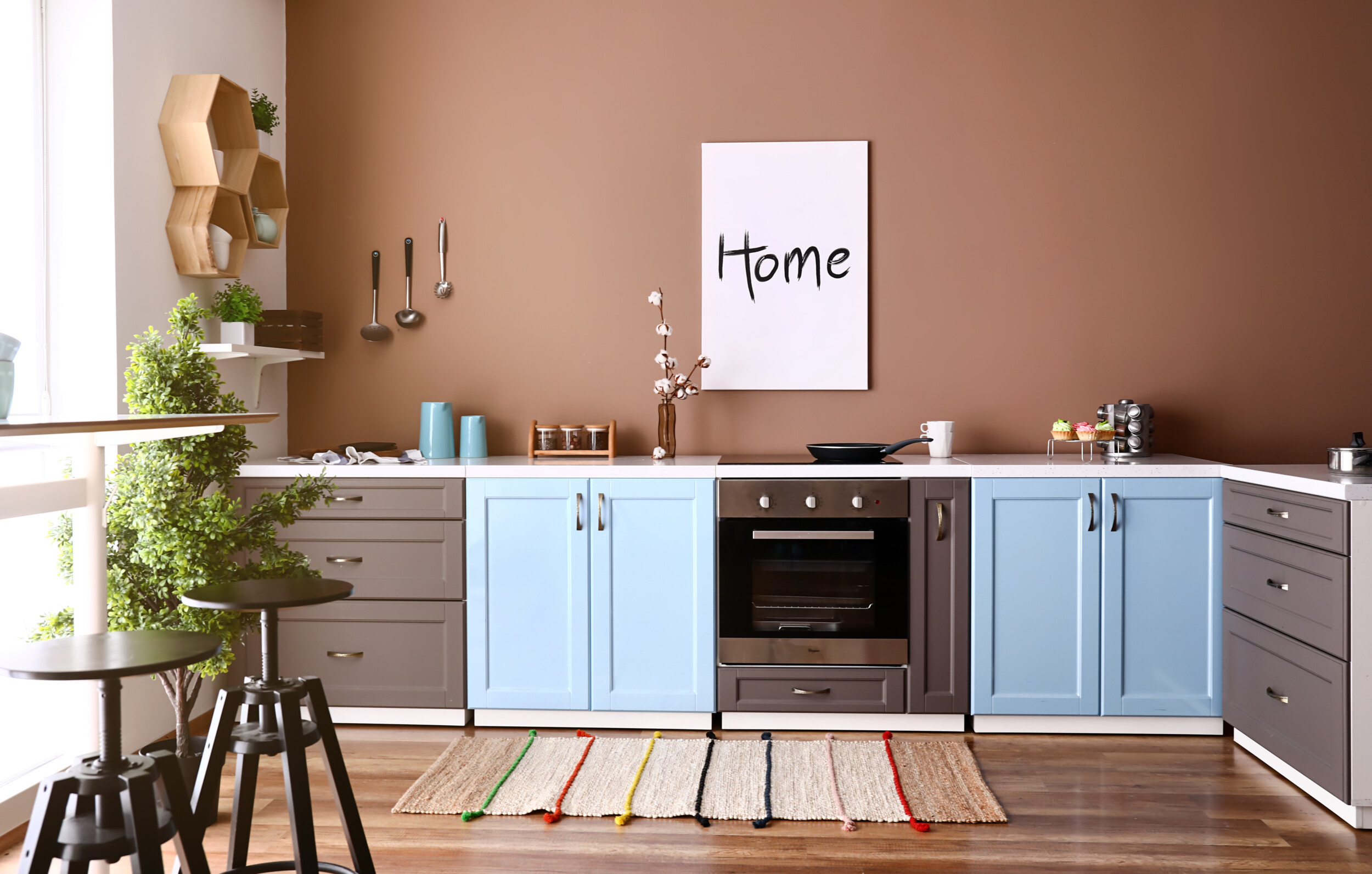 Earthy brown tones look wonderful against dark greens and teal blues, in particular, again, creating a warm and comforting space. These earthy kitchen paint colors together look luxurious, and you can even team them with darker wooden tones for something truly beautiful.
Make sure you introduce some brighter kitchen wall colors, like blues and greens to cut through those earthy tones and to make an impact.
TEAL BLUE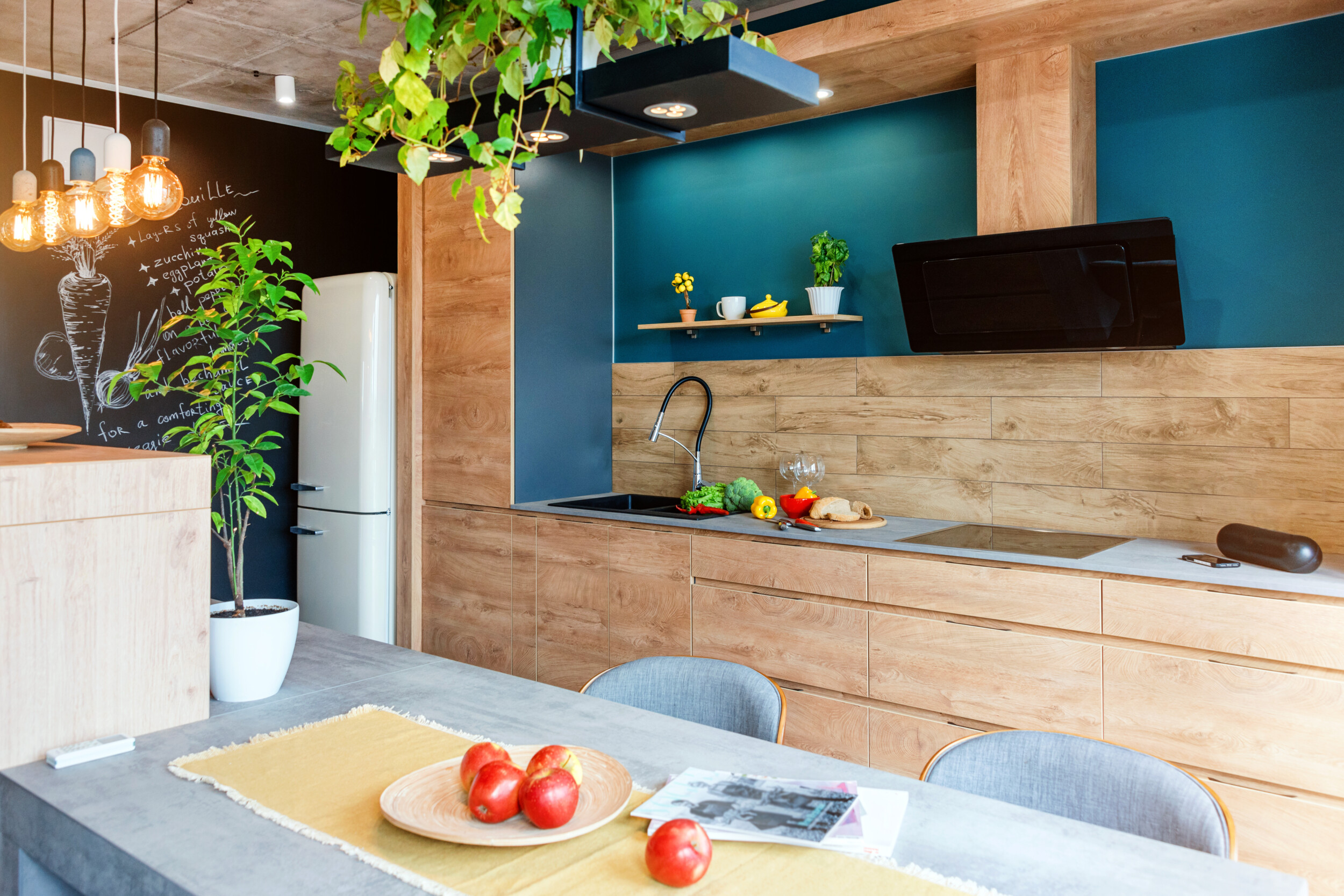 This luxurious hue is the perfect color to add a touch of glamor to your kitchen paint colors. It looks great against whites and grays and adds a nice depth and warmth to the room.
This color also looks beautiful teamed with brushed gold fittings (such as taps, door knobs, and door handles) and is one of the chicest when considering the best kitchen colors.
SOFT YELLOW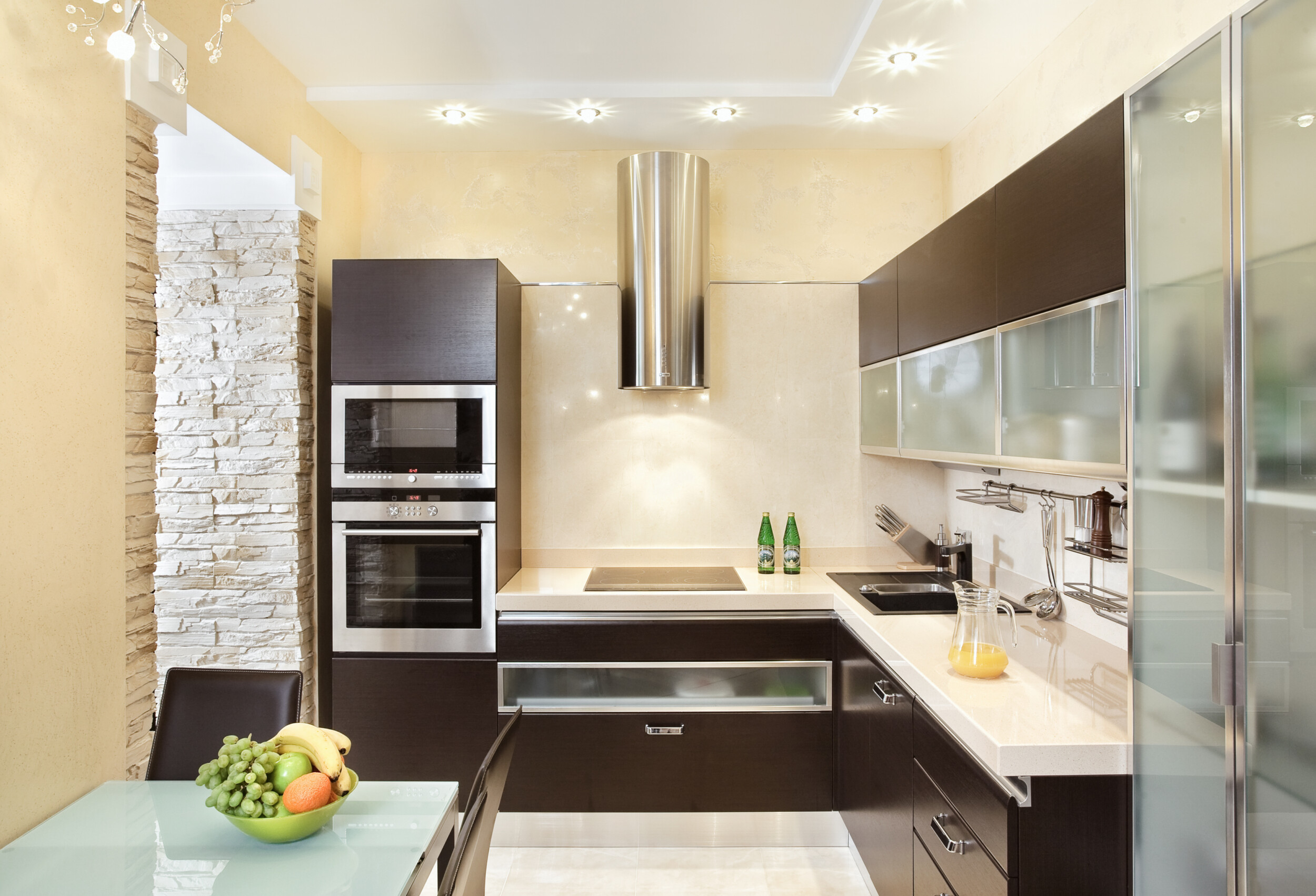 Yellow is a pretty traditional color for a kitchen and there's a reason for that; it works. Yellow is a soft and inviting color, invoking feelings of warmth and happiness – so what better color for a kitchen? It's light and bright and is literally a 'sunny' color. It's friendly and relaxing and, if you aren't into making a bold impact, it's the perfect color.
It's not as sterile as white, but it has some of the same properties (such as light reflection). If you want something more luxurious, opt for a richer yellow with some deeper tones for a slightly moodier take on sunnier yellow kitchen paint colors.
BREEZY BLUE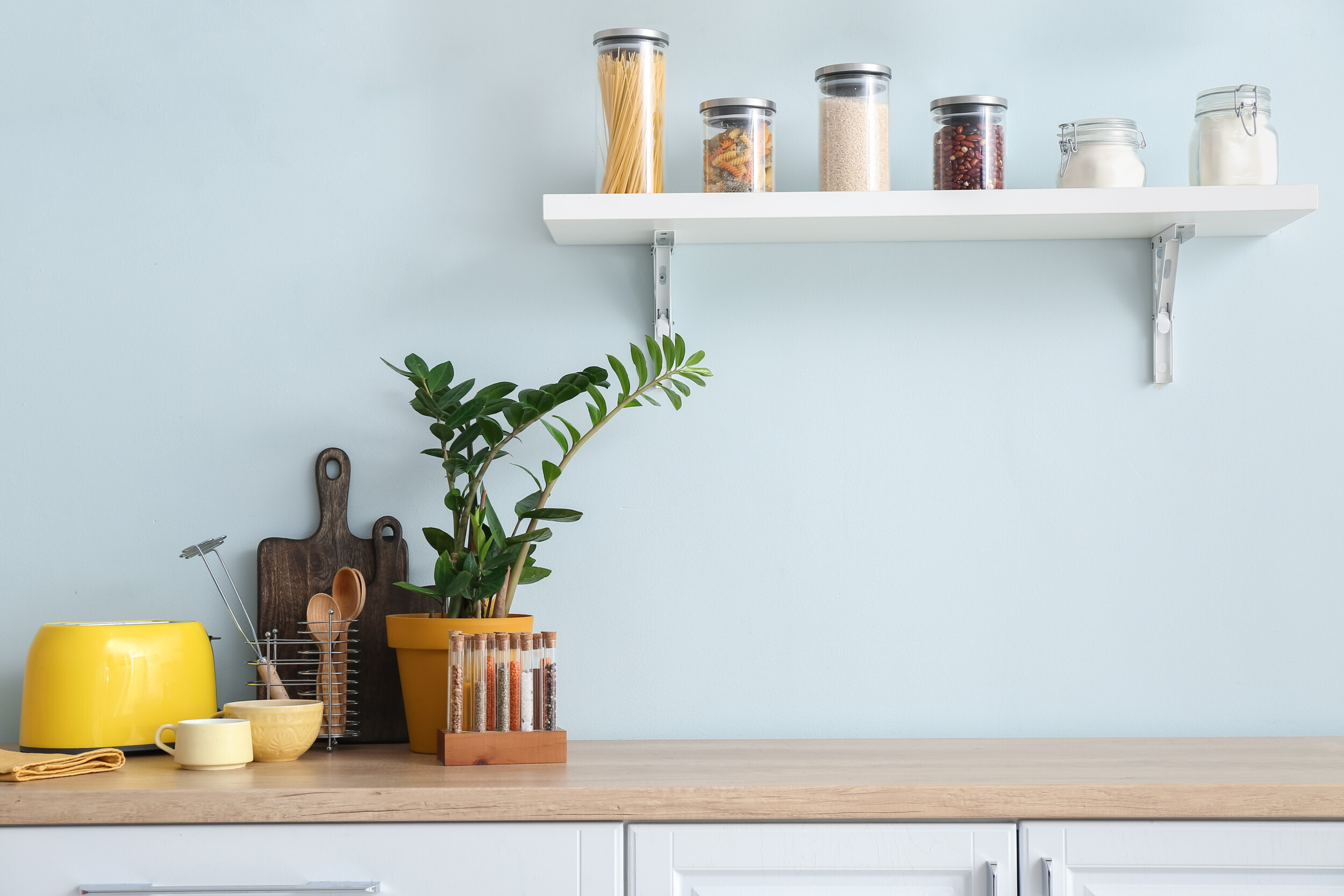 A light misty blue invokes thoughts of the seaside in a kitchen, especially when next to traditional white units. It's relaxing as kitchen colors go, so it's not warming and cozy like earthier tones, but it still looks exquisite.
Because the color is light yet strong, it blends into the background, giving you the feeling of light and space, which you don't get with deeper tones for kitchen color ideas.
BACK TO BLACK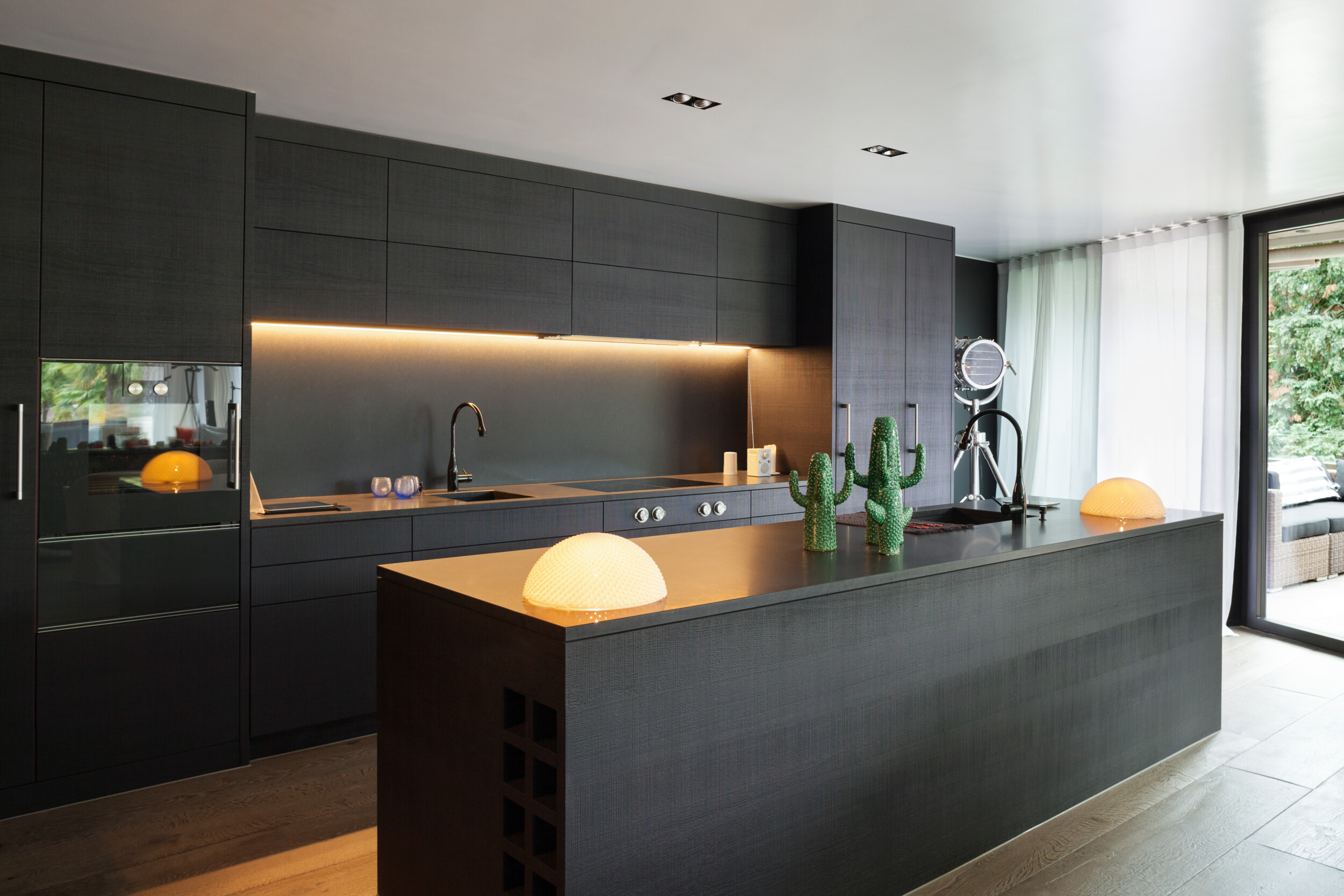 Now, the thought of black in a kitchen might make a lot of you reading this cringe. But, don't act so hastily! There are plenty of ways that black can feature in your kitchen colors in a stylish way, without being too imposing. If black gloss units are too much for your tastes, you can introduce matte black kitchen cupboards on the wall – choose glass fronted ones to break up the dark color and add a stylish way to display your glassware and crockery.
How about painting your kitchen walls in blackboard paint for a fun take on kitchen paint ideas? Not only does it look great, but it's a great place to jot down your shopping list, tonight's menu, or recipe ideas.
MISTY GREEN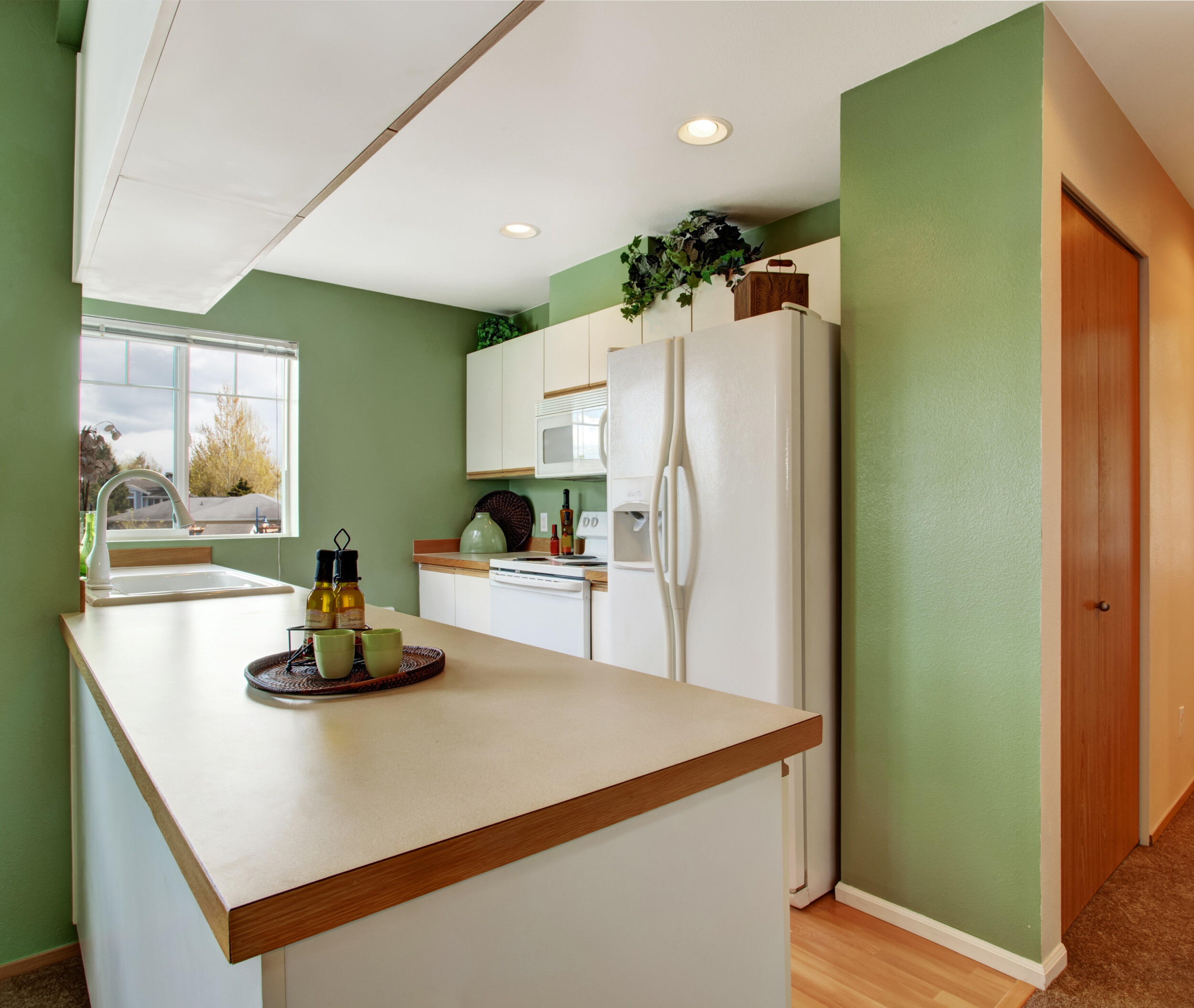 A light green with a hint of blue in it can work wonders as a kitchen paint color. As with yellow, it's light and bright, while reflecting light around your kitchen.
Green is a traditional kitchen color, but with the touch of blue you get in a misty green, it will add a fresh feel to your kitchen. This is great for a large kitchen, as the light and breezy hue isn't too overpowering across a big space.