That gorgeous kitchen island you've been dreaming about? You know, the one with the overhang designed for seating? Well, it needs some stools that are equally beautiful. But before you scoop up the first set of drool-worthy stools you see, think about how often you're going to use them.
If you envision lots of leisurely breakfasts and late-night gatherings while perched on your counter stools, comfort is key. Opt for stools with backrests, and pay attention to details like curved edges and ergonomic design. Padded seat and back covers are a plus. Here are some of our picks for counter stools that look as good as they feel.
Copper Counter Stool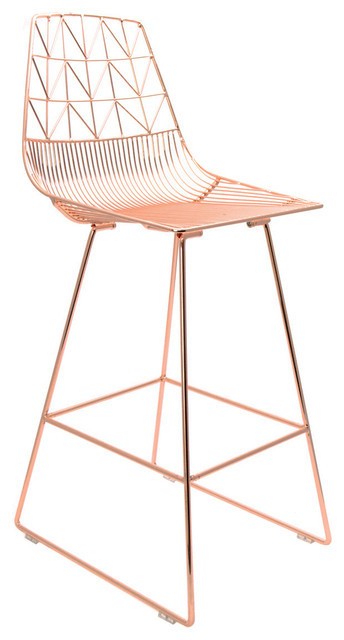 Shiny, modern, and cool, these copper counter stools will be like jewelry for your kitchen. You can also customize your stools (and make them comfier) with a seat cover, which are available in five colors.
Bend, $560
Counterstool Counterstool with Cozy Cozy
When you're serious about your stool lounging time, strategic padding is key. Padded, woven-felt covers from Blu Dot slip on the backs of their wooden counter stools, providing some strategic softness and support that will allow you to further extend late-night chats over a bottle of wine. The covers are available in nine shades, so, depending on the color, they also add a pop of color or texture to the space.
Kartell Crystal One More Counter Stool
This Philippe Starck-designed stool is from the Ghost family, so it shares the medallion-style backrest and curved-in-the-right places design elements that the seating line is known for, not to mention the transparent polycarbonate material.The iconic silhouette paired with the transparent material make for a striking piece without detracting from the design of the island
ABC Carpet & Home, $450
John Vogel Counter Stools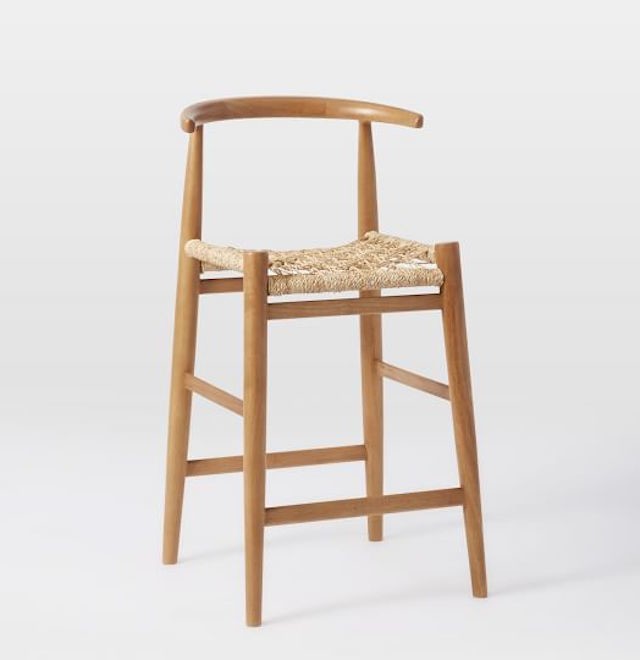 The curved backrest of these wood-framed counter stools is at once sculptural and supportive. Designed by South African furniture designer John Vogel, the stools feature the webbed seats he's known for. Each seat is hand woven in either jute or a black synthetic material.
West Elm, $295
Bernhard Bar Stool
With its minimalist design, this stool looks great in sleek, modern kitchens. And with its dark yellow, padded leather seat, it will pop it black or white spaces.
IKEA, $169
Jays Bar Stool
The simple, elegant shape of this stool is reminiscent of the iconic Series 7 chair designed by Arne Jacobsen in 1955, and it feels just as fresh now. The ample back support and curved seat of the smooth plywood stool make it a comfortable choice for serious sitting.
AllModern, $99
Pyramid Stool
This stool design debuted at the buzzy Standard Hotel in Miami, so it already has cool cred. The woven vinyl cord stool is handmade and comes in a plethora of shades and finishes that will work with pretty much any color palette.
Innit, $450
Duda Stool
The striking shape of this stool by Aristeu Pires makes it a piece that you want to have in your home for aesthetic reasons, and its ergonomic design makes you want to settle into it for reasons of personal comfort. Crafted of Jequitiba wood, the sturdy stool features a cushy seat covered in black or brown leather.
Sossego, from $960
Pyramid Bar Stool
A molded plastic seat with a waterfall edge makes these stools more comfortable than you'd imagine, and the solid wood base and metal support make it a hardy choice for such a high-traffic area. The mid-century modern design works well with contemporary kitchens, or it would be a nice juxtaposition with more classic styles.
LexMod, $153
Grab a Seat Counter Stool
Sometimes modern design is equated with being cold and uncomfortable. This stool shatters those misconceptions with its cushy, curved grey wool seat. The spare design means it would fit well in a minimal kitchen or as an understated piece in a space with a bold, graphic floor or backsplash.
Dot & Bo, $569