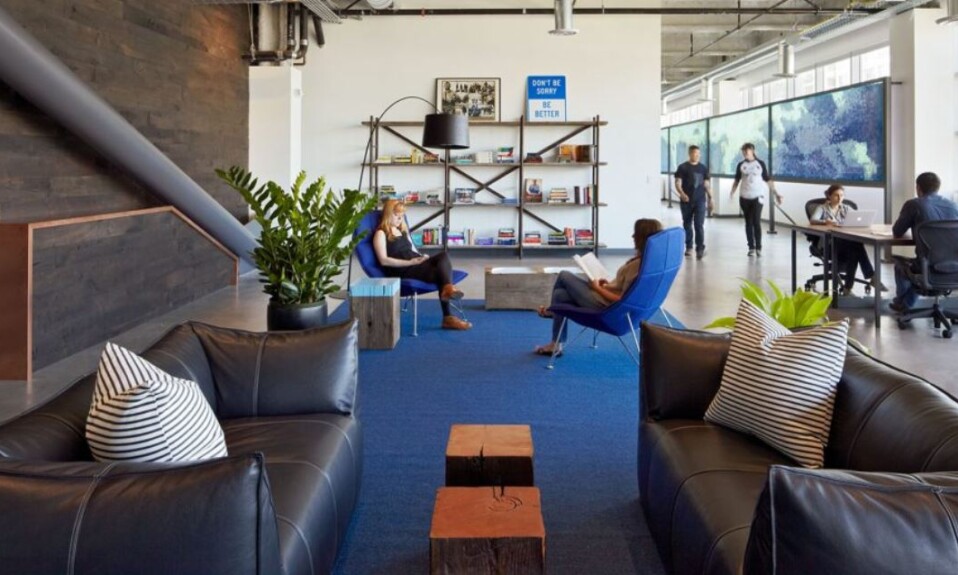 While the perks—free snacks, nap rooms, dry-cleaning—at startups are legendary, often the office interior design is equally impressive. As companies break down the traditional ways of doing business, they're opting for spaces with the same free-thinking attitude. So as you focus on ways to make your business a success, don't forget about the importance of office design. (And for more ideas, check out the office design tips we shared with Inc Magazine).
Flexible Startup Office Spaces A startup's workspace needs can change drastically in a short period of time. A rapidly expanding company needs a flexible office with room for growth. Planning an office that can grow with your company from the start is a much easier option than moving the whole operation to a larger space every time there's a new round of hires.
If you're in a temporary space or small office while you prep your new corporate office design, observe how your employees work and how the different areas of the office are used. Do people flock to the sofas or are several working at the coffee shop downstairs or at home? Pay attention to how people work or want to work—if your workforce is mobile, you may be able to devote less space to desks and more to collaborative areas or amenities like a cafe or game room.
Common Spaces Common areas are the heart of the startup office. Having several spacious and computable areas encourages collaboration. The days of boxed-in cubicles and offices are over—a great modern office design should create a collaborative work environment with a feeling of transparency and inclusion. Even small office designs should include areas were people can work together or gather for "all hands" meetings.
In addition to common spaces, you'll want to include distraction-free zones in your startup office space, like small rooms for solo or small group work. You and your employees are going to be spending a lot of time in your office during the crucial early stages of your business, so the office decoration should foster creativity and make it feel comfortable.
Cool Office Design The design of your office should be a reflection of your company and help to cultivate your culture and identity. Brand your office with your logo and choose colors that compliment your corporate visual identity.
If you're looking for office design ideas, look no further than your own employees. Let your team help customize the space with their own art and objects, building morale and community in the process. Other office decorating ideas include bright colors to promote creativity, gardens and plants to bring nature in, and plenty of natural light to keep employees energized.
Your headquarters should also be a professional space to impress investors and clients. The reception area should make a great first impression and speak to the style of your brand. You may also need to plan space for events or conferences.
STARTUP OFFICE DESIGN
Rows of tables provide flexible workstations that are open for easy communication and eliminate the need for assigned desks. Plus, the clean symmetry of the placement of these tables lends this already grand room a sense of sophistication.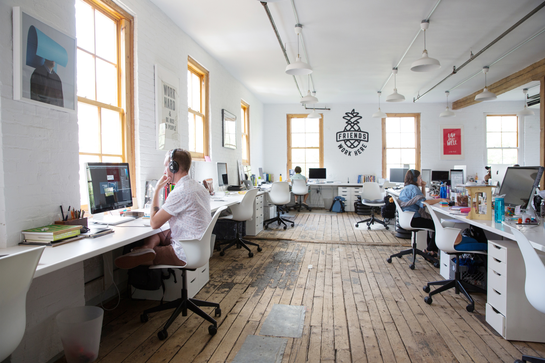 MODERN MEETING ROOM DESIGN
Splashes of yellow energize this conference room in a startup office. We love the fact that one half of the table boasts contrasting Eames chairs for a striking visual effect without being distracting or veering towards over the top territory.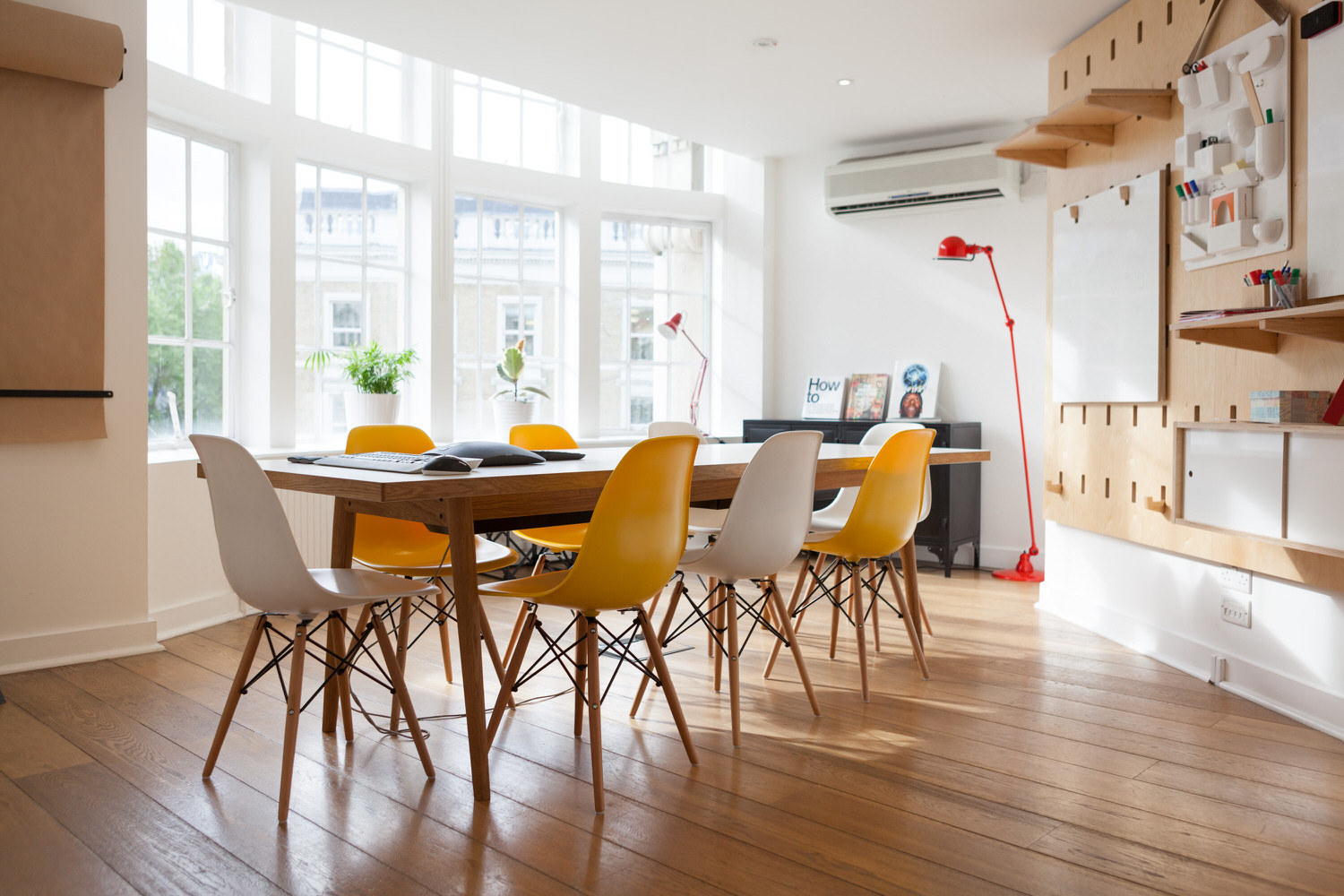 MIDCENTURY STYLE OFFICE DESIGN
Midcentury modern furniture decorates a common space in this stylish startup office. And when it comes to decorating an office space, do opt for tried-&-true timeless furnishings to get the most use of over the long haul as going for trendy furniture will ensure that everything will sooner or later feel outdated, and in need of a costly update.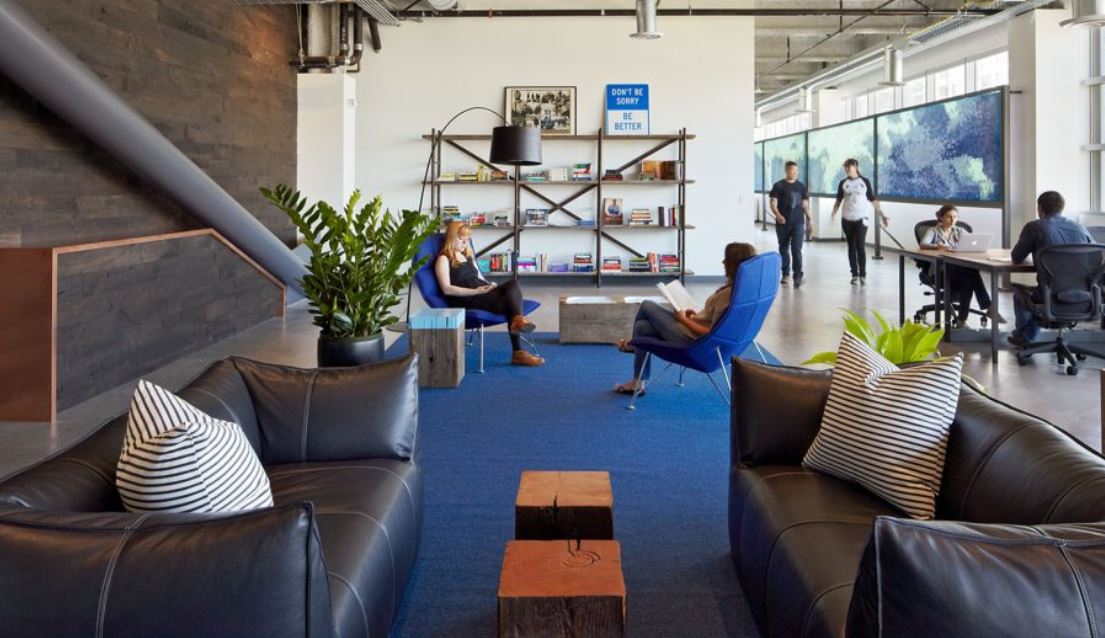 ELEGANT RECEPTION AREA
This reception area makes a polished first impression with its soothing yet bold accent wall, symmetrical gallery wall, and sumptuous seating. Follow suit and opt for an accent wall featuring an unexpected hue, and luxurious furnishings often reserved for more formal areas in a private home.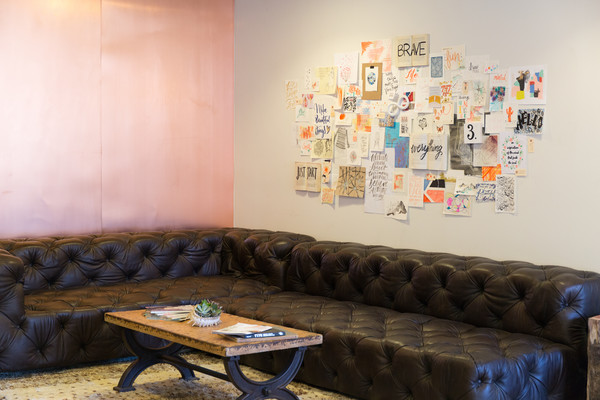 CONTEMPORARY MEETING SPACE
A cafeteria space doubles as an area for meetings or events at this sunny Silicon Valley start-up. We love the fact that the alternating graphic carpet introduces a sense of play and unexpected color while raw, unfinished wood brings in a touch of the organic and natural when paired with rather moody concrete columns.
COLORFUL RECEPTION AREA
A wall-sized quote and comfortable sofa welcomes visitors and represents the company brand in an office design completed by our team. Note how we took full advantage of this petite space by bringing full-scale furnishings instead of going for smaller ones that would leave visitors feeling unrelaxed and ultimately uninspired.
INDUSTRIAL COMMERCIAL OFFICE DESIGN
The industrial design of this office space is a nod to the building's architecture. And while it has a masculine spirit, bold oversized circular chandeliers were brought in for an instant touch of gratifying glamor thats easy on eyes. Same goes for the polished concrete floors that boast a subtle sheen. And as you can see, finding the right balance of symmetry is essential for creating a well-coordinated office space of any kind, and any size.