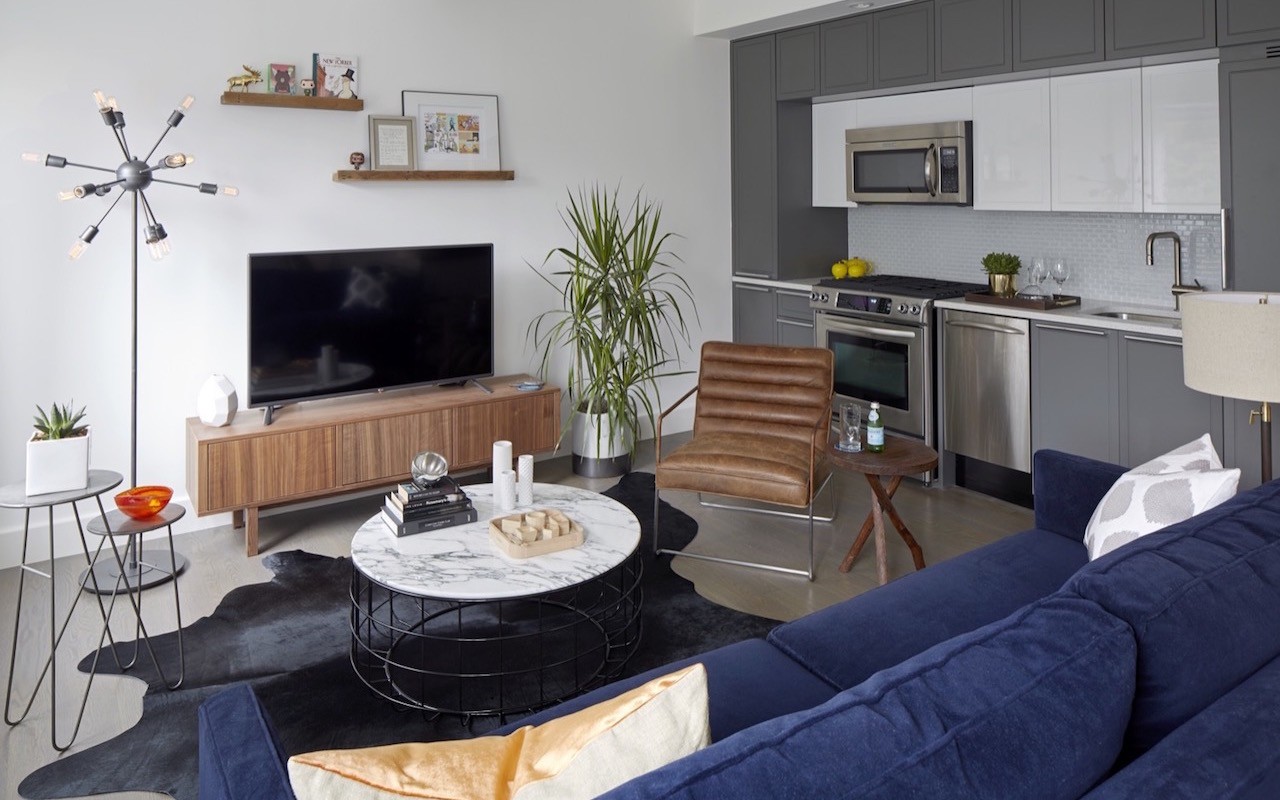 Around the time you sign the lease for your first apartment, things get real. You probably also just got your first job, and you're ready to create a home that feels adult-y, complete with matching dishes instead of paper plates, and bookshelves instead of stacked milk crates. Check out our tips for designing and decorating your very first grownup home.
Walls
If you're not feeling the standard-issue white (or worse–beige) walls your new apartment probably has, the easiest, least expensive way to update them is with paint. Resist the urge to go crazy with color. Instead, opt for a neutral like grey, and save your color experimentation for accessories like throw pillows.
Another fantastic option is self-adhesive wallpaper, especially if your rental agreement prohibits painting. You might associate wallpaper with a time before cell phones existed, but temporary wallpapers are available in every style from traditional to modern, and at a variety of price points. Perhaps most importantly, it's easy to remove and it won't damage your walls, so you'll get your security deposit back.
Tip: If you have a limited budget but still want to make an impact, consider painting or wallpapering an accent wall. Also, before you commit to a wallpaper pattern, it's a good idea to order a sample. They usually cost $10 or less, and if decide not to go with that pattern, you can always frame and hang it as wall art.
Furniture
When you're moving into your first apartment, chances are that you're going to be dealing with a mix of hand-me-down and new furniture. (And the new furniture you buy probably won't be dream investment pieces so much as acceptable and inexpensive options.) But that doesn't mean that your space can't look pulled together.
To pull together disparate furniture, try to match a certain profile or finish of your hand-me-down pieces when you're buying new items. Don't be afraid to get thrifty; check out thrift shops, antique stores, and flea markets in addition to online classifieds sites. And remember: a full set of matching furniture looks boring, anyway.
Tip: Before you buy a futon, take a moment to reconsider. If you know you're going to have out-of-town guests visiting you at least semi regularly, think about investing in a pullout sofa for a quality air mattress. Either one is likely to be a better option in the long run, and one that you won't abandon in the street or try to sell on craigslist in a few years.
Area Rugs
To add instant polish to your space and a sense of "wow, a grownup lives here," you need area rugs. They help define spaces, which is especially helpful if you live in a studio or need to divide a room into separate living and dining areas. But they can be pretty pricey, so if you can't afford a thick, plush area rug, opt for a more budget-friendly flatweave.
Tip: Make sure the rug is the right size. If you can't afford one that's large enough for all of your furniture to sit on it, furniture legs can sit half on the rug. Make sure to place a thick rug pad underneath to keep the edges from curling up.
Window Treatments
At best, your apartment probably came with Venetian blinds on the windows (or worse, vertical blinds). Take it up a notch by hanging drapes or curtain panels. They dress up the space, filter light, and, keep your neighbors from getting to know you a bit too well.
Art
In college, hanging art usually consist of thumb-tacking a few posters or a tapestry to the wall. But once you're in your first apartment, it's time for some grownup art. That means framing things, and preferably not mass-produced posters or reproductions of famous art prints. Instead, opt for original pieces from up-and-coming artists that you discover or through street vendors and art fairs. Also, sites like ArtStar, Minted, and 20×200 offer original pieces from emerging artists. This is an opportunity to discover your style, so take your time find pieces you love, and don't feel pressured to fill every wall immediately.
Accessories
The most budget-friendly way to make your apartment look put together is with accessories. Think vases, plants, art books, and sculptural objects. Trays instantly elevate these items, so style a collection of these pieces on your coffee table to make even the most everyday objects look more elegant. Accessories allow you to infuse a space with your personality, so be deliberate and thoughtful with your choices.