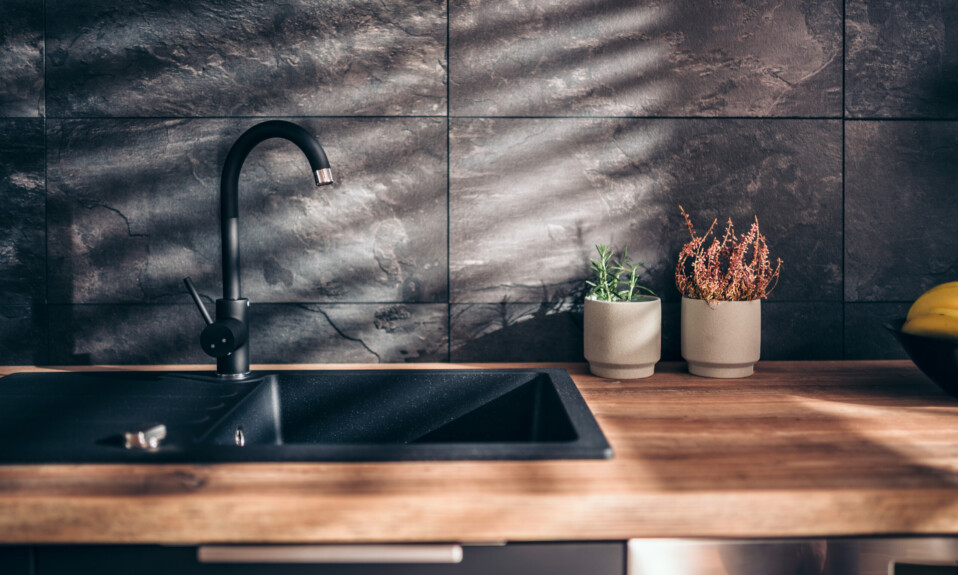 When it comes to kitchen updates that can affect your everyday life, how do you know if you are choosing the right faucet for your kitchen, no matter your budget? Most of you will choose a new kitchen faucet based on how it looks, its style, its color, and its shape or size. But according to Décor Aid renovation experts, there's more to selecting and investing in a proper kitchen faucet than meets the eye.
And if you who have ever chosen kitchen faucets based on that criteria might already know that it doesn't always work out for the best in the long run by going on looks alone while forgoing functionality. Kitchen faucets are worth taking some time to properly explore as they are something you will use almost every single day, multiple times at that. So they are worth doing some research on and spending a bit more time considering than say, an everyday decorative item. To help you better understand, here is the low down on the different types of kitchen faucets to consider, along with some of the best ones to buy, including a selection of quality kitchen sinks to go with them.
Kitchen Faucets: Types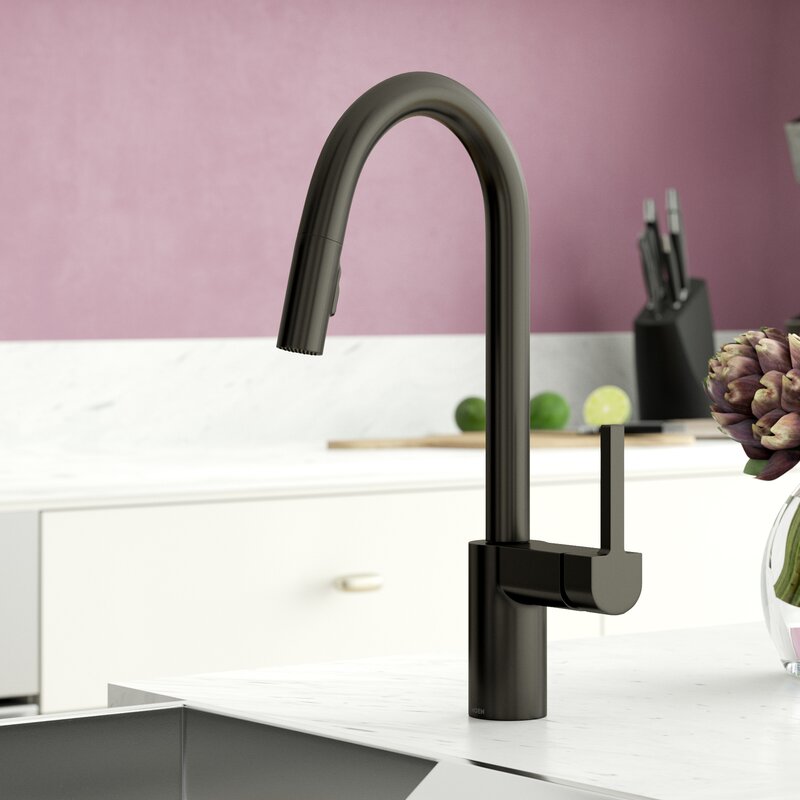 Pull Down: a pull-down faucet has a spray wand directed straight into the sink, which you can pull down and use to easily wash your dishes and vegetables, enabling you to directly spray whatever is on hand.
Pull Out: a pull-out faucet is pulled directly towards you and can be used in the same way to directly spray everything. They are smaller than pull-down kitchen faucets, making them perfect for smaller spaces.
Single Handle: a faucet like this uses a level that you can position to trigger warmer or cooler water. They're pretty common so you've probably come across these classic kitchen faucets before. 
Dual-Handle: one of the most commonly used traditional kitchen faucets design, this one boasts two handles. One to control the flow of hot water and one to control the flow of cold water. They are less common in kitchens now as they are harder to control separately.
Commercial Style: this has a longer and much more flexible design and the idea for pull-down and pull-out faucets come from these. They're great if you have a lot of dishes to wash, but they aren't always the most stylish kitchen faucets.
Separate Spray: this is where you have a normal faucet, say a single or dual handle option, but you have it paired with a separate spray function. They're great if you want the best of both worlds.
Motion Detector: a faucet with a motion detector allows you to turn the water on and off without touching it – great if you have messy hands, or you are germ conscious. Motion detectors often appear on more modern kitchen faucets, like the pull-down and pull-out options.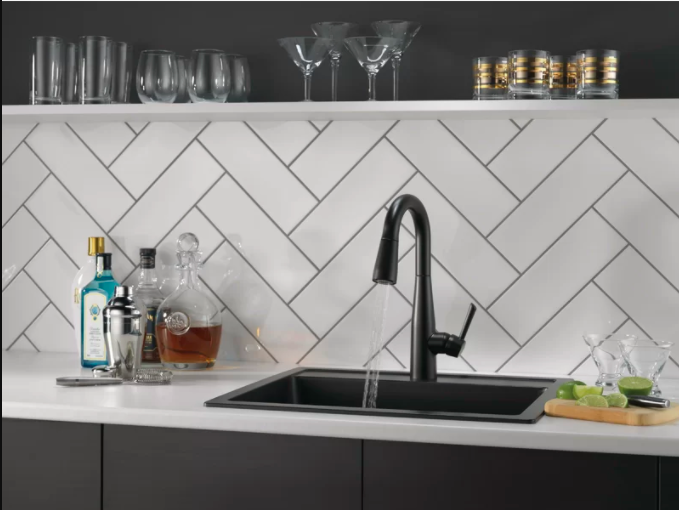 Top Kitchen Faucets
Delta Faucet 9178t-Ar-Dst Kitchen Sink Faucet
This Delta design is impressive when it comes to modern kitchen faucets design. It's made out of solid steel and designed quite elegantly, considering all of the functions. It's also available in multiple finishing options. to use it, you touch to turn it on and off, so you can nudge the faucet with your arm to get the water flowing (great if you have greasy hands from cooking). It's also clever enough to know if you are touching to adjust the direction of flow or the temperature.
It will switch off after running for 4 minutes to save water, which is a godsend if you have kids, or are simply in a rush. The color of the LED light will change with the water temperature to let you know what it's currently at and it also has a simple battery notification once power is running low. The best thing about these kitchen faucets is that you can easily adjust between stream and spray functions and it comes with splatter reduction technology, to make washing dishes less of a chore and a mess. They are, however, one of the more expensive kitchen faucets on the market.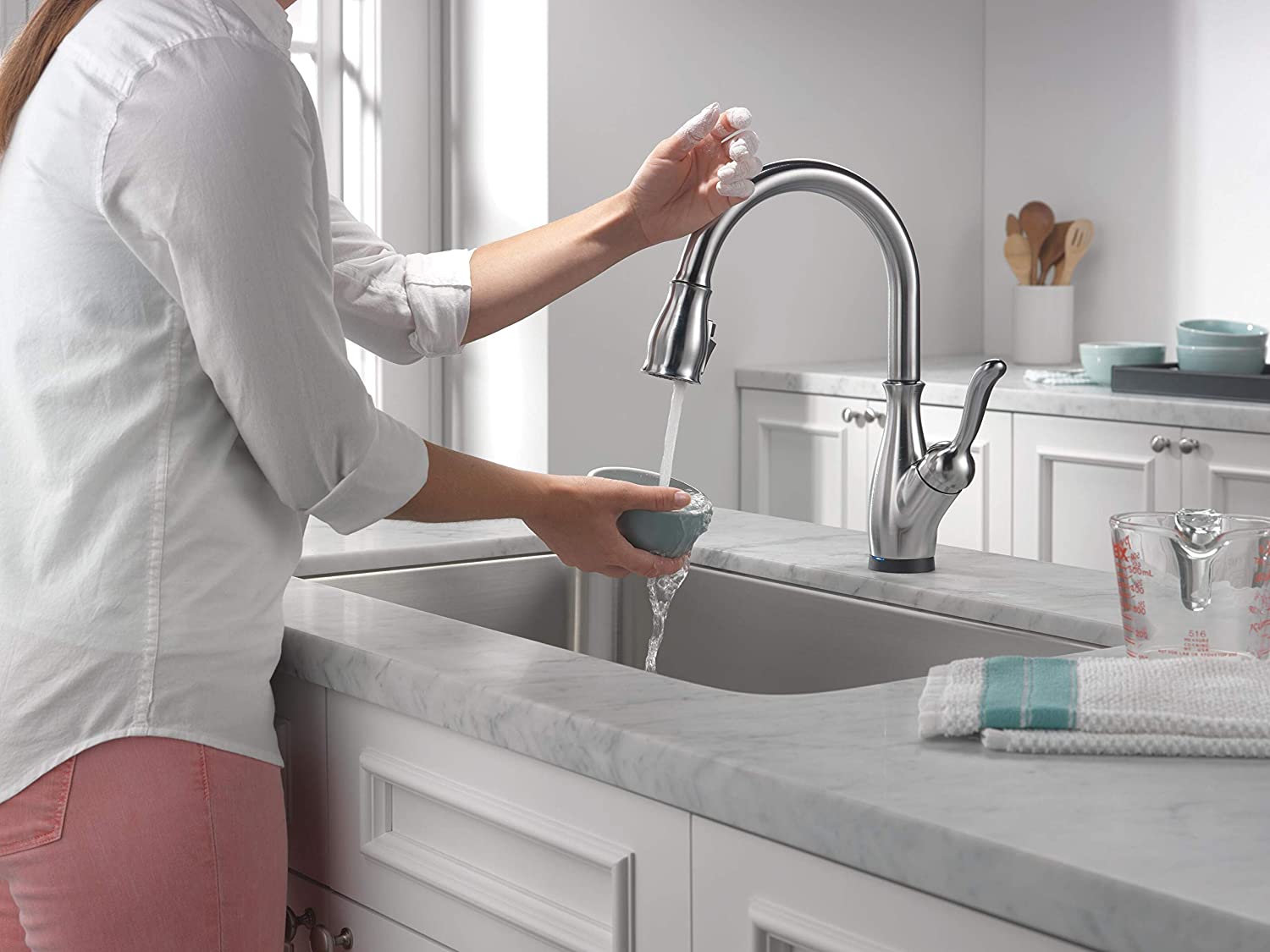 Moen Arbor Motionsense Pulldown Kitchen Faucet
This faucet is one of the best touchless kitchen faucets out there. It's simply designed and elegant and we like that the motion sensors aren't too obvious, keeping the design sleek. This faucet boasts two motion sensors, one near the base and one at the highest point, making it easy for anyone of any height to activate the flow of water.
You can adjust the water temperature as well as the direction of flow. There is a long pull-out hose, enabling you to easily wash whatever you have in your sink. There is also an aerated stream of water for your everyday use and a more powerful mode for when you need it.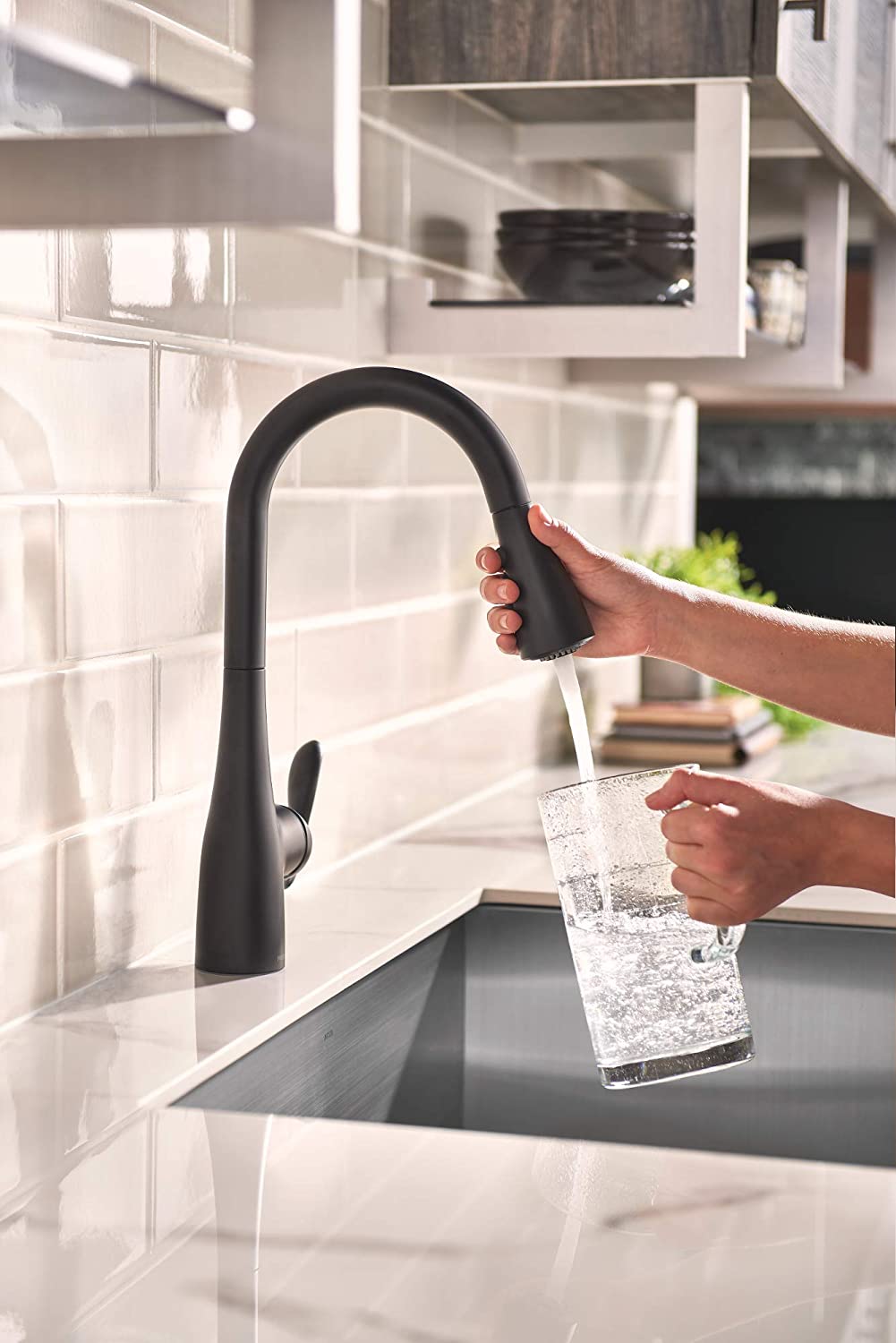 Kraus Kpf-1650ss Commercial Style Kitchen Faucet
If you want something powerful which will clean your dishes like you are in a professional or commercial kitchen, then this is the one to go for. It's tall and it's graceful and it's best teamed with a larger and deeper sink, as with a smaller sink, you're going to encounter water spillage. It doesn't do anything particularly flashy, but it works perfectly for what it is.
There are two different spray modes that you can use to adjust temperature and flow, as well as being able to swivel it 360 degrees, which is the stand-out feature on kitchen faucets like this. As kitchen faucets go, this one is pretty inexpensive for what it is, making it a great buy.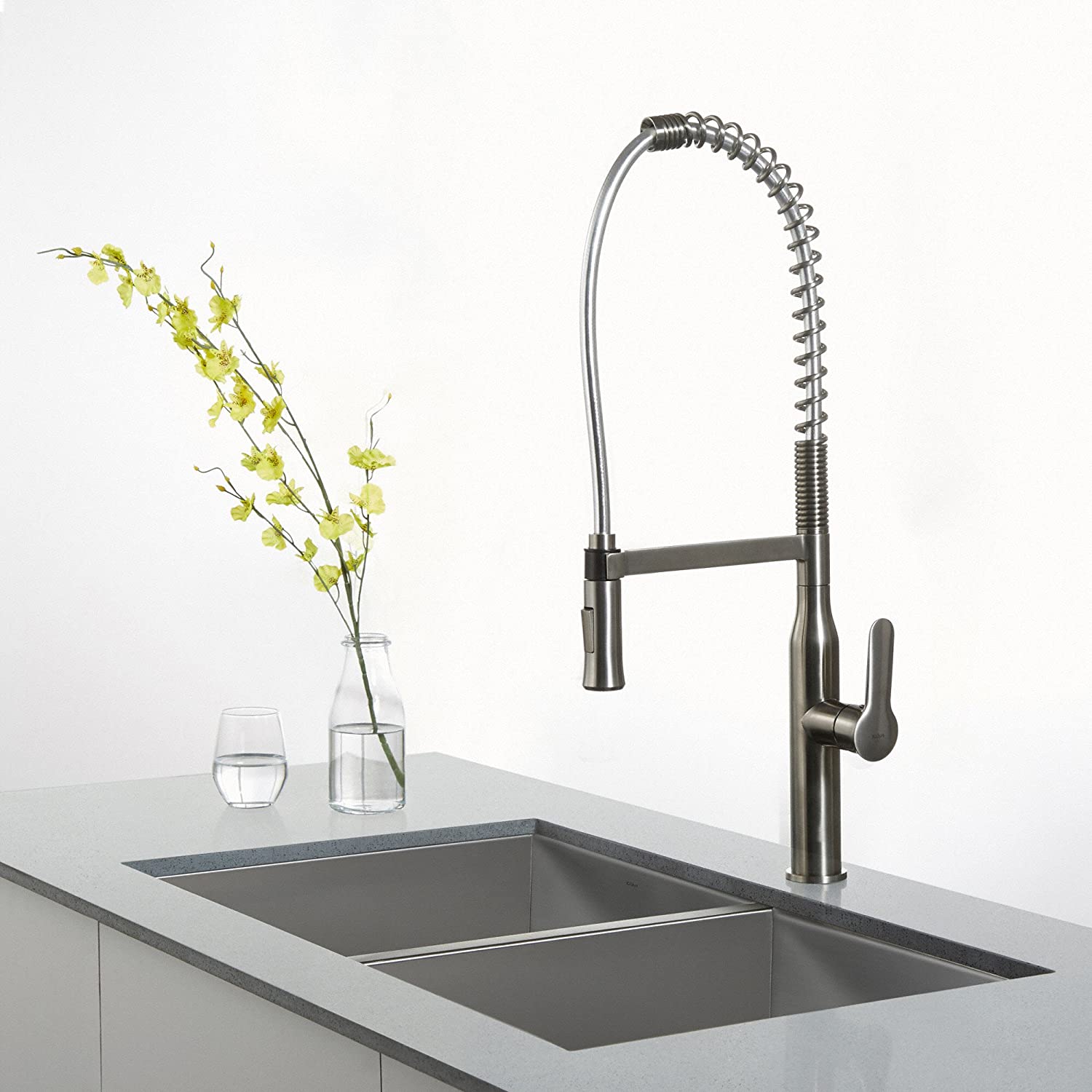 Moen 7294srs Arbor Pullout Kitchen Faucet
The go-to kitchen faucets brand Moen is back again with another standout pull-out option. Pull-out kitchen faucets make for some of the best modern kitchen faucets on the market at the moment. They take up less space, so if you're trying to outfit a small kitchen, they are a life-saver as they enable you to have all of the features of a larger tap in a compact option.
It's well-designed and sleek in appeal, which is impressive, considering how small it is. It's got a long hose which self-retracts, so it will work for you even if you have a larger sink. Again, it has two spray options and you can easily adjust the temperature. There's no motion sensor on this kitchen faucet, but you normally have to let go of certain features when you reduce the size of the sink you have to work with.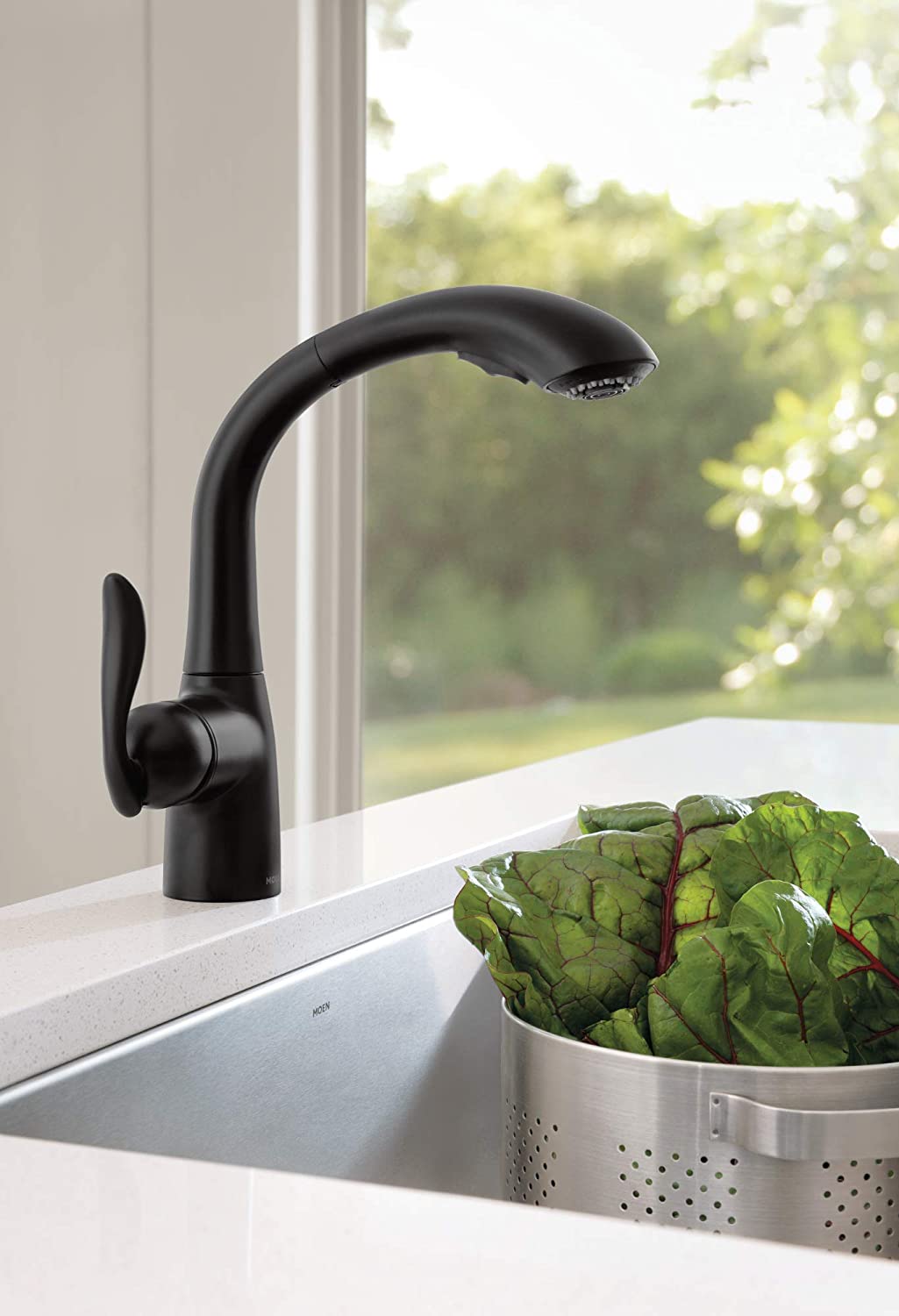 Delta Faucet 21996lf-Ob Windemere Kitchen Faucet
If you want the function of a traditional tap as well as a pull-out spray feature, then choose one of these kitchen faucets. They've got a traditional faucet with handles on each side to control temperature and flow of the hot and cold water. You then have the additional sprayer to use on your greasy pans or to fill a container.
The great thing about this faucet is the price, its affordable and provides you with decent quality and proper functionality – perfect if you can't stretch your budget for one of the more expensive kitchen faucets featured here.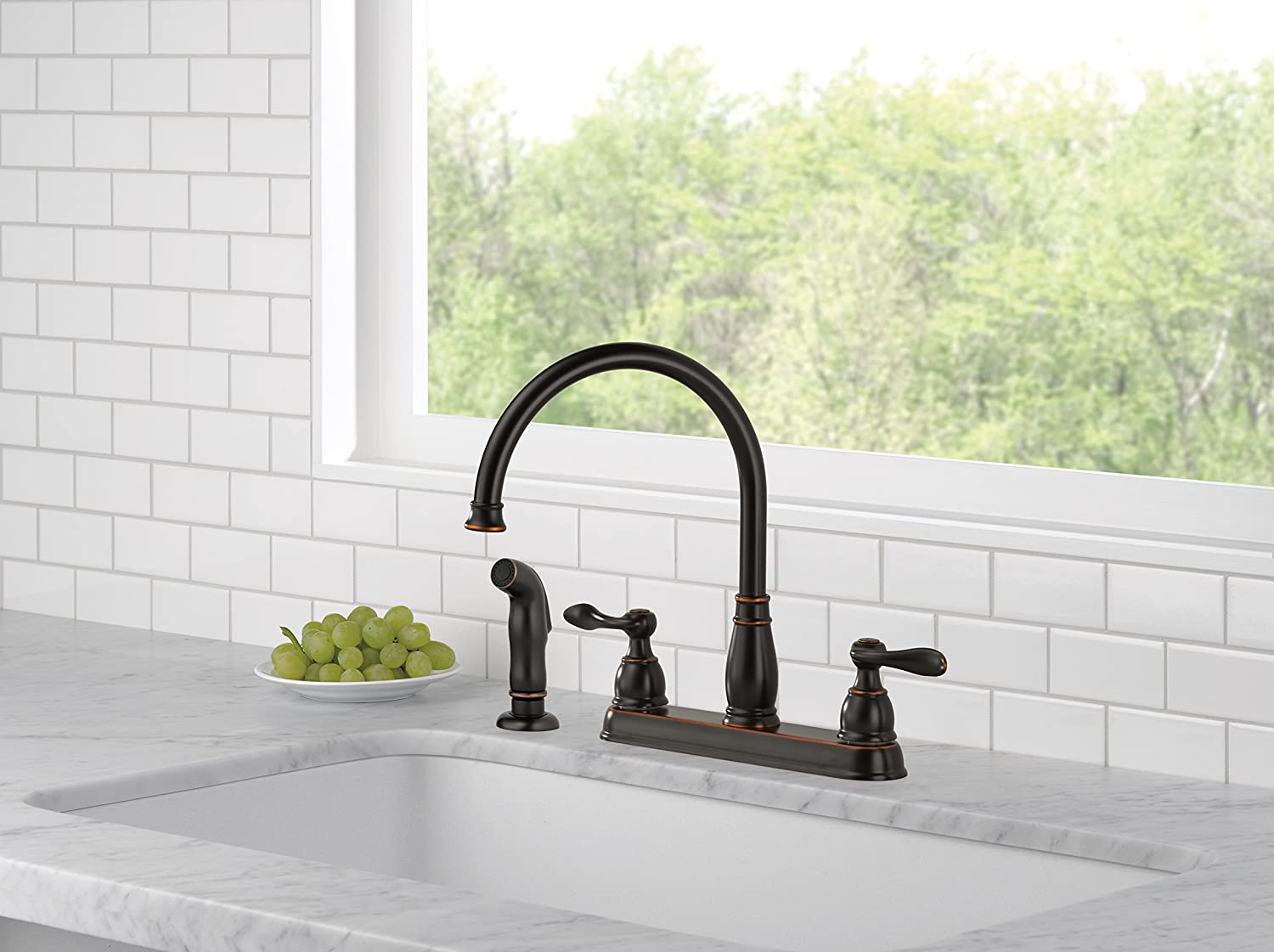 OWOFAN Round Deluxe 3 Way Kitchen Faucet for RO System Gold
If you are looking for kitchen faucets that are a little bit more special while offering ample style, then this gold option will be perfect when looking to transform your kitchen. It's stunning, impactful, and a little different in terms of design and if you are looking to energize your kitchen design, then you will love this option.
Here, you have a dual-handle design to easily control hot and cold water flow. You also get a 360-swivel spout, which is great if you have a sink with multiple bowls, as you can easily fill both. It's chic and it's unexpected and as modern kitchen faucets go, it's wonderfully inexpensive.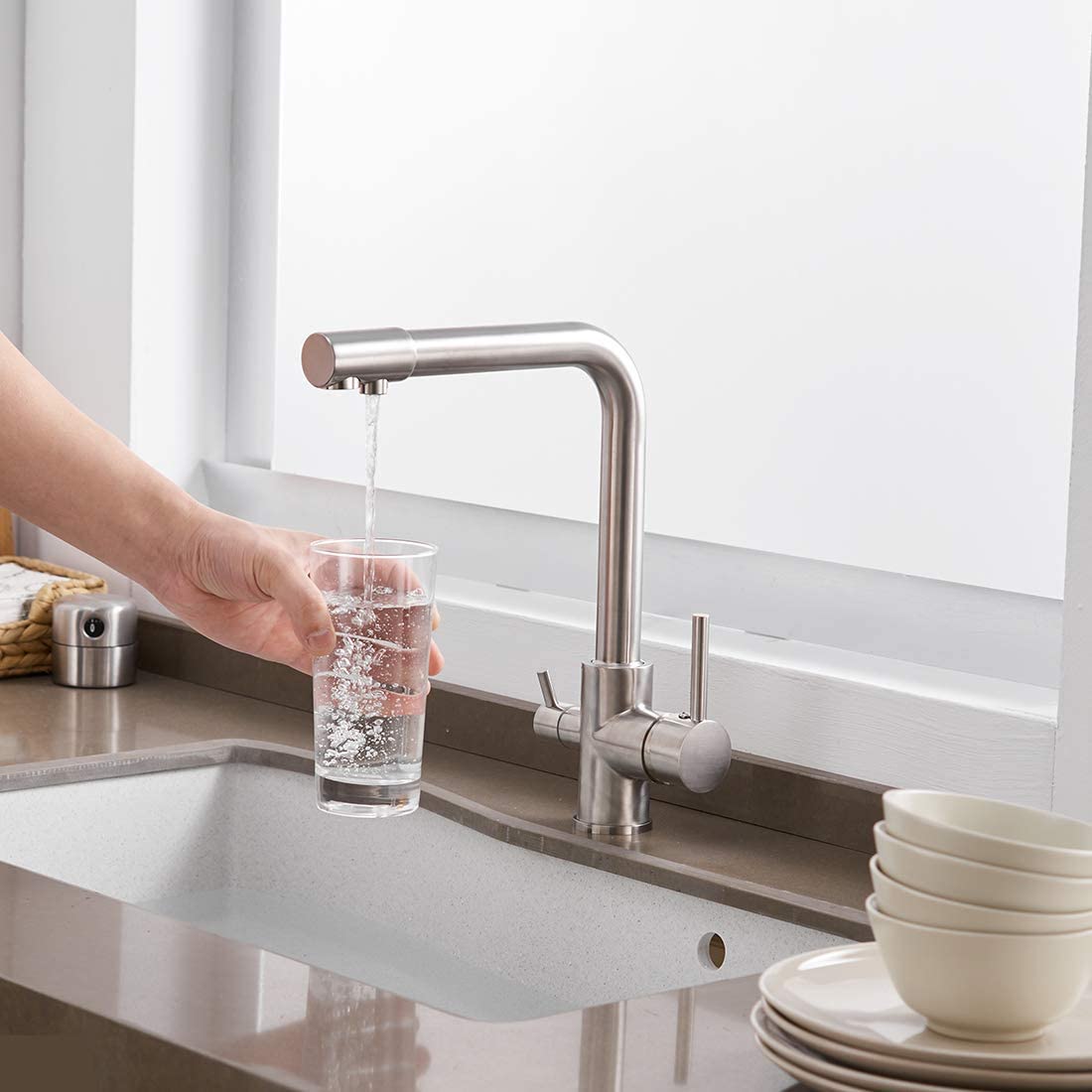 And now that we've gone over the best kitchen faucets for your home, here is what you should keep in mind when looking to also update your sink.
These questions will help you in determining the best features you should seek out as you look for a new kitchen sink:
Are you looking to completely switch out your kitchen sink for an entirely new style?
Are you happy with and find your current kitchen sink the right scale for your needs?
Is there a different material you've been fond of lately? How would it look in your kitchen as it currently is?
What about the styling of your current kitchen sink? Are you pleased by it or would you like to go in an entirely new direction?
Is there a kitchen faucet that would serve you better? What do you appreciate about the one you already have in place? How could it be better?
What is your exact budget that you have to work with? And don't forget that delivery and installation costs along with features like drains, garbage disposals, and water filters can boost the cost of a new kitchen sink.
When it comes to sinks, just like faucets, it'll pay to do some research before you begin shopping for a new one. For inspiring leads, look through Pinterest and peruse tried and true brands like Kohler and Moen. It'll be even better if you can see your narrowed down selection in person rather than making a guess online.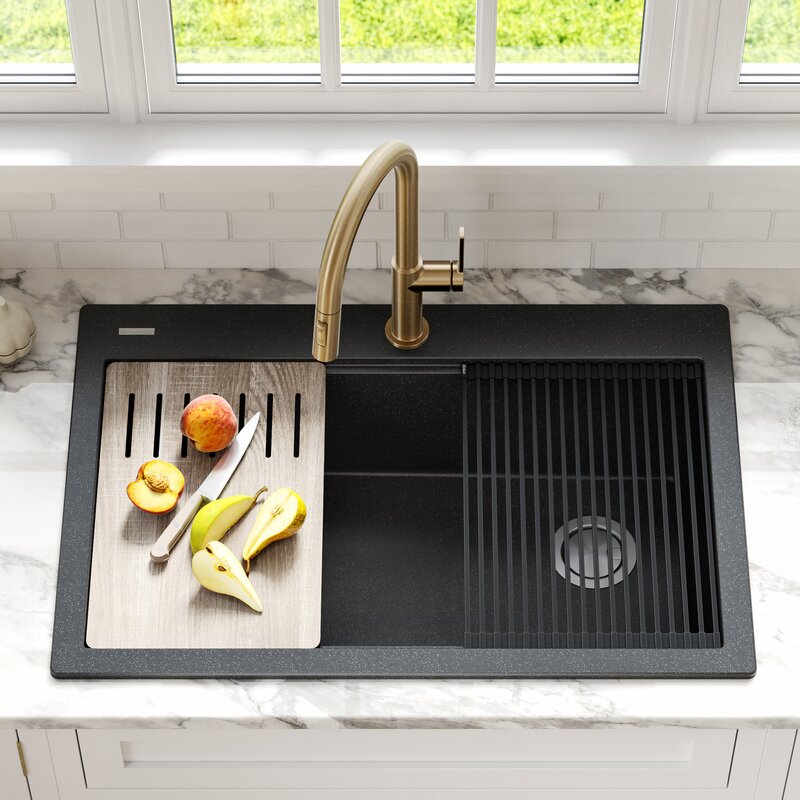 Create A Realistic Budget
Just like with any kitchen upgrade, developing a realistic budget will help you chart course much easier. Sure, inspiration is one thing and it's true, it can be hard to avoid feeling overwhelmed by new sink features that you may not even need – but, do keep in mind that the more a new kitchen sink can offer, the more expensive it will be. For the best results stick to three key features that will benefit you regularly and work from there. This could be something as simple as a divider, a faucet or a new finish, and so on. And if you've got extra money to work with, our renovation experts advise that you consider putting those funds towards new drains and a water filtering device.
Find A Trusty Local Plumber
Even if you're a not an instinctual kitchen expert, finding a local plumber that's dependable can make the process all the easier for you. In fact, they may be able to help you better judge if you need a new kitchen sink or faucet in the first place, and which ones are best for your lifestyle. But before you ready hasty online reviews, talk to friends, family members, and even local realtors to see if they have anyone reliable in mind.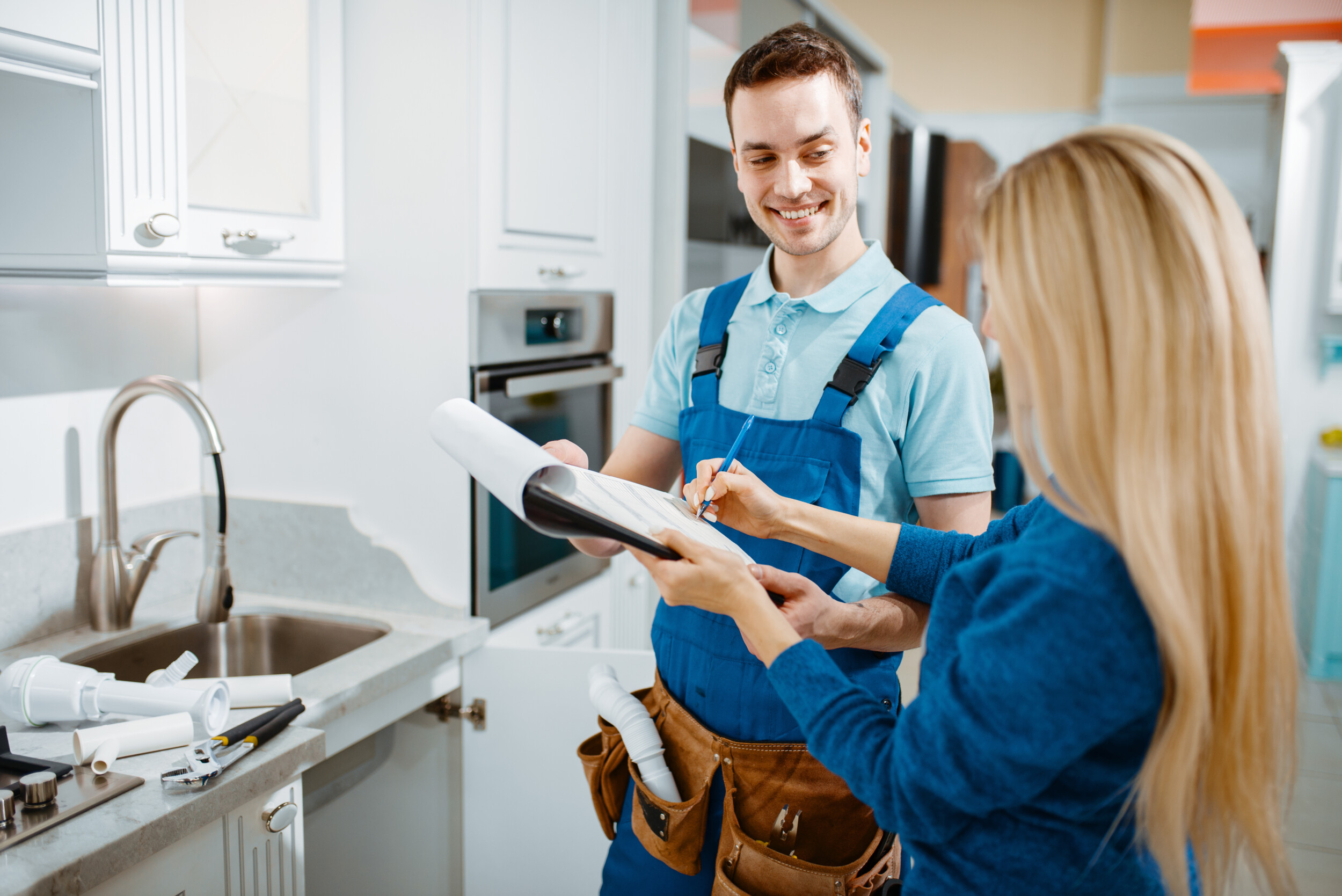 With that said, here's our take on the best kitchen sinks on the market to consider:
ZUHNE MODENA KITCHEN SINK
One of the highest customer-rated sinks on Amazon, the Modena sink is constructed from the best materials considering its friendly price. Featuring a slick functional design, the Modena sink pairs well with every design style, from the traditional to the rustic. It also features rounded corners for easier cleaning, and the drain has been smartly set towards the rear for the best drainage. Its deep basin allows you to use it for more dishes and for cleaning large kitchen items. And thanks to its strong stainless steel fabrication, maintenance and scratches will no longer be an issue. Even better is that this sink also boasts soundproof cladding while its surface is protected by a scratch-resistant finish that will age even better over time.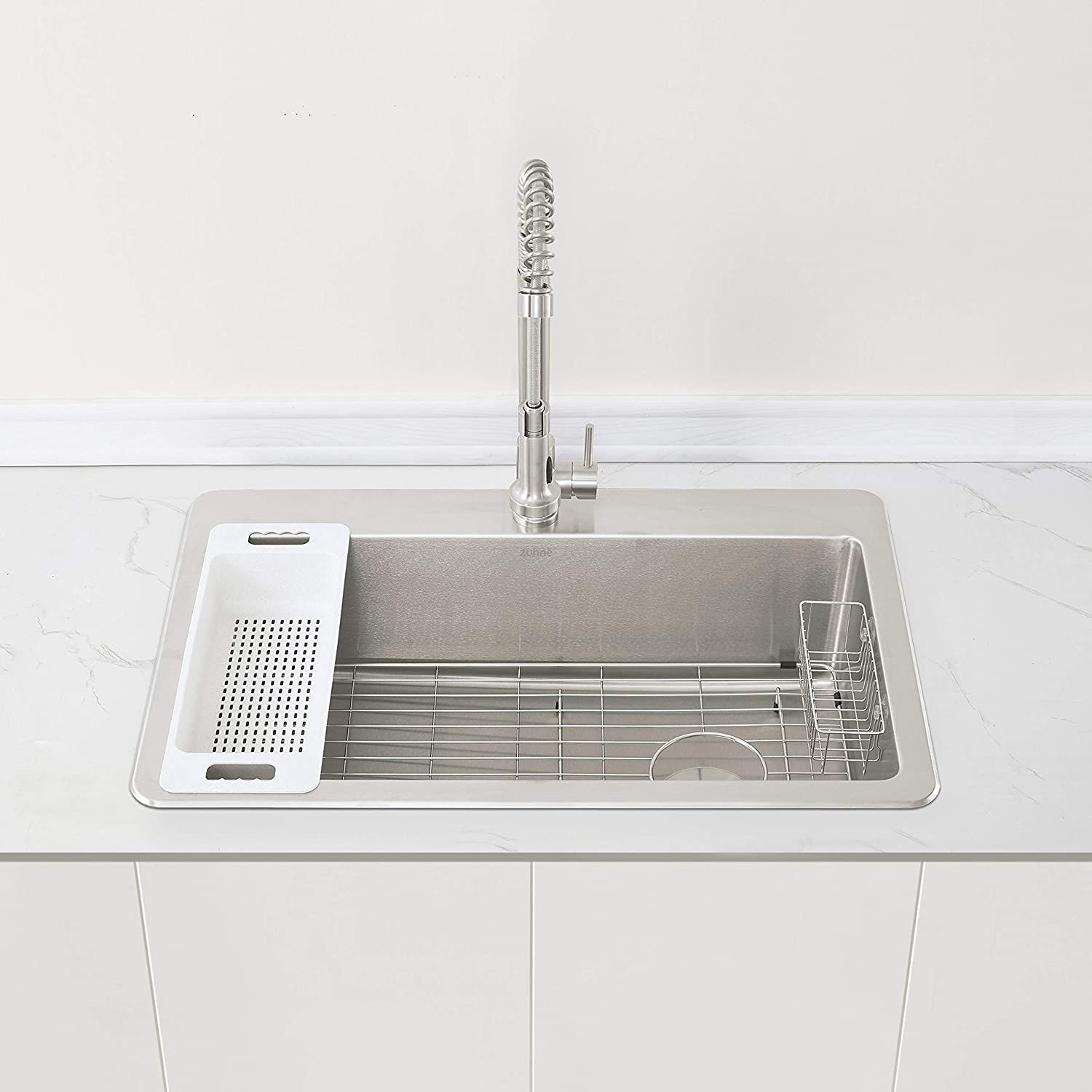 KRAUS KHU100-30 KITCHEN SINK
Another Amazon customer favorite, this durable kitchen sink is also made out of sturdy and durable stainless steel. It also provides the same soundproofing design to conceal disposal use. In fact, it also features many of the same design elements as the one above from Zuhne, such as a deep basin. It also boasts smart grooves at the bottom to stop water from collecting. And it also has an easy to clean protective finish that stops hard water stains and has a timeless appeal thanks to its straightforward design.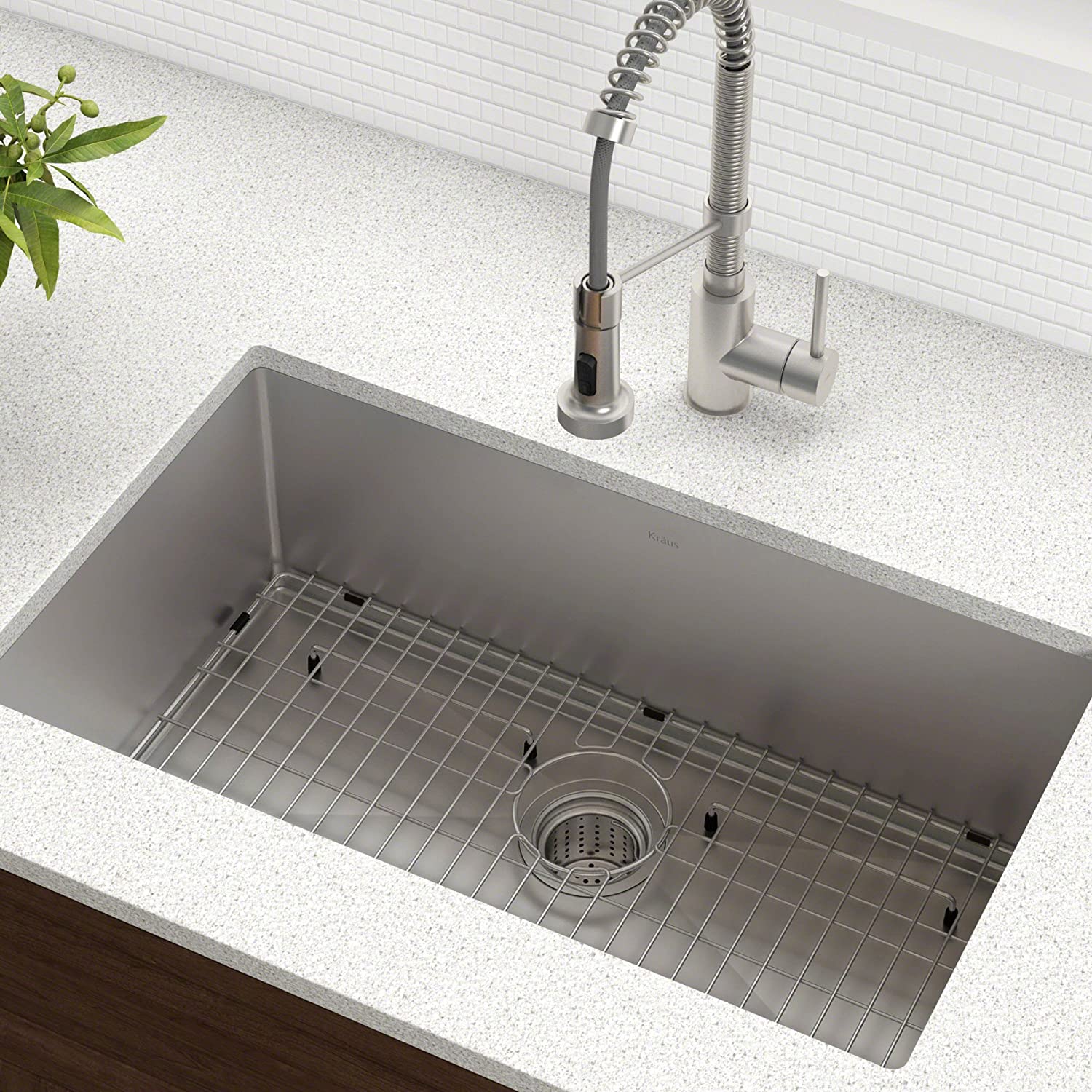 MOEN G222174 2200 KITCHEN SINK
This classic style from Moen is an inexpensive option to consider with a more standard and traditional look and feel. And when it comes to getting your money's worth, a trusted brand like Moen will never disappoint as their products are known to last for decades on end. However, do keep in mind that its double basin design is only 6" deep, so you'll need to create a waterproof zone or area next to your sink for large kitchen gear you need to wash.