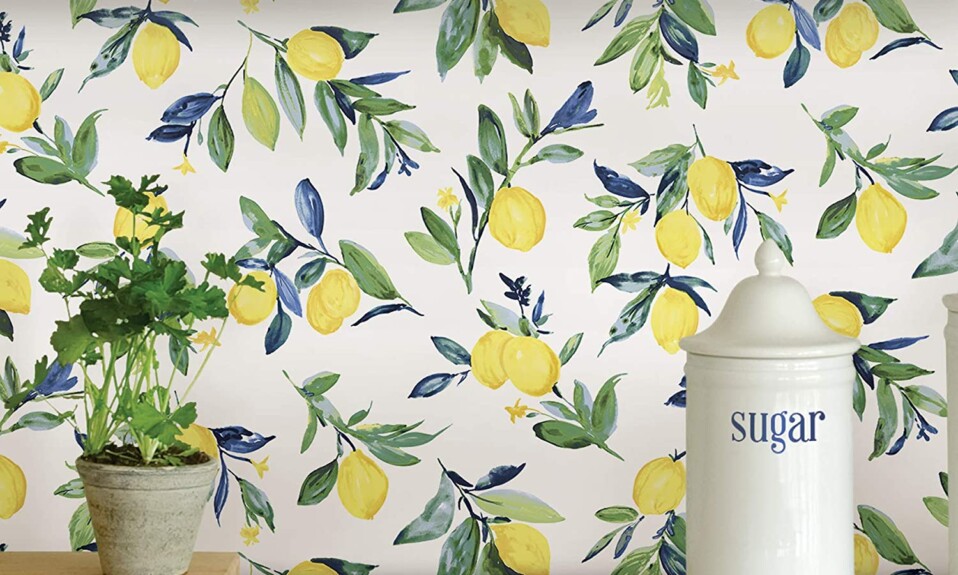 While they haven't been in vogue since the late '90s, striking wallpaper prints have become all the more viable as of late thanks to new print trends and innovative printing techniques. In fact, in recent years, wallpaper has become a central focus for Décor Aid interior designers and clients alike since it brilliantly allows for them to make the best use of otherwise dead wall space without having to bring in construction experts. And while it's common to find homeowners searching for design ideas and the perfect wallpaper choice for their bathrooms, entryway, and living room, wallpaper for the kitchen often gets overlooked since the space usually has a lot of traffic and elements throughout out it already. But since it's also one of your most commonly used rooms, consider kitchen wallpaper ideas an essential when looking for a quick kitchen refresh that won't cost a small fortune. Long gone are the days of naive floral prints and picnic plaids as the best kitchen wallpaper ideas call for prints that are thoroughly modern and unique for a customized feel.
For a one-of-a-kind feel, modern kitchen wallpaper ideas require some creativity and an open mind along with research to get the look right. Otherwise, you might end up with kitchen wallpaper where the placement is off or the look simply feels heavy-handed. Before choosing a printed wallpaper for your kitchen wall, keep in mind that you should consider the overall scheme of your home, your kitchen layout and how the kitchen wallpaper you do bring in will work with the overall flow of your home. You don't want to place wallpaper in your kitchen wall that will look out of place compared to the style of decor and color schemes in other parts of your home as it will come off as random instead of well-judged. To help inspire you so you can bring in the best kitchen wallpaper ideas, explore the right types of materials to use, the right prints that are both on-trend and timeless, and unique wallpaper placement ideas.
Why bring in wallpaper in your kitchen?
Since wallpaper can make a busy space feel all the more visually noisy, most people don't see wallpaper in a kitchen as a smart direction to go for. But when it comes bringing in decor styles into your kitchen, there is no end to the plethora of design choices on the market to consider – they're simply endless prints readily available. So whether you're doing a simple kitchen renovation or decorating from scratch, there's some merits to be found in installing wallpaper in your kitchen. Kitchen wallpaper makes for a great choice when looking to create different moods and zones in a space. Plus, more importantly, they are much better at hiding everyday wear and tear and stains than say, a white wall that will simply highlight them.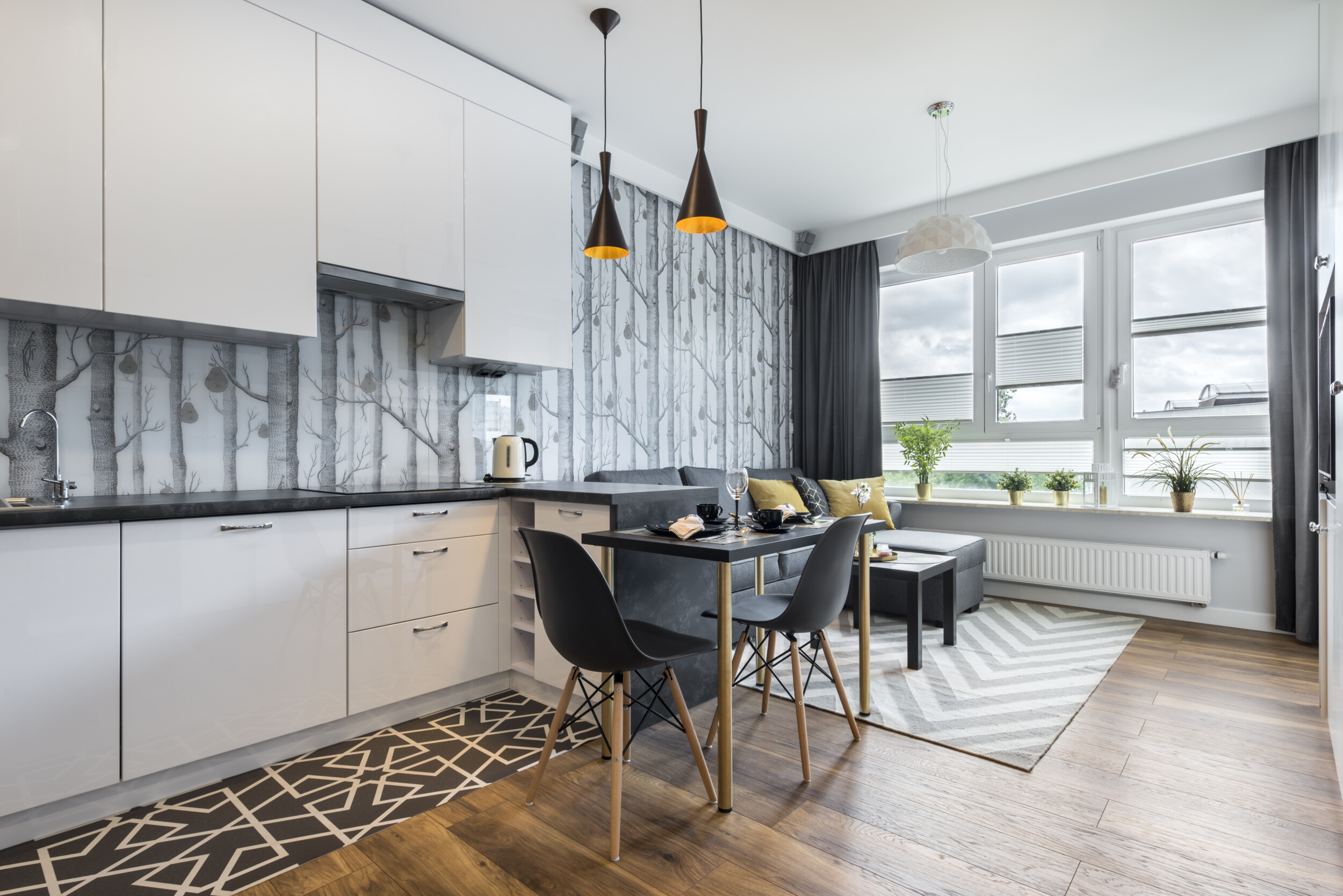 If you're short on modern wallpaper ideas in the kitchen, there are scores of ways you can refresh your creative mind and get the inspiration you need to forge ahead. Kitchen wallpapers are also ideal for space that lacks architectural elements and depth. However, many homeowners find it daunting to incorporate contemporary kitchen wallpaper ideas along with their design direction as they think it could reduce their chances of a quick home resale in the long run. So we hope that this guide will help you explore the latest tips and tricks so you can bring in the best kitchen wallpaper ideas for the most treasured part of your home – your kitchen.
What are the best wallpaper types worth considering?
Washable Wallpaper
Easy-clean kitchen wallpaper ideas are great for kitchens or just about any space where stains and spills are most common. Today you can easily find affordable wallpaper that's been coated in Teflon so you can wipe stains on your kitchen wallpaper away with ease. Which also makes it a great alternative to an expensive tiled kitchen backsplash.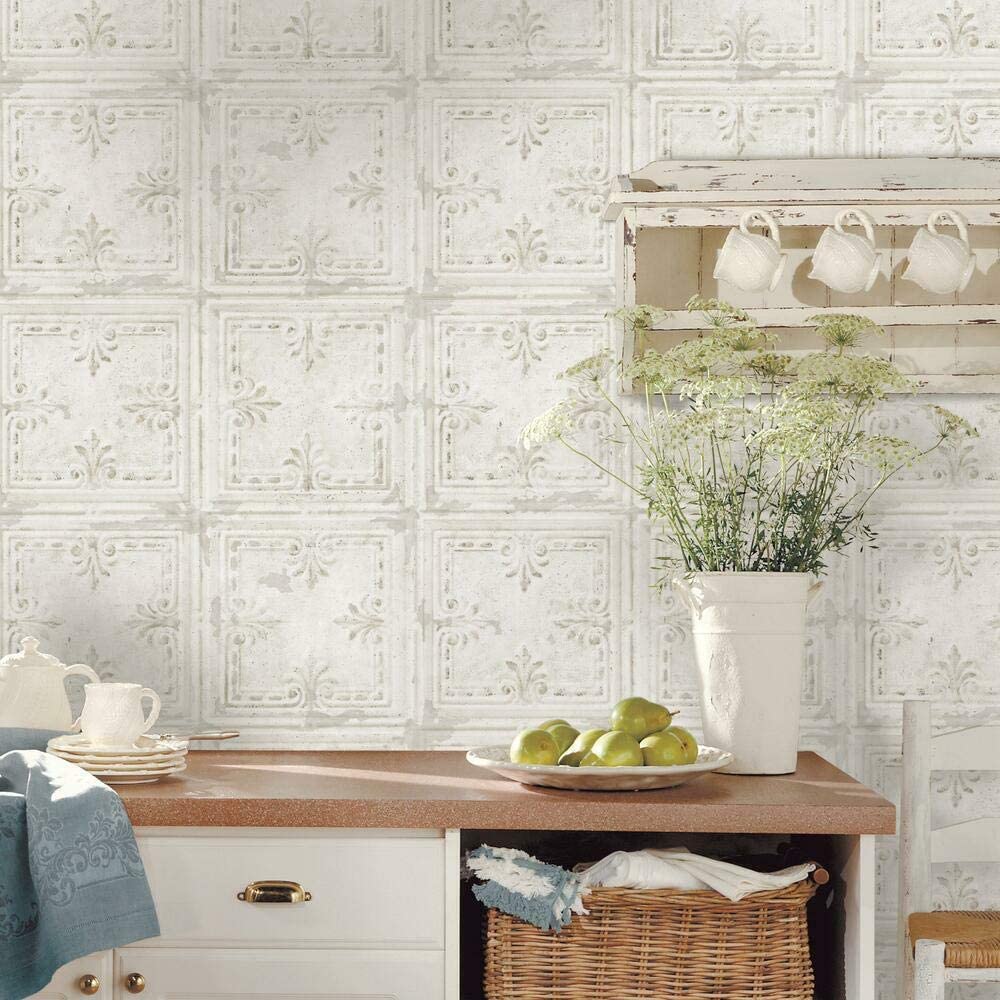 Temporary Wallpaper
Temporary or removable wallpaper kitchen ideas give you the chance to be more explorative and creative with wallpaper prints in your kitchen space since they are easy to install and remove. They are especially great if you are renting, planning a move in the near future or simply find yourself wanting a quick room refresh without all of the hassle that traditional wallpaper installation calls for. You can instantly remove temporary kitchen wallpaper off and replace it without damaging your walls. Even better is that they are often waterproof and easily cleanable.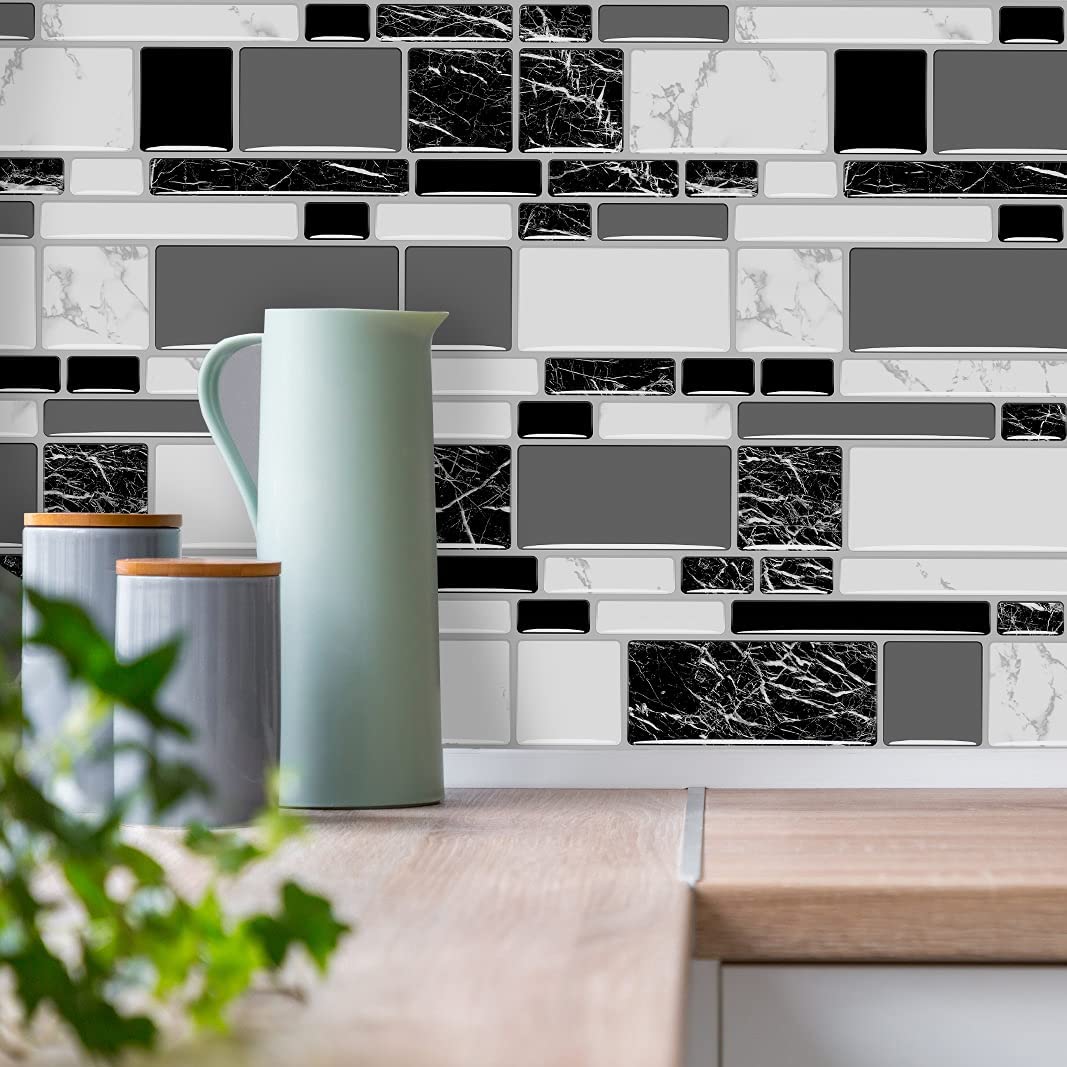 Classic Wallpaper
Traditional wallpaper is still completely viable, however, it is much more difficult to install and remove, and can be harder to keep clean in the long run. And it can be more expensive, so be sure that you feel like you will be happy with your selection for years to come.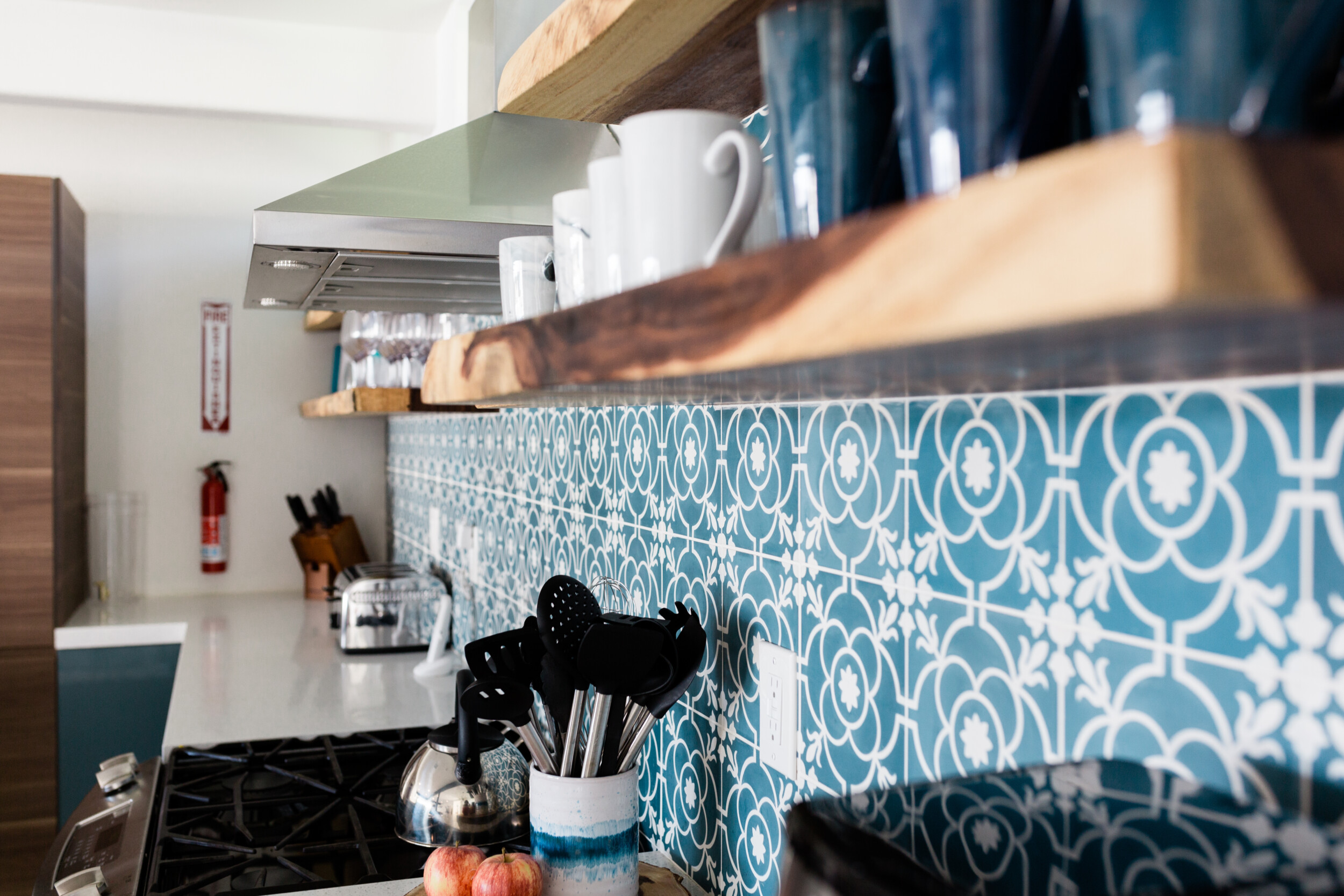 Think outside of the box
It's easy to follow the norm and bring in what you feel looked right in someone else's house into yours, but when searching for ideas for your kitchen decor, you'll more than likely find a wallpaper print that will be unique to your home. The best way to avoid a generic and familiar feel is to plan and budget for kitchen wallpaper ideas that let you think outside of the box. Go ahead, and unleash your creativity.
Think of a kitchen wallpaper design that will give your kitchen a one-of-a-kind look that's endlessly elegant yet not out of place. That way, you can easily bring in kitchen wallpaper ideas that are unique yet minimal and visually interesting.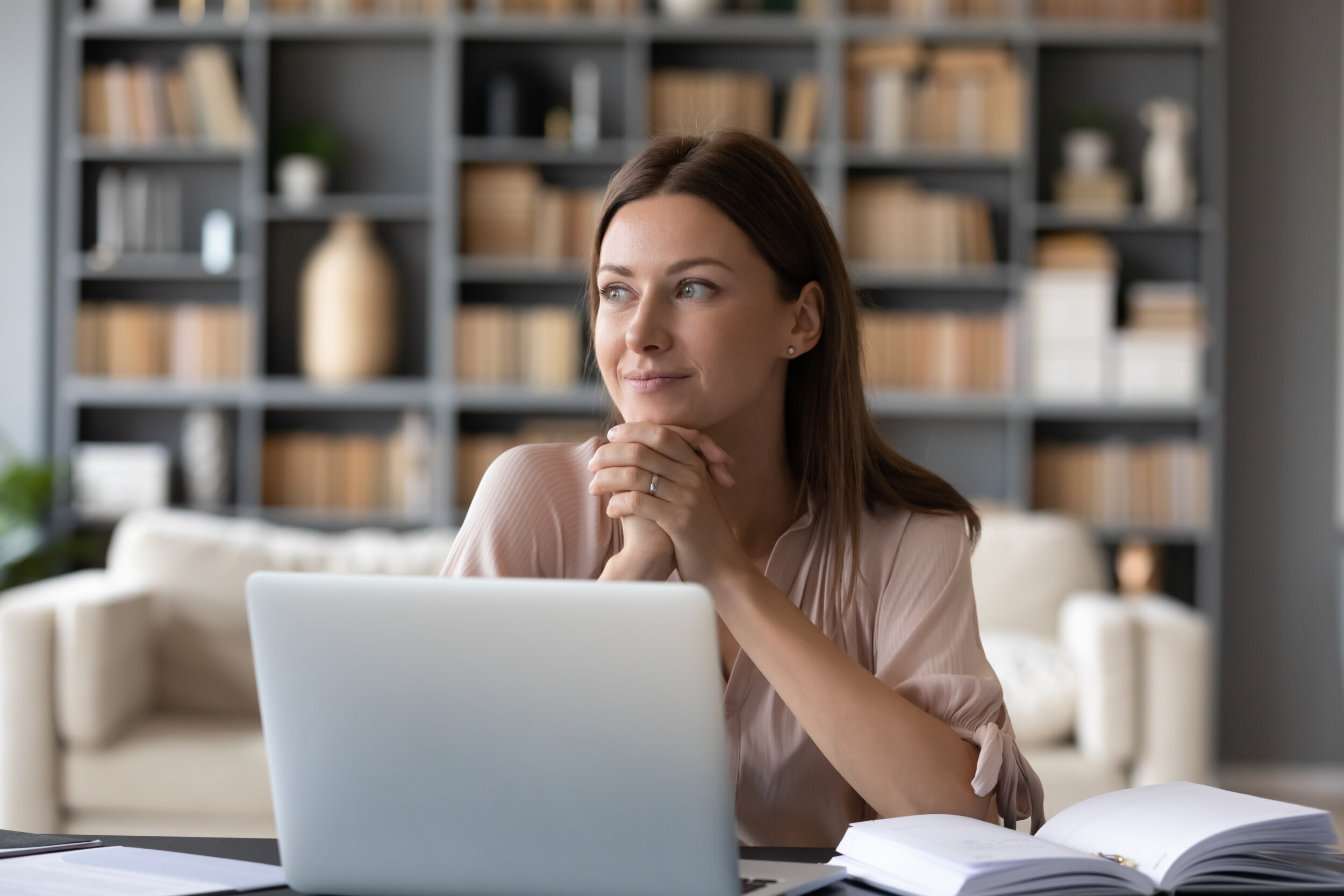 Consider bold kitchen wallpapers
The kitchen is always a buzzy environment. On most days, you may visit this treasured part of your home even more than your living room. Therefore, if you want to make a statement with your design choice, choose a bold wallpaper that radiates fun and vibrant energy. Allow your kitchen to create a visual statement for the rest of your home by picking timeless wallpaper colors such as bold red, blue, green, white, and light dark brown.
Bold colors will draw attention and leave anyone that visits your kitchen with no doubts about your design taste and style. However, avoid using wallpaper in any wet areas of your kitchen unless they are wipe-able or protected with a plexiglass surface.
Don't forget the backsplash
The best kitchen wallpaper ideas aren't far-fetched if you know where to focus in your kitchen space. There are so many ways you can make a wallpaper strike a long-lasting effect in your kitchen. Adding wallpaper behind your cooker as a backsplash is another great way to unleash your creativeness and style. Be sure to add a plexiglass covering before placing wallpaper behind your cooker. This will serve as a protective covering and prevent sudden wear in the future due to frequent kitchen use.
For your backsplash, choose wallpapers with multiple colors or a striking floral design. This helps to eliminate the visual noise of your cooking area. If you find a wallpaper with designs that evoke the inviting spirit of home cooked meals, go ahead and use it. Backsplash wallpapers aren't the perfect place to go bold. Choose colors that radiate a subtle look, ones that are less energetic and softer looking.
The backsplash is the most sensitive part of any kitchen wall. It can be easily stained from water and oil spatter. Nevertheless, it has to look crisp. If you want the wallpaper to last long in this hectic part of a kitchen, consider using vinyl, which is a good alternative to tile and wallpaper, making it perfect for a backsplash. Aside from this, it's also inexpensive and easy to maintain.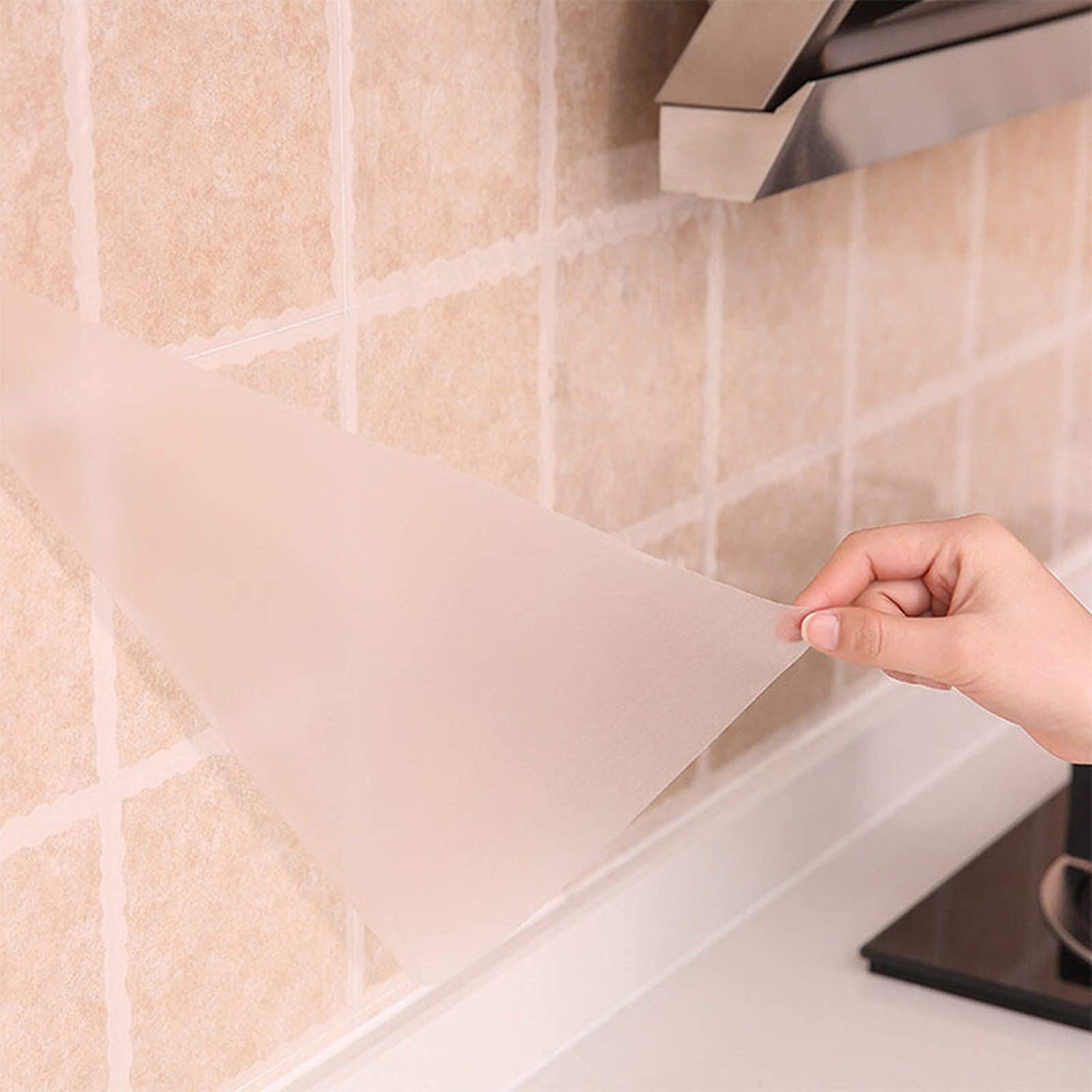 Choose subtle designs
Wallpapers shouldn't just be all about color and pattern, style matters too. Have you ever seen wallpaper in a kitchen and quickly passed it by without realizing what it really is? Kitchen wallpaper that arouses the subconscious mind and awakens your curiosity are now the next "big thing" among designers globally.
These are the kind of country kitchen wallpaper ideas that are now making headlines. Go for trompe l'oeil kitchen wallpaper ideas with playful and intriguing designs, textures, and feel. That way, you will always find a reason to smile each time you walk into your kitchen.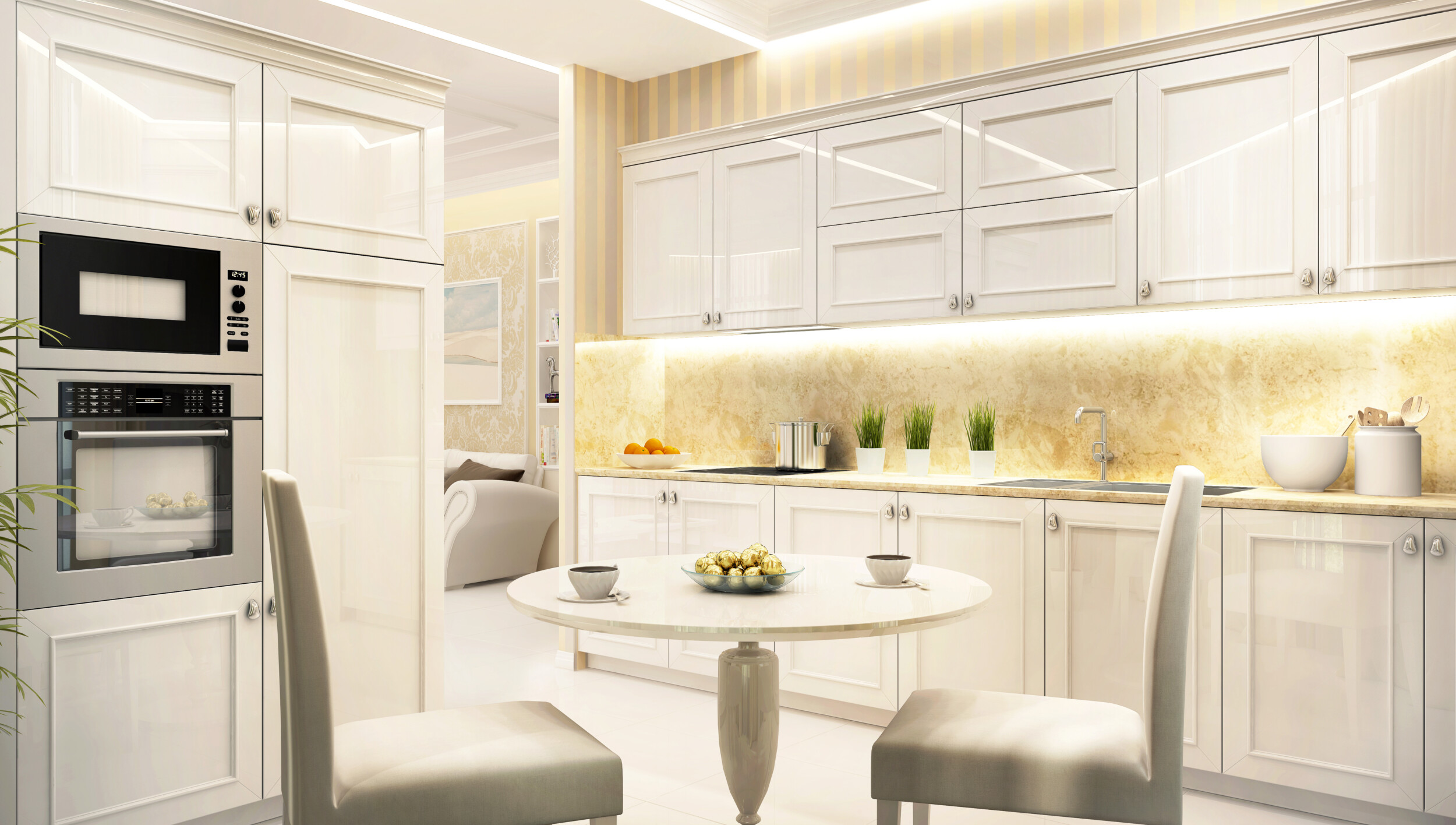 Pair with accessories
While searching for the perfect kitchen paint and wallpaper ideas, don't forget to style it up with chic accessories, artwork, and other elements that will work to conjure an elegant modern day kitchen. Ensure that your wallpaper color is in direct contrast with either your kitchen appliances or flooring to keep the eye moving.
For instance, primary wallpaper colors such as beige, yellow or white, are a perfect match for brown kitchen floor tile or burgundy Persian rugs.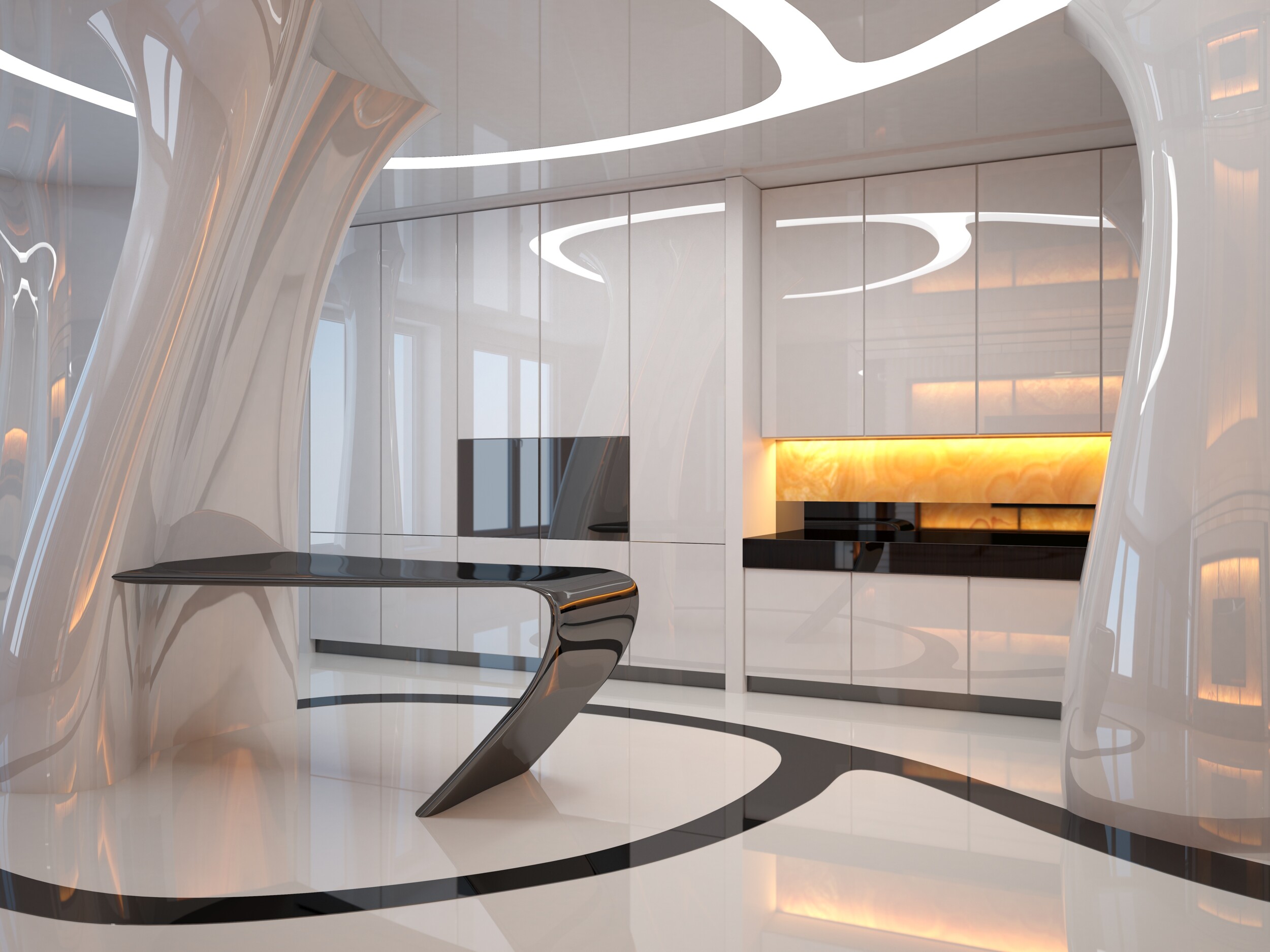 Play with placement ideas
You don't have to apply wallpaper on every part of your kitchen wall space. You could apply it to the edges, near your ceiling, inside cabinets or use wallpaper borders. The ability to create your own design pattern and streamline the look of your kitchen will help to make it feel all the more unique.
In fact, there's more kitchen wallpaper placement ideas towards the end of this feature to consider.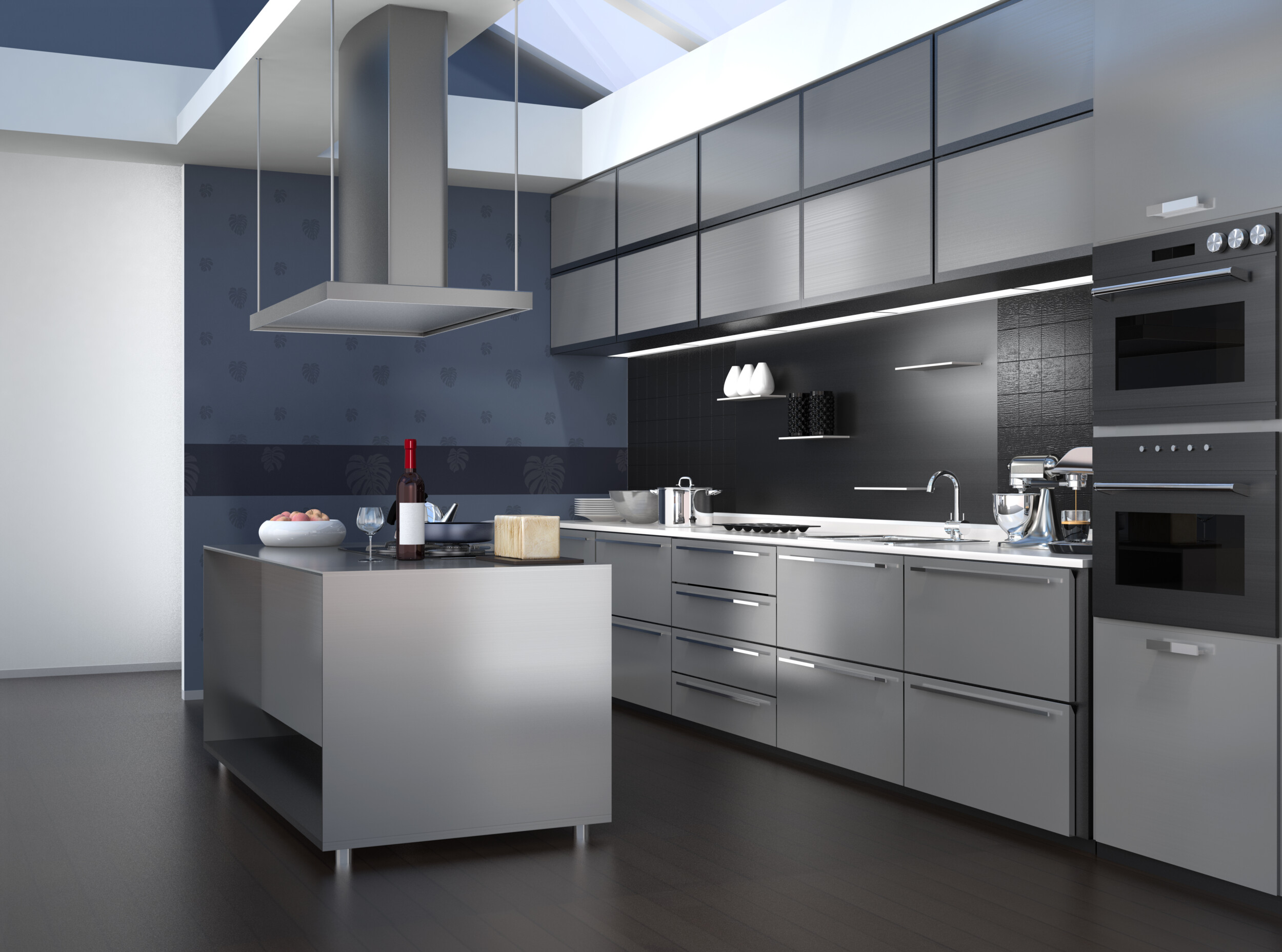 How to choose the best wallpaper pattern and color
At the center of kitchen wallpaper ideas is the ability to choose the appropriate wallpaper for your kitchen wall. The number of wallpapers on the market nowadays can be overwhelming for many people looking for country kitchen wallpaper ideas, to enable them to make the most of their kitchen space. Your choice depends on what you want from your kitchen and the style you wish to your design choice to reflect.
If you love a more subtle feel, then opt for a warm and simple kitchen wallpaper design. But if you want your kitchen to illustrate a colorful and dynamic look and feel, then opt for bold colors that quickly brighten up the atmosphere. The centerpiece of any kitchen wallpaper design ideas is an engaging style and pattern, and your ability to blend it with either neutral, bold or a vibrant color scheme. Just like we mentioned earlier, creating the perfect kitchen wallpaper design ideas shouldn't be a hassle with the right tips and tricks.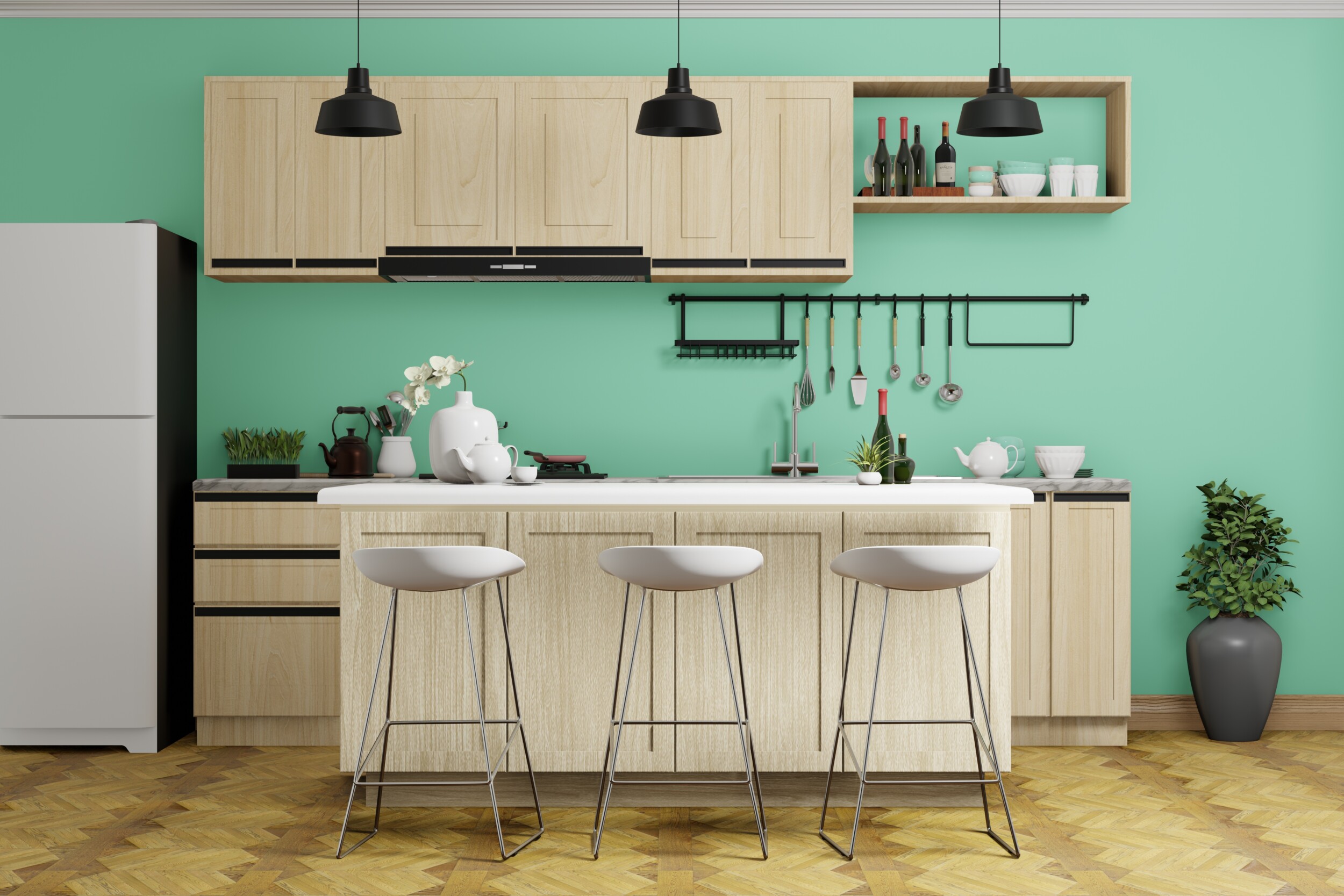 BONUS: INTERESTING WALLPAPER IDEAS
Since homes with all-over wallpaper throughout are long gone, these interesting wallpaper ideas and cues for placement will help you bring in needed color and pattern in your kitchen without having to cover each and every wall. As when it comes to modern kitchen wallpaper, sometimes the beauty lies in placement.
AN ACCENT WALL FOR DEPTH
Like we just said, today's take on cool wallpaper ideas for home don't call for every surface to be covered in print. So instead of covering each wall, think about adding room-defining depth via a striking accent wall. By letting the eye focus on a major wall in your kitchen, you'll instantly create a conversation-starting focal point that'll lend even the smallest of kitchens a jolt of personality.Best of all is that since you're only covering a small portion of your kitchen wall space, you can also easily and inexpensively update it as trends and your tastes change without having to re-do your entire kitchen completely. This will also make for a great way to bring in the best kitchen wallpaper without having to spend a small fortune.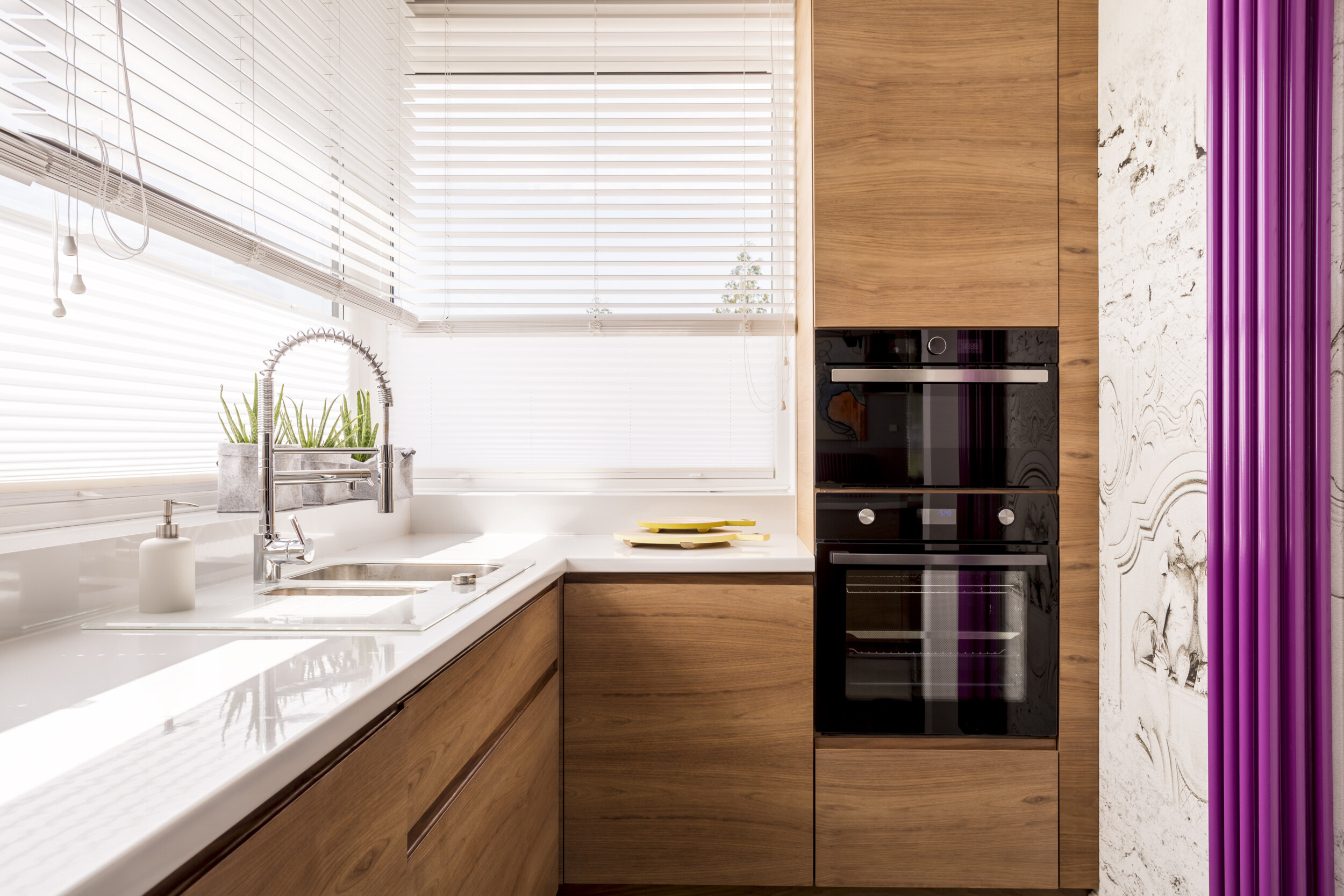 LINE SHELVING AND CABINETS
Add a sense of play against your shelving and the inside of your kitchen cabinets with cool wallpaper ideas that let you introduce prints and patterns in an unexpected place. By doing so you'll instantly add more depth while highlighting what's inside.
It's a small are you're working with so you'll be able to enjoy the freedom of choice when it comes to cool room wallpaper ideas. And of them all, this also happens to be one of the least expensive kitchen wallpaper.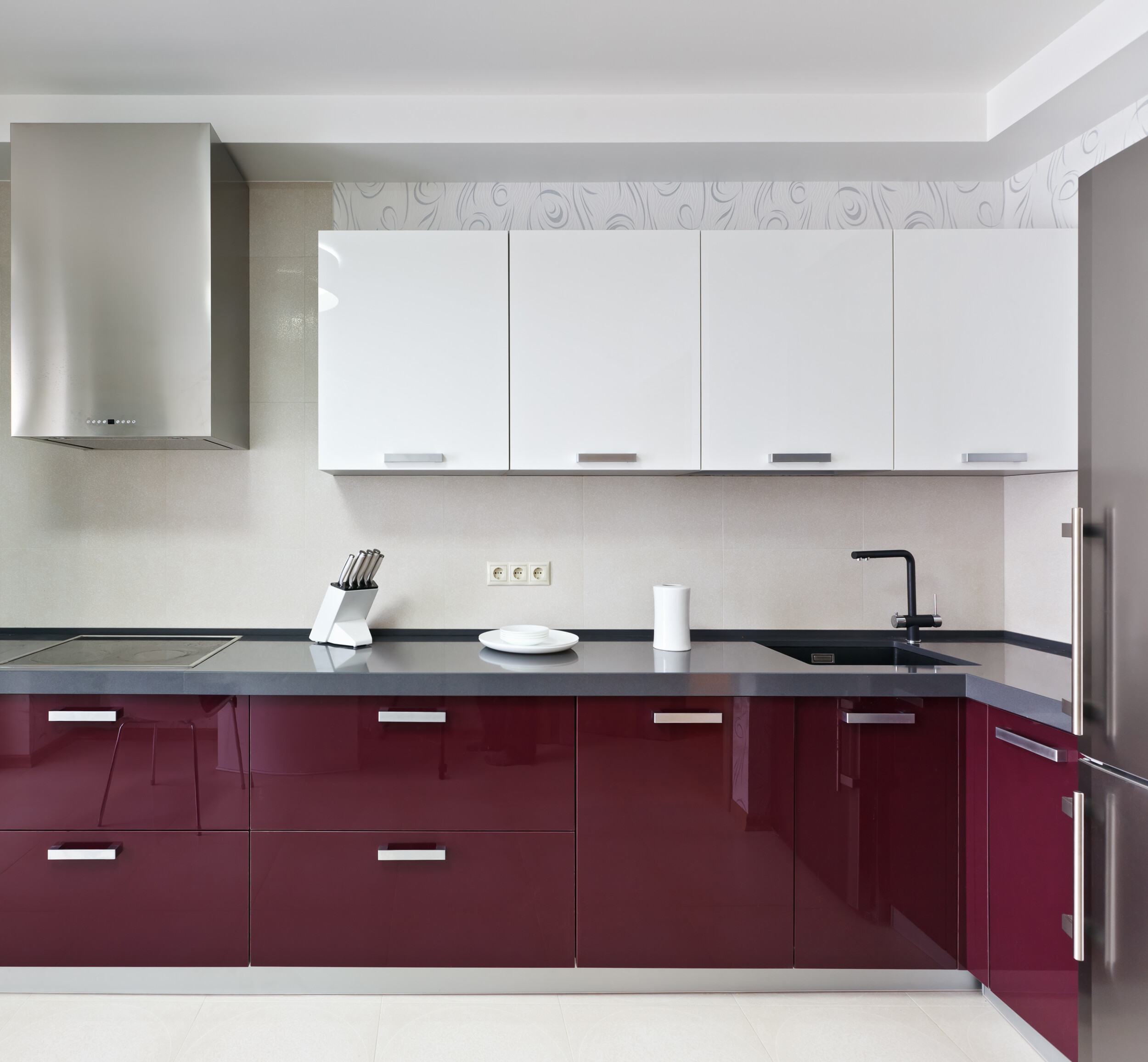 THE FIFTH WALL
Still on the hunt for modern wallpaper but aren't quite sold on an accent wall or an all-over print? When it comes to cool wallpaper, again, think of the unexpected. To make a room-defining statement that you won't see in anyone else's home, consider your kitchens most often overlooked area – its ceiling, otherwise referred to as the 'fifth' wall as modern kitchen wallpaper call for thinking outside of the box.