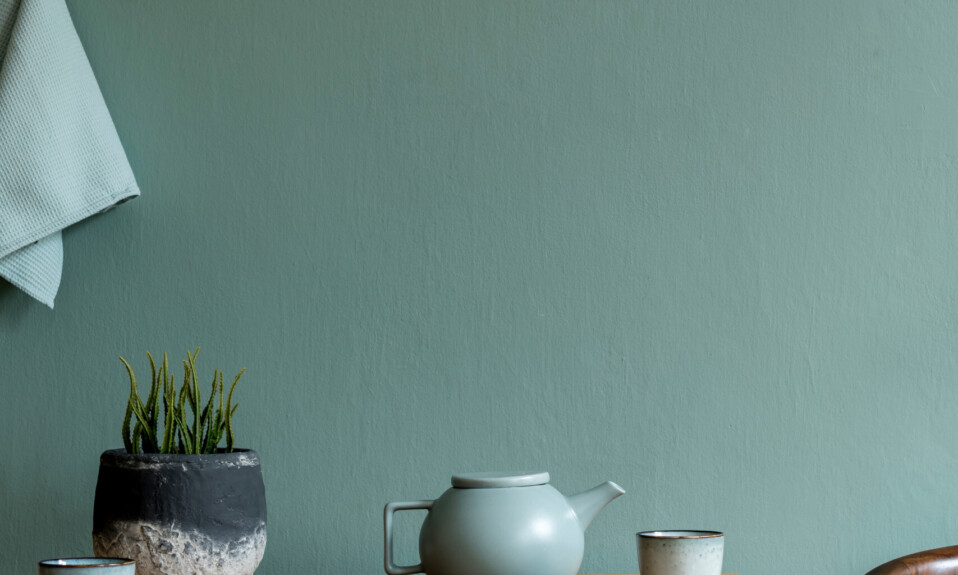 Looking for a neutral paint color that's got more depth and warmth than cold and clinical white, but is not as visually heavy as a black or a brown? As a striking alternative, consider sage green paint colors as an ideal solution. According to Décor Aid interior designers, sage is a delightfully gender-neutral shade and is a calming alternative to standard white, generic beige, and moodier grays. In fact, according to Pinterest users, there's recently been a 170% increase in searches for sage decor — and we can see why.
The grayish-green appeal of sage green paint colors lends a space a soothing softness without coming off as overpowering, making the muted feel of sage green paint easy to work with. To help you explore the best sage green paint color ideas, we're looking at inspiring takes on the shade that'll bring a room to life while making the best use of a sage green color scheme without coming off as heavy-handed.
PLAY WITH A RANGE OF SHADES

When it comes to sage green paint colors, the range of tones the shade provides are endless, and almost all of them are terrific options. So how do you find the right sage green paint colors for your home? Just like with any paint color, before applying a fresh coat of paint, explore your options and see how the ones you like make you feel, and how they affect the space you're considering transforming with sage green paint color ideas.
Explore the many sage green paint colors easily found on the market and go for one that's unique yet not too experimental so you'll ensure that you won't tire of it anytime soon. And when considering the best sage green paint color ideas for your home, its always good to go for a shade lighter than you first liked since it is a color that can veer off into the dark and heavy.
MAKE A SMALL SPACE APPEAR LARGER
Use a sage green color scheme to your advantage since like white or beige, it can instantly make a room appear much larger and more dramatic. For this hack go for lighter and brighter sage green paint colors to really make it work as sage green paint color ideas offer plenty of options when it comes to exact shades.
The same goes for a sage green bedroom since bedrooms are often short on windows and a darker shade of sage green can make it appear smaller. And unlike heavier colors that lend a space an emotional charge when you go for all-over color, sage green paint boasts a universal appeal that's far from moody and easy enough to work with.
USE IT TO ADD DEPTH
Sage green paint colors are great for adding room-defining depth even in the smallest of spaces – making them also perfect for a striking accent wall. And to make a room appear larger besides creating an accent wall, you can be as creative as you want.
Think sage green paint color ideas that are more unexpected, like a contrasting wall that teams a white or beige bottom with a sage green painted top half that will instantly extend the height of a ceiling. Or go for a sense of every day glamor by painting your doors and trim with glossy sage green paint to really set the mood and elevate a space.
PAIR SAGE GREEN PAINT WITH NEUTRALS
Since working with a sage green color scheme offers the same versatility that any other neutral does, the color also pairs well with just about any other color and works well with every design style, from the modern to the rustic. So if you want to keep the look easy on the eye, pair sage green paint with foundational neutrals that will be timeless in appeal for years to come.
For a rich and indulgent look, thinking about peppering your sage green color scheme with vibrant colors like an energizing red or an earthy terra cotta. By doing so you'll keep the eye moving and you'll have much more freedom to decorate with. You can also keep your sage green color scheme soothing by keeping it complimentary with tonal plays on the color while making sure to add plenty of texture for visual play.
And for something more alluring, you can also pair sage green with a rich purple, a zesty orange or a breezy blue since they are all nearly the opposite of sage green yet work as complementary colors when paired together. And for an elevated look consider bringing your sage green color scheme to life with high-shine metallics and rich glossy finishes.
KEEP IT DRAMATIC

When decorating a sage green bedroom keep in mind that variations on the color and finishes can make a huge difference in the look and feel of the space. Go for a deep sage green paint and you'll lend a space room-defining strength that's dark and moody. And when you go for lighter or even brighter, you'll lend a space the chance to appear larger and better lit.
Either way, when it comes to sage green paint colors ideas for bed room, it all depends on what you're looking to elevate the space with. That said, since most bedrooms are on the smaller side, we suggest going for the later to take advantage of sage green paint colors bedroom that'll transform the space with ease.
INTERESTING WAYS TO USE SAGE GREEN PAINT COLORS IN SMALL DOSES

Just because you're considering sage green paint ideas doesn't mean that you have to go for all-over color. Instead, think about interesting ways to use the neutral paint color to your advantage for an unforgettable statement. These sage green paint ideas will also come in handy if you aren't also quite sure of the color for your home.
For an accent wall – Add room-defining depth in your home by opting for a striking accent wall that you can easily transform as seasons and trends change without having to repaint an entire room all over again.
To create a contrast – Create a visually interesting look with a juxtaposition of partial color for a dramatic color-blocked statement. To get the look right and keep it easy on the eye while making your ceilings look higher, paint the top half of a room sage green and leave the bottom half a lighter neutral.
To bring your ceiling to life – Considered the fifth wall and often overlooked completely, painting your ceiling will also make a room appear much larger than it is and its a unique take on placement.

For molding and doors – Instead of painting all of your walls, add an elegant upgrade in your home by painting trim, molding, and doors a soothing sage green. This is a great idea for high-traffic zones since green will hide every day wear and tear and stains.
Sage green kitchen cabinets – Though its been trending heavily for over the past decade or so, there's no denying the endless charm of a sage green kitchen. And for kitchen cabinets, sage green will also help to conceal signs of aging and distress – making it a great way to transform your kitchen cabinets without having to completely replace them.
From the best sage green paint colors ideas for bed room or any room for that matter, all it takes is finding the right tone for your home to get the look right. From striking takes on how to make the hue work in your living room to sage green paint colors bedroom you should consider, take notes from the wide range of cues highlighted here to make the color work in any room.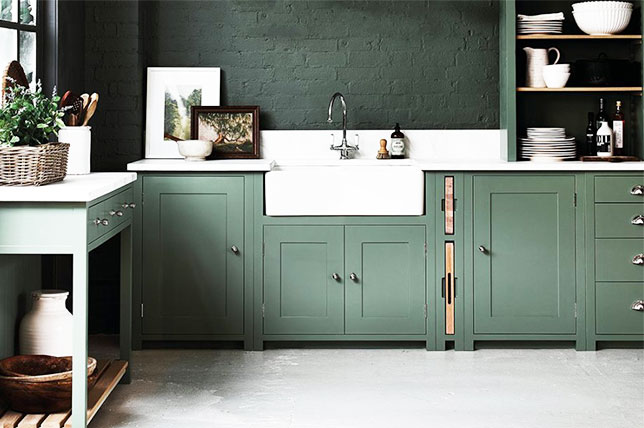 The neutral color trend dominated all of 2017, yet surprisingly with the new year came a new trend. The predictions are in, and it's out with the blues, greys, and whites that were favored last year and time to make room for red, yellows and greens of today. Sage green, in particular, has been gaining a lot of attention and for all the right reasons. This gentle green hue is an excellent alternative to more traditional neutrals. Sage green is just as versatile as traditional neutrals like gray and blue, pleasantly complimenting various decorating styles, accent colors, natural materials, and metals. Follow on for our senior designers five ideas for decorating with sage green paint and learn how to incorporate this trending color in your home decor.
SAGE BEDROOM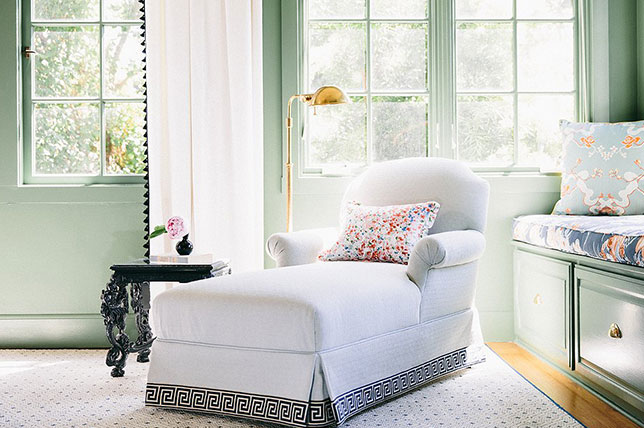 When it comes to bedrooms, they should be comfortable, tranquil and relaxing. That is why designers everywhere choose to decorate bedrooms in muted neutral colors. Sage's soft grayish-green hue is quickly becoming in on-trend replacement for traditional neutrals like blue and gray. Sage green paint on your bedroom walls will promptly provide a soothing atmosphere, and the color has been known to be a mood enhancer as well. If you've decided to try out this new favorite color, our designers suggest contrasting it with warm to the touch decor, such as sheepskin rugs, knit throw blankets, and other textured decor pieces.
Image via: Pinterest
GALLERY BACKDROP

Sage green unlike other trending colors, such as tonal reds and burnt yellows, is a muted shade that won't overpower other decor pieces in a room. Many galleries use white as the backdrop of their art pieces, yet the subdued tone of sage green paint will allow the art to become the focal point of a room, while the pigmentation assists in bringing out colors around it. In other words, decorating with sage green helps create an eye-catching pop of color, that might otherwise not happen with another neutral like gray or ivory.
Image via: Homes
SAGE ACCENTS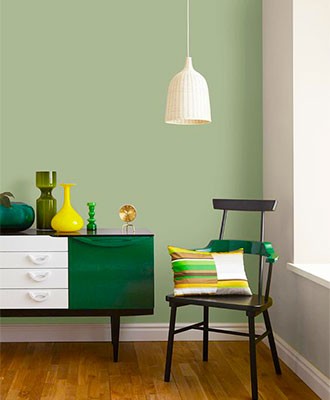 If you are looking to try out the new trends, start sourcing decor in daring, bold shades, but don't forget to incorporate pastels and more importantly sage green. In a room full of deep golds, burnt oranges, and mahogany, sage green decor accents can help tone down a home's space and counter the overwhelming feeling that accompanies more vibrant colors. Sage accents such as statement pillows, table trays, and rugs. Sage green decor will work well in modern areas, helping to create a warm and inviting atmosphere for yourself and your guest, despite the room's other contemporary, sleek and stainless steel decor.
Image Via: Pinterest
A SPA EXPERIENCE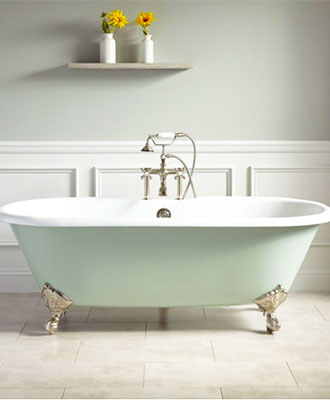 Incorporating sage green decor into your space opens multiple possibilities, and while looking for areas in your home to try out this trending color do not skip over your bathroom. Due to its soothing, tranquil nature, sage green can help create a serene experience, transforming your washroom into a lavish in-home spa. Painting the walls aren't the only way to introduce sage into your washroom, from tiles to accents rugs, and even better, sage is likely to complement the colors currently in your bathroom space.
Image via: Signature Hardware
CABINET ALTERNATIVE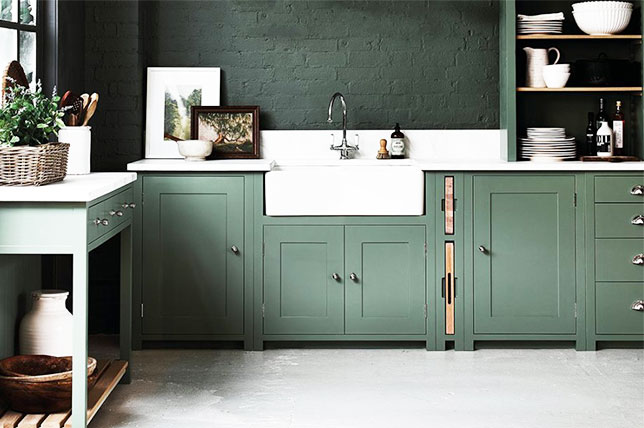 Before 2018 started, most designers were predicting the end to the classic, traditional all-white kitchen. So say goodbye to stark white and hello to sage green. Decorating with sage green is excellent for those looking to make a subtle change. A great place to start adding color to your previously white kitchen is with the cabinetry. The earthy, leafy color will look great with preexisting hues and materials already found in your space. A soft shade of sage will subtly compliment various wood tones. Stainless steel and other mixed metals as well as stones like quartz and granite.