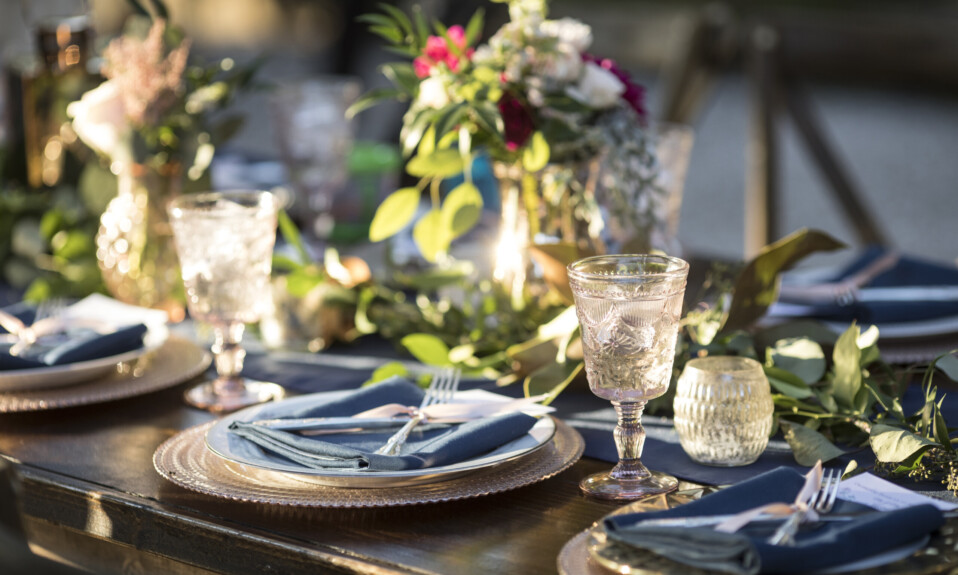 As summer parties are as synonymous with the season as trips to the beach and a pitcher of sangria, we ran a quick survey by our interior designers to deliver you the best in easy to manage summer party ideas to elevate your next outdoor party with the same confidence you had in decorating your home.
Because whether you're looking to entertain Alfresco, poolside, or in your garden, you'll never be short on summer party ideas with this quick crash course to the ultimate in outdoor style with verve.
Think About The Scene You Want
Think of it this way; by now you've probably been to your fair share of summer parties, outdoor events, and even weddings where you've probably taken note of what works, what didn't work, and what was truly inspiring.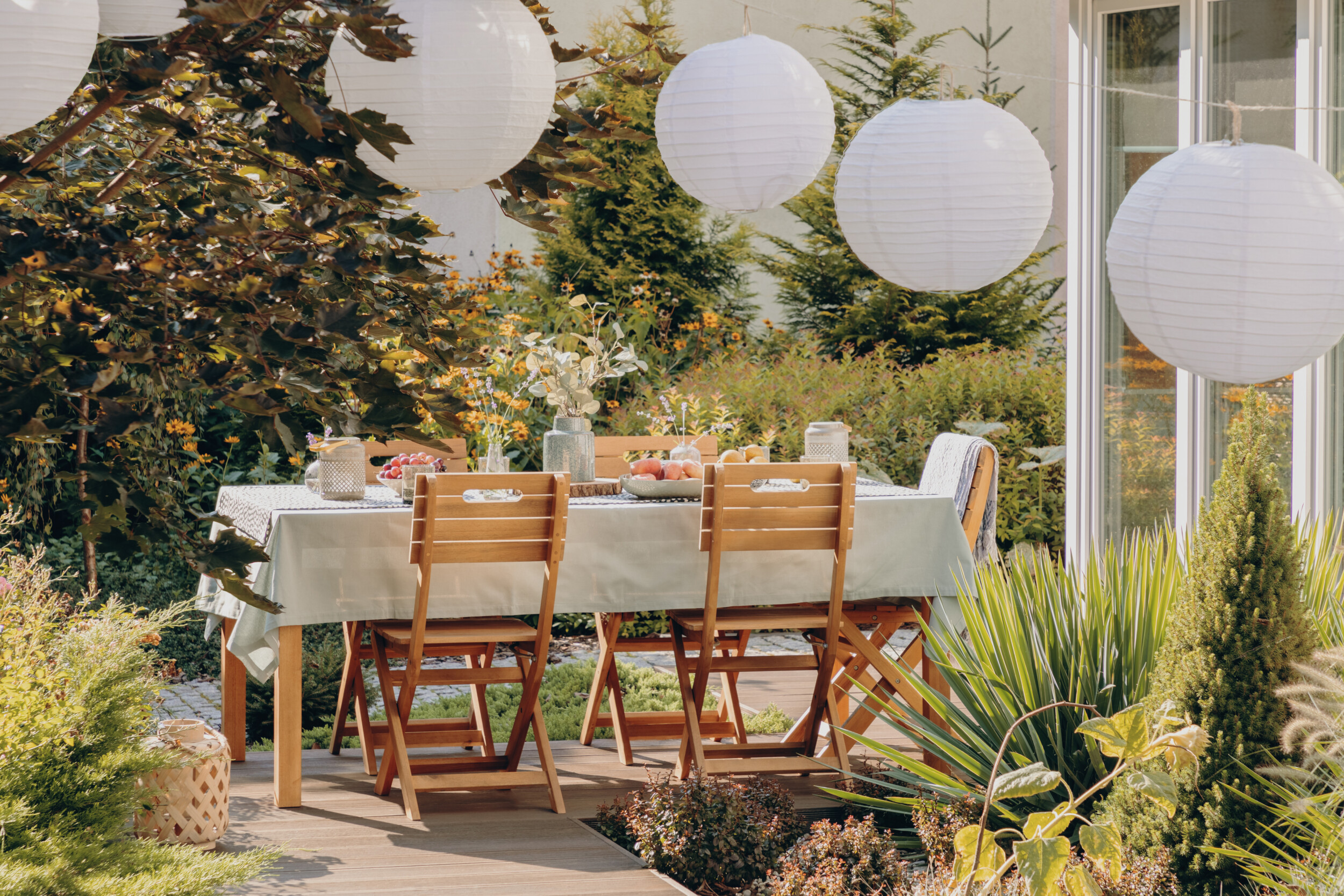 When looking to create your own outdoor entertaining events for your home, conjure the best summer party ideas you've come across and follow suit. From how your outdoor space traffic flows and how many people it can accommodate with ease, to the kind of furnishings and serving dishes you use, plan every detail ahead as though the season is casual in spirit, there's no reason for your outdoor party to be low on thoughtful décor and practices. And if you're short on ideas, there's always Pinterest for cues.
Try A New Table Setting Approach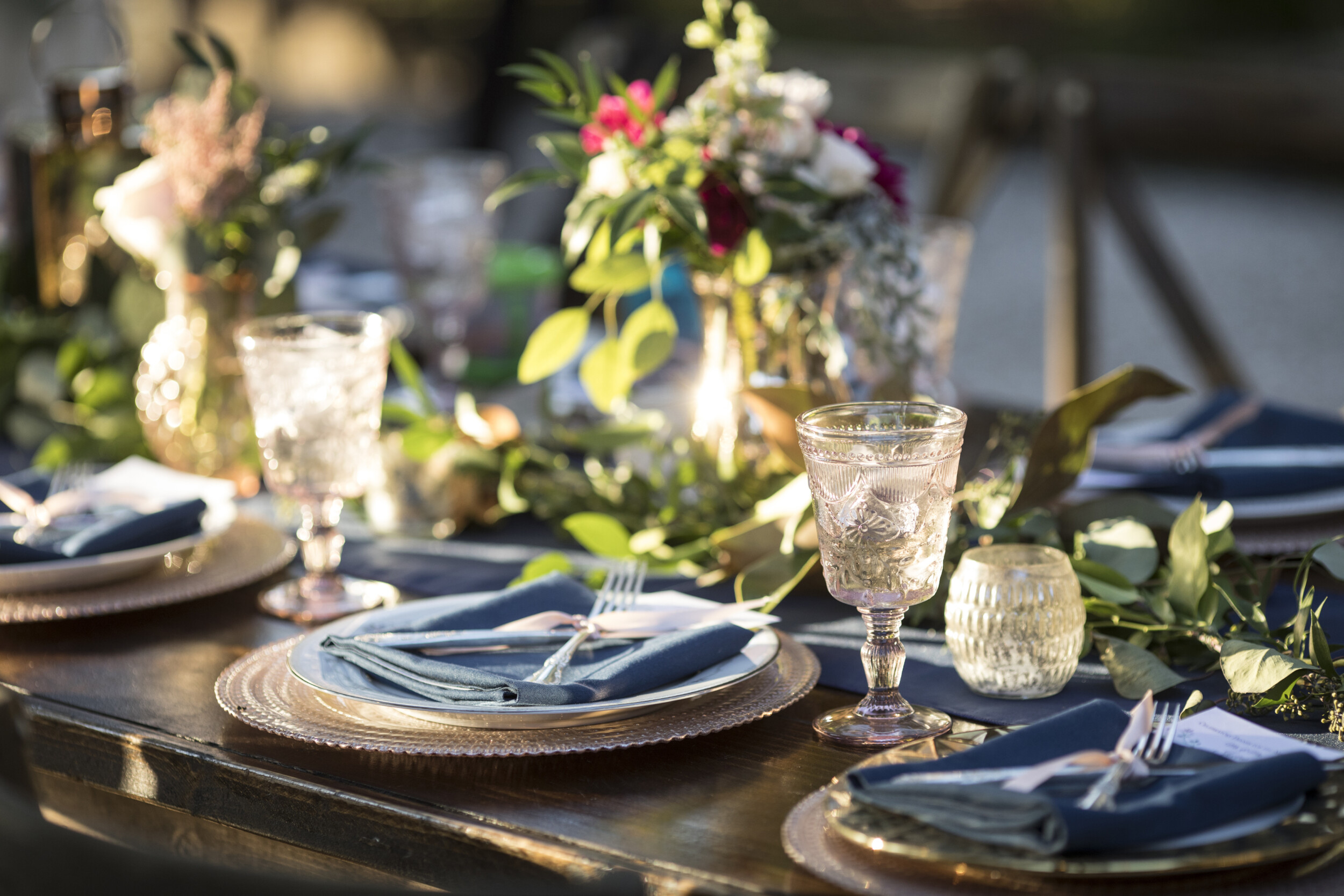 We're not asking you to do too much extra work but spare the plastic and paper table settings for flatware, porcelain, and serving dishes you use inside your home as that extra step is a thoughtful touch and a much more grown-up approach to summertime party ideas.
Plus, you'll do your part in avoiding waste while adding an extra sense of sophistication to your event.
But Don't Overthink Event Details
Since the season calls for a more laid-back take on entertaining, don't over think every detail as the best summer party ideas call for a casual approach to outdoor festivities. And since you're entertaining outside, there are plenty of variables that'll do better with an organic take on summer parties and their anything-goes outcomes.
Do Create A Luxurious Environment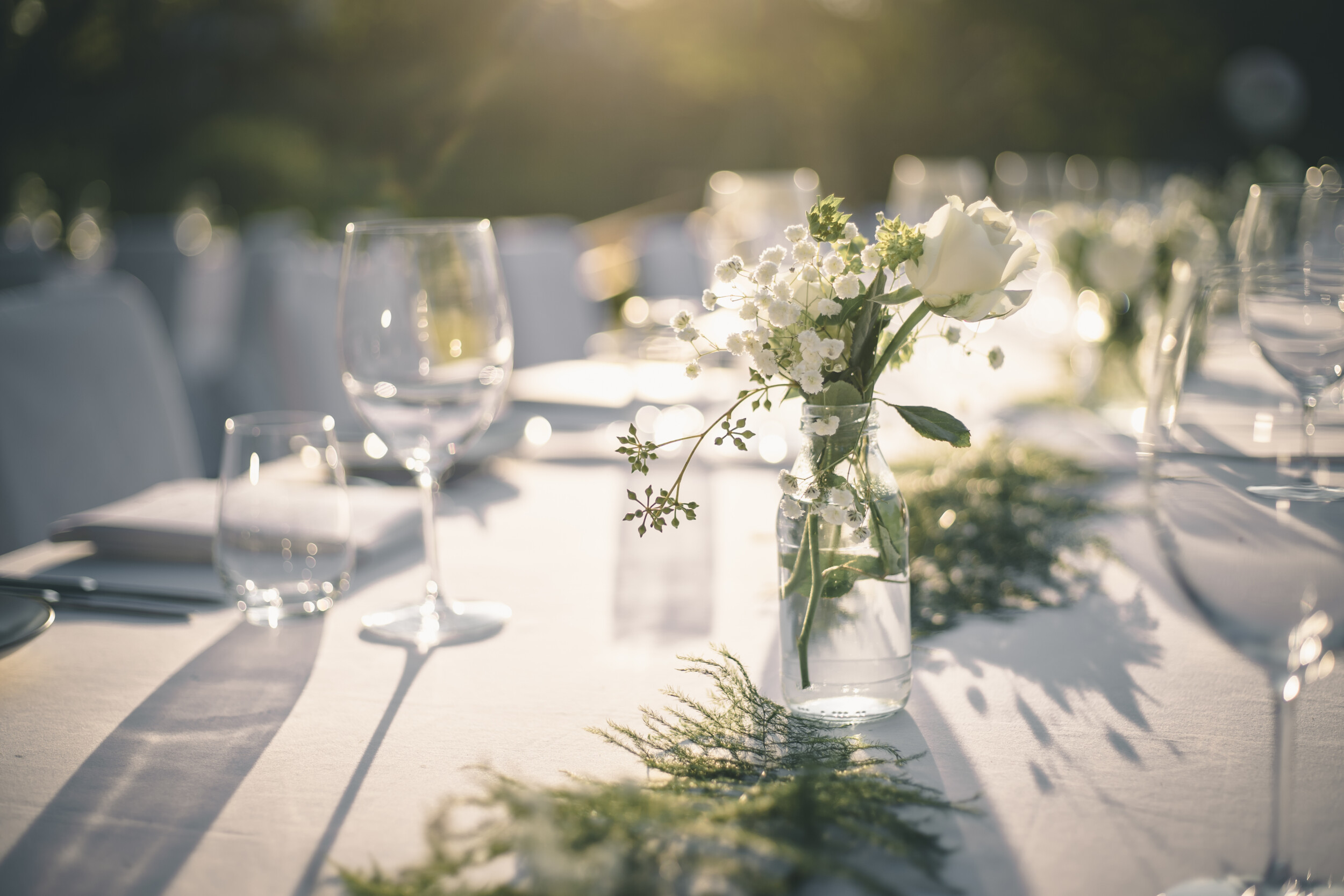 But again, keep it casual as well. Don't take the idea of luxury too far outdoors as you'll want your space to feel warm, inviting, and relaxing. And as summertime party ideas needn't be regal in direction unless it happens to be a monumental occasion, do take advantage of the rustic spirit of the outdoors and use that to define an elegant outdoor energy.
Don't Overstuff Tables
Though it wouldn't be a proper outdoor gathering without an assortment of food and snacks, there's something contemporary about keeping summer parties minimal in décor such as the tableau above. It perfectly illustrates that there's a much more elegant spirit with a slight hand.

Instead of overstuffing tabletops, keep in mind that the same visual space and scale you would use in your home applies to summer party ideas no matter where they are as well. Do follow suit for your own ideas for outdoor party when looking for chic simplicity.
Keep The Atmosphere Relaxed
Again, no matter what you're celebrating, the best outdoor party decor happens to be quiet in nature, practical, yet still able to pack a visual punch. Think natural and earthy accentuated with hints of everyday glamor when considering summertime party ideas with a grown-up appeal.
By bringing out items that have too strict a vibe, you'll crash your own event with a rigid bent that's too formal in feel.
Reconsider Lighting
Ask any interior designer about decorative outdoor party tips and they'll immediately start with lighting. Accessible and inexpensive, there's an endless array of lighting options available in a variety of styles for summer parties that are easy to source and install while boasting a wildly sophisticated, dramatic effect certain to set the tone of your event.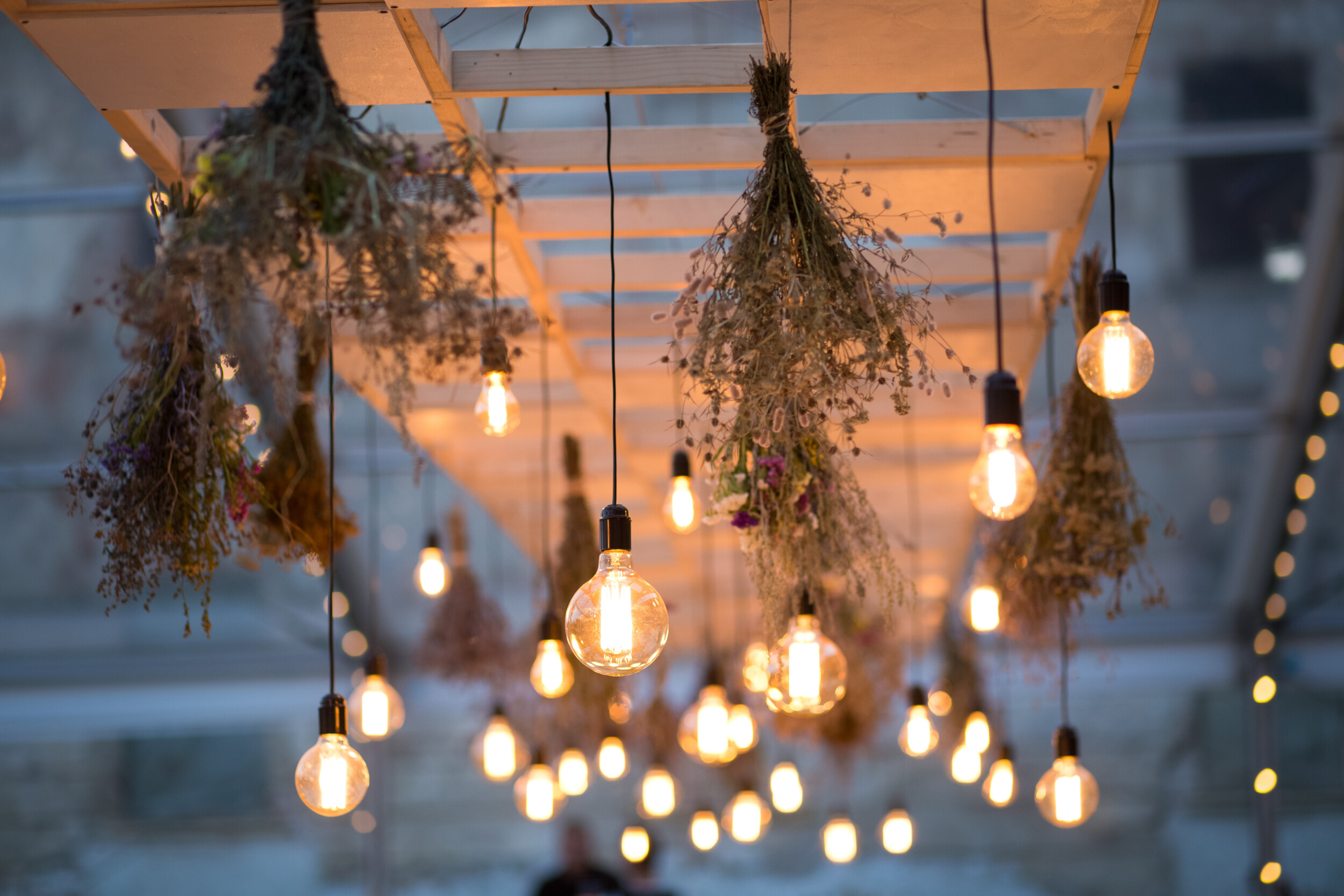 Keep Your Surfaces In Mind
Since it's an outdoor party and you should always expect the unexpected from spills to insects, keep in mind that smart summer party ideas call for practicality to be key so do maintain plenty of easily moveable, cleanable, and storable surfaces that are also heavy in weight and sturdy in nature.
Utilize Fragrances Natural Or Not
Who doesn't like a seductive, intoxicating aroma? Elevate your outdoor event with riotous fragrance. Think candles, fresh florals, eucalyptus and the ilk when looking for romantic avenues when considering planning your summer party ideas.
The thing about thinking about elevated outdoor party tips is to go for unexpected luxuries that aren't splurges yet can help to define the direction of your event, say with comforting aromas.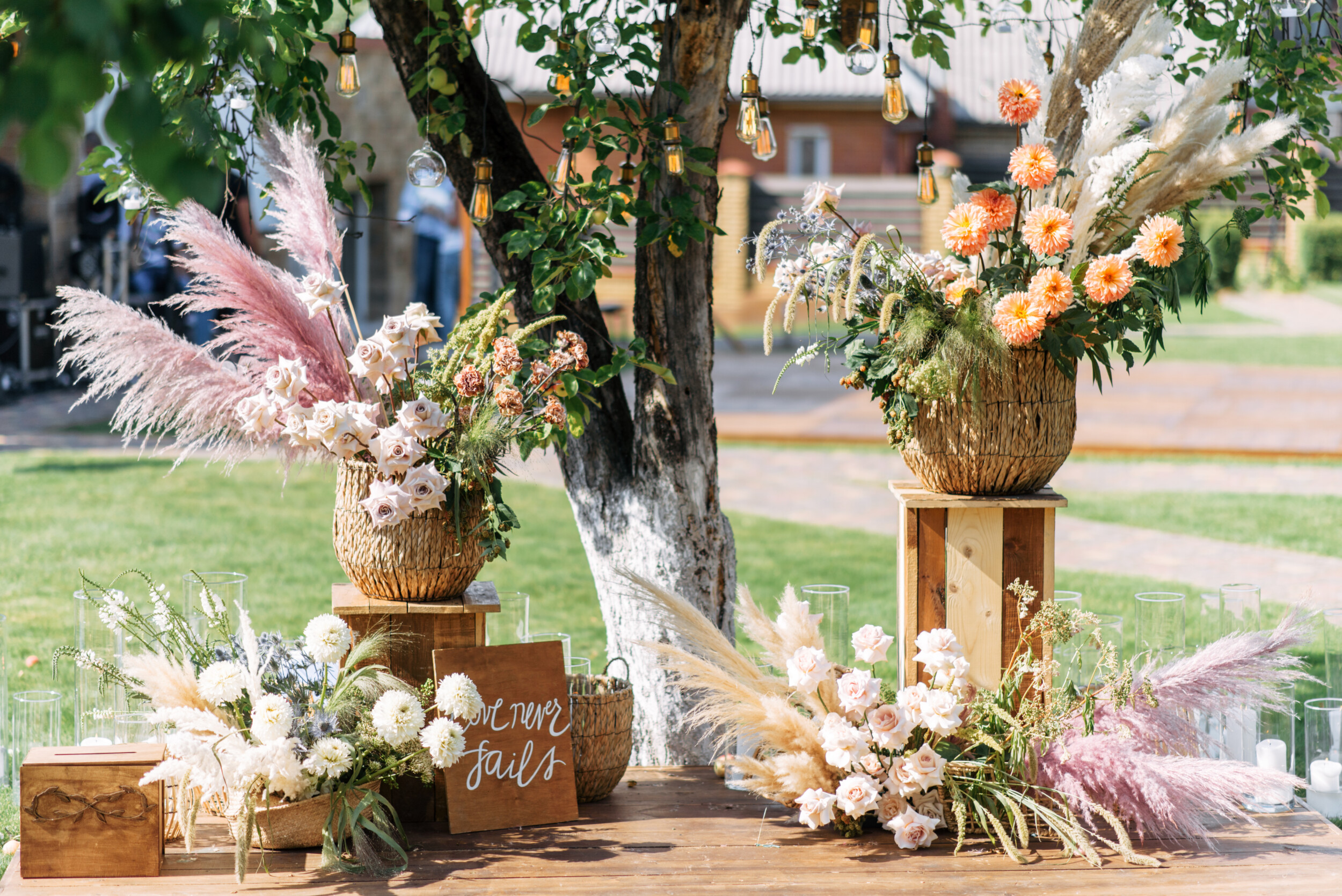 Tonal Flower Arrangements
When looking to boost the visual appeal of your summer parties do take advantage of existing botanicals and make sure they're pruned and in good health before your event.
And if your outdoor party is short on space, bring in small bud vases that are inexpensive in case they take a tumble as they'll work to highlight the spirit of the great outdoors and bring your event to life.
Comfort Is Key
Again, comfort is a key if not the main component of clever outdoor party tips so arrange furnishings in conversational vignettes with plenty of space to move about and mingle. If you're looking to add new seating, also keep in mind that organic shapes, padded surfaces, and reclinable frames are a must.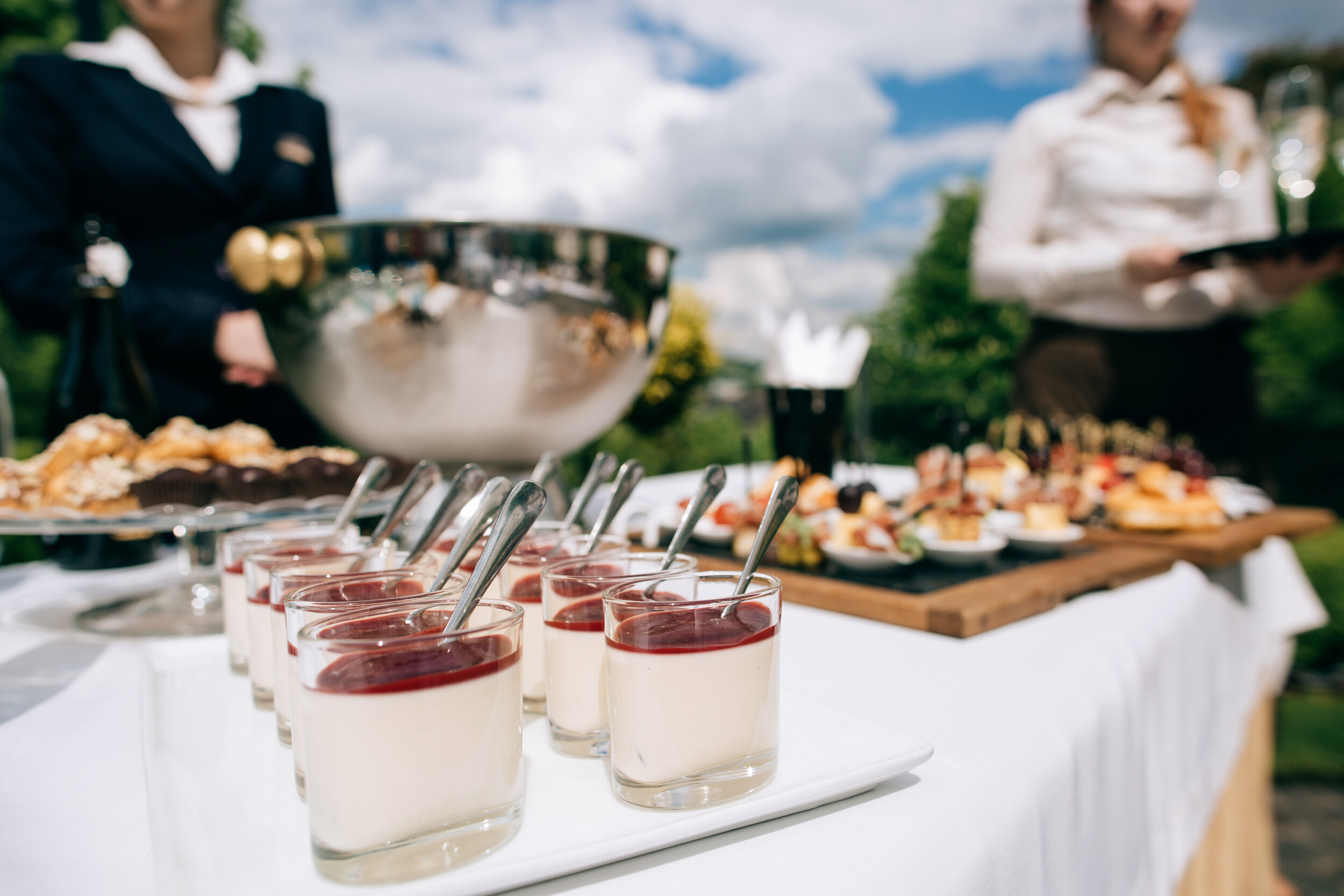 The same can be said for food ideas for outdoor party as comfort foods and snacks will always be a main ingredient to the festivities. Just be sure that their presentation speaks to your decorative direction.
Mix Décor
An eclectic, bohemian inspired approach to outdoor party tips to try is a surefire way to keep guests feeling welcome and ready for reverie.
We love how the petite outdoor space above evokes a regal take on Moroccan inspired decor but maintains a relaxed sense of summer party ideas that are easy enough to try on your own by creating a heady blend of elegant furnishings in rich hues.
Add Prints + Patterns
Mid-century modern prints and patterns make as great of summer party ideas for kids as they do for adults as they'll add a retro-approved sense of play and are a great alternative to the standard oversized prints of today.
Use Less Serving Platters And Vessels
Though summertime party ideas call for scores of food and drink served buffet or family style, again, a minimal hand is a best bet for fail-proof outdoor party tips.
Instead, think of food ideas for outdoor party that can be served in larger dishes so they can be easily spaced out and stored away after everyone has eaten to clear more table space.
Create Easy, Seasonal Dishes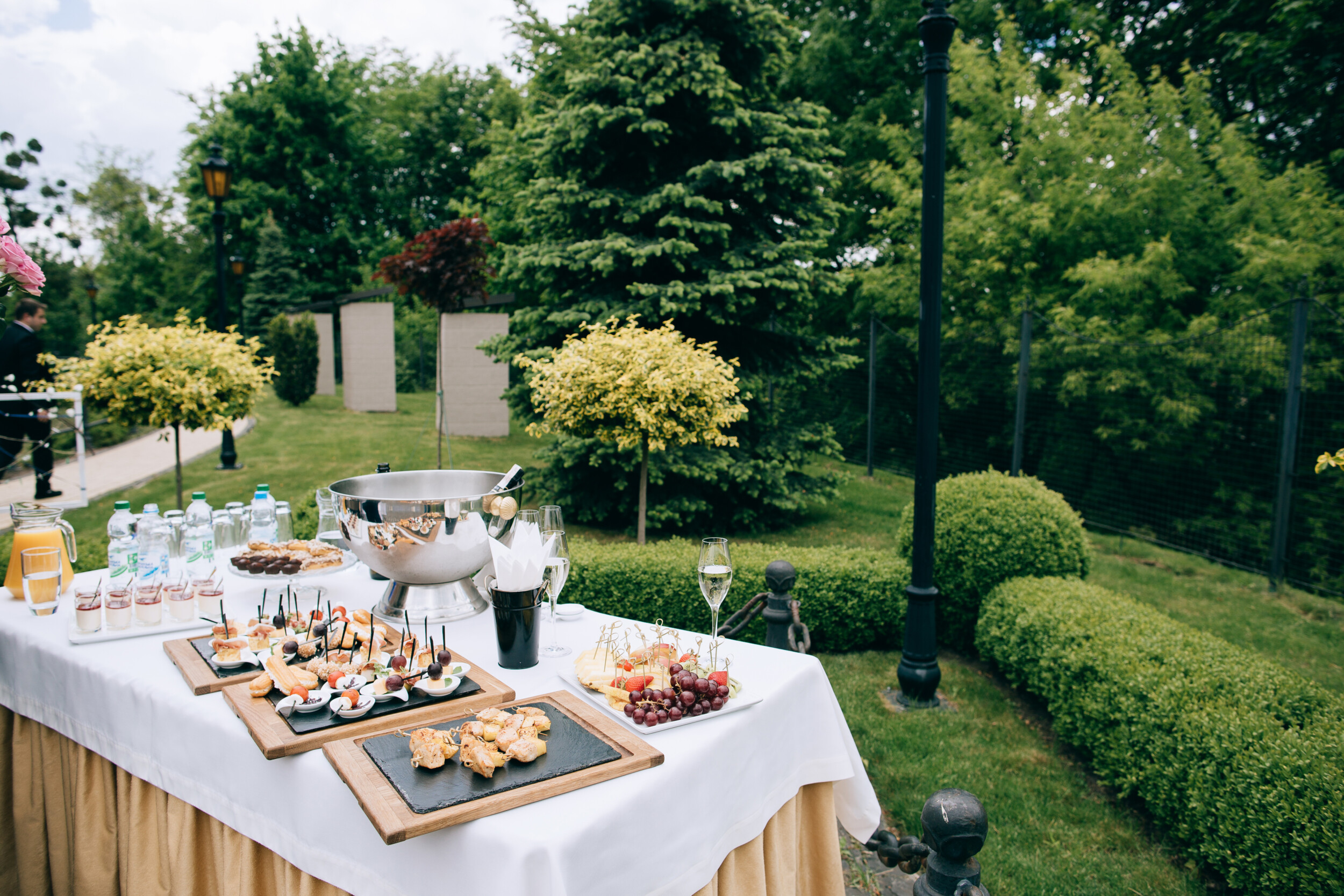 If you're not looking to go full force when considering food ideas for outdoor party, opt for small inexpensive, easy to prepare snacks that are healthy, work well paired with an assortment of beverages, and boast an organic visual appeal like the spread above smartly displayed in glass cylinders for a clean look.
Create A New Playlist
With plenty of beautifully rendered outdoor speakers on the market, engage your guests with spirited summer tunes with speakers like Sonance's that work to blend in with their surroundings and have great sound quality to boot.
When making a new playlist, again, go for the unexpected but keep it light and refreshing as summer theme party ideas for adults can be limiting in scope.
We've said it before and we'll say it again, the best method to nailing tried & true outdoor party tips is to keep it simple yet focused, elevated yet comforting, joyous yet well-executed for a good time to be had.
Rethink Serving
When it comes to summer party ideas, go green by serving guests snacks and drinks with melamine table settings as they are much stronger and slightly more luxurious than paper plates, and are easily washable for future reuse.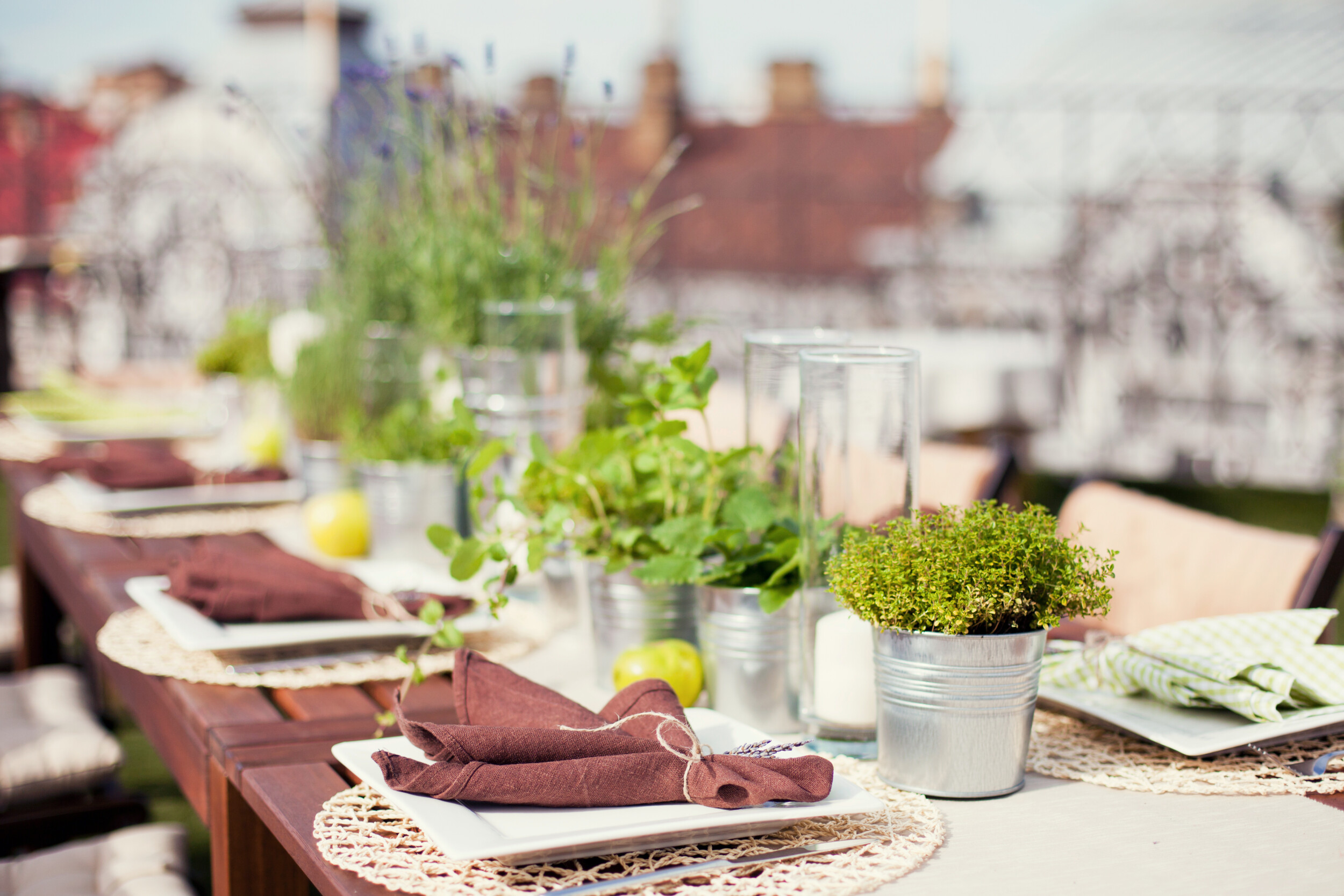 Plus, if you're looking for pieces to reflect your chic outdoor party themes, there are plenty of cool alternatives to coordinate with, like the clever lobster printed paper lookalike melamine option featured above. It's bold, it's witty, and best of all, will reduce waste while adding something unexpected to the table.
Keep It Casual

If you're short on tables or in a rush, why not create a comfortable and relaxed vibe by setting up an old fashioned picnic area boasting a playful variety of prints and pillows.
You can also channel summer party themes by opting for distinct prints that evoke the spirit of your direction. We also love how the set-up above features objects at a variety of heights for visual play, and that candlesticks were introduced to up the drama while making the whole area feel more luxurious and expensive.
Install A Tent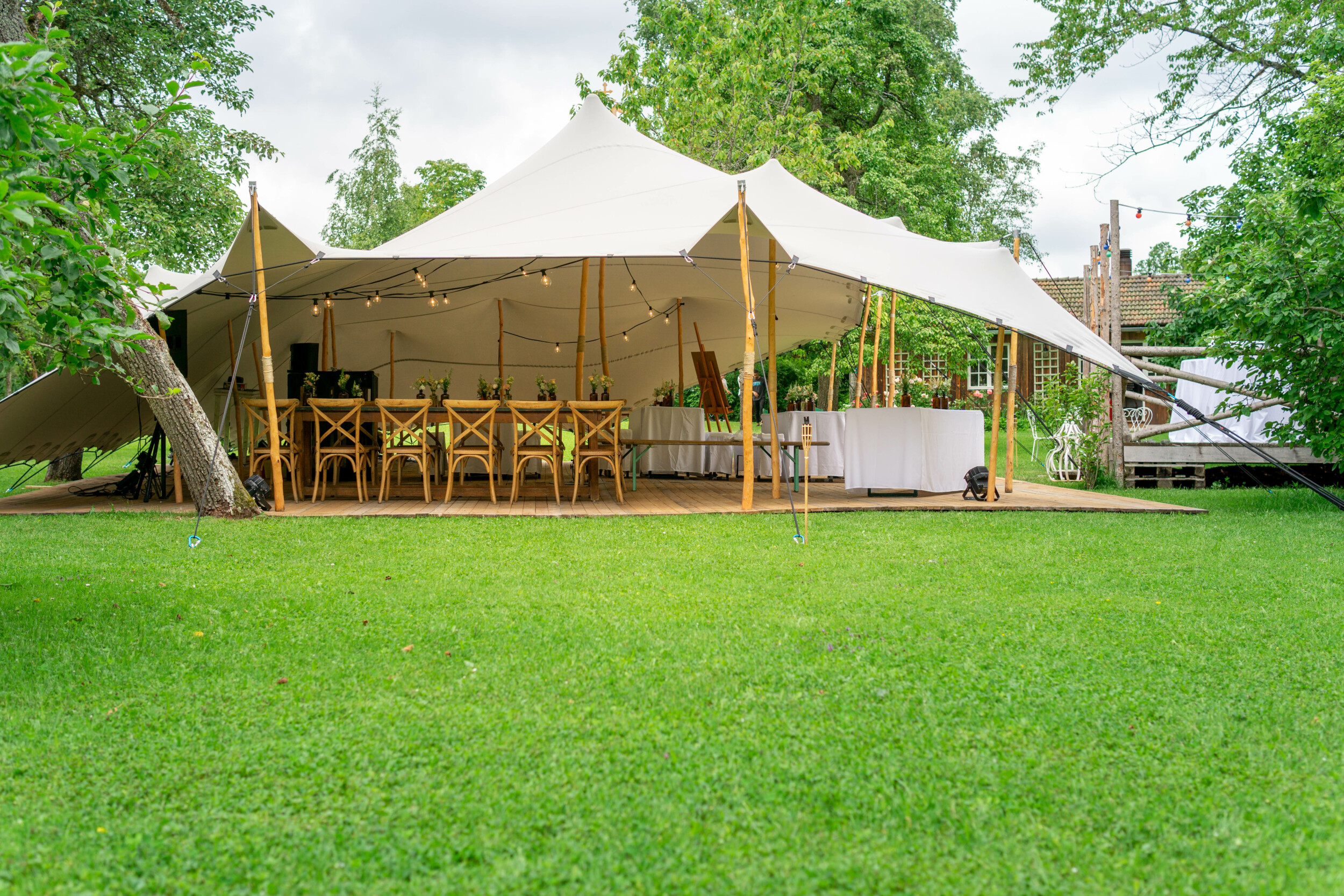 If you're looking to explore outdoor party themes, a tent like this Moroccan inspired one will lend your outdoor summer event a touch of the romantic and exotic, and is sure to make a beautiful statement year-round.
With it's highly stylized facade, it could work for a myriad of memorable summer party themes, from Grecian to a full-blown kids fete.
Layer Lighting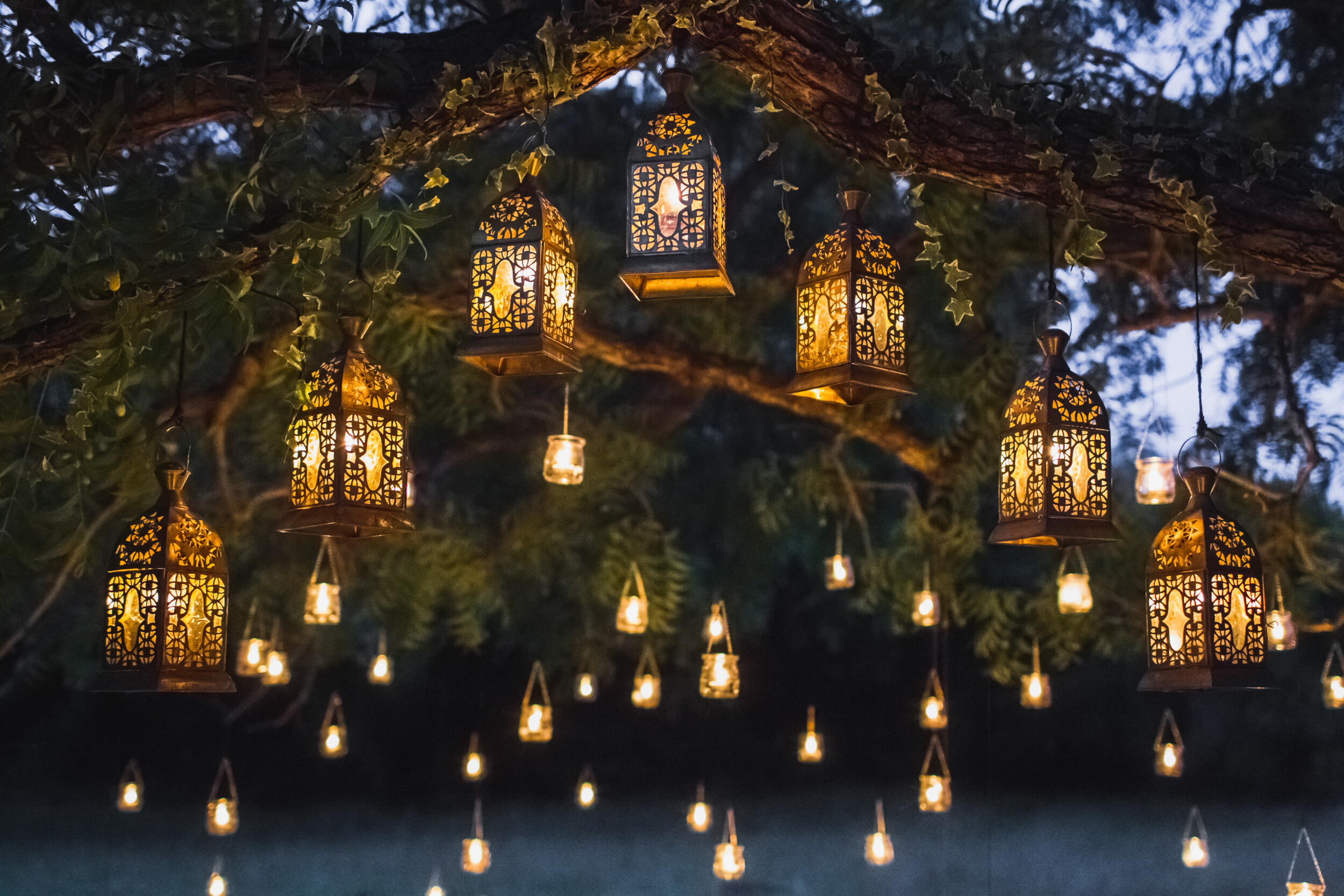 To create a romantic and calming setting, consider layering lighting with hanging lanterns that evoke an old-world summer theme design, like the filigreed lanterns featured here.
You can easily find affordable string lantern kits and best of all, it just takes a few minutes to install them, whether that be from a tree or crowning an arbor.
Creative Seating
If you're looking for last minute outdoor party ideas and are short on seating, get creative in your approach and survey your home for extra poufs, pillows, chairs, and Chinese garden stools that could do double-duty outdoors.
They'll make for a much more sophisticated approach than traditional outdoor seating to create a sumptuous setting with ease.
Blue & White Color Scheme
When it comes to classic summer party ideas, it wouldn't be a festive outdoor event without a traditional blue and white color combo to elicit the charm of the Mediterranean seaside.
Create a vivid outdoor decorative array with a selection of blue and white objects like the Chinese porcelain pieces featured above that are punctuated by contrasting blue and white Grecian-inspired textiles in an otherwise low-key setting. Without them, the outdoor area would come across as bland and lifeless.
Fire Pit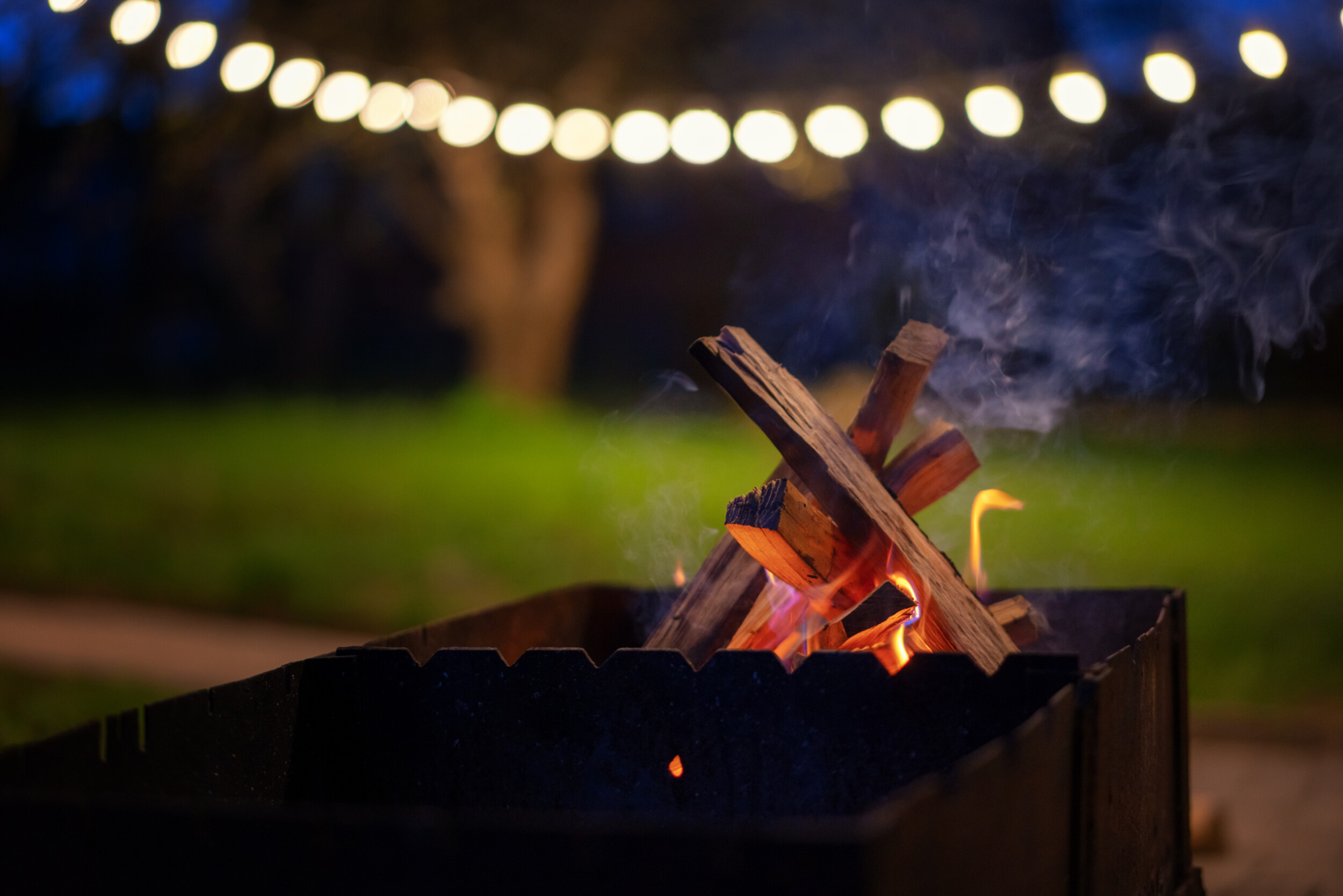 Unless it is an excessively humid day out, a roaring fire is sure to up the spirit of any outdoor party ideas you have in mind as a fire pit will instantly evoke comfort and warmth, while illuminating the area with golden light.
The key here is to keep your fire pit centrally located to work as the anchor to a conversation area as long as ventilation is available.