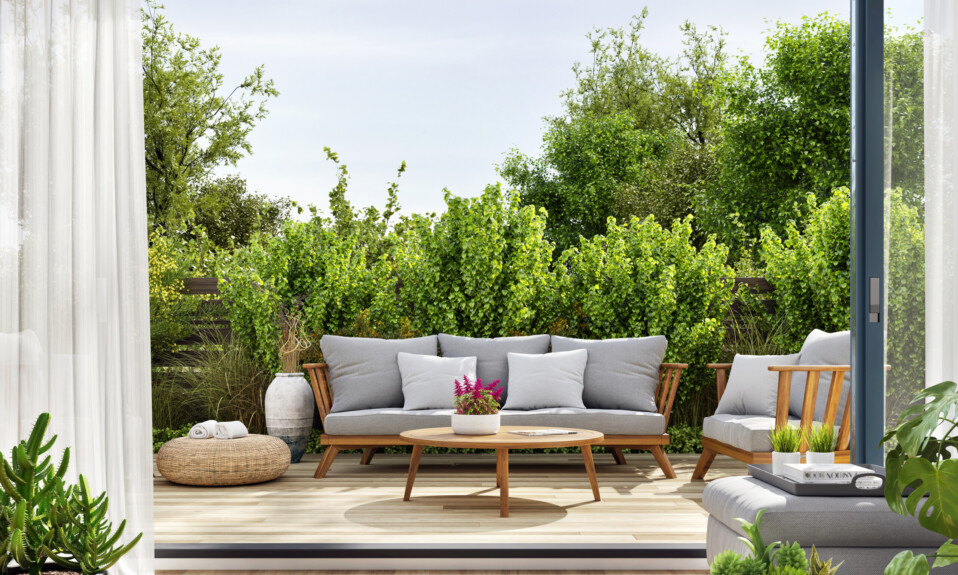 If you're about to begin the process of landscaping or redesigning your backyard, you might find yourself challenged when considering the best backyard ideas. Here we're illustrating inspiring backyard designs to help navigate you in the right direction, but the most important thing to consider before anything is the manner in which you will use your backyard. Do you see it as a place to entertain friends? Or do you want to use it as a dedicated gardening hub or a place where you can relax to enjoy the beautiful weather outdoors?
To help you set about designing your own backyard, our renovation experts at Décor Aid shared some of their best backyard ideas for 2021 and beyond. These backyard ideas are sure to transform your backyard into a fun and relaxing outdoor space.
Alfresco Dining
Dining areas are increasingly becoming must-haves when it comes to modern backyard designs and our interior designers predict that this trend is only going to expand into full-on outdoor kitchens, especially in locals that boast good weather year-round. After all, who doesn't enjoy entertaining friends and loved ones while feasting the night away?
If you're looking to bring this idea into your backyard, we suggest that you begin sourcing outdoor furniture as soon as possible. Be sure to opt for comfortable dining chairs boasting great design, durable cushions, and stain and fade resistant finishes. That way, your guests will feel comfortable while enjoying great food and good conversation.
Outdoor Bar
Backyard bars are also among the most popular trends for backyard designs, and for good reason. That's mostly because they are a great property-value enhancing investment and allow for hosts to entertain guests outdoors as much as possible.
If you're lucky enough to have ample space outdoors, this is one of the most beneficial backyard design ideas to consider for your home. And with so many different bar designs to consider, there are tons of design directions to help you evoke a custom feel. You can have a custom-made L-shaped bar complete with bar stools and wine cabinet, or something more modern outfitted with innovative appliances. The extra counter space and additional seating will make entertaining friends all the more comfortable.
Backyard Decks
Having a deck in your backyard is a savvy way to extend your indoor living space outdoors. This is also one of the backyard design ideas that our interior designers suggest for homeowners who do not have enough living space inside their home, and are working with a mid-range budget.
Outdoor decks are available in different materials and designs, and since most are custom fitted, your deck will remain unique to you for years to come. For a low-maintenance deck that can withstand daily wear and tear, our renovation experts always opt for composite materials instead of traditional wood that requires a lot of care. Composite decks are guaranteed to stand the test of time and will not require a lot of costly maintenance.
A Gazebo
When it comes to brainstorming back yard ideas, people naturally choose something that can enhance the beauty of their backyard space. If you want to beautify your outdoor space, consider installing a stunning gazebo in your backyard. A gazebo can add charm and character to your yard while enhancing the overall look of your outdoor space.
Even better is the rise of pre-made gazebos available on the market that can double as a parlor, complete with matching table and chairs. You can also opt for a custom built gazebo and source complimentary outdoor furniture to house in it.
Edible Garden
If you have a green thumb, one of the most nourishing garden backyard ideas to consider for your home is to create a dedicated vegetable garden where you can grow your own vegetables, herbs, and fruits, to make your yard more beautiful and beneficial.
However, if additional space is limited, grow your crops in containers or raised beds. There are certain plants that can grow in pots that offer year-round foliage while producing tasty greens at the same time. When it comes to container gardening, consider growing dwarf varieties, such as the bushels and berries.
Fire Pits
Our designers were unanimous in suggesting fire pits to be one of their favorite backyard trends of late and expect them to become even more popular throughout 2019. Fire pits can adapt to any space, so whether you have a small or spacious backyard, you can easily install this outdoor feature in your yard.
They are also a great way to create a warm and cozy feel in your outdoor space. For small backyard ideas, source tabletop fire pits because they feature smart space-saving design.
Jacuzzi
Another popular outdoor feature installation for backyard design ideas is a life-enhancing jacuzzi. This is especially popular in countries and regions with cold weather.
Depending on your budget, you can have a whirlpool, sauna, and other spa features installed in your backyard. These outdoor recreation amenities can make your backyard look more elegant and inviting, while also increasing the value of your property.
Kids Corner
If your kids have been bugging you for a playroom yet you don't have an extra room indoors for this, why not consider converting your backyard into a play area?
This is clever a great way to encourage your kids to spend more time outdoors. For these back yard ideas, install a modern playground set, complete with a swing, slide, etc. There are plenty of affordable playground sets that you can source as this might be a fleeting investment. You can also choose to have custom-made playground equipment installed in your backyard.
Outdoor Kitchen
If you love cooking for friends and family, our designers suggest installing a second kitchen in your backyard. A traditional outdoor kitchen that comes with a stainless steel grill would work best for backyard entertaining.
Full-service outdoor kitchens are also one of the most popular backyard ideas of late, especially during summer when warm weather starts to set in. With an outdoor kitchen, entertaining friends will feel effortless since you can prepare and cook the food right in front of them instead of having to leave them outside.
Patio With Pergola
If you want to frolic under the sun but with a little bit of shade, installing a patio with a pergola can make for great backyard design ideas. There are pergola kits that come with pre-cut lumber, which is ideal for DIY installation.
However, if you want a more sophisticated design for your pergola, our designers suggest hiring a professional who can custom build a patio with a pergola for your backyard. Of course, make sure you include outdoor furniture to go in your patio, too.
Potted Plants
For backyard ideas on a budget, arranging beautiful potted plants in your backyard offers a great visual punch and kick of color. Potted plants can also work best for those with small backyard spaces or those who live in apartments.
You can grow beautiful flowers in pots to enhance the look of your backyard or go for edible crops, such as herbs and vegetables. Our designers see these backyard ideas becoming even more popular in 2019, thanks to the popularity of container gardening and the increasing cost of organic foods.
Water Features
Adding water features to your backyard is one of those backyard ideas that everyone will be sure to enjoy for years to come. A gorgeous fountain can help you create a Zen-like effect in your backyard.
Plus, the soothing sound of water can make staying in your backyard even more relaxing. Aside from a water fountain, another great idea is to build a small pond to create a visual contrast alongside your plants. Birdbaths are also a great focal point while providing shelter to visiting birds.
Arbors
Arbors are stylish structures that allow for shade without completely enclosing you in so you can continue to enjoy your time spent outdoors.
And they lend backyard design ideas a sense of studied elegance that's unbeatable and are sure to add value to your property that in the end, will help it pay for itself.
Play Structures
If you've got kids in mind when sourcing inspiring backyard designs, research intriguing outdoor play structures to create fun play zones for the outdoors.
And when it comes to beneficial backyard ideas on a budget, they'll be sure to spend just about as much time outside as they do inside.
A Beautiful Fence
Though fenced backyard designs change very little over time, we're drawn to the more minimal styles we've seen popping up from coast to coast.
Follow a similar route and skip out on iron overworked and over designed fence styles and opt for the clean lines and simplicity of minimalism for a timeless look – as quality fences can cost a small fortune.
Outdoor Theatre
If you're looking for enviable backyard designs that place focus more on entertaining than aesthetics, you can easily combine the two with a sleek and modern home theatre screen for film projections.
Note how the simple white wall looks completely unassuming and at home in the backyard above. Not only will guests be delighted by the opportunity to watch something onscreen outside,, but their jaws will also drop after they realize that basic wall is so much more than just a wall.
Art
Looking for unique and simply stunning backyard ideas? A great way to ensure that your outdoors space is memorable and unique to you is to source inspiring outdoor ready artworks and sculptures for added visual play in your backyard.
Just imagine how cool your backyard would look with a similar, mesmerizing reflective sculpture like the one featured above.
Kid-Friendly Zone
Because they love spending time playing outdoors, use your children for inspiration when realizing backyard designs for your home. For them create a secured zone for play that you can easily observe.
And when it comes to beneficial backyard ideas on a budget, bring in games and activities so they can make the most use of the space you've allotted them.
Daybed
If you're looking for warm and comforting backyard ideas, a daybed makes for a great option as it can double as a sofa for entertaining, and it takes up little space or investment.
Outdoor Shower
Another one of the most commonly requested backyard design ideas, outdoor showers are great for taking an inspiring rinse in nature and are inexpensive to boot.
The most crucial aspect to manage however, is privacy. Make sure that your outdoor shower space boasts enough seclusion to keep you confident in rather than struck with the anxiety of a possible onlooker.
Multi-Level
For those with multi-level yards or outdoor spaces with a dramatic slope, consider multi-dimensional backyard design ideas to make the best use of the entire space available.
The key here is to keep everything consistent for easy visual transitions. Note how the perimeter of the yard featured above is lined with identical potted plants and how there are similar Chinese garden stools scattered about for consistency.
Treehouse
While the treehouse illustrated above looks like it cost a fortune, yours doesn't need to, but it should appear innovative in approach and add a unique touch to your backyard ideas that no one else will have.
That said, for a project like this, we suggest securing the best construction specialists as this is one major investment that you don't want to get wrong while ensuring that it is structurally sound.
Potting Station
For a quaint cottage feel perfect for avid gardeners, why not create a functional potting station to work on and use for storage? We love how the station above boasts an off-kilter, relaxed vibe with a lived-in spirit.
When it comes to smart backyard ideas, always put function before form for the best performance – case in point, a beneficial potting station and the ilk.
Mirrors
If you're short on space when considering backyard ideas, mirrors are a genius and inexpensive way to instantly add more depth to your outdoor space while making it look larger, brighter, and more expensive.
Plus, when it comes to backyard ideas on a budget, there's nothing more glamorous than an outdoor mirror to catch light and make the area feel more expansive and complete.