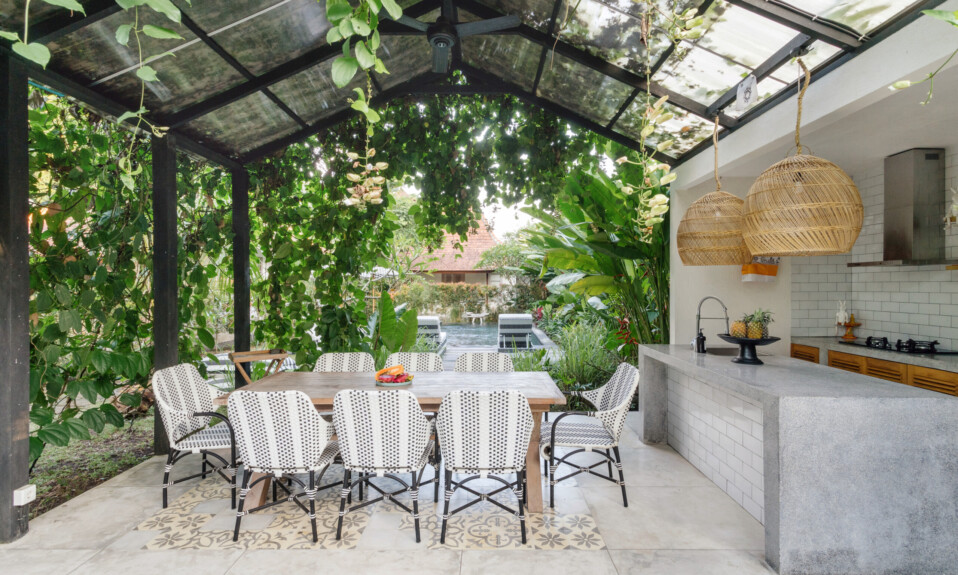 Who wouldn't love an outdoor kitchen where you can host al fresco dinners with friends and loved ones? An outdoor kitchen is a worthy investment if there ever was one. Whether you are in the process of building a new kitchen outdoors or perhaps you want to renovate your existing outdoor kitchen, our renovation experts at Decor Aid shared these outdoor kitchen ideas to inspire you into carving out a beautiful outdoor kitchen in your backyard.
Bar and Grill Combo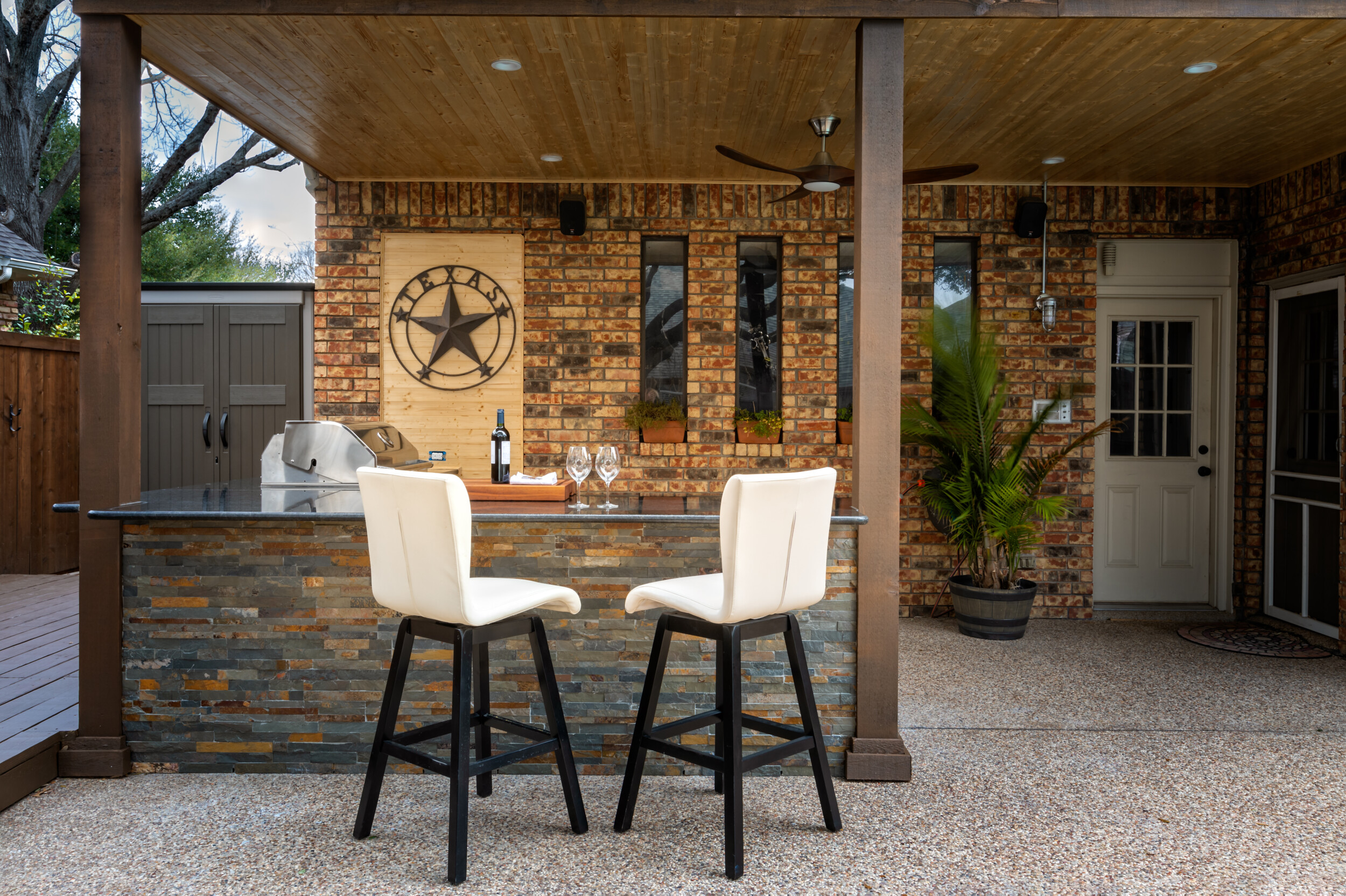 Having both a bar and grill in your outdoor kitchen is always a great idea. In fact, this is one of the most common outdoor kitchen designs since it's a perfect way to entertain friends and host intimate parties. For this idea, you can include barstool seating that creates a fun and casual spot for family and visiting friends.
This is also a good idea if you've got an outdoor pool. Install the bar and grill just beside the pool so you can enjoy a good meal after swimming.
Chic Dining Area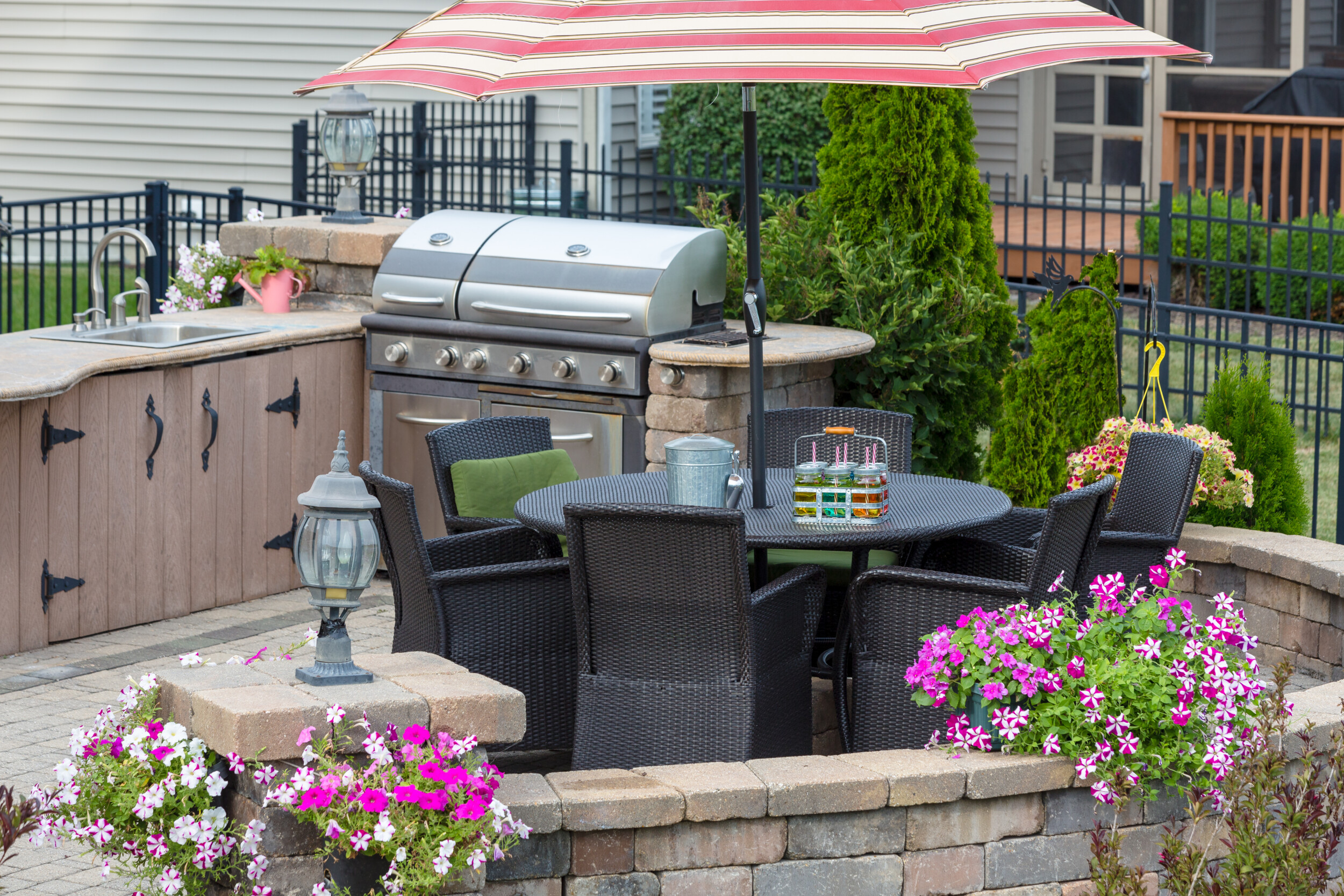 One of the main reasons why homeowners would like to have an outside kitchen is the convenience of being able to serve food immediately after cooking. In this case, you should consider carving out a chic dining space just beside your outdoor kitchen.
This will surely make dining al fresco a breeze. Make sure to invest in durable furniture that can withstand harsh weather conditions outdoors.
Fire Pit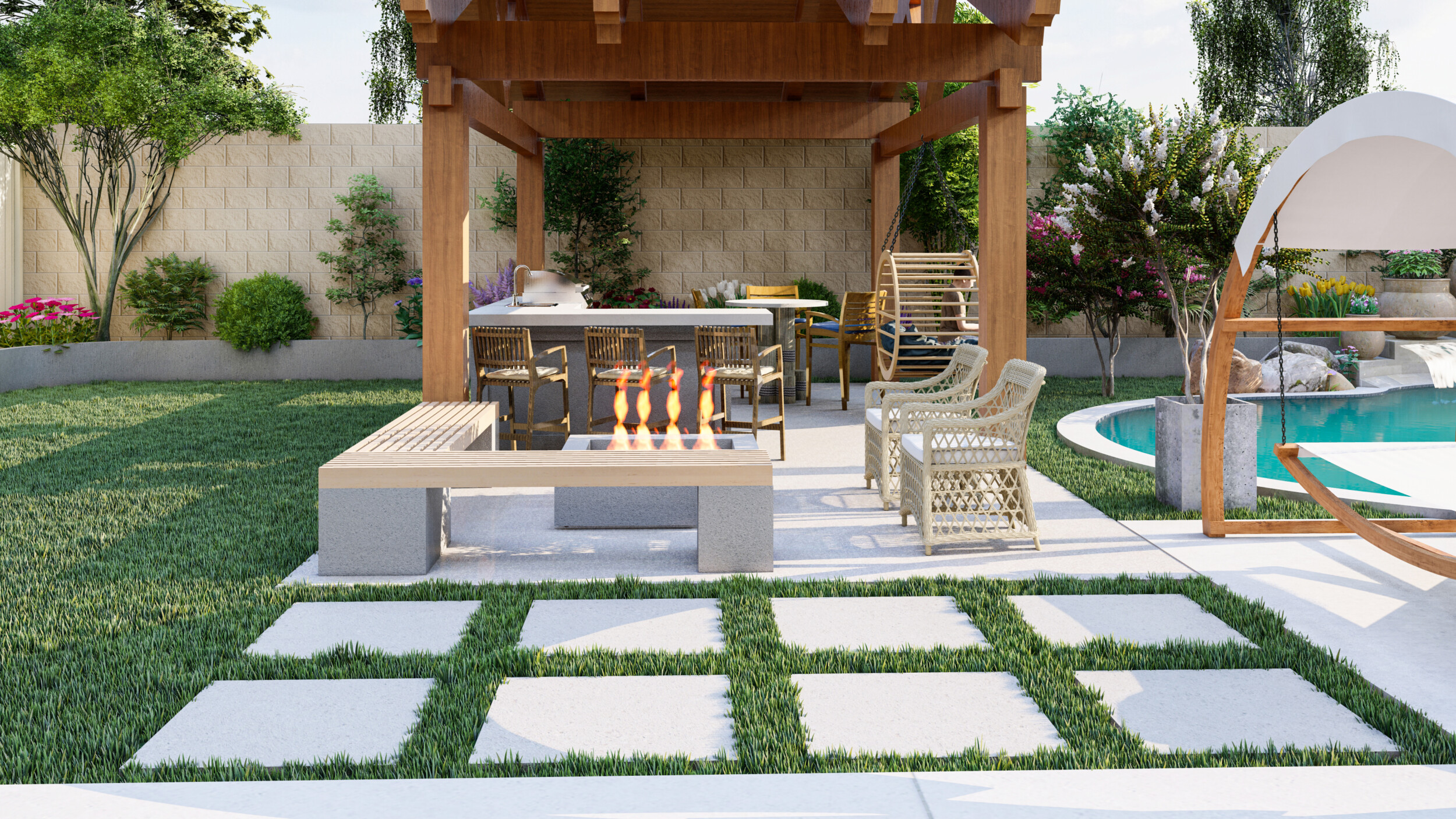 Having a fire pit installed in your kitchen outdoors is also a smart idea. It adds a cozy element to your kitchen and makes the place a great hangout spot for winter once daylight starts to dwindle. The fire pit can be made from different materials although it's commonly built out of stones and rocks.
It is best to use materials that complement those used for your outdoor kitchen. You can choose to build it yourself or hire a professional to do it for you.
Grilling Station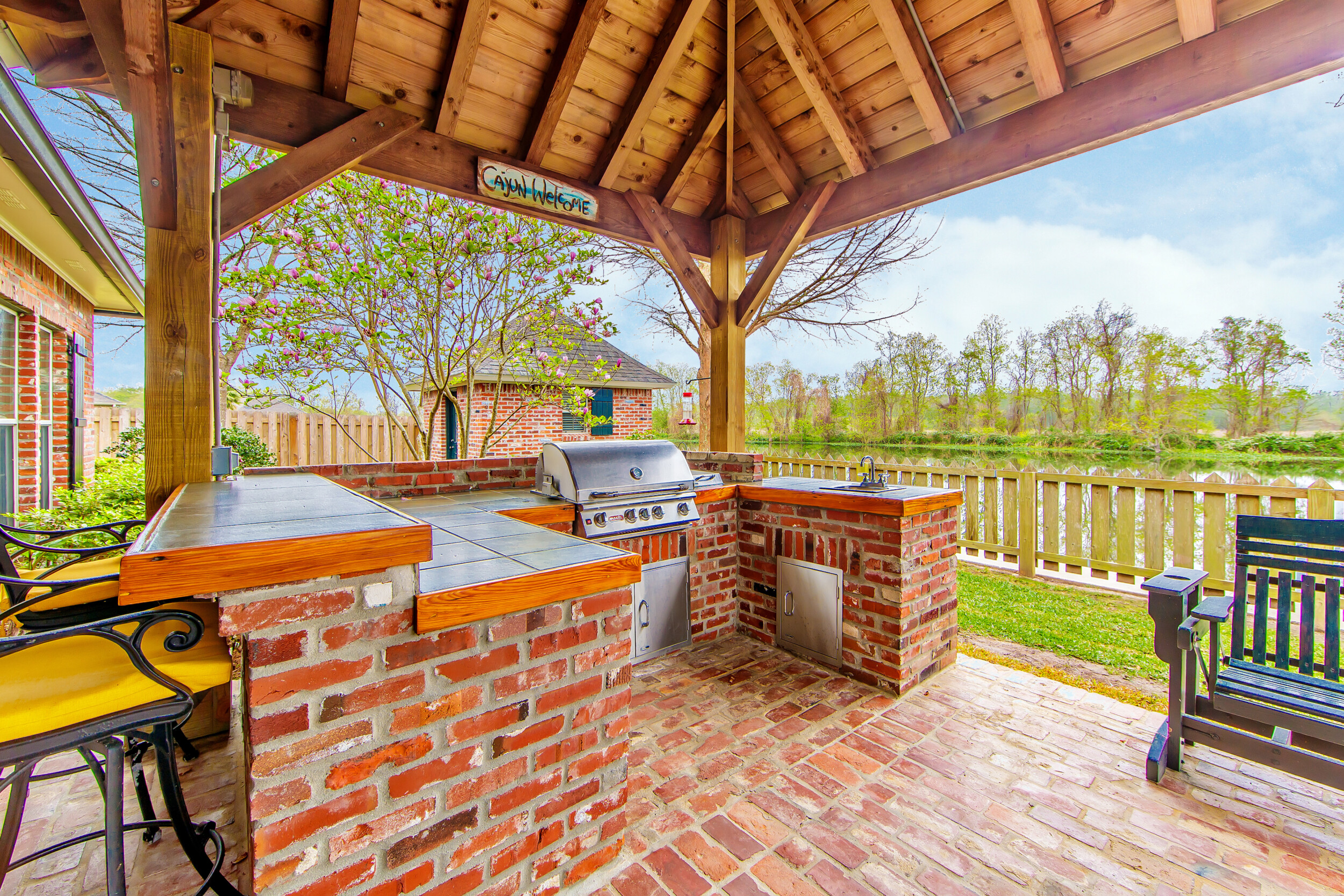 The best outdoor kitchens come with a grilling station. Having a grill station means you and your family or friends can immediately indulge in hot barbecues fresh off the grill. You can have a custom built grill installed or you can purchase the pre-fab varieties.
Our designers recommend choosing a design that's based on your needs and preferences. It should also go well with your outdoor kitchen decor.
Pergola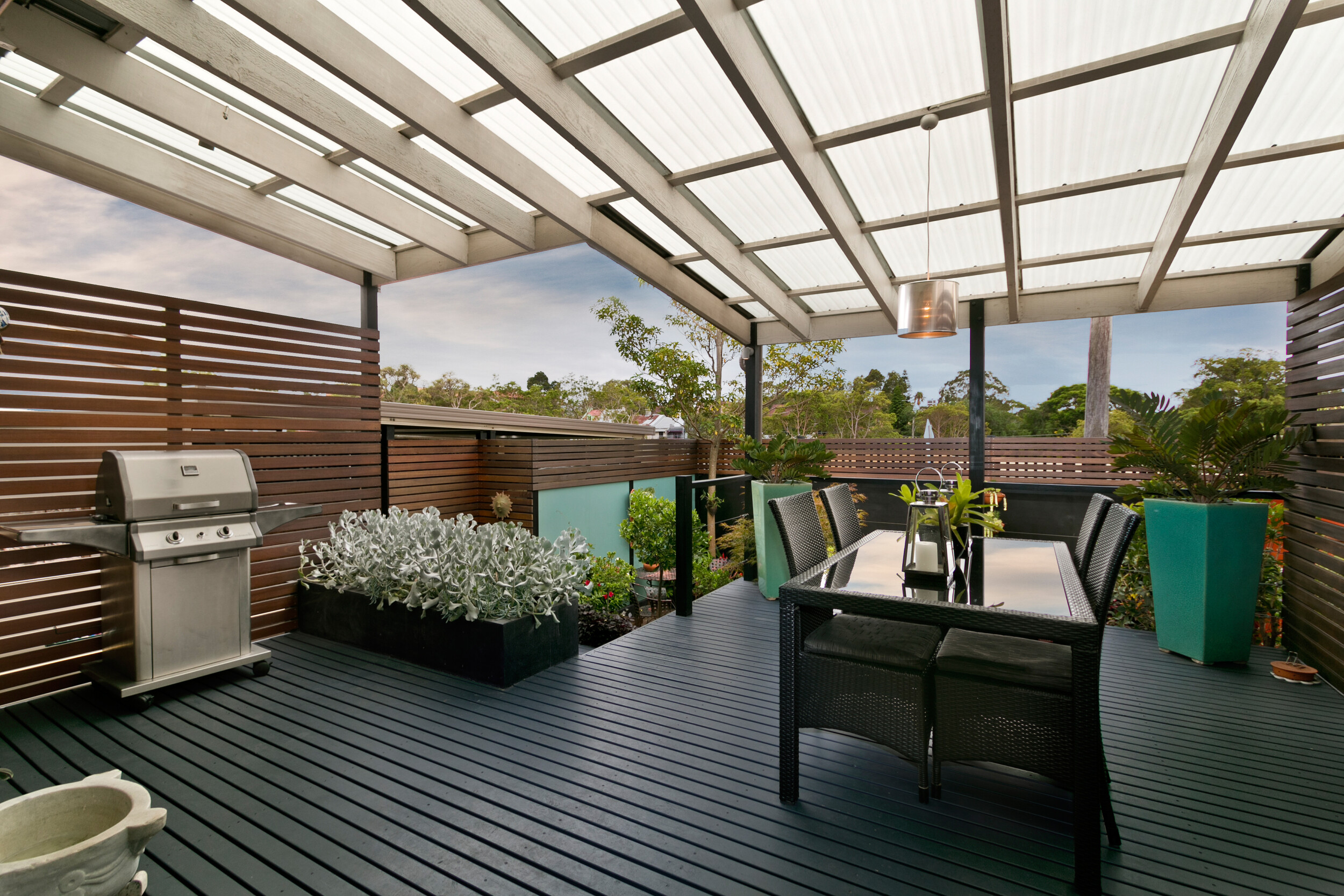 Having a shade over your outdoor kitchen is necessary. A beautiful pergola would be a great way to give your outside kitchen shade. The benefit of using pergola over other types of outdoor shades is that the pergola also provides for a place to mount fans, lighting fixtures, etc.
An outdoor kitchen with a pergola is more functional, comfortable, and definitely more beautiful. If you want to evoke a rustic feel, consider installing wooden flooring and a stripped wood pergola over your outdoor kitchen.
Pizza Oven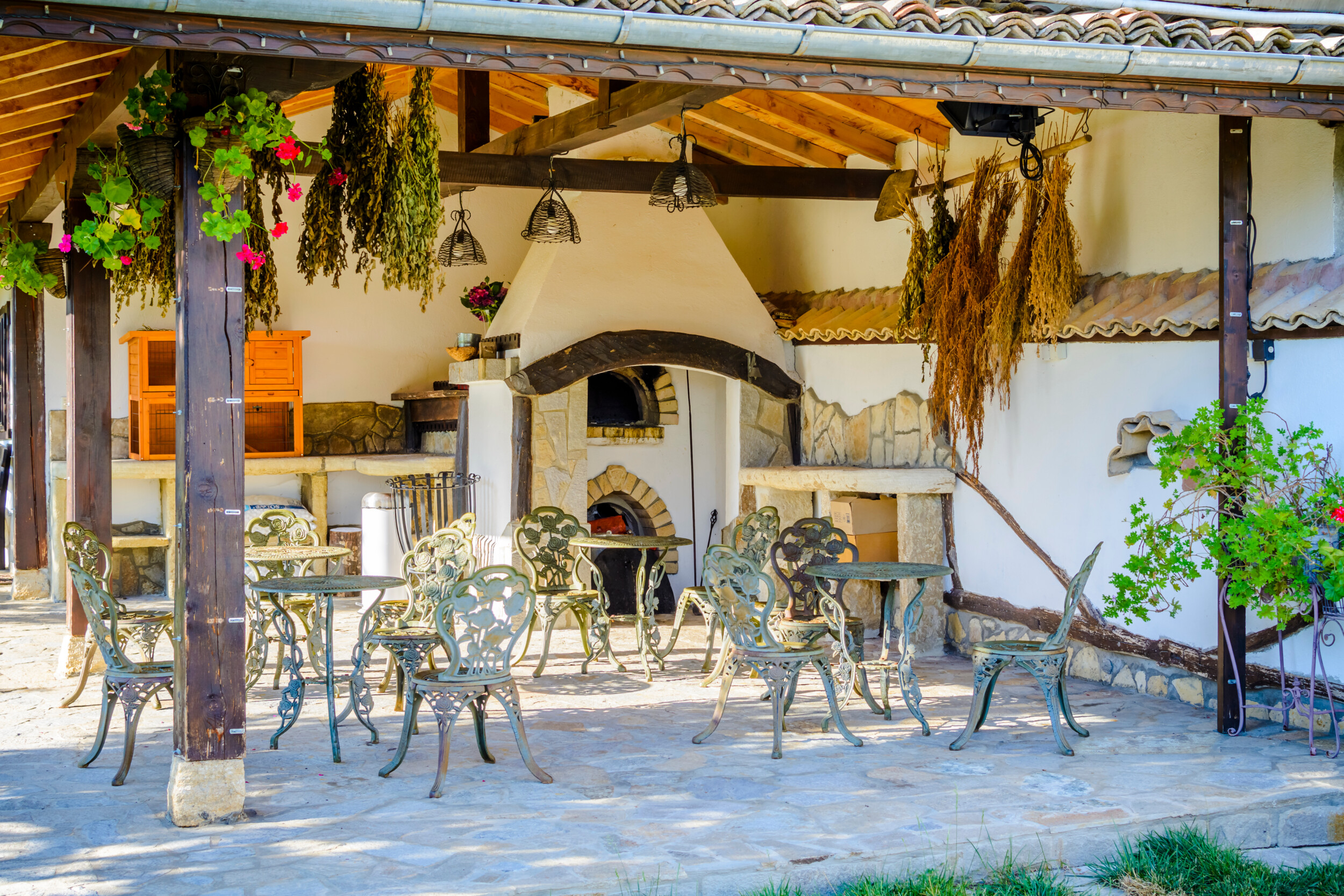 If you're someone who enjoys making homemade pizzas, then one of the outdoor kitchen ideas that can work best for you is a kitchen that comes with a pizza oven. Just like barbecues, pizzas are also a staple of outdoor dining.
By having a pizza oven in your outdoor kitchen, you can spoil your visiting guests with homemade pizzas fresh from the oven.
Metallic Countertops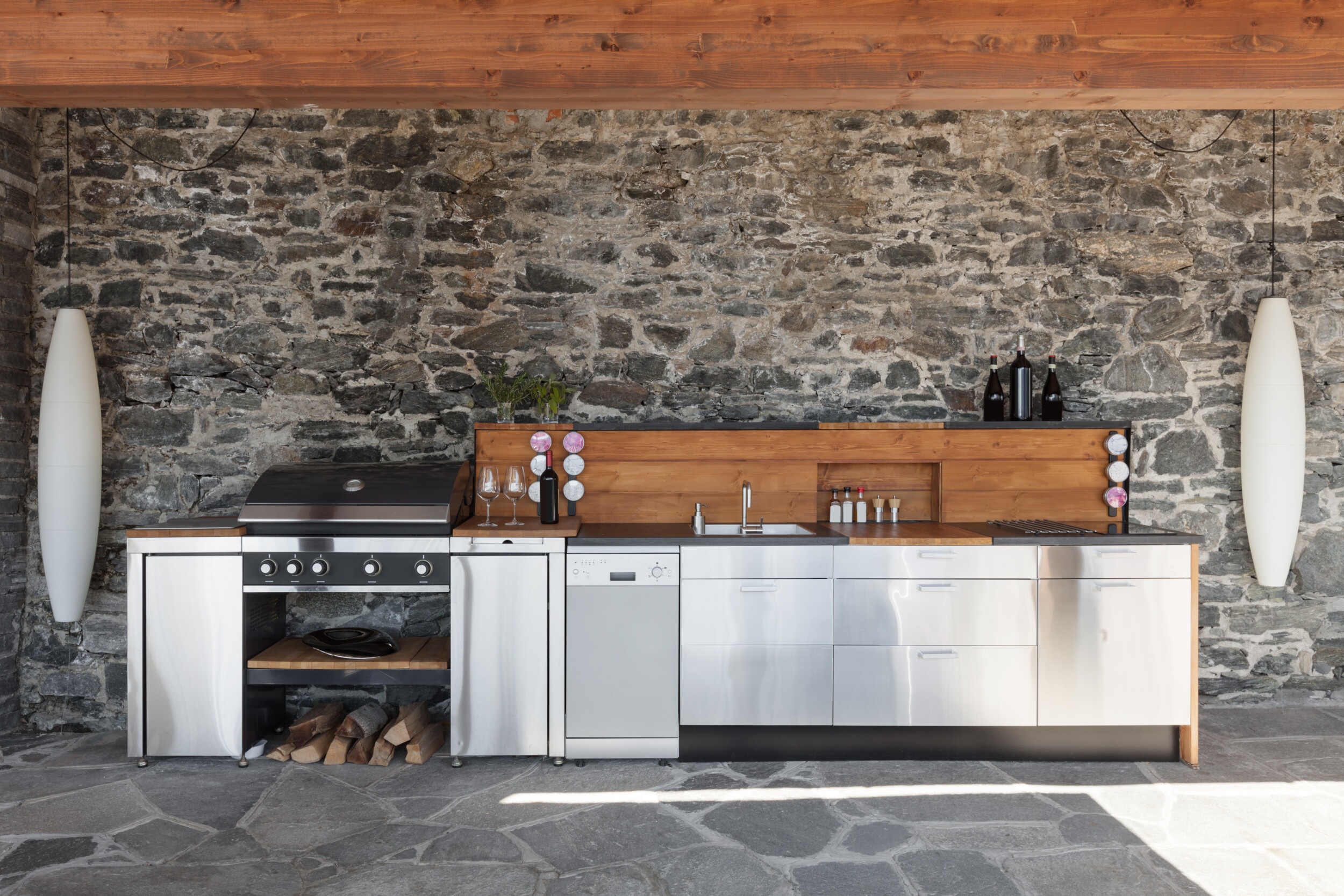 If you want an ultra modern kitchen in your backyard, opt for metallic countertops. This is one of the outdoor kitchen ideas gaining popularity for good reason. Others might frown at the idea of using copper for a countertop but the solution to this is to treat it with lacquer first.
Infusing materials such as rough wood and stone is also another way of creating sleek and modern designed outdoor kitchens.
Southern Charm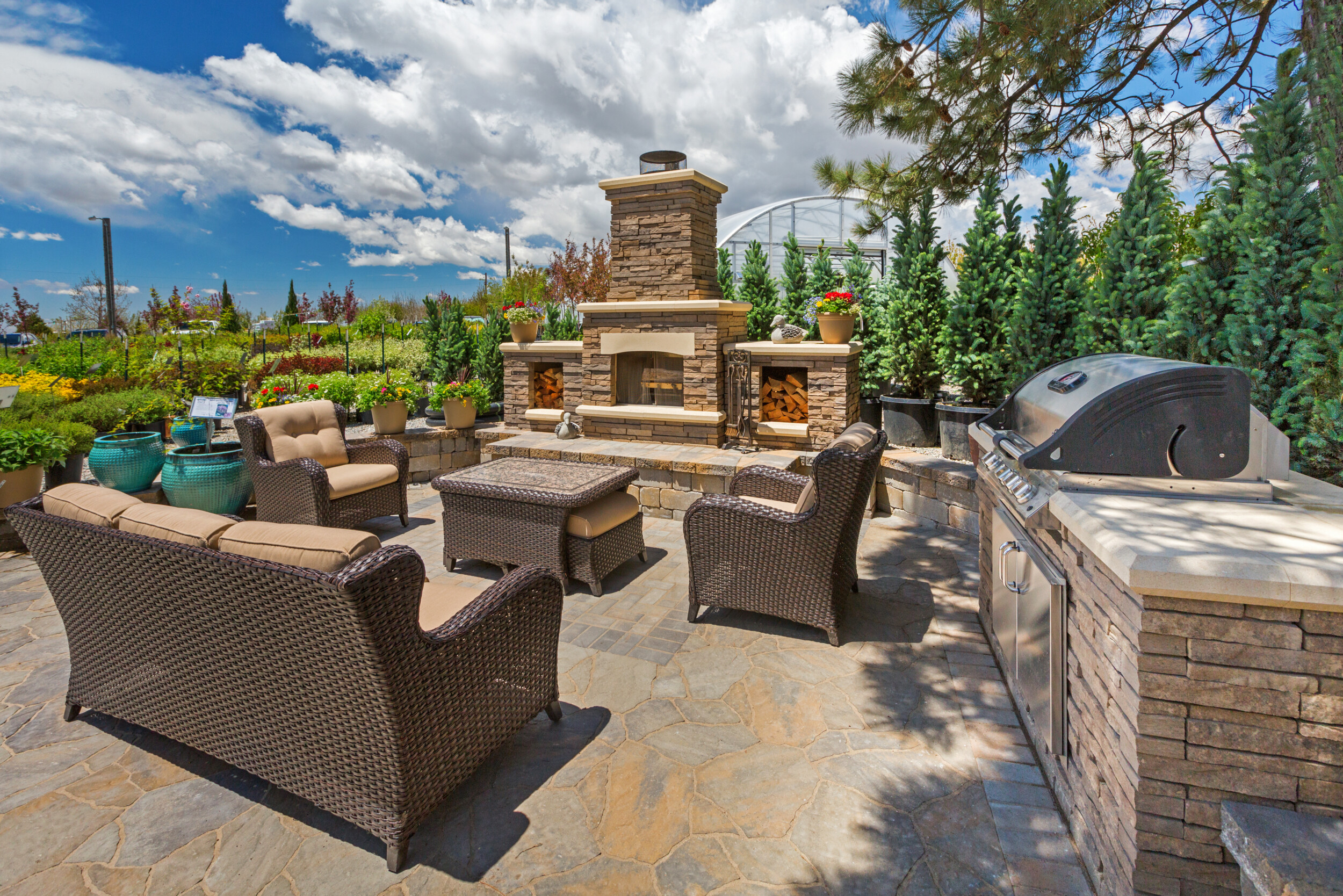 Southern interiors are known for their ability to evoke a warm, cozy, graceful, and charming ambiance. You can follow the same idea for the outside kitchen of your home.
You can install a dark wood ceiling and posts to go with white flooring and beautiful stonewalls. Some of the furnishings that go well with these types of outdoor kitchen designs are wicker chairs, antique chandeliers, an iron footed table, etc.
Vent Hood
There are outdoor kitchen designs that have a roof covering or partial enclosure. If this is the type of kitchen that you have, it may be a good idea to install a hood that can vent odors and smoke.
If you're installing a grill, choose a design that comes with a vent. The vent helps to prevent smoke from accumulating in your backyard porch or lanai.
Contemporary Black
If you want to create a kitchen with a sleek, rustic, and modern feel, then a contemporary black kitchen might work best for you. Paint the walls in a dark color and maintain the same color for the kitchen counter. You can also have reed roofing installed.
This is a great way to provide ample shade to the space without totally closing off your outdoor kitchen. These outdoor kitchen ideas combine a charming farmhouse feel with a chic contemporary vibe.
Chiller Trough
During warm days, you may need to serve cold drinks to your guests to go with the hearty meals you've cooked in the kitchen. Outdoor kitchen designs that come with a chiller trough are highly recommended. This will also keep you from taking endless trips in and out of your house to grab some cold drinks to serve.
Adding a small chiller in your kitchen is definitely one of the smartest outdoor kitchen designs to follow. You can place the chiller trough by your dining table so that your cold drinks will be within easy reach.
Repurposed Pallets
You don't really need to spend a lot of money to build an outdoor kitchen? Take advantage of repurposed pallets to come up with a functional kitchen outdoors. You can use the pallet boards to build the kitchen counter and as ceiling beams.
If done well, these outdoor kitchen ideas are not only practical but spacious and well appointed. For shade, opt for the tin roof that can provide protection from rain.
Covered Patio
If you are lucky enough to have a covered patio in your backyard, then you can easily build your outdoor kitchen in it. Simply install kitchen counters and other implements on one side of the space and install two stone pedestals on the other side that can serve as a platform for the pergola.
If you are short on space and you don't get to use the patio often, consider converting the entire patio into a fully functional and stylish outside kitchen.
White Boards
You can also choose to build your own outdoor kitchen with the use of whiteboards. This idea can be easily achieved with the use of a few planks of whiteboards. Begin by building the platform.
Then you can go on to build kitchen counters, and finally, install a pergola that can provide shade to your kitchen. You can also add chrome kitchen fixtures to go well with this all-white concept.
Garden Corner
The best outdoor kitchens for those who have a green thumb and love tending to plants is a kitchen that comes with a posh garden in one corner. A modern, chic, and sophisticated garden can make for a great addition to your outside kitchen.
You can also install water elements, such as a mini pond or waterfall.