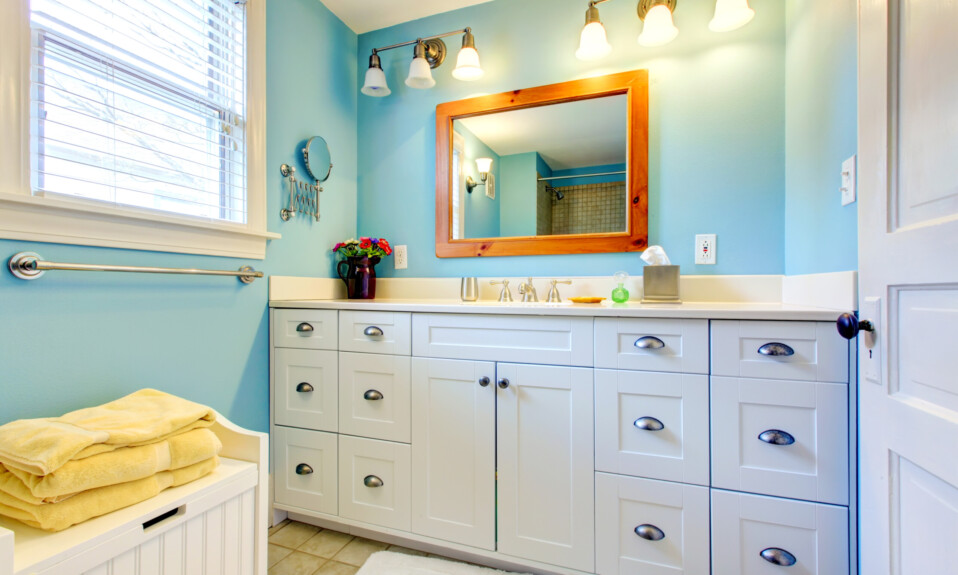 No matter how large or small the space you have to work with is, it's essential to master bathroom storage ideas so you can make the best use of your space in style. And since your bathroom is where you spend time freshening up every day, it only makes sense to keep it as neat and organized as possible.
After all, everyone needs a place for must-have bathroom essentials while being able to stow everything out of sight to make your bathroom all the more relaxing of a sanctuary. There are all sorts of smart bathroom storage ideas out there, from open storage to basket storage, from bathroom storage ideas for small spaces to great bathroom storage for the largest of luxury bathrooms.
To help you figure out the best add-ons for your space, we turned to Décor Aid interior designers for their tried and true takes simple yet effective bathroom storage solutions to make your daily routine all the better.
Magnetic Organizers
Magnetic organizers lining the inside of a medicine cabinet offer the perfect way to store small daily essentials while keeping them organized inside your wall unit – and they're amazing for storing makeup and brushes.
Instead of having everything scattered about on the shelves inside your cabinet, you can create smart storage solutions while saving needed space with this idea. This is great if you need bathroom storage ideas for small spaces as magnetic strips can help to de-clutter your shelves in no time.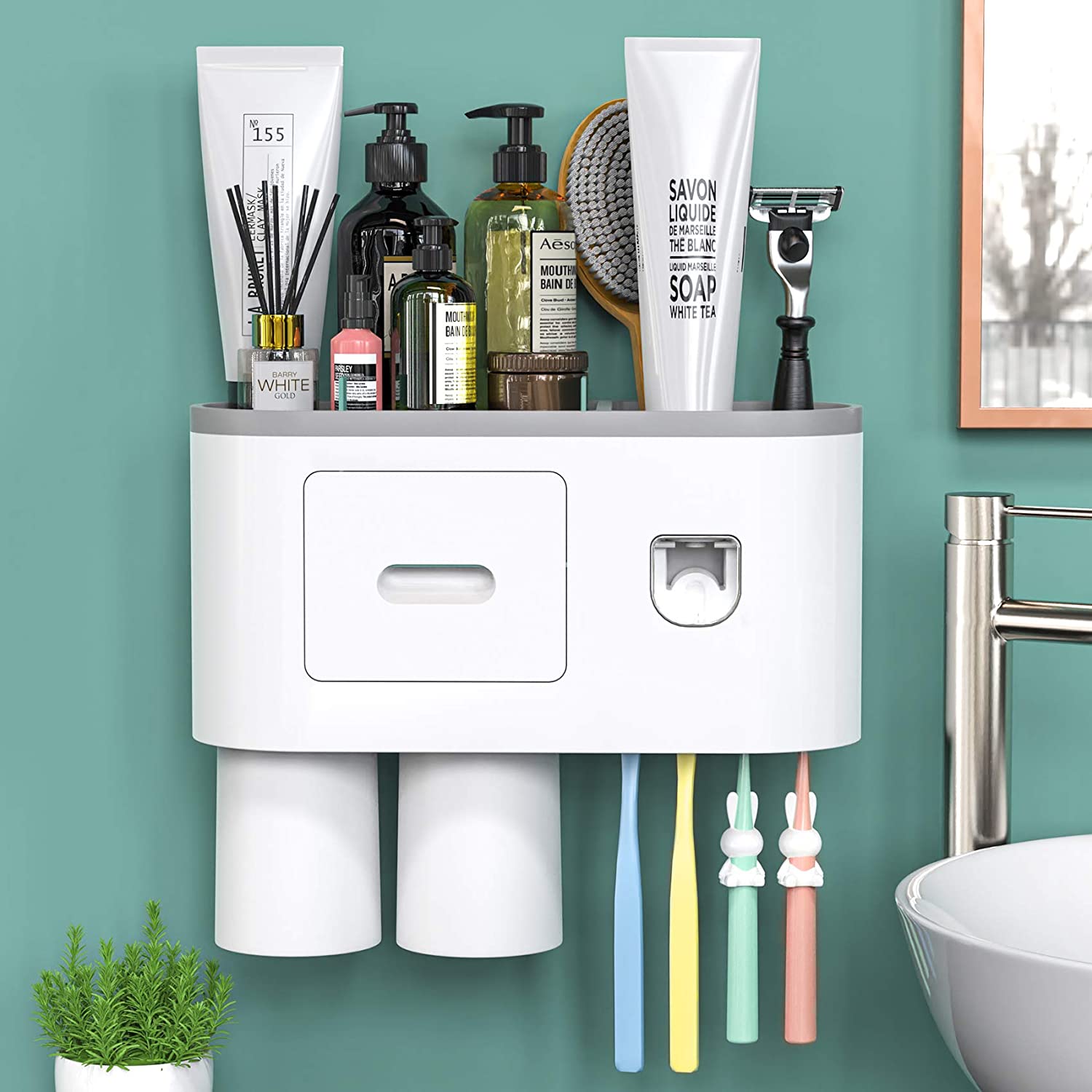 Above The Door Shelving
Perfect for small urban apartment bathroom storage ideas, a concealed above the door shelf can make a world of difference while helping you stow away items you don't need to use on a daily or regular basis.
Think toilet paper, a curling station, and the ilk that can conveniently be kept out of sight until you need them.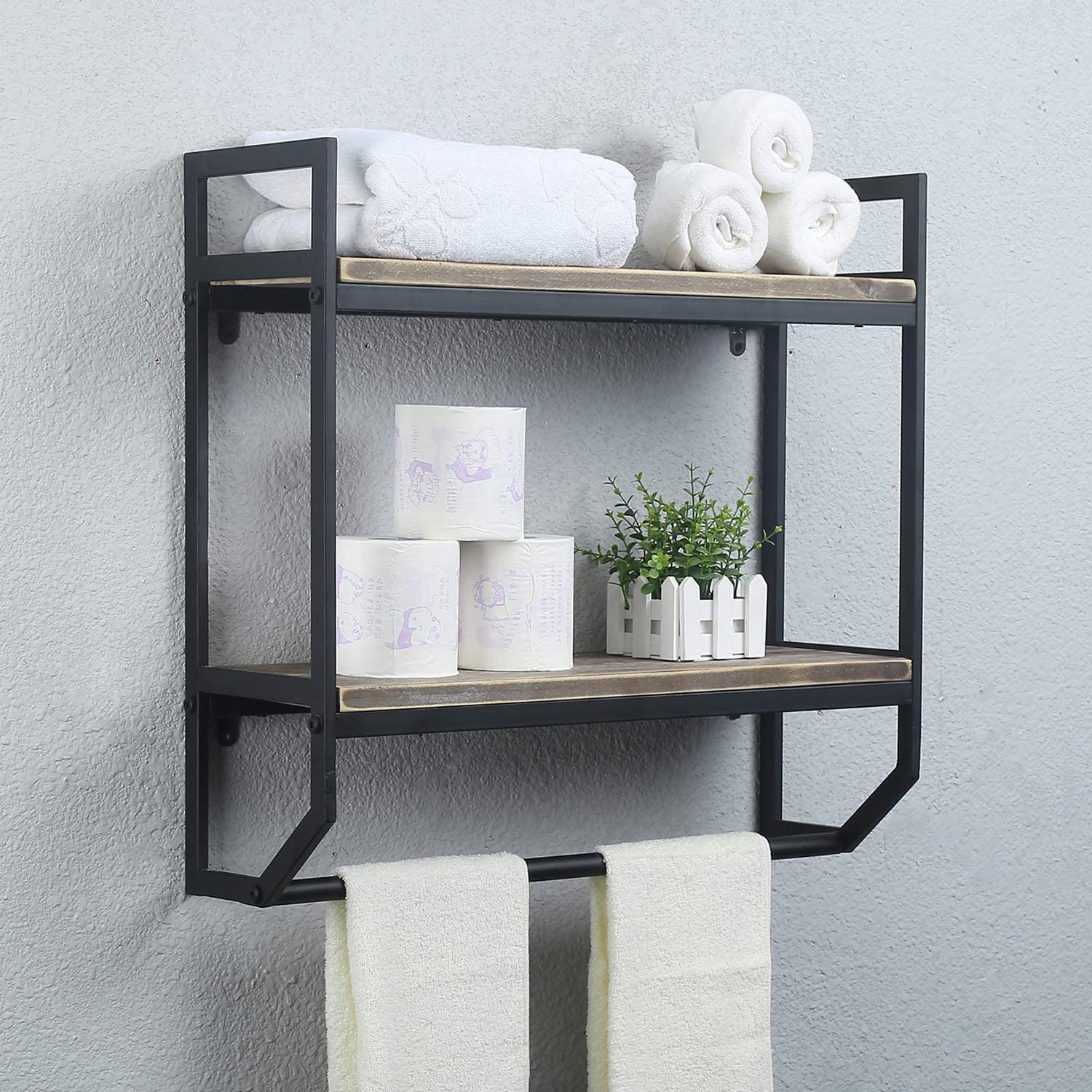 A Large Wall Cabinet
Sure, when it comes to bathroom storage ideas to consider, cabinets in a bathroom sound a bit obvious, to say the least. But if you're looking for additional storage space, a handy wall-mounted or you can leave it on the floor.
Best of all, you can easily source one inexpensively, and they can quickly be moved around when more floorspace is needed in your bathroom.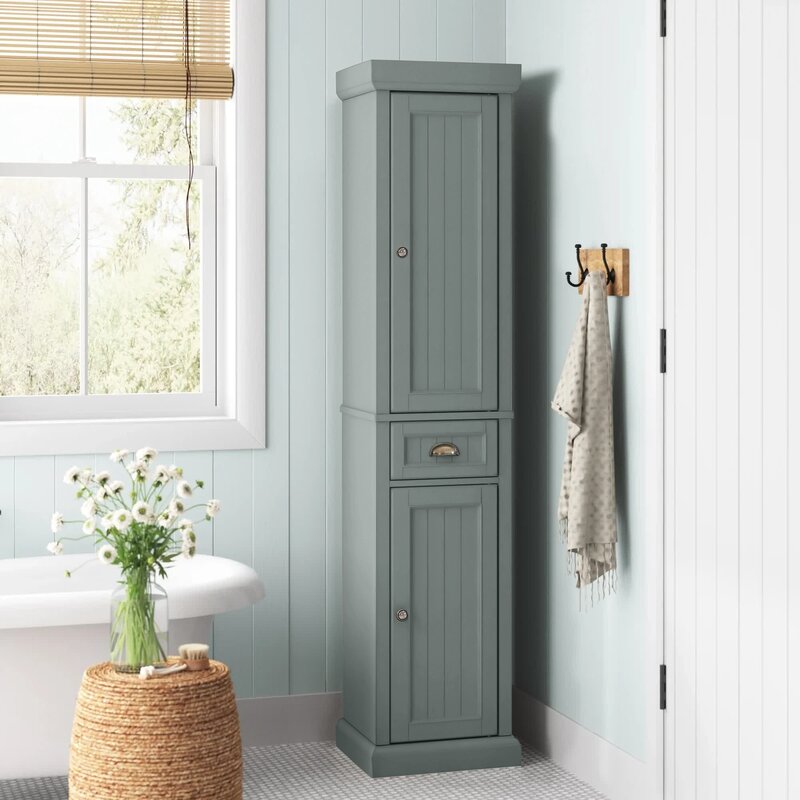 Pedestal Sink Skirt
Pedestal sinks are great for a small bathroom, but what about the wasted space below? More often than not it goes unused, and more often than not, our interior designers are quick to cover them to take advantage of the best bathroom storage ideas possible.
Follow suit and cover your pedestal sink with a crisp, minimal skirt for a modern look that nods to the spirit of French country design. That said, source a few at a time so when one is being laundered, everything inside won't be exposed until it is reattached.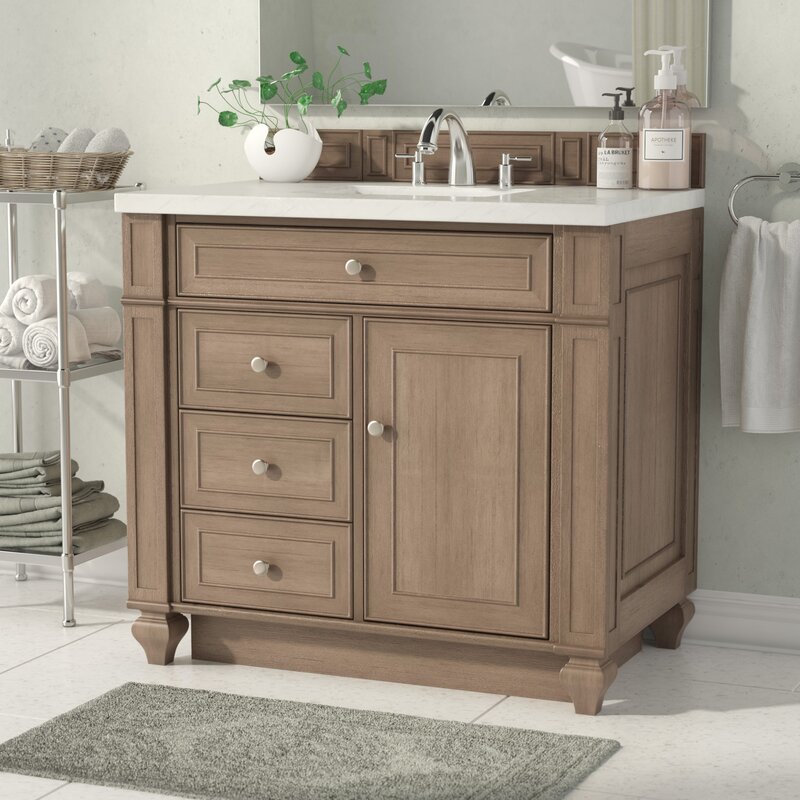 Bathtub Caddy
If you are struggling to find bathroom storage ideas to create additional storage space, then a bathtub caddy might just be the answer as you soak the day away. Along with a corner shower stall shelving unit, they make for clever bathroom storage ideas for small spaces.
A handy bathtub caddy allows you to store all the items you need to draw the perfect bath in one space. And a bathtub caddy will help you free up space elsewhere, so you can store more toiletries.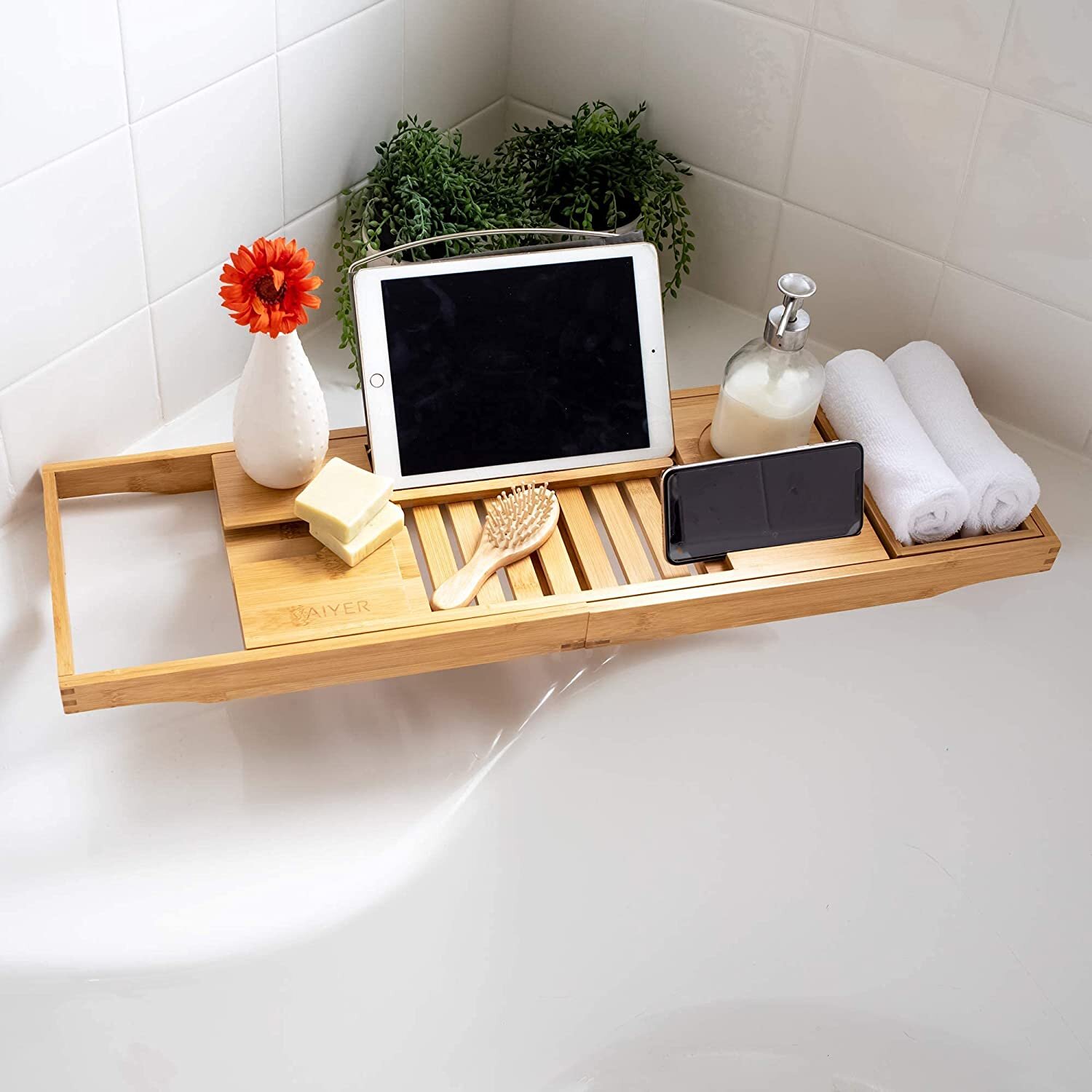 Storage Ladder
A movable angled storage ladder is a great solution when it comes to apartment bathroom storage ideas – if you are lacking space, a storage ladder could the answer to your prayers, as they hardly take up any space.
You can hang towels from one and hook small baskets over the rungs, so you can easily store spare toiletries and toilet paper. You can also use them to better style your bathroom with decorative extras and memorable keepsakes for a more unique, customized feel.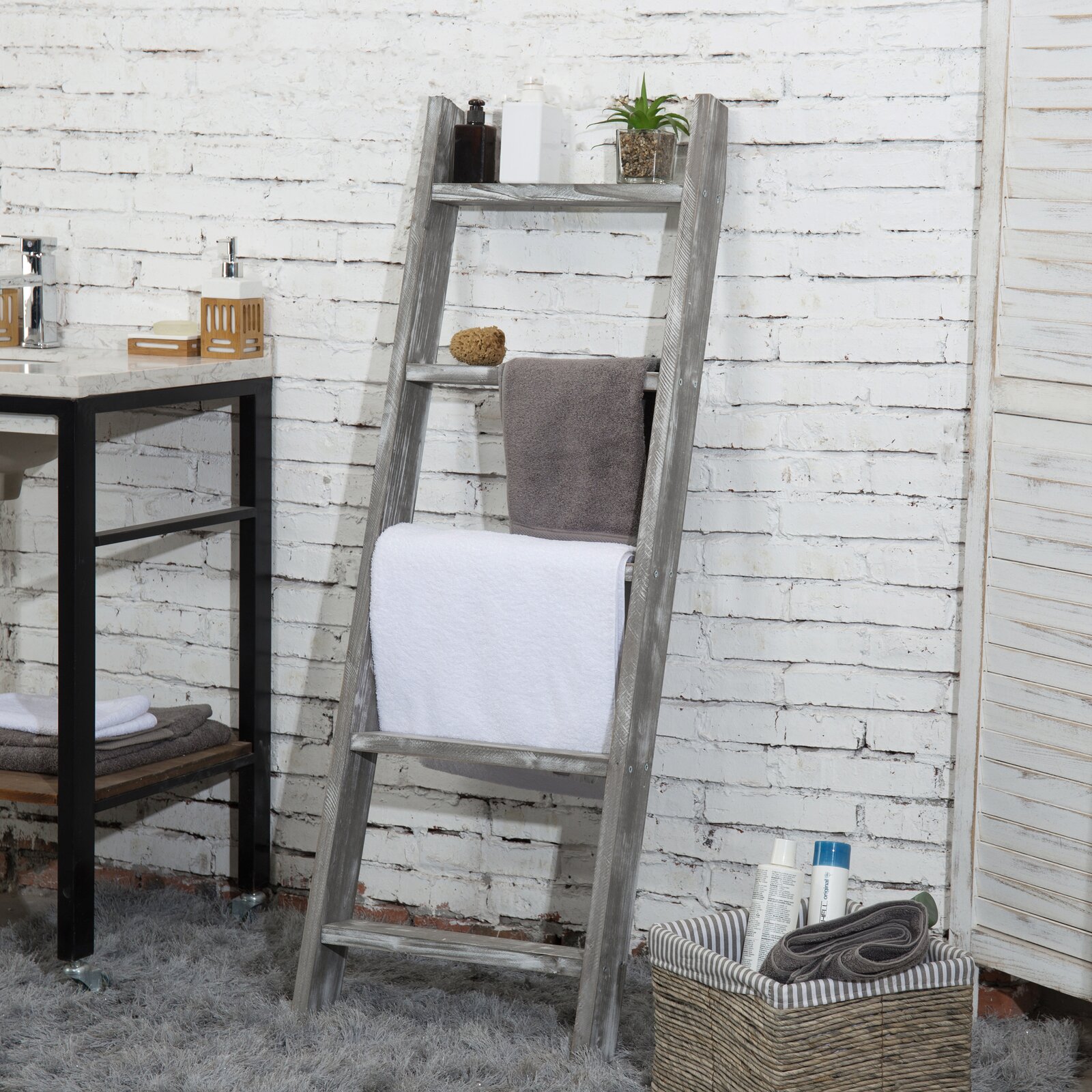 Low Lying Shelving
If you don't have space for a bulky bathroom vanity unit, install low shelving either side of your sink or below it for a similar effect. Low shelving is an easy bathroom storage idea which helps you make the best of the space you do have, for a much lower cost than a made-to-measure vanity.
A couple of low shelves won't draw attention to themselves as they will be out of your line of sight, so your space won't feel cluttered at all. And they'll deceive the eye into thinking that your bathroom is larger and that your ceiling is higher than it is.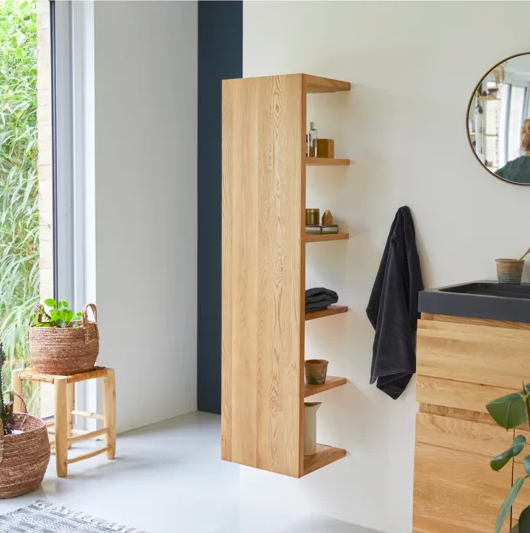 A Tray for The Sink
If you find that your smaller items end up taking over your bathroom counter and every other surface, and you've got nowhere to keep them together, then a series of hold-all stylish trays placed on the sides of your sink will be your saving grace.
On the trays, you can store items like hairbands, hairpins, makeup, and small toiletries, enabling you to keep them neat, tidy and all in one place – making for easy bathroom storage ideas. Plus, you can move everything together at once since they are housed on a surface that is easy to take with you. As an alternative to trays that still get the job done, you can also store said items in vanity trunks or toiletry bags to keep everything out of site for a more minimally styled feel.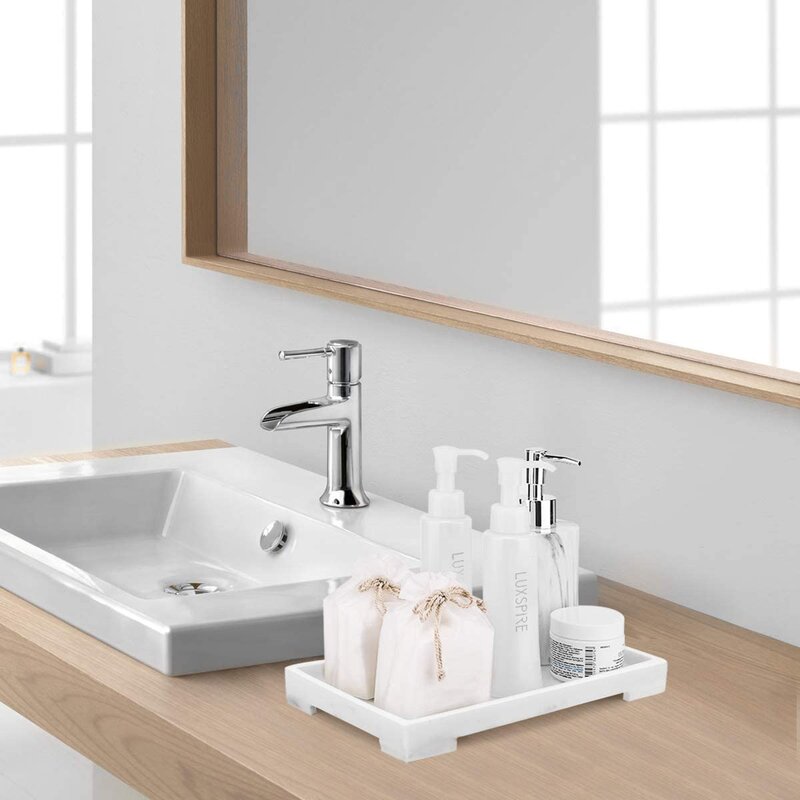 Re-Purposed Bureau
A vintage bureau, dresser or armoire make for the perfect unique alternative to a standard bathroom vanity. Think about bringing in a traditional piece of well-made furniture and have it converted to hold a sink.
This will give you needed bathroom storage space, giving you room to store all of your bathroom necessities in one easy to access spot. If you have a dab hand at acing DIY projects, this is a great bathroom storage ideas project to get your teeth into while taking your bathroom design to the next level with an addition that will remain completely unique to you.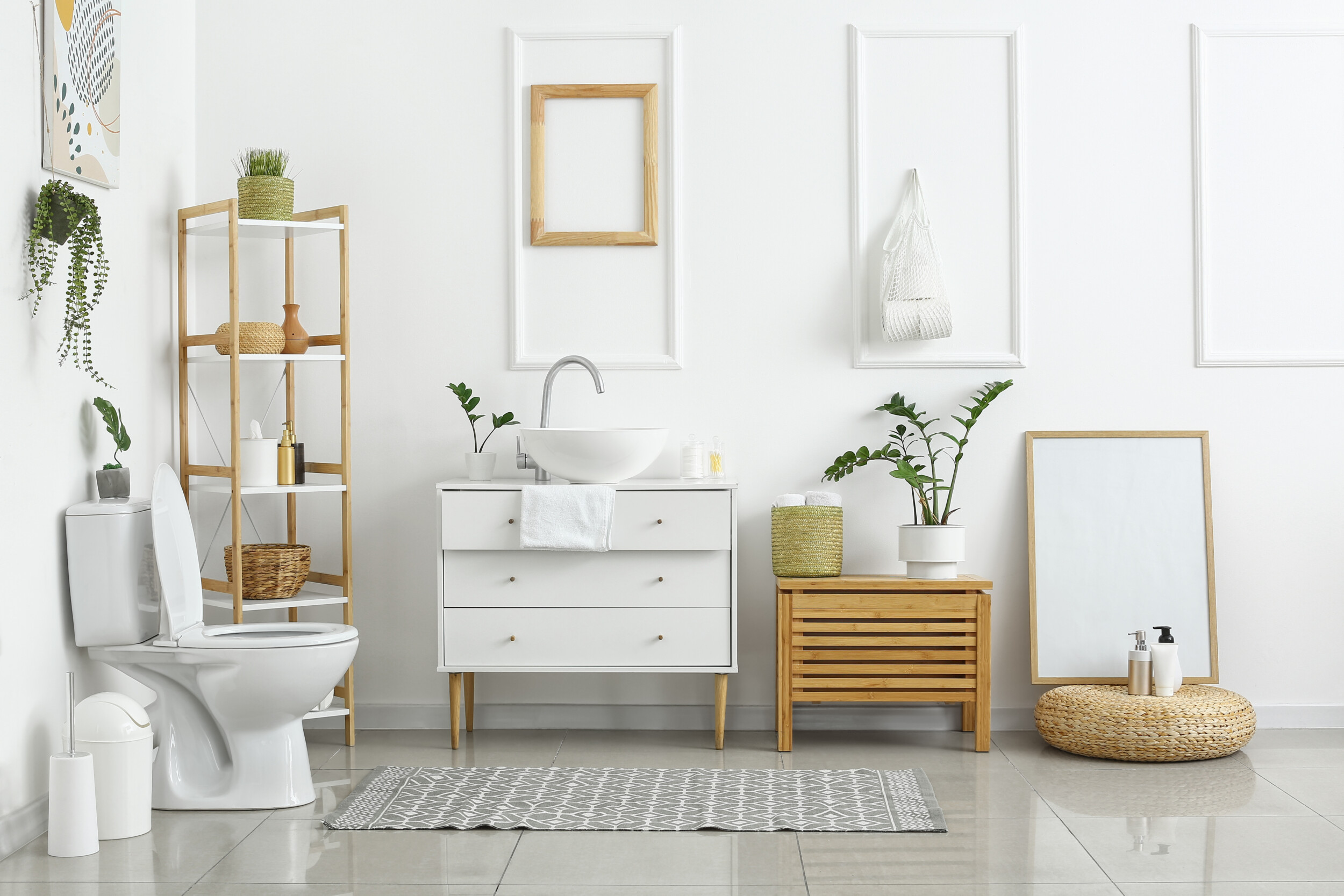 Floating Shelves
Floating shelves are one of the most stylish and cost-effective bathroom storage ideas of them all. They make for great bathroom storage ideas for small space as they can blend seamlessly into the wall, providing you with an unobtrusive way to store your needed bathroom items.
Place your items directly onto the shelves or bring in some storage baskets and trays to keep your shelves looking tidy and presentable. For a bathroom, glass and marble shelves will also lend the room a luxurious, well-judged feel.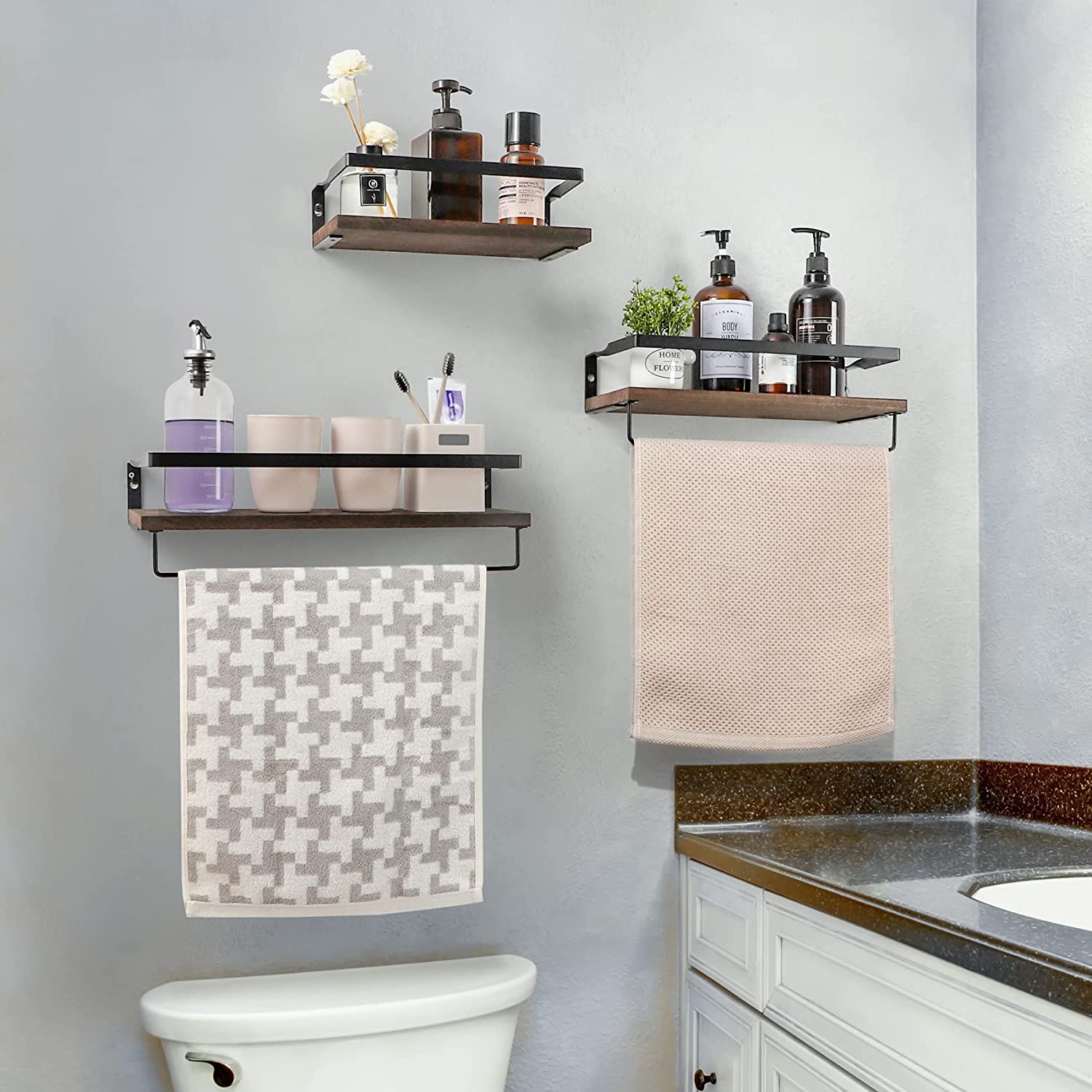 Stacks Of Shelves
Stack multiple shelves vertically up one wall to make the most of the wall space you have in your bathroom. And if you're looking for small apartment bathroom storage ideas, stacked shelves are also a great way of using that wall space to create extra storage without having to spend a fortune.
Install as many shelves as you can properly fit on a chosen wall, stretching from one side to the other, or you can also use smaller shelves scattered across a wall. Glass shelves are also a great option as they'll keep the area looking bright and airy.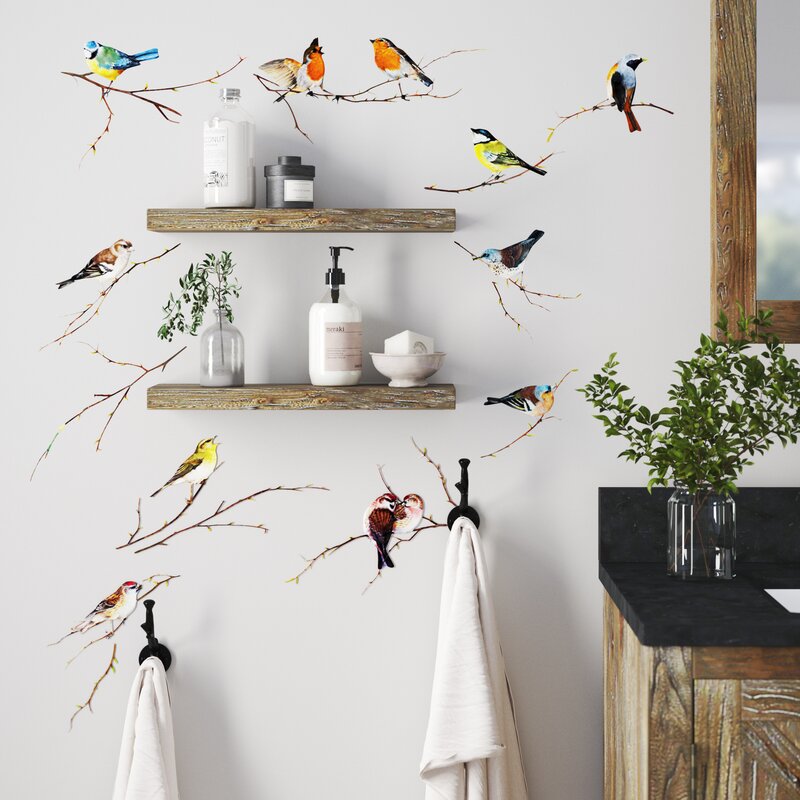 Hooks for Hanging
Scores of everyday bathroom items lend themselves well to being properly hung – like towels, haircare items, and bathrobes. Make the most of your vertical space (without encroaching too much into the room) by adding some stylized hooks along the walls and the back of the door.
With the door open, it makes for clever hidden storage space. And when it comes to savvy bathroom storage ideas, the less you can see the better. That said, make sure that what you do hang is in good condition as you wouldn't want to be displaying less than enviable items along your walls.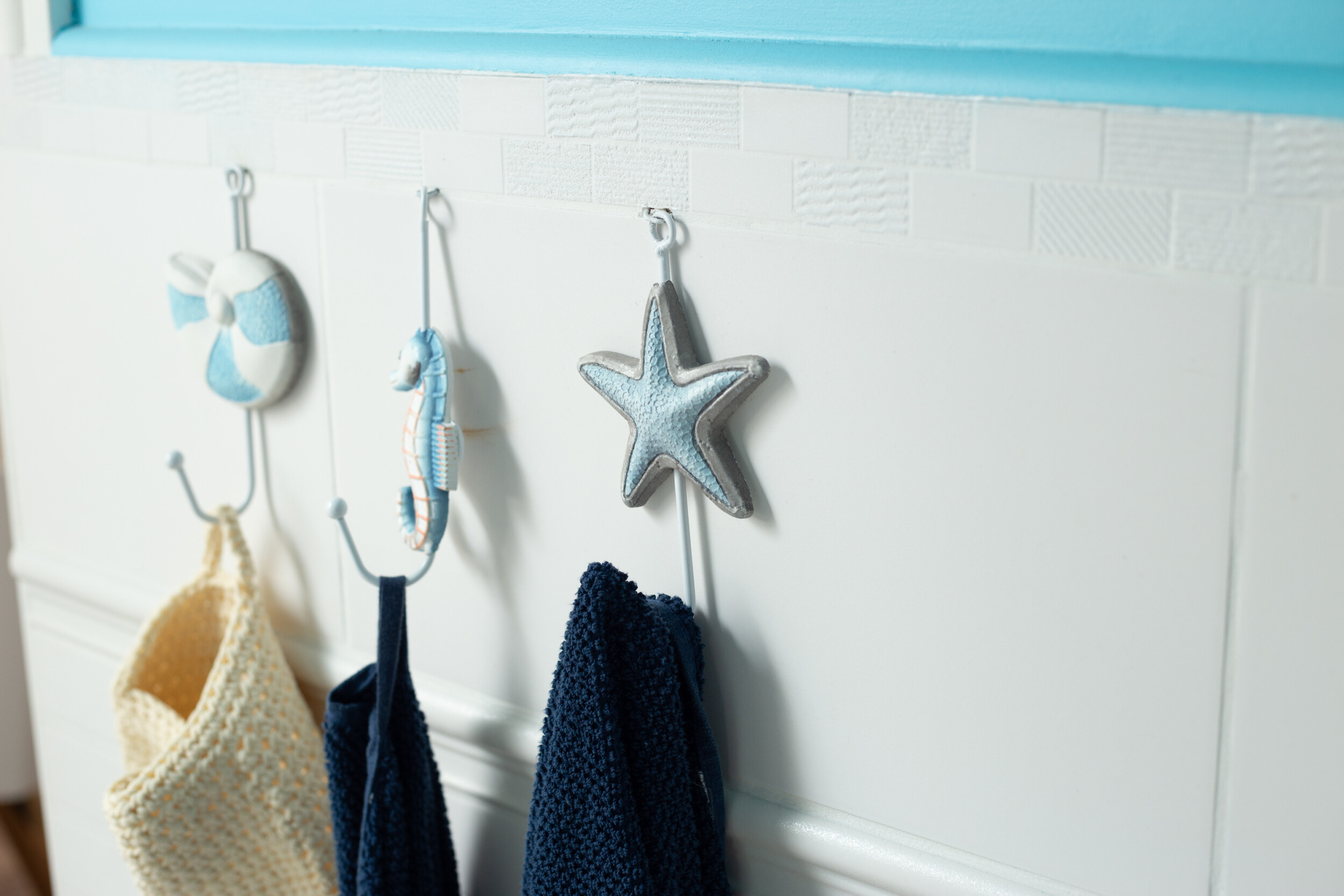 Don't Waste Space Above The Commode
The space above a commode often goes forgotten and wasted when it comes to bathroom storage ideas, but why should it be? After all, no matter how large or small your bathroom is, dead space is lost opportunity to use every part of the space to your advantage.
To use that area to your advantage, go for shelving which has a similar width as the cistern, so the shelving doesn't stand out too much or look off scale. This is the best storage space for items you seldom use but want to as decorative extras.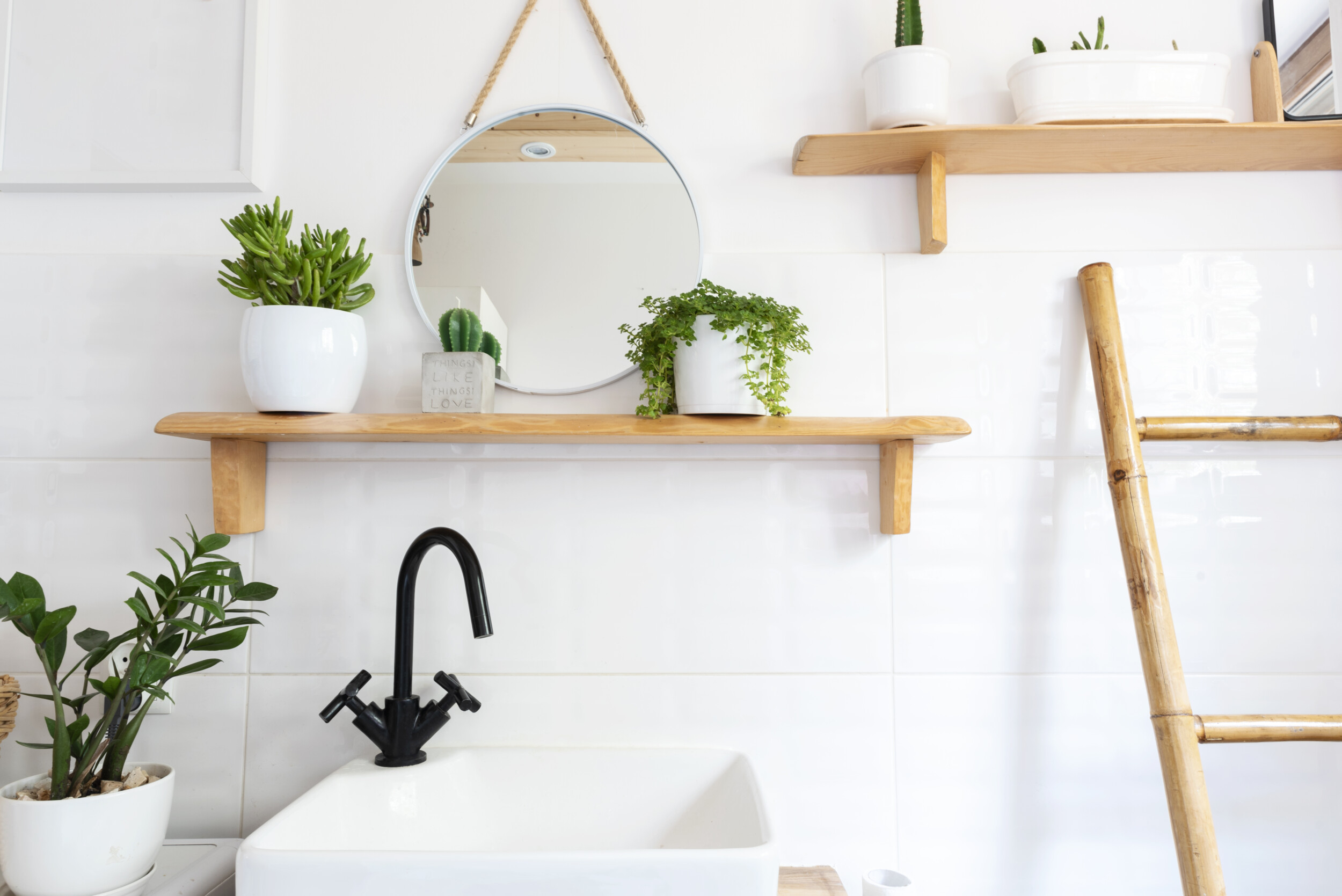 Baskets On The Wall
Hanging unique storage baskets that boast a one of a kind feel on dead space on a wall makes for quick and easy bathroom storage ideas, and they'll look stunning and original as well. They make for a quirky idea that you won't see in every other bathroom and it's a chic way of storing sets of towels.
Attach storage baskets to the wall by the base, so you can roll, or fold up your towels and place them in the basket. Go for baskets of varying sizes and scales so you can easily store smaller and larger items alike.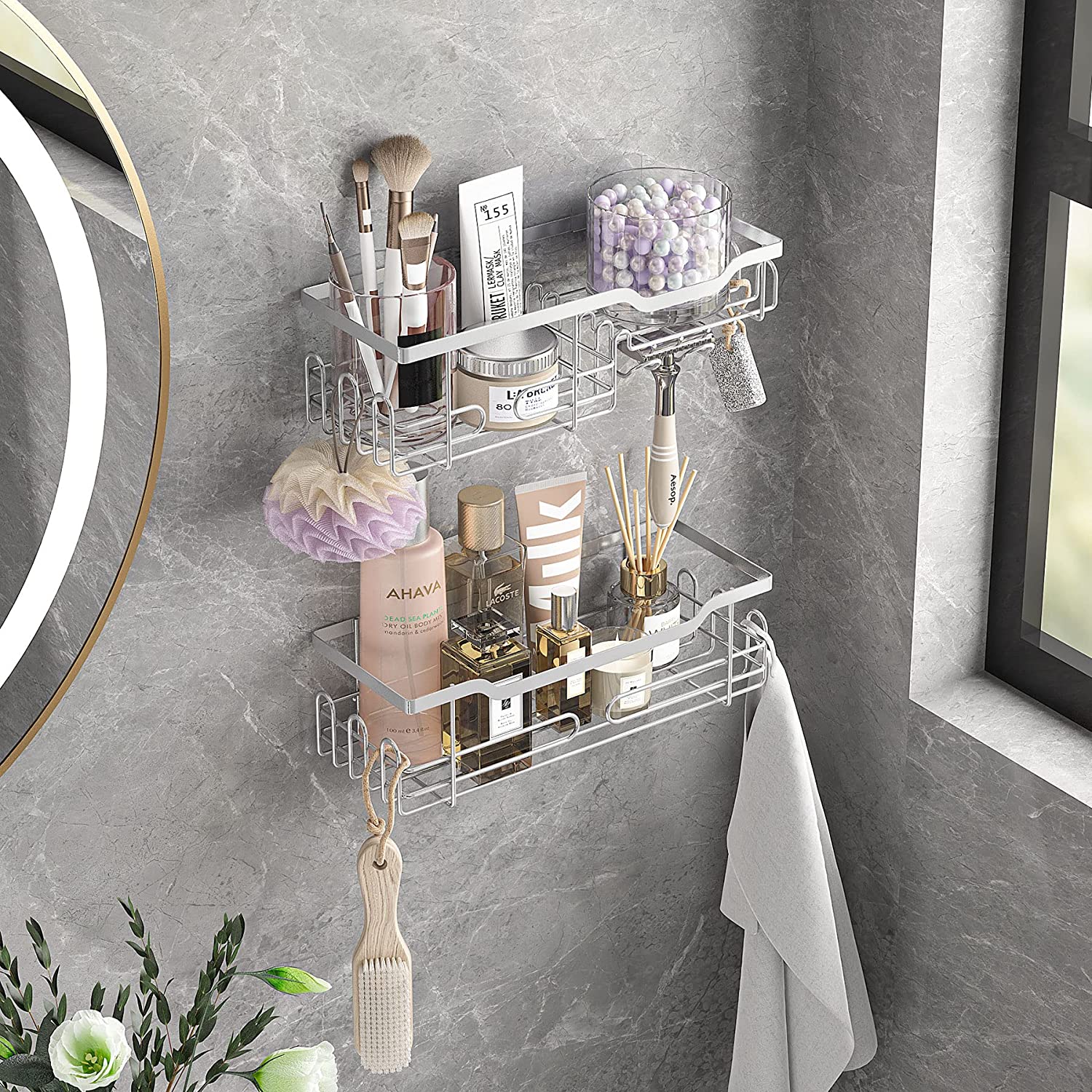 Tiered Baskets
Tiered baskets are a clever way of saving space, using vertical space, and creating additional storage in your bathroom. They can be placed on the side of your sink, keeping your smaller items together and easily accessible, or above your counter for quicker reach.
They not only provide you with extra storage, they also boast the added bonus of looking great too when you source one that's beyond standard, for something more unique.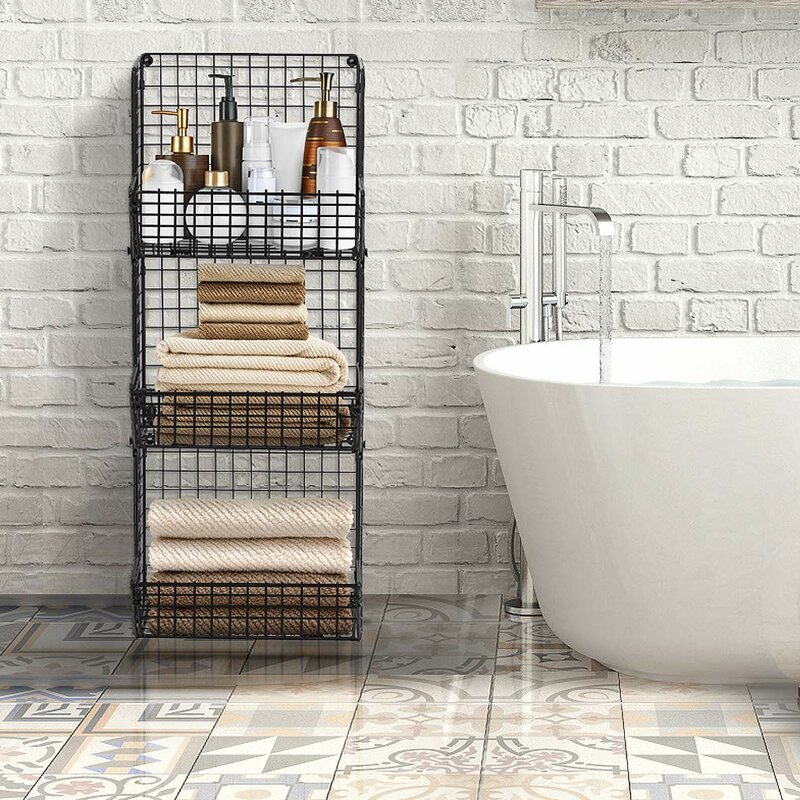 Floating Vanity
A floating vanity goes a long way to making a bathroom look much larger, great for small apartment storage ideas. Being able see this extra floor space tricks the eye, making the space feel larger than it is. Go for a modern, minimalist floating vanity to create a clean, simplistic feel in your bathroom, adding to the feeling of additional space.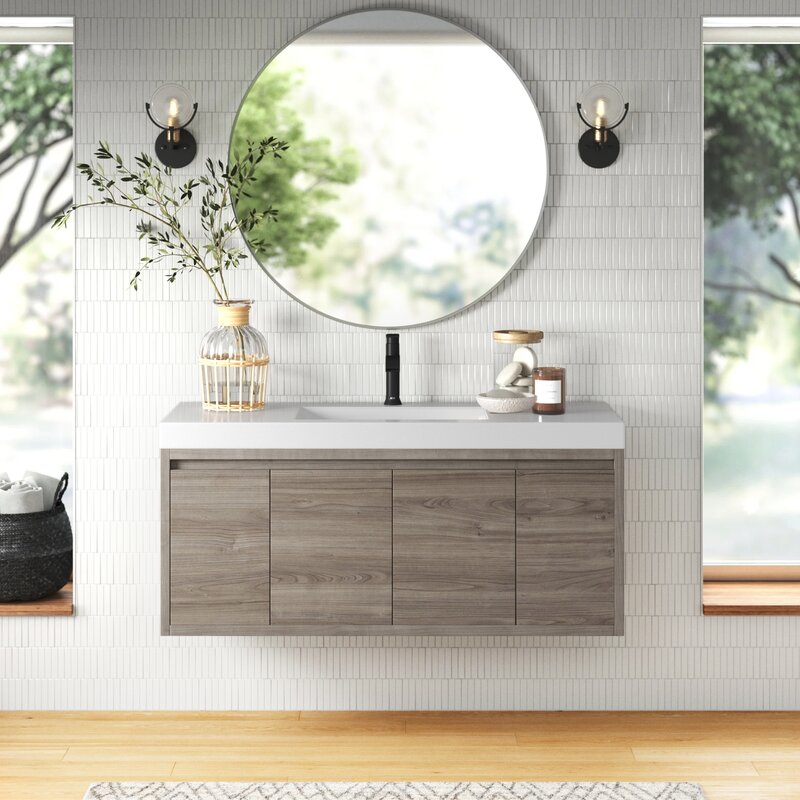 Put Bathroom Necessities In Storage Jars
If you have to have your bathroom necessities on show, transferring them to pretty storage jars will help make them look lovely. There is nothing worse than a mismatched stack of tubs and boxes on a shelf in your bathroom, it looks messy and unappealing. Decanting your products like cotton balls and Q-tips to jars will help your bathroom shelves look all the more presentable – easy bathroom storage ideas for those awkward items.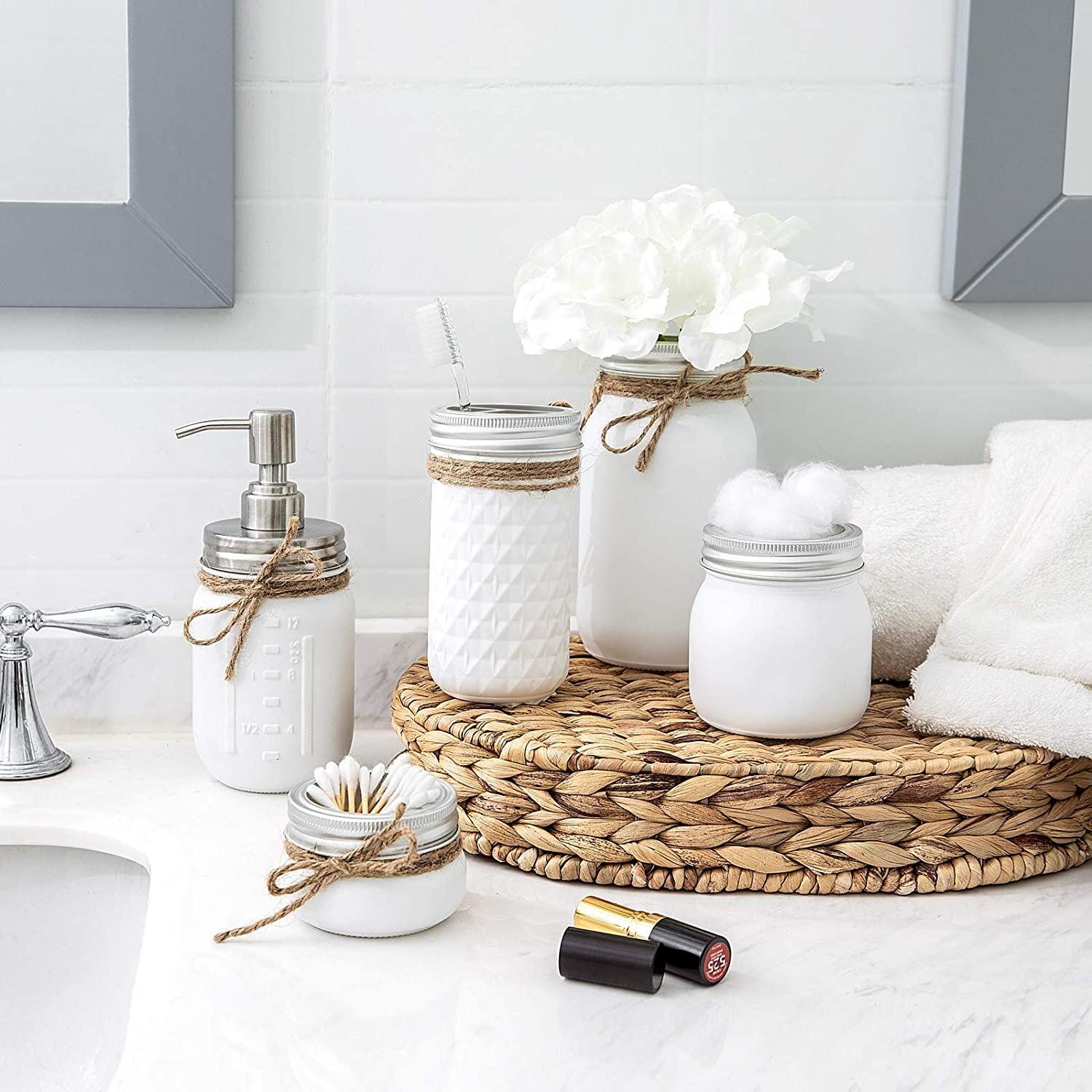 Under The Sink Baskets
Baskets beneath your sink or vanity, make for great towel and toilet paper storage – a stylish way to keep these items handy. Popping a couple of beautiful wicker baskets within arms-reach will add some texture to your bathroom design at the same time. You'll never be without a towel when you hop out of the shower.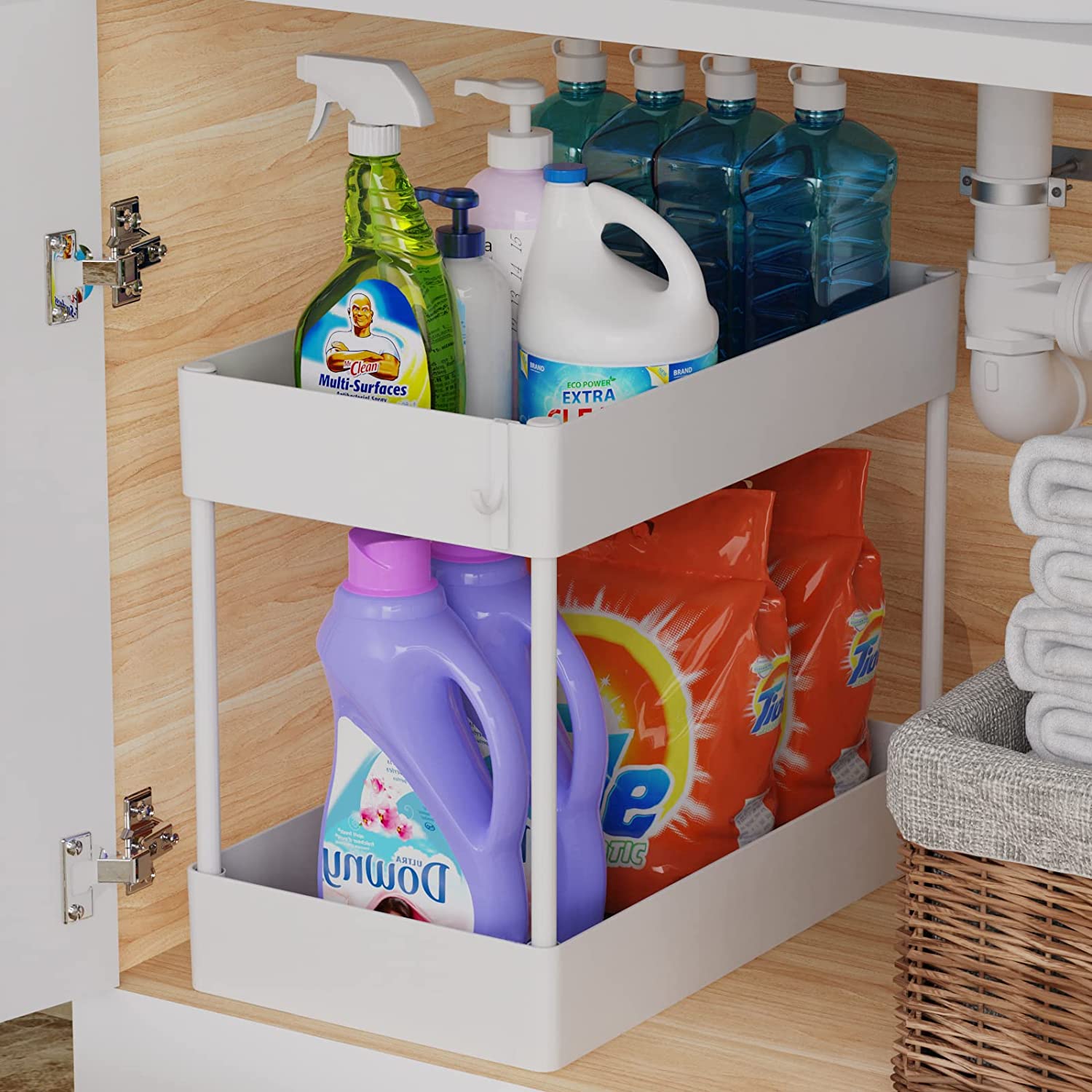 A Wall-to-Wall Vanity
If you have the space for it, a wall-to-wall vanity is the most investment-worthy of all bathroom storage ideas. No space is wasted here, and you won't find any other bathroom storage ideas or designs which will help you make better use of your space. Choose an open-front vanity to create an easy access display.
Or go for a more traditionally styled wall-to-wall vanity so that it'll always add to the resale value of your home. Just keep in mind that symmetry is key as a large wall unit like an expansive vanity can be bulky, and when not symmetrical, it could make your bathroom feel and look off.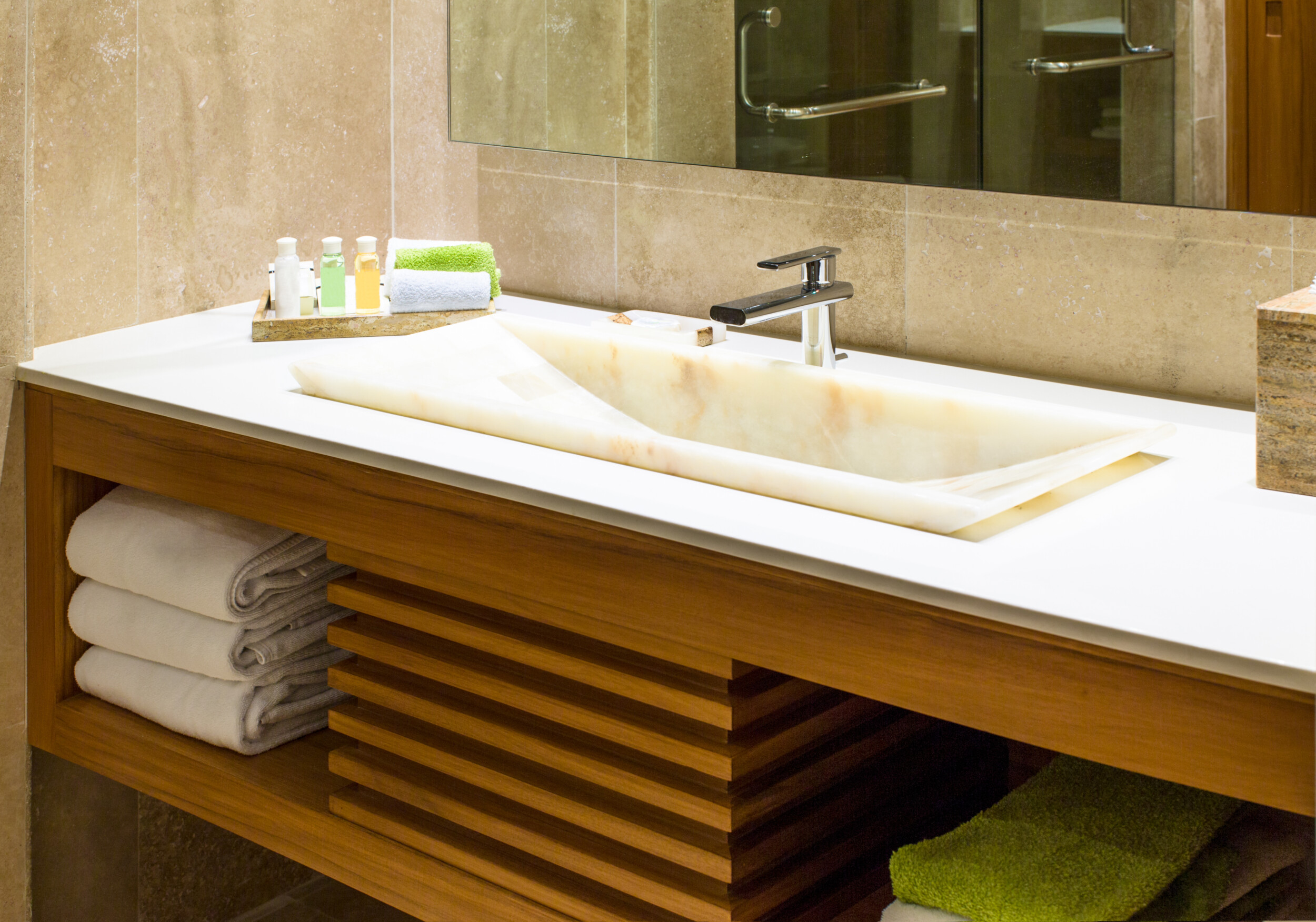 Re-Purpose Small Storage Units
When it comes to bathroom storage ideas, sometimes it pays to think outside of the box so you can make the space look and feel all the more unique. And when it comes down to it, any stylish small storage unit can work in a bathroom, from side tables to console tables, and they will make for a quirky and unexpected addition to your bathroom storage ideas.
Place a small side table in the space between the wall and the sink, or next to your tub, using it as a surface to house toiletries and towels – an interesting take on traditional bathroom storage ideas. Even better if its glass-topped so it'll prevent the space from feeling closed off.