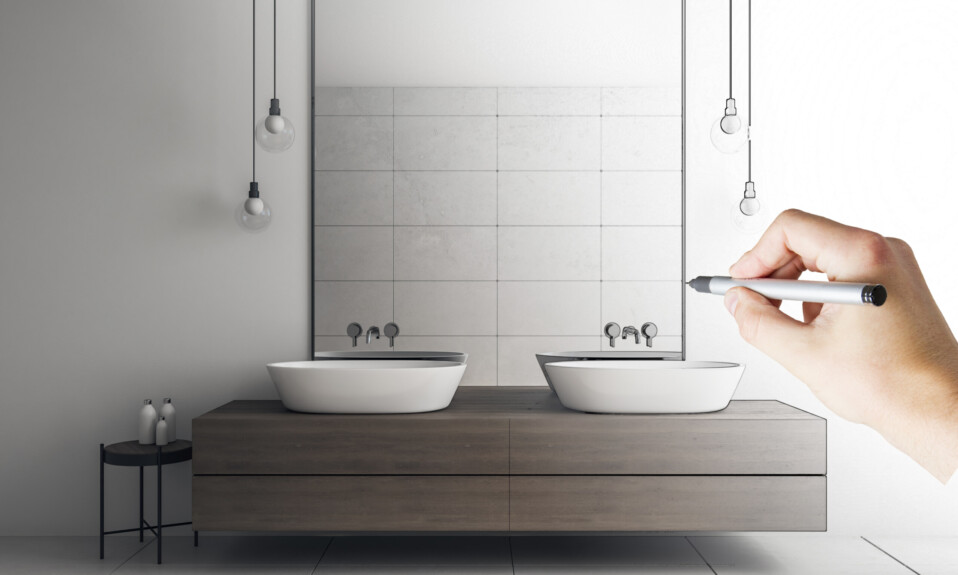 Your bathroom might not be a room that you usually associate with artwork, but when you think about it, why wouldn't you want to cover its walls with beautiful art? Bathrooms wall art doesn't have to be utilitarian and it doesn't have to be clinical. It can be luxurious, glamorous, and stylish.
The size, style, and ventilation in your bathroom will all play a part when it comes to choosing striking bathroom wall art (you don't want to end up with water damaged prints). This is an area where you can be bold with your artistic choices, running free with bathroom wall art ideas that are unexpected yet well-judged. To help you bring your bathroom to life with art ideas, here's a slew of takes from Décor Aid interior designers to take note of.
Eclectic Energy
Create the feel of a far-flung oasis with eclectic inspired bathroom wall art that'll make even the most minimal of spaces feel warmer, and more inviting while lending it a playful sense of personality.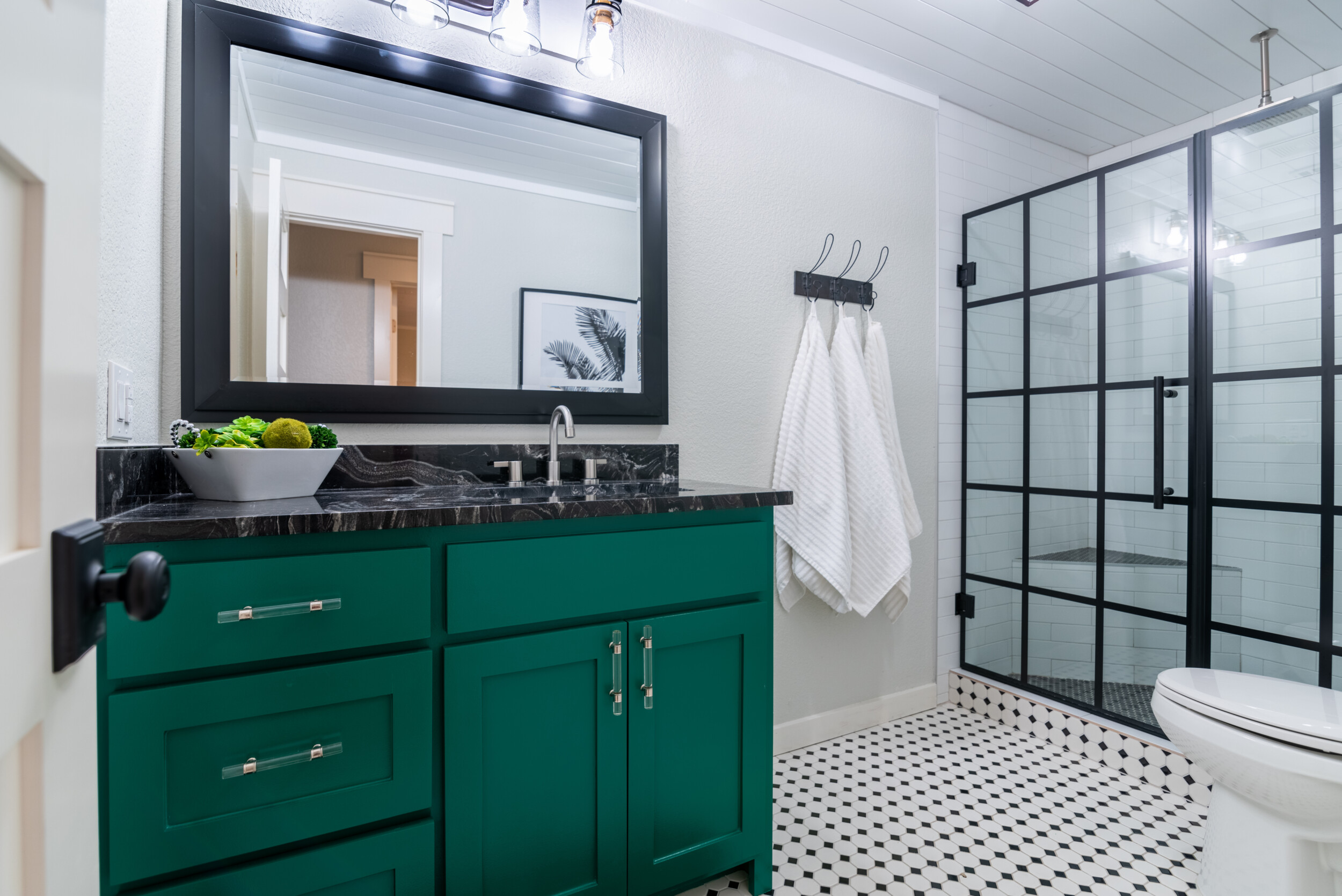 A Sunny Citrus
A vibrant light-catching citrus wall color will make energize the area while making it feel brighter and larger. And it'll work to brilliantly highlight the bathroom wall art ideas that you do bring in.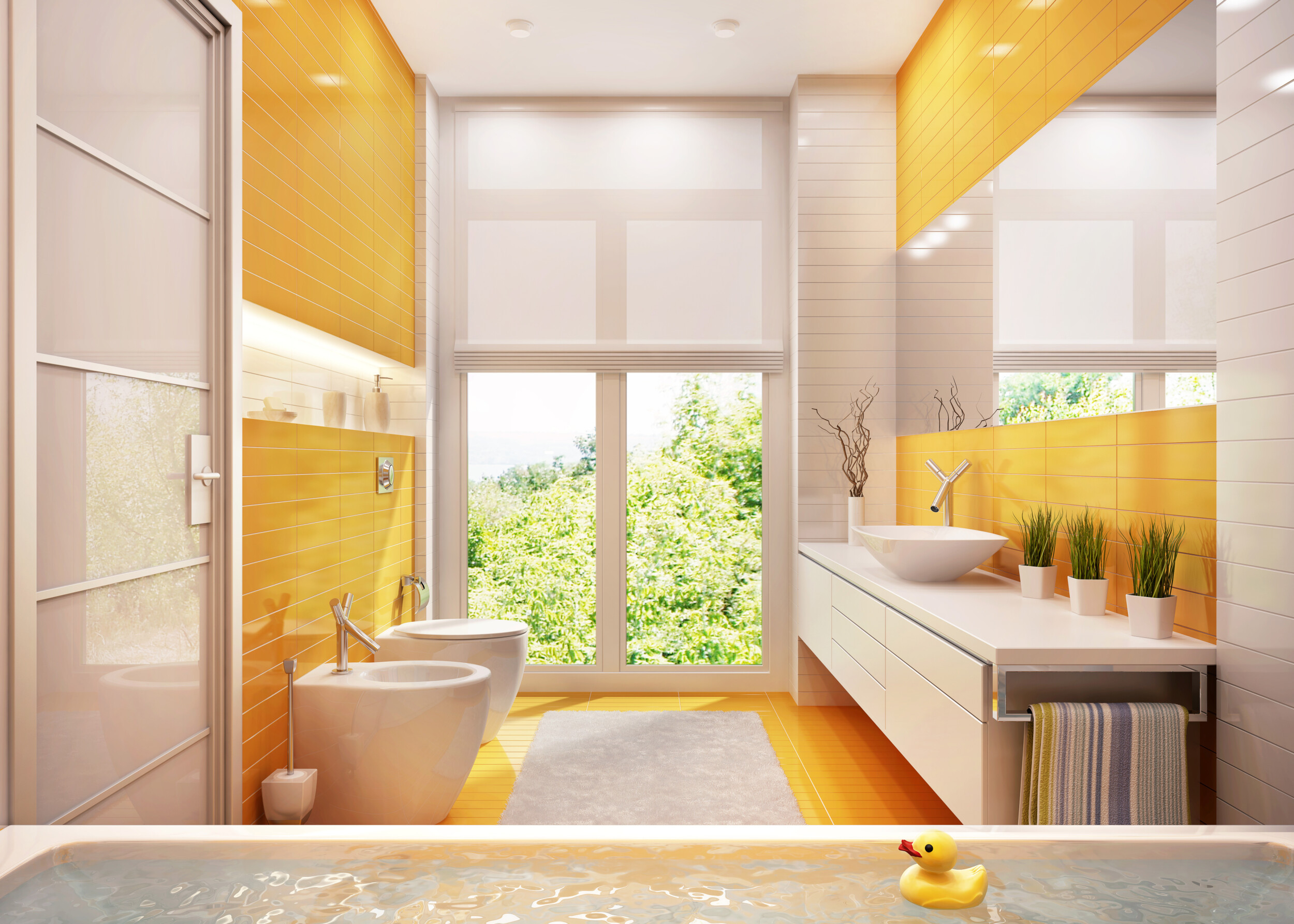 Mixed Marble
A hefty investment that will instantly increase the resale value of your home, consider an Art Deco-inspired mix of richly toned marble as the ultimate in elevated styling.
Just be sure to go for natural colors so you can avoid feeling bored by something that's too oversaturated.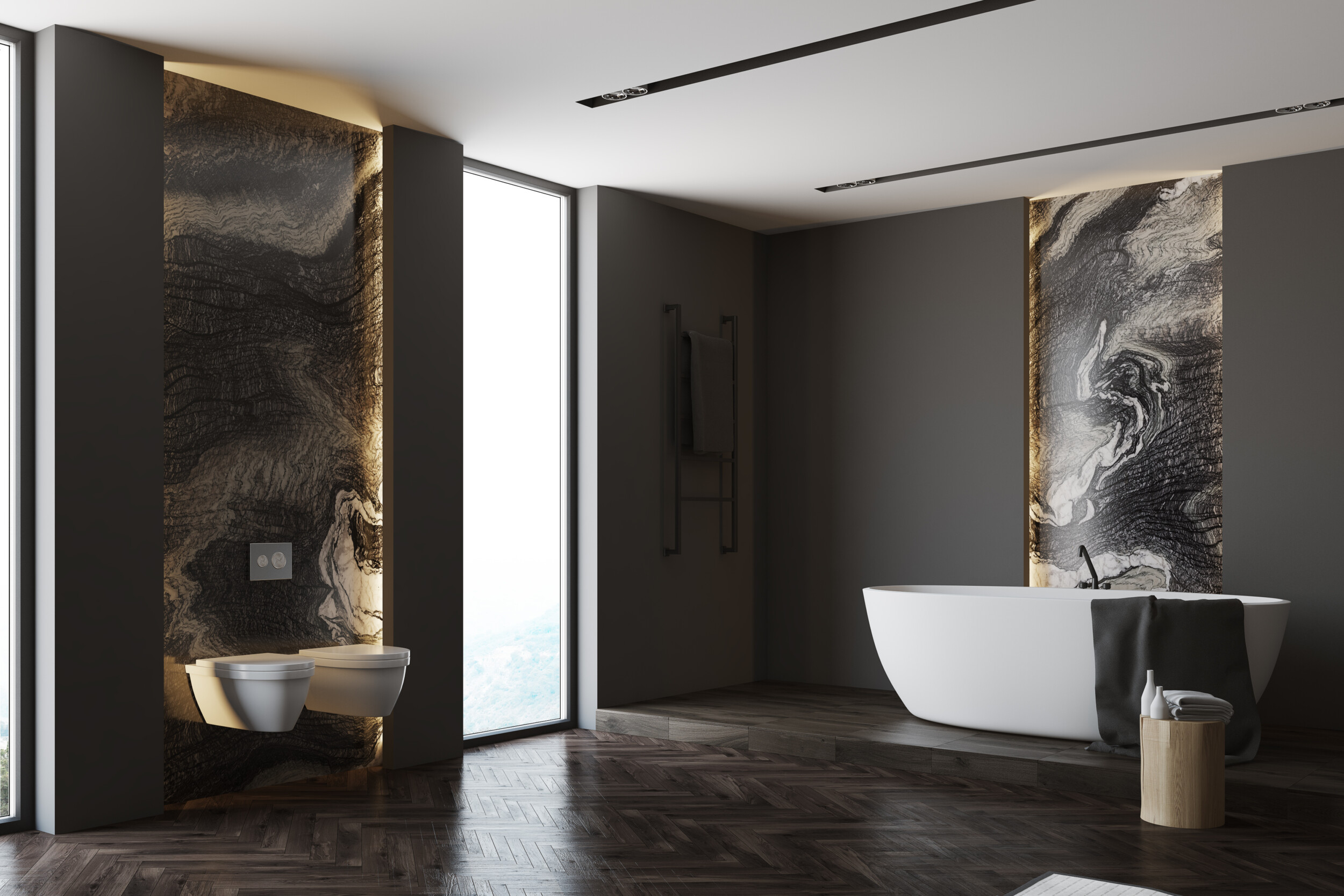 Contrasting Tile
Contrasting graphic tiles can do all the talking for you while lending your space a visually interesting wall treatment. Finish the look with a triptych of bathroom wall art prints so the tiled portions don't come off as heavy-handed, or distracting.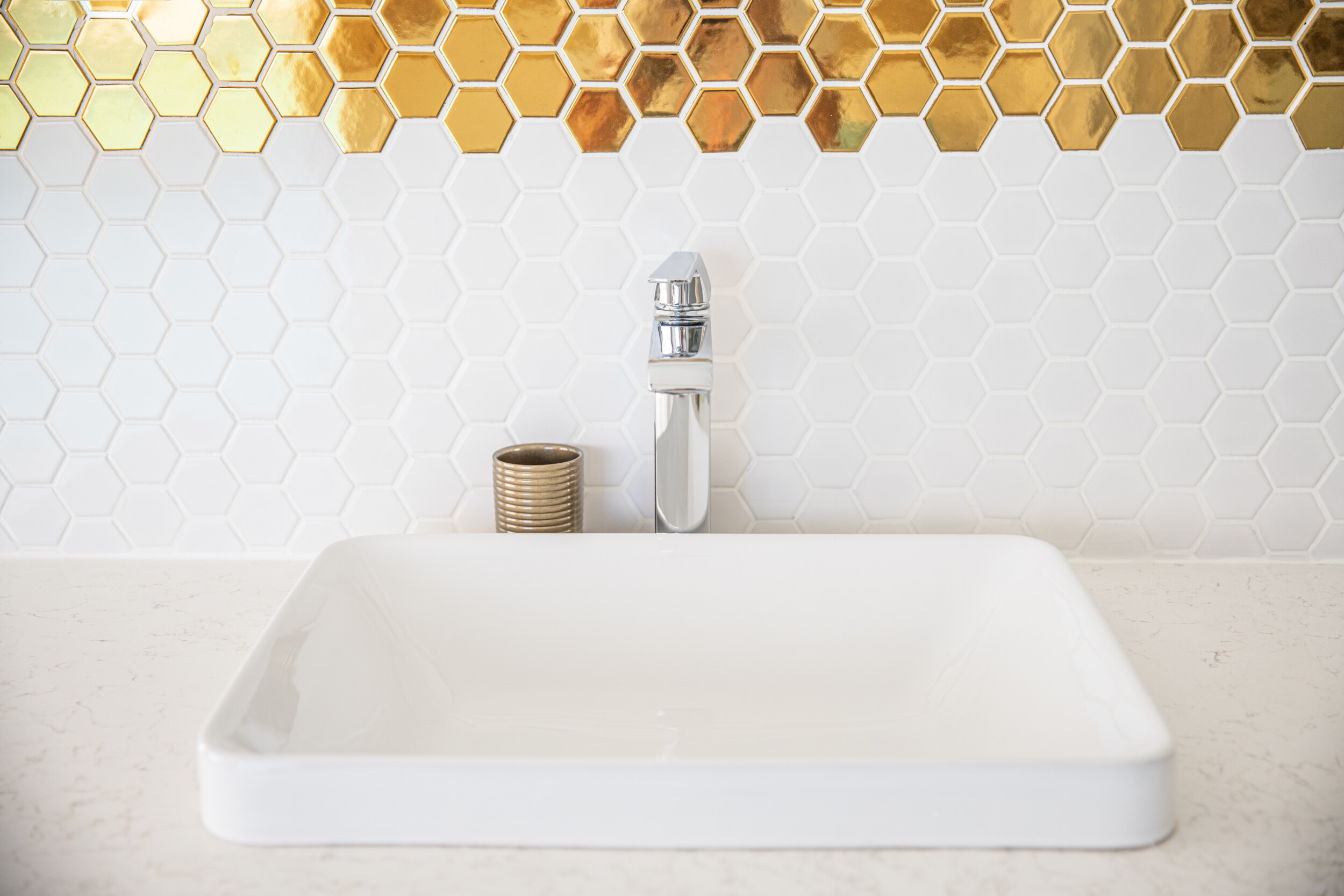 A Rich Color
Whether through art, textiles, or a fresh coat of paint, bring your bathroom decor to life with a rich and indulgent color that'll make the space feel one of a kind.
However, since most bathrooms don't boast such grand ceilings, make sure that the color you do bring in works well in your space as you don't want your bathroom to come off as smaller and darker than it is.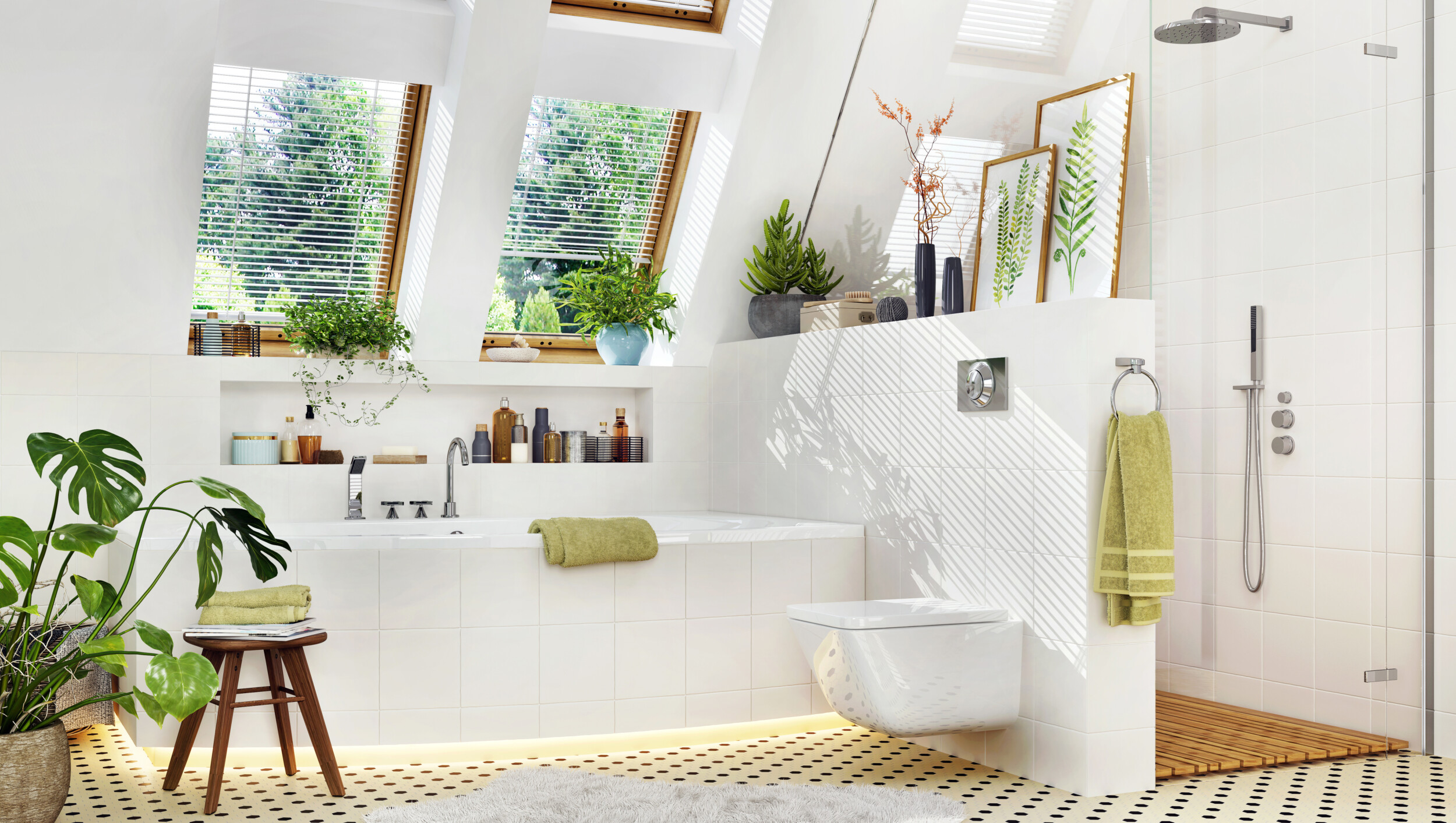 An Endless View
If you've got a healthy budget and a killer view to work with, let nature dictate the feel of bathroom wall art instead of going for traditional wall hung frames.
Just imagine how breathtaking it'll be to get dressed with a charming view of your outdoor space every day. And a new oversized window or door will definitely catch the interest of potential homebuyers when looking to resell your home.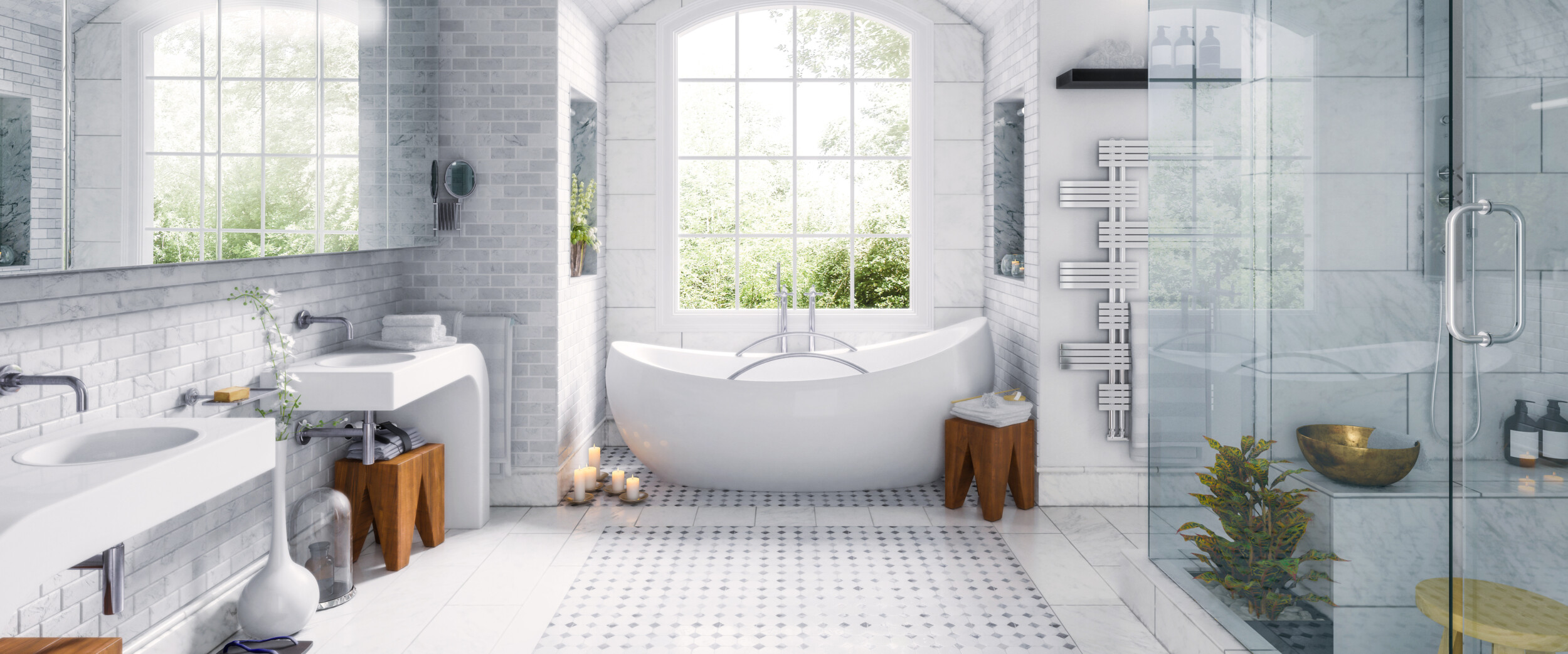 Metallic Tiles
Add a sense of everyday glamor to your bathroom with high-shine metallic tiles that'll give the room a luminous, grand feel that'll be inspiring for years to come.
Or to save money, you can cover an accent wall with hand-applied gold foil to mimic the effect of a golden brick wall. By going for a metallic take on your bathroom walls, you'll ensure that yours feels unique to your home and all the more memorable to boot.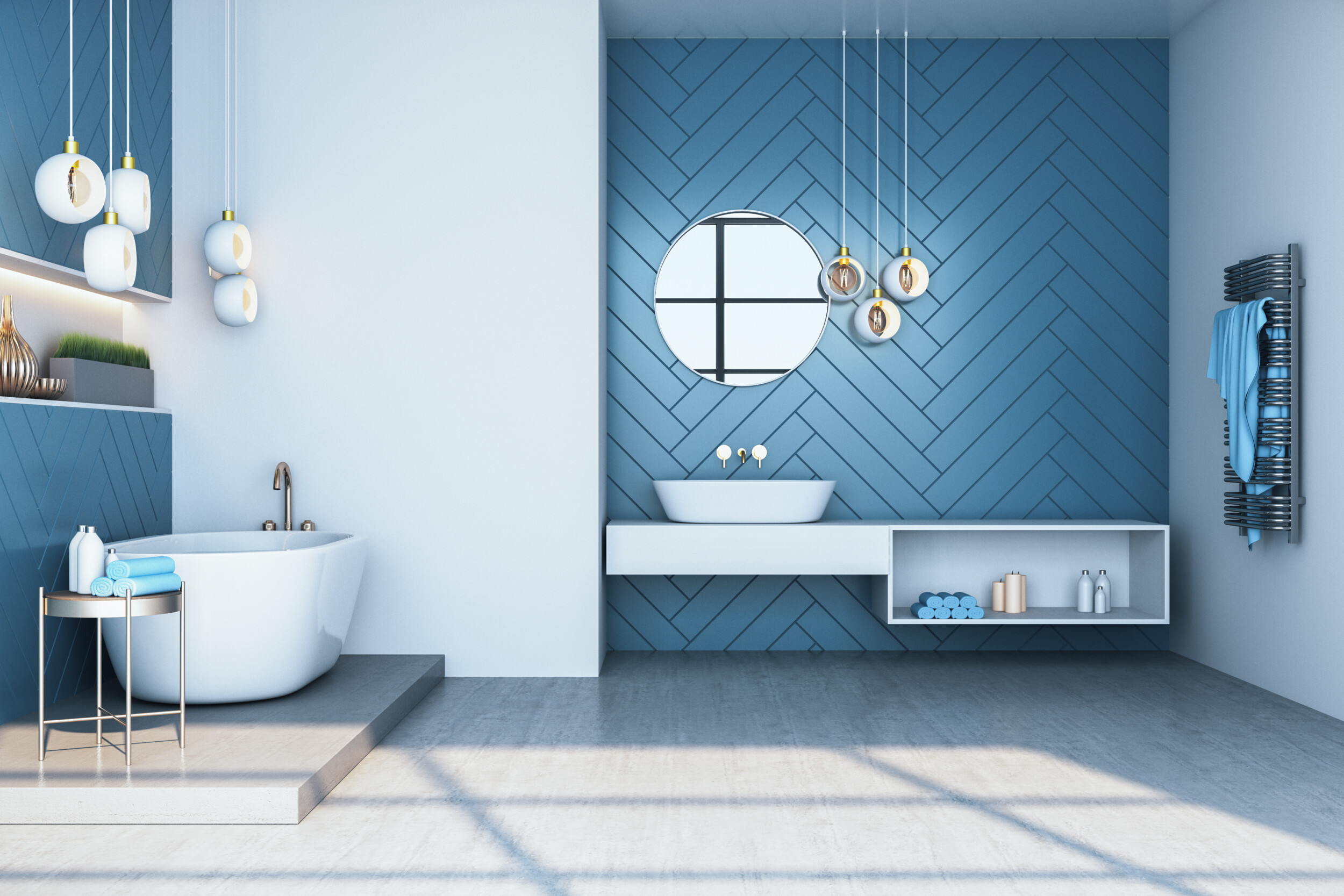 A Continual Flow
Another great take on bathroom wall art ideas that'll make the area appear to have more depth, is to consider covering or painting your cabinetry units all the way up to the ceiling to visually extend the wall.
This will also help to create a consistent feel that's striking and unique. Even better when you opt for a striped effect to really trick the eye into thinking the space is much grander than it is.
The 5th Wall
Bathroom wall art can be featured just about anywhere, including an all too often forgotten expanse of space – your ceiling. Instead of covering valuable wall space with art whose purpose is purely cosmetic, think about bringing your ceiling to life with a vivid wallpaper.
This will help you better use your walls for needed storage while making the space appear larger, the ceilings higher, and the overall feel more luxurious and expensive.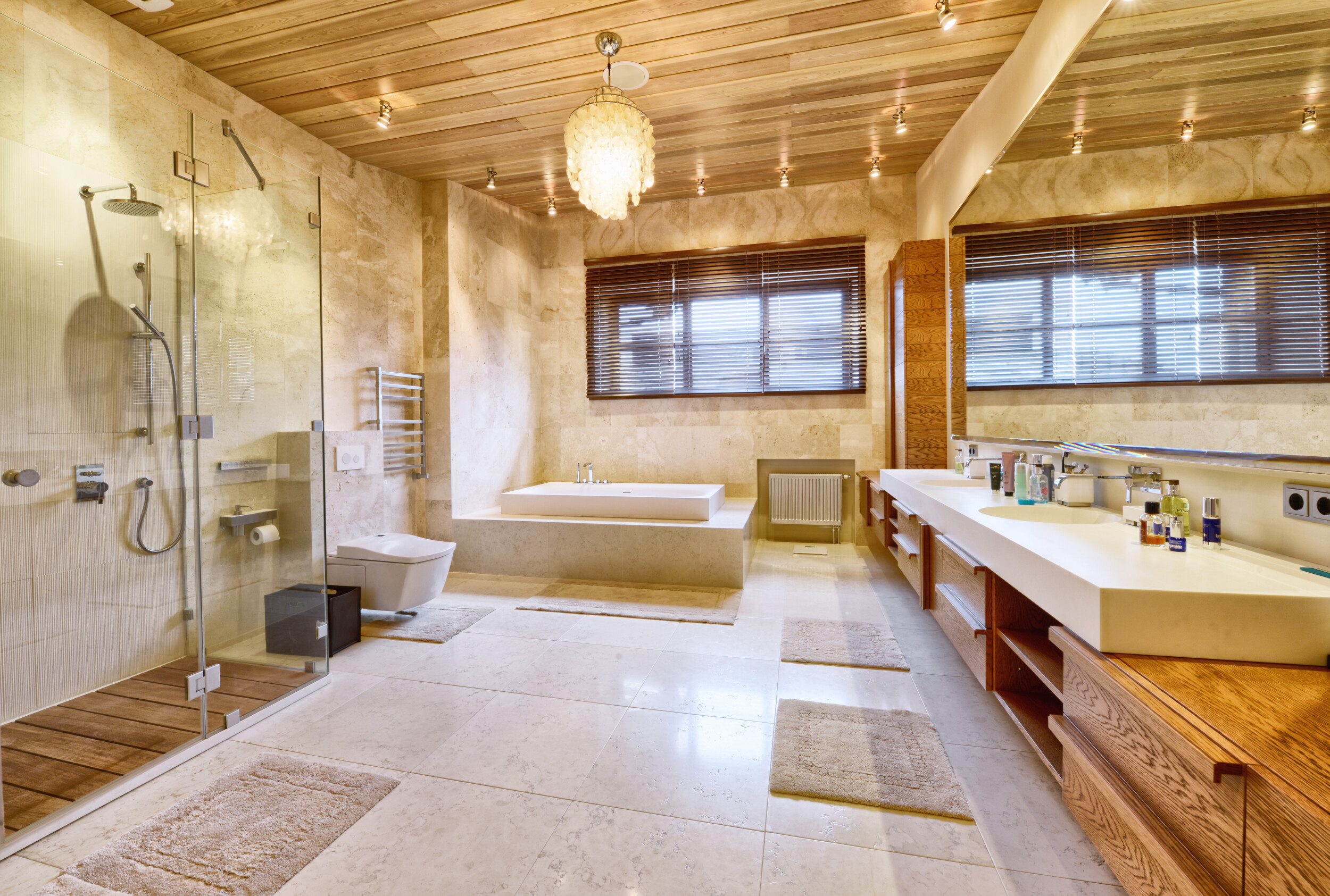 A Custom Facade
If you've got a large budget to work with, a custom wall unit that boasts minimal yet substantial styling can work to improve the resale value of your home when its done in a pared-back manner.
Think about having your own custom wall facade created to make your bathroom feel all the more unique. Just be sure that you create a wall unit that will be timeless in appeal that's not too specific, to keep the look classic.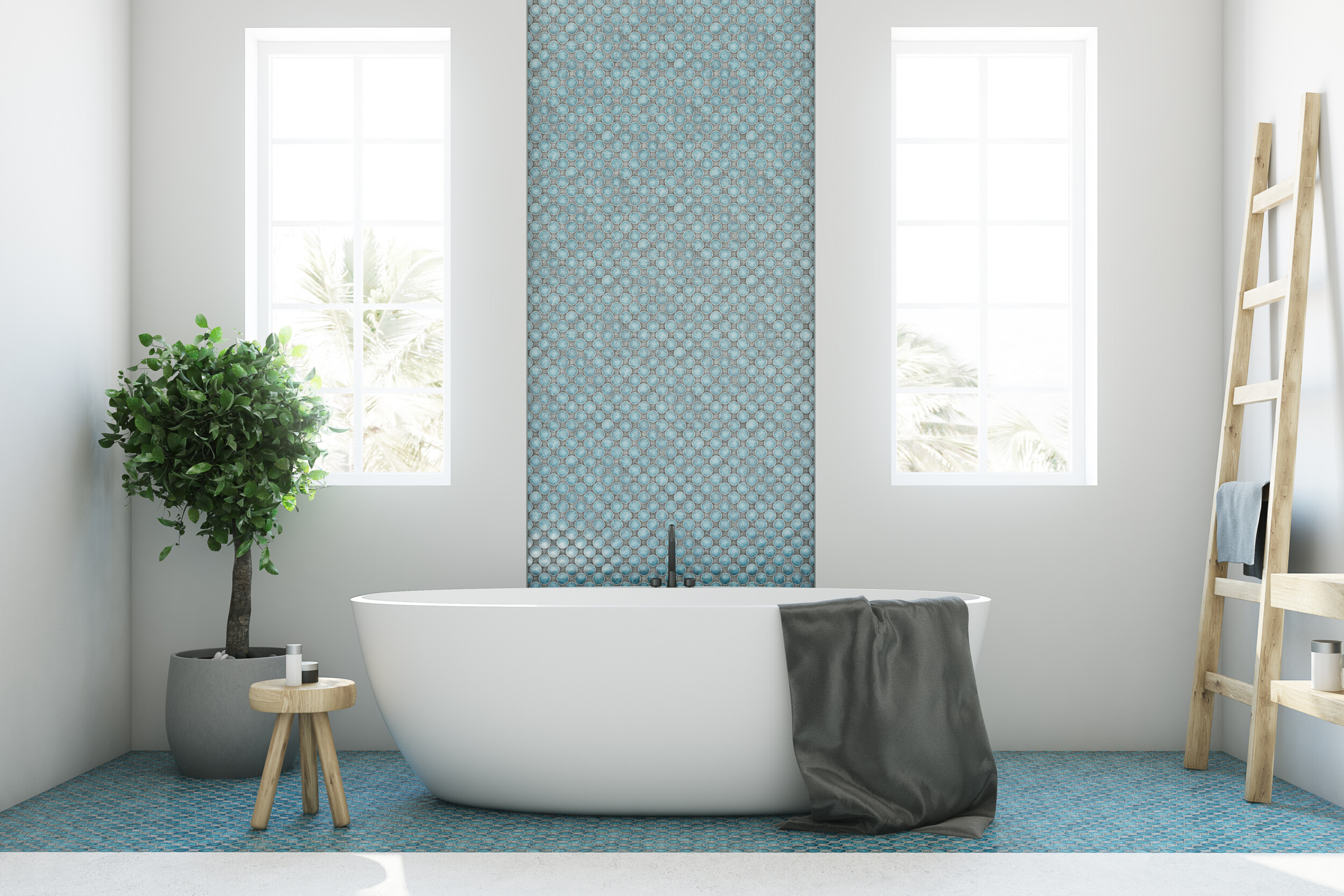 An Unexpected Storage Solution
When it comes to savvy bathroom wall art ideas, sometimes it can pay to think outside of the box. Take this European crawl space turned bathroom meets personal library, for instance.
There's just something so cool about a massive wall of cherished books lining its walls for the ultimate in a unique, luxurious feel. For your own bathroom, follow suit and take inspiration by going for the unexpected to make it truly unique.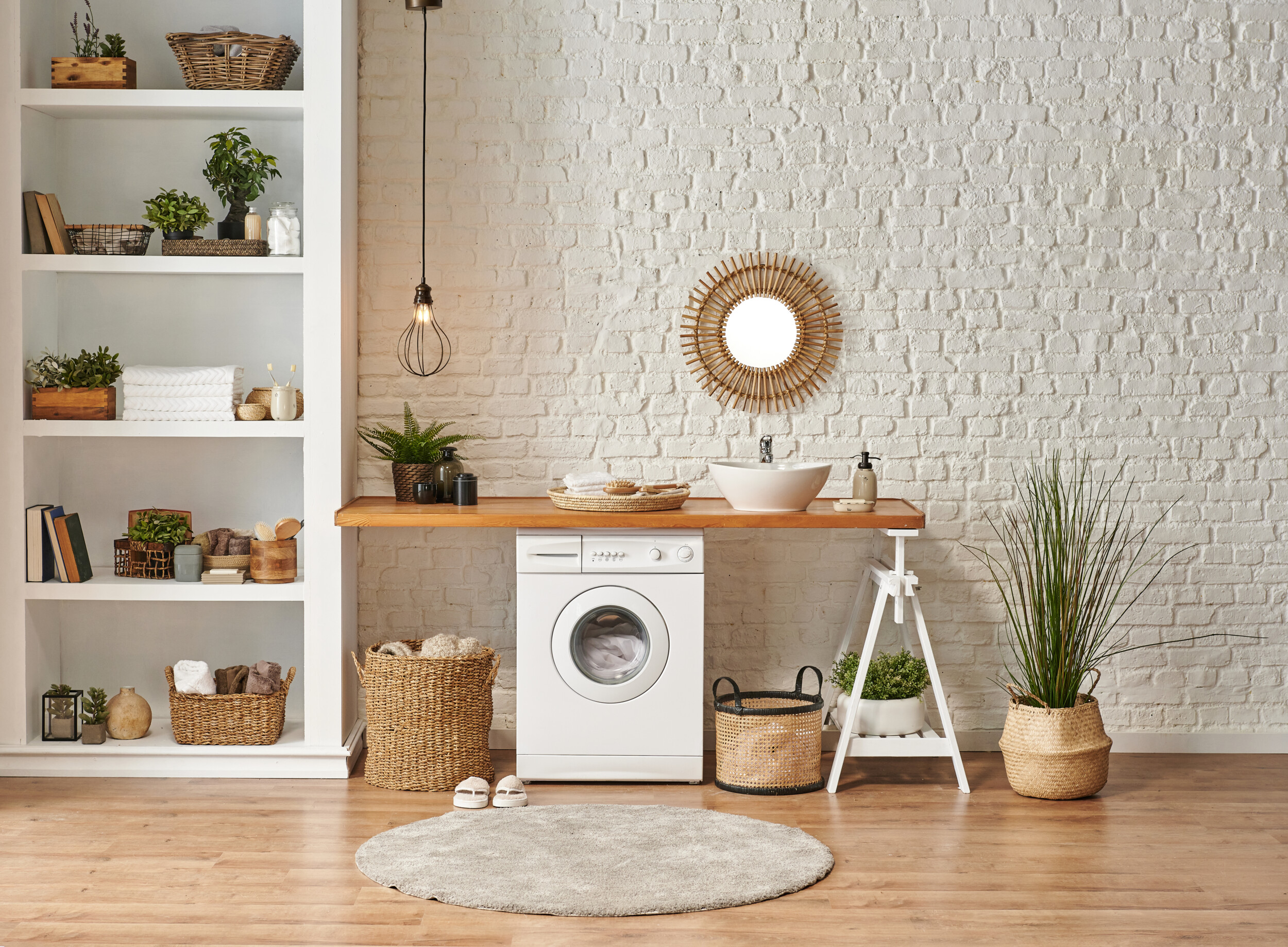 His and Hers
Drop the 'his and hers' bath towels and replace the feel with expressive art. If you are lucky enough to have the space for his and hers sinks, carry on that theme with your bathroom wall art. Hang a pair of portraits to continue with the theme – they don't have to be portraits of you.
You can pick up some lovely, traditional portraits and cameos and enjoy the personality-driven artwork in your bathroom. If you've always loved the idea of having your own portraits done, then this is the time to do it to add a personal touch in your bathroom.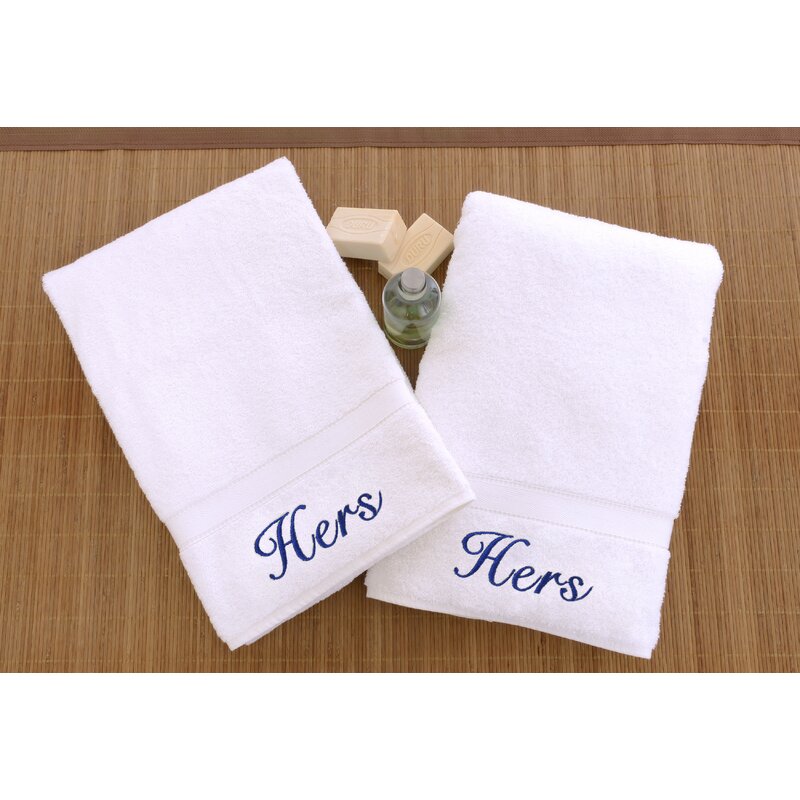 Abstract Color
Abstract art isn't for everyone, but it can make for energizing modern bathroom wall art. The bold splashes of color heavily featured in abstract art are perfect for a bathroom space, standing out against white tiles and a white bathroom suite.
Hang your artwork near the bath, so you can relax for a long soak and consider the story behind your abstract piece and consider what it represents. or you can opt for a graphic abstract wallpaper covering just an accent wall for needed depth.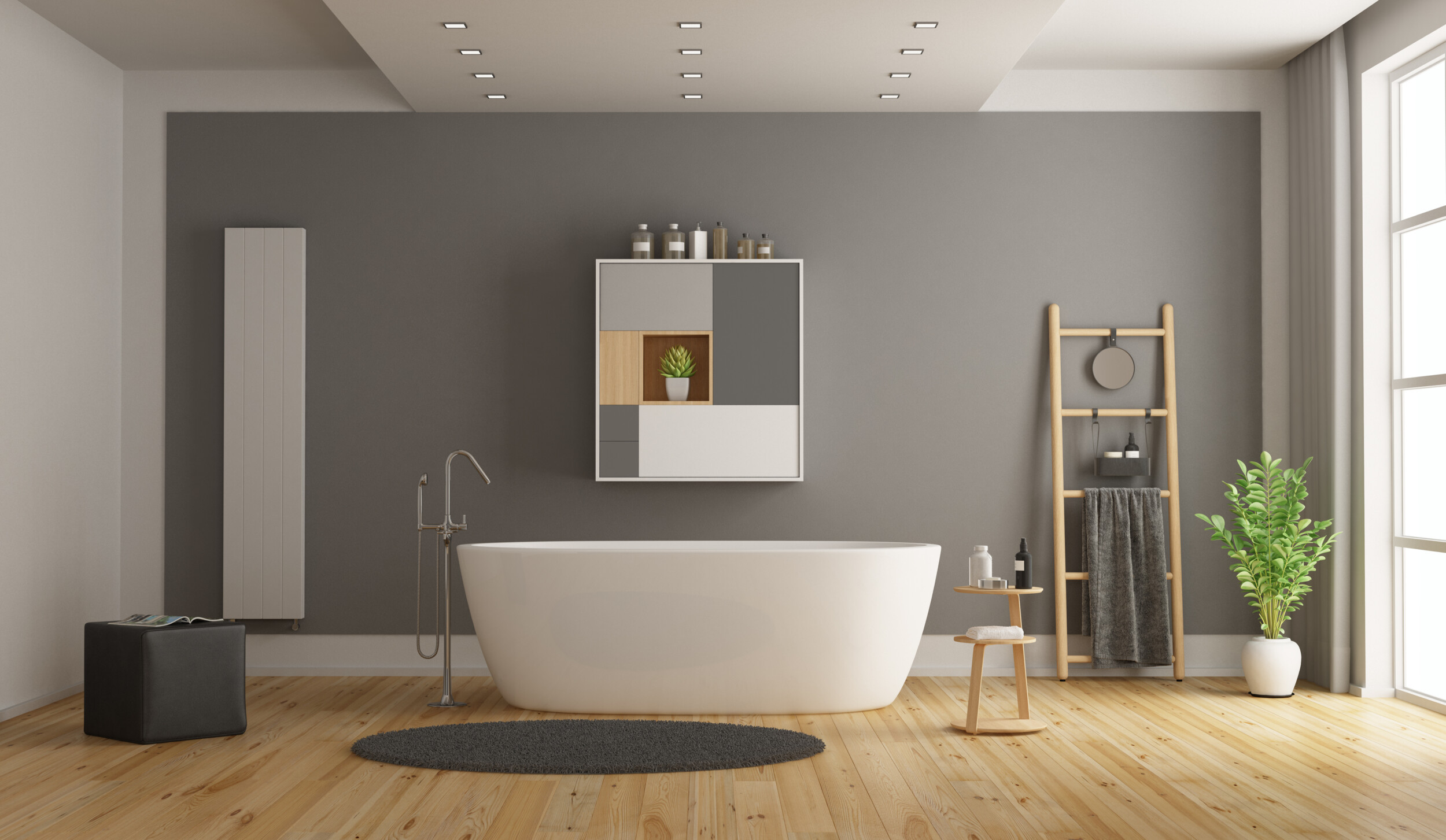 Picture Ledge
Picture ledges are a great way to make your bathroom feel comforting and cozy – bathrooms can feel clinical if you aren't careful, so having a way to make your bathroom feel more comfortable while hardly taking any valuable space up.
A picture ledge will let you handsomely display alluring luxury bathroom wall art. Displaying prints and artwork in this manner will give the space an expensive feel while highlighting your artwork and frames. Display a selection of art on a picture ledge, from small pieces to large-scaled ones, using the shelving to hold any other attractive bathroom necessities as well.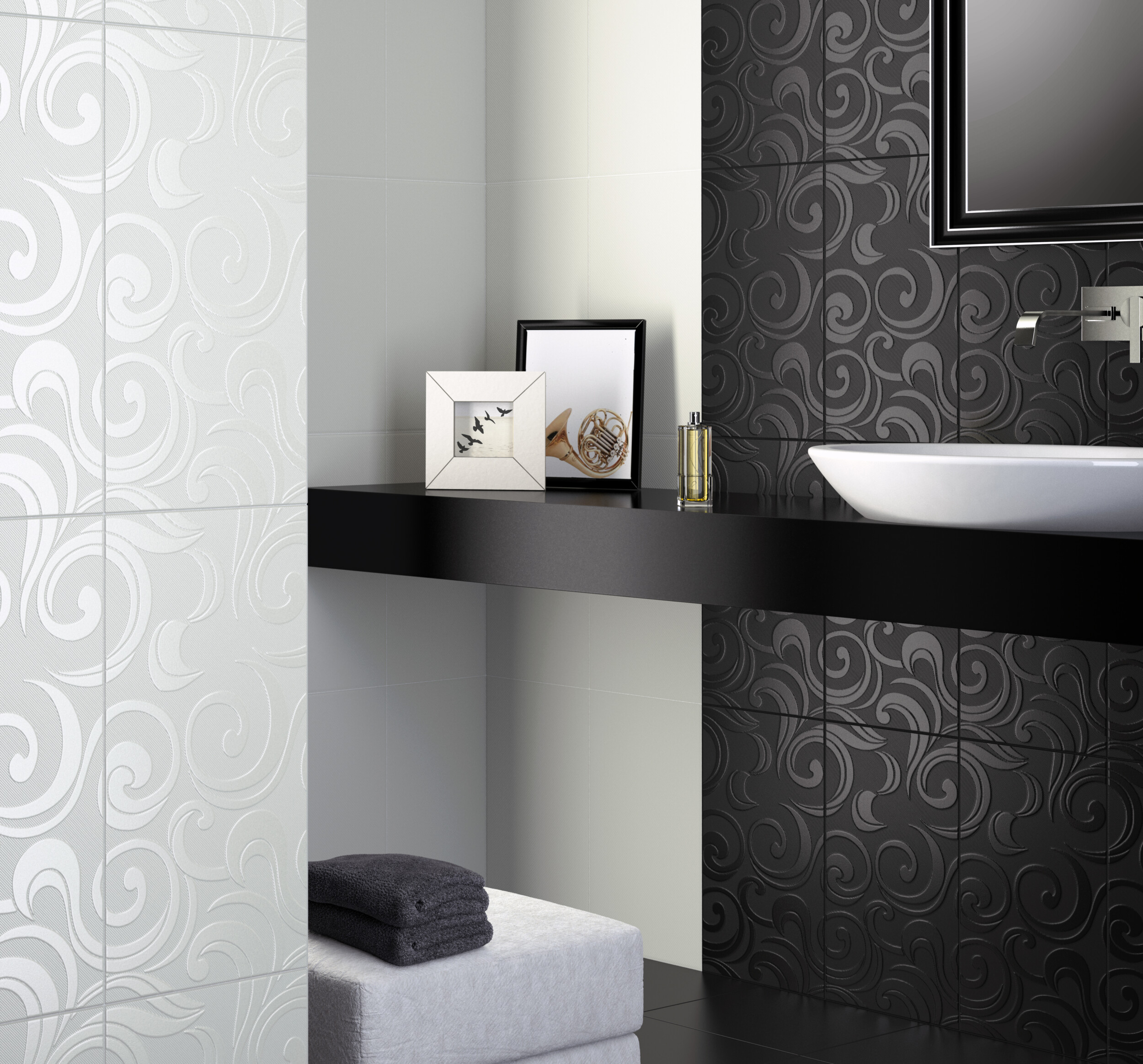 Serene Landscapes
If your bathroom is a calm and relaxing space and you don't want to disrupt the feel with bold art, then a soothing landscape will make the perfect bathroom wall art for your space. Relax in your bathroom, dreaming of far-flung travels as you stare into the depths of your landscape paintings, wall coverings or prints.
If you have the space, choose a few landscape pieces by the same artist for consistency. Choosing pieces by the same artist will allow your bathroom wall decor to keep the eye moving and it will keep your bathroom space feeling zen.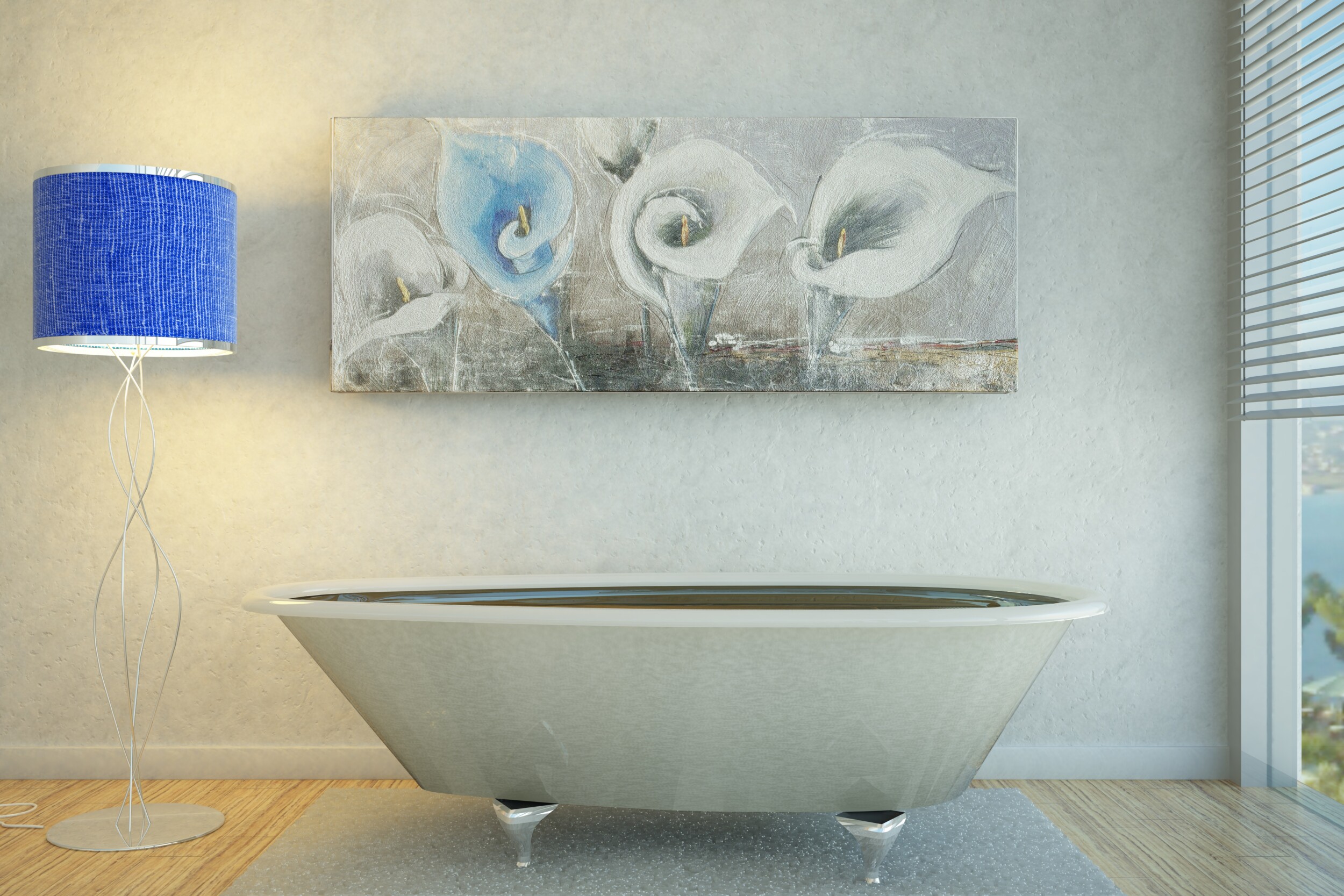 Oversize Art
Don't be afraid to fill your bathroom wall with a large, statement-making piece of art (especially if you have a large expanse of white walls to work with). Bathroom wall decor doesn't have to be small and understated and it doesn't have to be boring. Go big and fill an entire wall – it will give you something to look at when you are relaxing in your tub while livening up your bathroom to no end.
That said, extra-large pieces of art don't have to cost a fortune, they can also make for cheap bathroom wall art if you know where to look and are patient with your search. Take a trip around local secondhand stores, or head to a flea market, as large pieces of vintage art are often sold inexpensively, as most people don't have spaces big enough for them in urban environments.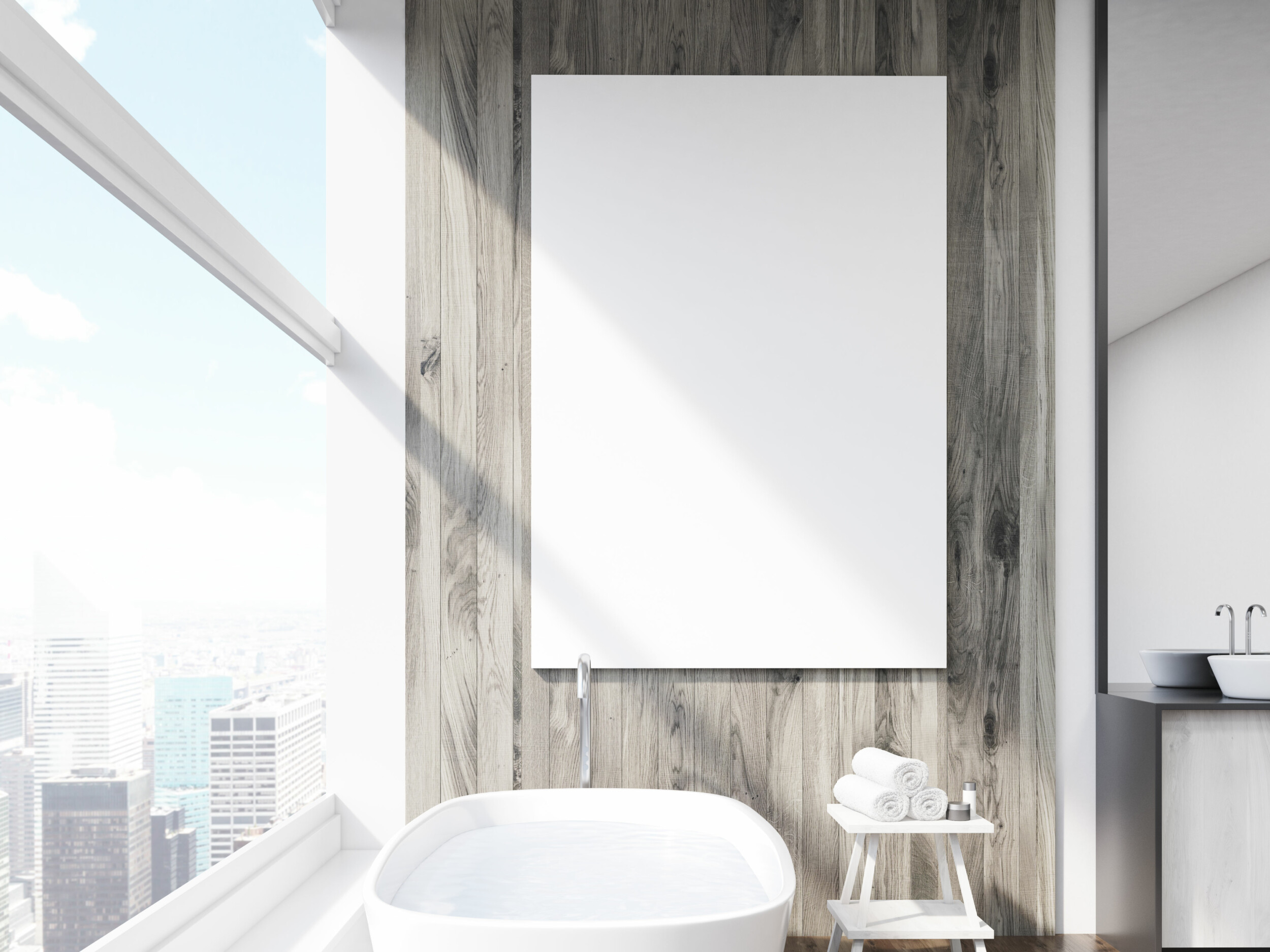 Live Drawings
Where better to have representations of the naked form than in your bathroom? The bathroom lends itself to nude drawings – it is the space where you undress after all. If you've always wanted to take a live drawing class, now is the time to do it. You'll be able to fill your space with your very own bathroom wall art, and what's more, you'll get to take pride in it every single day.
Since you aren't always blessed with long, straight walls in bathrooms, making it difficult to put your bathroom wall art ideas into practice, but if you are creating your own, you can customize it to fit the space with ease.

Tile Art
Who says that art has to be in the form of a painting or a drawing? You can create some wonderful bathroom wall art with tiles and negate any fears of damp artwork (especially if you have a less well-ventilated bathroom). For a less obvious design, use your tiles to create a simple pattern on one accent wall, adding texture and interest without it being too bold.
For something more daring, choose tiles in a contrasting color or texture and create a focal point by changing their orientation or using a different shape – this is a fun idea if you are renovating your bathroom and are on the hunt for unique bathroom wall art ideas.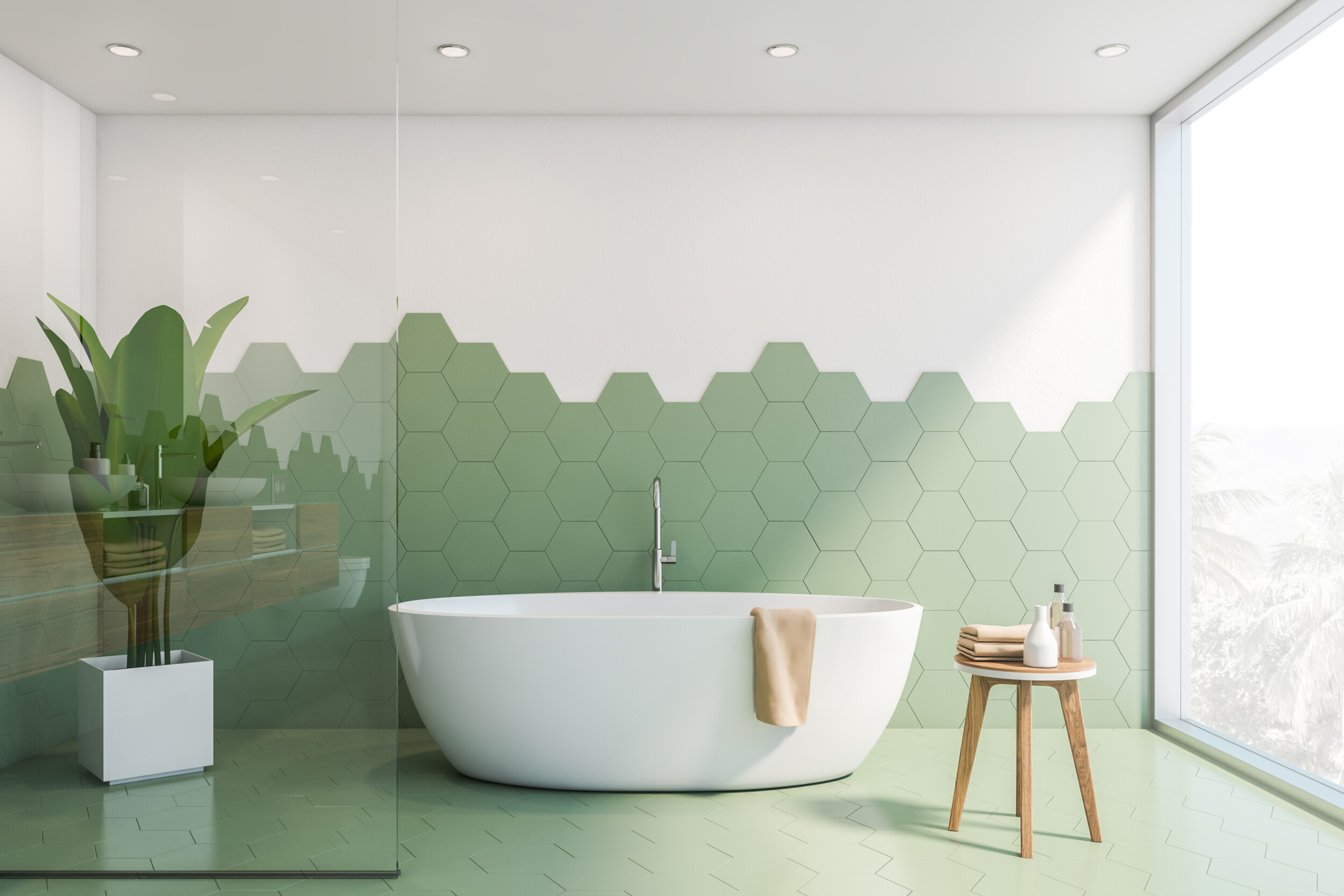 Monochrome
If you want bathroom wall art that will add to your space, rather than dominating it, monochrome art will blend in seamlessly with the rest of your decor.
This will be perfect for creating a relaxing space, where you can install a tonal piece of luxury bathroom wall art that will only add to the level of tranquillity.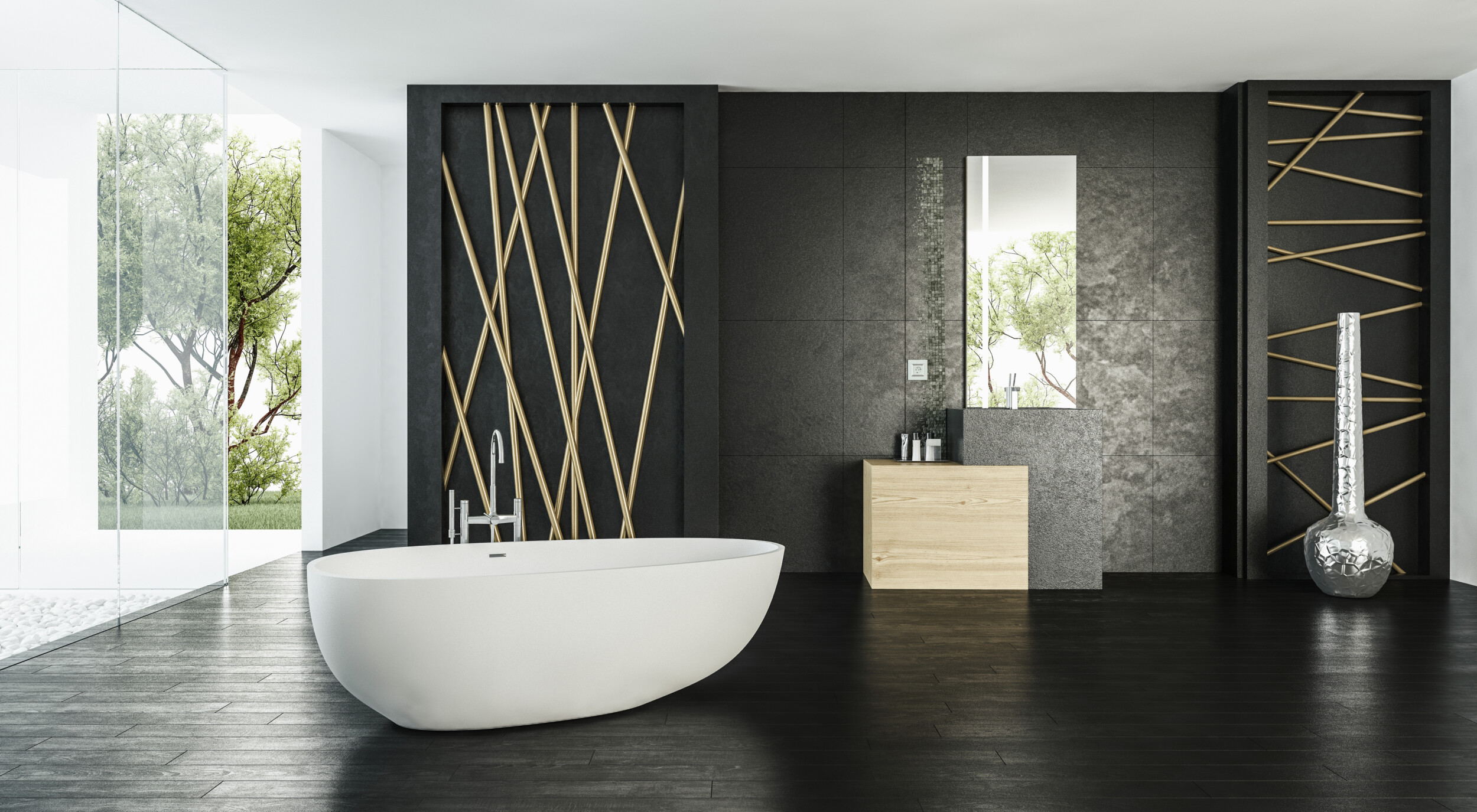 Vintage Posters
Vivid vintage posters will make for a fun addition to your bathroom – they aren't too serious, and they are a great idea if your bathroom is shared with the entire family, especially children. Vintage posters are bright and vibrant and will add a touch of a playful sensibility to your bathroom wall decor.
If you're lucky, you might be able to pick up vintage posters for next to nothing at an antique store, making them a great cheap bathroom wall art option. Put your vintage poster in a frame to protect it and make the print pop.
Botanicals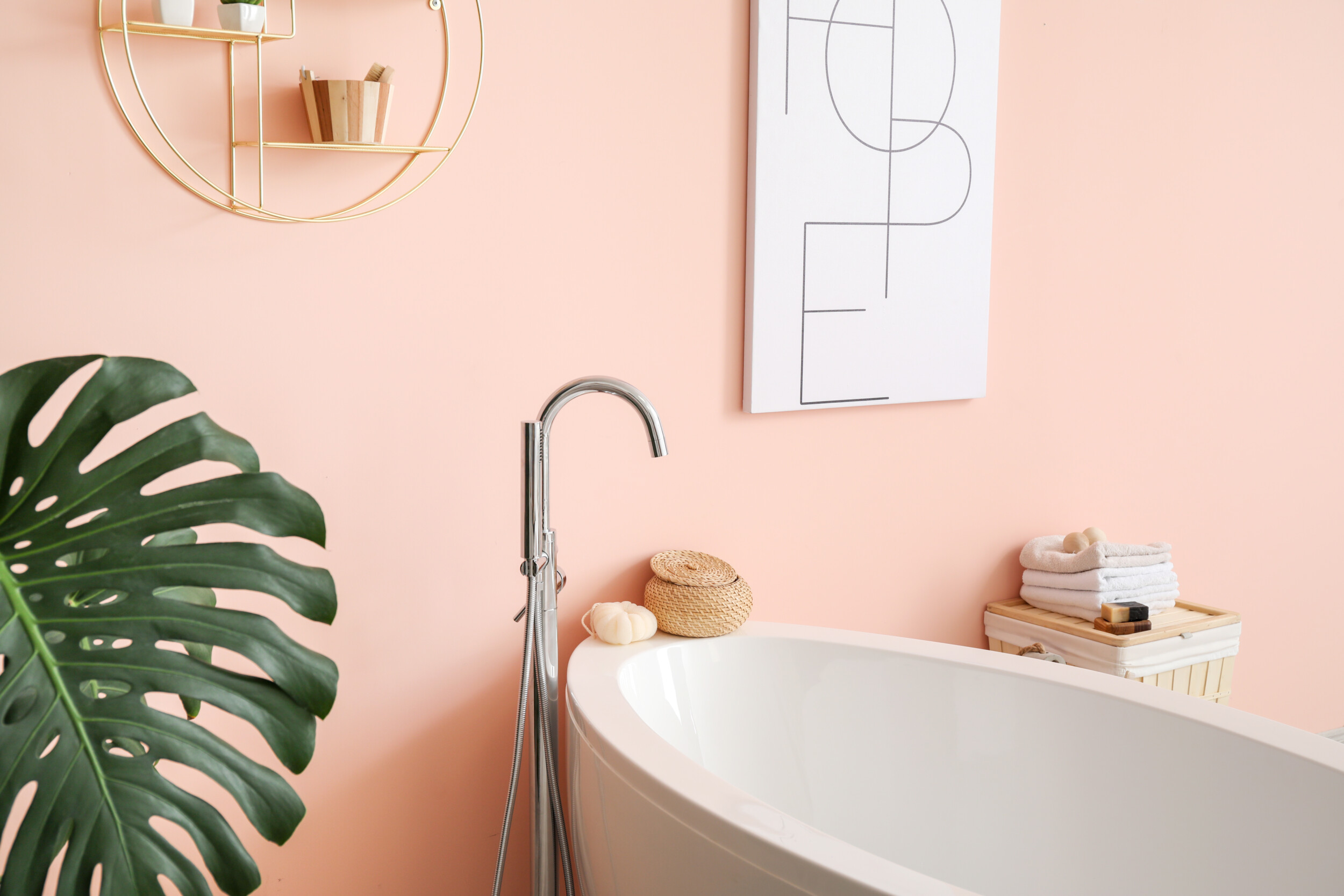 Where better to display a lively botanical print wallpaper than in a petite bathroom? In this wet and steamy environment, botanical and nature-inspired prints will fit right in.
From line drawings of leaves and prints of palms to a colorful representation of a toucan or a sketch of a fish, the bathroom is the perfect place to display bathroom wall art ideas that take cues from nature. And if wallpaper is too much or out of reach, keep the look simple with a range of prints with white frames installed against white tiles, so the art speaks for itself.
Art of Mirrors
If you can't afford to devote space to bathroom wall art, one way around this is to create an artful feel out of common bathroom necessities. Stylized bathroom mirrors can make for inspiring bathroom wall decor when chosen wisely.
Depending on the style of your bathroom, go for a large, traditional gold-framed mirror that'll add a luxurious feel in your space. If you are looking for something more modern, create modern bathroom wall art out of a set of mirrors, simply framed in black.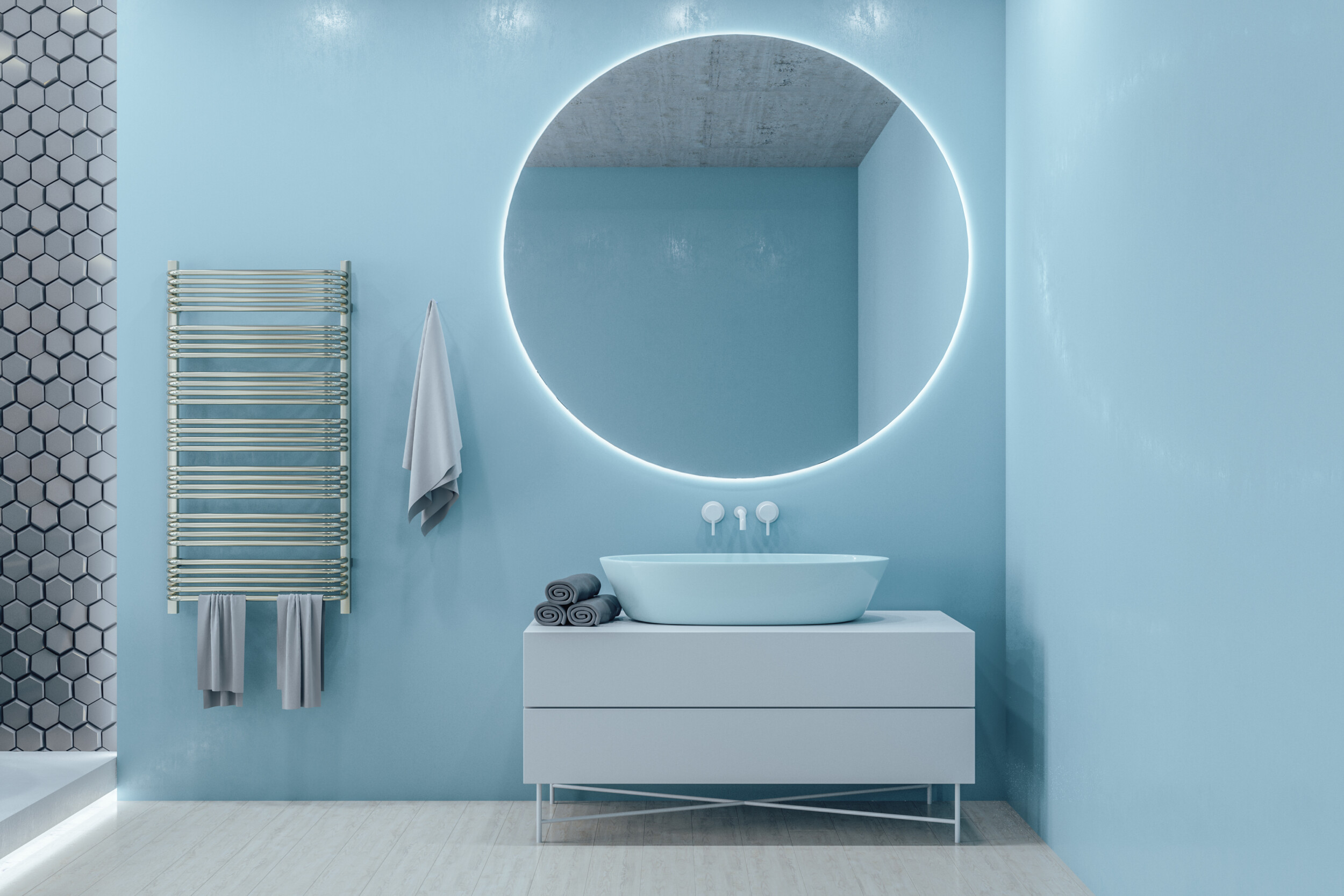 Gallery Wall Art
Gallery walls shouldn't be reserved exclusively for a hallway or your living room. There's no reason you can't create a stunning gallery wall in your bathroom. Gallery style bathroom wall art might feature smaller scale prints than in a living room, but you can still create a striking visual collection that'll add depth to your bathroom.
Get the look right by bringing in smaller pieces and use all of the vertical wall space in your bathroom to make the biggest impact. Bathroom wall ideas like this are fun and a joy to create. Plus, they are a little different from the usual choices you might find in a standard bathroom.