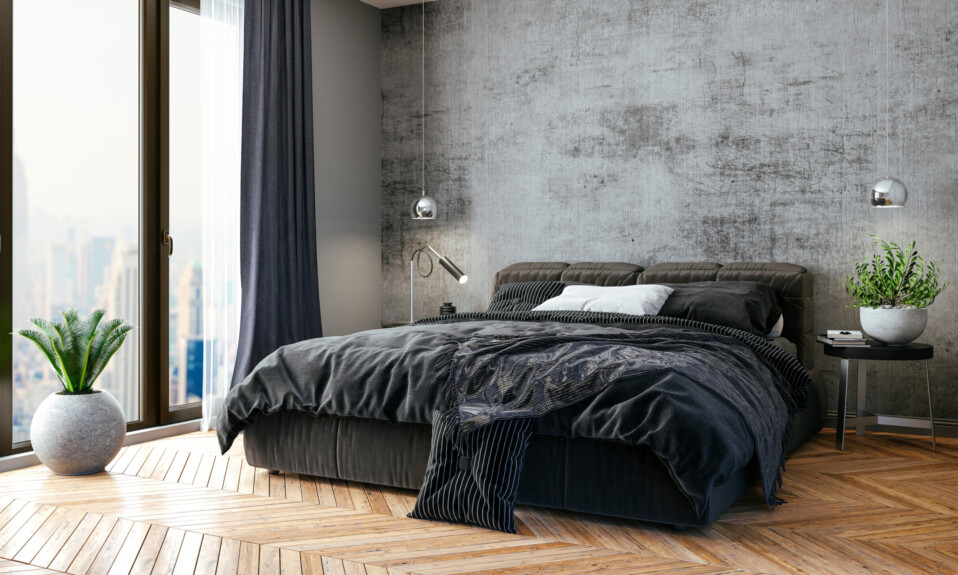 When it comes to updating your bedroom flooring there's an endless variety of enticing options to take in, but how can you faithfully narrow down the best bedroom flooring ideas for your home?
Since the floor in your bedroom is the first thing you set foot on when you wake up in the morning and the last thing you set foot on before you sleep, it's pretty imperative that you are confident in your final choice. And with that being said, you shouldn't limit yourself to flooring based only on what it looks like, especially since there are key components you should consider when exploring smart bedroom flooring ideas.
What are the acoustics like? Will it properly conduct and regulate temperatures? Will be slippery when you are walking about in your socks? How comfortable does it feel? How will it boost the value of your home? – All important things to consider. So, with that in mind, here are Decor Aid decorator's top flooring options for your bedroom, as well as for the rest of your home.
Solid Wood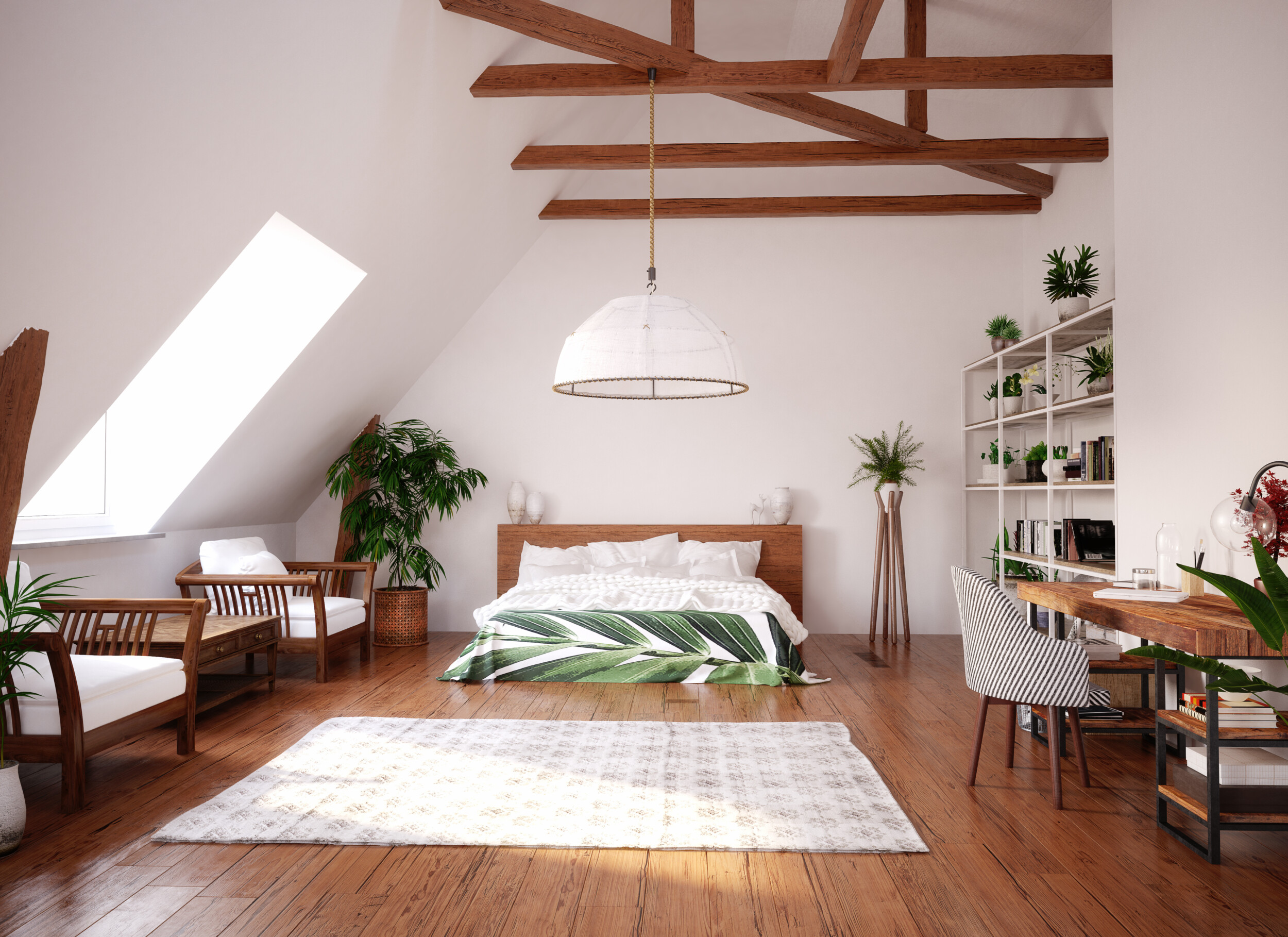 Benefits: Genuine wood is wonderfully hard-wearing, is timeless in appeal, never loses its value when properly cared for, and best of all, its sure to boost the value of your property.
Drawbacks: Wood can be expensive to buy, install, and maintain, and it can be noisy and easy to scratch and stain.
Dark Solid Wood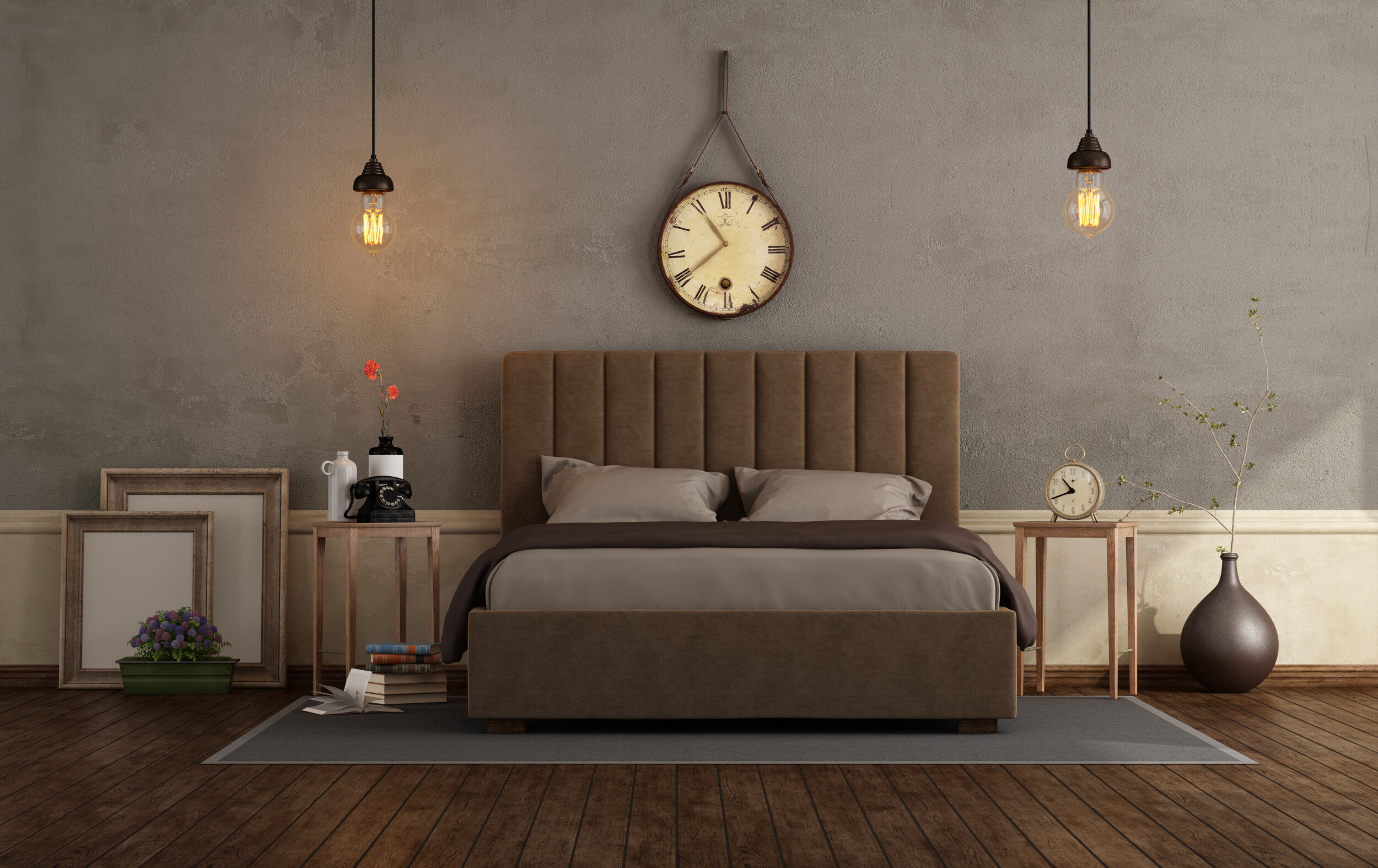 Dark wood is an enduringly stylish choice for bedroom flooring. The great thing about wood flooring is that it's totally unique since its a natural material, which is also one of the top bedroom flooring trends at the moment. And in general, dark wood flooring will never go out of style.
A dark wooden floor will give any bedroom a luxurious feel, while pairing well with all kinds of design styles, from the traditional to the ultra-minimal, and it looks great with deep colors, light colors, and all sorts of patterns and styles.
Bamboo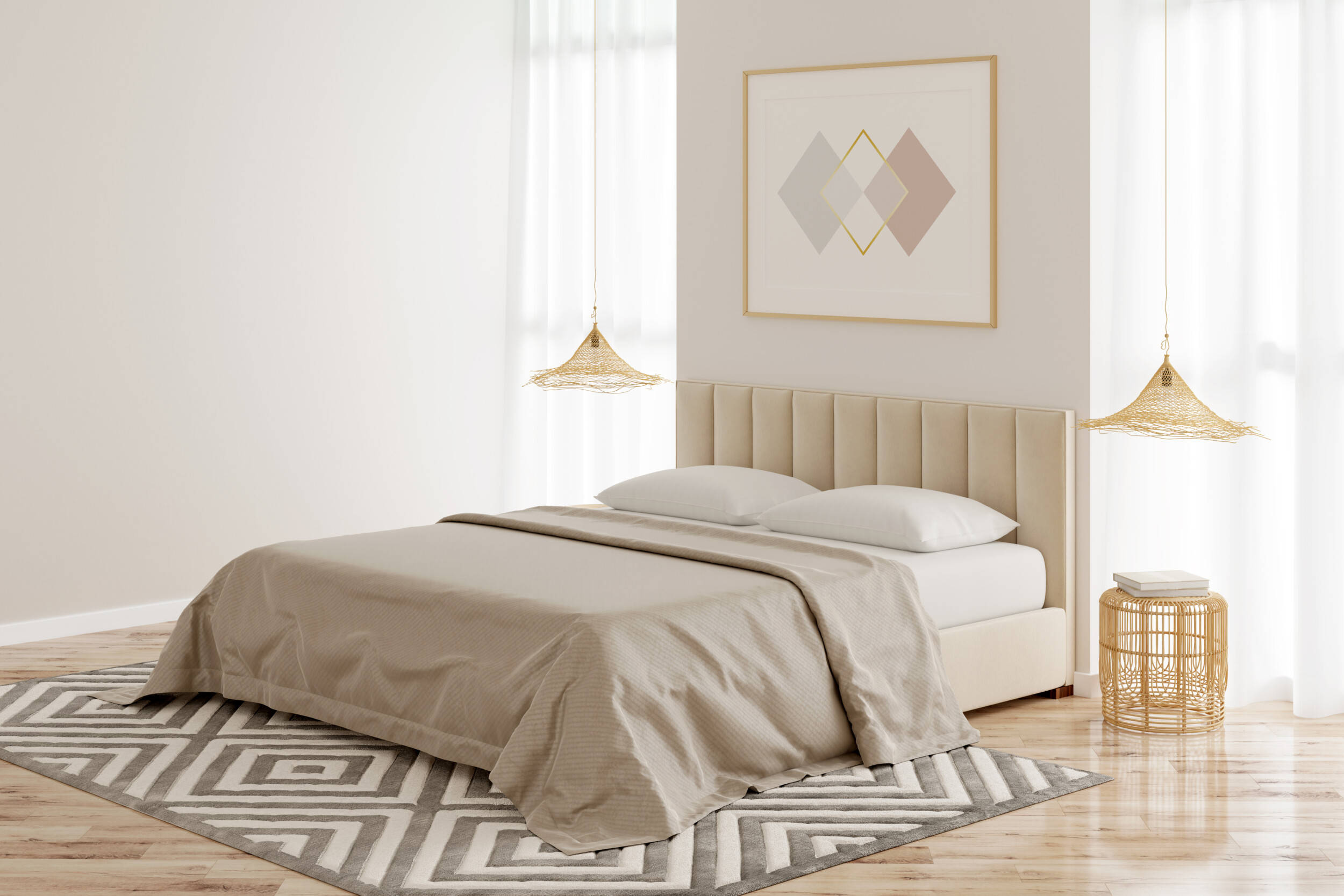 Bamboo is a beautiful and eco-friendly bedroom flooring option; it's a fast-growing material, meaning our use of it is much less detrimental to the environment than using hardwoods like oak, for example.
Sustainability is one of the current era's leading bedroom flooring trends when it comes to renovating your home, and a bamboo floor is certain to score you environmentally friendly decorating points. It's softer to the touch and looks terrific in a natural color while keeping you on trend, and the natural grain is visually appealing, making it quite unlike any other wood flooring options you may have seen.
Herringbone Pattern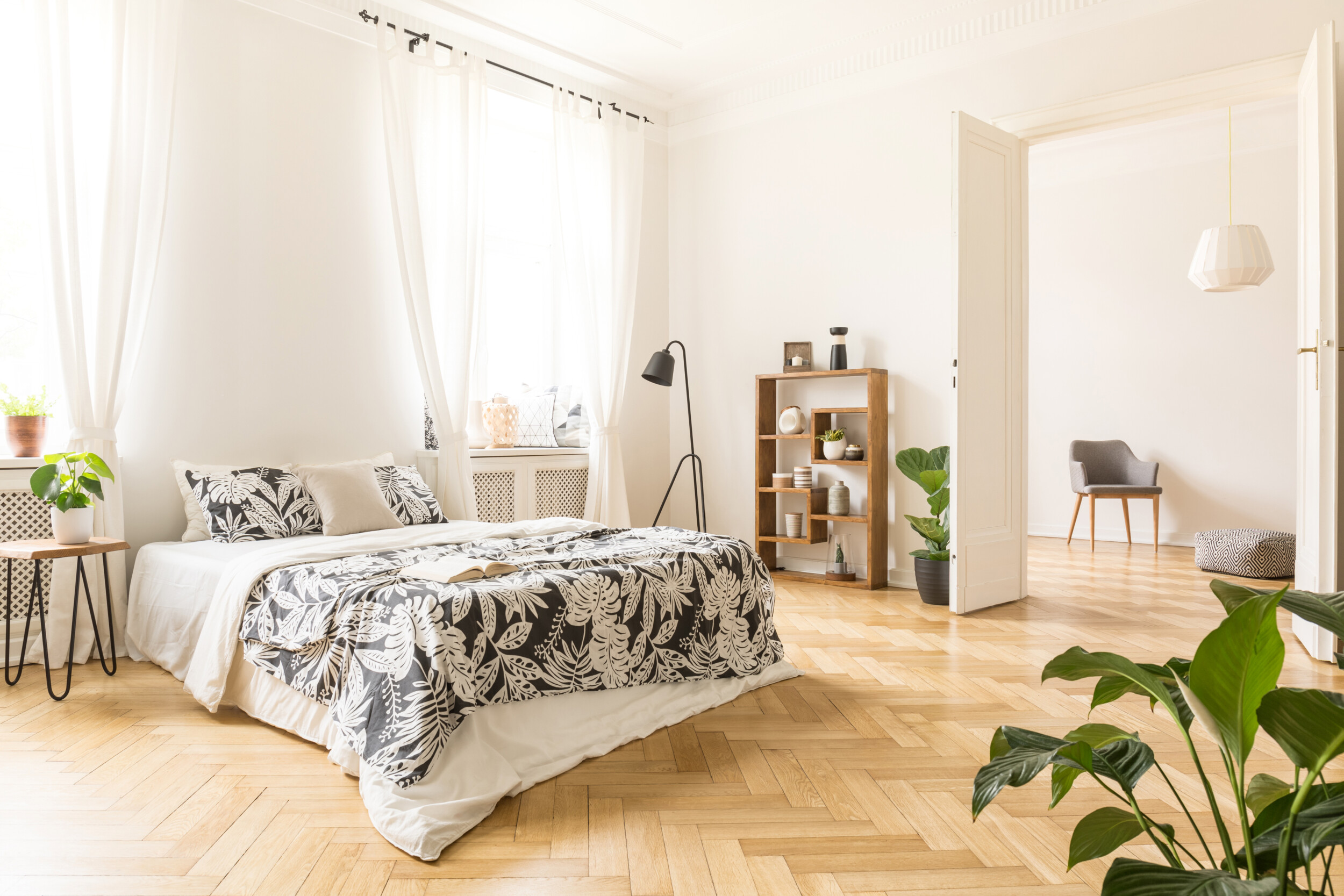 Classic herringbone flooring is beautiful and interesting while adding additional texture and point of interest to your bedroom. But if you're working with a strict budget, this isn't going to the best flooring option for you if you are seeking affordable bedroom flooring, as it can be expensive to install as herringbone flooring is quite intricate and labor intensive.
It's about as beautiful as it gets for bedroom flooring trends 2019 and for good reason; there's nothing else quite like it. Herringbone pattern bedroom flooring looks stunning in light wood, dark wood, and anything in-between. It will also never go out of style, and when taken care of well, it will look stunning for years to come.
Laminate Flooring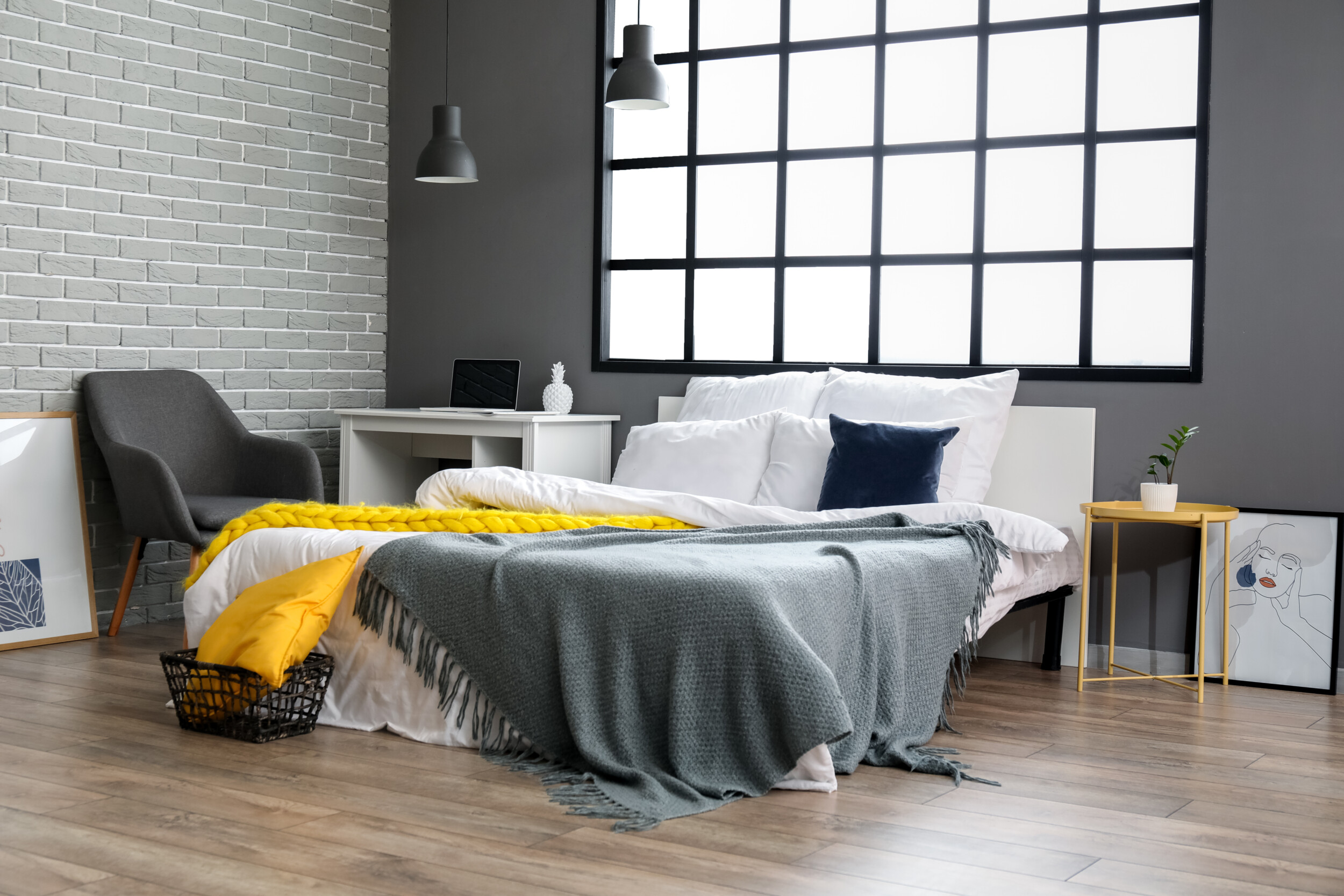 Benefits: Laminate flooring materials make for pretty hard-wearing options available in an endless number of colors, finishes, and styles. It's also much cheaper than hardwood flooring but boasts a similar effect. Combined with an insulating underlay, it can easily stay warm underfoot.
Drawbacks: Laminate flooring doesn't last as long as genuine hardwood and cannot be repaired once damaged.
White Laminate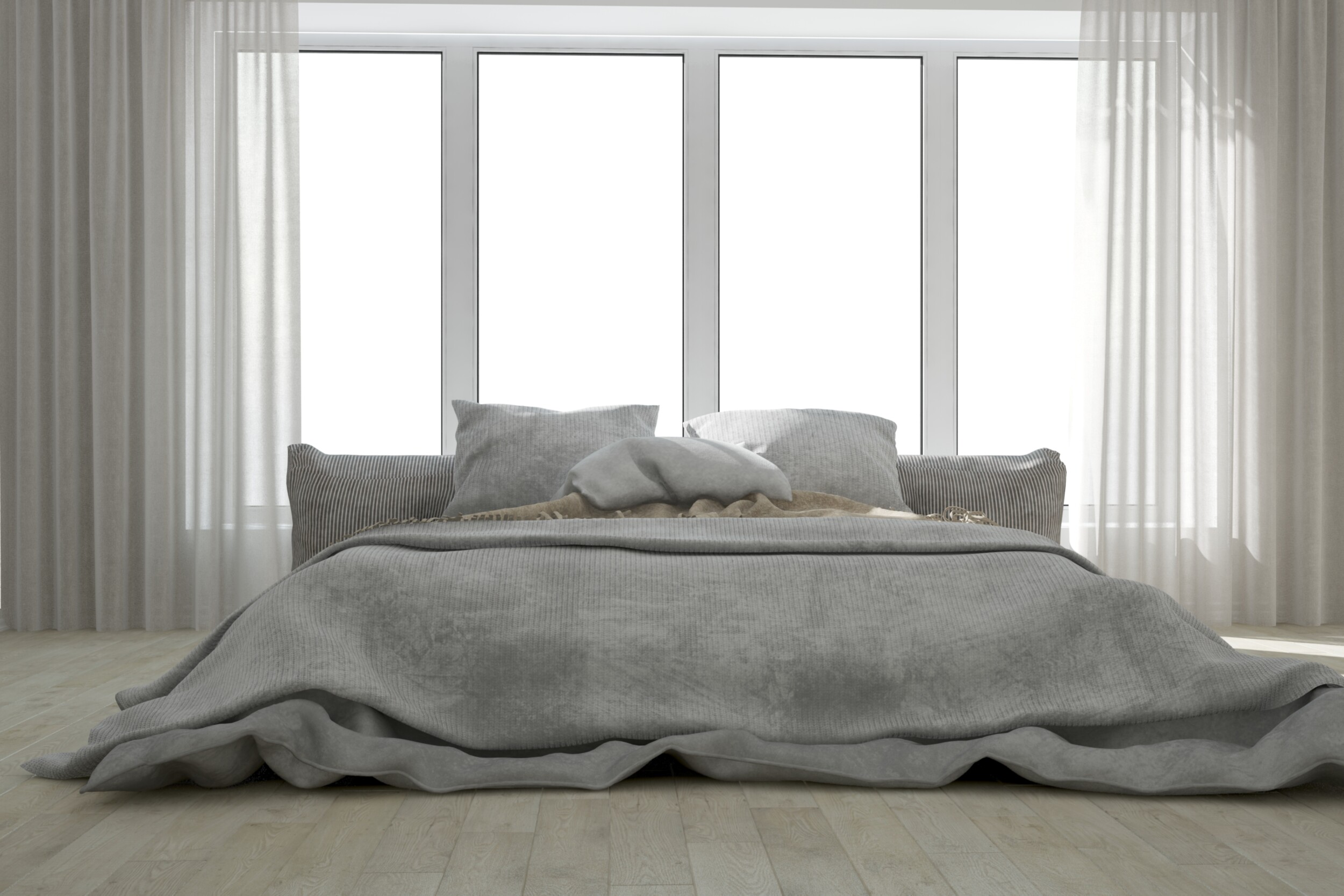 If you like a clean and fresh look, white laminate is a great bedroom flooring option. Wood effect white is perfect for a textural minimalist look, or as a foundation for highlighting pops of bold pattern and vibrant color. And if you like a timeless coastal vibe, white flooring is the best way to go, making your room feel bright, spacious and airy.
As it is a wood-effect flooring, it won't look too cold or clinical as other types of white flooring often can. Plus, a white laminate floor takes less care and is easy to clean, and lasts longer than genuine wood flooring. It also pairs well with minimalism, Scandinavian styling, and just about any design style needing a pick-me-up.
Gray Laminate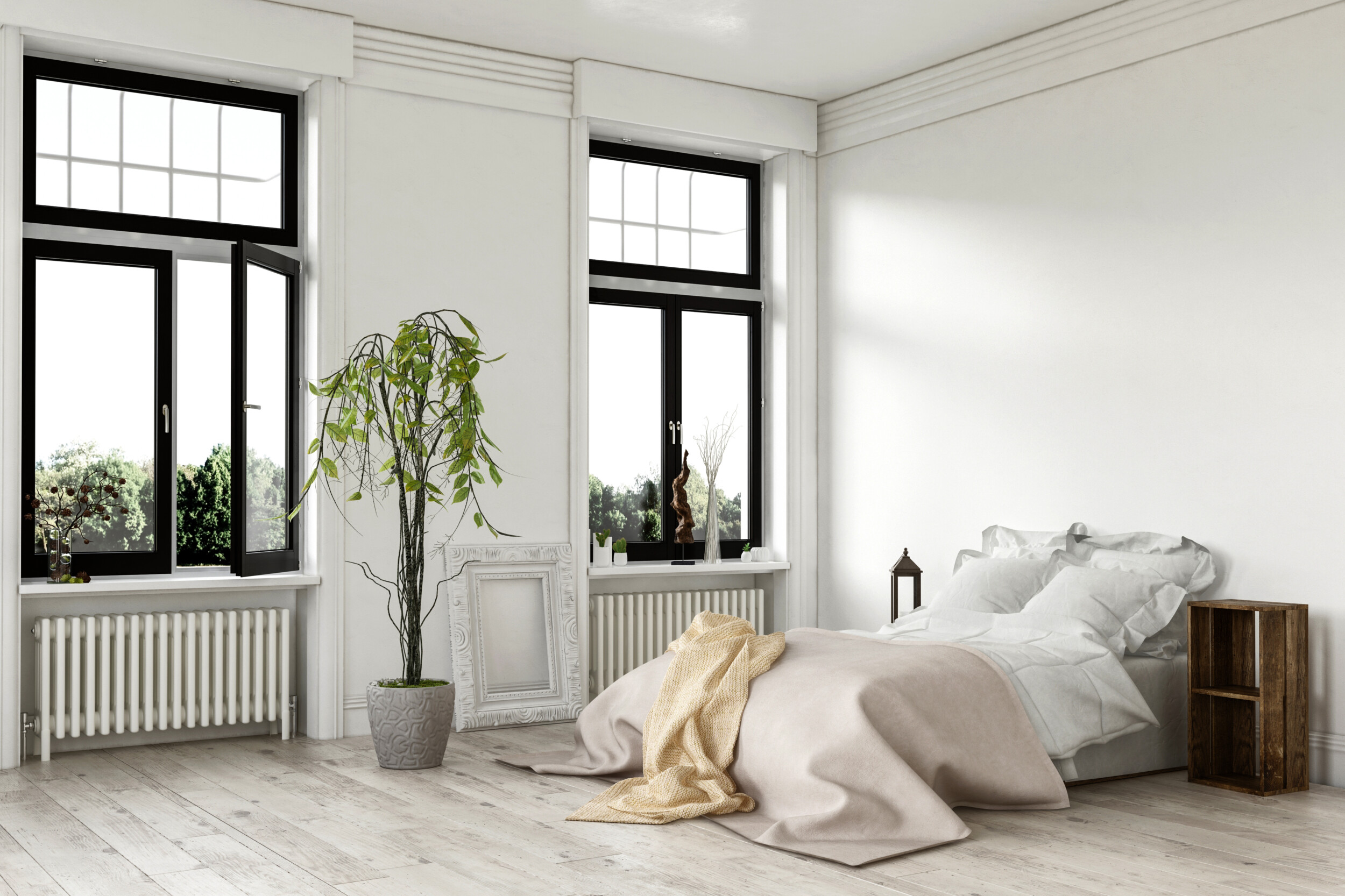 Gray is always a wonderfully flexible color for bedroom flooring and looks cleaner than white as it conceals stains rather than drawing attention to them. Gray also lends a sense of strength to a room as when you're going for something moody and masculine with gray as the base color, you'll have an easier time adding both darker and lighter accents throughout the room.
Gray is also a timeless, standard color and it will keep your bedroom looking fresh and stylish, but without the harsh brightness of white or the depth of tone from a dark wood.
Dark Wood Laminate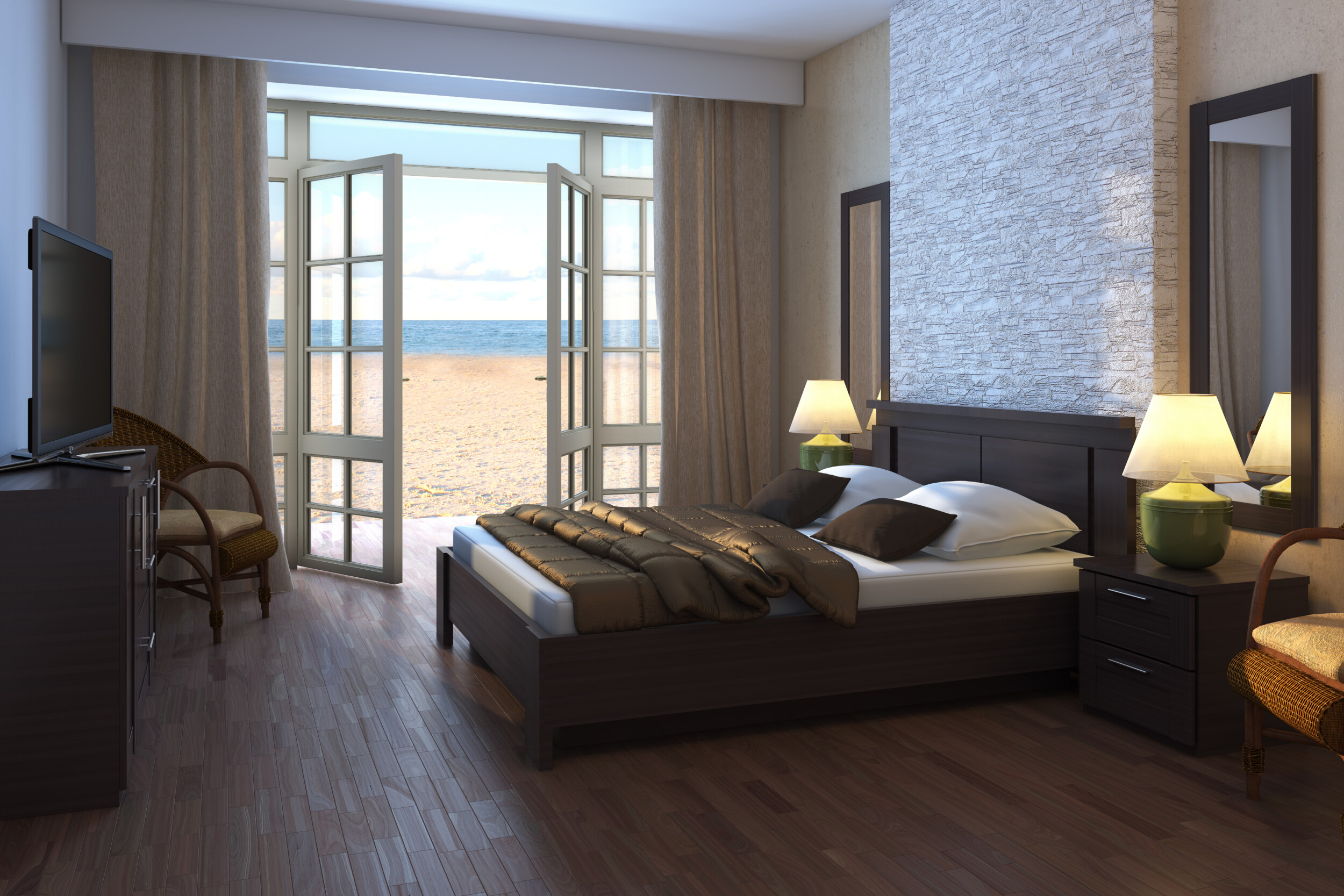 Dark wood laminate is a good option if you are looking to bring in the dark wood trend but can't afford solid wood take(one of the most expensive bedroom flooring trends). It boasts a strong patina and you'll hardly notice the difference between solid wood and laminate at a quick glance. And laminate flooring is so much easier to take care of.
Classic dark wood bedroom flooring is one of our ultimate favorites, giving you full reign to create a variety of stunning modern, retro-inspired, and timeless bedroom designs. It'll also pair well with an endless array of colors and patterns for the ultimate statement.
Rugs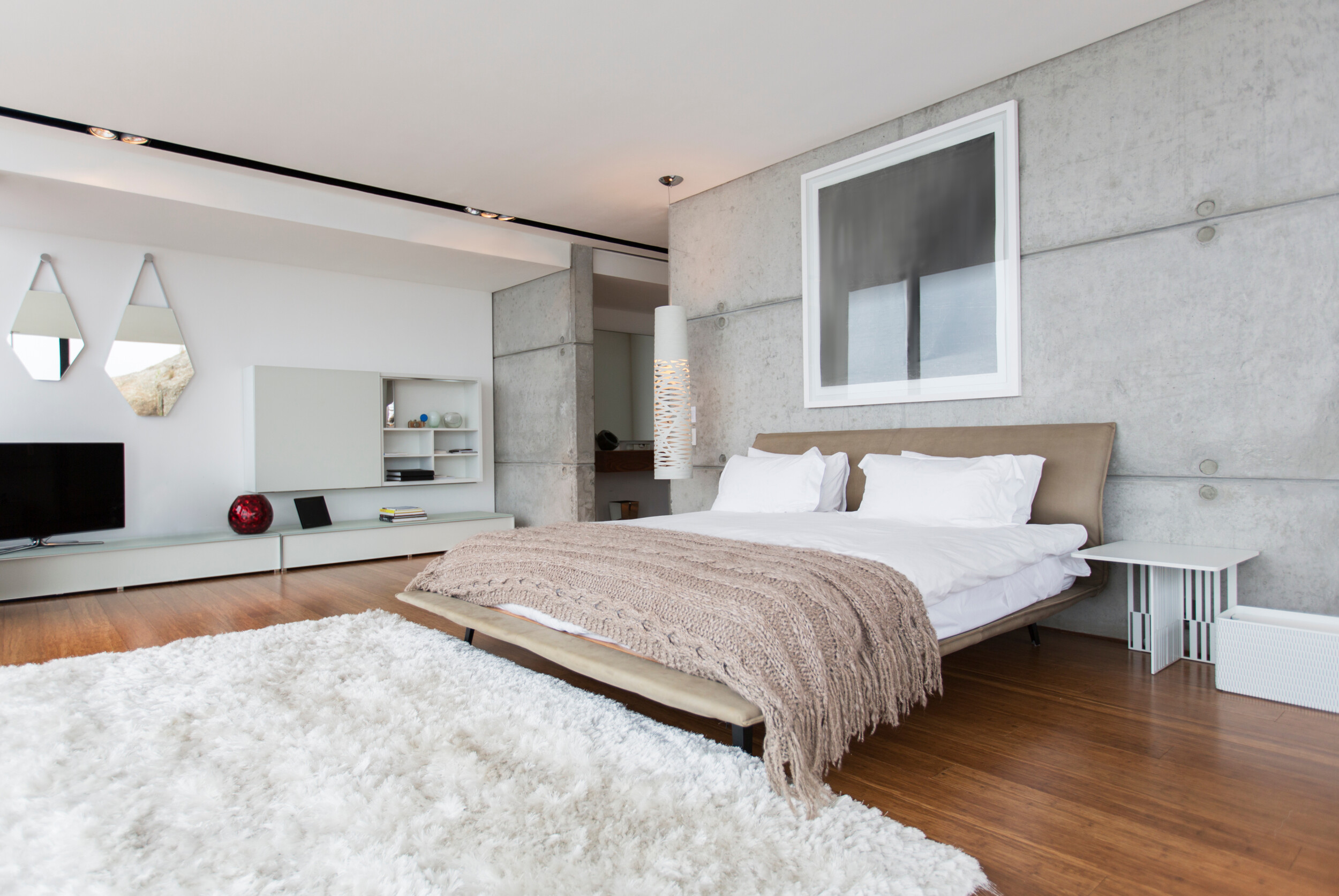 Benefits: Rugs are an inexpensive alternative when considering updating your flooring. They're available in every color and style imaginable to suit your bedroom design while providing a stylishly good, quick fix when you are looking for an instant update. They are also an excellent source for absorbing sound and adding warmth. Plus, they're also easy to switch out when you tire of them.
Drawbacks: They require their own care and maintenance which often includes expensive dry-cleaning bills and they don't necessarily solve your flooring problems – they only temporarily conceal them.
Natural Woven Rugs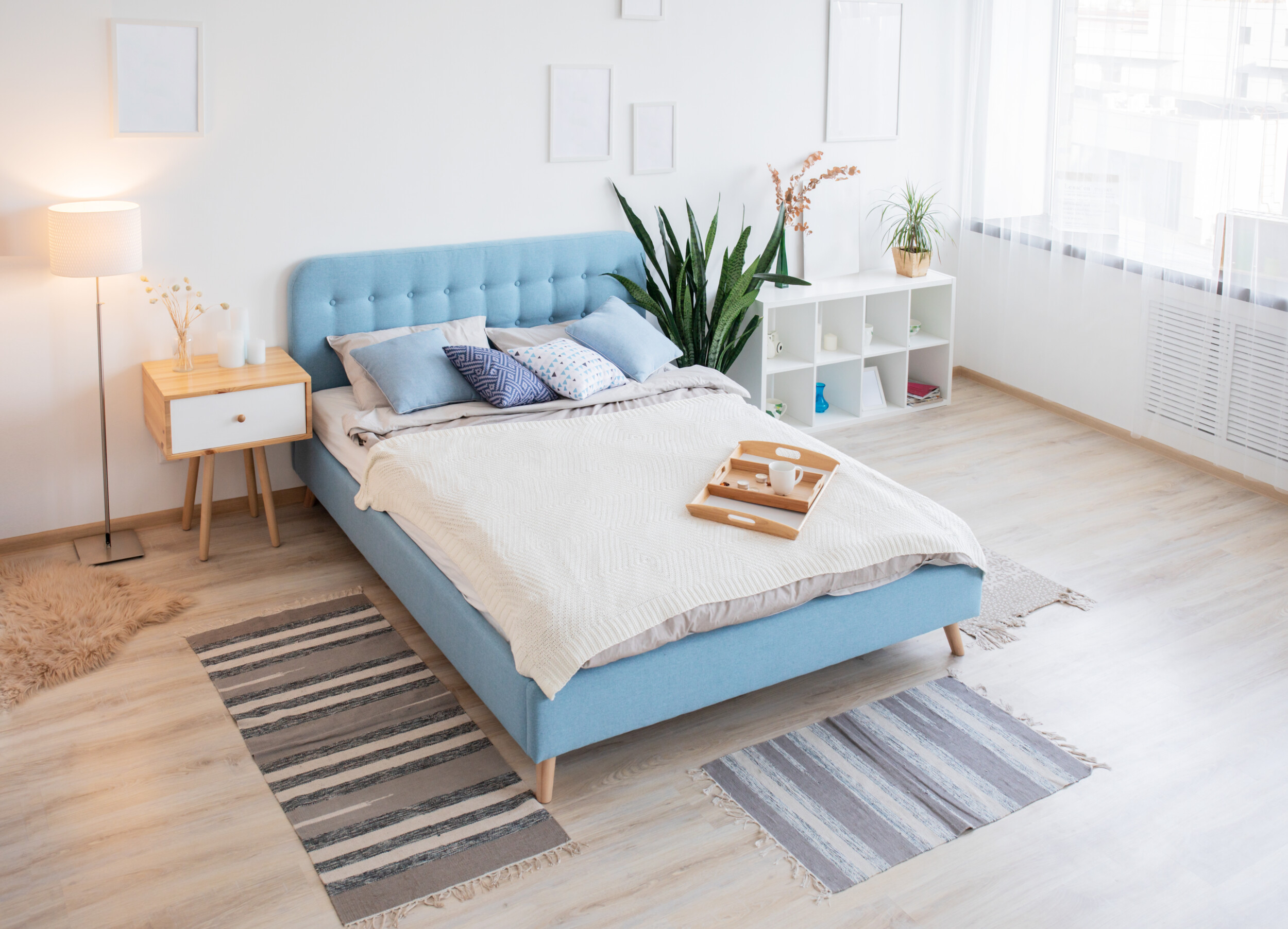 Hearty rugs made out of natural woven materials will look great in neutral rooms or in rooms where you want to add some needed texture; dyed with natural dyes for some color, or left natural colored, with both directions sure to add a beautiful finishing touch to your bedroom design.
Choose an extra-large rug and spread it underneath the bed, giving you a warm flooring option to get out of bed to in the morning while making your bedroom appear larger and brighter.
Cowhide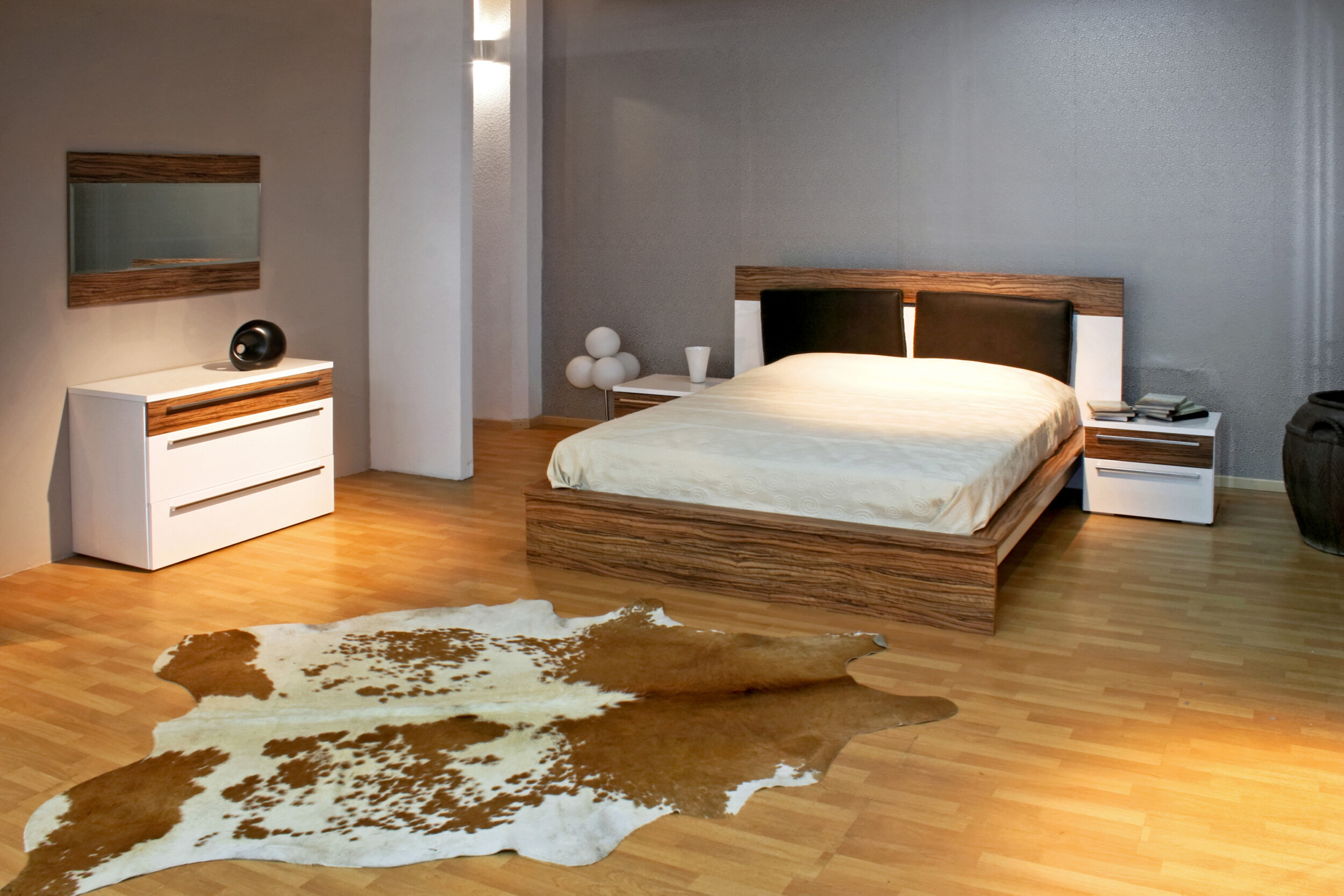 Cowhides are one of the top bedroom flooring trends in 2019 and for good reason. They instantly add a luxurious sense of nature, refinement, and an overall cool edge as a bedroom flooring option and they feel decadently smooth and silky underfoot.
They look great in a white or neutral room, adding a bit of warm, natural elegance to bedroom flooring ideas. And they can also be sourced for just a few hundred dollars online and are sure to work as future heirlooms for generations to come.
Sheepskin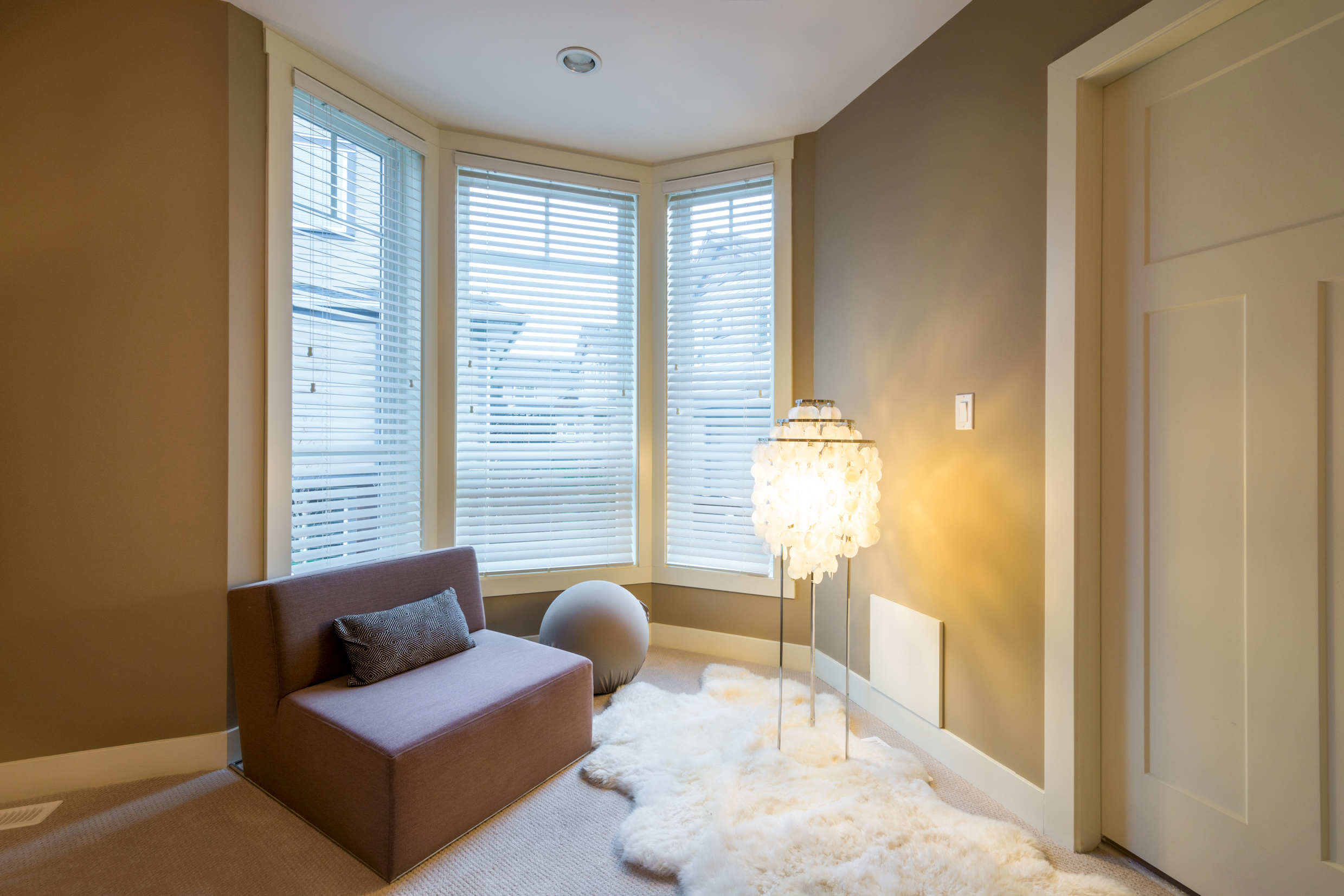 A sumptuous sheepskin rug will make for a glamorous and luxurious addition to your bedroom flooring direction. Even better when placed right next to your bed, so you can begin your day with comforting warmth when you swing your legs out of bed in the morning.
A sheepskin rug is always a fun addition in any bedroom and it will add needed padding and texture to your bedroom. And while a genuine sheepskin rug can be expensive to have cleaned by a leather specialist, you can easily find faux options for under $50 that are easily machine washable.
Wall To Wall Carpeting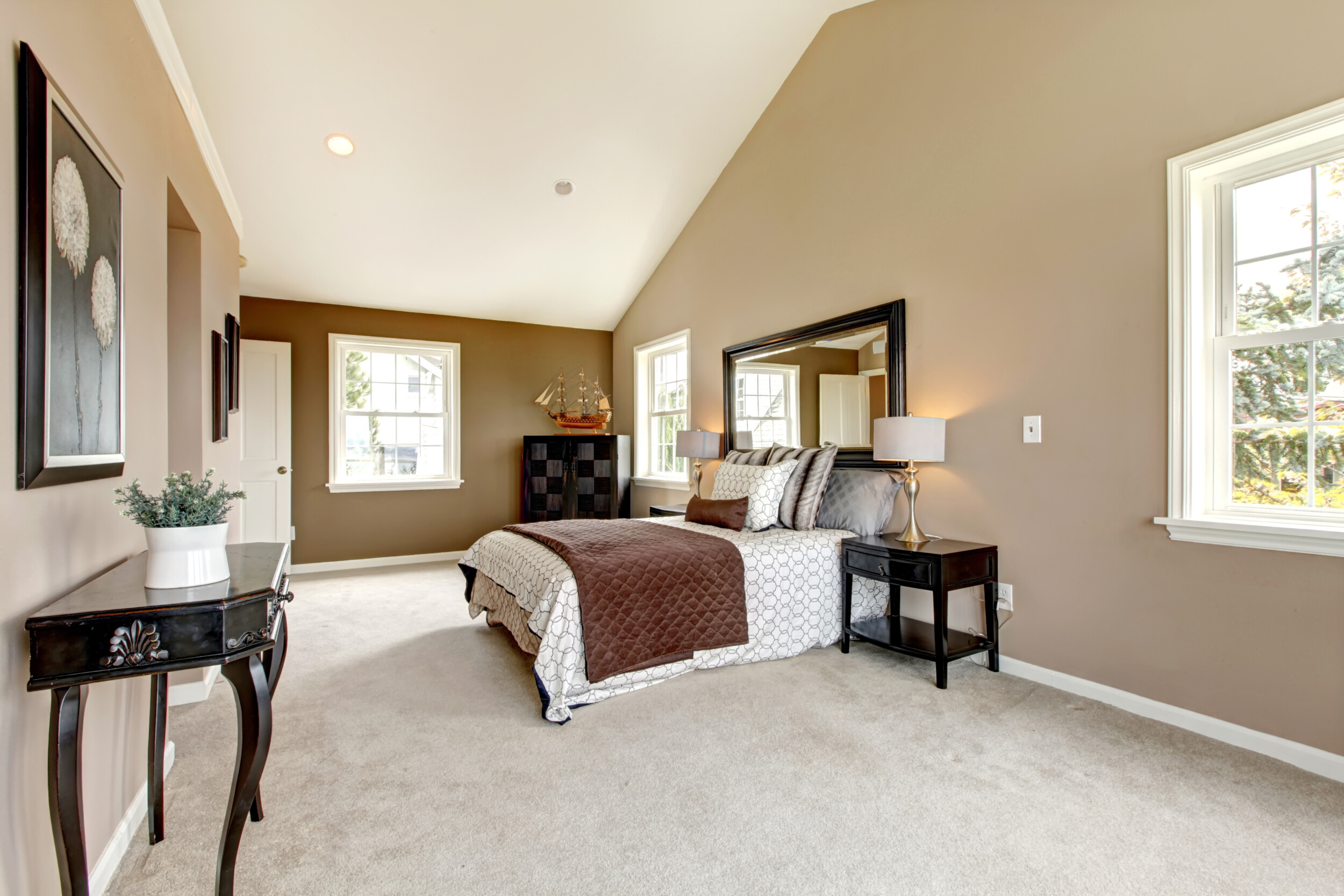 Okay, you're probably surprised to see wall-to-wall carpet make the cut when exploring modern bedroom flooring ideas, but with innovative new approaches, completely carpeted floors feel anew and do come with their own benefits.
Carpet absorbs sound, takes less maintenance than wooden flooring, lasts for years, and is much more comfortable than any other type of bedroom flooring. It also makes sense as you should want your bedroom to be a warm, comforting oasis during colder seasons.
Striped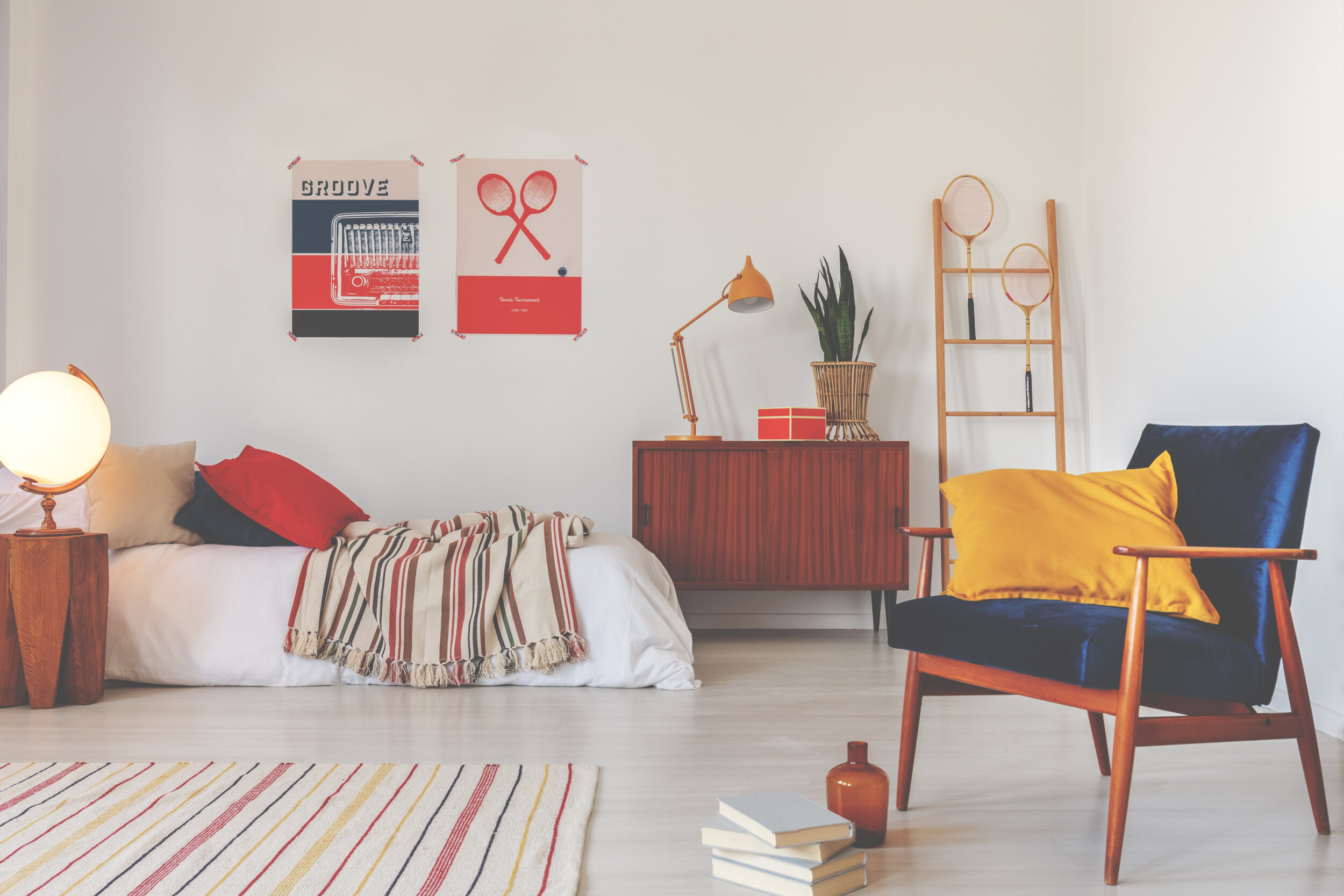 Striped bedroom flooring works to instantly make the space feel alive with a graphic kick of pattern play while also working to make it look and feel larger, and in general, ultimately more unique.
Plus, you can source striped rugs relatively inexpensively and cotton and synthetic ones will be easy to machine wash.
Layered Rugs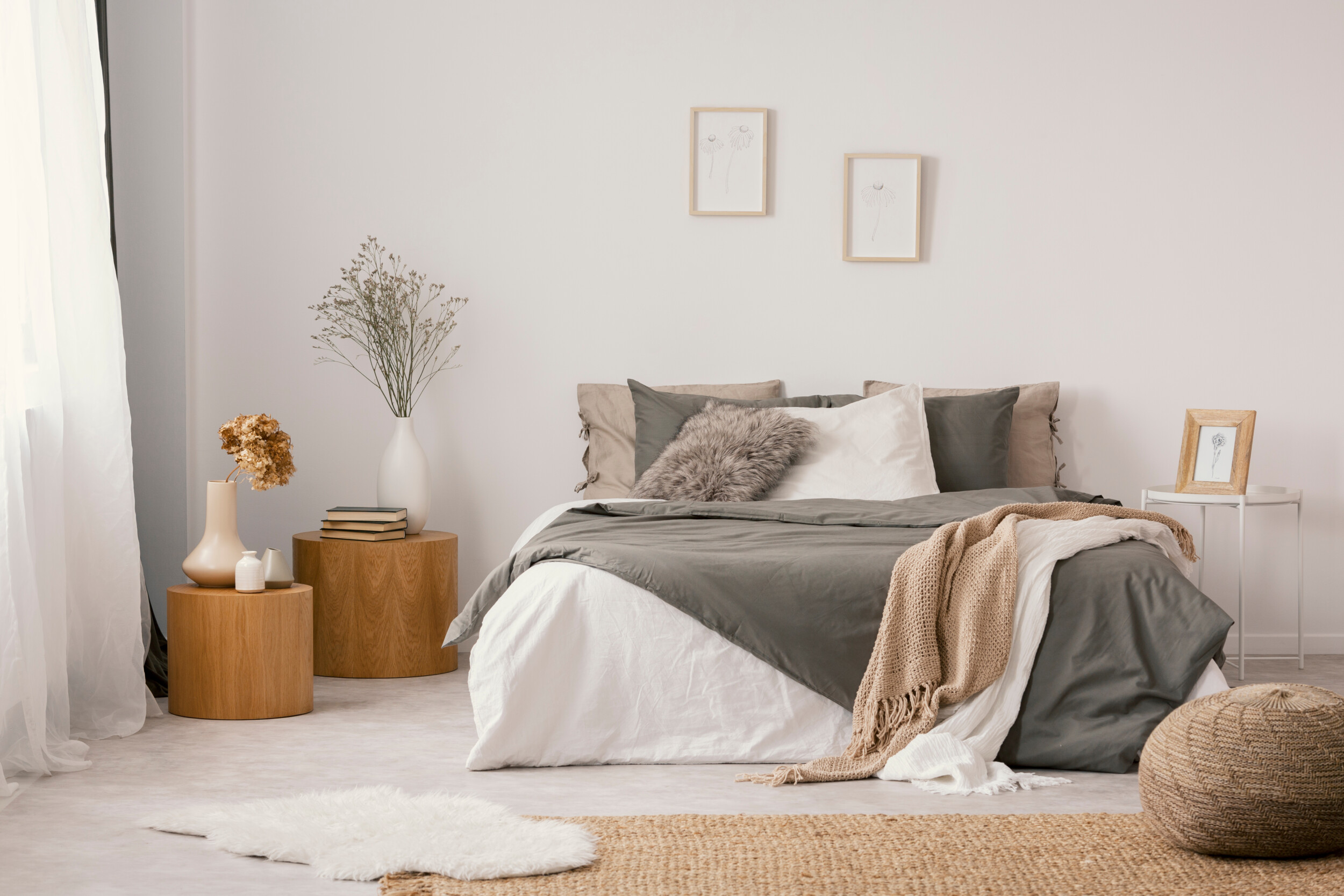 One of the biggest home décor trends of late, layering carpets is sure to add a rich, bohemian spirit to your bedroom while adding comfort and visual appeal.
To get the look right, juxtapose varying sizes and patterns for a truly decadent take on this major interior design trend. Layered rugs will help define your bedroom, create a stunning visual focal point, add color and texture in it, while allowing for a brilliant mix of patterns.
Abstract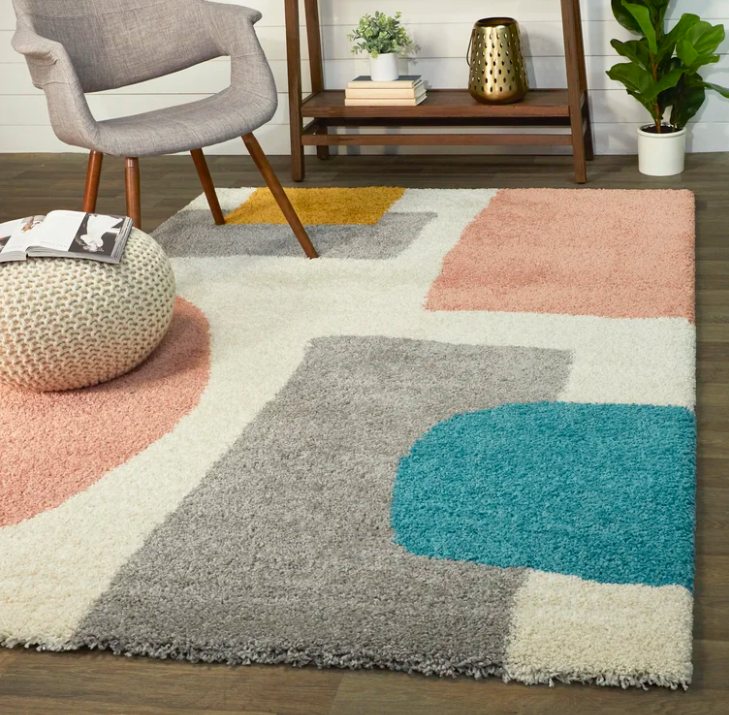 A beautiful rug can also almost double as an extra piece of art and a graphic, abstract print is the perfect route to achieve the look with ease. To get the look right, bring in an abstractly patterned rug that features no more than three colors in it to allow the eye to focus on its alluring pattern.
Persian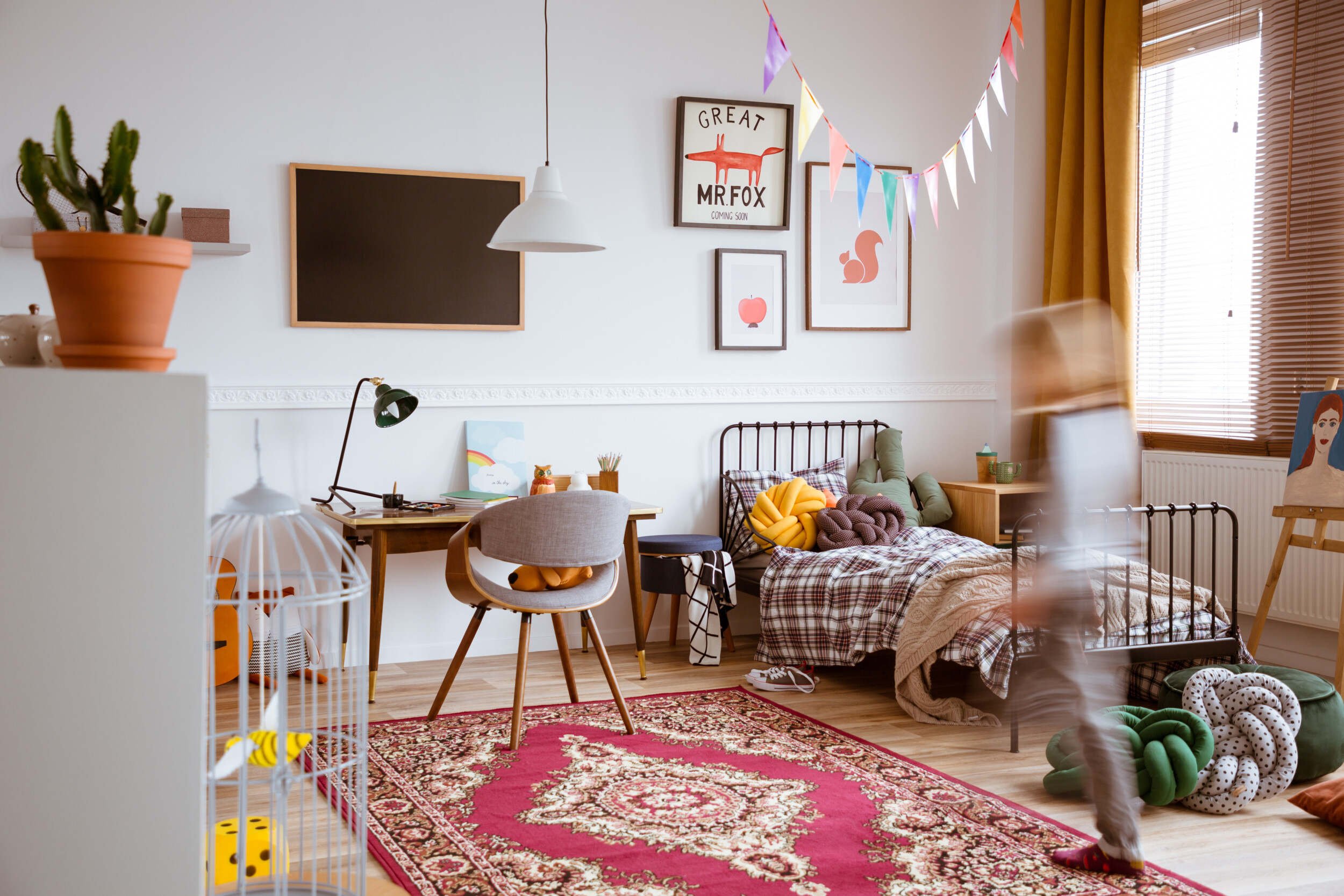 Timeless and full of color to work with, Persian rugs never lose their value, and never go out of style. That said, they can be budget-breakers and can be expensive to care for to boot.
To save money on dry-cleaning smaller Persian rugs our interior designers suggest a quick hand wash with apple cider vinegar with outdoor air drying after to release any odors.
Contrasting
When considering large bedroom flooring options, sometimes all it takes is a little creative remedy to beautifully tie the room together. Take note of how the large room featured above was cleverly separated into two distinct areas with a large black and white rug working to demarcate both a seating and sleeping area.
Geometric Designs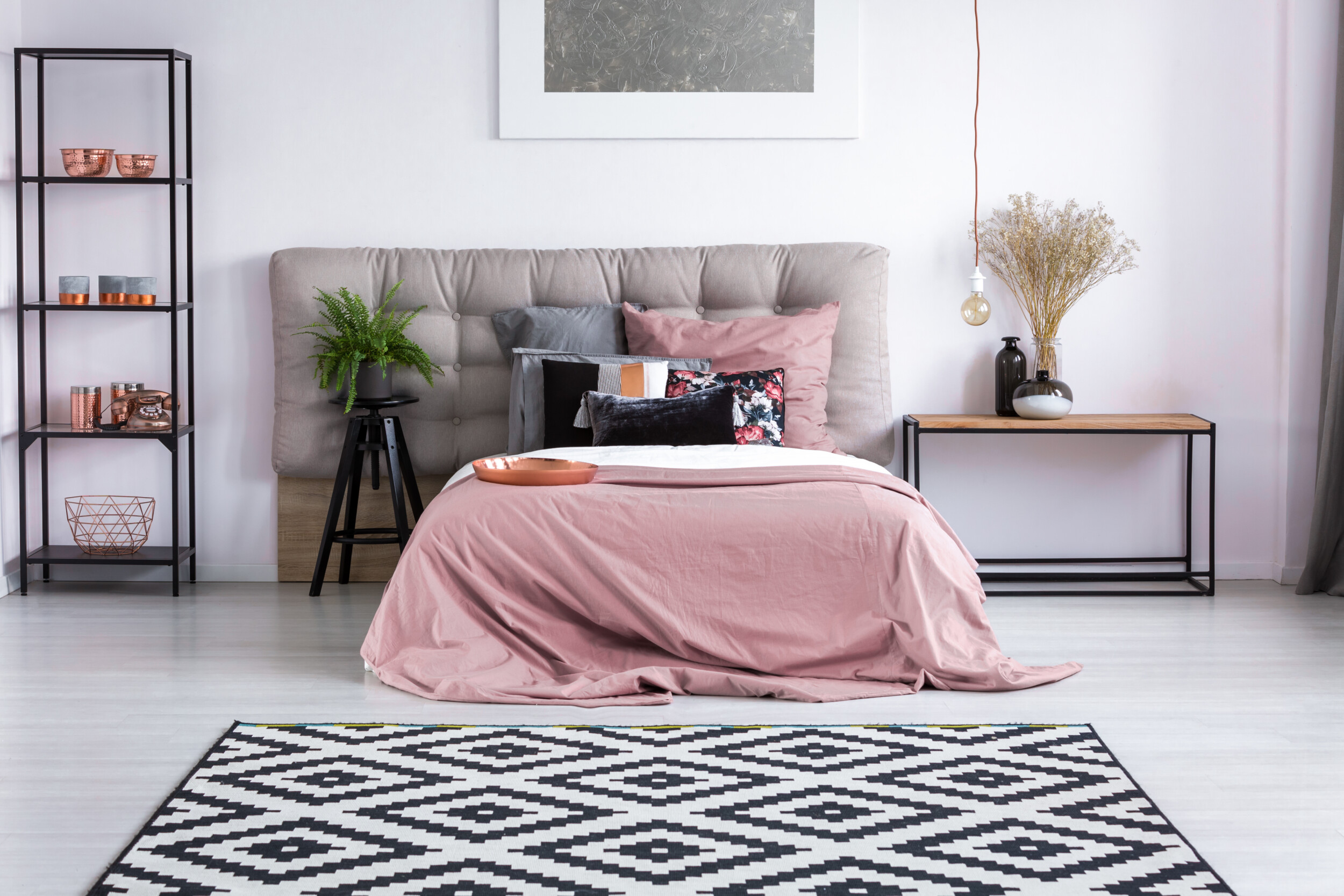 Bedroom flooring trends of late heavily featured geometric patterns with the spirit of the Art-Deco movement. You can go for a soft, neutral-toned rug, or something bolder and brighter to make a statement with your bedroom flooring.
Black and white is also a timeless starting point when it comes to geometric designs – and for good reason – it's stunning and forever-chic.
Something a little different?
Concrete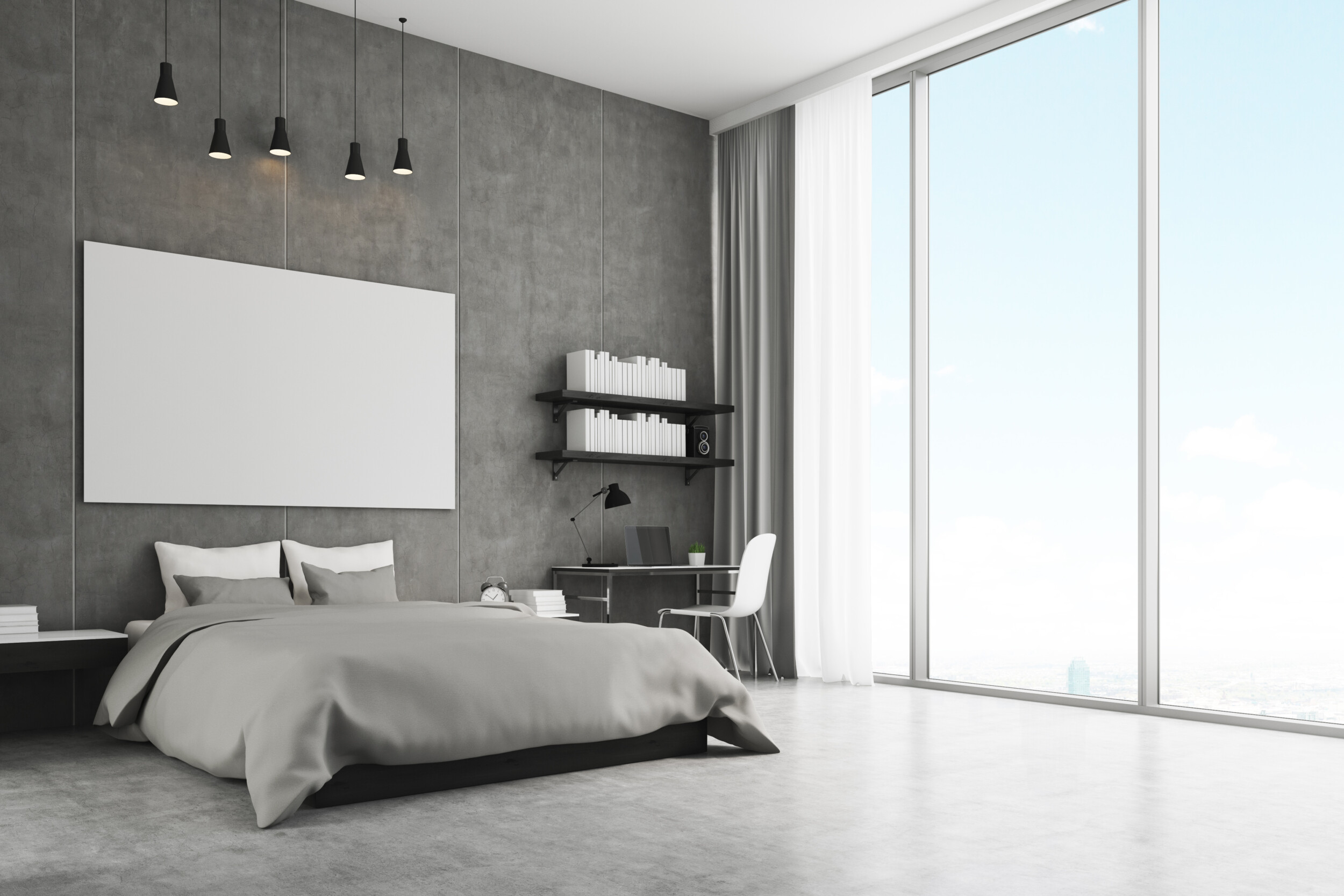 Inexpensive and almost indestructible, concrete bedroom flooring is a forever-chic option for modern homes and transitional ones alike thanks to its subtle design imprint that'll let all of your furnishings do the talking.
That said, it can be cold to the touch, risky when it comes to slips and falls, and since it's not for everyone's tastes, you may have to replace it when its time to resell your home.
Cork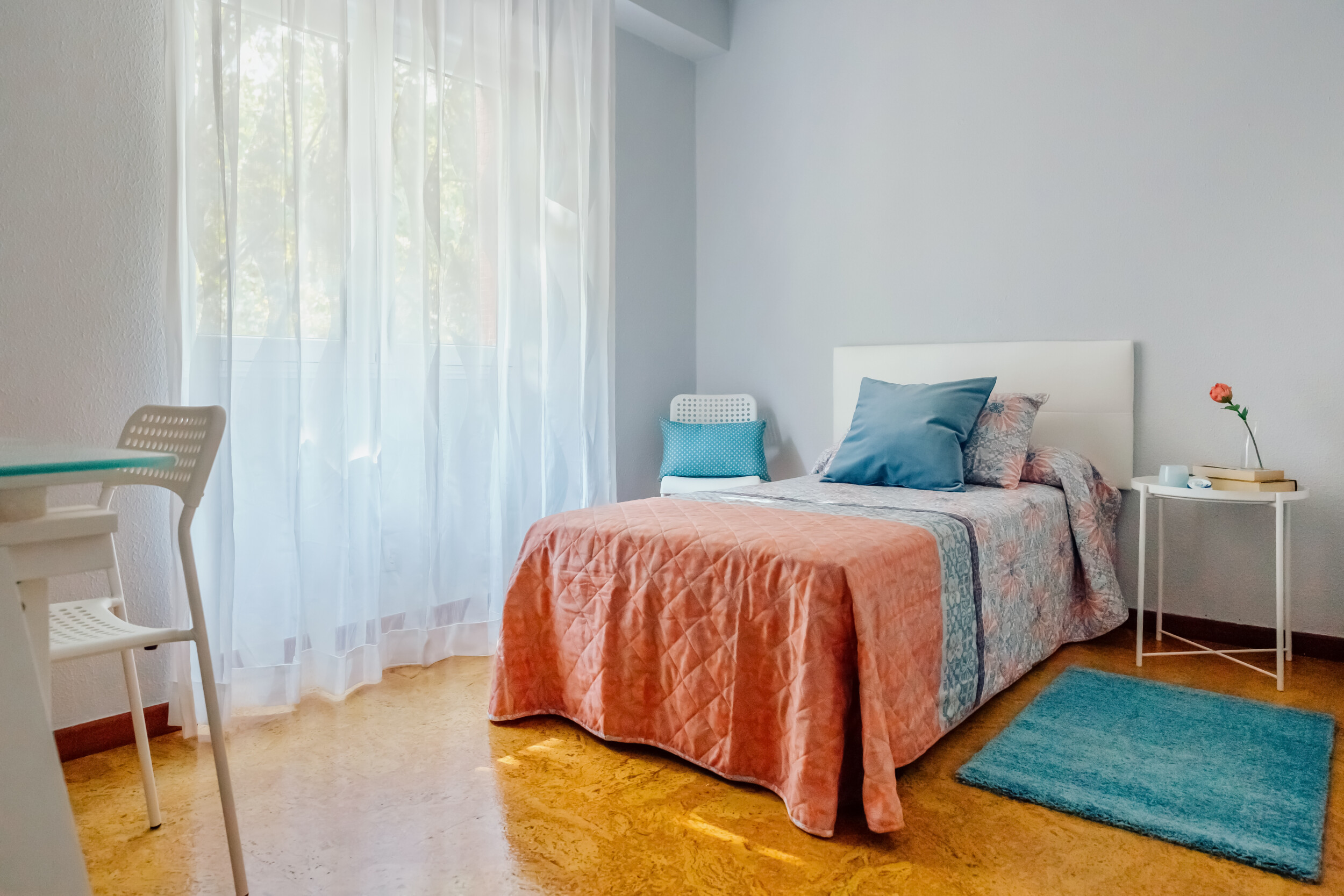 Cork is a material that we haven't seen much in flooring, but it's increasing in popularity as of late thanks to its smaller impact on the environment and its lower cost. It's a great insulator, meaning it makes for a warm room and it's plenty warm underfoot. It's a modern bedroom flooring option that is springy and soft, making it a pleasure to walk on while keeping it quiet for those in the room below.
If it's sealed properly, it's easy to take care of – it's not absorbent like you may imagine, and the earthy tone is natural and on trend. For your bedroom, floor tiles are the easiest way to bring in cork flooring.
Vinyl Tiles
Bedroom flooring tiles? Go for vinyl. If you are looking for something out of the ordinary without going over budget, then printed vinyl floor tiles are the ultimate option. They come in all sorts of interesting designs, from retro-inspired to Terrazzo to hexagonal bedroom floor tiles.
Vinyl is hard wearing, easy to clean and can be well-insulated for both noise and warmth. Use vinyl tiles to add impactful color and pattern to your bedroom that can also be easily replaced when the time comes.