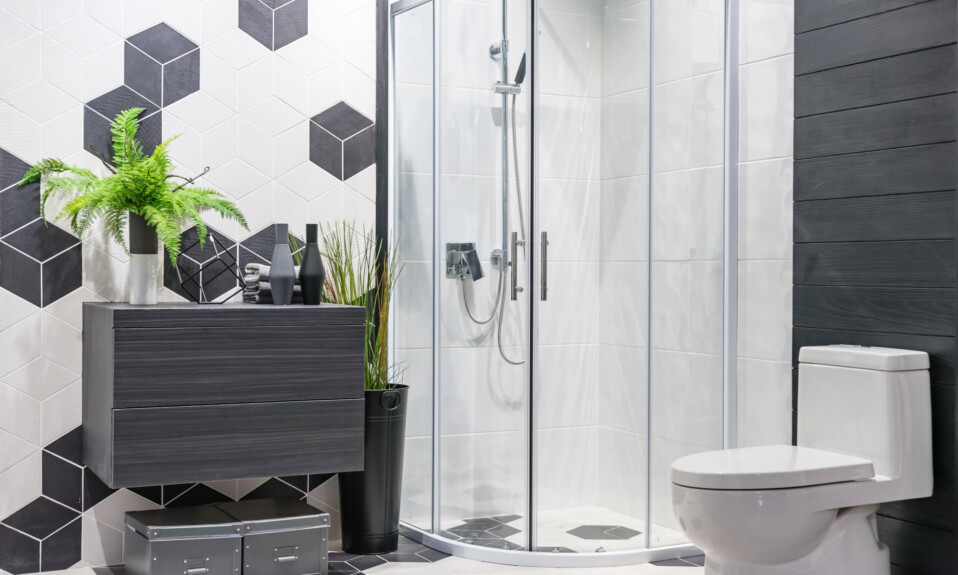 If you are on the hunt for striking and playful bathroom ideas, search no further as these modern takes on black and white bathroom ideas are not only a heavily trending take for modern bathrooms, they're also timeless to boot. Whether you are looking for a simple or sophisticated look, black and white colors will be sure to give your bathroom a graphic sense of play that's also easy on the eye.
These two colors combined always evoke a forever-chic, simple yet classic sense of luxurious minimalism that are certain to look terrific in any home, no matter its design direction. Together, black and white bathroom ideas offer the most potent color combination of them all and work well paired with any decor style. Little wonder why many celebrated commercial and residential interior designers have cemented the color combination as a go-to route when it comes to creating a luxurious feel when it comes to bathroom decor. And according to Décor Aid renovation experts who've worked on hundreds if not thousands of bathroom overhauls, this very well could be the reason behind the recent rise in searches for black and white bathroom ideas on platforms like Pinterest.
Sure, it's easy to pass off these two complementary colors as something banal and expected in a bathroom, but there's no denying that they've been fast becoming a favorite color combination choice for many interior designers and homeowners alike. Aside from the fact that black and white bathroom ideas are timeless and easy to work with, it's also an easy color combination to pair all sorts of accessories and styling elements with just these two go-to colors in your bathroom. So, if you have been searching for the best black and white bathroom ideas, consider your search over after perusing these takes on stunning black and white bathrooms. Here's our take on the classic black and white bathroom ideas making waves across the interior design industry for your home.
Go with an eclectic decor style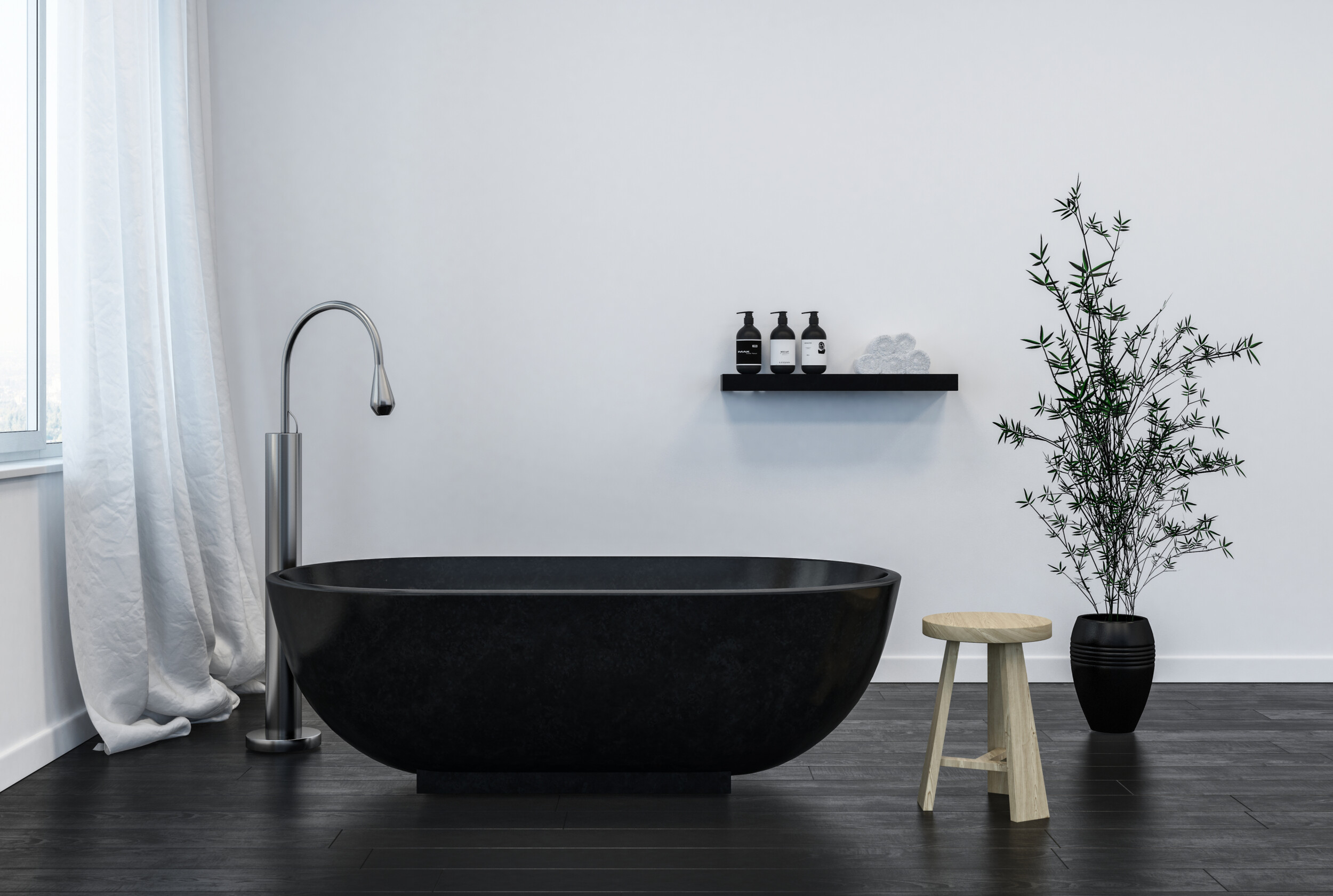 Since most black and white bathroom ideas are those that promote bathroom decor design that are decidedly retro-inspired in style, use that to your advantage when looking to create a timeless feel in your bathroom. Even better about black and white bathroom ideas is the fact that the color combination also allows the freedom to work any design style along with it.
From the minimal to the spirited, you can virtually take black and white bathroom ideas any way that works best for your home and your decorative directions. For a feel that's chock full of personality, consider taking your bathroom in a delightfully eclectic direction by adding playful and bold elements that touch on the design style via decorative accessories, bathroom linens, and statement-making art and sculptural add-ons. The best thing about going for an eclectic bathroom decor direction is the fact that it can be easy to add accessories and personalize your style with ease as the color pairing is also quiet in feel and it won't be competing with the heavier look that eclectic interior design can radiate.
Go with a black and white theme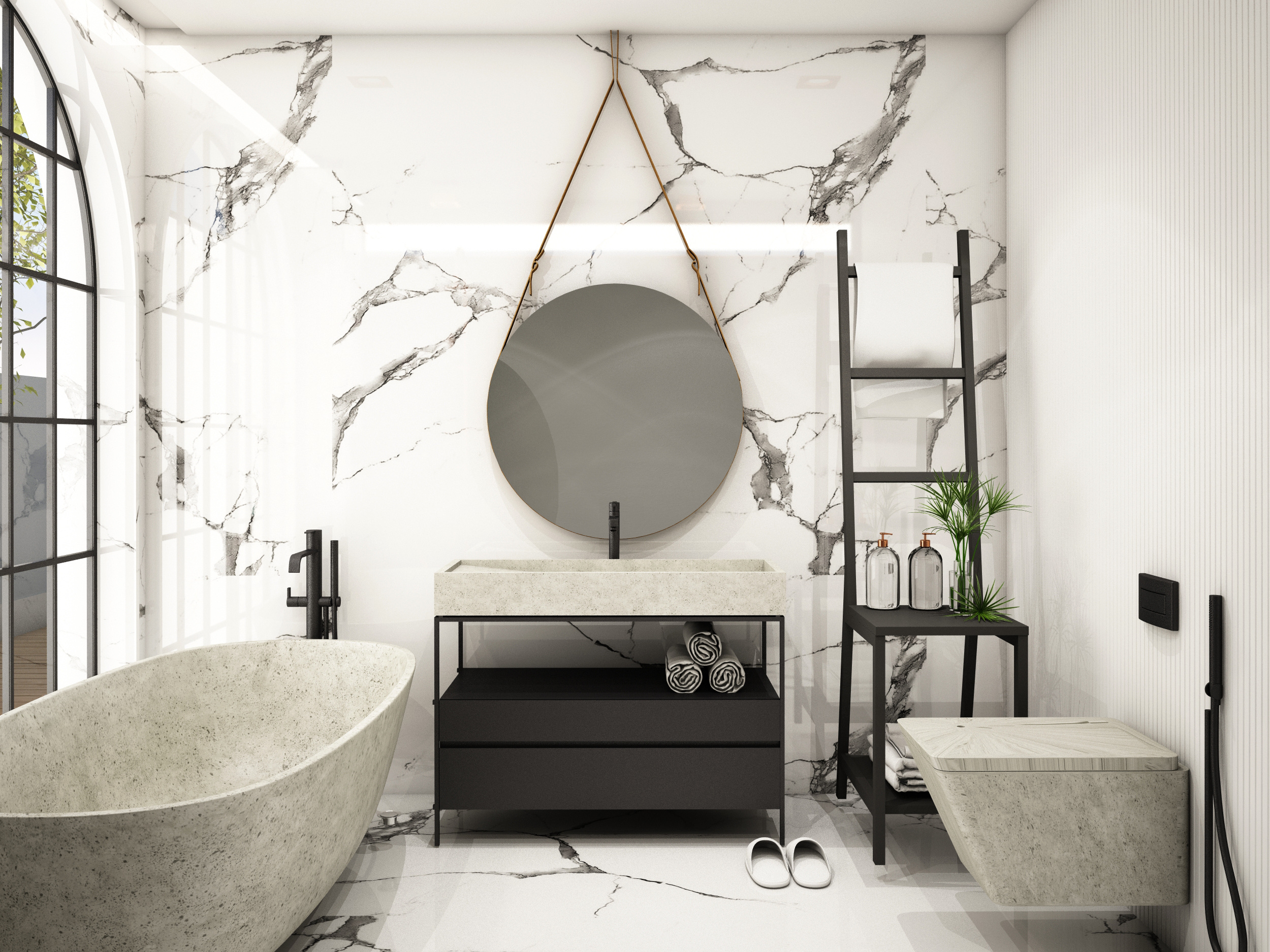 To ensure that you make the most out of your bathroom colors to set off a decidedly black and white theme, why not keep it concise and minimal by only using black and white throughout your bathroom? Since a black towel may fade quickly over a just a short amount of time, it's normal to go for white towels since they look fresher longer, however, why not go for a set of crisp towels that feature both black and white together? As when it comes to the look and feel of strikingly contemporary black and white bathroom ideas, nothing beats the appeal of any easy on the eye color combination that also feels forever fresh.
To create the perfect black and white color scheme in your bathroom that will also keep the space looking as large and bright as possible, think about making a majority of your bathroom all-white while introducing black in smaller doses like decorative elements, paint for your trim and doors, and white bathroom tiles edged with a high-gloss black juxtaposition.
Not all black and white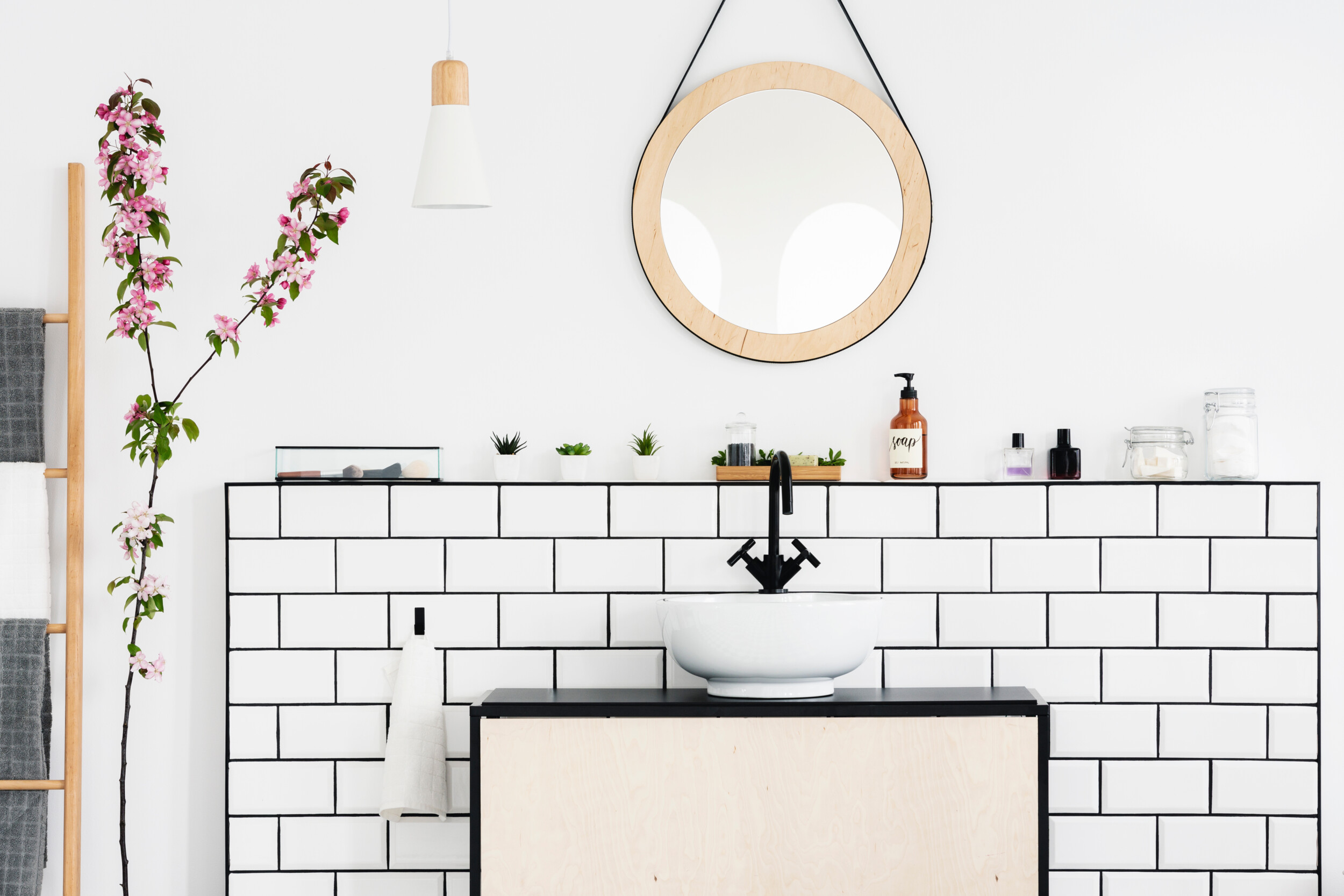 Even if the best black and white bathroom ideas seem to focus solely on the two neutral colors it doesn't mean that you can't add any other colors along with your bathroom decor color scheme. In fact, you shouldn't be scared to add a few accent colors into the mix as you are working to create the perfect mix of black and white in your bathroom. Irrespective of the size of your bathroom, there are small black and white bathroom ideas you can use to your advantage to give your bathroom a look that as more depth and attitude. And when it comes to black and white bathroom ideas, you should look at the two hues as a great foundation for adding hits of color and print in this otherwise straightforward space.
Introducing touches of soft feminine colors such as a sandy pink will do a great job at eliminating the austere feel and pattern of classic black and white bathroom ideas while lending the space needed personality and a sense of visual play. Playing with shots of color will also be sure to accentuate the theme to give it a subtle feel and needed depth to keep the eye moving. The best ways to add such accent colors is by bringing them in via accessories and elements aside from your bathroom walls. This could range from flowers to brushes to towels to toiletries, and so on.
Go with classic subway style tiles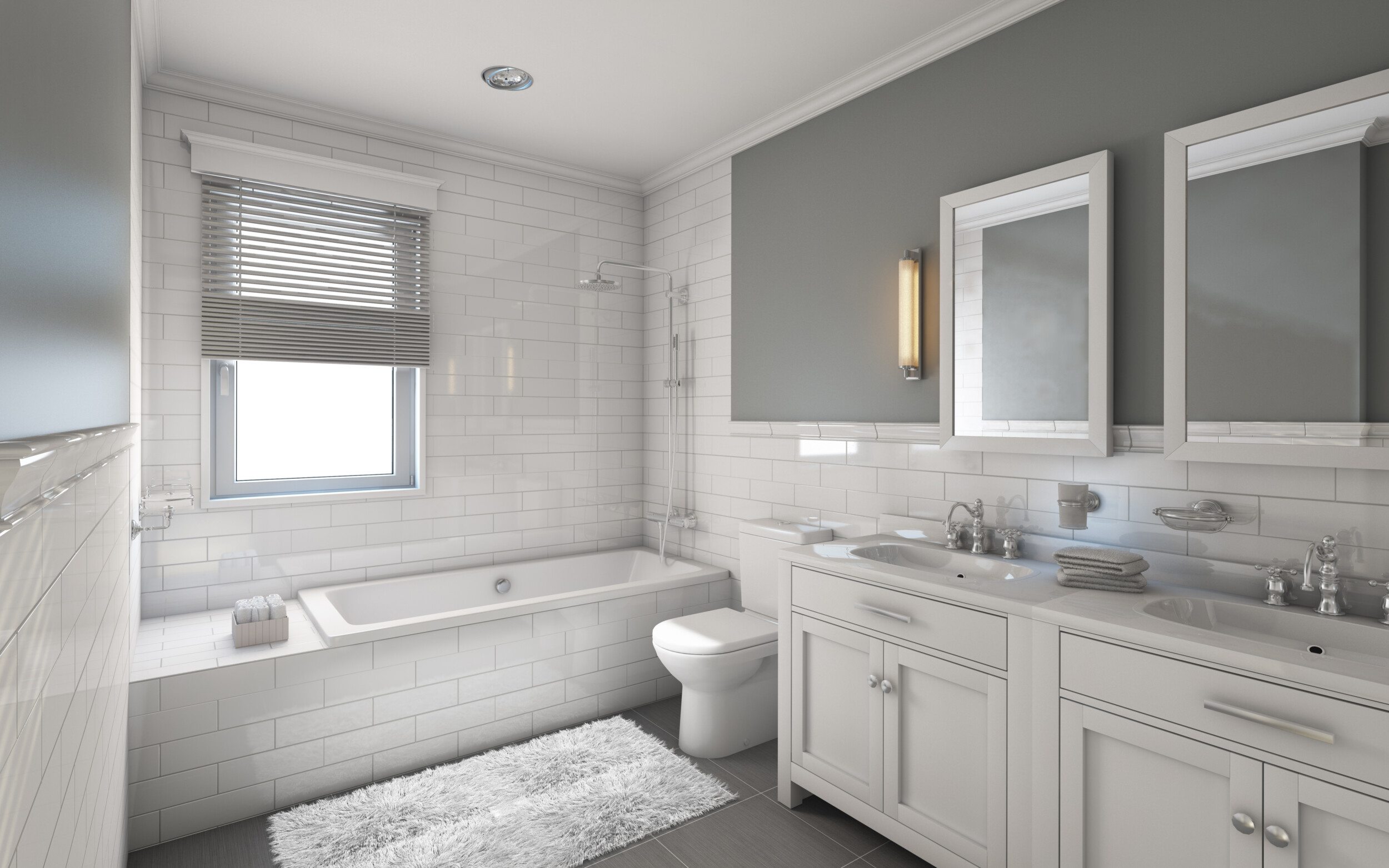 Subway style tiles have been trending heavily for over the past ten years or even longer as they are the perfect match for homeowners and design enthusiasts alike looking for classic black and white bathroom ideas that will never go out of style. Best of all, its easy to make the look work in even the smallest of bathrooms.
All you have to do to make incorporating subway-inspired tiles in your bathroom work while making them look unique is to devise a visually striking plan to do just that. Think about tiling the outer portion of your bathroom floor with a contrasting high-gloss black tile or you could go for a half black, half white bathroom wall tile setup or even use black tiles as a trim against your white subway tiles to create a graphic kick. Whatever route you decide to go for, subway-inspired bathroom tiles will be sure to lend your bathroom a studied sense of appeal everyday glamor for years to come.
Black and white gallery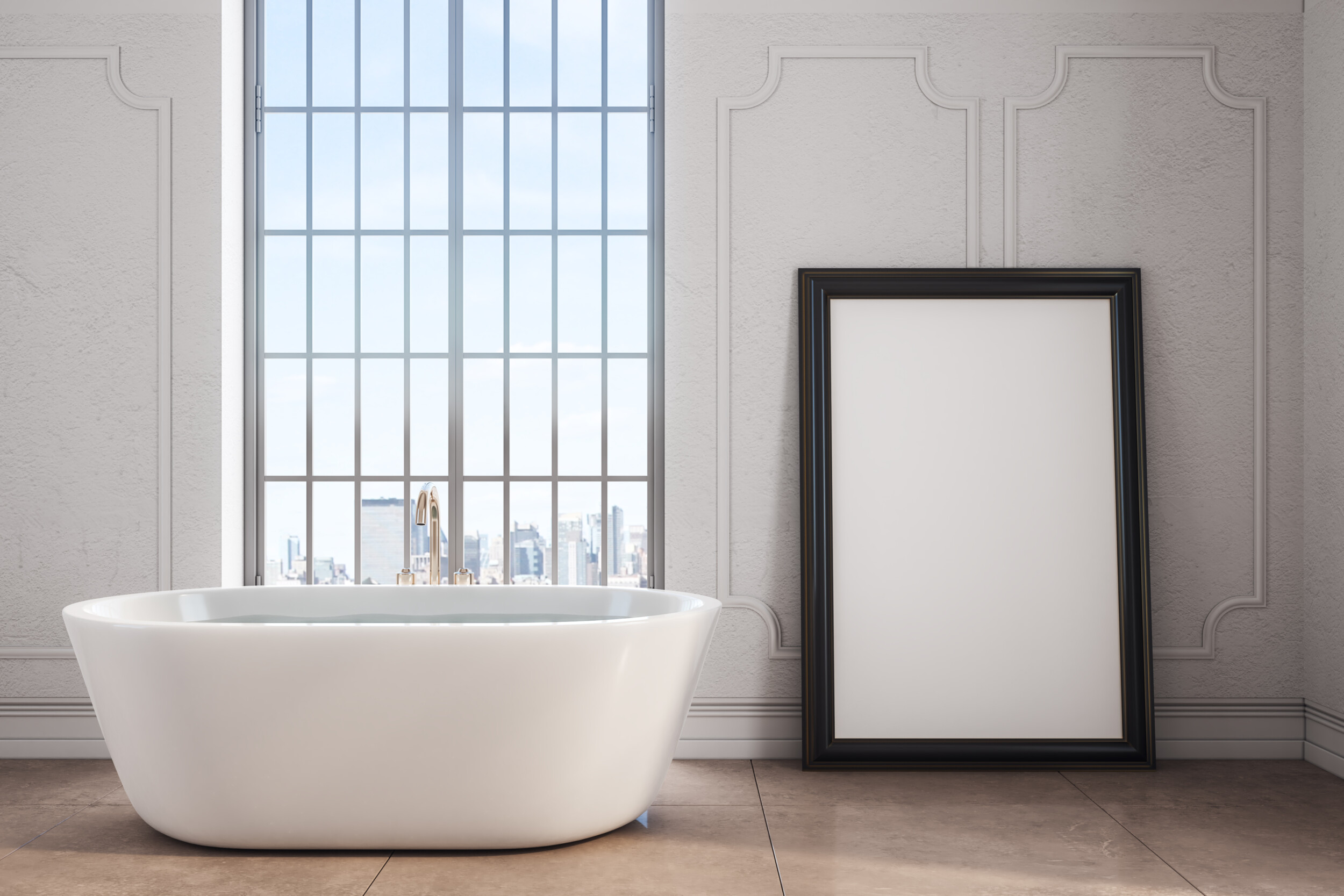 Since you'll most likely be leaving your walls white, why not consider creating a striking art gallery wall to bring your black and white bathroom to life? It can be fun searching for the right art pieces that will lend your black and white bathroom a sense of intriguing drama.
And since you're working with a precise color scheme you can be all the more playful with the art prints and photographs that you do bring into your bathroom. Think a few large-scale pieces to really make a statement or keep the look subtle with a myriad of smaller art pieces to keep the eye moving.
Dark woods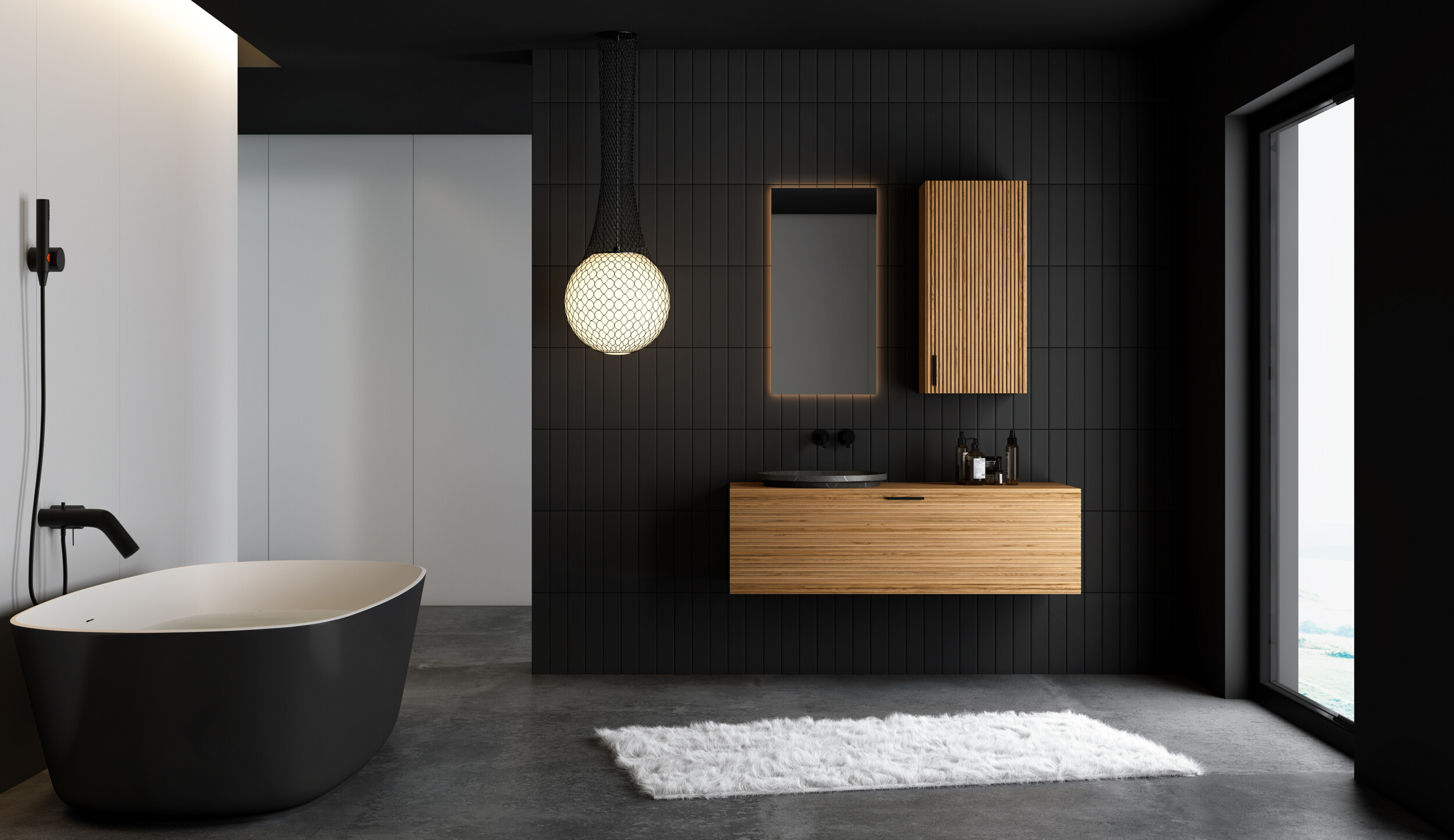 When thinking about contemporary black and white bathroom ideas you may overlook the natural beauty that wooden elements can lend the space. So instead of skipping out on the material, think of interesting ways you can incorporate wood into your bathroom for a comforting and cozy feel.
Bringing in wooden additions will be sure to also create interesting visual play while retaining a classic feel that's not too far off in the experimental or unexpected.
Bold black and white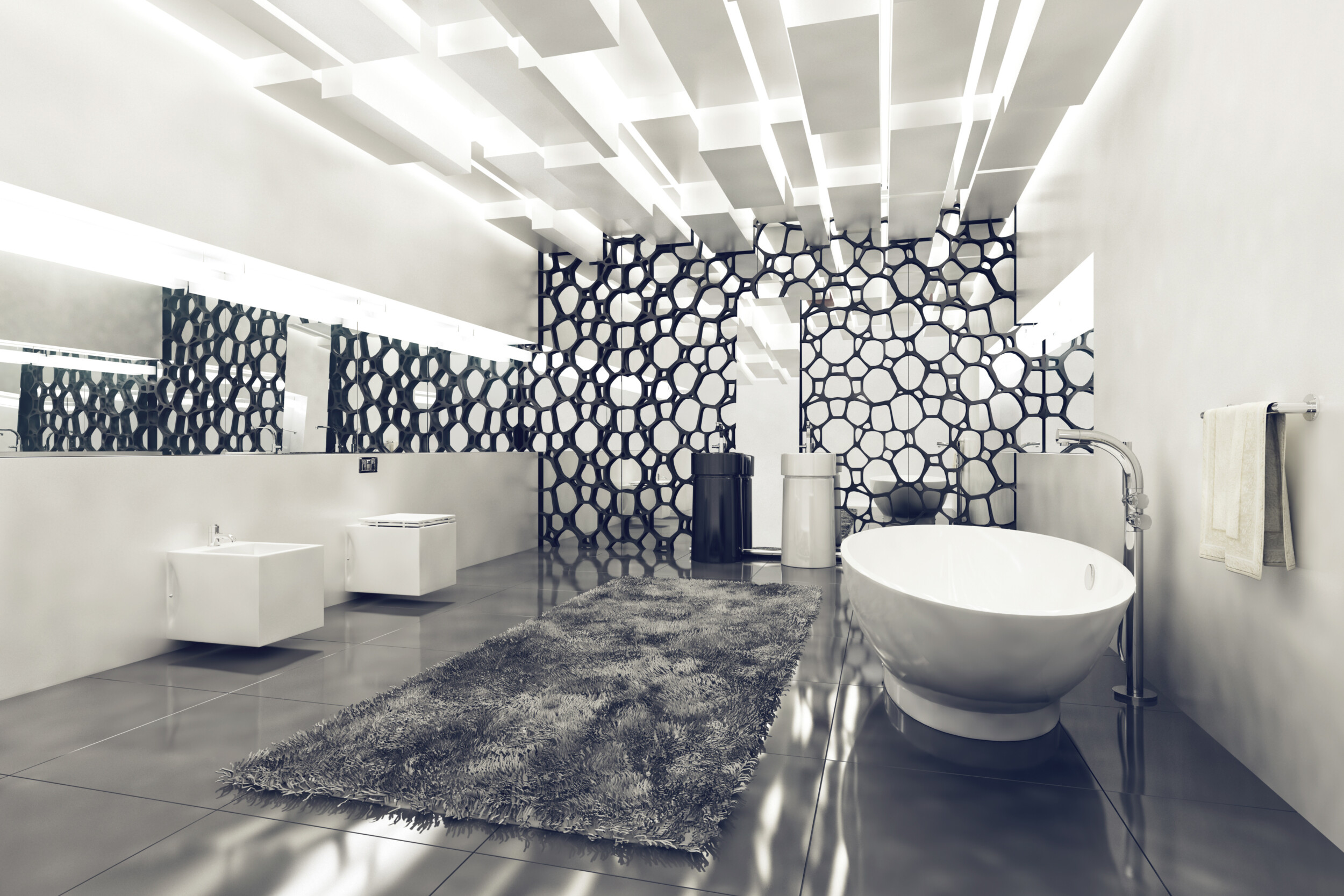 If the subtle and minimal look of modern day bathrooms isn't for you and you're looking to create a decorative feel that has more definition and personality, then consider ways you can keep on-trend by going for a bold black and white bathroom. It can be really interesting to discover how these two complementary colors can stand in sharp contrast against each other to create a chic look in your bathroom.
Think a bold black-framed shower stall door, high-gloss black cabinets, and dashing black grout paired with large subway tiles paired with gold or black faucets and hardware. Complete the look with minimal accessories. And keep the look sparse as a less crowded bathroom is the perfect match for a modern, subtle look.
Feminine black and white bathroom

Black and white bathroom ideas can be brought in through different routes, one of which is a decor style that radiates a feminine look and feel for a charming take on the two colors. To get the look right, think about adding touches of pink and other makeup colors and do bring in flowers and plants along with prints of the two.
By adding feminine elements in your black and white bathroom you'll also save the space from the harshness that the simple color scheme of black and white can sometimes lend a small space.
Make the most of lighting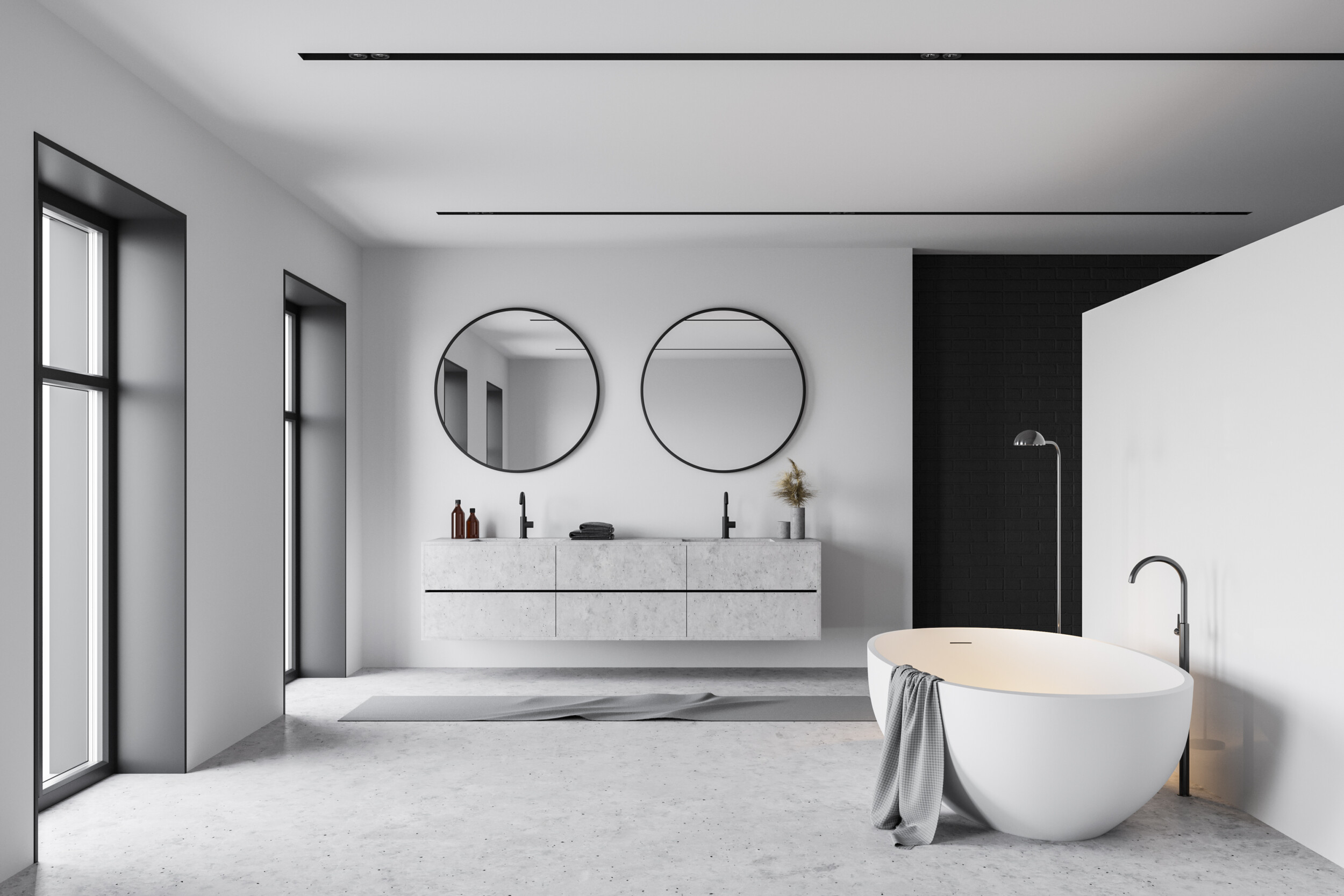 Make your bathroom appear larger than it is by bringing in as much lighting as possible and be sure that you take advantage of any windows in your bathroom to let in natural daylight. This will also make getting dressed and putting on makeup much easier.
But if you don't have natural light, do use mirrors to bounce and reflect light around your bathroom to make the space look larger than it really is.
Bathroom wallpaper
You don't have to go wild with wallpaper to create a robust look for a tiny bathroom. Although having wallpaper in a black and white bathroom creates a more traditional look, pairing it with a deep dark color such a black will make your bathroom space look larger while creating a dynamic, statement-making feel that will be unique to your home.
In fact, you may find yourself surprised by how well bold wallpaper will not just brighten your bathroom, while also helping you make the best of a tiny bathroom as a large and spacious modern yet classic bathroom.
Dark gray bathroom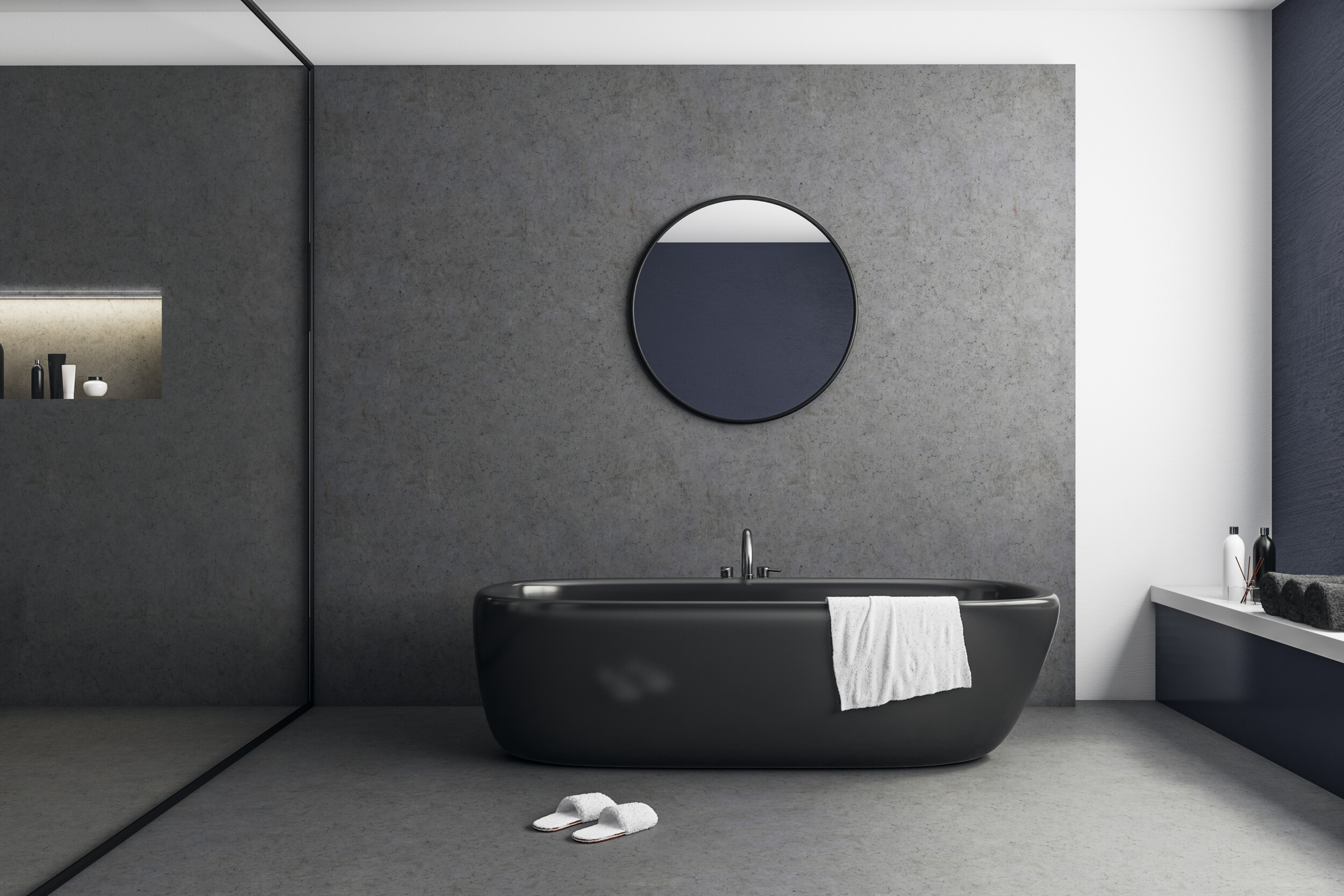 Does the thought of solid black come off as too visually heavy in a bathroom for you? Does it sound cold and clinical when paired with stark white? If so, you might want to instead opt for a dark grey, which is considered as the closest color next to pure black without it coming off as heavy.
As an alternative to black and white bathroom ideas, a handsome gray color will allow you to retain the elegance of black and its exceptional sense of strength without having to veer too far into the dark. Pairing classic white with dark gray also makes it much easier to match it with other classic neutrals for a warm and rich feeling. An excellent way to put this pairing into practice in your home is to go for all-white walls and flooring while leaving your trim and bathroom doors a dark yet emotionless gray for another take on classic bathroom ideas. And in general, whenever you do go for darker color combinations do remember to add as many high-shine finishes and reflective elements like mirrors to catch and reflect light throughout a space to make it feel brighter and more energetic.