Unless you've got a penchant for completely tonal décor, distinct color combinations let you bring in the best of both worlds, or three, while completely transforming a room with ease. In fact, if you ask any interior designer, even our own at Décor Aid, they'll be sure to stand by the energizing effect of well-judged color combinations for any space.
As you know, color can immediately impact your mood and how you feel in a room, so getting specific color combinations right can instantly pay off. But what if you want to take a risk and go for a dramatically darker pairing? Or, what if you're on the hunt for room brightening and defining color schemes but are short on inspiring cues?
To help you find the right interior design color combinations for every room in your home, we're exploring endless color combinations of the moment that feel fresh yet timeless for longevity.
Black And White
Sure, black and white color combinations sound like nothing new when it comes to classic color combos. But the key to keeping it modern here is in your approach.
When it comes to black wall paint ideas our clients often think of white walls with black trim, but sometimes it pays to go for the unexpected. Instead of going that stylish yet predictable route, go for the opposite effect and paint your walls a rich matte black that'll be easier to keep clean. But if you aren't looking to repaint walls at the moment, you can bring in the color combo as a foundational starting point when decorating a room.
A Mix Of Neutrals
When it comes to enduring interior design color combinations, you can never go wrong with lush vintage-inspired neutrals. Do mix a selection of tonal browns, beiges, and whites to create an easy on the eye and relaxing feel.
That said, keep the area feeling invigorated via a range of colorful accessories, art, and high-shine features like gilt frames and mirrors.
Black, Blue, And White
One of the more gender-neutral color combinations to consider, black, blue, and white together will lend a room a sense of depth and strength and will lend themselves well to just about any kind of accent colors.
Just be sure to go for a blue shade with a punchy tone to it to really make the space feel alive.
Turquoise And Pink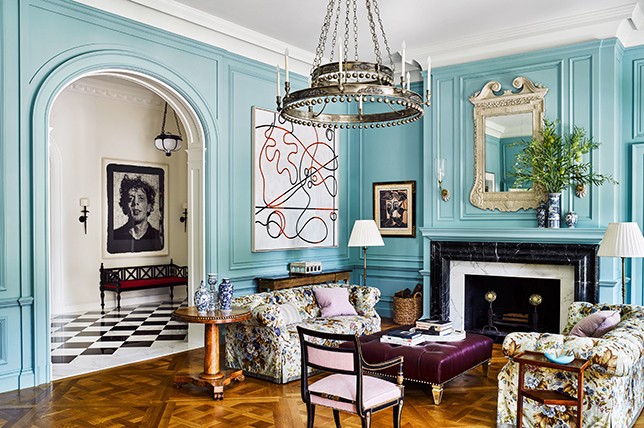 Since it's a more subtle and off-color to decorate with, a muted turquoise will pair well with just about any color, from white to indulgent black. But it looks even more viable when its paired with a soothing candy pastel shade – just one at that.
To keep the mood in a space soothing, pair a watery turquoise shade with a soft, ethereal pink so the two don't compete with one another.
Green And Gold
One of the more classic color combinations to recently catch our eye again, the timeless appeal of green and gold is a direction you can never go wrong with. However, that said, make the pairing feel modern by only bringing in matte gold finishes for a more laid back approach.
Chartreuse And Gray
Everyone knows that gray, one of the deepest neutrals of them all, pairs well with just about any color. But for a unique take on gray color combinations for your home, a regal vintage-inspired chartreuse and gray pairing is sure to up the elegance factor.
And since you don't see chartreuse in many a home, this color combination will lend yours a unique, yet timeless appeal.
A Bold Blue And White
When people think of blue and black color combinations they often immediately think of navy and optic white. Instead of that more traditional route, consider going for a bolder and more saturated blue to really make that white pairing stand out.
By doing so, you'll instantly make a room appear larger, brighter, more unique, and mood-enhancing.
Black And Red
Maybe the moodiest and riskiest of all of our top color combinations to consider, there's no denying the instant impact red lacquered walls paired with high-shine black trim will lend any room.
And while it's a major color combination to take in, our interior designers suggest using it in smaller rooms to avoid a brooding, heavy-handed feel. That said, it'll be the perfect color combination when looking to elevate a guest powder room with a sense of everyday elegance or an entryway for needed glamor.
Images via Pinterest