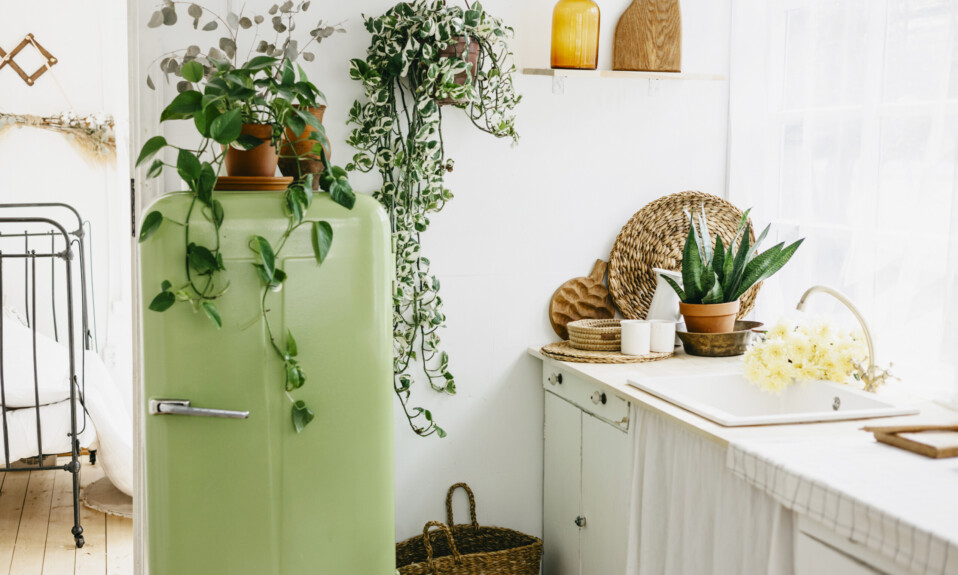 REFRESH YOUR HOME WITH THESE CHARMING COUNTRY KITCHEN IDEAS
Country kitchen ideas may instantly sound novel and charming to boot, but how can you use them in your own home without the look coming off as a heavy-handed theme? And even more so, how can you create a richly layered transitional-inspired country mix that won't limit your direction – especially for when you are looking to sell your home in the future?
To help you resolve some of those dilemmas with confident style, we surveyed Décor Aid interior designers for their takes on the best country kitchen ideas and how to make them work in your home, with ease. From modern country kitchen ideas that are sure to elegantly elevate your home to timeless and cost-effective country kitchen ideas on a budget, there's something for every home. For inspiration, here are our interior designers takes on the best solutions for a modern yet timeless take on our favorite country kitchen ideas to help you create a warm and charming one with confidence. After all, who says that a country kitchen has to be so literal in this day and age? Instead, make it your own with what feels true to the spirit of your home and taste.
VINTAGE-INSPIRED APPLIANCES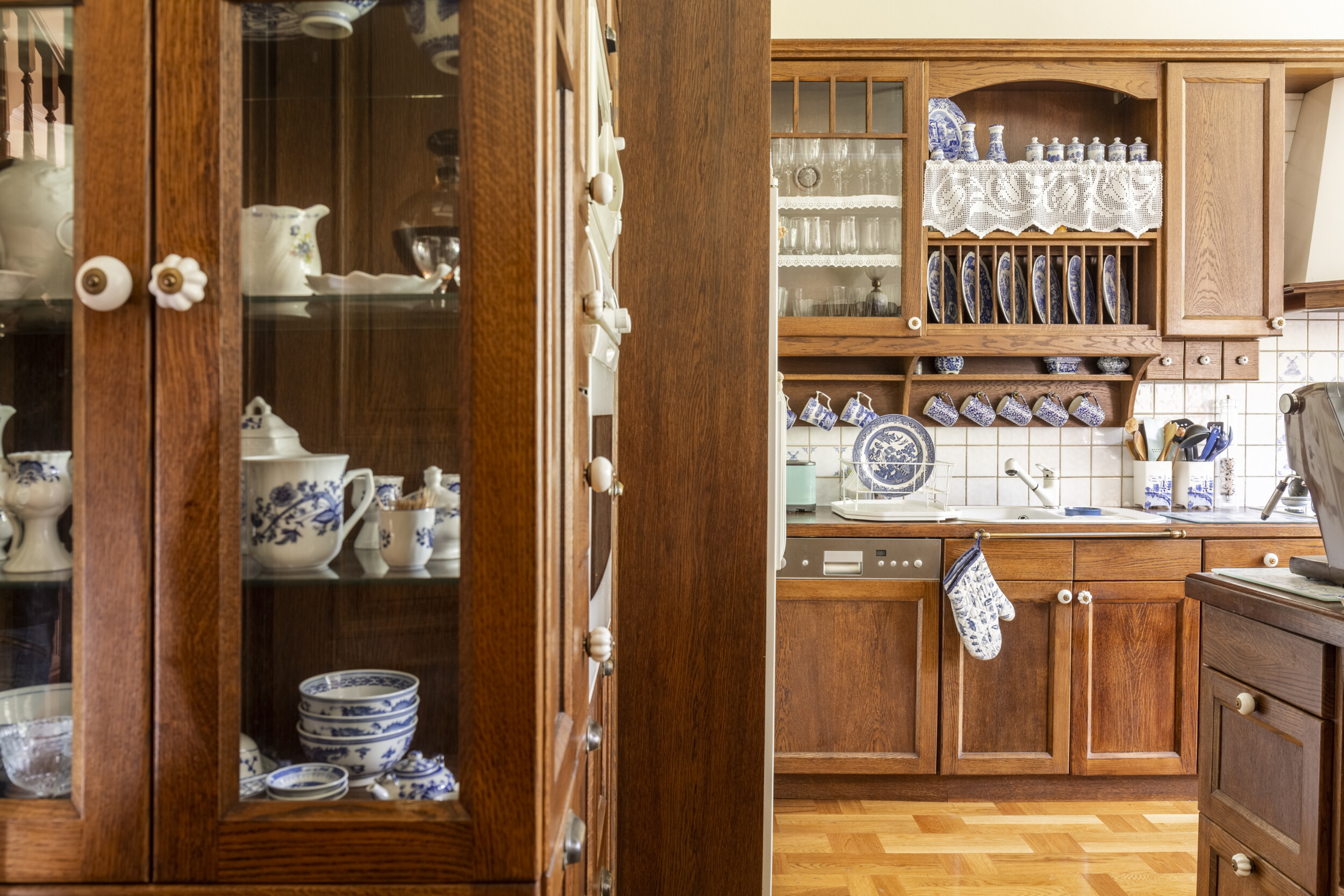 What would country kitchen ideas be without a nostalgic throwback and retro or vintage-inspired elements that harken back to a bygone, and often romanticized era? As when it comes to the more traditional country kitchen ideas available, there's a tried and true route that while they can be predictable, they can also be comforting.
A modern porcelain fronted range will help you bring your country kitchen ideas to life, and it'll also make the room all the more unique. The key is to only add a few elements here and there, that the country kitchen boasts sleek contemporary cabinetry, clean lines, and lighter colors so it doesn't come off as being too theme driven.
A CHECKED KITCHEN BANQUETTE
Not only will a custom-built kitchen banquette add a comfortable and enviable seating area in your kitchen, it will also help your kitchen space feel better realized and cozy while adding to the resale value of your home(as long as it is minimal and timeless in appeal).
As country kitchen ideas go, you can't evoke the spirit of the country look better than with a checked gingham fabric. Choose a traditional country color, such as green, red or blue and upholster your banquette to create a sweet country corner, or simply add gingham pillows to complete the look. And aside from a cozy spot to dine in, you can also have concealed storage areas built underneath banquette seating to make even better use of the space.
A NEUTRAL STRIPED BANQUETTE
If you are looking for something more understated than the bold and bright check of gingham for a built-in kitchen banquette, then a neutral striped fabrication will make for an equally striking graphic alternative. Country kitchen design is all about a soft palette, so neutrals will fit right in.
A cream and beige awning stripe can look amazing many a country style kitchen, as will a thinner stripe in linen, or darker combinations for a more modern twist. Either way, a striped banquette will be sure to add needed visual interest to the country kitchen design ideas that you plan on adding in your home.
AN OAK BUTCHERS BLOCK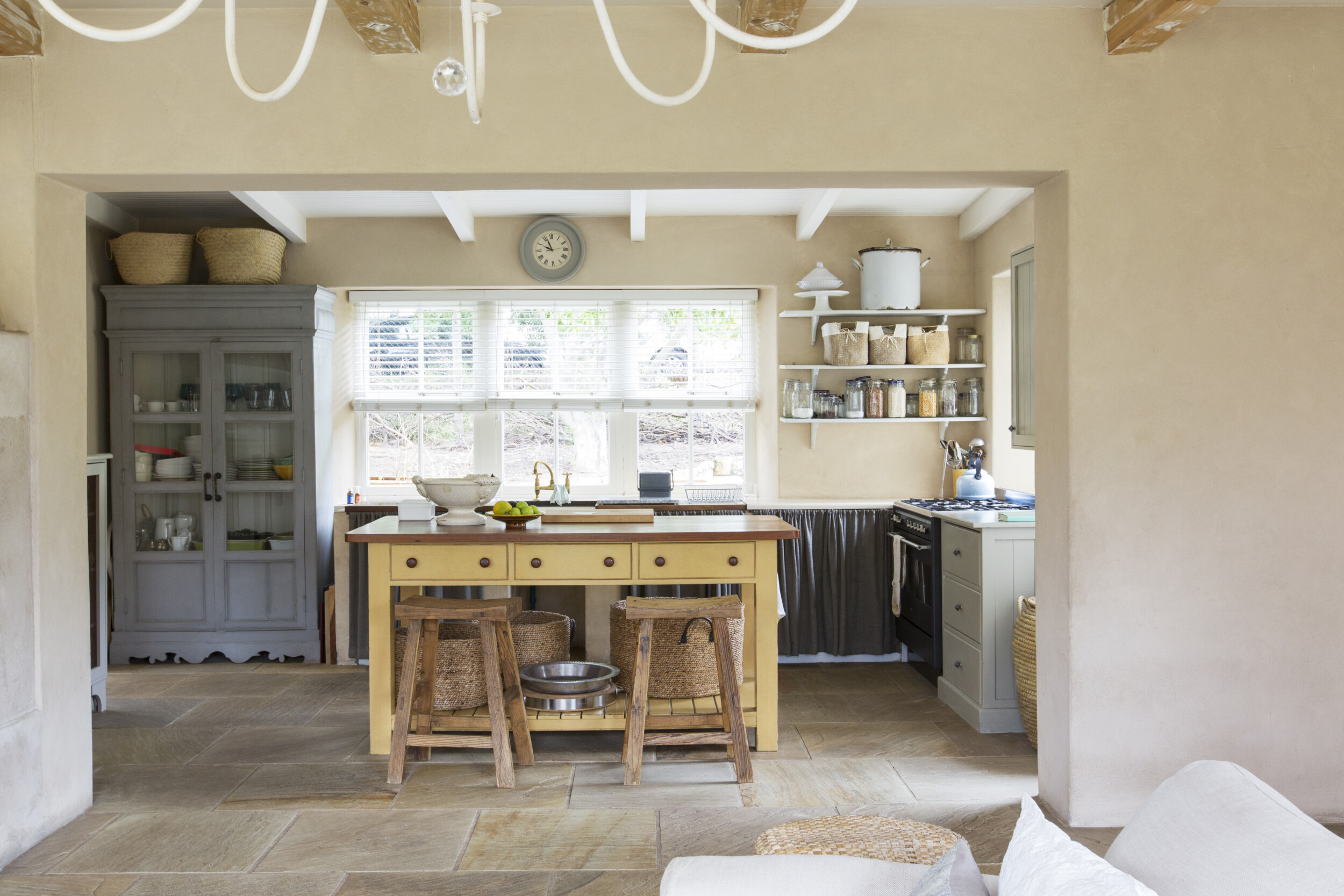 When it comes to stylish kitchen everyday essentials, nothing says 'country kitchen design ideas' more instantly then a traditional oak butcher's block. Natural wood makes a place feel cozy and and interesting pattern on an oak butcher's block will also allow for you to add a graphic visual play in the area.
But if you don't cook at home too often, you don't have to use it for its traditional use – you can use it as a kitchen island countertop, preparation space, or as an area to store other stylish essentials like you would with a tray. Think pepper mills, mixing bowls, or even a cookbook you're currently using perched open along a butcher's block. They are also great for adding a bit of the organic to help your kitchen feel quaintly country.
EXPOSED BRICK ACCENT WALLS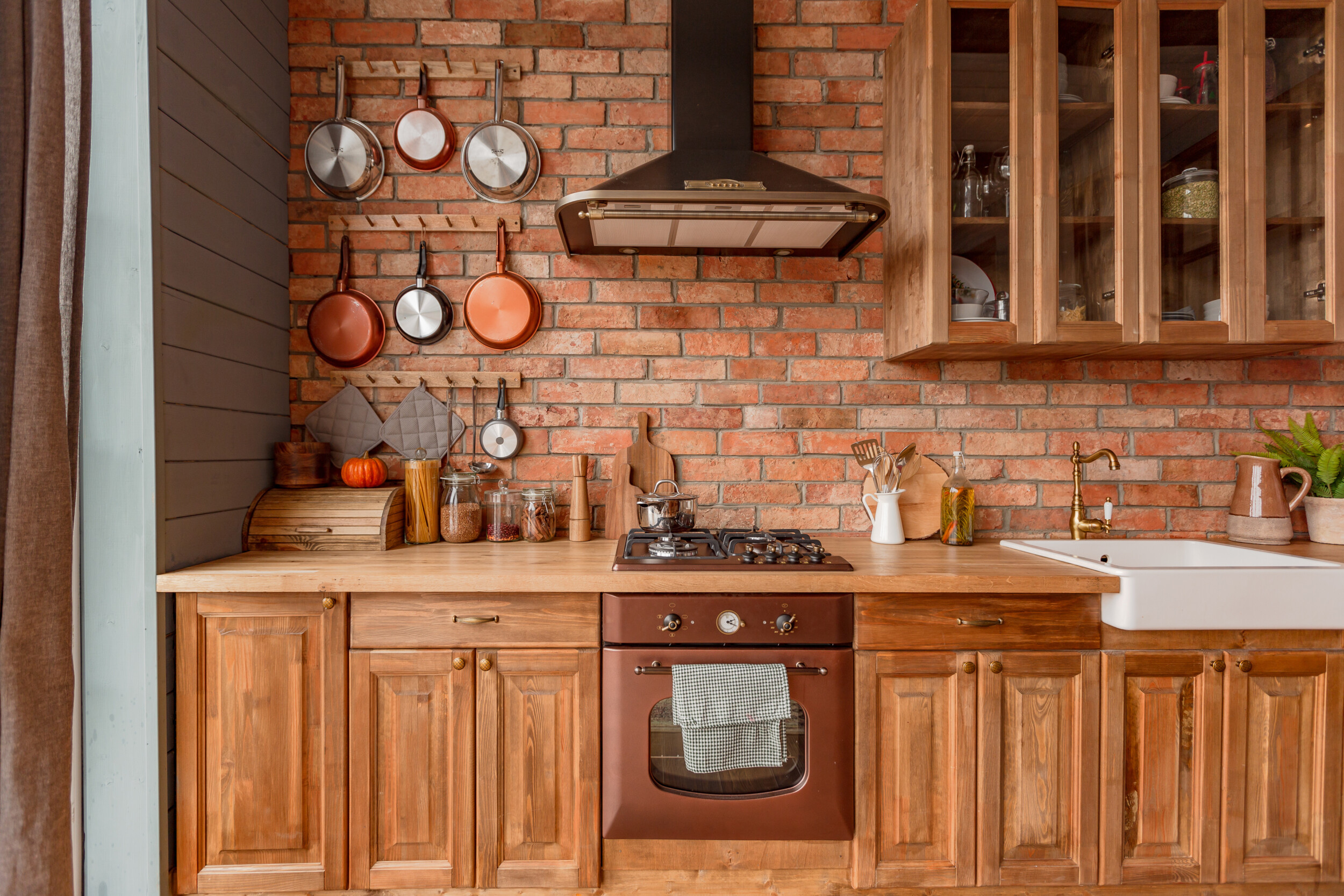 Embracing the naive and more natural elements of your home is what country style is about, and an exposed brick accent wall is an essential route to acing the best country kitchen ideas with timeless appeal. Exposed brick will lend your kitchen a rough and rugged feel, helping it to feel less uptight and rigidly structured.
Exposed brick also allows you to bring in a more rustic feel in your kitchen design while potentially not breaking the bank(that is, if your home already boasts brick surfaces underneath). The key take-away here is that an accent wall makes for a smarter take than an entire wall. But, why you ask? While exposed brick walls have a great, robust look and feel about them, they also tend to crumble and shed dust on the daily – something you don't want to be happening while you cook or eat. So keep yours away from food prep areas if you leave your exposed brick wall unsealed.
EXPOSED STRUCTURAL BEAMS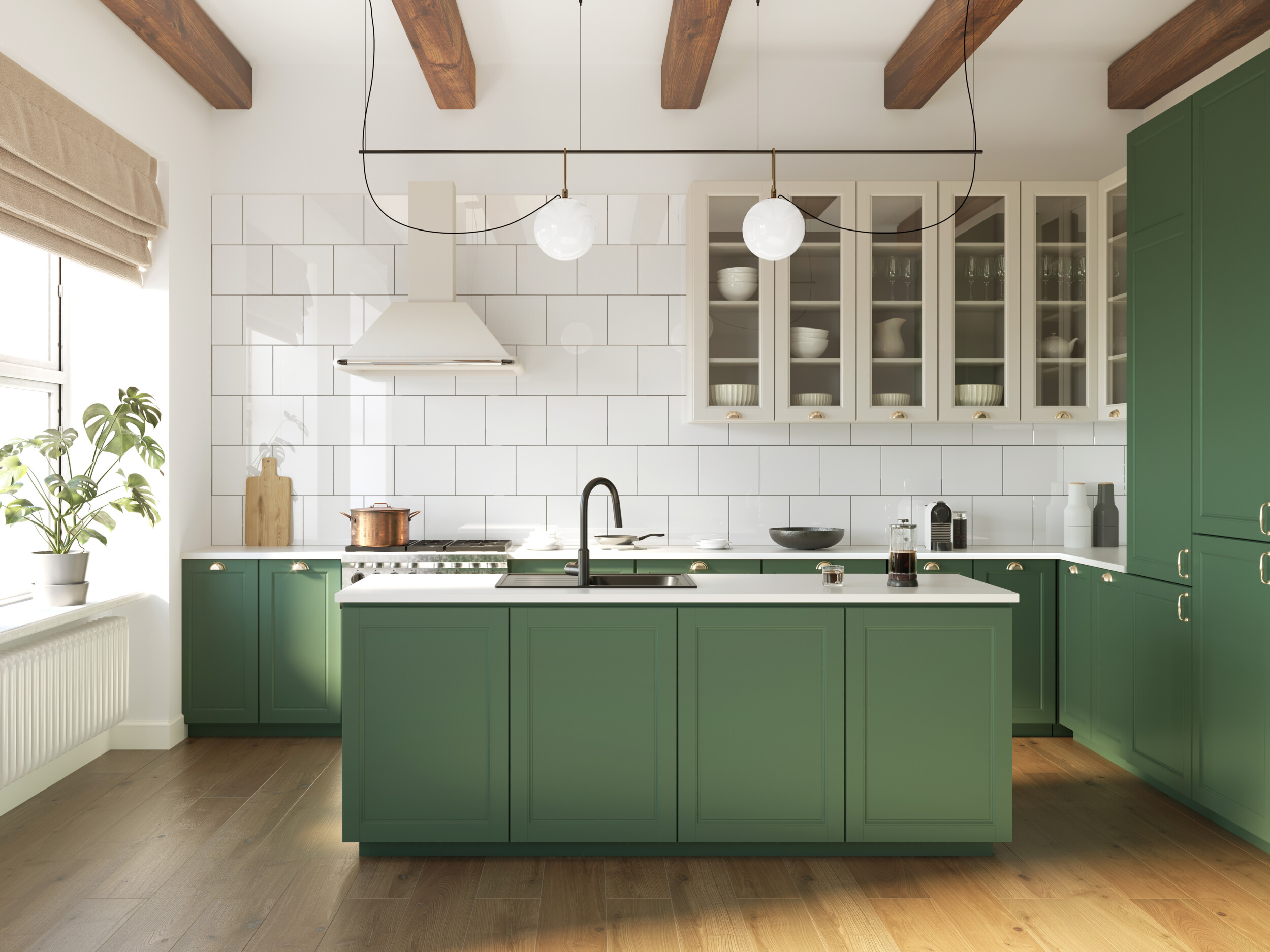 When we picture a country-style home, exposed beams are often one of the first many of our clients think of. There is something raw and substantial about an exposed beam and there is also something captivating about being able to see them supporting structure of your home.
Allow your exposed beams to become a central design feature when considering country kitchen ideas and paint the ceiling and surrounding walls in a light color, which allows all of the focus to be on the exposed wood or even steel beams. Exposed beams also work well along an accent wall for again, added visual interest that leans on the natural and raw yet refined.
KITCHEN CABINET CURTAINS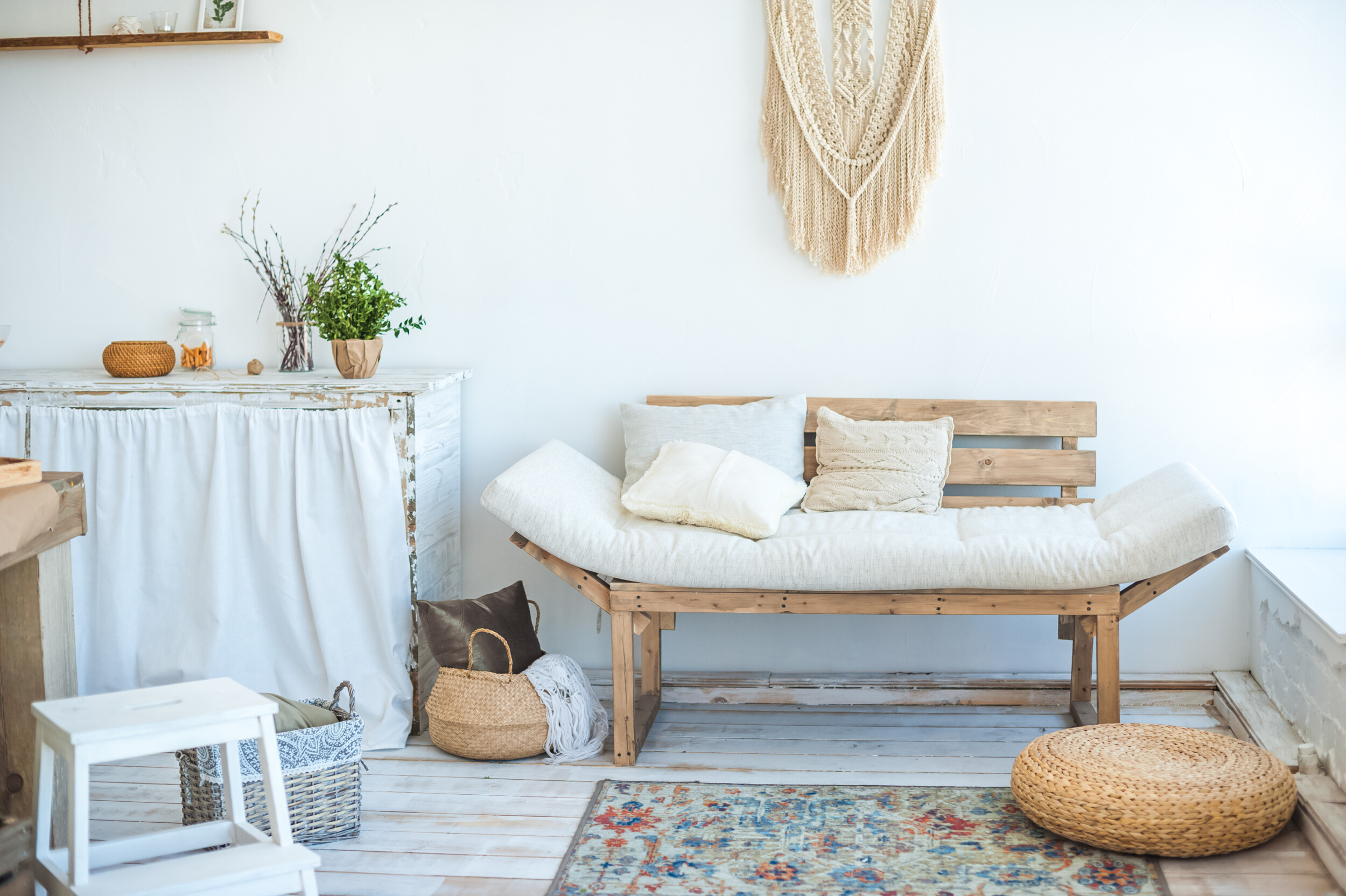 Kitchen cabinet curtains are a traditionally charming approach to concealing whats inside that have been making a comeback in recent years. Having curtains instead of cabinet doors is a much more affordable and simple method of creating a country-style kitchen than with new cabinetry.
Choose a fabric that enhances the rest of your kitchen and brings your room together – stripes, checks, florals, and simple linens work best here. This is the best of all country kitchen ideas on a budget, as it costs much less than having your entire kitchen redone and it will alter your space completely. Plus, as the seasons and trends change, you can easily switch them out for a quick room refresh.
UNDER-SINK THE CABINET CURTAINS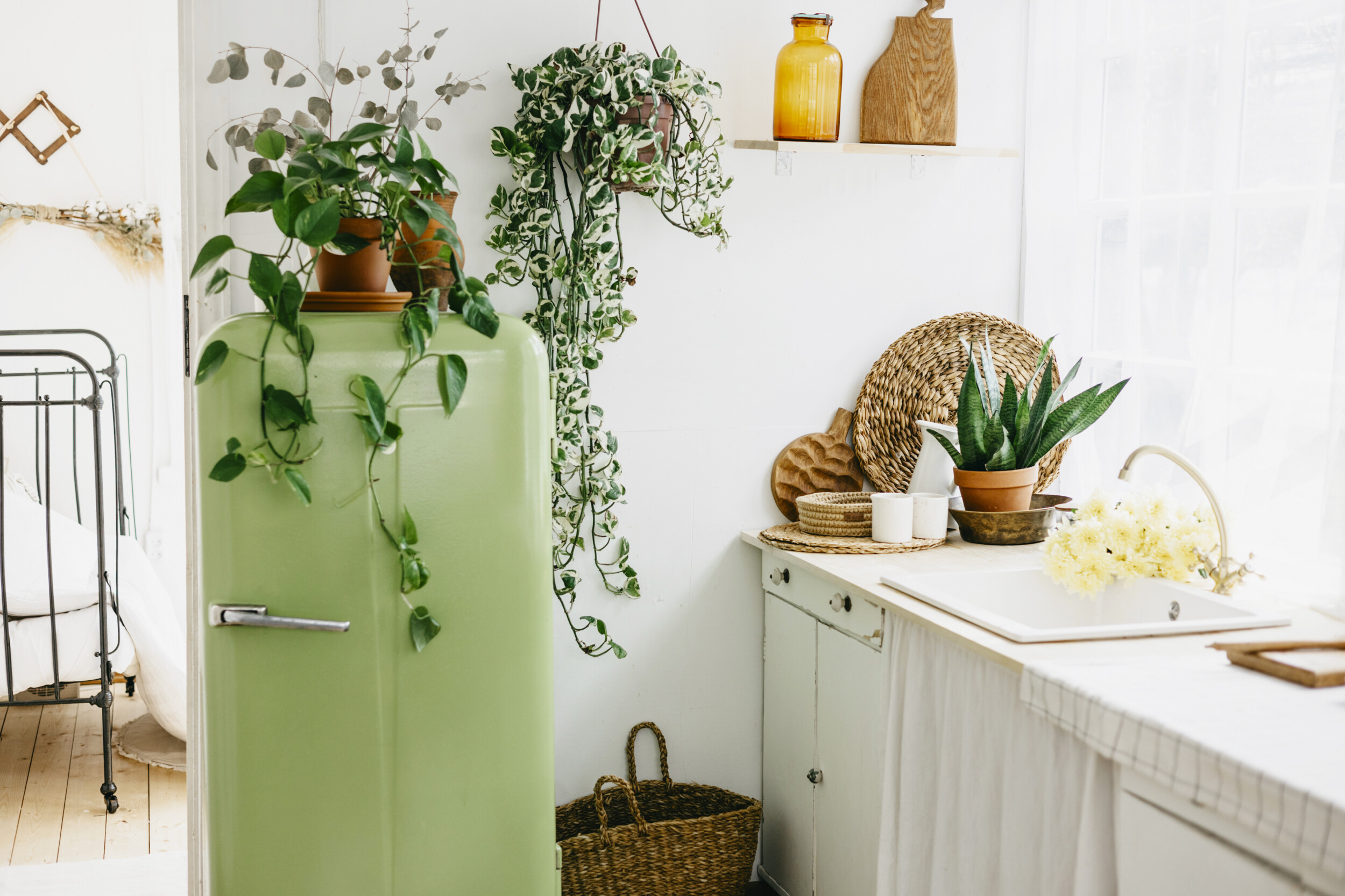 If you think a full set of kitchen cabinet curtains will be too much for your kitchen space, then how about just having one under the sink? This is great for country kitchen ideas for small kitchens, as it won't take over the entire space and for a small addition, it makes for a statement-making impact.
Because you are only using one curtain, you can go for something completely quaint and country-inspired. How about some romantic tiered ruffles? Some lace? Or a sweet and colorful gingham? No matter the direction, under the counter curtains are sure to add a sense of joyful whimsy in your country kitchen that boast an idyllic sensibility.
MODERN WOOD CABINETS
If you like a country feel, but you prefer a more modern look over more traditional country style cues, then a set of modern wood cabinets will make for a timeless alternative in your kitchen. A modern design will give you the clean look you desire, while still lending your kitchen the warm appeal of wood.
All wood faced cabinets can read as a bit heavy if you use them throughout your kitchen, so we recommend bringing in contrasting cabinets either at the top or the bottom to keep your modern country kitchen ideas feeling crisp and realized with a light hand.
WOODEN SHELVING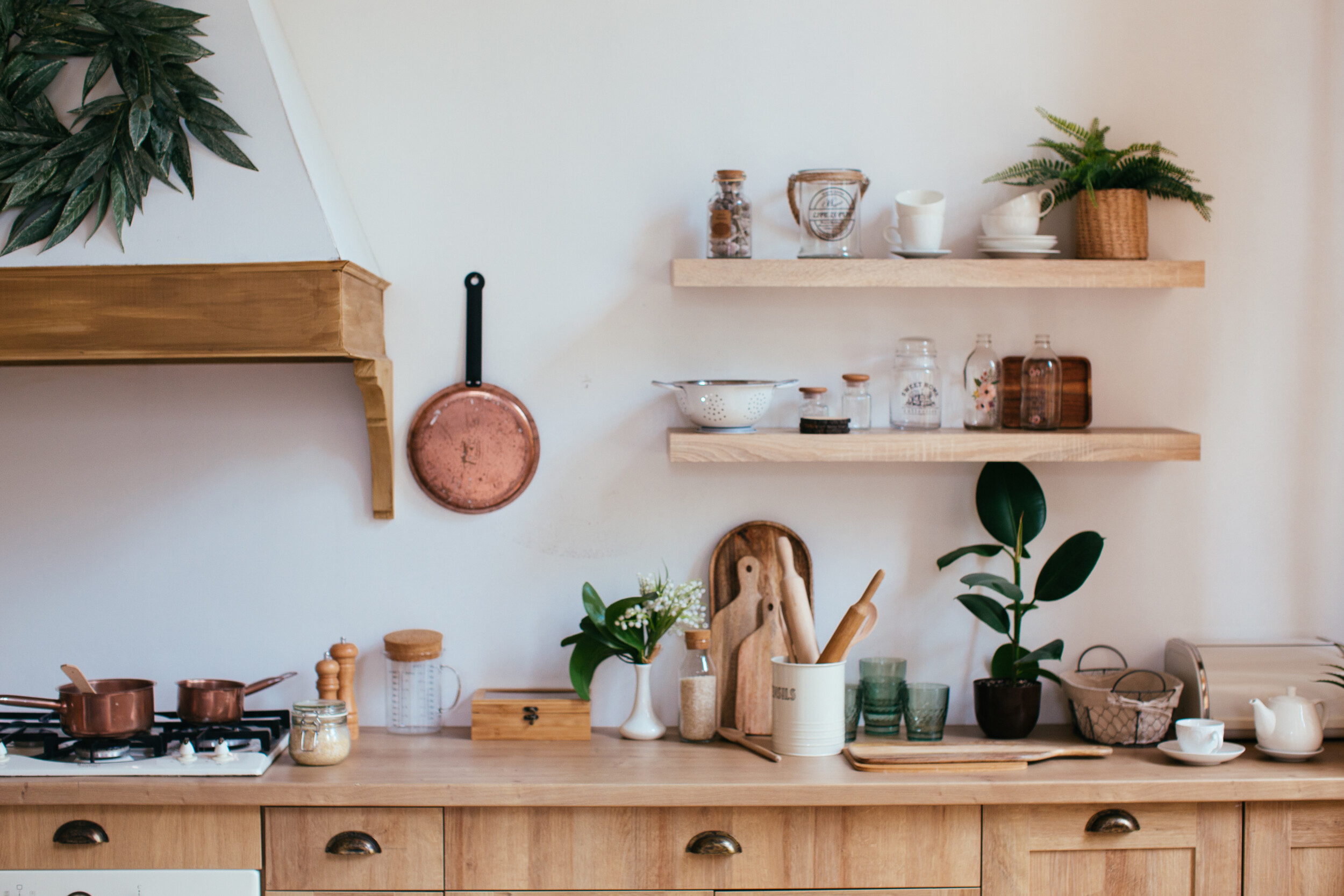 Wooden shelving in your kitchen will give you a scores of additional storage space, as well as giving your kitchen a 'working' industrial-inspired vibe. Place your most-used items on shelving above your stove and display everyday items and dried goods in storage jars alongside them.
Open shelving will give any home a country feel and it makes for one of the more affordable DIY country kitchen ideas around. And on another note, they don't need to be left unfinished or painted as they'll look just as ideal in a crisp white or darker hue. The key about open shelving to keep in mind is that the items can catch dust easier and will need to be periodically cleaned and refreshed from time to time.
A RACK OF HANGING POTS AND PANS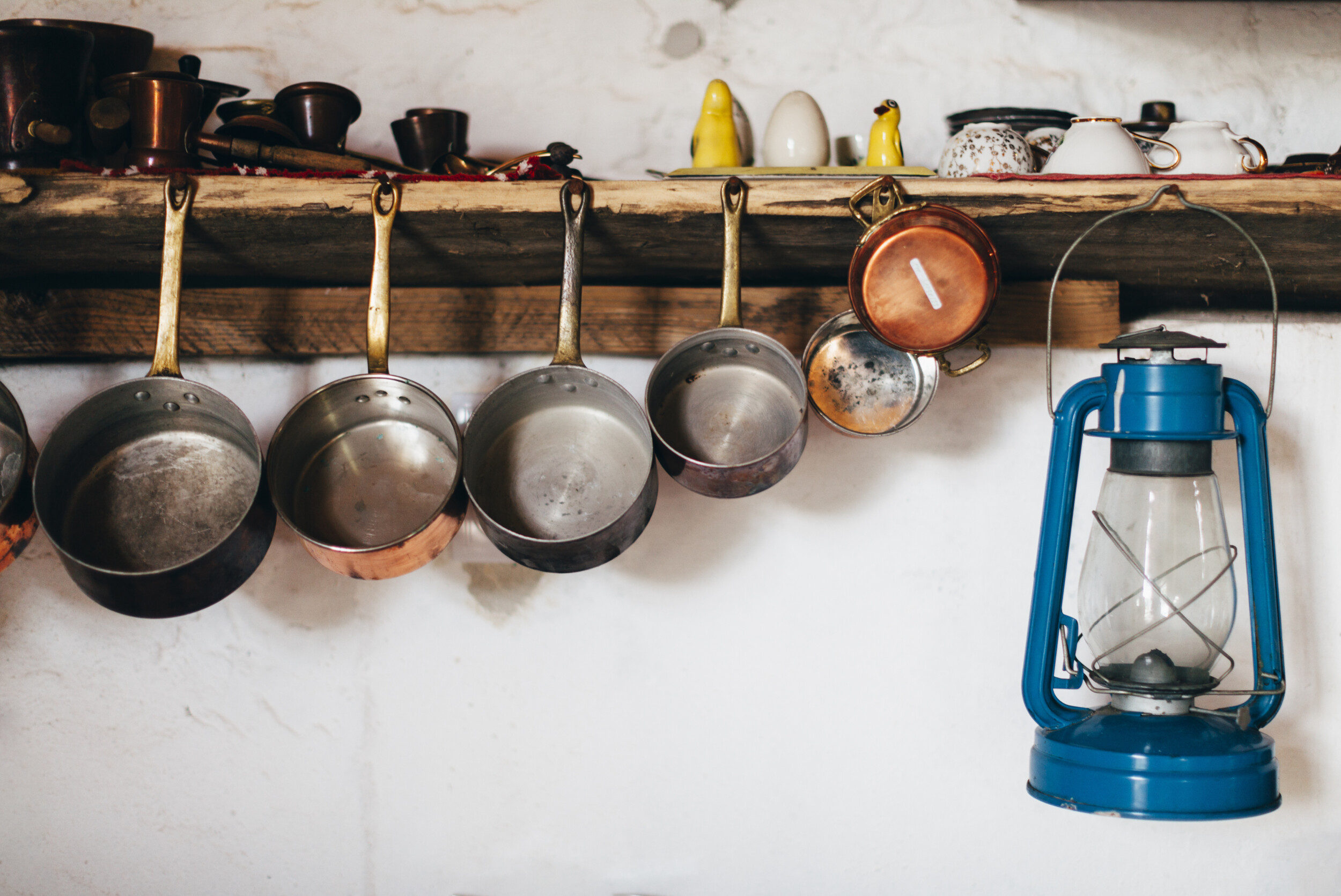 Hanging your pots and pans from hooks installed on a wall or from a rack suspended from the ceiling makes for an elegant way to elevate a country spirit in your kitchen. Displaying your pots and pans in this way will make your kitchen space feel more complete and well used.
Plus, it's a simple and effective way to achieve a country atmosphere (and it's perfect for country kitchen ideas on a budget), not to mention the fact that it creates more storage opportunities elsewhere.
WOODEN COUNTER TOP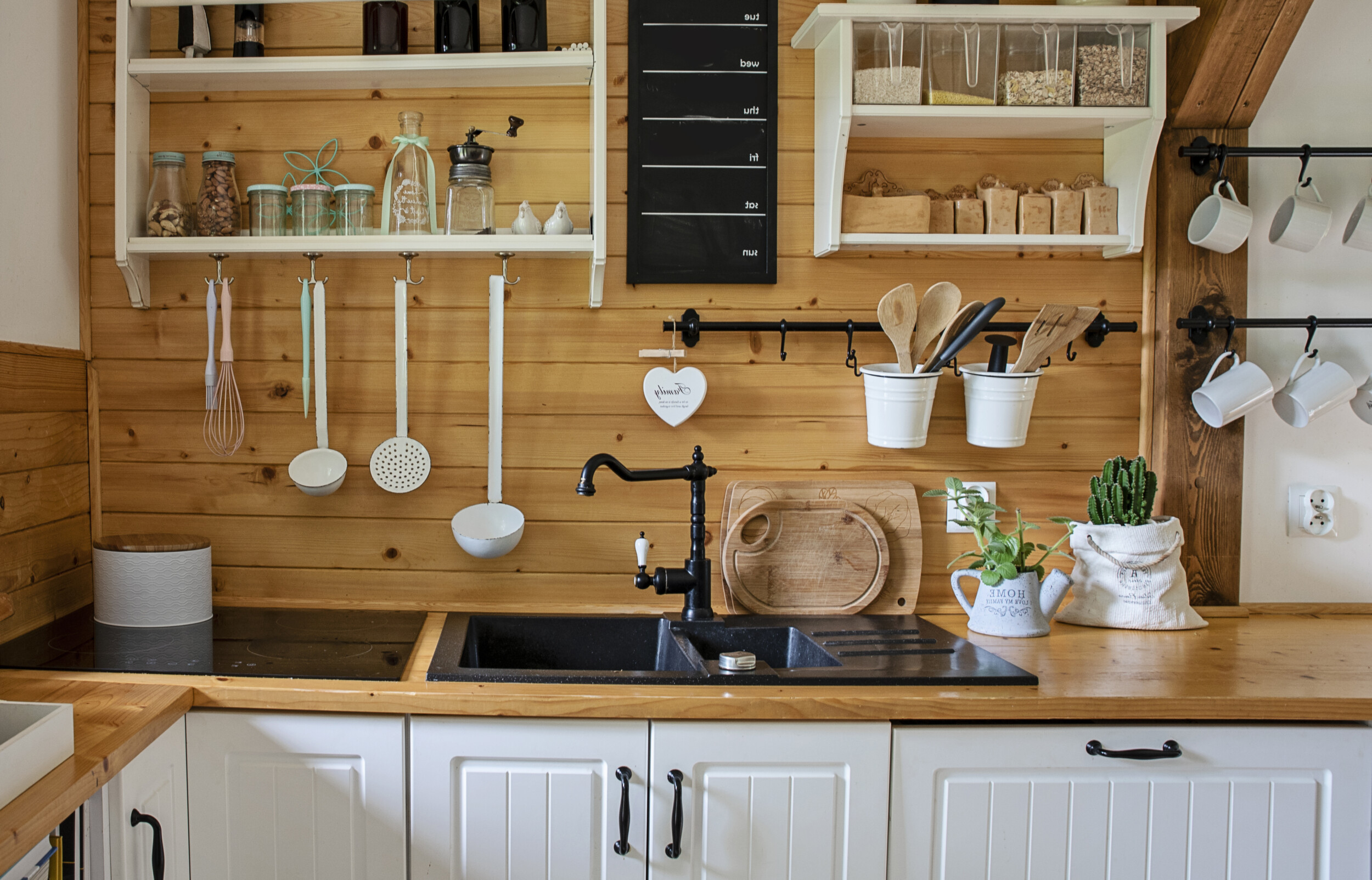 A wooden counter top is a classic essential in any country style kitchen – adding a lovely warm tone to your space, a wooden counter top completes a country-style kitchen wonderfully. An oak work top provides the perfect tone to complete your country kitchen ideas, helping your space feel warmer, cozier, and more comfortable.
Just be sure to keep in mind that wooden counter tops can be more delicate than stone or tile as they'll show water signs and distress as they age.
BUTLER'S SINK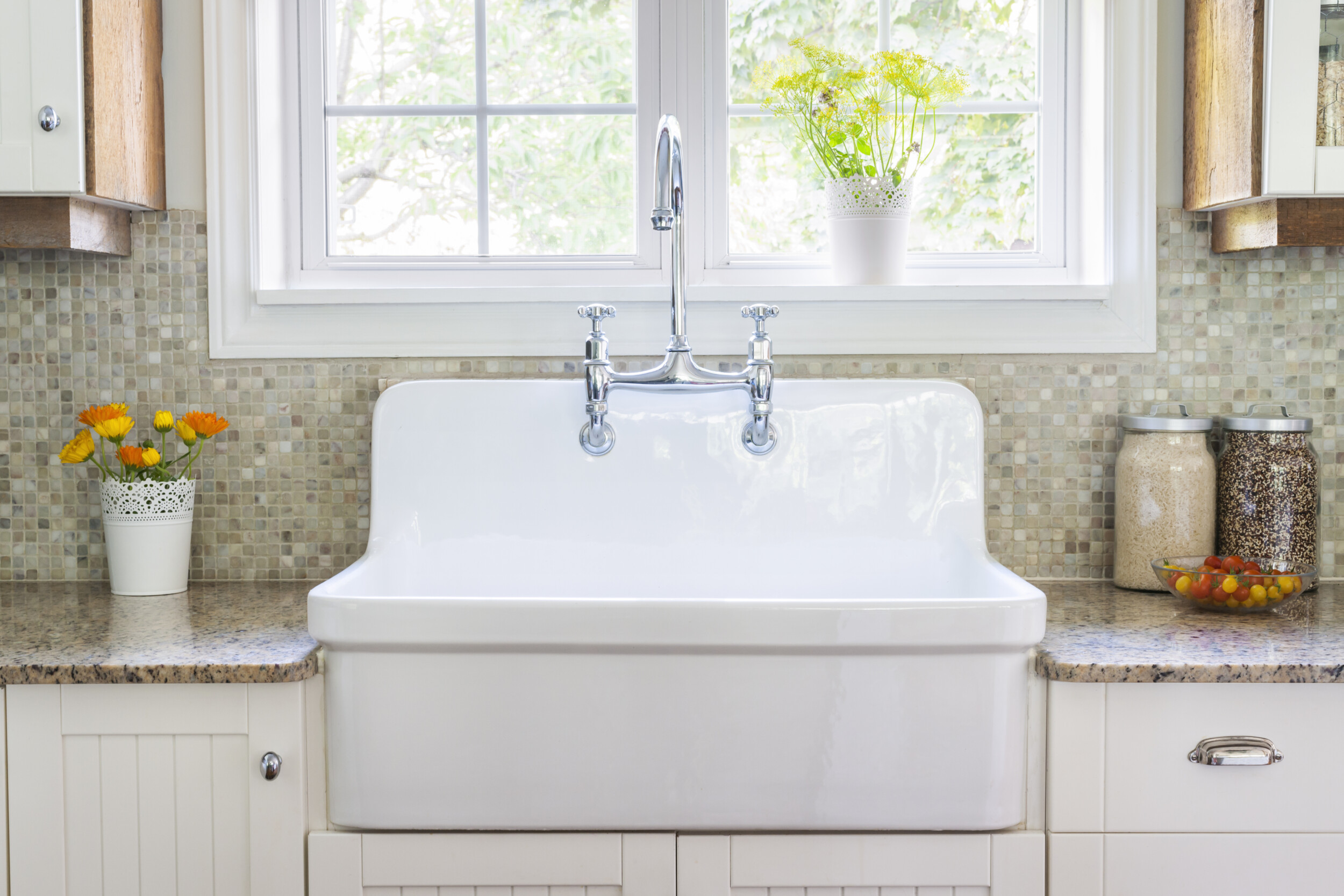 A butler's sink is another one of those classic elements many immediately picture when thinking about an inspiring country kitchen design. A timeless deep ceramic sink will give your kitchen a rustic farmhouse feel while pairing well with wood work tops and softly colored kitchen cabinetry.
A butler's sink will become the focal point of your kitchen, play up to this with a traditional statement tap to make your country kitchen design ideas feel more in tune with today's styling cues and for a juxtaposition of the old and the new.
LADDER BACK DINING CHAIRS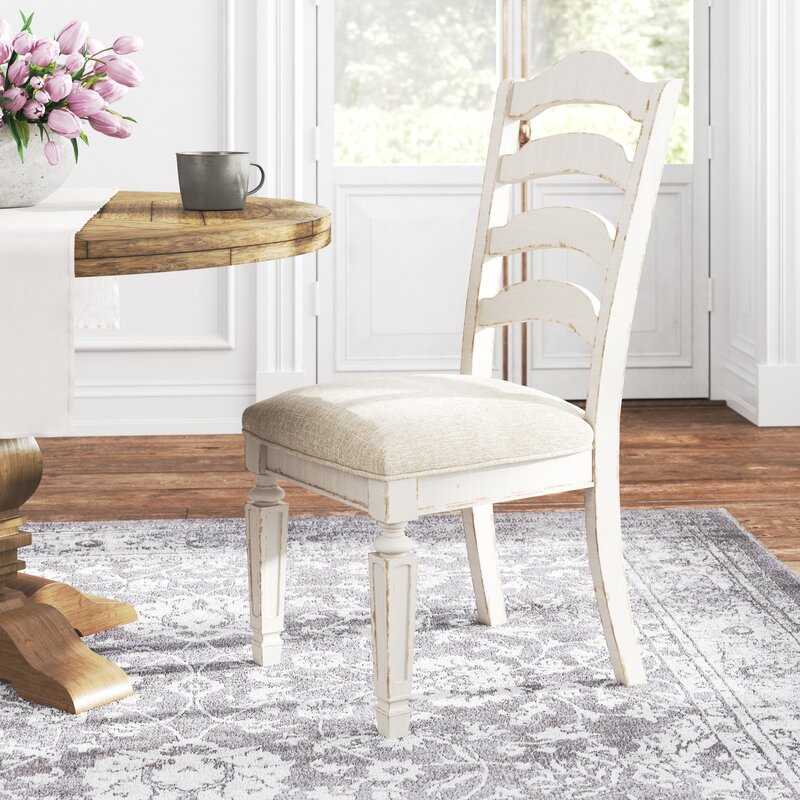 Simple and effectively engineered, ladder back chairs epitomize chic country living and boast timeless design features. No country kitchen is complete without a set of ladder back chairs around a dining table and your own country kitchen ideas should be no exception.
Vintage ladder back chairs will bring a true country feel into your home – placing an original and time-worn piece of country nostalgia in your kitchen. And if you're patient when sourcing them, you'll most likely come across a steal at a local secondhand shop or an online auction site.
STONE FLOORING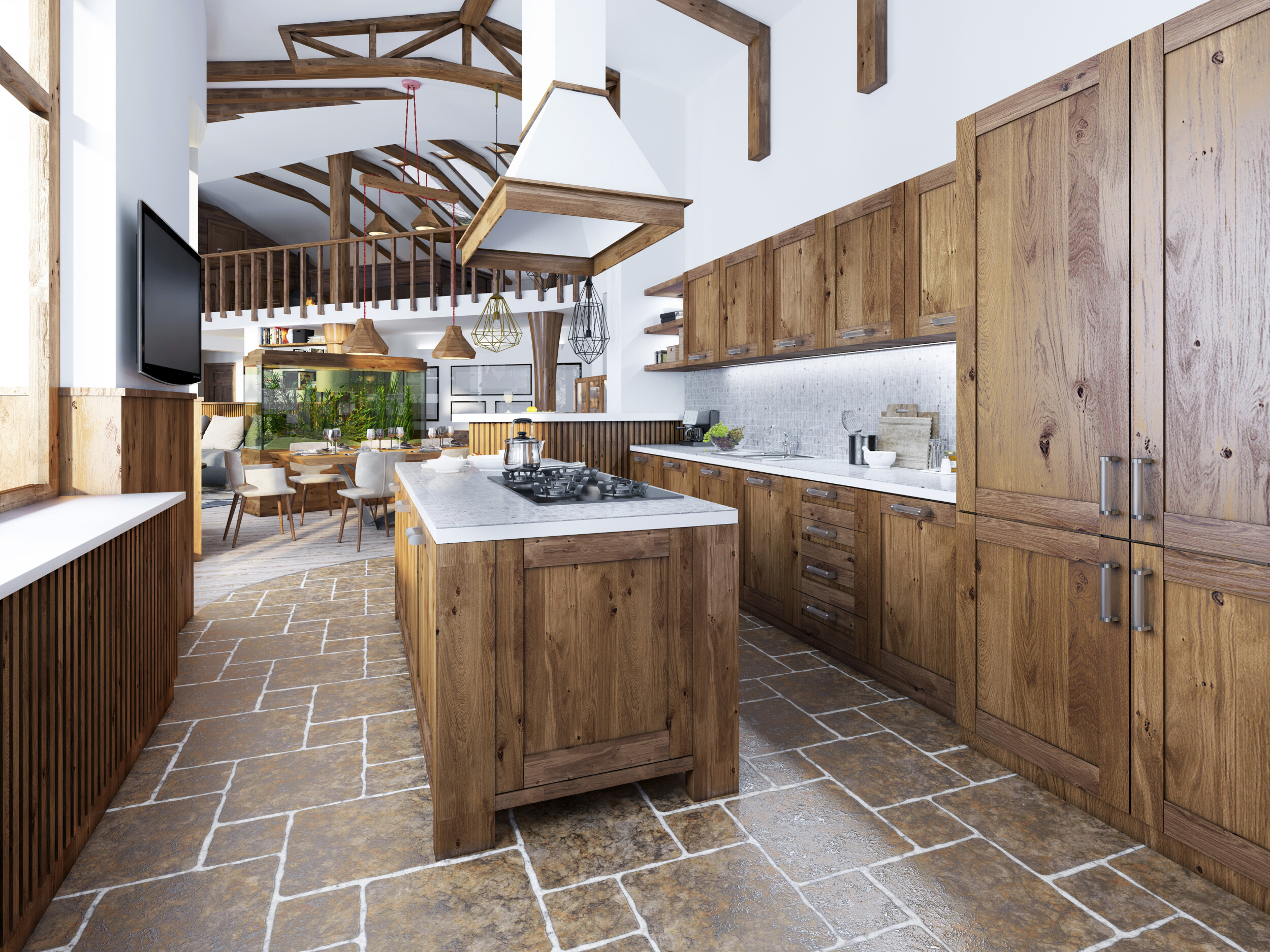 If there is any one type of kitchen you are going to see a stone floor in, it'll be a country one. Stone flooring evokes a sturdy yet rough, well-used feel in your kitchen, working alongside your other country kitchen ideas to create a truly memorable space.
A stone kitchen floor is like no other type of flooring – each slab or tile feels textured and smooth all at once, offering your kitchen enviable texture like you will get from no other flooring type. Stone and concrete floors can also work to make your home feel more timeless and can help to increase its resale value as they make for a wise investment.
TRADITIONAL KITCHEN ARMOIRE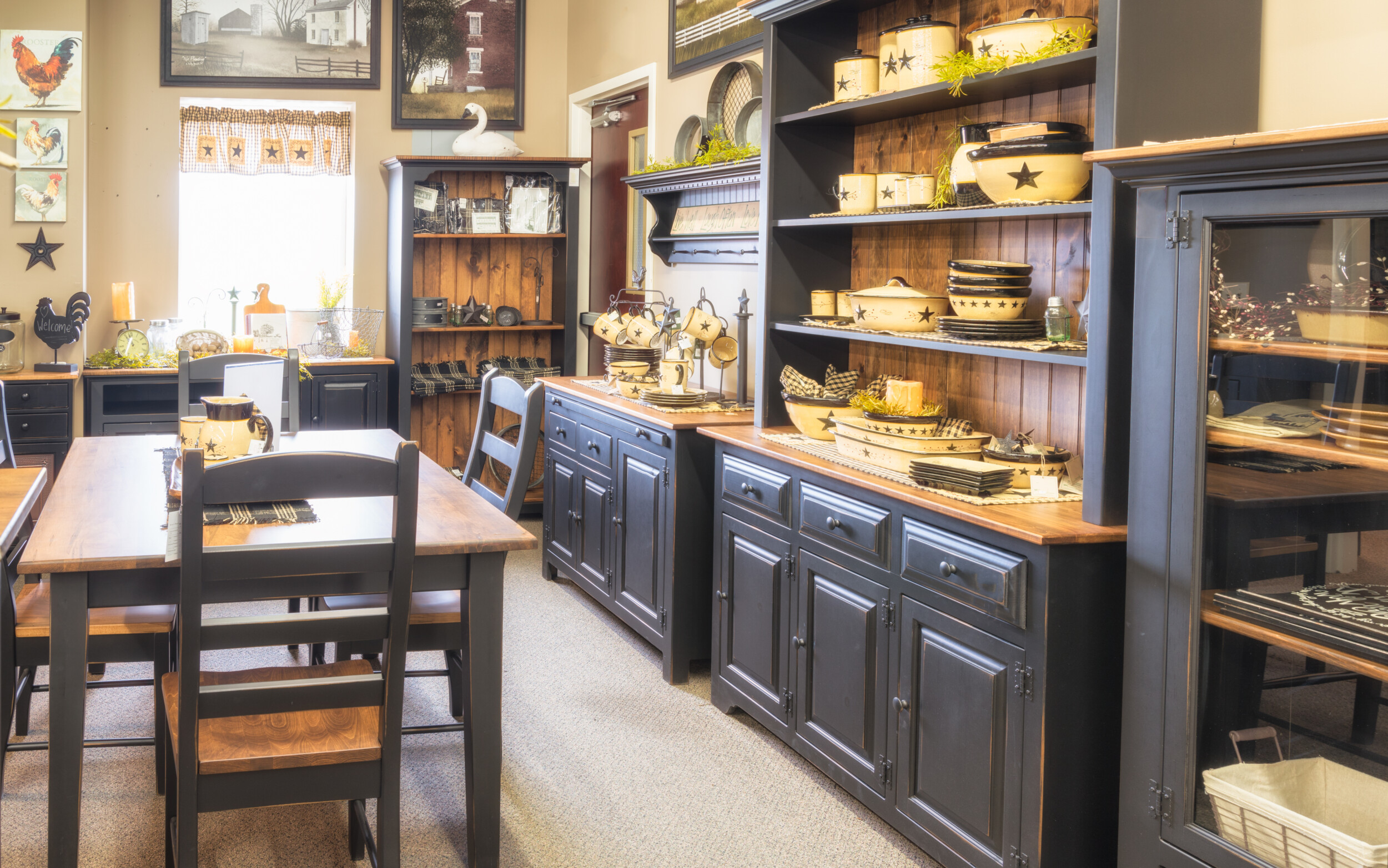 A traditional armoire or dresser in your kitchen will help you add more storage in it while adding a stylish note as well. They'll keep your crockery within easy reach at all times and afford you additional storage space in the cupboards and drawers beneath.
A new set of kitchen cabinets can be expensive and if you can get your hands on a traditional kitchen armoire or dresser from an antique shop or a secondhand store, they make a much more affordable alternative (one of our best country kitchen ideas on a budget).