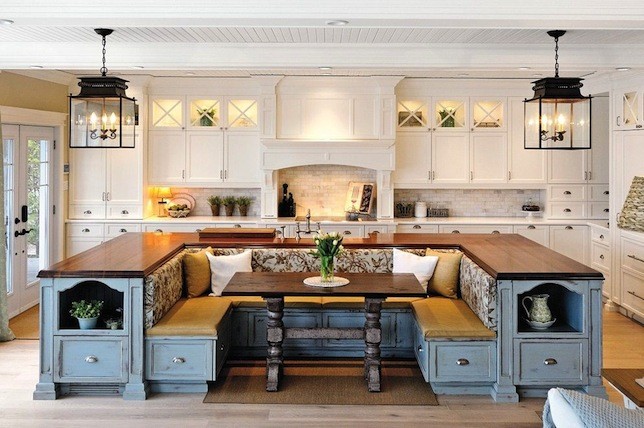 When it comes to creating ample seating in one of your homes most commonly used areas, a stylish kitchen banquette makes for the perfect solution for many a kitchen, especially for large households. Whether you only have a small dining area to play with and you want to make the most of the space you do have, whether you have a large family and you want to use the space as efficiently as possible to get as many people around the table as you can, or if you just want to create an intimate seating area where you can lounge and dine with your loved ones, these kitchen banquette ideas will help you create the cozy dining area of your dreams.
Culled from the wisdom of Décor Aid interior designers, there's a perfect style for any home, along with ones that provide some smart built-in storage solutions, that you should consider for your own kitchen.
NEUTRAL TUFTED BANQUETTE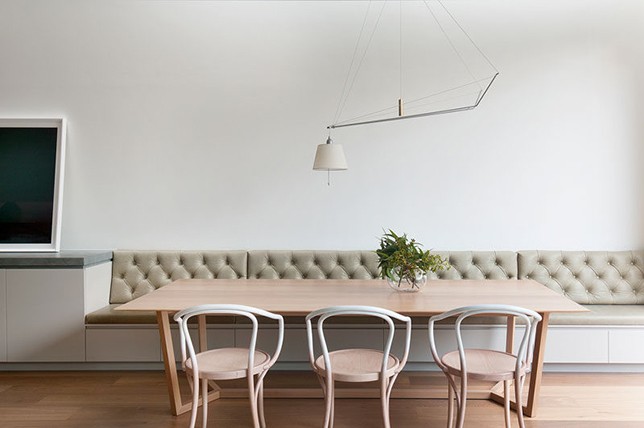 A neutral tufted kitchen banquette is sure to add a touch of timeless everyday elegance to any corner of your kitchen. A neutral champagne tone looks wonderful with both a white table and chairs, or darker wood furniture.
Upholster your chairs in a complimentary neutral tone; a soft striped fabric would be perfect here, or a contrasting dark fabric (say blue or forest green) if you have chosen white furniture. Kitchen banquette seating ideas will always look elegant and when it comes to stylish color schemes, you'll get more use from neutrals as you won't tire of them as trends come and go.
TRADITIONAL WORN LEATHER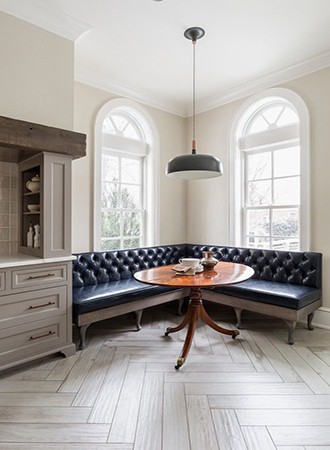 Leather is the most commonly used fabrication for a kitchen banquette – imagine corner booths in restaurants. There is something decadent and charming about well-worn leather upholstery and a lighter, distressed leather makes for a less formal space, while still boasting that extra touch of luxury that traditional worn leather affords.
Go for a dark wood table to keep the cozy vibe going and paint the walls a warm, deep tone to add to the luxurious feel of the space. This is a great idea for small kitchen banquette ideas, as it makes the most of the space and makes it a comfortable and cozy one at that. Plus worn leather looks great when paired with just about any design style, from the rustic to the minimal.
FREE-STANDING SOFAS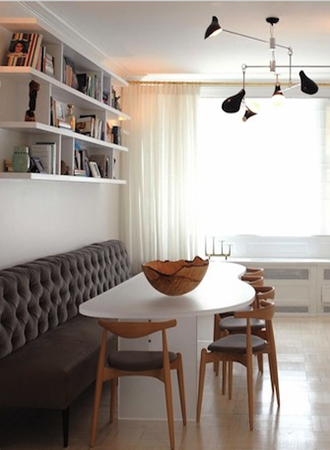 If you want to keep your options open and you don't want to have a built-in kitchen banquette, then free-standing sofas are a great option for kitchen banquette designs. They give you the opportunity to use your seating elsewhere if you move around often, or if you have an awkward space, where having something built in would be challenging. And it's also much more less expensive than having a custom kitchen banquette built-in.
Choose a sumptuous corner sofa in a plush and hardy fabric (velvet and leather are great options), selecting a contrasting color that compliments your kitchen units and your paint scheme.
COOL WHITE LINEN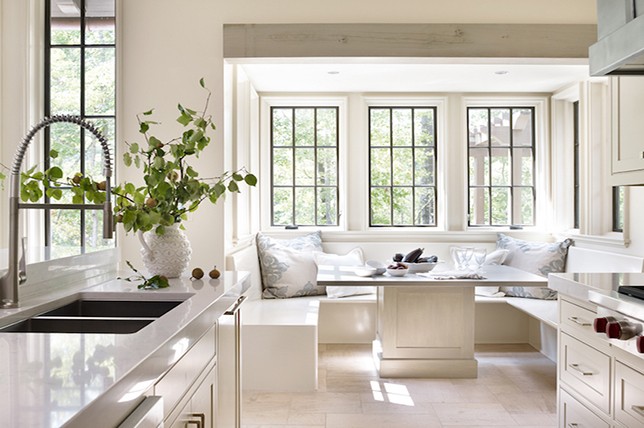 If you have a sunny nook where you like to have breakfast, a light and bright white linen fabrication will help to keep the area feeling light and bright and all the more welcoming. Imagine long, white flowing curtains around a bright window which looks out onto the garden, so you can look out over your backyard or patio area from the comfort of your kitchen banquette.
Go for a minimalist, chic design and accompany it with a warm wood table and complimentary white upholstered chairs – use the same lined fabric for this and add some color and texture with some neutral cushions and tonal textures for added warmth.
RETRO-INSPIRED CHECKED BANQUETTE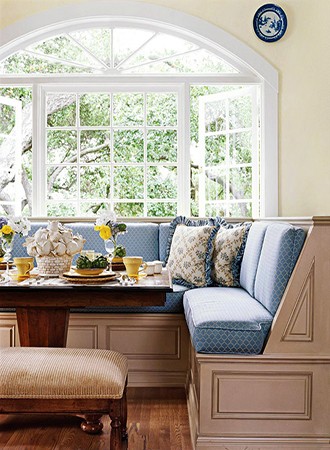 An enviable kitchen banquette was hugely popular in the '30s and '40s, when saving space was of the utmost importance. Channel the retro spirit of a kitchen with a cute kitchen banquette upholstered in a graphic gingham fabric.
Reds and blues are the traditional colors for checked fabric like this, but it works just as well in black, green, and even neutral tones. This is a fun idea instead of a breakfast bar and is certainly more intimate and child friendly, another great option for small kitchen banquette ideas. And since its timeless in appeal, you'll never tire of it as you would with trendier fabrications.
A DOUBLE KITCHEN BANQUETTE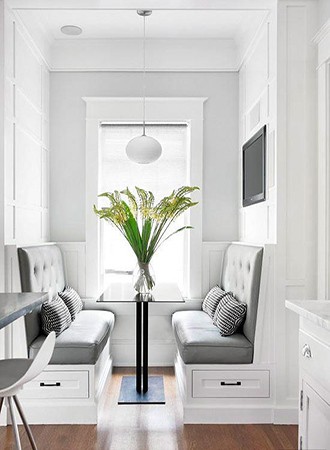 Often, when we conjure up kitchen banquette ideas, we think of comfortable sofa-style seating in one corner and chairs on the other side. In this instance, we have two sets of kitchen banquette seating on either side of the table – a great idea if you have a small nook to work with for your banquette seating in the kitchen. Plus, the symmetry will lend itself much more pleasing to the eye than a straight forward juxtaposition.
Create seating with storage underneath if you are short on space, either drawers which slide out from underneath, or with seats you can remove and hide things away in.
FUN STRIPED UPHOLSTERY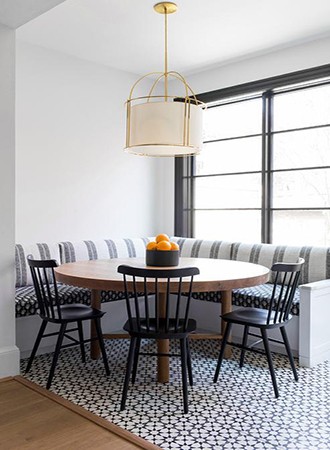 To brighten up a corner of your kitchen, a kitchen banquette upholstered in a fun and bright striped fabric will help you to create a sunny and enjoyable space where you can eat your breakfast, read, or have the whole family seated around for dinner.
Team patterned upholstery with a neutral dining table, so your bright, striped upholstery becomes a defining feature of your kitchen space. Choose some throw cushions in a contrasting pattern to make as much impact in the space as you can and go all out with color to up the energy of your kitchen with the unexpected. A striped fabrication also pairs well with just about any kitchen paint color.
A NOOK WITH A ROUND TABLE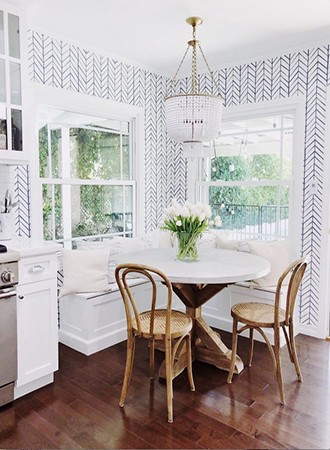 Kitchen banquette ideas often suffer from the age-old problem of having to squeeze out from underneath the bench seating, around a sharp cornered table. But there is an easy way to alleviate this problem, with a round table instead of a rectangular one.
Placing a small, round table in front of a seating nook is perfect for small kitchen banquette designs, as the round table takes up way less space than many larger rectangular ones. No more banging your hip on that sharp corner making for a great way to make the most of your small space. Plus, round tables are a bit more unexpected.
BAR STOOL BANQUETTE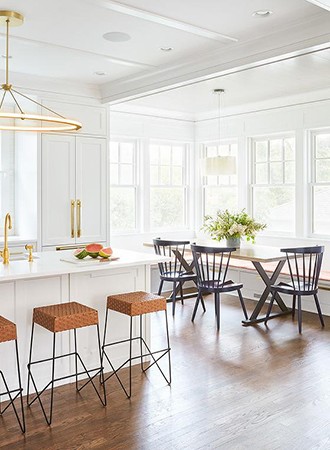 If you like the breakfast bar/bar stool look, then you might think that kitchen banquette seating ideas aren't for you, but quite the contrary actually. Go for extra tall banquette seating so you can sit up to a breakfast bar style table.
Choose some contrasting bar stools to make a defining feature out of your kitchen banquette. How about some fun chrome bar stools upholstered in a colorful leather, reminiscent of the traditional diner look? Stools will also help you adjust the scale of your kitchen and are great for kitchens with high ceilings.
SHELVING STORAGE BANQUETTE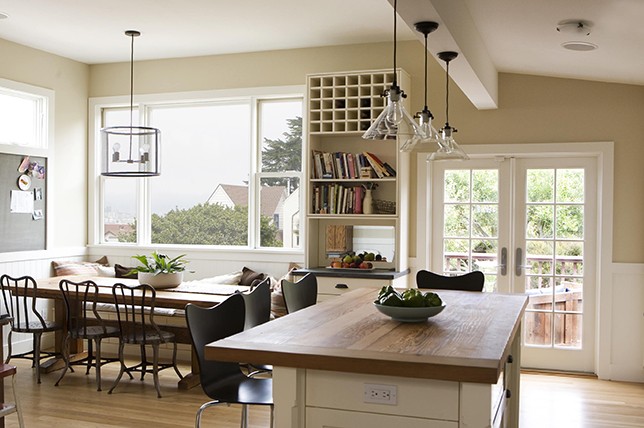 If you want to make the most out of your kitchen banquette corner, then installing shelving above the seating area is a perfectly stylish way to add additional kitchen storage. Add shelving, making sure it is high up and out of the way to avoid any bumped heads. We'd suggest you use this to store seldom used items, to save having to jump up and down to get things off the shelf all the time.
Make it into a cozy corner with mis-matched crockery displayed on your shelving and a plush collection of throw cushions.
PASTEL PAINTED BANQUETTE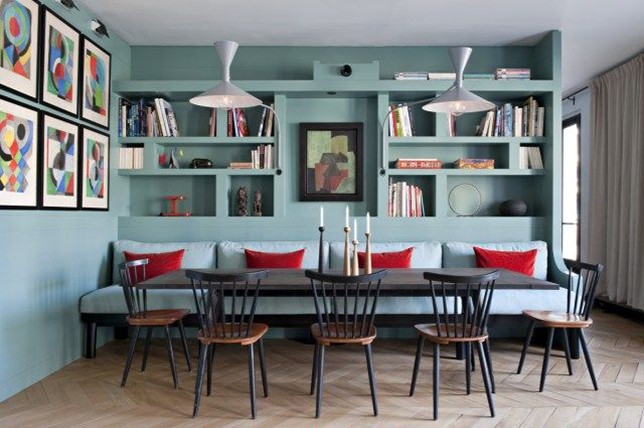 Wooden and white don't have to be the only options available for your kitchen banquette designs. Go for a chic, painted kitchen banquette in a soft pastel color. Lilac, blue, and green are great colors for a kitchen – they are soothing and soft and look great with white and neutral upholstery and throw cushions.
Choose a textured fabric with a vibrant pattern to energize your breakfast area and give it extra personality.
A DEEP AND DARK BANQUETTE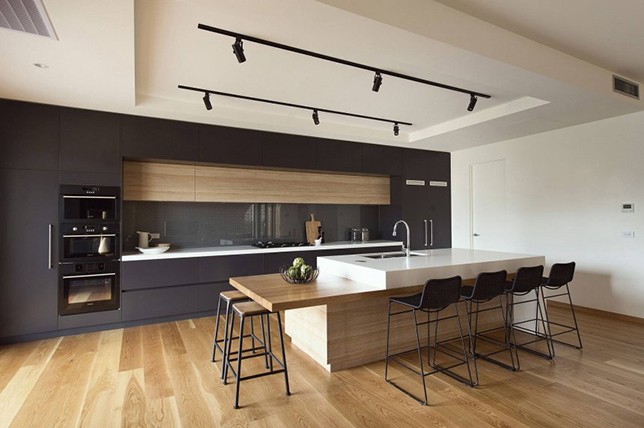 Paint your kitchen banquette in a deep and dark color, creating a luxurious seating area to dine in. An inky blue is one of our favorite color choices for this, with contrasting upholstery topping off the banquette seating in the kitchen.
Upholster your kitchen banquette in a light gray linen or a white ribbed fabric to make your kitchen banquette color stand out even more while creating extra depth for a fully realized look.