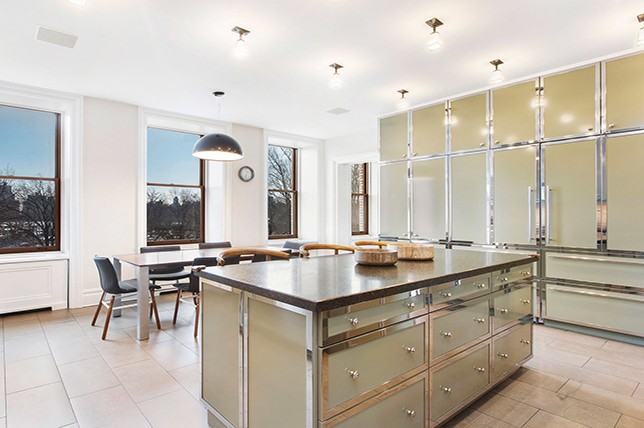 Are you planning on updating your kitchen this year but don't know where to begin? If so, we're looking at the best modern kitchen cabinets to get you inspired with serious style.
With kitchen upgrades in mind, Décor Aid interior designers have compiled a list of the best modern kitchen cabinets to get your kitchen refresh started with confidence. From marble to natural wood to stainless steel – you'll soon have a life-enhancing kitchen design that'll be worth your investment and time for years to come. After all, its one of your most used rooms, so why not make it the best it can be?
Charcoal Kitchen Cabinets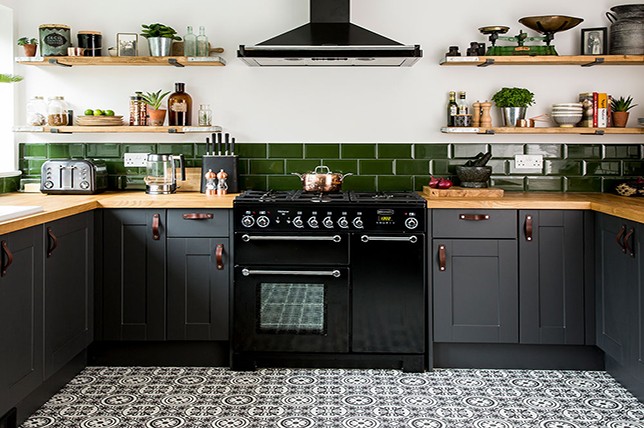 Deeper and more alluring than a standard light gray, charcoal also makes for a more unexpected yet timeless take on modern kitchen cabinet colors. Despite gray usually being seen as a more calming color, charcoal has a great warmth and depth to it that other grays don't. It looks great on sleek, minimal kitchen cabinets and shaker styled cabinets alike. Go all gray with a gray backsplash or choose some bright white tiles to set off the grey.
Charcoal is a surprisingly flexible color which also pairs well with pinks, yellows, greens, and blues alike. And of course, its the perfect color to compliment a thoroughly minimal home thanks to its handsome hue. That said, it can make smaller kitchens feel closed off, so be sure that yours gets plenty of natural daylight to make it feel as large as possible.
Pros:
Since gray is an easy to work with neutral with timeless appeal; it's easy to style your own way. Pair charcoal with a worktop of any kind as long as its durable.
Cons:
They can make a space feel darker so be sure to finish the look with bright, light-catching elements.
Rich Natural Wood

Modern kitchen cabinets in a richly colored natural wood are forever timeless and are great for when you're looking to resell your home. They'll give your kitchen a moody, yet comforting feel, without being overbearing and will boast a radiant patina as they age. The natural striations in the wood also lend modern kitchen cabinets an organic, one of a kind feel that no synthetic fabrication can provide. Make the most of the rich color and variations with as much natural light as possible bouncing around your kitchen.
Modern kitchen cabinet ideas that feature natural wood also work wonderfully with marble surfaces and high-shine stainless steel appliances. And since they are so timeless in appeal, they'll also pair well with just about any design style and will never look dated.
Pros:
You can never go wrong with natural wood.
Because they're so popular, natural wood kitchen cabinets are widely available and can be reasonably priced.
Cons:
You'll need to make sure that you maintain their finish.
Blue and White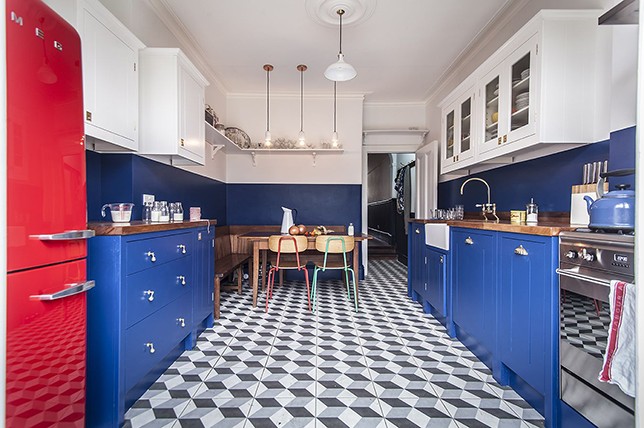 A striking mix of blue and white in a kitchen will give you a wonderfully cool, modern feel and will never feel outdated. White cabinets and dark blue tiling, or dark blue kitchen cabinets topped with a beautiful pale marble will make for a bright and airy kitchen cabinet design.
Team a blue and white kitchen with copper accessories and plenty of metallic extras for a modern kitchen that'll look on-trend for years to come. Blue also makes for an alternative to black or gray and brings with it a radiant energy.
Pros:
Another instant classic with unlimited appeal.
Go for a less specific blue shade to make sure the look endures any trend.
Cons:
You may tire of the combo faster than expected.
Black and White

Black kitchen cabinets make for a moody and chic kitchen, paired with a white marble top; your kitchen will instantly feel like its been given more depth and a serious sense of attitude. Choose black kitchen cabinets with minimal handles so they don't disrupt the quiet feel of a sleek black.
Paired with white marble, black kitchen cabinets make for a beautifully modern kitchen, with the touch of the natural about it – a stunning contrast in your space. Even better when the finish is a matte black for a soothing feel that'll pair well with just about any color or design style.
Pros:
Cons:
You'll need to clean regularly to prevent dirt from collecting on the inset area.
Marble on Marble

Marble makes for a wonderful investment and addition in any kitchen – whether you introduce the material via a stunning marble countertop, marble flooring or a marble finished kitchen island. Modern kitchen cabinets teamed with marble can instantly give a kitchen an instant sense of everyday glamor.
Choose a kitchen cabinet color that compliments the type and color of marble you are considering to complete the look. Gray, charcoal, and white are all fail-proof colors for marble, while a dark blue will set off your modern kitchen cabinet design with a distinct charm while creating a memorably striking contrast.
Pros:
With a beautiful and durable material like marble in a kitchen, you can never go wrong.
Cons:
Can be costly.
Can require more care than other surface materials.
White On White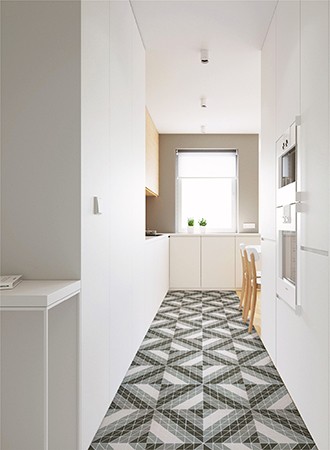 It should as no surprise that white kitchen cabinets are probably what instantly comes to mind when you are picturing the most modern of kitchen cabinet design. White kitchen cabinets, white countertops, white flooring, and white tiles together easily make for a sleek modern kitchen, one that's bright and airy.
A high-shine finish on your kitchen cabinets will open up your kitchen, reflecting as much natural light around as possible. A matte finish on your modern kitchen cabinets will make for a more traditional feel, while still looking completely timeless. And again, when it comes to a home's resell value, you can never go wrong with an all-white kitchen. The only thing here to keep in mind is that an all-white kitchen will highlight everyday stains and spills, making cleanup time all the more important.
Pros:
An all-white kitchen will always feel modern and will never go out of style.
A white kitchen will work as a blank canvas that'll help you ace any design direction you're considering, from Mid-Century Modern to the maximal.
Cons:
Can be hard to keep clean while highlighting daily use, spills, and stains.
Stainless Steel

You might think that stainless steel kitchen cabinets only belong in an industrial or professional kitchen, but as the durable material hits closer to home, they are moving out of industrial spaces and our interior designers are starting to see more and more of them in private residences. These types of modern kitchen cabinets will add a touch of the industrial in your kitchen, so if you love a chic industrial vibe, they will be perfect for your home.
They also make for an interesting alternative to standard grey colored cabinets and they aren't something you see very often – perfect for a one of a kind feel in your home. However, the thing about a stainless steel clad kitchen is that they can come off as cold and sterile, so be sure that you outfit your kitchen with accessories that'll add needed warmth, say a textured rug and delicate art and sculptural elements.
Pros:
Stainless steel materials will always boast a modern appeal.
Steel is also great at avoiding bacteria and other harmful elements.
Cons:
Can be difficult to keep clean and streak free.
Can feel cold both to the touch and in feel.
A Matte Gray Shaker-Style

Shaker kitchen cabinets have come back into style thanks to their endlessly charming appeal. Their simple yet traditional design has remained popular for decades on end, and for good reason. The simplistic moulding on shaker cabinet doors breaks up a kitchen while creating a distinctly intimate feel.
The kitchen is a great place to add some texture and this simple solution is an effectively brilliant way to create your own comforting setting. Shaker-style kitchen cabinets look terrific in moody, deep grey; the style lends itself wonderfully to a darker kitchen paint color palette.
Pros:
Shaker-style kitchen cabinets boast a chameleon-like quality that you can style any way you like.
Because they're so timeless, Shaker-style cabinets are widely available and can be cost effective to boot.
Cons:
You'll need to clean them regularly to prevent dirt from collecting around the inset area.
Dark Wood and Chrome

It is possible that dark wood kitchen cabinets could look a little on the austere side, as well as closing off your kitchen space with a dark color. Combat this with bright chrome finishes to ward away the dark and bring in the light.
A high-shine chrome finish here and there will make a world of difference, keeping your kitchen feeling up-to-date and brighter to boot. Choose elongated kitchen cabinet handles to add the maximum amount of impact. And do bring in colorful kitchen accessories and necessities to really liven the look up in style.
Pros:
The combo is another timeless take on kitchen cabinet ideas that boast universal appeal.
Can be cost-effective and easy to maintain.
Cons:
Chrome finishes can be expensive and harder to keep clean.
All Black

When you picture modern kitchen cabinets, colors that spring to mind are usually whites and grays. Buck the trend with all black kitchen cabinets in a matte finish, paired with a black countertop. A striking matte finish will keep the look endlessly elegant and pairing your cabinets with modern, angular, brushed steel handles will only add to the appeal of modern kitchen cabinet ideas.
Ensure the kitchen area is kept light by balancing out the black with white walls and a lighter colored floor. And do bring in reflective materials to capture and move light throughout your kitchen.
Pros:
Again, a black kitchen will pair well with anything, just like an all-white one can.
Will help to hide everyday wear and tear and stains and spills.
Cons:
Can make your kitchen feel dark, closed off, and ultimately smaller.
Can make it harder to resell without a paint refresh.
Glass Cabinets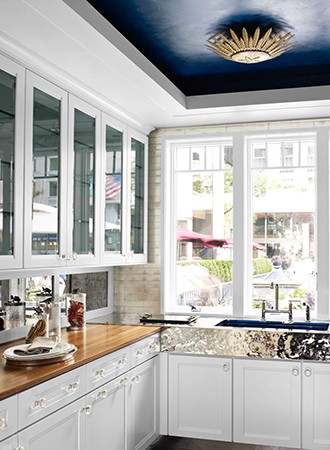 Really open up your kitchen with stylish glass-fronted kitchen cabinets that'll let in the most natural light possible while keeping your space super minimalist. Team glass-fronted kitchen cabinets with stainless steel appliances for a sleek modern and minimalist look.
Having the contents of your kitchen cabinets on show will encourage you to keep them clean and tidy, as well as not filling them up with an unwarranted amount of things you truly don't need. All-glass cabinetry is the height of everyday elegance and you won't find yourself uninspired by them any time soon.
Pros:
Glass-front kitchen cabinets always give off a special, custom feel.
They'll reflect light with ease, which helps in a darker kitchen and they're great for displaying items you admire.
Smarter alternative t open shelves as they'll protect items from everything like dust and grease.
Adding lights installed inside your glass-front cabinets will make your kitchen look even brighter and highlight what's inside.
Glass-front kitchen cabinets also let you add a design element inside the cabinets—like adding a decorative graphic wallpaper or accent color along the back.
Cons:
Whatever's inside is in open view, so you must keep your shelves organized and tidy. That's why glass-fronts are best for only a handful of cabinets, so you can put your best pieces in those. or you can opt for a frosted finish.
Be sure the glass is of great durable quality; for safety's sake.
They can be more expensive.
Modern Wood

Wood cabinets used to be an old-fashioned idea, but they don't have to thanks to interesting finishes and unexpected juxtapositions. Kitchen cabinets with a dark wood finish can be as sleek and as modern as you like. Choose a kitchen cabinet style with no handles to keep your kitchen cabinets feeling as sleek and smooth as possible.
Having modern wood cabinets up top and some matte white kitchen cabinets at the bottom will break up the design and stop the wood finish from taking over your space. Plus, they'll never go out of style thanks to their stunning simplicity.
Pros:
Will remain in style for years to come.
Classic and pairs well with just about anything.
Cons:
Can require more care and maintenance.
Bolshy Blue

Dark blue kitchen cabinets are on trend at the moment, which is a welcome move away from the white and grey cabinets which we've been seeing as of late. Embrace a bit of color in your kitchen with some shaker-style cabinets in a deep, alluring blue – teamed with white and grey marble, these kitchen cabinets will make your kitchen space come to life.
Pros:
Pairs well with any interior design style and almost every color and finish.
Will give your kitchen a unique, custom feel.
Cons:
Since it is such a specific color, it can make it harder to justify when looking to sell your home.
Images via Pinterest