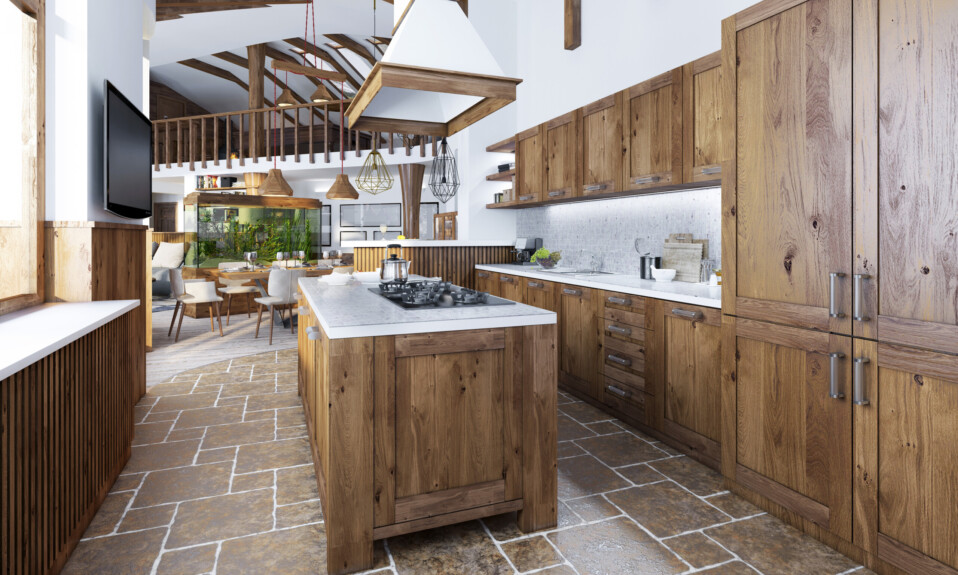 When it comes to savvy kitchen decor organizing hacks, it can be difficult to make the best use of the space without overthinking it over and over again. To make the challenge of learning how to organize your kitchen all the easier, we turned to Décor Aid interior designers for their takes on the best practices to help you keep your kitchen decor tidy and organized – on a daily basis.
And when it comes down to the reality of it all, there really is nowhere you need to be more organized, than in your kitchen. Space is always a commodity, so you should want to make the best use of it as you possibly can. Meaning that kitchen organizing tips, stylish organizational hacks, and clever kitchen decor that doubles up as extra-storage (and who doesn't need storage) are essential elements to get everything just right.
To help you better chart your way around essential kitchen organizing hacks, we suggest you take note of what you think could work to your benefit in your home for an instant upgrade to your daily life.
TIERED COOKWARE STANDS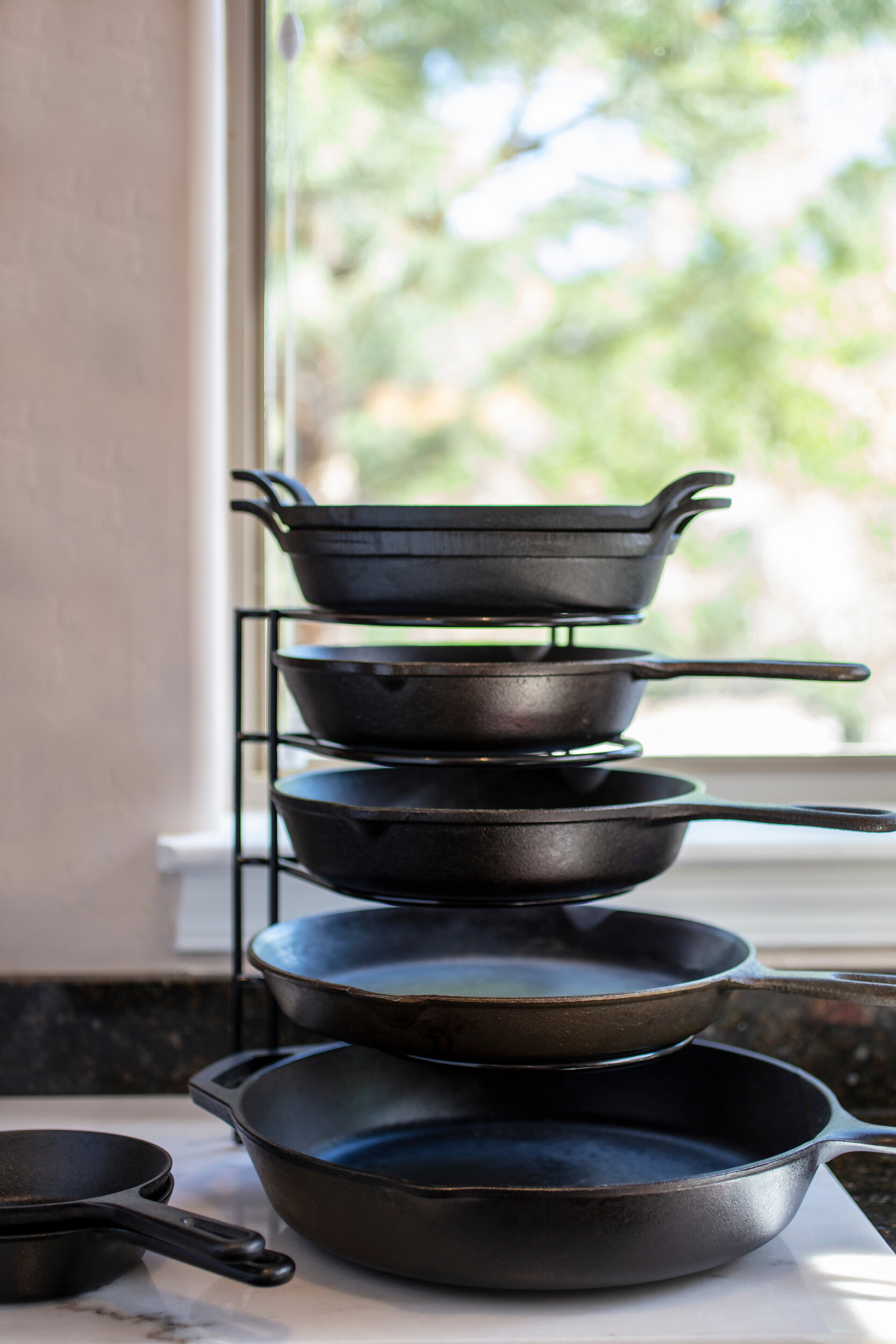 Pots and pans usually take up a huge amount of space and it's not always practical to have them taking up an entire drawer or a shelf in a cupboard when you need to be able to easily reach for them.
Fortunately for you, theres scores of stylish cookware stands available that also don't take up too much floor space while helping to elevate and bring your kitchen decor and organization cues together. You can easily tuck it into a corner or place it next to your stovetop and cabinets for easy reach. In just a short time you'll find that storing your best pots and pans together in one spot is so much more convenient and that it'll lend your kitchen decor an on-trend touch to boot.
GRAVITY FEED CAN RACK
Now that you've considered the best idea for storing pots and pans that don't take up a bunch of space, now let's think about where you should store all of your tin cans in a way that makes them easy to access. This can be tricky if you have a large family or if you are keen on buying in bulk – stacking all your of tins up in a cabinet doesn't always make for easy access, easy viewing or convenience.
To make it easier for you, a gravity-feed can rack can make kitchen organizing a dream. With one, you'll always be able to see what you have in each cupboard while eliminating the need to be clambering onto your surfaces to get your hands on what's at the back of your cabinet or pantry. With a gravity-feed can rack, each time you take out a can, the next one rolls right along towards you – talk about an affordable and essential kitchen design hack every home should consider.
A CHIC HANDY CATCHALL TRAY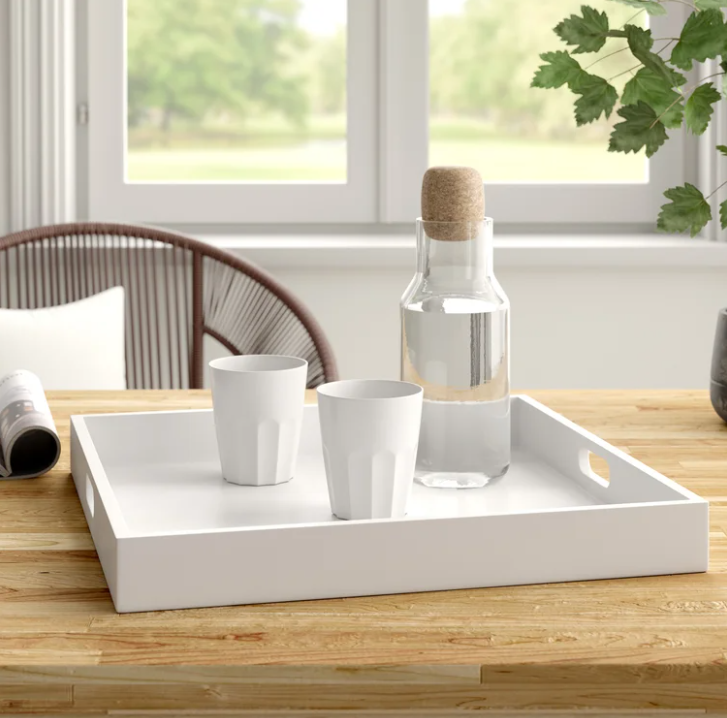 Having a handy tray around might not seem like the height of smart kitchen design, but not only can it add an inviting touch to your kitchen, but a tray is also great for kitchen organizing too.
Kitchens are often filled with odd bits and essentials that don't often have a dedicated home, from oddly sized necessities to rogue utensils, and a tray offers the perfect home to organize and display these elements in small groupings that you can easily move for extra counter space. By bringing in a range of well-designed trays in a variety of sizes, your kitchen will soon enough become an organized haven in no time – as handy kitchen trays make for one of the most stylish top kitchen organizing hacks that takes just minutes to master.
UNDERNEATH CABINET WINE GLASS HOLDERS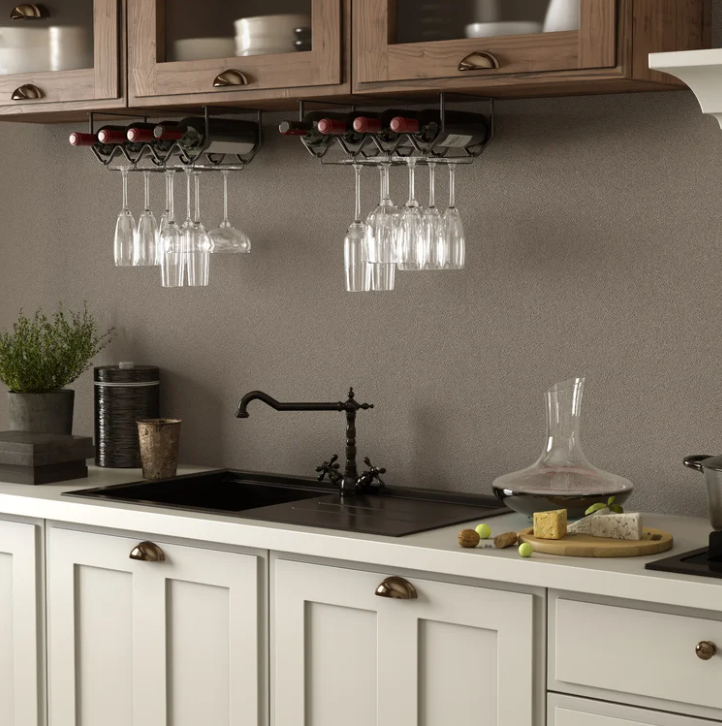 Wine glasses can often be another kitchen decor essential that can seem to take up an inordinate amount of valuable cabinet space. Because of the shape and scale of wine glasses and champagne glasses alike, they can be exceptionally difficult to store, meaning you can end up knocking them over as you take them in and out of a cabinet and risk breaking them.
To combat this nagging issue, an under the cabinet wine glass rack makes for one of the best kitchen organizing ideas we can think of. They enable you to easily access your wine glasses, risk-free. Plus, they can lend your kitchen a touch of everyday glamor while beautifully reflecting light at the same time.
A WALL-MOUNTED DISH RACK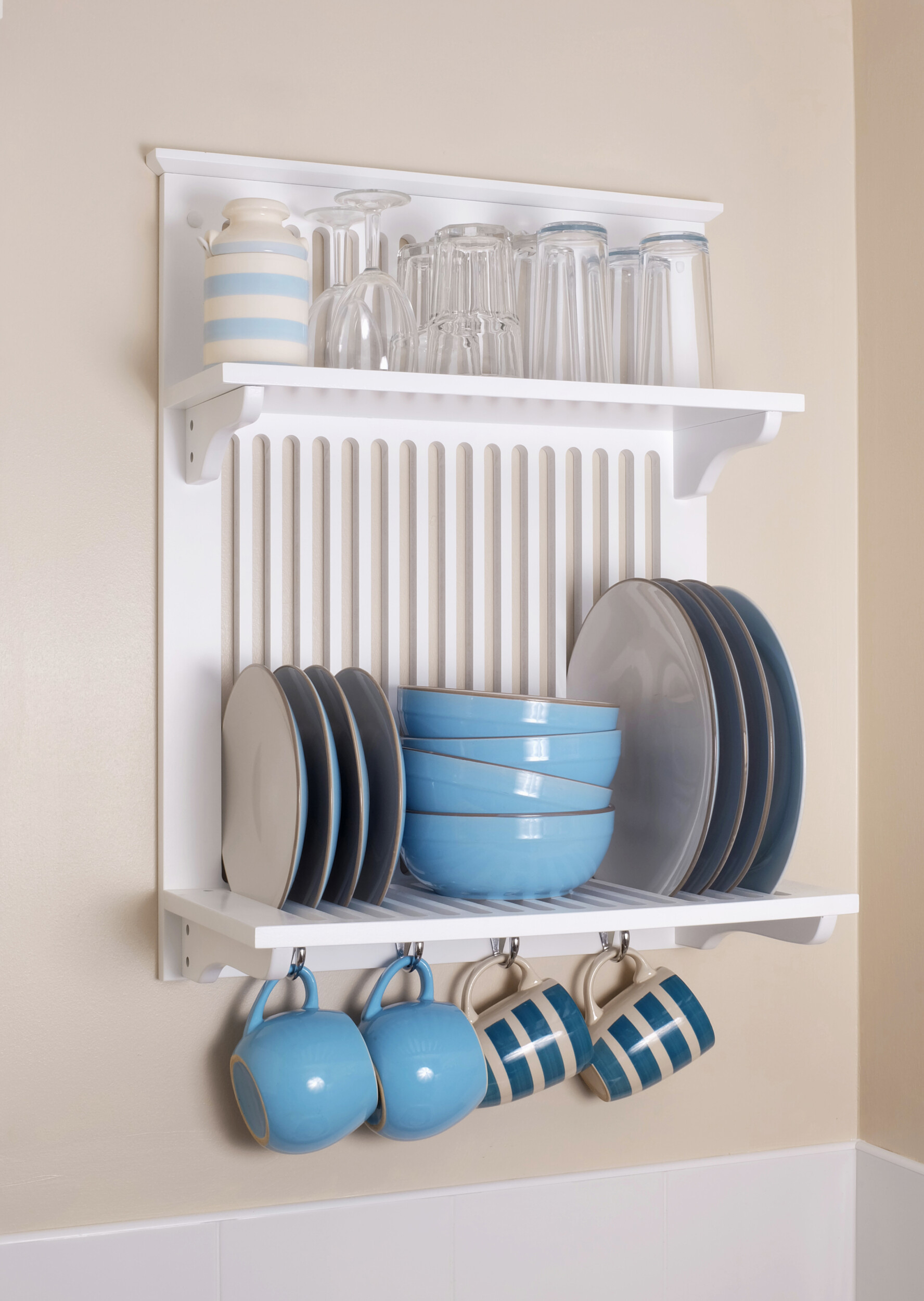 A wall-mounted dish rack may sound like a throwback to kitchens of the past as they aren't essentials you see very often in kitchen design anymore, but they do boast some serious space saving benefits that are perfect for small kitchens.
Not only are they great at keeping your dishes organized, but they also take up less counter space as well. And best of all, since they are installed along a wall which is often unused, you'll find pride in realizing just how smart of a kitchen decor update they can make for while being inexpensive.
THE ULTIMATE BUTLER'S PANTRY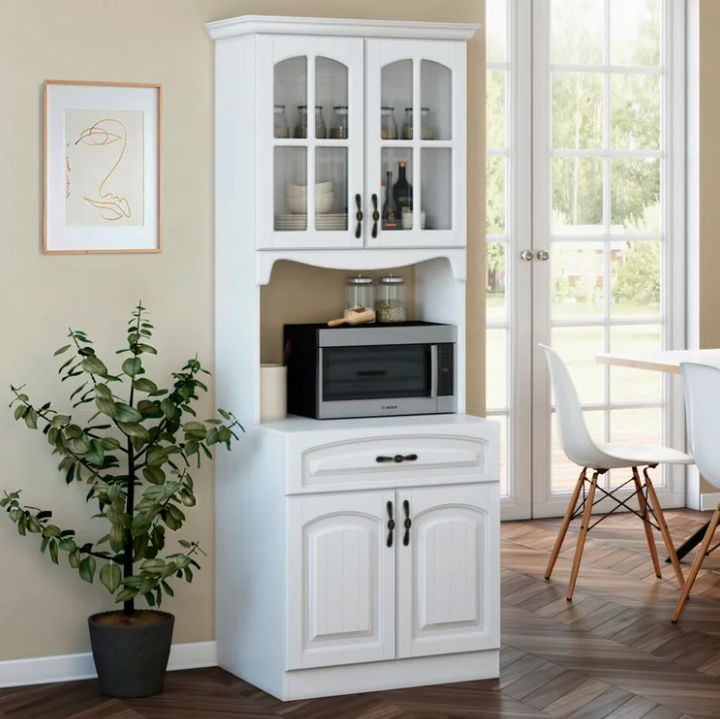 Any home lucky enough to boast an elegant butler's pantry is sure to boast genius kitchen storage ideas that are worth taking note or for your home. They make for the ultimate in smart kitchen design and work to make kitchen organization a breeze, especially when entertaining.
A brilliantly realized butler's panty will give you abundant room for appliances, dried goods, canned goods, serving dishes, and even crockery – you can store whatever you want in butler's pantry cabinets that you don't use on a daily basis. Just be sure that you have plenty of shelving installed to make the most of the space and add basket storage for essentials like baking accessories that don't work on a shelf.
ADDED ARMOIRE STORAGE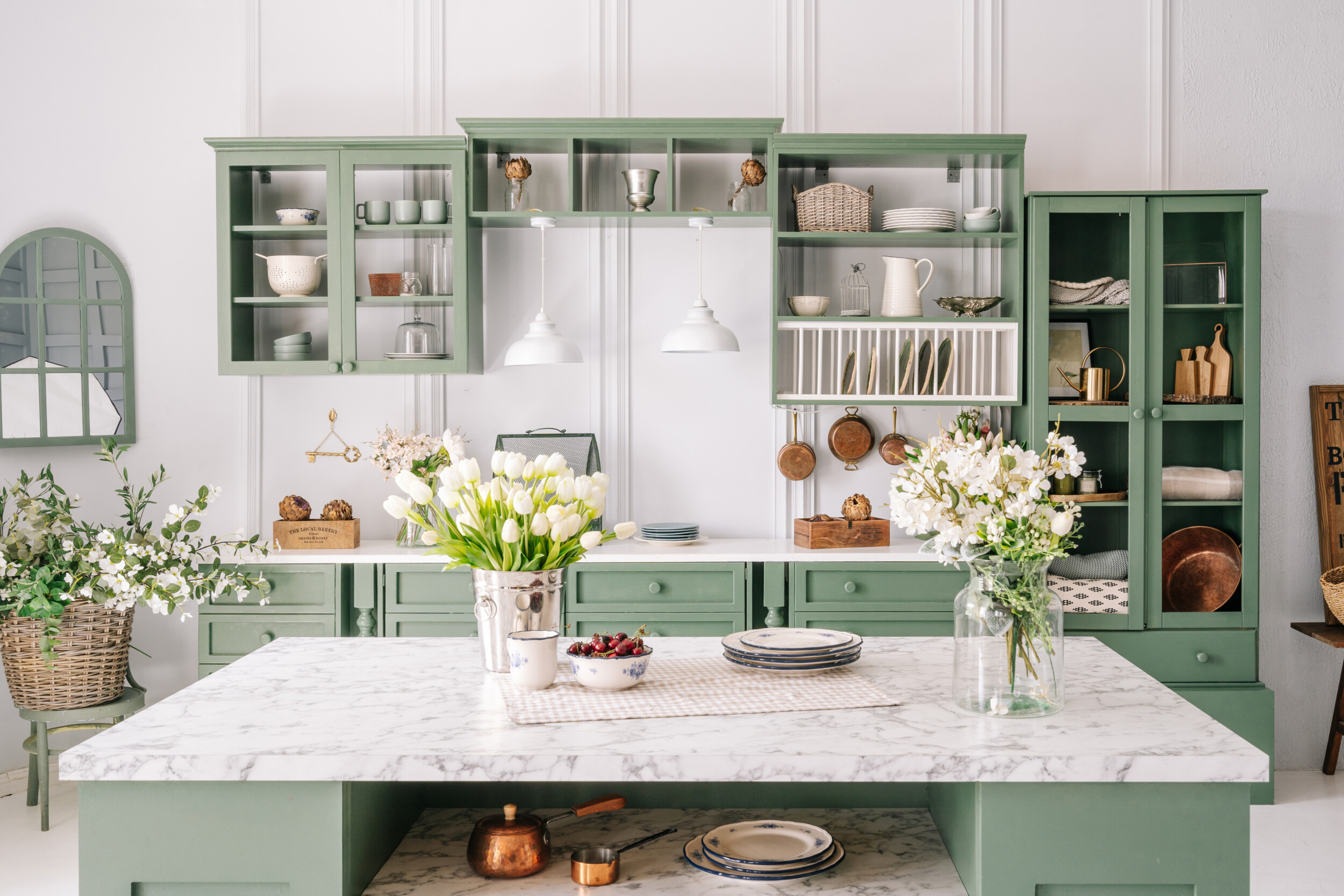 If you have some spare space in your kitchen and you are looking for a pretty and novel way to store crockery, glasses, and dishes, then a vintage armoire can make for a stunning and novel kitchen storage solution.
Not only will it add a stunning and unexpected stylized effect to your kitchen decor (especially if it is glass fronted), but it can also make for a functional a highly functional storage option that's easy to access, with plenty of storage space to boot. And since you can source beautifully crafted armoires that are affordable, stunning kitchen organizing ideas no longer have to come at the price of a costly kitchen design or renovation.
FLOATING SHELVES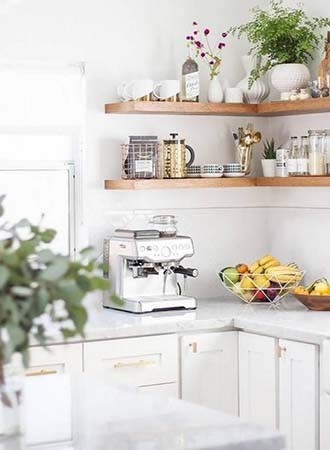 If you aren't blessed with a lot of additional cabinet space and you want to make the most of an untouched spare wall, floating shelves make for smart kitchen decor alternatives. Floating shelves make for an on-trend way of storing and displaying your crockery, jars or pots, and pans for everyone to see, while being functional at the same time.
Just be sure that you do a tight edit before taking on decorating floating shelves as you'll want everything on them to be visually pleasing and as fresh looking as possible. One of our top kitchen organizing tips when it comes to lateral shelving is to put your more seldom used items on the top shelf, graduating to the most often used items towards the bottom shelf. That way, you don't need to keep on stepping up and down to get what you want off any shelf.
SHELVED KITCHEN ISLAND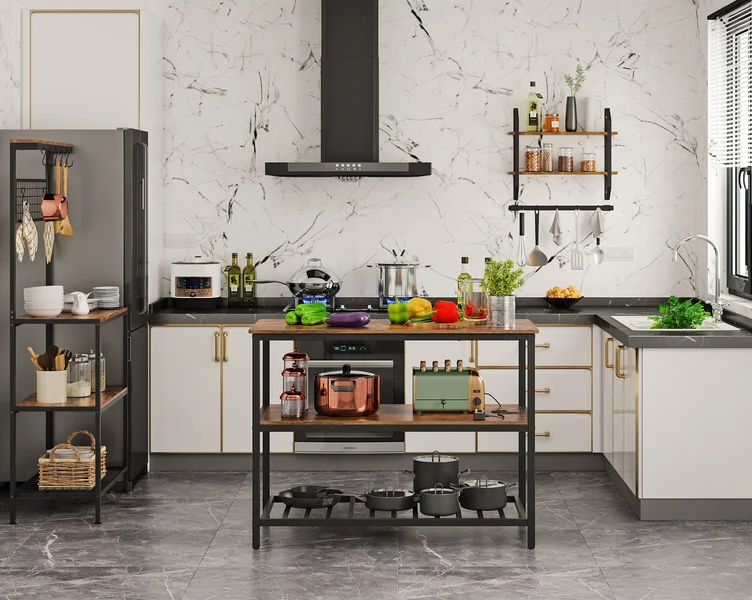 If you are looking to bring in some additional storage ideas to make the most of your kitchen decor, as well as some additional counter space, then a well-designed kitchen island boasting tiers of shelving is a great solution.
You can store all sort of things on kitchen island shelves, from plates to pans to cookbooks. With a smartly designed kitchen island, you'll have the added bonus of having an additional work surface on hand, giving you even more space to use to your advantage. Make the most of the extra kitchen decor space one lends your home by sourcing a chic tray and bowls to store fruit and kitchen essentials and accessories that wouldn't have a home otherwise.
ABOVE COOKER HOOKS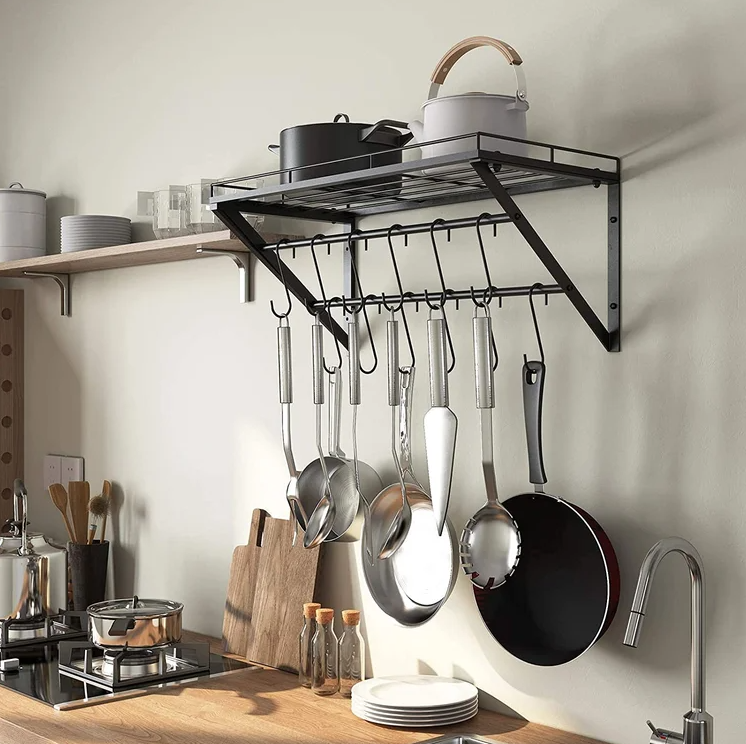 If you're tired of having to walk halfway across the kitchen just to get a pot, pan or utensil, then hooks installed above your stovetop can make a huge difference. In this often blank spot, you can hang anything that's necessary, making the cooking process a thousand times easier for you.
Spatulas and spoons will be within arms-reach whenever you need them, and you'll be left wondering why you've only just used these kitchen game-changing kitchen organizing ideas to your advantage.
PULL-OUT PANTRY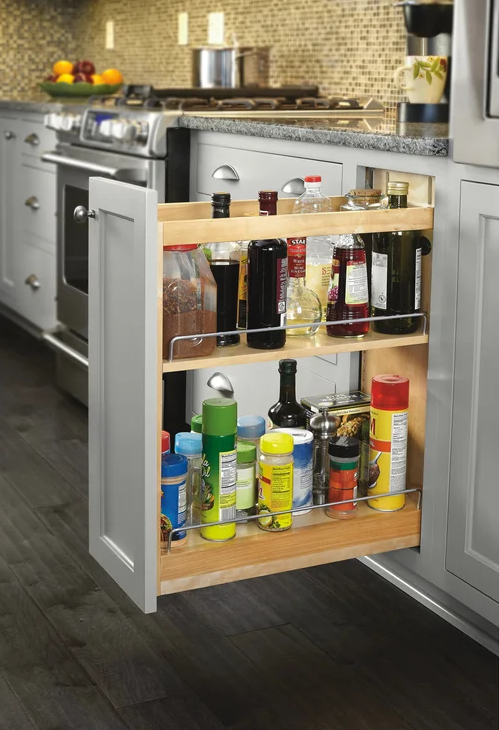 A tall pull-out pantry cabinet can easily provide you with plenty of additional storage with built-in shelving while giving you easier access to the items you need, right at the back, meaning no stretching, leaning or struggling to access those harder to reach items.
They are often narrow in design and blend right in with standard cabinetry, making them perfect for a smaller kitchen, giving you additional storage space that takes little space. They also often boast movable shelves, so you can fit in as much as possible, and maximize the space you have. Plus, they make for a great feature when looking to resell your home.
BASKET STORAGE PANTRY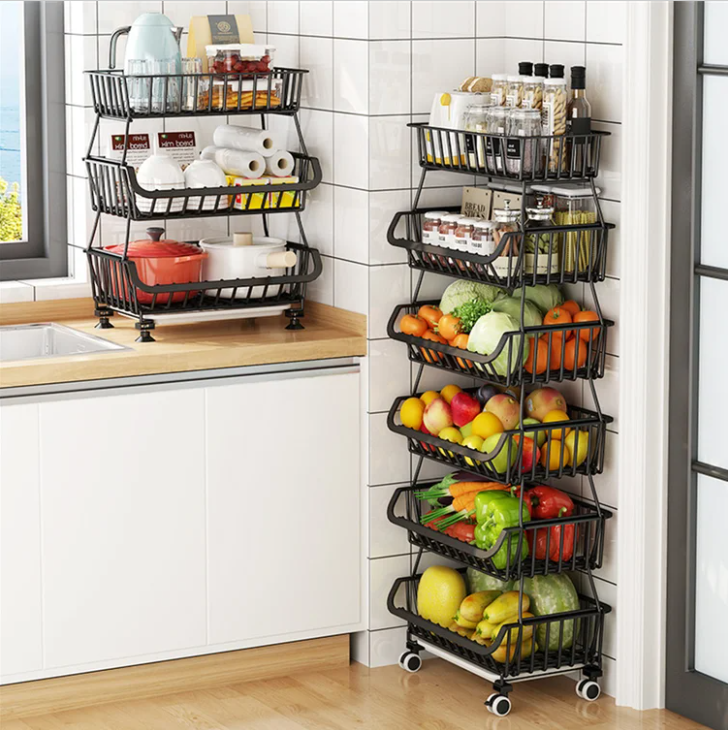 A pantry full of stylish basket storage will make for a well-judged and organized kitchen no matter the size. Large storage baskets also make for a great idea if you don't have pantry space that you can shut the door on to conceal, as it keeps everything looking organized and tidy. You can fill your baskets up with just about anything and they are especially good for housing awkward kitchen accessories that don't fit elsewhere.
The great thing about basket storage is that you can take the basket with you to the area of the kitchen you are working in, so you don't need to keep traveling back and forth. And storage baskets keep kitchen organizing easy thanks to their deep designs and often oversized scale.
HANGING POT RACK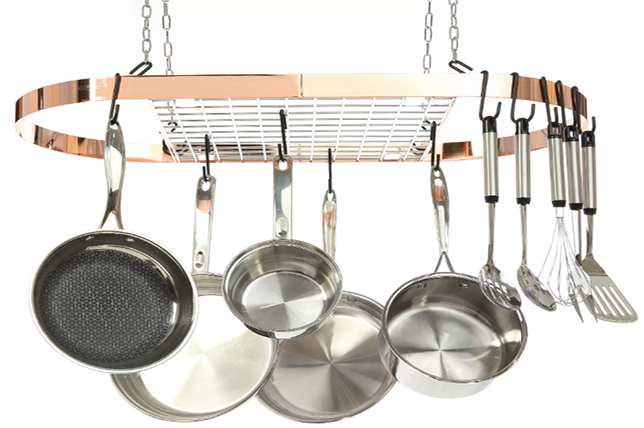 Make best use of unused vertical space and hang an attractive pot rack from the ceiling for added visual play. Having your pots suspended above your workstation will make for easier access while saving abundant space in your cabinets for other items.
Not only does a suspended pot rack help you get super organized, but it also makes for an unexpected feature out of your pots and pans – kitchen decor and organization go hand in hand with this kitchen decor idea. The key here, however, is to make sure that the pots and pans that you do display are in the best condition so you can always be inspired by what you see displayed in front of you.
A FLOATING PARTITION WALL
When it comes to smart kitchen decor with a purposeful and customized spirit, easy to install and inexpensive floating shelves can make a huge difference when looking to define the space with added depth.
And just like regular shelving, they'll help to differentiate large common rooms and when you're looking to resell as you can simply remove them to redefine the space.
A MOVABLE SHELVING UNIT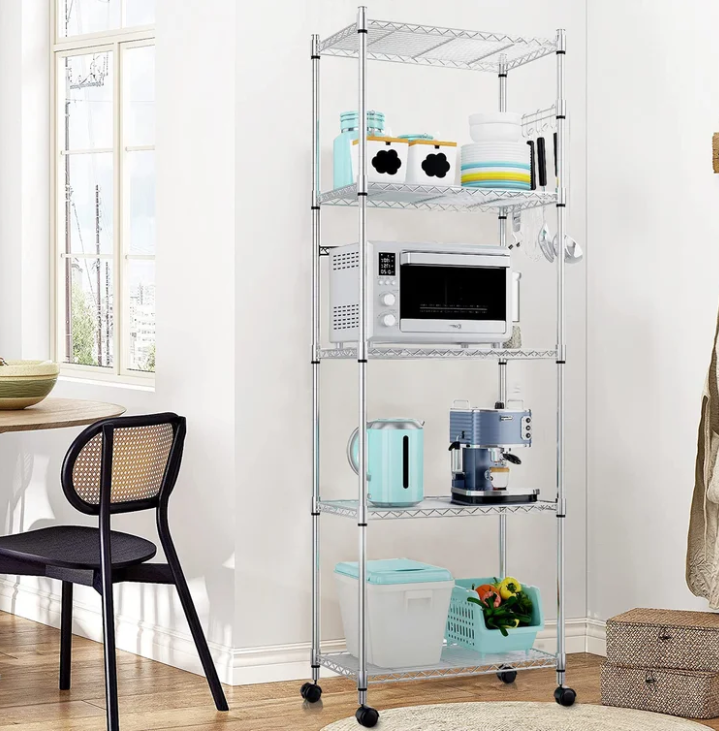 When it comes to clever kitchen decor, keep in mind that everything doesn't have to be stationary. Instead, you can easily find an affordable moving shelving unit on wheels that you can cart around when needed.
By doing so, you'll elevate your kitchen with ample storage space without having to invest or commit to a major overhaul.
AN ORGANIZED PANTRY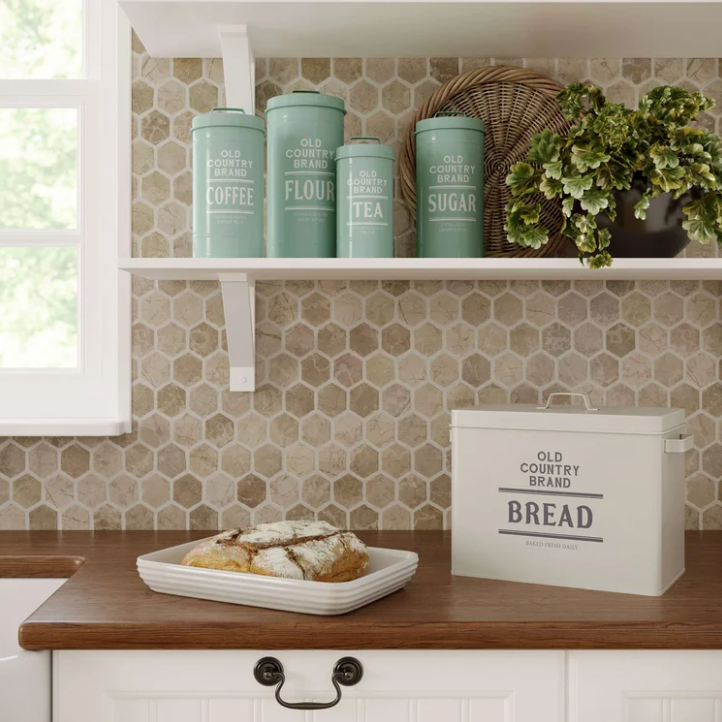 People often forget that the best kitchen decor ideas call for everything to be smartly concealed to keep the space looking tidy, organized, and well thought out.
And a kitchen decor update wouldn't be complete without rethinking your pantry to make the best use of the area while ensuring that it's also visually appealing to boot. To update your pantry, source coordinating storage jars and bins so everything appears consistent.
COMPLETELY CONCEALED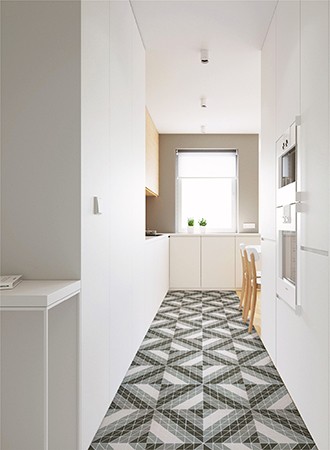 Though it can be challenging, update your kitchen decor by making everything in it appear seamless with a more minimal take – almost like an art gallery.
Just be sure that this highly used and heavily trafficked area in your home doesn't come off as too precious or untouchable.
MAKE ACCESS EASIER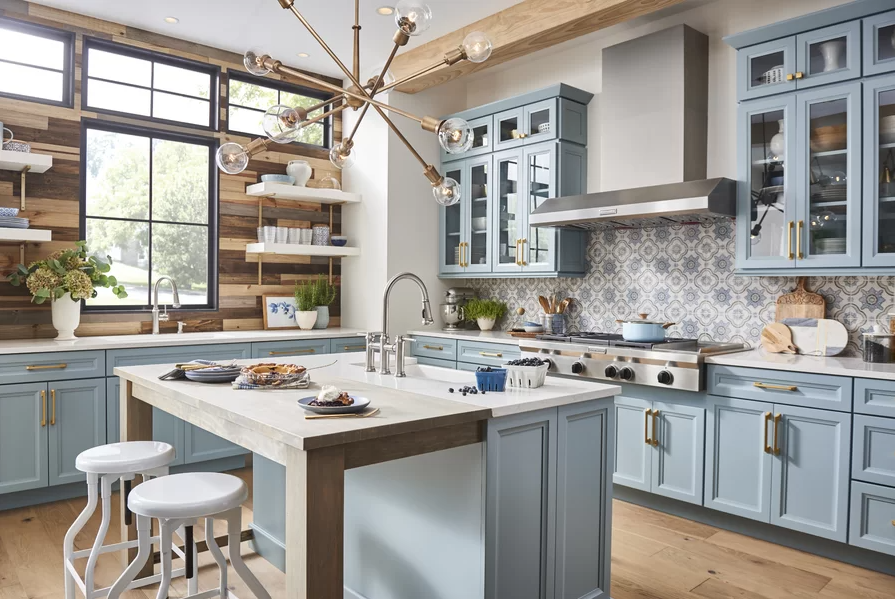 By adding glass front cabinets to your kitchen decor plans you'll instantly take note of how much easier it is to find what you need while artfully displaying essentials.