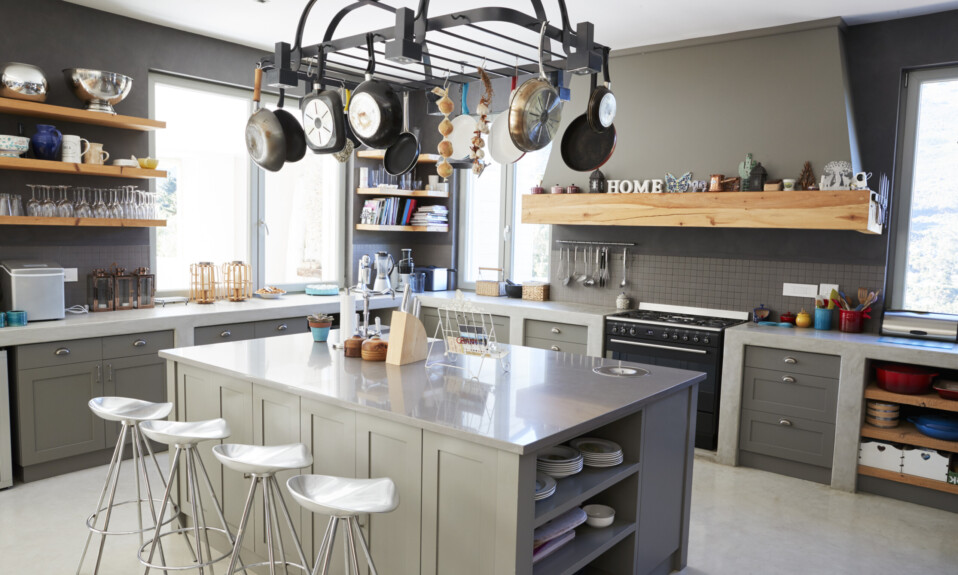 With all of the time spent in your kitchen throughout the year, its often a great idea to explore innovative kitchen pantry ideas to make the best use of the space you have. Pantries make for incredibly functional spaces, especially when it comes to essential storage space in your kitchen. And with so many clever storage solution updates for your kitchen pantry as of late, we turned to our Décor Aid project managers to help you reinvent your kitchen pantry with must-have cues and inspiration to boot.
From space-saving pull-out pantries to ones that boast wall-to-wall shelving to kitchen pantry cabinet ideas that smartly make the best use of even the smallest of spaces, here's our take on the top kitchen pantry cabinet trends to make your daily life all the easier. And, these beautiful kitchen pantry ideas will keep your kitchen stylish and updated as well.
A Pull-Out Pantry
A tall pull-out pantry cabinet provides you with plenty of shelving and gives you easy access to the items right at the back – so there is no stretching, leaning or struggling to access those hard to reach items. They are narrow, making them the perfect kitchen pantry cabinet for a smaller kitchen, giving you that additional storage space that you so need.
They are great for all sorts of different dried and tinned goods and work as an excellent extension to the fridge. Many come with movable shelves, so you can fit in as much as possible, and maximize the space you have. Plus, they conceal fairly well for a sleek, minimally styled kitchen.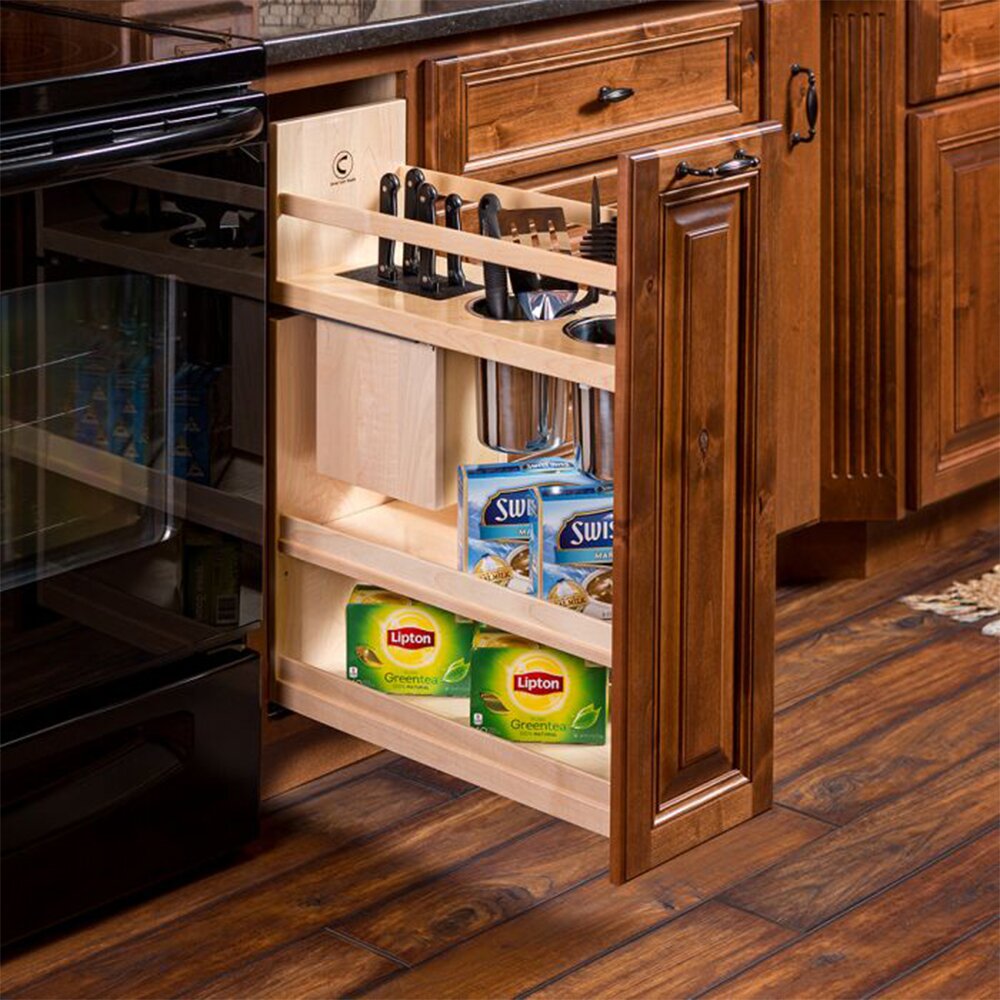 A Pantry With Sliding Shelves
One of the most annoying things about pantry spaces is having static shelving that you can't reach the back of with ease. One of the best kitchen pantry cabinet solutions is to have shelving that slides out, so you can access all of your goods at the back with one go. It's simple and it's effective. This means no more knocking over jars and boxes as you struggle to reach the back to get that rarely used item.
Shelving like this can always be adjusted so you can maximize the space you have available to make your life a whole lot easier. And they double well as small appliance shelving alternatives.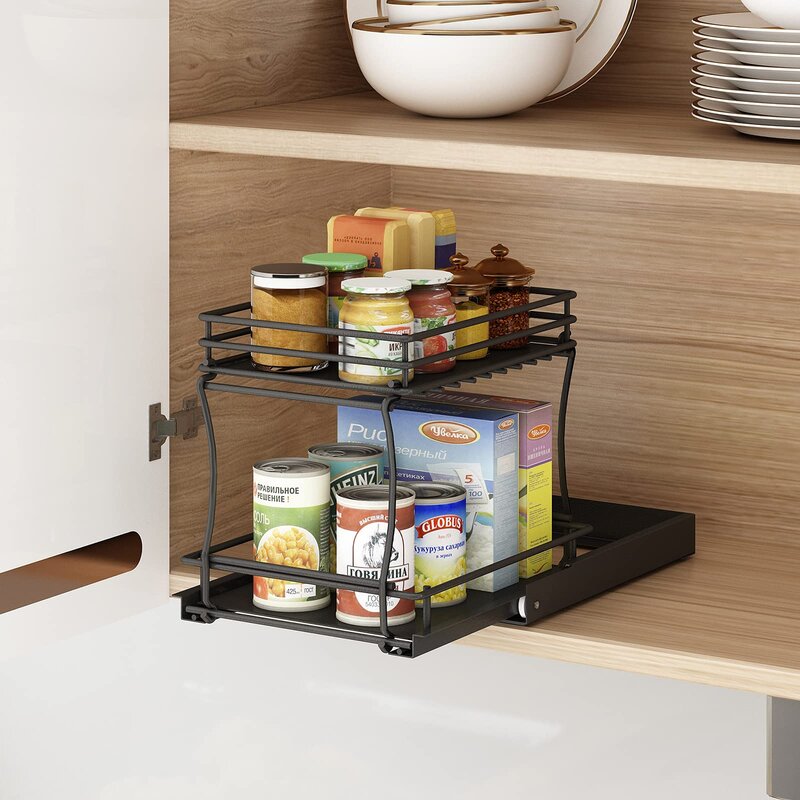 Back Of The Door
Back of the door kitchen pantry storage is a great way to further maximize the storage space you have available. Small, compact shelving racks hung on the inside of the door are a good way to give you some extra space to store smaller scaled must-haves as they also weightless, putting less stress on your kitchen cabinetry. If you aren't blessed with a large modern kitchen pantry cabinet, this is also a clever way of creating extra space in any cupboard or cabinet.
Hooks are another great way of increasing your pantry cabinet storage capacity – not everything can be stored on a shelf and sometimes items are much more appropriately stored on a hook – from aprons to bags to utensils.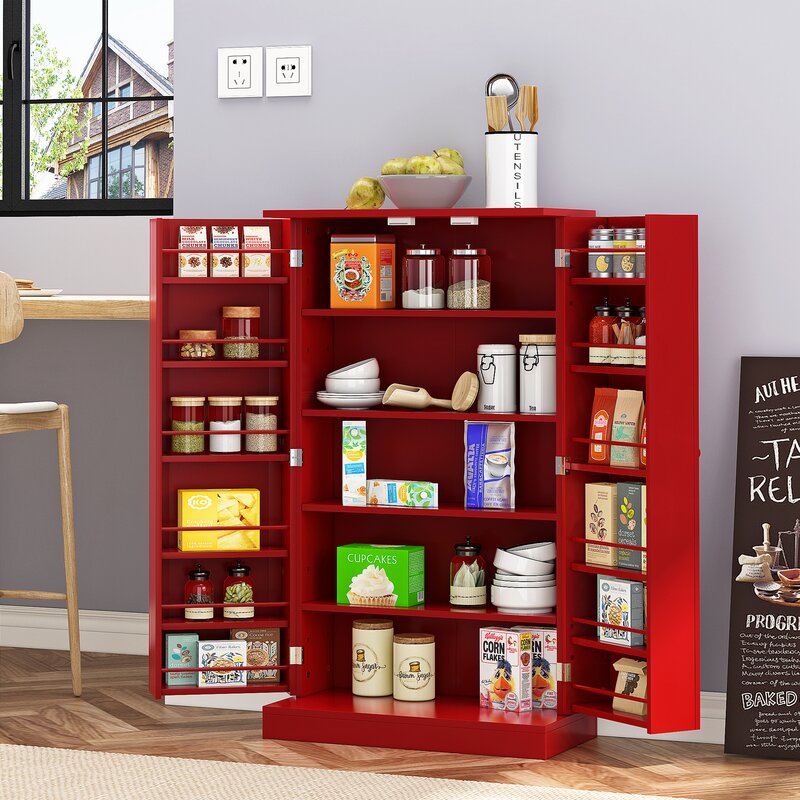 Wine Storage
If you're an avid at-home wine drinker, it's probably important to have somewhere smartly planned to store wine bottles as they can be notorious for taking up quite a bit of space in your pantry cabinet. Creating a few dedicated wine storage areas in your pantry makes for a good way of getting those bulky bottles out of the way by displaying them in a more stylish, as well as easy manner. You can even have different racks for whites and reds in your pantry cabinet, depending on your preference and use.
Wine glasses are another necessity that can be difficult to store; you can easily store them in your pantry with easy to source racks (so the glasses hang down by their base) enabling you to store other things underneath them on the shelves – making for the ultimate in kitchen pantry cabinet ideas for the ordinary wine connoisseur.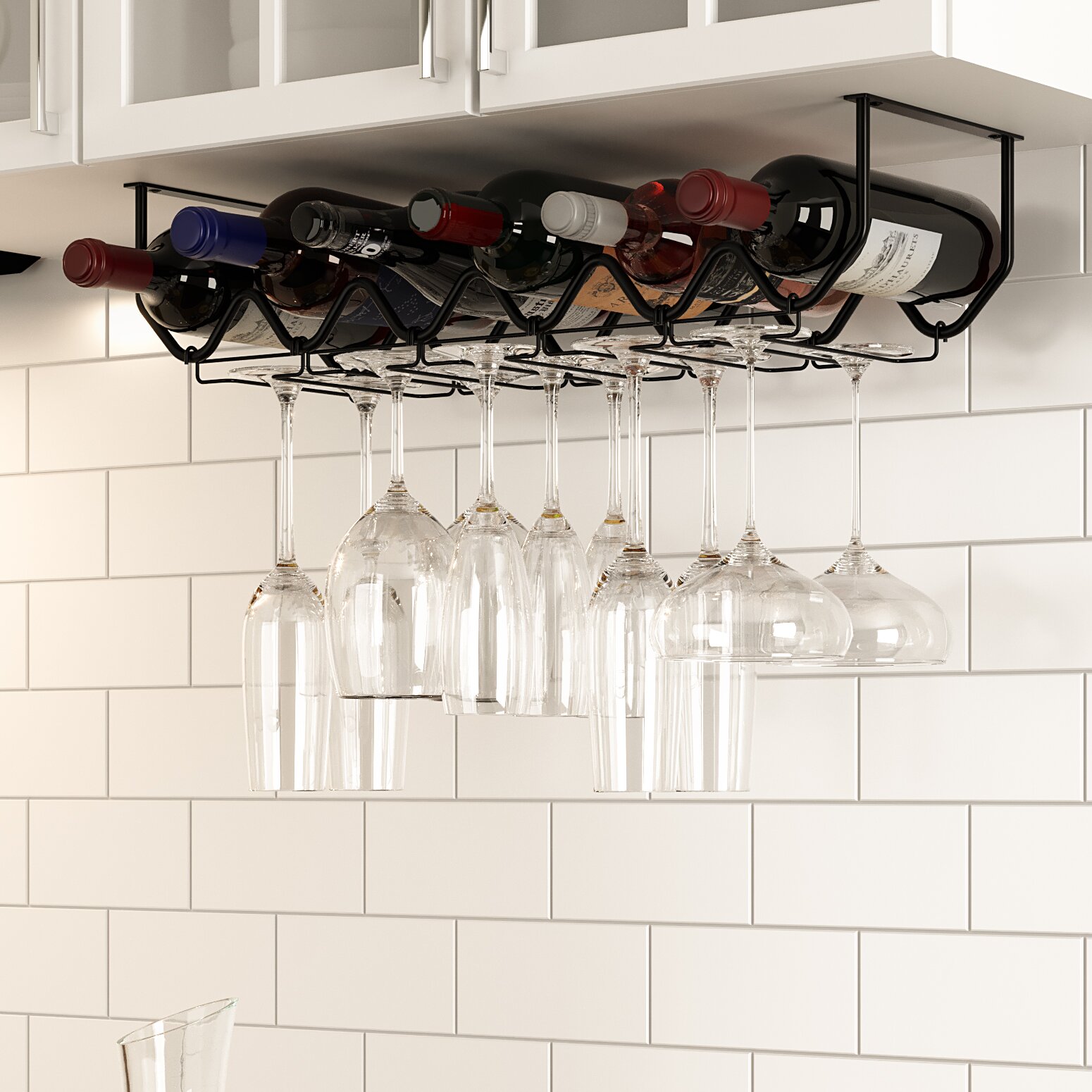 Butler's Pantry
If you are planning new construction or a kitchen renovation, a built-in butler's pantry is a wonderfully chic and charming kitchen pantry throwback. These plentiful spaces give you well-secured counter space and extra room to store appliances (small and large), dried goods, canned goods, and anything else you can think of storing in a pantry cabinet. They also are great for storing extra cutlery and serving dishes and are best situated between your kitchen and entertaining areas, and can double as a bar when needed.
Choose plenty of open shelving (lowering the cost of kitchen pantry cabinets), where you can display your goods in baskets and stylized storage units. A pantry like this also helps you keep your kitchen less cluttered while all the more elegant and well-judged, and will add value to your home for years to come.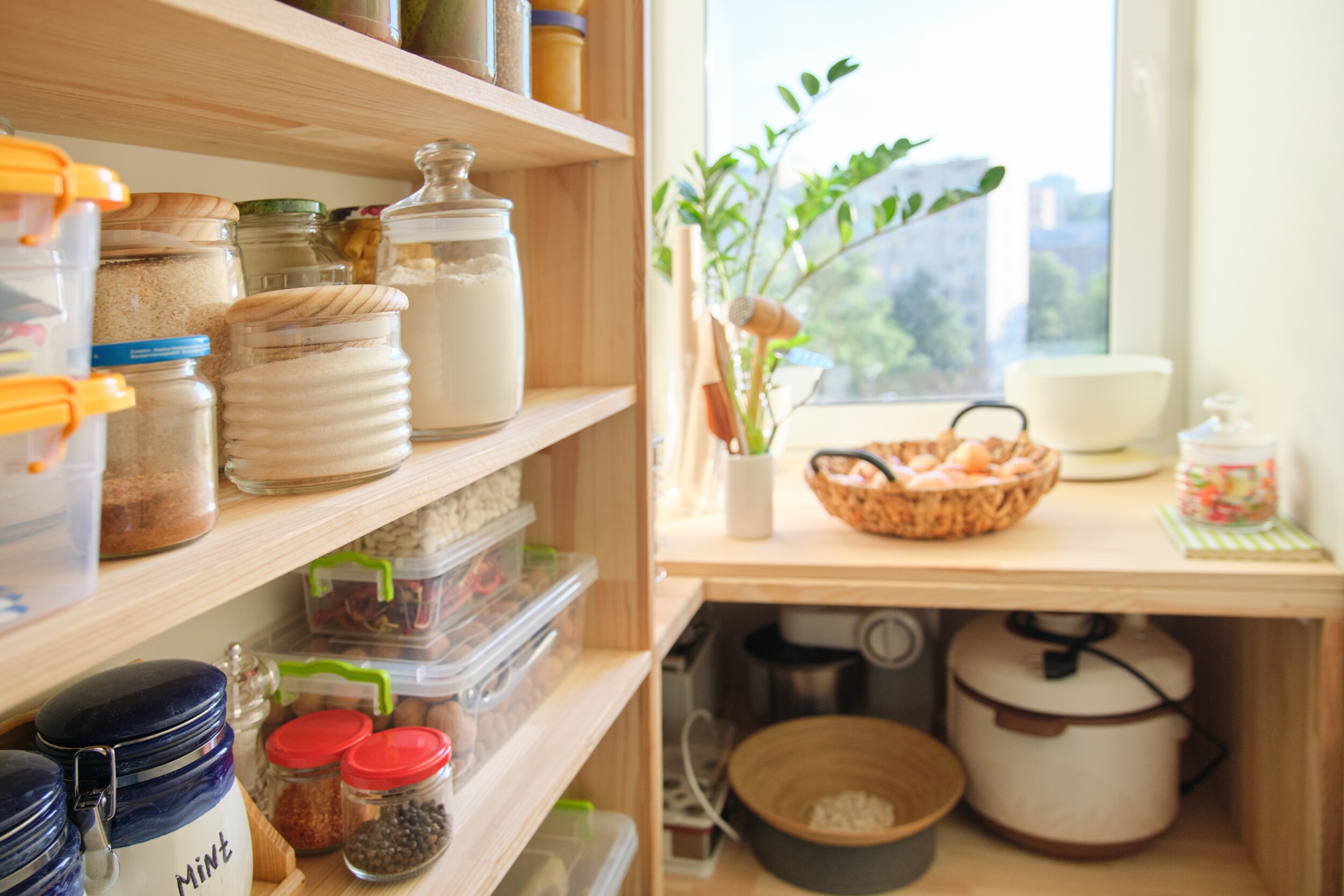 Pantry Drawers
Drawers are a great alternative to standard and hard to reach kitchen pantry cabinet shelving. Having drawer fronts stops your taller items from falling over when you pull them out (which is always a win). Another neat hack to organizing your drawers is to have them clear-fronted, so you can easily see everything that's inside your kitchen pantry cabinet drawers, without having to open them.
This is also good for when you're writing shopping lists, as you don't have to mess around opening and closing drawers to look inside them. They are also a smart alternative for kitchens designed to avoid having overhead or floor to ceiling units for a cleaner look.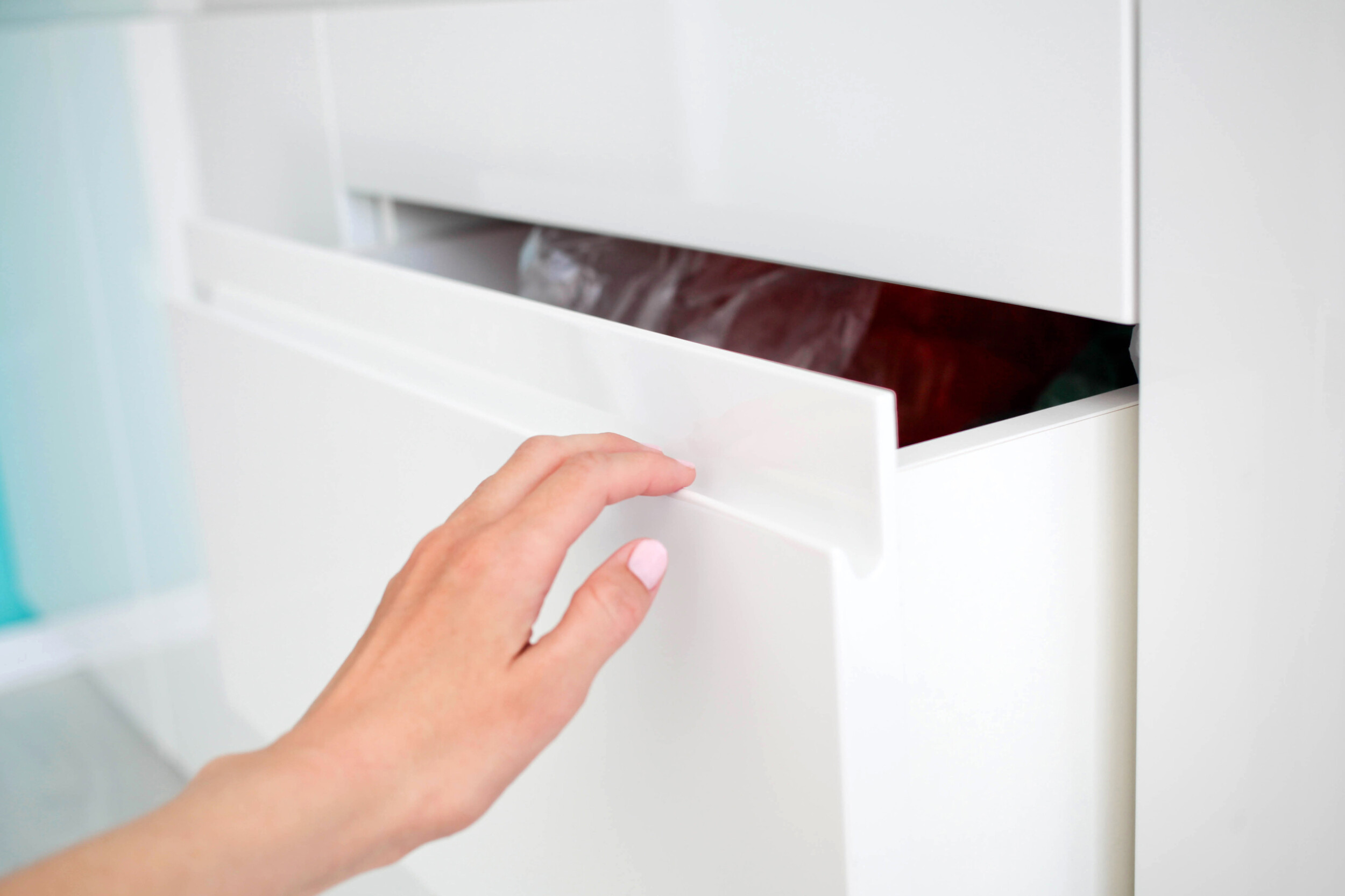 Extra China Storage
Your pantry cabinet storage doesn't have to be limited to food – you can also store your china in it as well. In fact, this makes for a stylish way of storing your china as it looks great, making for an extra feature in your kitchen pantry. Not only that, but it makes all of your tableware so much more accessible, and as kitchen pantry cabinets go, it's a more affordable way of creating additional storage.
No more having to bend down to the floor to get out heavy plates; you can have the heavier items much closer to you, to relieve some of the strain, with the rarely used items at the top and the bottom. And for added inspiration, we love the gallery like feel of the kitchen pantry in a thoroughly modern home in Amsterdam, pictured above. There's just something easily glamorous about its stylized shelves, stunning atrium ceiling, and that the homeowner was savvy enough to include some punctuating art in it.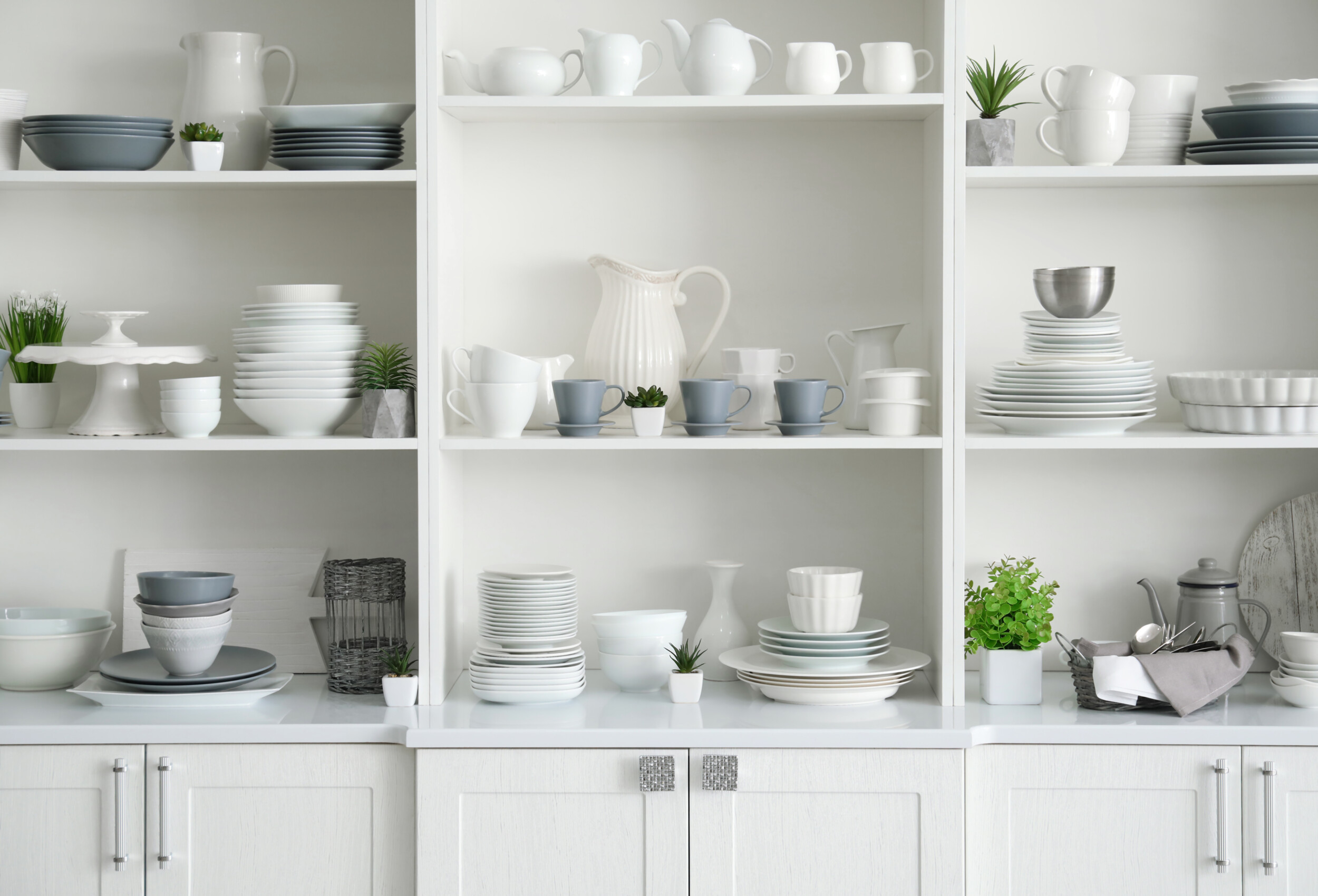 Walls of Shelves
Nothing beats a kitchen pantry that's full of well-designed shelves. If you are on the hunt for gorgeous storage solutions and you have plenty of space in your pantry, then invest in wall-to-wall glass shelving, from the floor to the ceiling for an extra dramatic effect.
Fill your pantry with beautifully designed jars, tins, and bottles – if you are a bulk buyer or you have a large family, then this will be perfect for you (if you have the space), as if you want a classic kitchen pantry cabinet feel, this updated traditional route will make all the difference.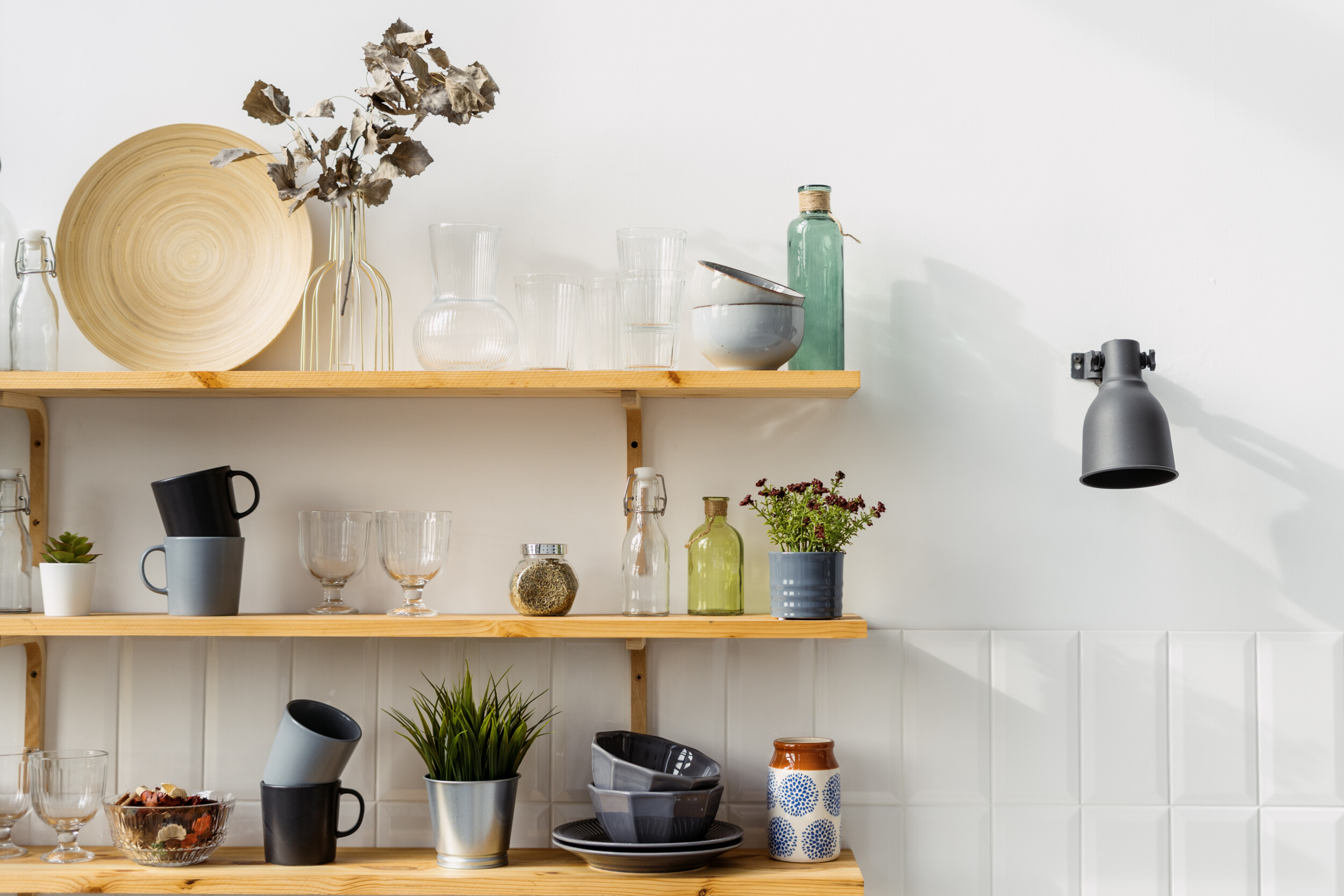 Basket Storage
A pantry with tidy basket storage will keep you inspired to stay organized and practical. This is a great idea if you don't have pantry space that you can shut a door on to conceal as it keeps everything minimal and clean looking nice. Fill your baskets with anything and everything, from baking tins and cookie cutters to sweets and snacks to sugar and flour.
You can also take the baskets out of the storage area, with you to another part of the kitchen, so you don't have to keep making trips back and forth to the pantry cabinet, saving you a load of time and energy when you are cooking.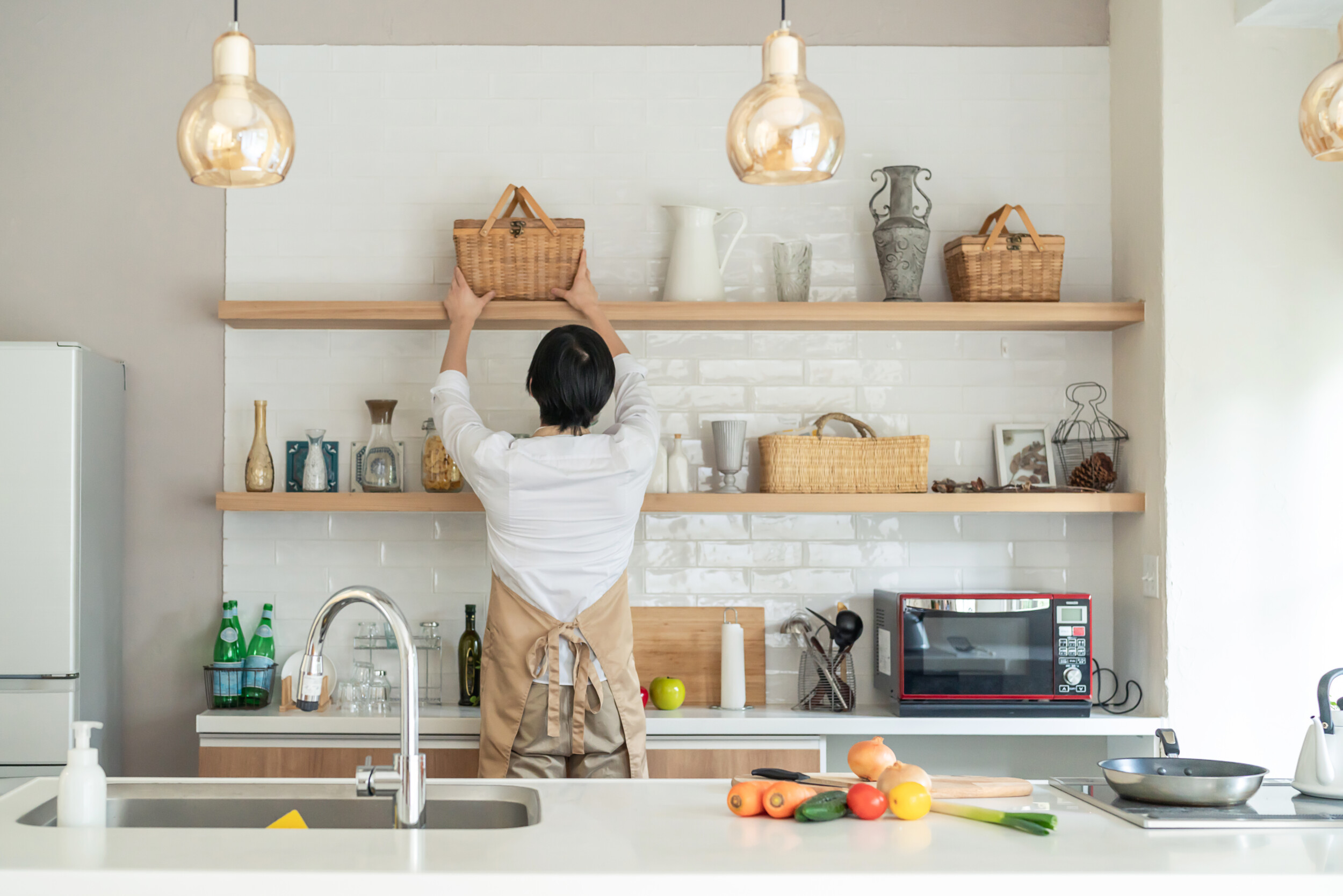 A Re-Purposed Pantry
Re-purposed pantries are an interesting way of adding a bit of fun to your kitchen space while evoking a more traditional design style. Kitchens can be very industrial spaces and sometimes they can lack character, so turning another type of storage unit into a kitchen pantry cabinet can make a big difference in adding charm into your kitchen. An armoire makes for a chic piece of furniture to be made into a pantry; they are spacious, and they are easy to add extra shelving into to convert into a full-scaled pantry.
And they look great juxtaposed with just about any design style for a truly transitional sense of everyday glamor.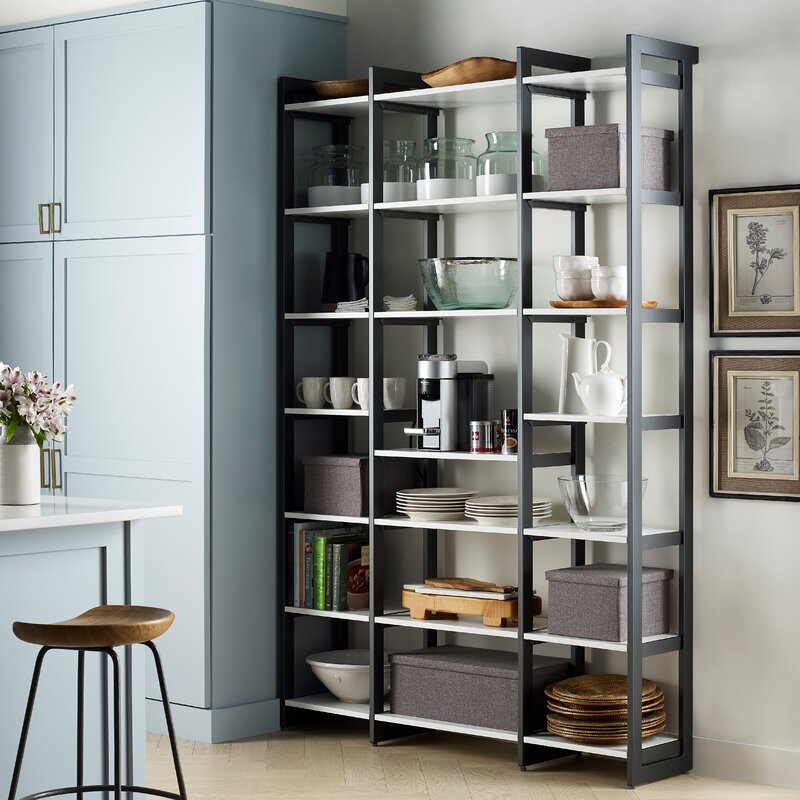 A Rustic Touch
While we aren't ones to push for an over the top theme of any design style in a home as it will easily look dated, a simple sliding barn door will add a rustic sense of farmhouse character to your kitchen pantry and will be inexpensive and easy to source, install, and replace.
We like that the homeowner whose pantry is pictured above kept the look modern with a simple yet classic, understated door, and sleek matte hardware. As if it were a vintage or antique door with heavy hardware, the look would feel too literal.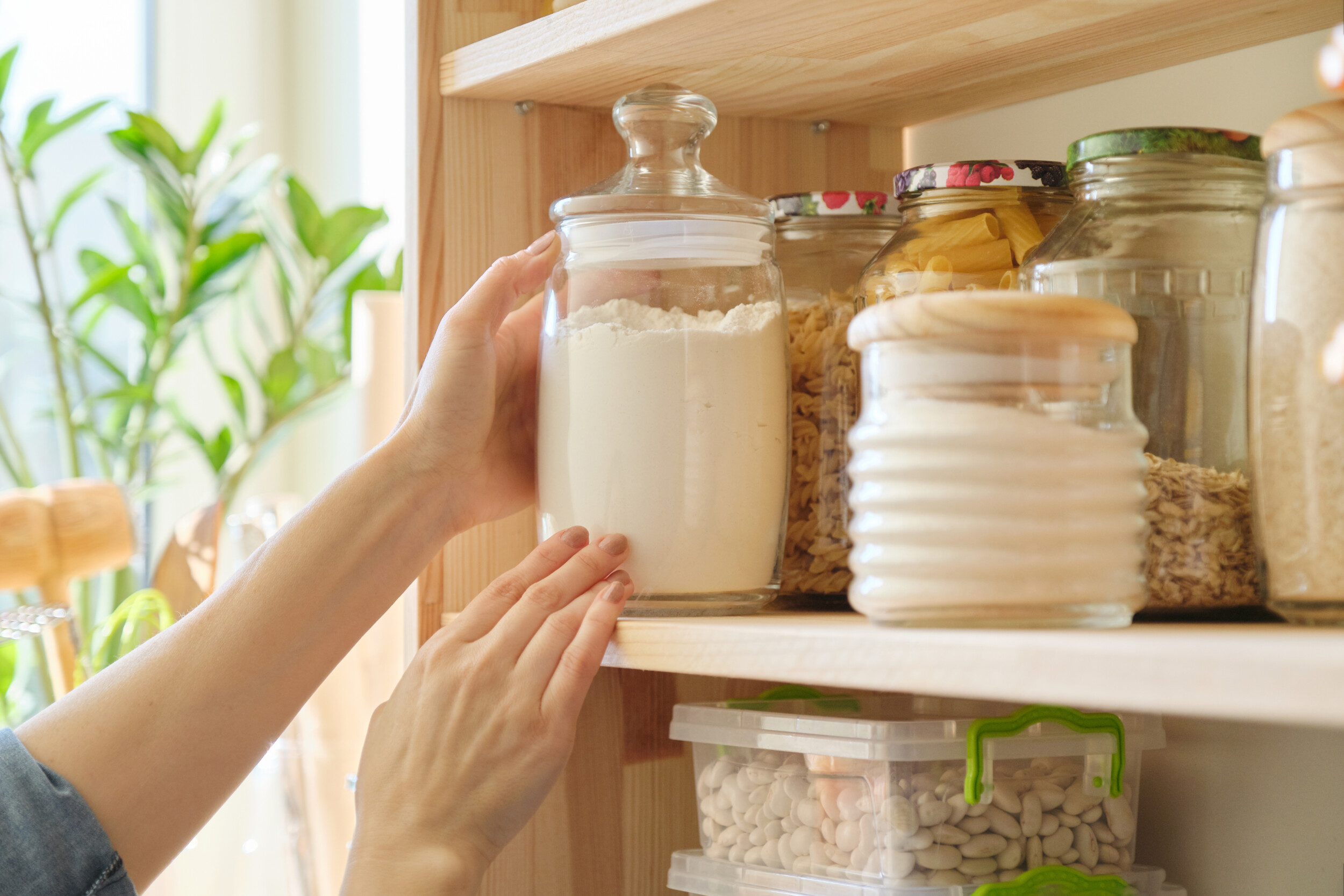 An Endless Sense Of Luxury
When it came to considering the top kitchen renovation trends for 2019, our kitchen experts and interior designers were all for beautifully realized kitchen pantry ideas that are so chic, you'd think you're in a museum or luxury boutique.
If your kitchen is modern and already hyper-organized, we suggest keeping the look consistent and opt for a walk-in butler's pantry with plenty of sleek yet empty counter space, dramatic lighting, and well-placed decorative kitchen objects and art. After all, every room in your home should have a wow-factor, no matter how every day or basic the need for it is.
The Classic Walk-In
Year after year, a classic walk-in kitchen pantry no matter the size is an ideal addition to any home thanks to its practicality and ample space. The trick to getting a walk-in kitchen pantry right lies in the built-ins you add and the extra storage solutions and shelving you bring in.
We suggest adding a variety of storage solutions that are versatile and installed at different heights to keep the eye moving. Even better are ones that are large enough to hold small kitchen appliances and ones that are small enough to keep small cooking necessities out of sight yet easily graspable. A potent mix of drawers, open shelving, hooks, and baskets will do the trick beautifully. Just keep the look simple so it will remain attractive years after you've perfected it.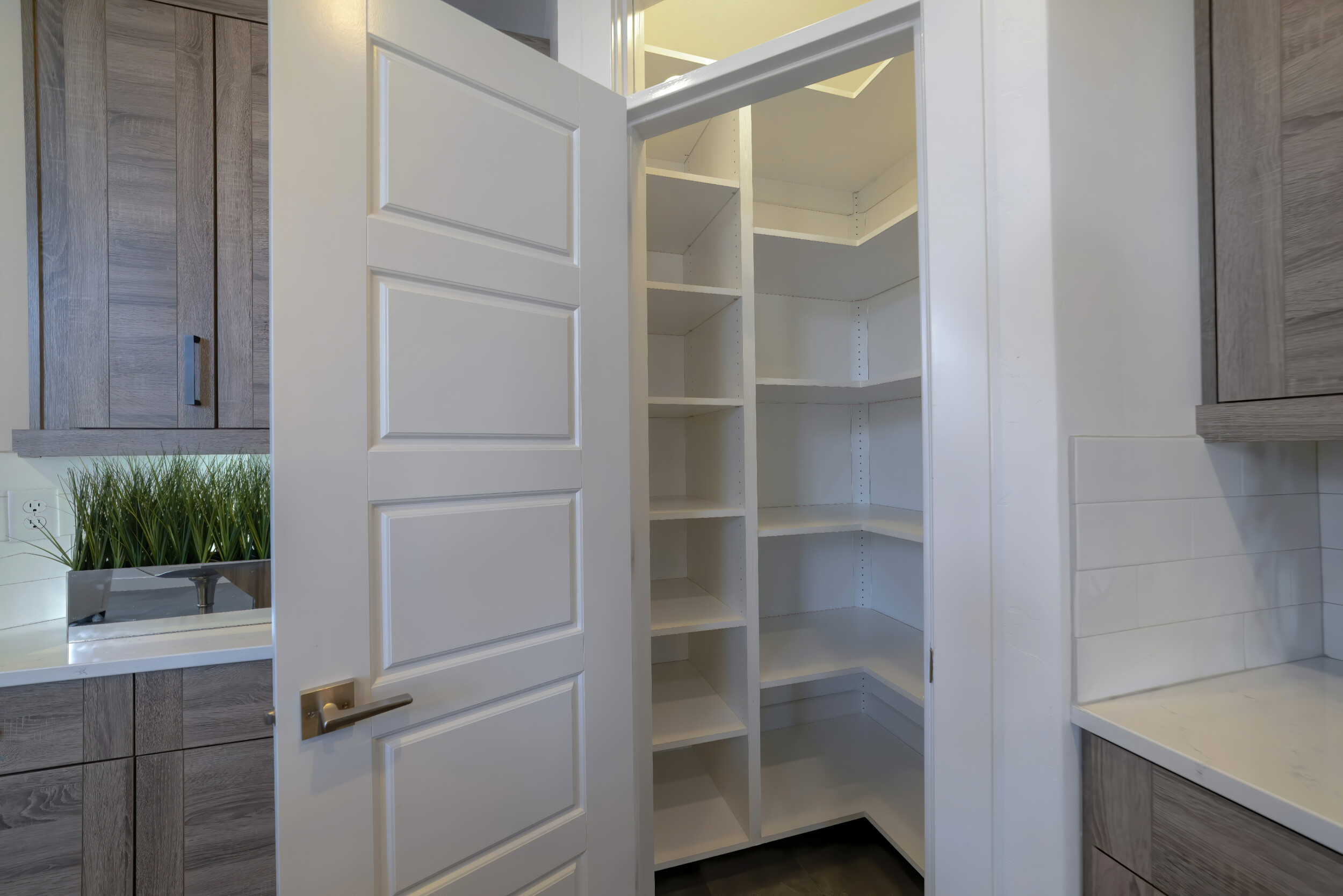 Over The Counter
An over the counter pantry is a great idea for small kitchen renovation ideas and just about any size kitchen alike. They make for a smart alternative as they are often slim lined, easy to reach, and larger enough to stow away small appliances that you can reach with ease.
Plus, when there's ample counter space underneath, they work to your advantage all the better as you'll have a space to put down what you grab that is close to your cooking, working, and eating stations.
Pocket Door Pantry
For small kitchens and just about any room alike, sliding pocket doors are a genius way to conceal unsightly items and your storage space won't have an annoying door swinging out taking extra floor space every time you open your pantry.
Since you'll be using this pantry cabinet door often, we suggest having a strong, well-built one installed that boasts a timeless design.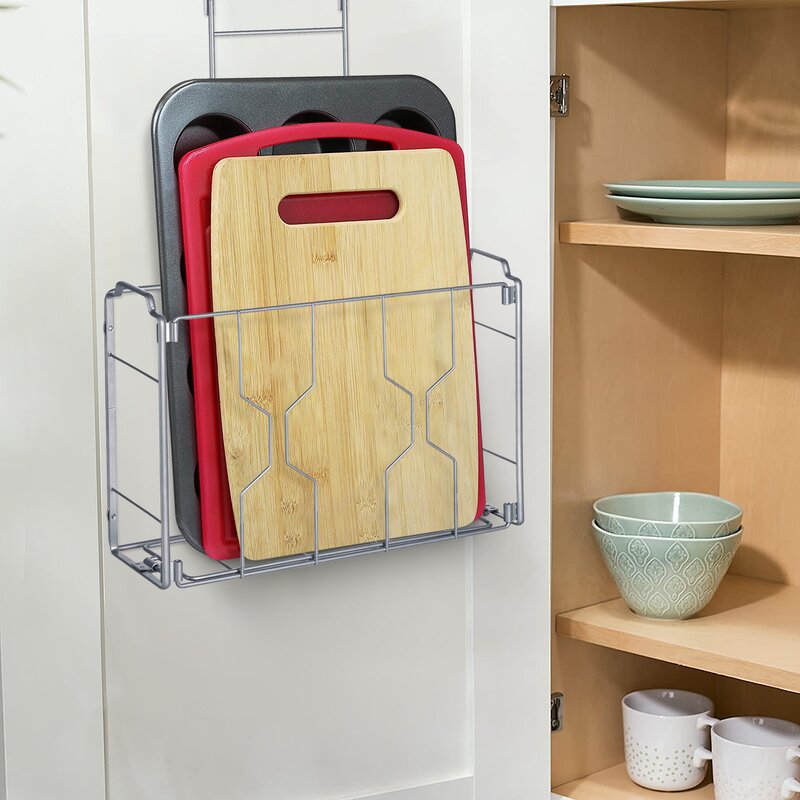 Sliding Glass Doors
For a truly modern take on kitchen pantry cabinet ideas, we love the highly stylized look of these matte black ribbed frosted glass doors that are timelessly cool.
Follow a similar route and look for sleek and sophisticated kitchen pantry elements that boast a generous ode to minimal, thoroughly modern design to get the most for your money.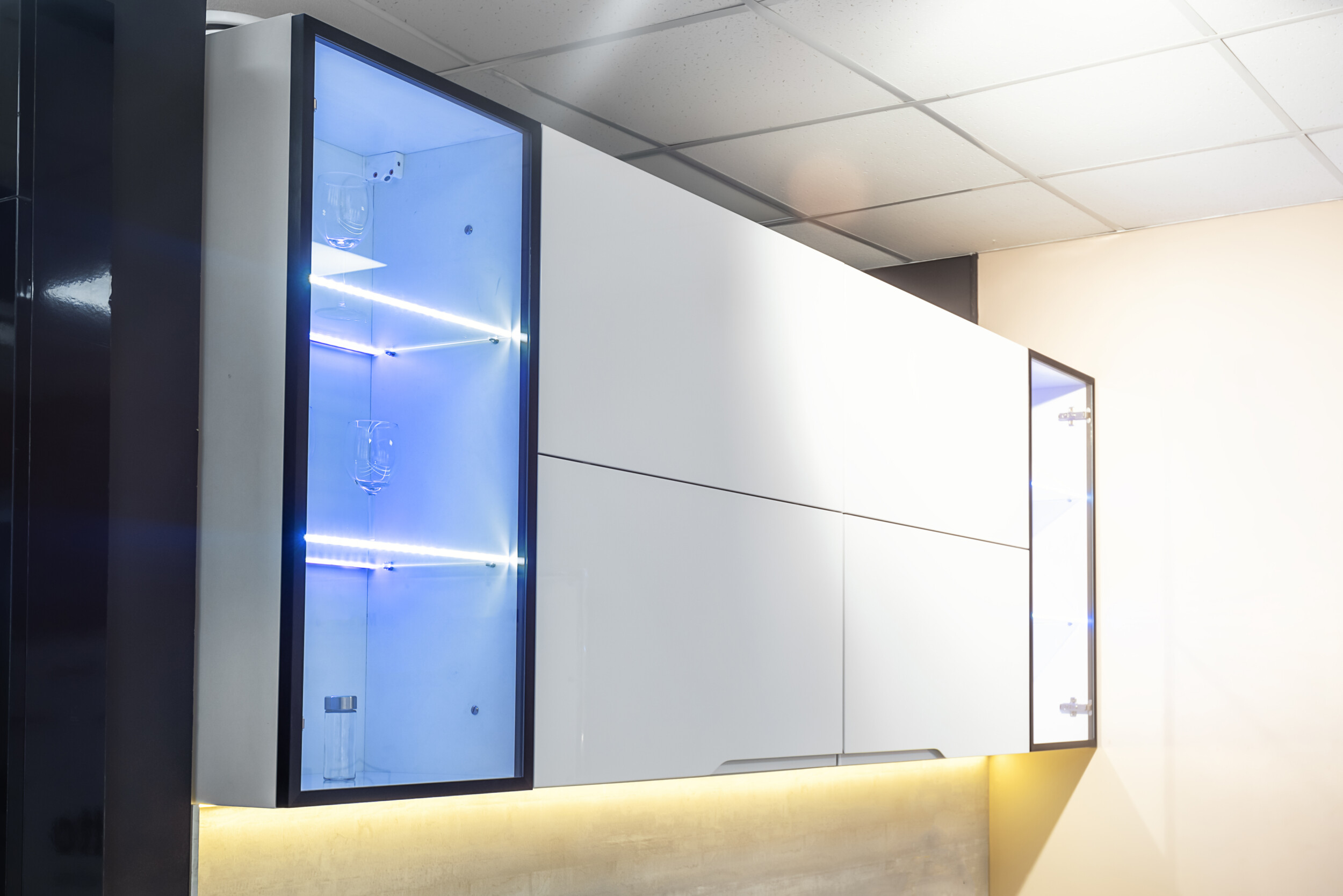 Under The Counter
Another great kitchen pantry trend we saw were ones that took brilliant advantage of often forgotten spaces, like underneath the cabinet. That slim space makes for a genius spot to use less used linens and serving dishes alike.