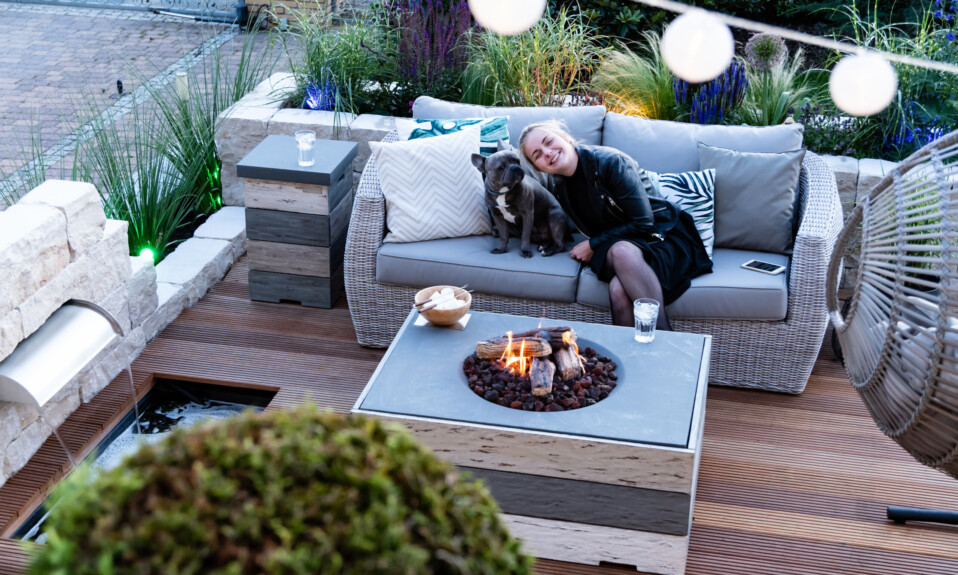 With summer on its way, it's time to start thinking and planning your outdoor summer decor. Outdoor summer decor ideas are a great way to help you make the most of your space throughout the summer months, helping your garden become a luxurious place of play and joy, where you can spend time with your friends and family and sit back in comforting yet sophisticated style.
And according to Décor Aid interior designers, these are some of the best outdoor summer decor ideas to consider for your home and a future outdoor upgrade. So much so that we bet that you'll enjoy them for years to come.
Bohemian Luxe
When it comes to creating the perfectly stylish outdoor space take a cue from your own taste in interior design and bring your favorite design style outdoors. From a sumptuously decadent take on Bohemian splendor filled with chic ethnic-inspired garb to a subtle, minimal moment, there's no reason to not add personality in your own backyard.
Just be sure that you do bring in those decorative accessories when not in use so you can better avoid sun and water damage.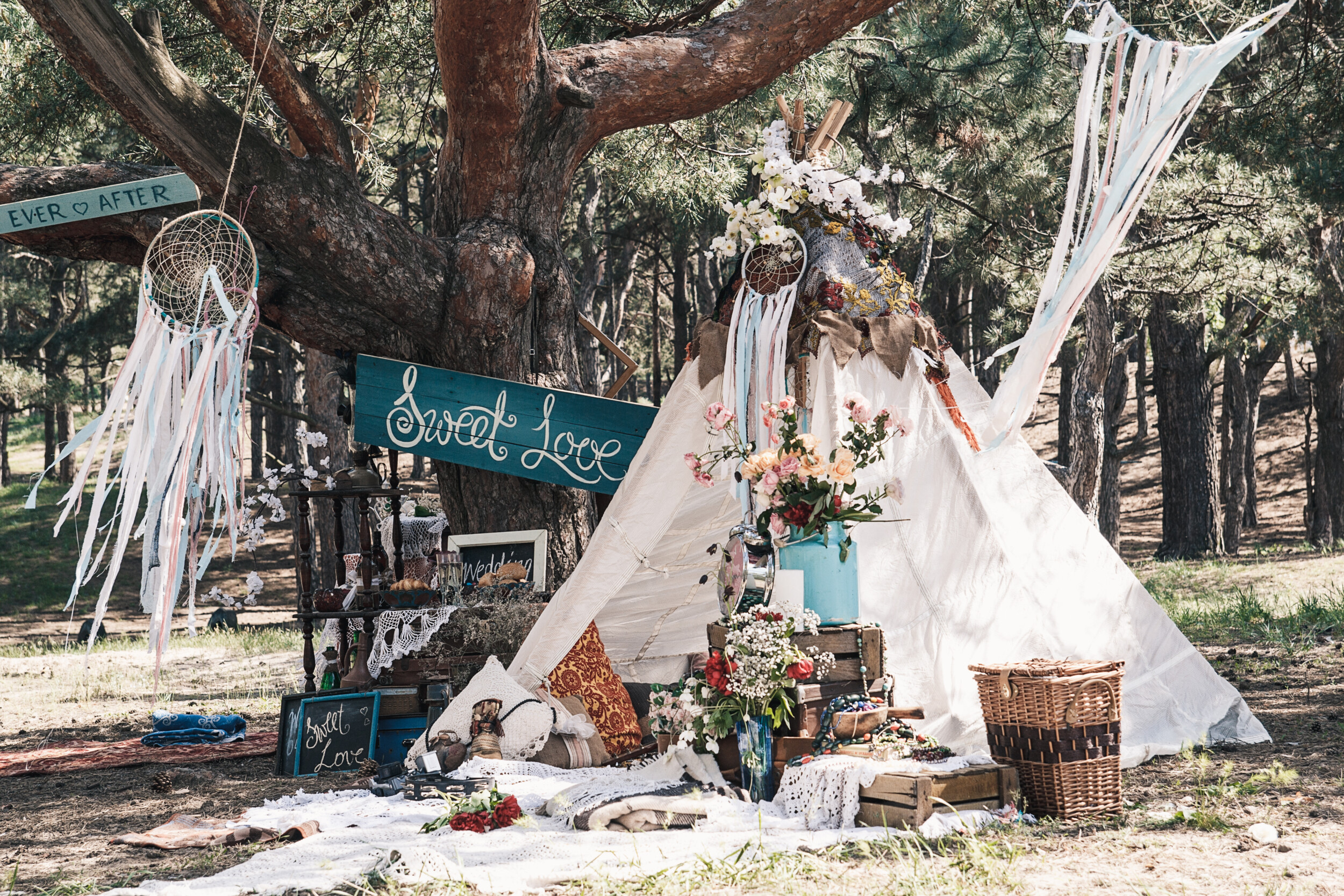 Custom Built-In's
If you've got a decent outdoor summer decor budget, why not consider investing in a forever-chic set of outdoor built-in furniture. The setup will be unique to your home while adding to its potential resale value. Even better is the fact that everything will be secure, so you won't have to worry about things falling over or flying away.
Plus, when you go with custom outdoor furniture, you'll have an easier time fitting everything you want in the space, no matter how small it is – there are smart solutions readily available from a trusted renovation expert.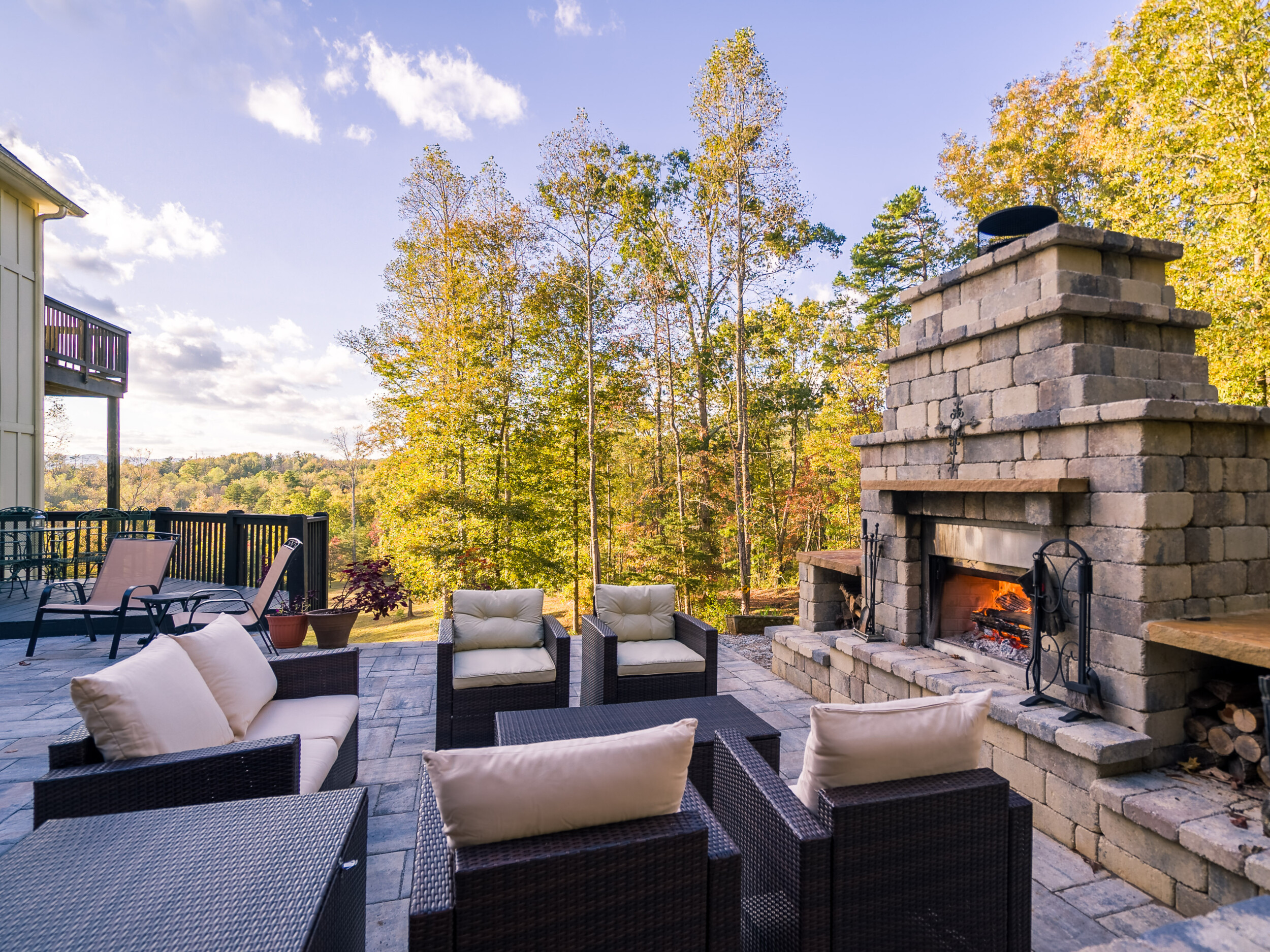 An Affordable, Multi-Use Structure
A first look at this stunning perforated brick structure elicits two immediate reactions: the first being how fantastic and unique it looks, the second being how easy and affordable to create it must have been.
So if you've got ample yard space to work with, consider building your own multi-use structure with a similar simplicity to it. Thanks to its general design, it can be used for just about anything. From extra-storage to the perfect venue for hosting events, it'll keep you covered.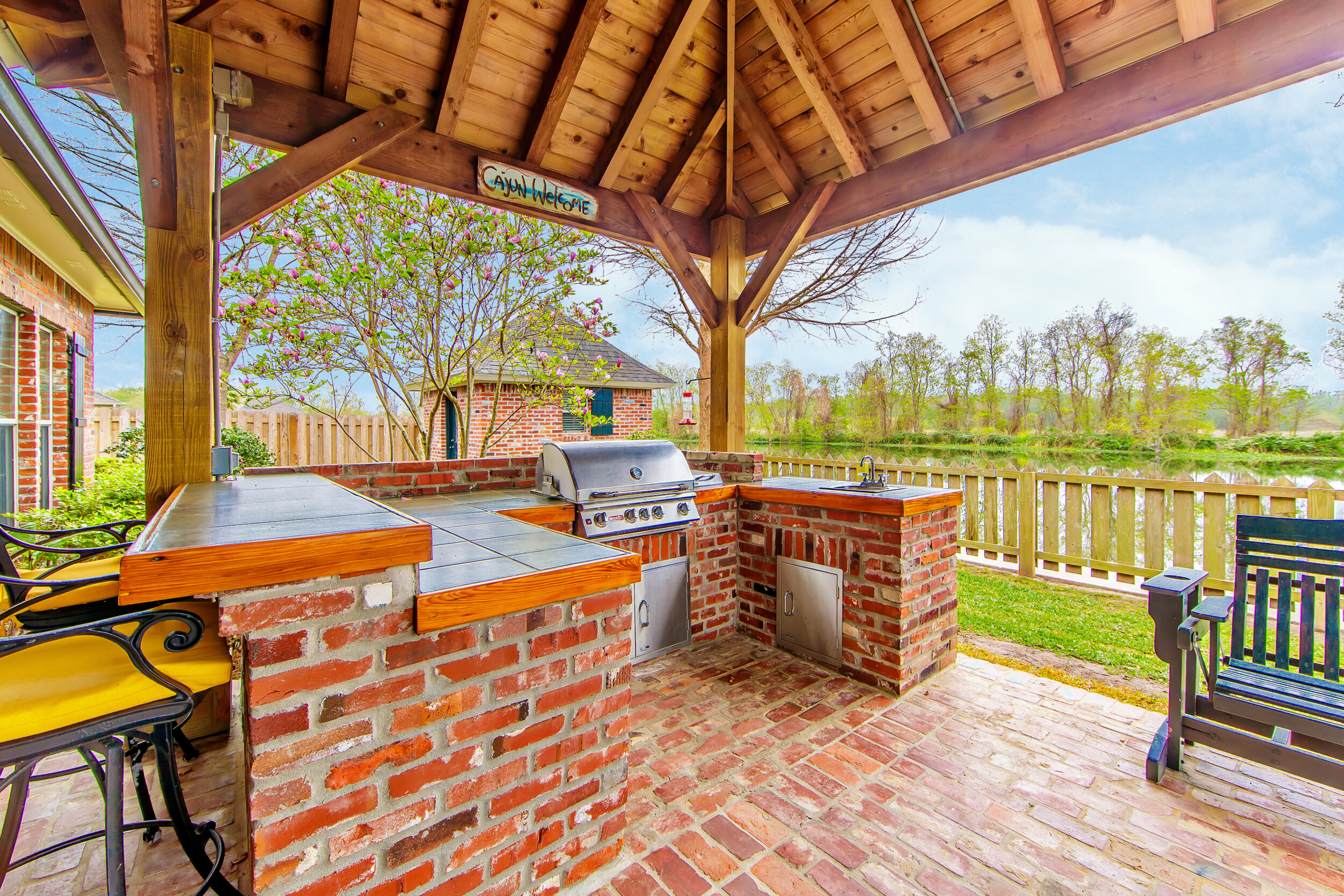 Water Feature

Elevate your outdoor summer decor ideas with a classic water feature boasting modern materials and colors like a flat black matte finish. Not only will it feel calming every day, but it'll also make for a luxurious addition to any well-judged backyard. And it doesn't have to cost a small fortune.
Our interior designers loved how simple yet visually bold and effective the outdoor water feature above comes off as.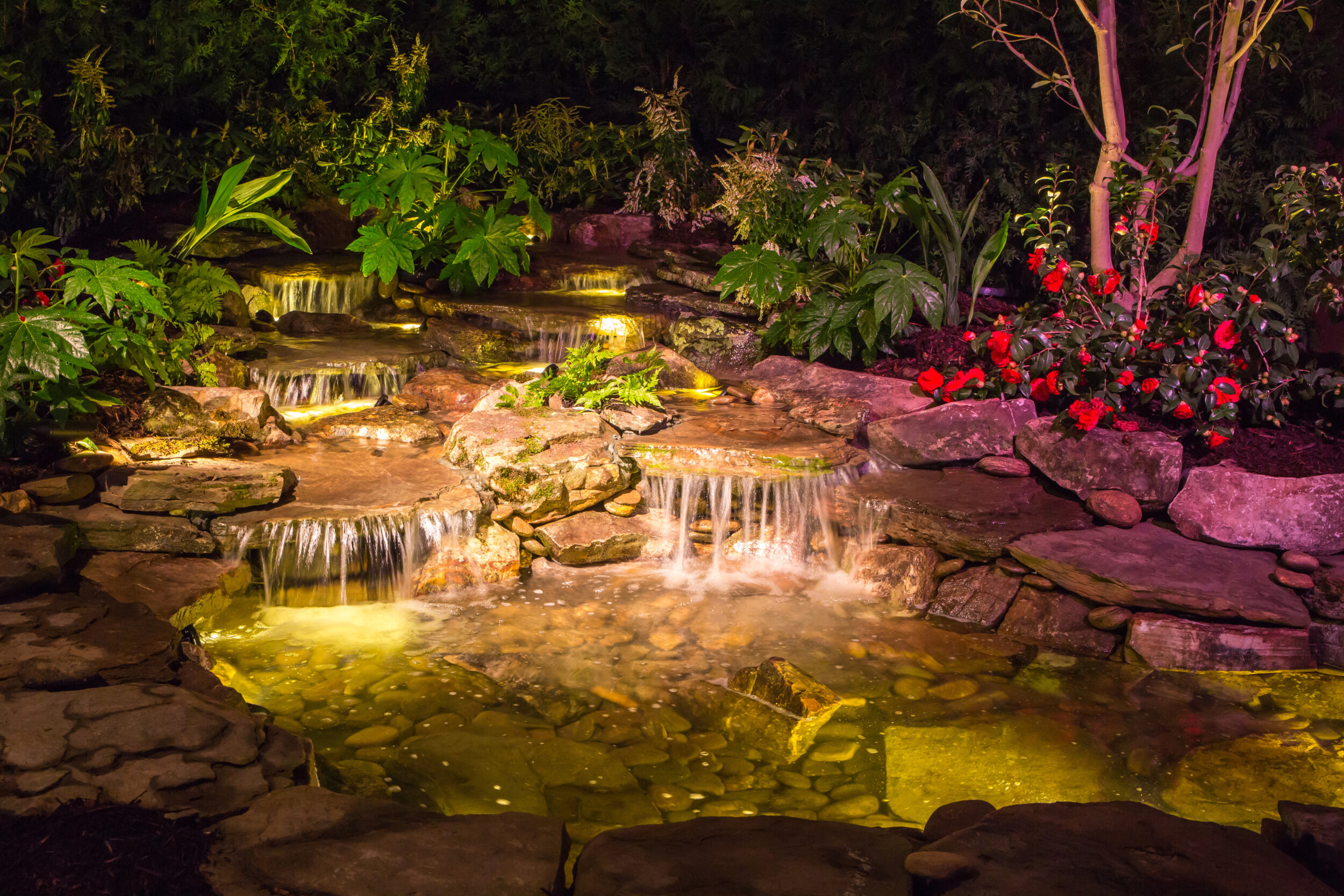 Classic Pergola

Nothing beats the romantic, Mediterranean-inspired feel of a classic wooden pergola hanging overhead. Use your's to block the suns damaging rays and to keep outdoor entertaining feeling polished and intimate.
And be sure to bring in plenty of dramatic vines to grow and wrap around it.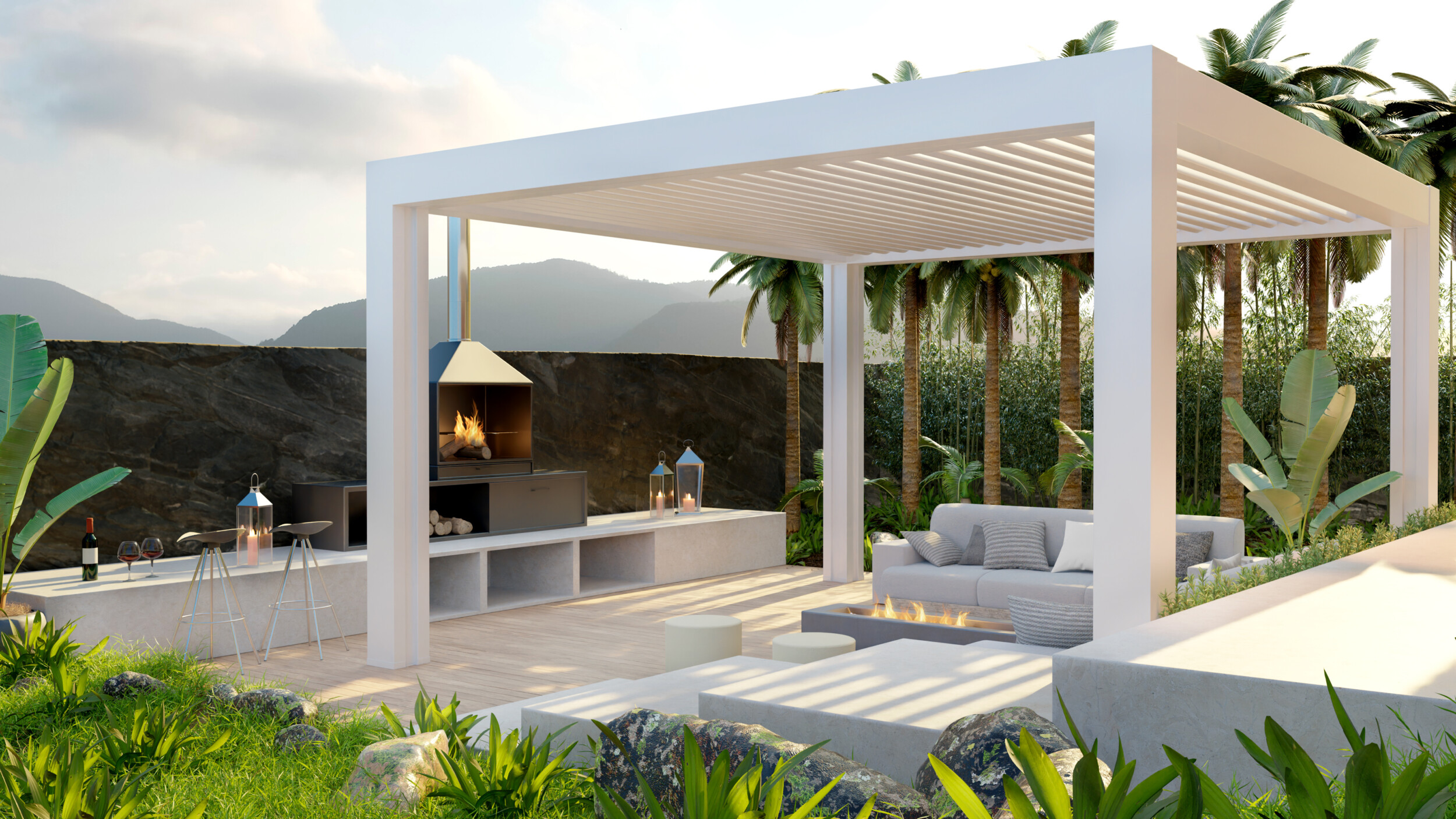 Open Plan
If you live in an area that's blessed with a warm climate year-round, consider investing in sliding or accordion glass doors to make your outdoor space appear larger while taking in the best of both worlds.
Glass Pergola

While the idea of a pergola is nothing entirely new when it comes to outdoor summer decor, there's something endlessly cool about opting for a weatherproof glass alternative that while it won't block the sun, it will still help keep leaves and debris away.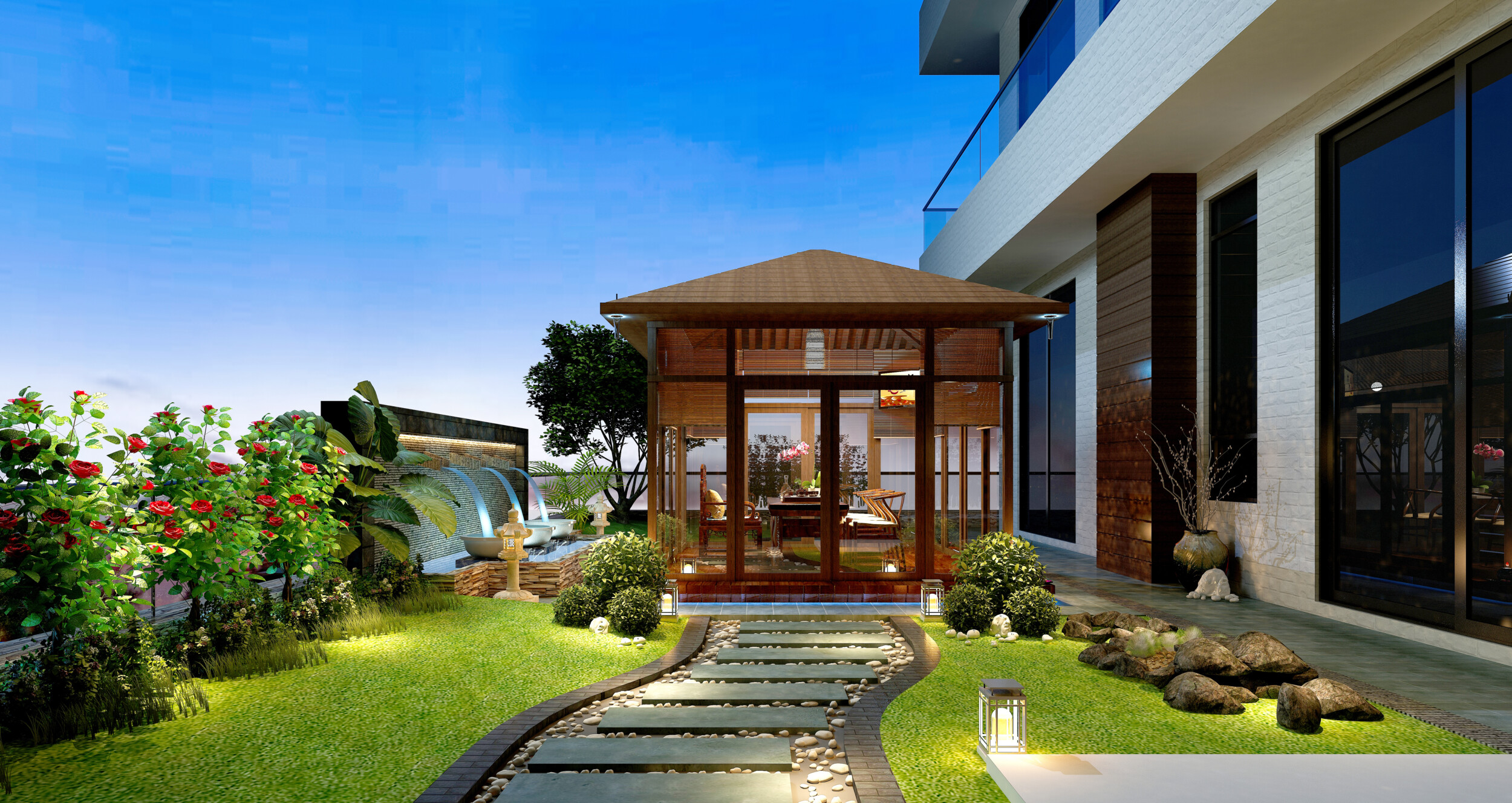 Planter Group

For a visually pleasing sense of consistency, a grouping of plants in various scales in matching vessels will bring a sense of unifying strength to your outdoor summer decor. And it will keep the eye calm and moving.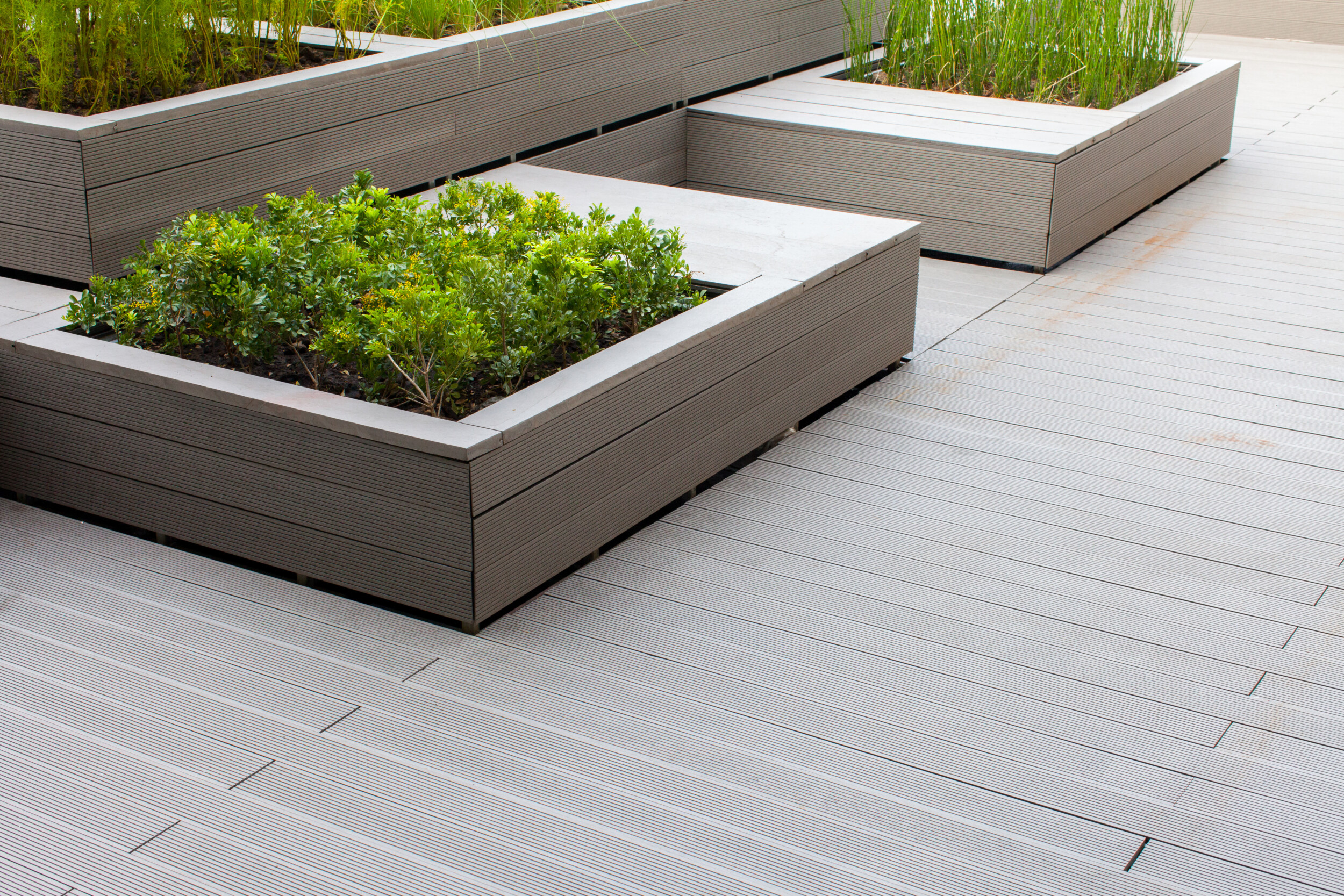 Rattan Hammock
Enjoying a balmy afternoon nestled in a hammock is a surefire way to enjoy time spent outdoors and is even better when you source one that boasts a sturdy rattan construction. Because at some point, we've all mangled and fallen out of woven hammocks at least once.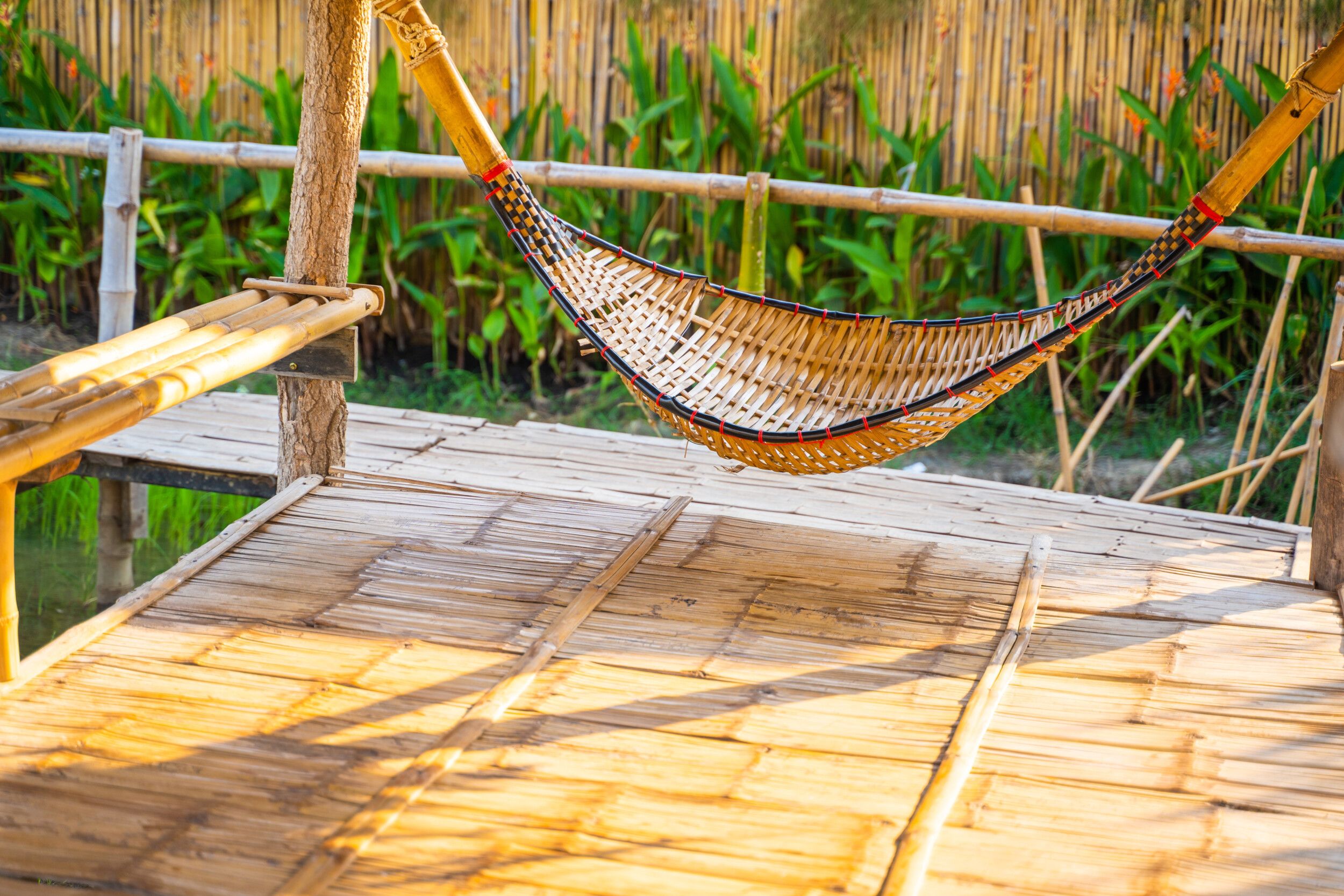 Charming Courtyard

If you've got a hefty budget when it comes to outdoor summer decor, investing in creating a memorable courtyard feel will be sure to infinitely boost the resale value of your home. And at the end of the day, you'll never want to leave its idyllic confines.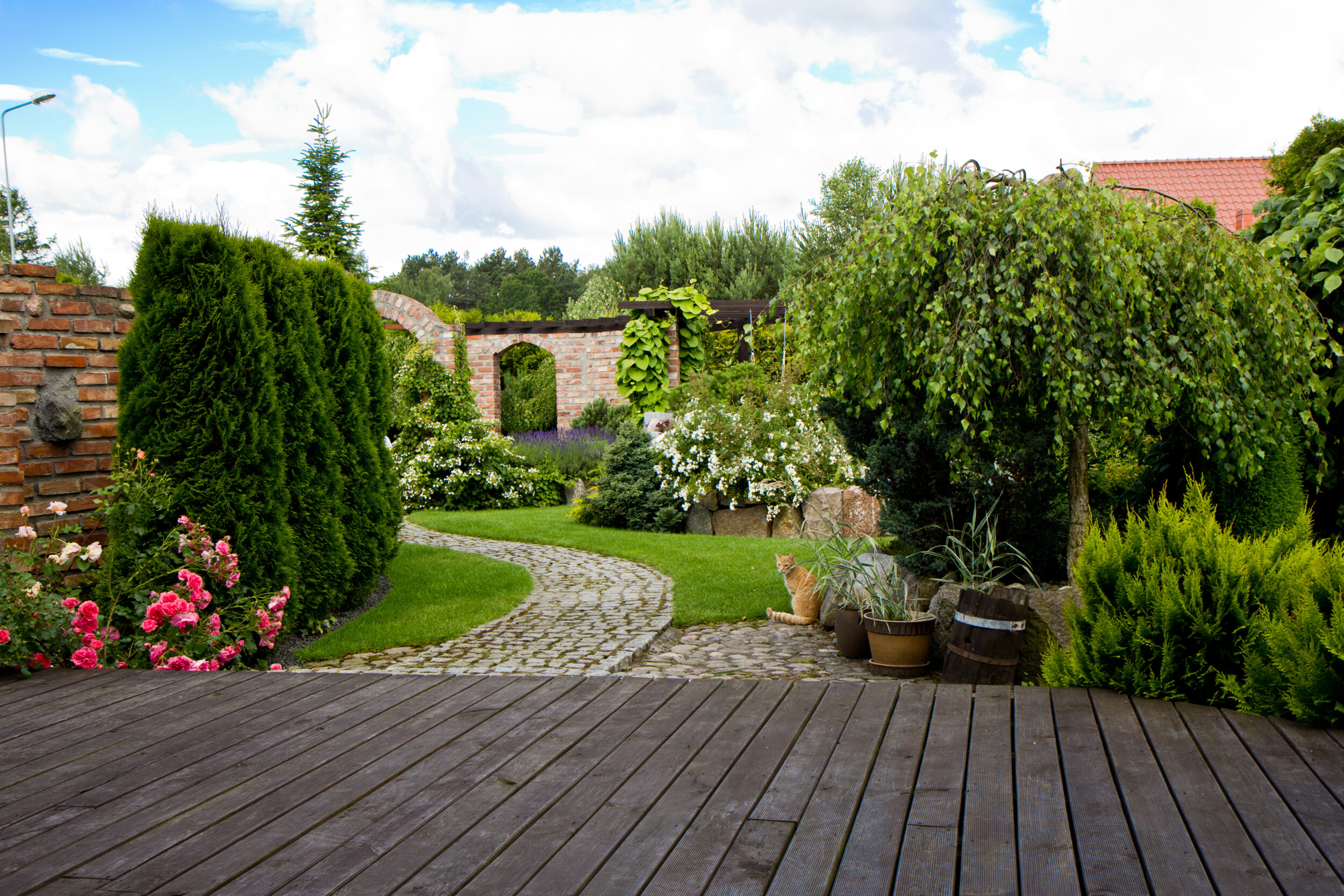 Glass Treehouse
When looking at outdoor summer decor ideas, this innovative glass treehouse with majestic simplicity was a hands-down favorite with the Décor Aid team. It looks utterly cool and inspiring, to say the least.
That said, there's no denying that this will be one costly addition to your outdoor space, and one that will be tricky to get right – so leave it to the pros you bring in to get it right with their wisdom.
Full Outdoor Kitchen
Outdoor kitchens boasting a full range of appliances and workspaces are certain to help you spend the most of enjoyable times outside. And again, a custom-built unit will make for a hefty expense, but one that will be worth it for years on end.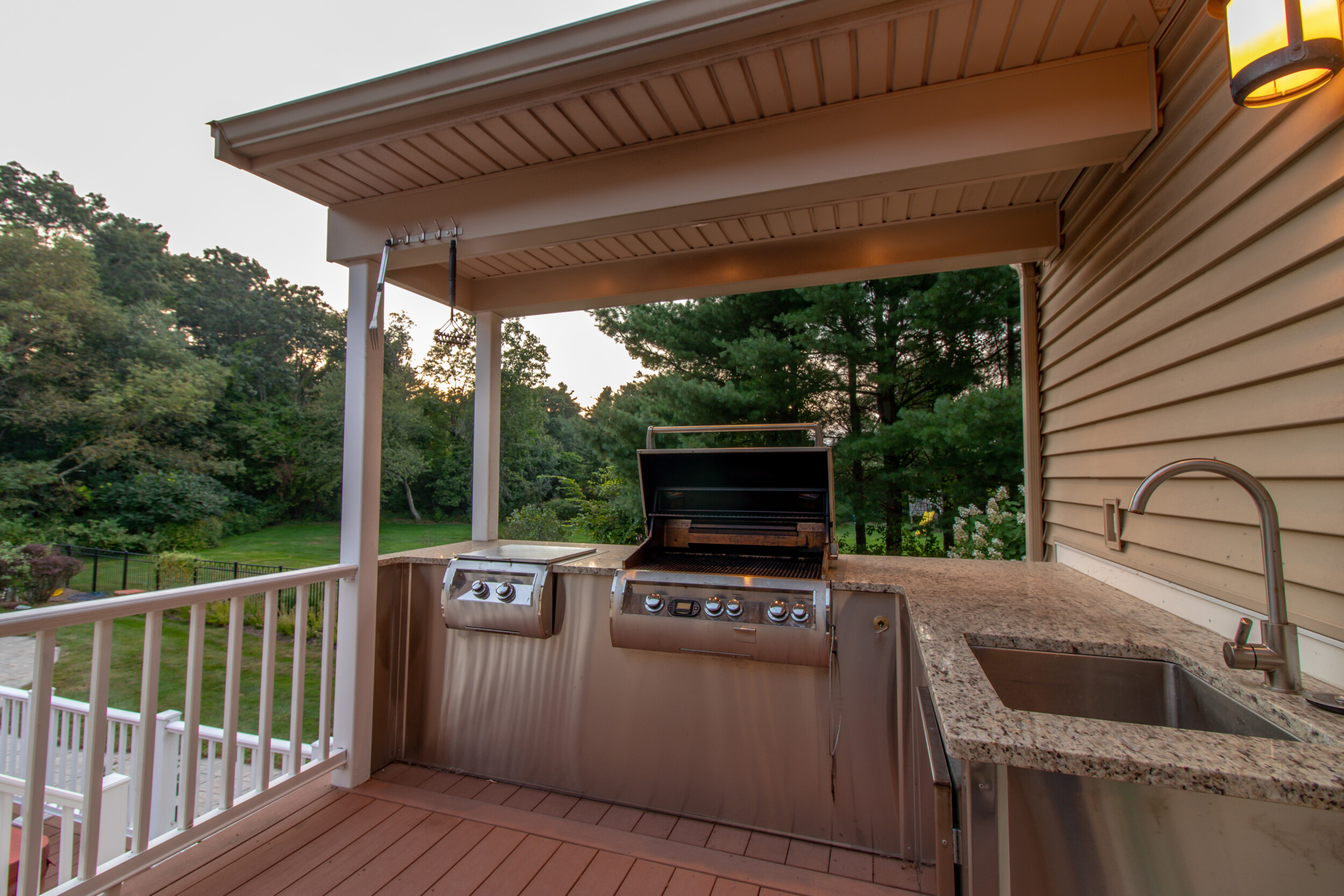 Glass Wall
Glass walls make for a breathtaking alternative to wooden privacy fences that won't block any view or light but will certainly keep pesky intruders like animals and rodents away.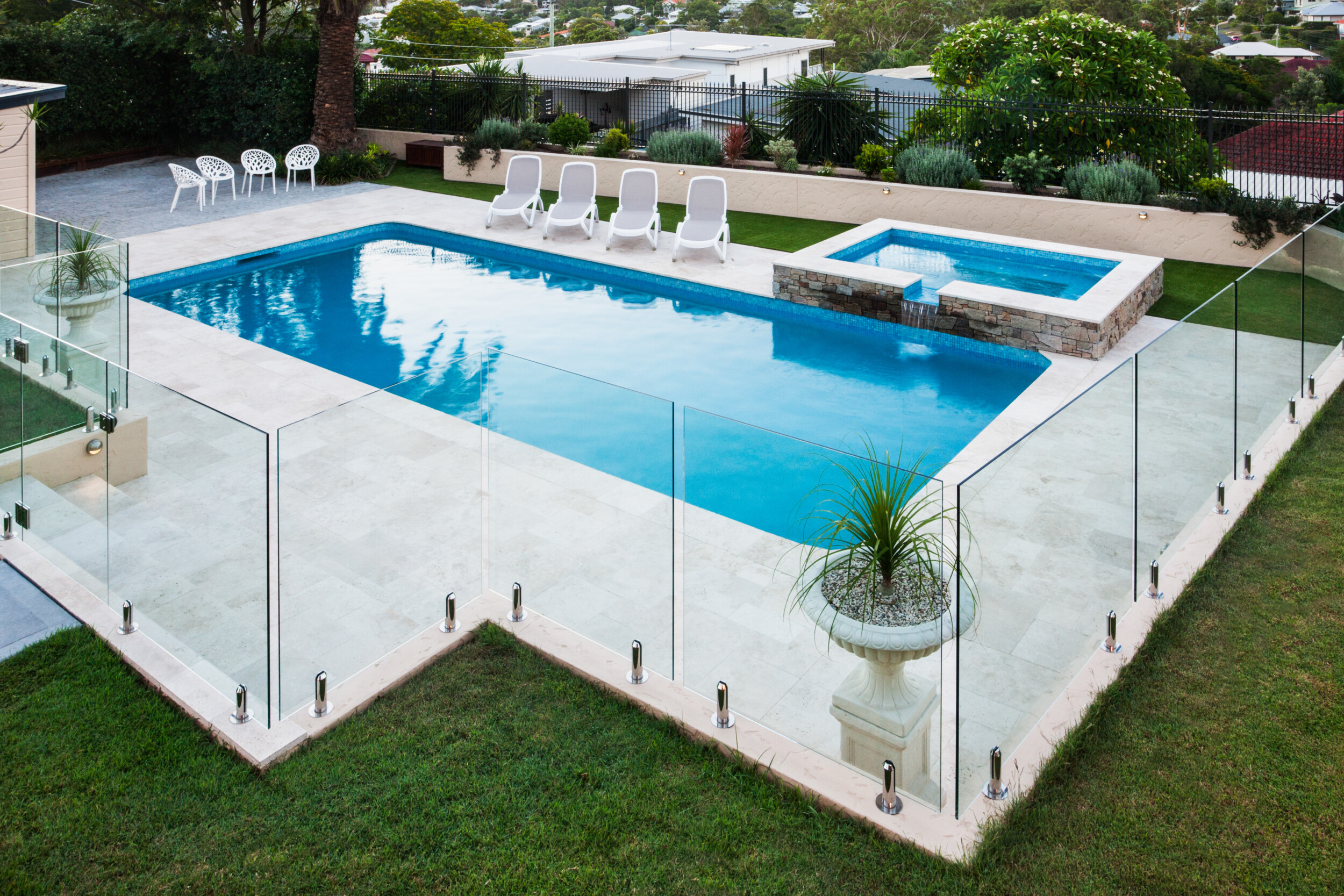 Varied Lush Garden
Take a cue from the lavish botanical filled gardens of fashion designer Dries Van Noten and do add a riotous mix of blooms to your outdoor summer decor must-dos.
Convertible Structure
Whether it's used as a guesthouse or simply for entertaining, there's no denying the cool allure of this modern convertible outdoor structure that features a retractable roof and glass walls.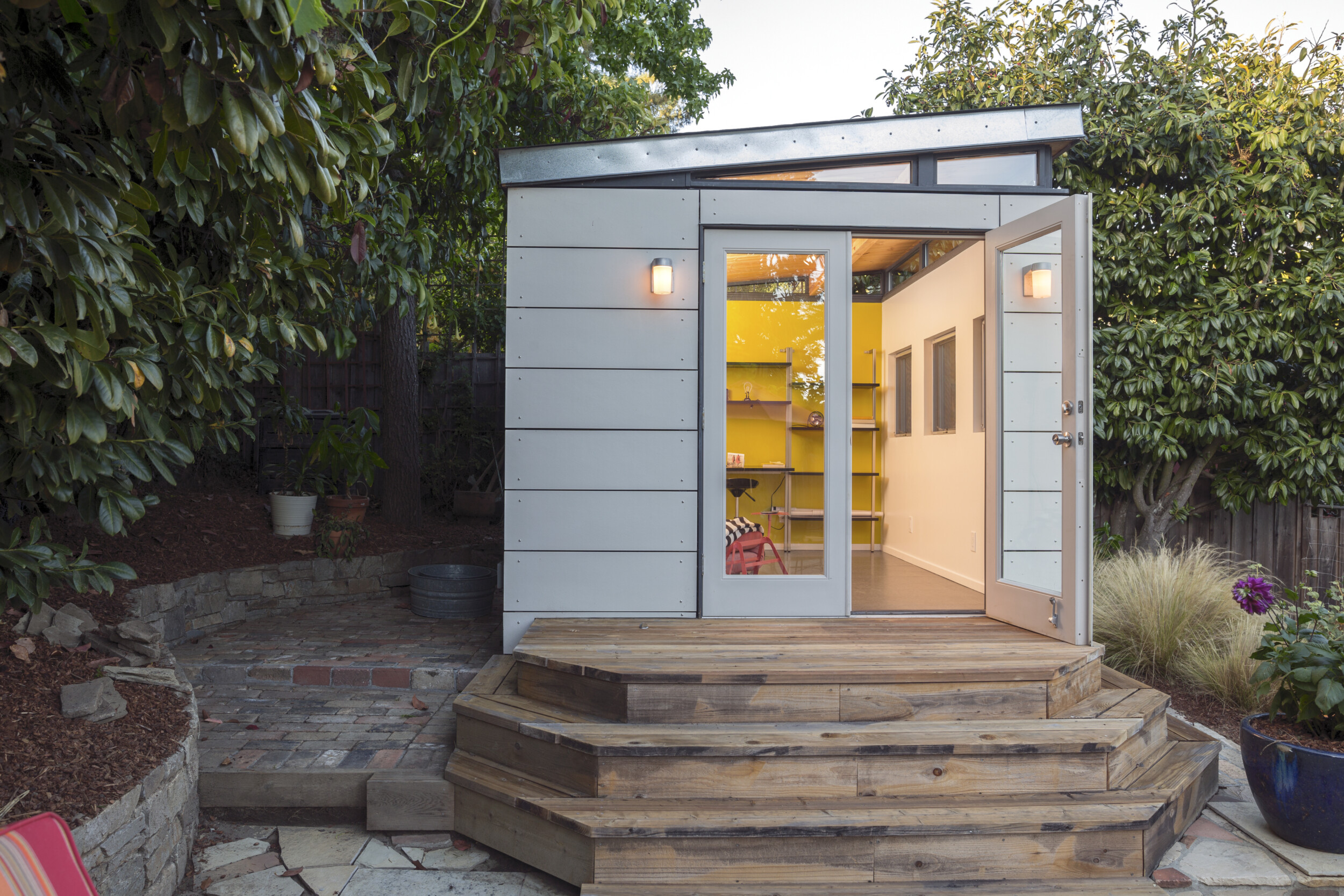 Wooden Gazebo
Another outdoor summer decor go-to, a classic wooden gazebo or structure can withstand weather of all sorts while being inexpensive to create.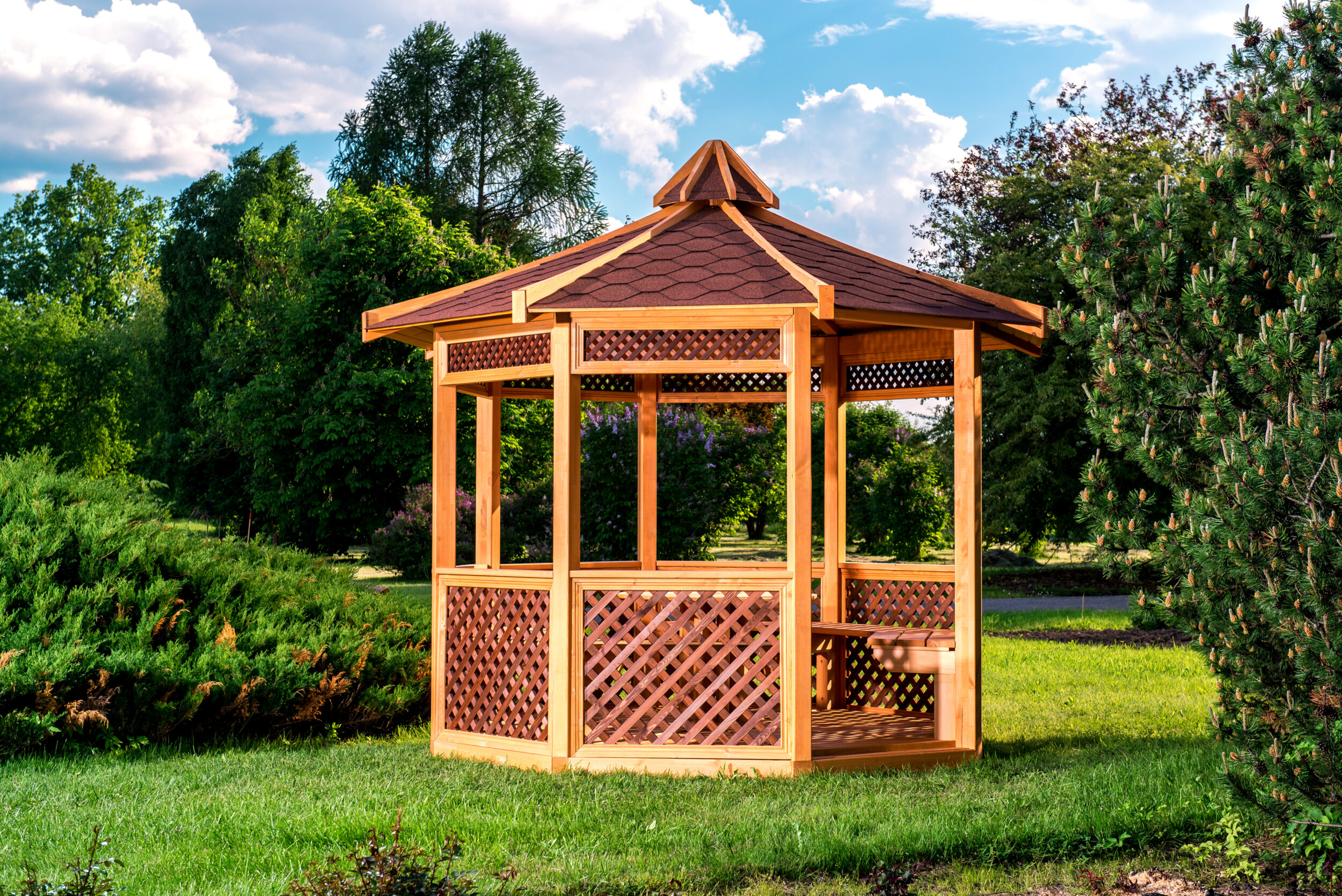 Chic Tents
If you're looking for something less permanent that's easier to move, then consider elegant tents as a great alternative to your outdoor summer decor setup.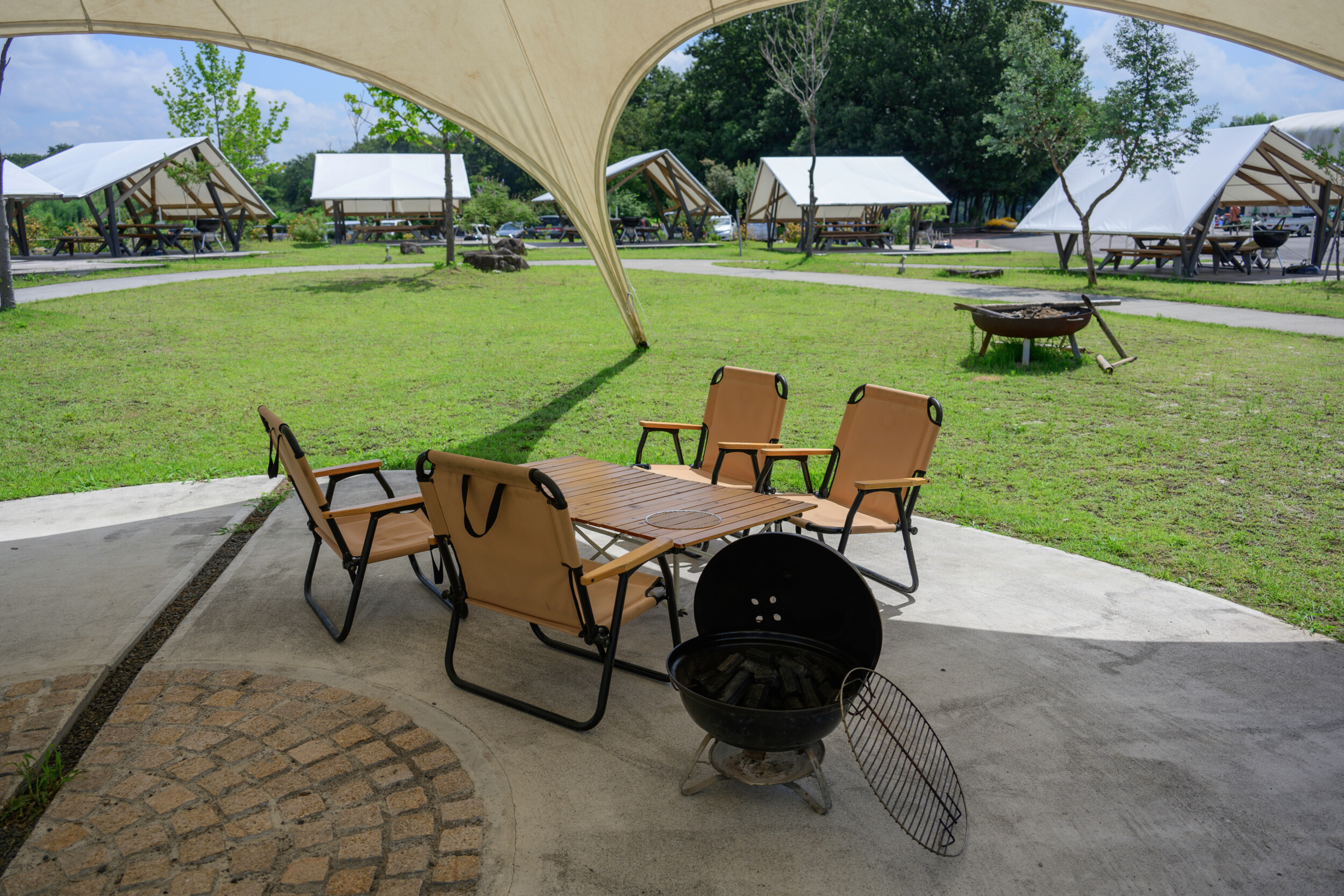 Take the Indoors, Outdoors
There's no reason that your garden or patio area can't feel just like a comfortable living room, so don't be shy when it comes to outdoor summer decor and bringing the indoors outside with you. This idea is really simple and easy to replicate, all you need to do is envision an outdoor version of a living room – think waterproof comfy sofas, armchairs, outdoor rugs, and side tables.
If your outdoor area is covered, then this makes outdoor summer decor ideas like this super easy (as you don't need to worry about the weather and sun as much). If it's not undercover, then don't worry, there are plenty of weather-proof options out there that don't skip out on great style.

Coastal Theme
Okay, so this idea isn't a brand new one, we'll admit that it's not a new style for outdoor summer decor ideas 2019, but it's still one of the best and most timeless. A coastal theme with oceanside-inspired colors has been a perfect porch decor idea for decades on end, and there's good reason for it.
There is something about coastal design which is inherently relaxing – making it perfect for any outdoor space. The mixture of blues and whites transports you to the beach and nautical themed accessories will transform your outdoor summer decorating ideas into an oasis.
Terrazzo
Terrazzo is making a comeback. Don't worry, you aren't going to be transported back to the '70s – terrazzo is keeping it stylish and sneaking back into fashion and we think it has a firm place when it comes to outdoor summer decor ideas in 2019. It's something a bit different and it plays up to the desire for texture and almost replicates a mosaic-style design.
Terrazzo is great for patio flooring, or for a tiled area of your outdoor space. There are also some great terrazzo flower pots and outdoor accessories, which will be the perfect base for brightening up your outdoor summer decor with plants and flowers.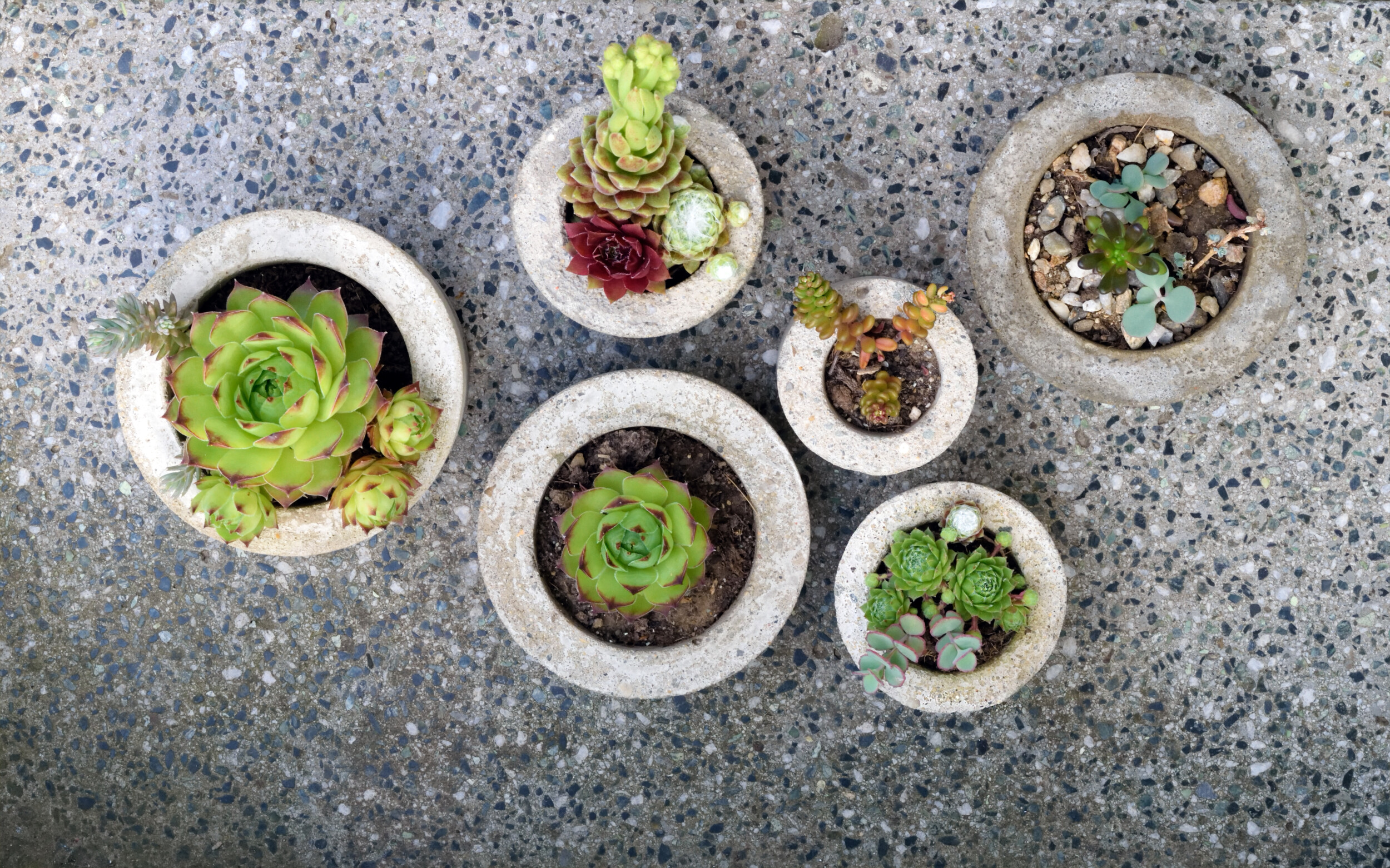 Color, Color, Color
For a while, outdoor summer decor has relied heavily on a muted color palette and soft hues. If neutrals and soft colors aren't inspiring to you, then you should consider this year's trendiest outdoor decor ideas for summer; hits of bold, unforgettable color. It's time to get on board with bright and bold outdoor furniture, vibrantly patterned throw cushions, and punchy hues in the form of textiles, plant pots, and flowers.
If you are handy with a paintbrush you can try your hand at updating your current outdoor furniture with a bold coat of fresh paint, creating vibrant outdoor summer decor certain to energize.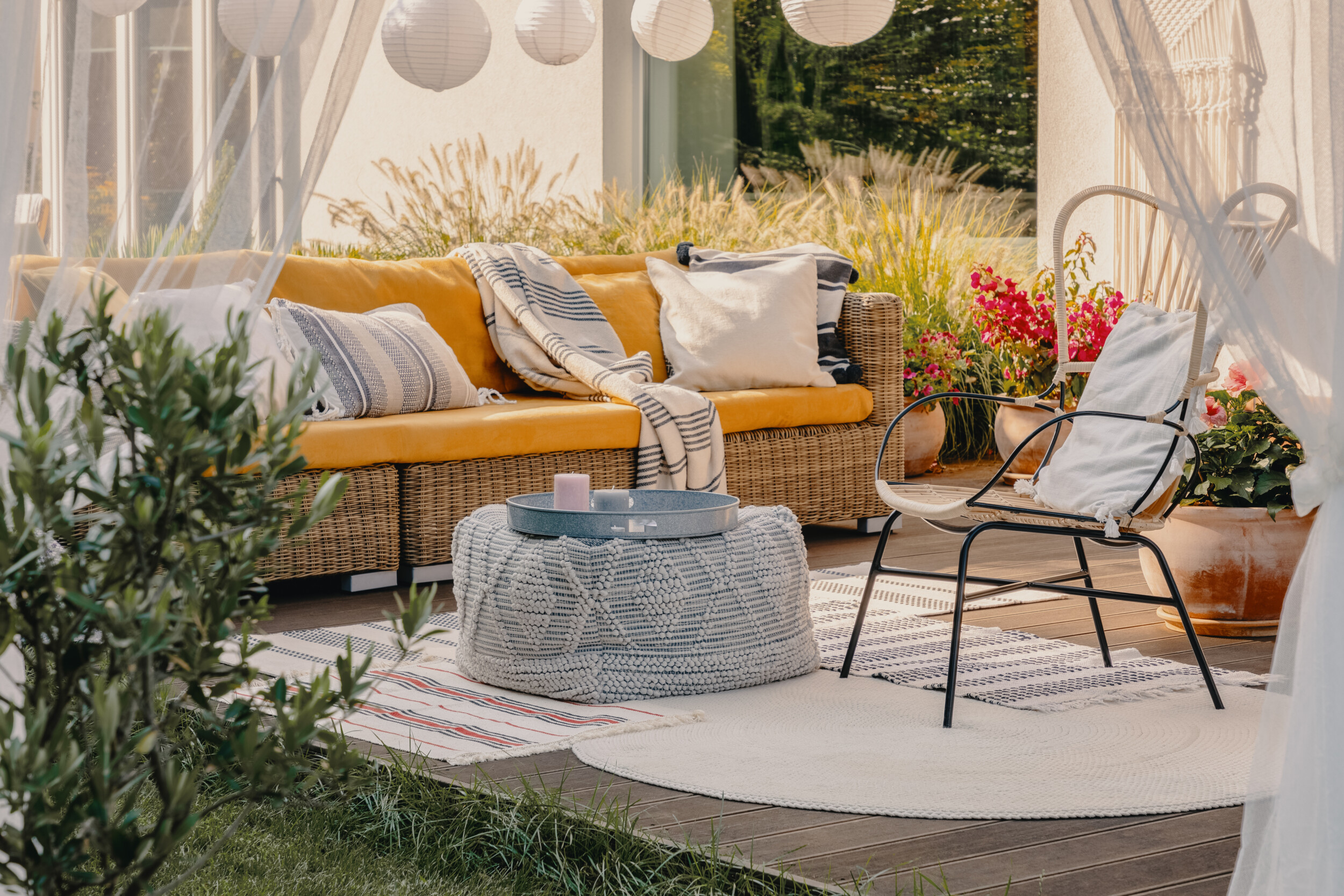 Chic Lantern Lighting
Once the sun has gone down, every outside space needs to be lit and there is no better way to do this, than with charming lantern lighting. The great thing about lanterns is that you can get them in all manner of shapes and sizes and pretty much any color you want affordably. Meaning you can fit your lantern lighting perfectly with your current outdoor summer decor.
Lanterns are a fun and stylish way to light up your outdoor space. You can go for an all-white look for a chic and classic look or a rainbow of colors for something more vibrant and playful. They are also great for those large summer BBQ's you're planning and are perfect for outdoor summer party decoration ideas.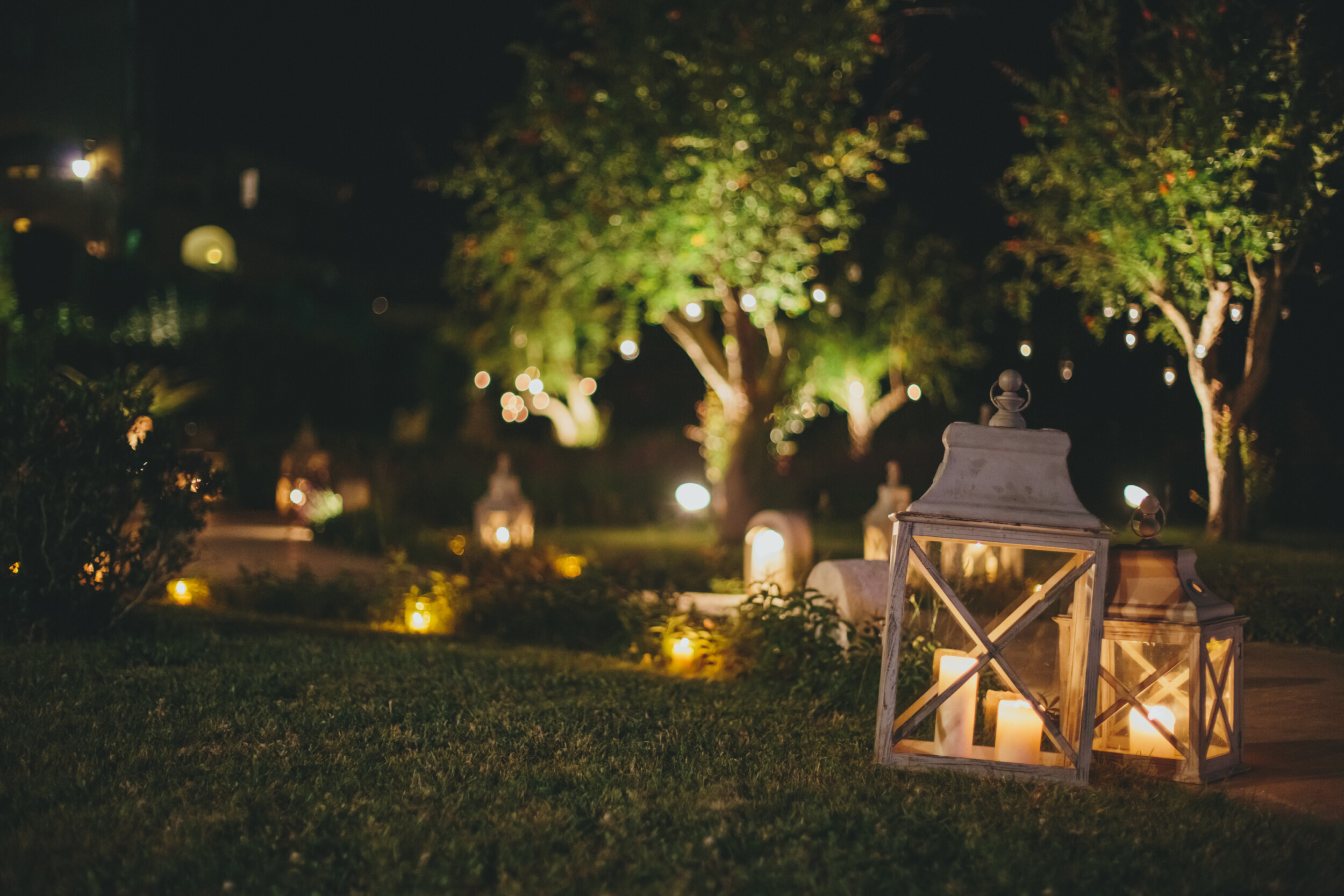 String Lighting
String lighting is another great way to shed some light on your outdoor space. String lighting looks more delicate than lanterns in the evening when the bulbs are glowing, and everyone is sitting around laughing. Plus they also look great in the daytime too. String lighting is available in all sorts of colors, with different sized and shaped bulbs, and soft or bright light.
Whatever works best alongside your other outdoor summer decor ideas, string lighting is an affordable way to illuminate any outdoor space. They are also great for creating an intimate dining area, or for stringing up around a porch.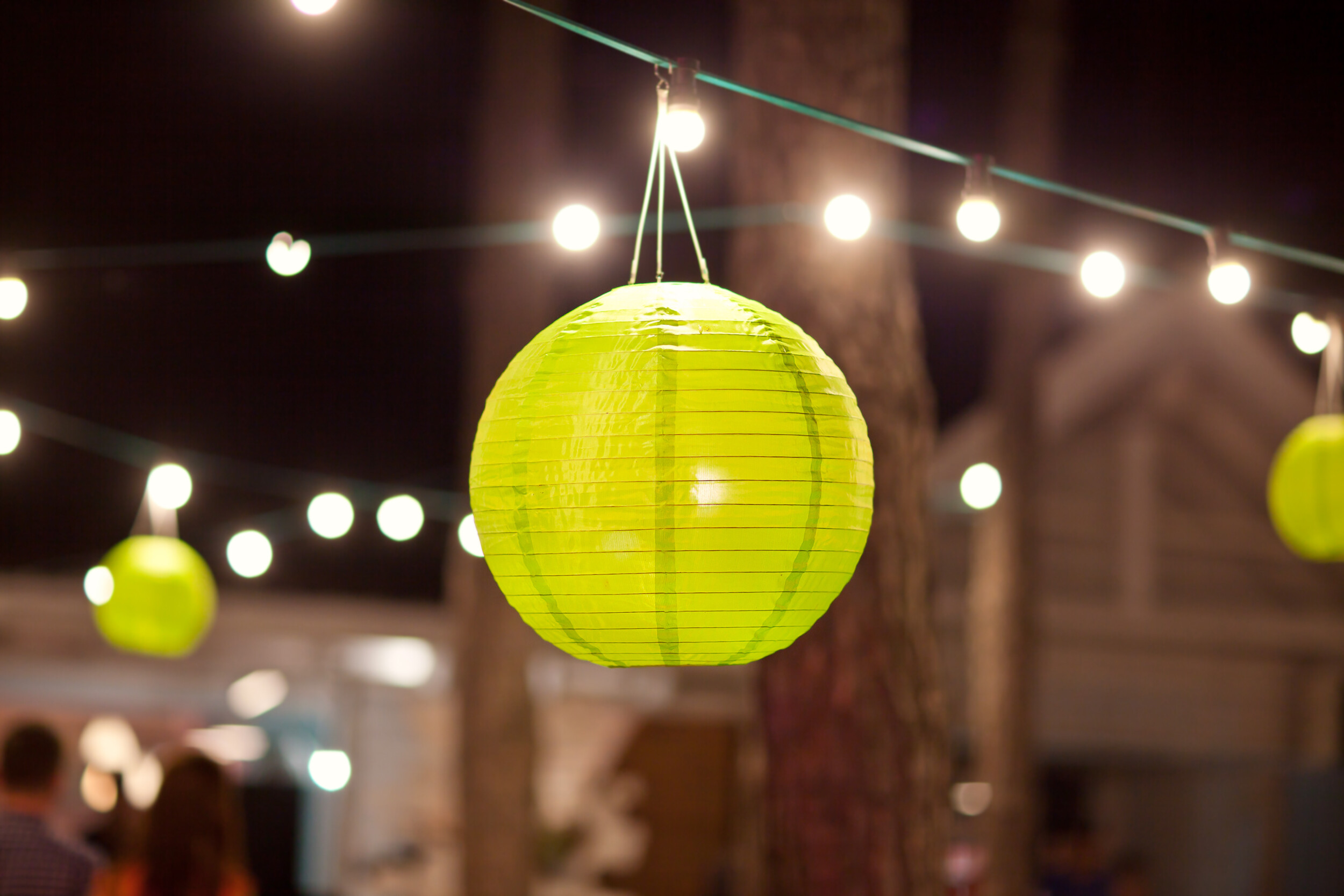 Hanging Bed Swing
If you love relaxing out in the garden in the warmth with a good book, then a hanging bed swing should be considered a must. A hanging bed swing adds a distinct touch of luxury to your outdoor summer decor, as well as providing a space where you can relax and take a moment away from a busy day. Suspend your hanging bed on your porch ceiling, out of the way of the sun for a soothing spot in the shade.
Or, suspend it somewhere to get a bit of sun, so you can bask in the glorious warmth – wherever you choose to hang your bed, we guarantee this will be one of your favorite outdoor decor ideas for summer.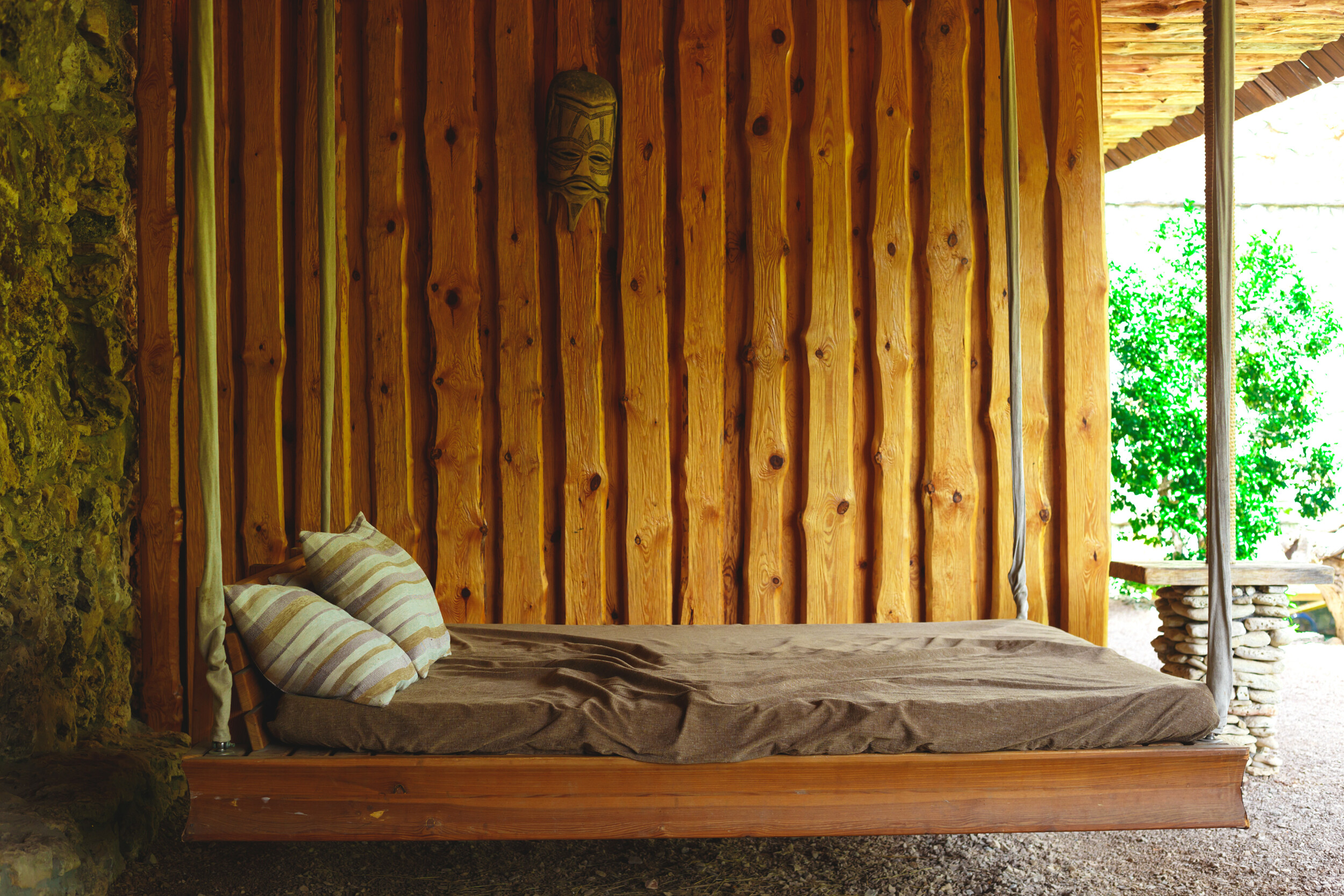 Cozy Fire Pit
Those summer nights can still get a little chilly as they draw to a close and there is no better way to fend off the evening chill, than with a fire pit. Fire pits are great for both extra warmth and light, allowing you and your guests to continue enjoying one another's company, well into the night. A fire pit lends itself to being surrounded by plenty of comfortable seating, so choose some luxurious outdoor sofas and chairs to make your outdoor space as comfortable as possible.
There are scores of great fire pit designs available to blend with your outdoor summer decor, from cast iron to bricks, rock, and concrete – you can easily find one that is perfect for your garden.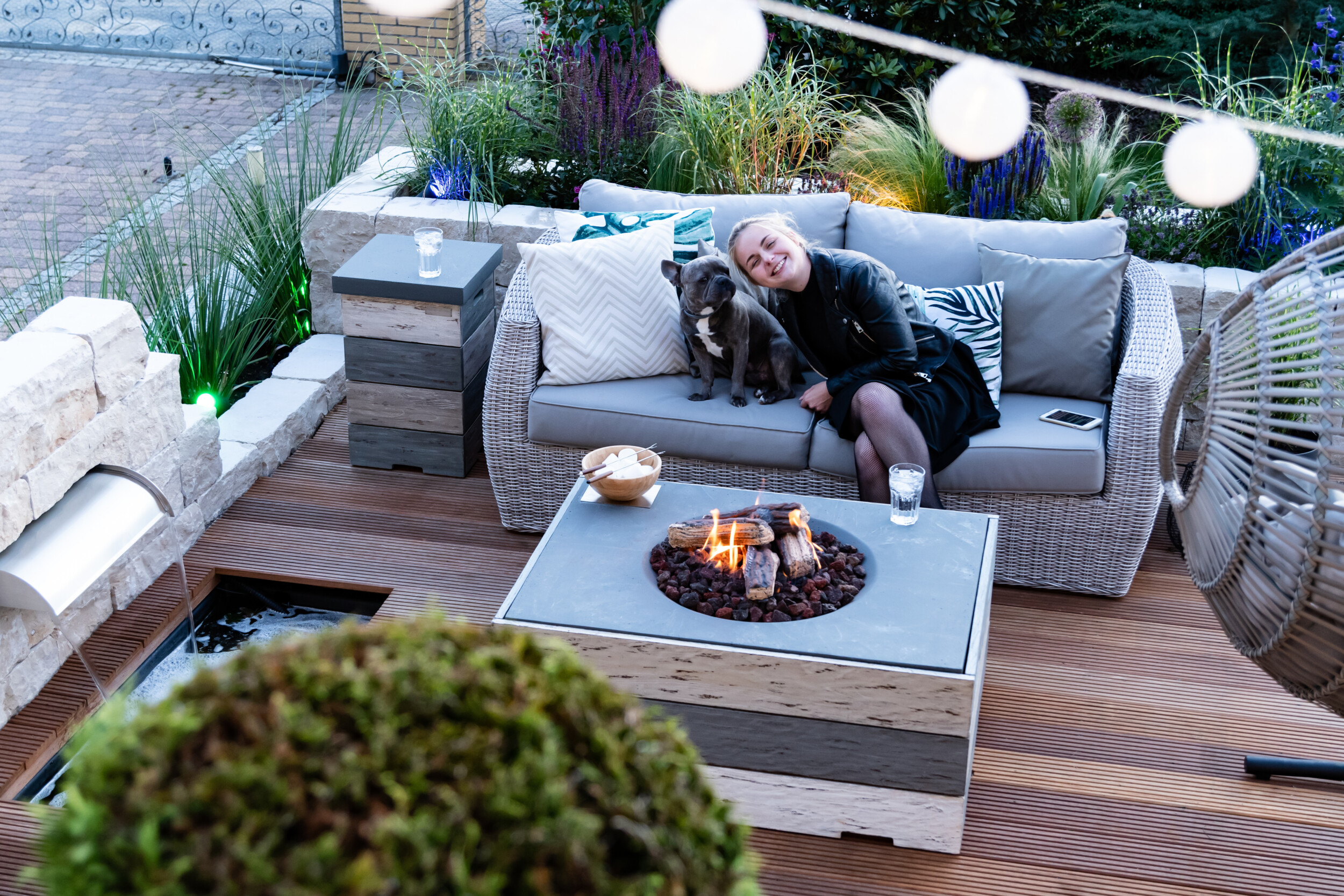 Build A Treehouse
There is no addition to your outdoor summer decor that is more fun than a treehouse. Children and grown-ups alike will have hours of fun relaxing and playing in a treehouse, and it makes a great snug and relaxing space to spend time with your family in the evening. Treehouses can look as great as they are fun, so you have plenty of opportunity to blend them in with the rest of your outdoor summer decorating ideas.
Paint your treehouse an exciting color or go for a neutral or pastel color to keep the space feeling calm. Allow your kids to have a hand in the outdoor summer decor design of your new treehouse by helping you come up with the perfect treehouse design.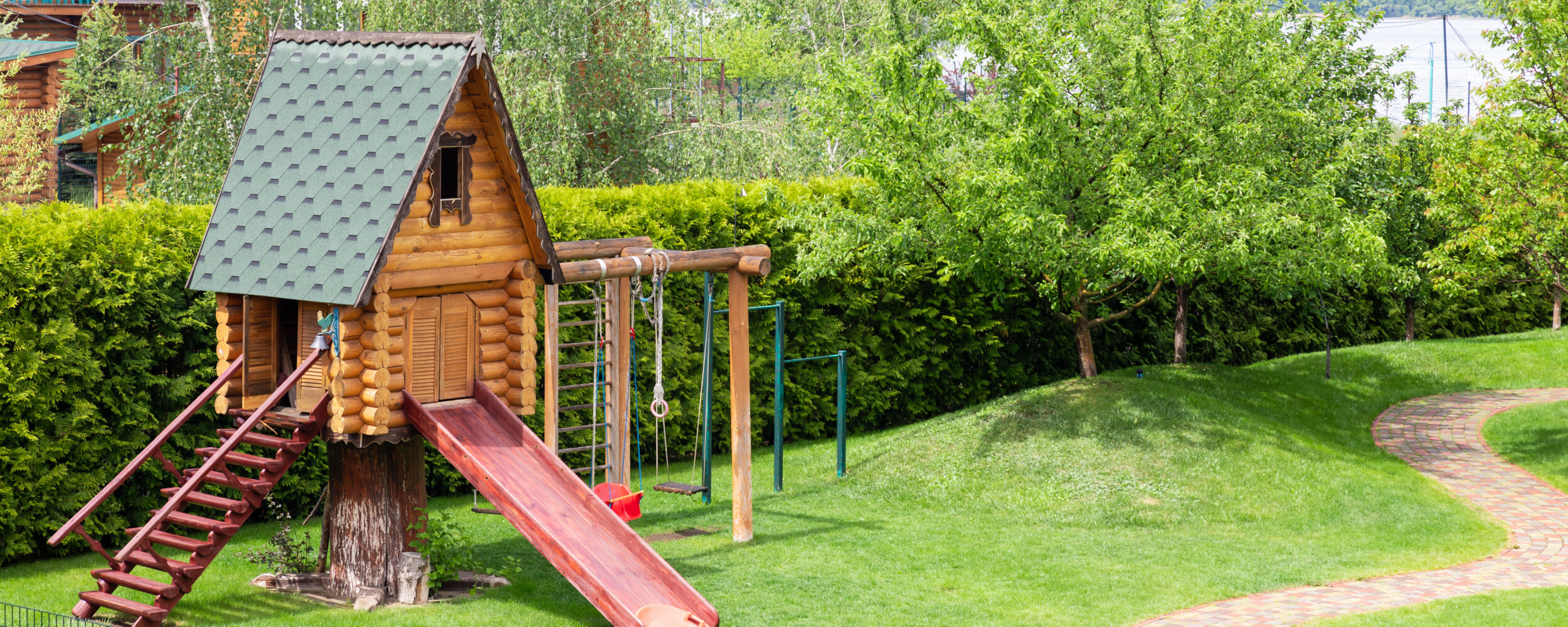 Chic Shed
Just because your shed is a space for working and practicality, doesn't mean that it can't be part of your outdoor summer decor. Sheds tend to occupy a fair amount of space, so why not paint your shed a stunning shade to help it become part of your outdoor summer decor ideas? For instance, we love the visual strength of this matte black shed that looks completely contemporary and intriguingly cool.
Hang outdoor mirrors on the side of your shed to make a feature out of it, making your garden feel larger and look brighter. You can even use your shed as a way to display plants and flowers, hanging small quirky pots, containing pretty blooms.