It's no surprise that the high-low charm of rustic industrial living rooms has taken the interior design world by storm. From structural elements and exposed finishes to industrial inspired furniture and lighting, there's no doubt that rustic industrial interior design will definitely be here to stay. Bringing back an age-old design concept that focuses on mechanical ingenuity and manufacturing while incorporating unfinished interiors and exposed beams are among the best ways to achieve a rustic industrial living room for starters. 
If you've been admiring the rustic look and want to follow the same concept for your living room, our senior designers at Décor Aid shared 8 ways to achieve rustic industrial living room vibes.
Get Inspiration from Buildings With Historical Pasts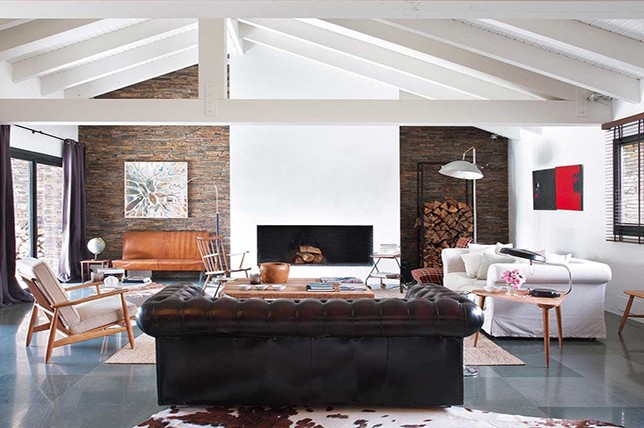 In order to know the type of industrial details that you want for your rustic industrial living room, our interior designers suggest visiting those old buildings with historical past and take inspiration from them. These buildings might reveal to you some creative ideas that can help you to get started with your rustic industrial interior design. Timber roof trusses, exposed brick walls, and steel columns are some of the most common elements found on age-old buildings that you can apply to your own home. Take time to explore your local downtown and see if there are any old buildings that you can use as your inspiration.
Choose Industrial Inspired Furniture with Minimal Detailing
Thanks to the popularity of rustic industrial homes, there are now a good number of furniture manufacturers that have embraced the rustic industrial concept and produced living room furniture pieces that have a rustic appeal in them. Most of these furniture pieces are made from simple materials with minimal detailing. Wrought iron chairs can be made more beautiful by adorning it with attractive cushions and throw pillows. Pairing lighting fixtures with similar designs and implementing monochromatic colors are some of the best ways to bring in the rustic industrial interior design to your living room space. If you're trying to come up with a grey industrial living room, you can invest in furniture pieces with a monochromatic grey theme.
Include your Favorite Rustic Metals
During those times when iron and steel manufacturing has become very popular in the United States and some other places around the world, using rustic metals has become prominent in lighting and plumbing. Rustic metals were also used in the hardware and structural components of a building. Thus, one way to achieve a rustic vibe is in using wrought iron and other rustic metals to your industrial living room decor. These metals would also look great in a contemporary and modern industrial living room. Aside from wrought iron, other rustic metals to consider are cast iron, brushed nickel, and copper. Again the key to a smart rustic industrial living room lies in the mix of unexpected materials.
Expose the Mechanical Details of your Living Room
One of the most prominent rustic industrial style living room ideas & design is exposed mechanical details. For instance, you can highlight your small industrial living room by hanging scissor accordion wall lamps and pulley-inspired lighting to the walls. The mechanical details of these lighting fixtures are fully exposed leaving nothing to the imagination. Exposing the mechanical workings of these lighting fixtures is one way to achieve a rustic vibe to your living room space. The gist of rustic industrial living room décor is all about the raw, blemished appeal of keeping things natural. 
Mix and Match Modern Details with Old Elements
The beauty of having a modern industrial living room is the ability to mix and match contemporary designs with older inspired decorative elements. For instance, you can hang modern appliances like flat screen colored TV in your brick living room wall. You can also choose to display your modern TV set in an open shelf made of wrought iron and wood. Pendant lights that use filament lighting with Edison style bulbs featuring rustic metals can also help to give a rustic vibe to your modern industrial living room.
Show your Artistic Flair through Expressive Artwork
Another way to bring in the industrial living room ideas to your home is in decorating with artwork that expresses your creative flair. Murals, bold graphics, as well as painting bold symbols in an exposed brick wall, is a great way to add instant accent to your living room wall. You can come up with your own artwork from those ideas you can find in your surroundings, such as literary numbers and letters, symbols, murals, and more. Even abstract painting can help to make your dull and boring living room wall to become a great work of art. In keeping  with rustic industrial living room art, do make sure there is a contemporary element – say an ultra-sleek modern frame for starters. 
Add DIY Elements to Create Illusion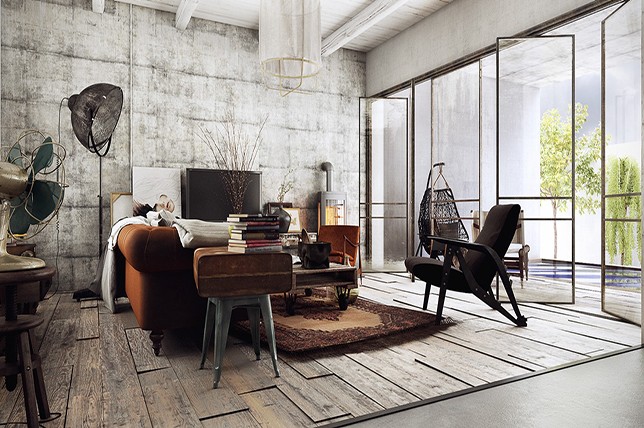 For homeowners who are not lucky enough to have concrete floors and exposed brick walls, you can rely on your DIY skills in coming up with a rustic industrial living room. In fact, more and more DIY'ers are visiting their local home improvement centers to look for inspiration on industrial living room ideas that they can apply in their own home. Check out some faux finish techniques and if you are comfortable with using power tools, consider building your own industrial living room decor. You can also create your own lighting fixtures and some other crafts that can work well for rustic industrial homes.
Consider Repurposing and Reusing Materials
You don't really need to spend a lot of money to come up with a rustic industrial interior design. There are many ways to repurpose, recycle, and reuse materials in your home in order to bring about the rustic vibe in your living room interiors. For instance, if you are thinking of renovating your home, our interior designers suggest using reclaimed wood and metals for the renovation. You can also use structural members recycled from old warehouses, barns, and older buildings that have been recently demolished.
There are now lumberyards that specialize in reclaimed timber and other architectural elements so you may want to visit them for expertly curated rustic industrial living room décor. Look for materials that you can still recycle for your living room renovation, such as railroad ties that you can attach in your ceiling. Using recycled materials for your industrial living room ideas is also a great way to save money so it's perfect if you're renovating on a budget. 
Images via Pinterest