Wallpaper might not be the first wall treatment you think of when it comes to renovating a kitchen as people often, unfortunately, associate them with vintage styles of the past. Today, tiles and backsplashes are most likely your go-to wall coverings for a kitchen, but modern wallpaper is definitely an option worth considering. Fresh kitchen wallpaper ideas will add an extra element of design to your kitchen renovation, giving your kitchen a softer and more intimate feel.
Wallpaper will also add an interesting design element to your kitchen that will make it unique to you. For inspiration, we're looking at stylish kitchen wallpaper ideas according to Décor Aid interior designers that feature the most viable options of the moment.
What wallpaper options are available worth considering?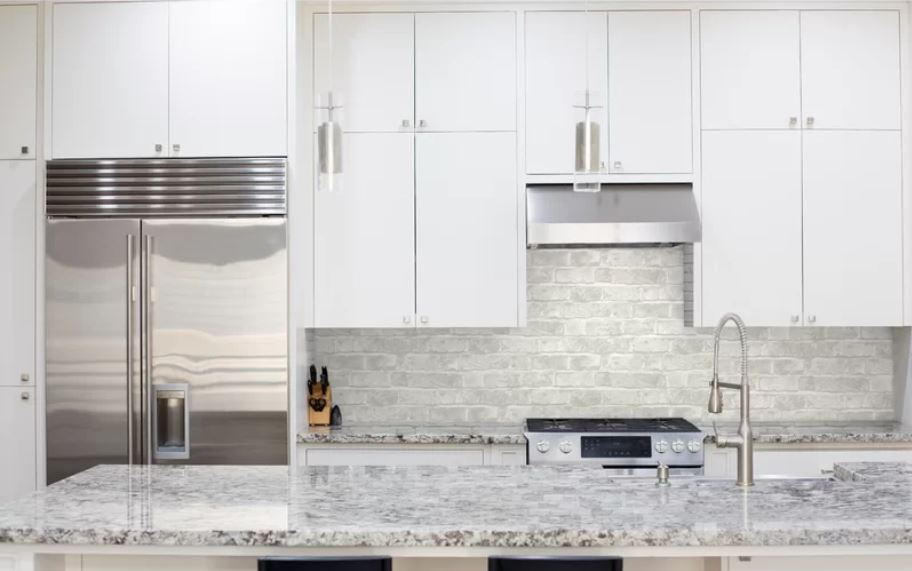 Easy-Clean Wallpaper
Wipe-clean kitchen wallpaper ideas are perfect for kitchens or any space where you are at risk of making a mess and washing up splashes. Specialized wallpaper coated in Teflon allows you to clean your wallpaper with ease, so you can combat any greasy spills – perfect for as a much more affordable alternative to a costly kitchen backsplash.
Removable Wallpaper
Removable wallpaper kitchen ideas allow you to be more creative with wallpaper in your kitchen space. If you are frequently wanting to redecorate your home and change the styling of rooms, then removable wallpaper is an excellent approach. You can easily peel off the wallpaper and replace it without doing damage to your walls. Better yet, they are often waterproof and washable, making them an even better option for your kitchen.
Standard Wallpaper
Standard wallpaper still has a place in the kitchen if you have any walls that aren't at risk of messy splashes. You can tile your kitchen backsplash area as usual but add some color and style at the other end of your kitchen with a stunning wallpaper pattern. Standard wallpaper is also a great addition to a kitchen dining area, helping the space feel of its own.
Kitchen Wallpaper Ideas
Animal Print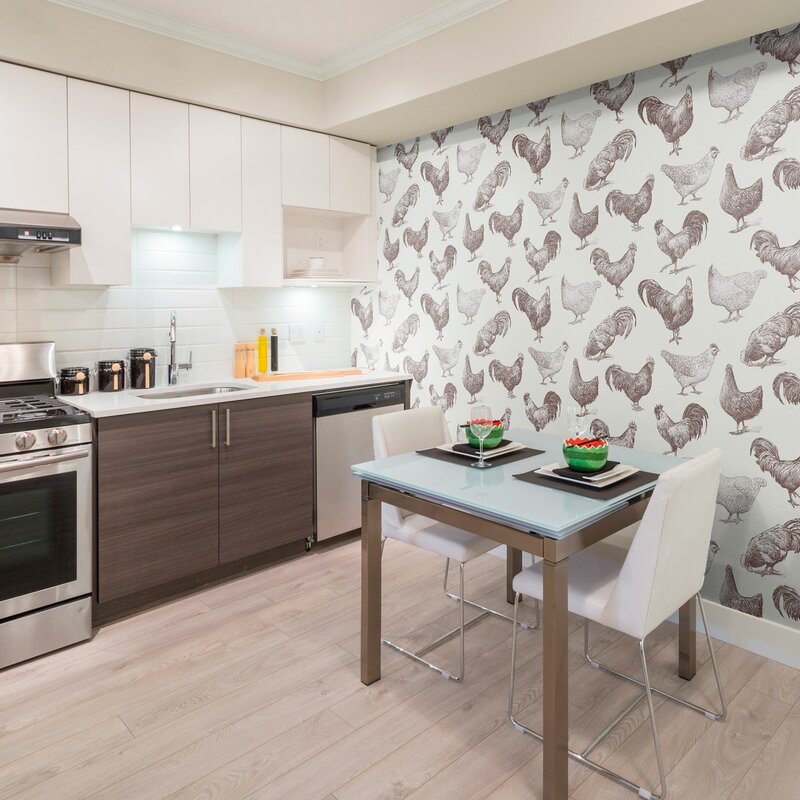 Probably one of the most easily recognizable wallpaper prints of modern time, Scalamandré's running zebra print will be certain to delight for years to come while lending your kitchen space a whimsical sense of energy that can't be beaten.
Best of all is the fact that it pairs well with every design style, from the traditional to the eclectic and is well worth the investment as all potential home buyers will find it irresistible when looking to resell your home.
'50s-Inspired Diamond Print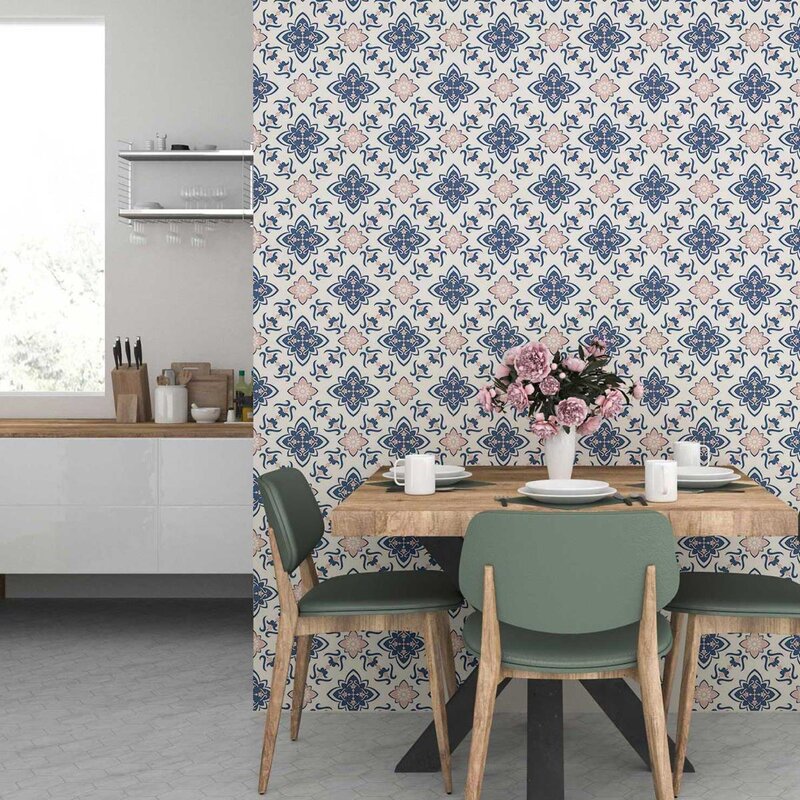 When channeling vintage era's it pays to go for new colorways for a more up-to-date and modern feel, and the graphic diamond print featured above is a perfect example. After all, imagine if it was whipped up in orange and green? It would simply look dated and too busy.
Instead, go for a calm and soothing neutral diamond print to make a subtle statement that will remain fresh in feel as trends come and go. Plus, neutral colors, in general, can make a space appear larger and brighter than it really is.
Abstract Polka-Dot
When it comes to unique kitchen wallpaper ideas, an abstract take on a classic print will make your kitchen look well-judged and modern. Case in point is the vivid polka-dot print as seen above, as it looks as though each dot was hand-painted, which marks the essence of luxury.
Go for a similar effect and paper every wall in your kitchen with a lively printed wallpaper to really make a dynamic statement that will have everyone talking.
Fruit Prints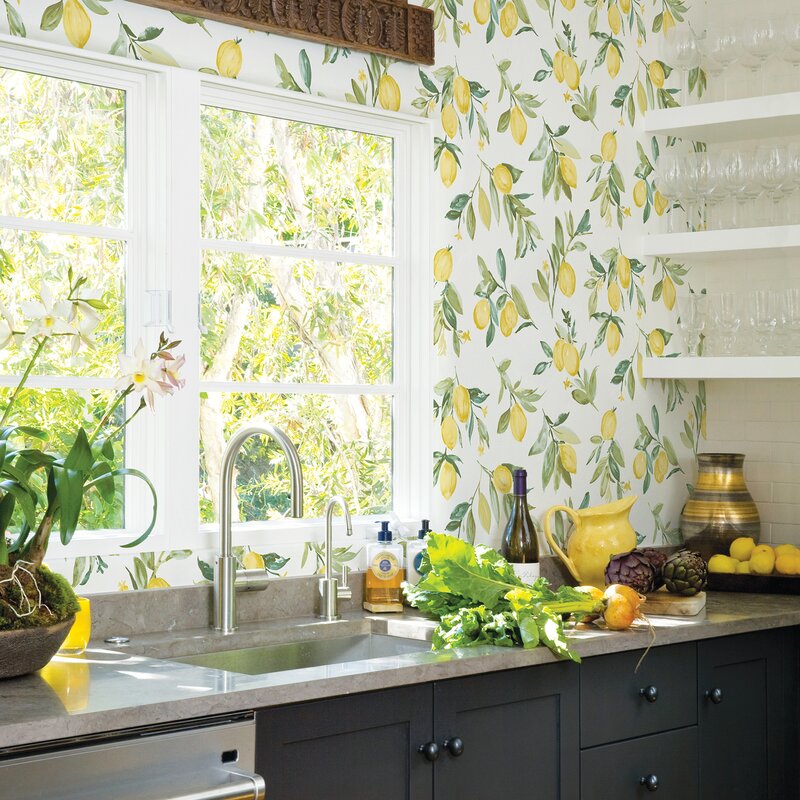 Another classic wallpaper pattern, fruit once again look fresh, however, this time around less dainty and much more large in scale for the unexpected. Perfect for an accent wall or your entire kitchen alike, a large-scale fruit print kitchen wallpaper will be sure to delight for years to come.
And it will be perfect for lifting spirits during darker, winter seasons while catching extra light come summer.
Dark Floral Print
If you're on the hunt for moodier kitchen wallpaper ideas, a dark-based floral print option will do the trick while making your kitchen appear all the more luxurious. The key here is to use it as a juxtaposition for white cabinetry and lighter color schemes for needed depth and a definitive focal point.
Blue Floral
Another take on classic florals, a blue background evokes the essence of everyday glamor with a sweeter feel than say a black background boasts. Use it to lend your kitchen an outdoor feel as it'll mimic the natural hues of an idyllic skyline for a dreamy feel.
Delicate Prints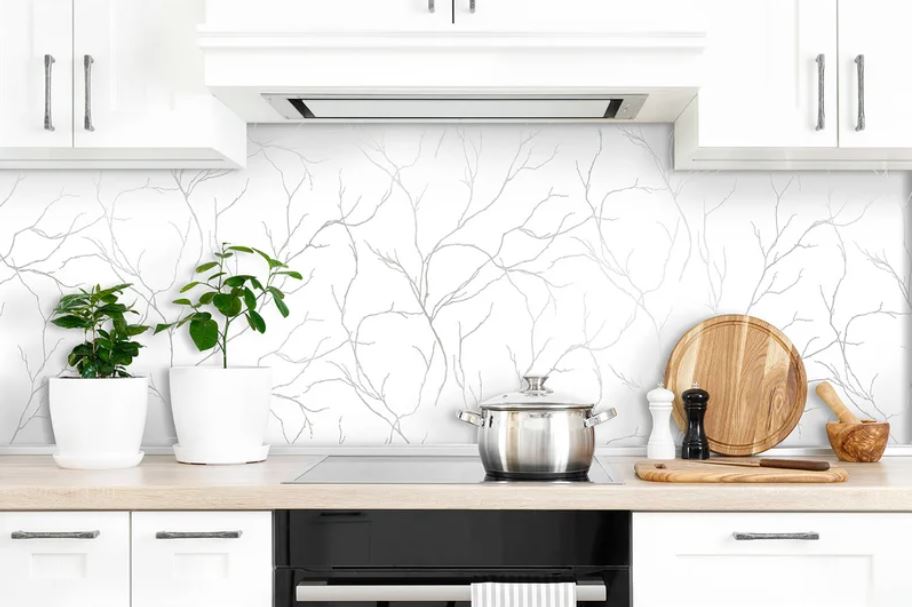 Though we've already mentioned several oversized prints, micro-prints are also timeless yet on-trend as they're more subtle and have a universal appeal about them. Just be sure that you pair yours with visually heavier elements so the look isn't too reserved and limited.
Faux Bois Pattern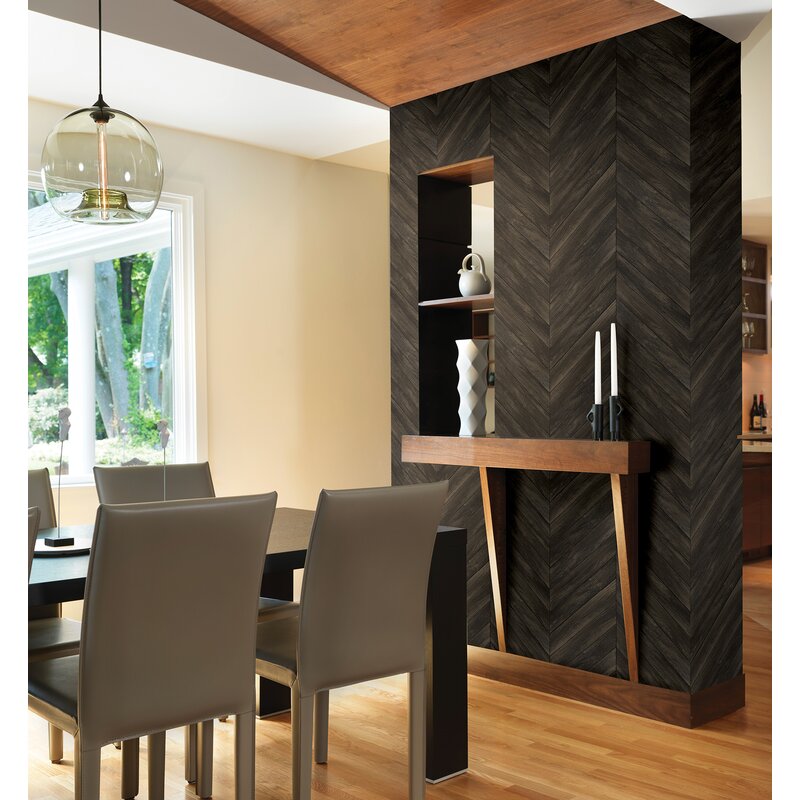 Yet another classic take on kitchen wallpaper ideas, faux wood grain is a great way to add room-defining visual interest in any room. And in your kitchen, it's an even better way to add interest while forgoing an all-over print alltogether.
Blue Striped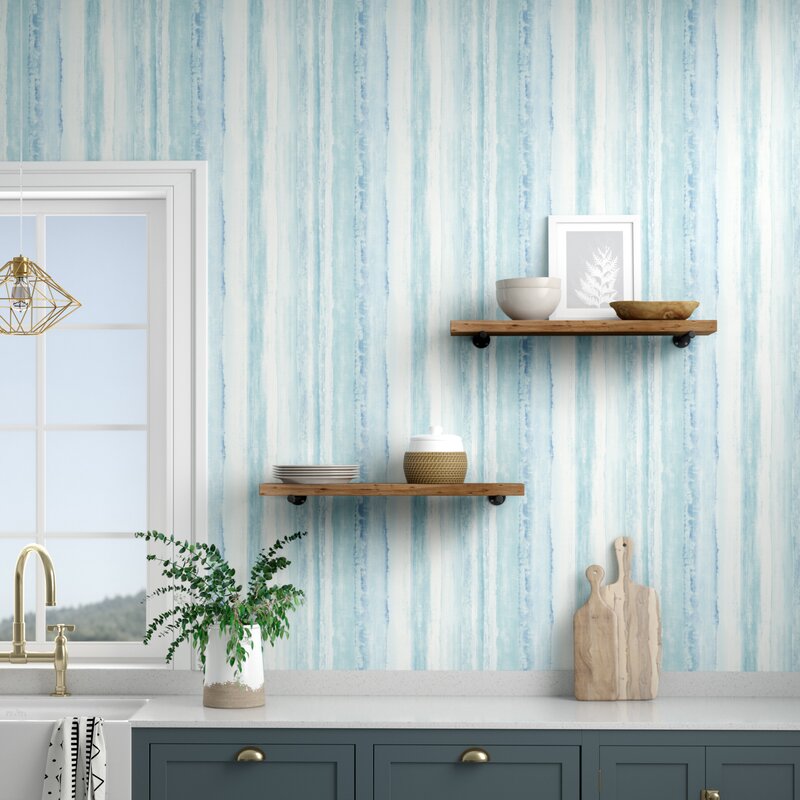 Add extra height to your kitchen ceiling with a graphic vertical striped blue kitchen wallpaper that will lend it a slightly nautical feel that's gender-neutral in appeal – making it a classic go-to option to consider. Plus, it will never look outdated or overbearing since its such an emotionless color.
Moroccan-Inspired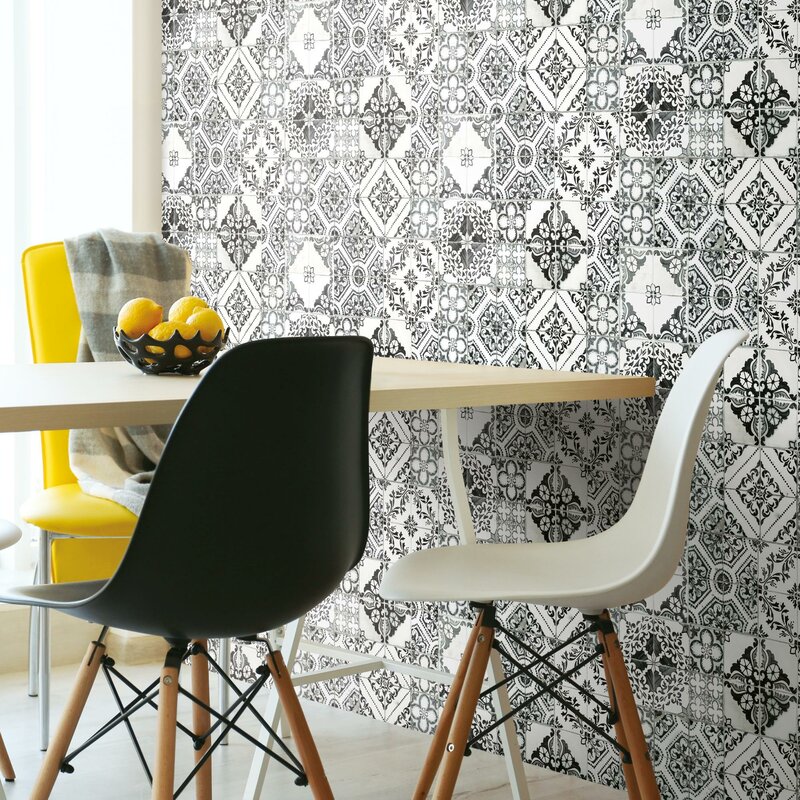 Bring in an eclectic and far-flung feel with a graphic and symmetrical Moroccan-inspired kitchen wallpaper that will also never go out of style or appear heavy-handed as it will remain endlessly charming year in, year out.
Unique Illustrative Wallpaper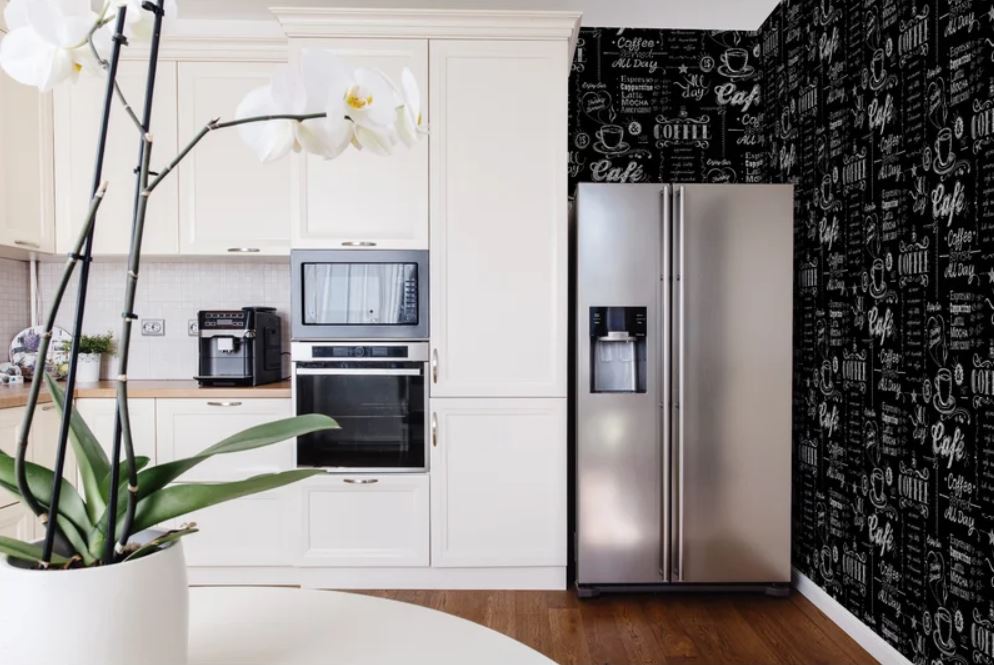 Bring your kitchen wallpaper ideas to life with a decadent illustrative print that boasts unexpected elements like the endlessly playful oversized patterns as seen above. Plus, its joyous essence makes it a great option for young families.
Toile Wallpaper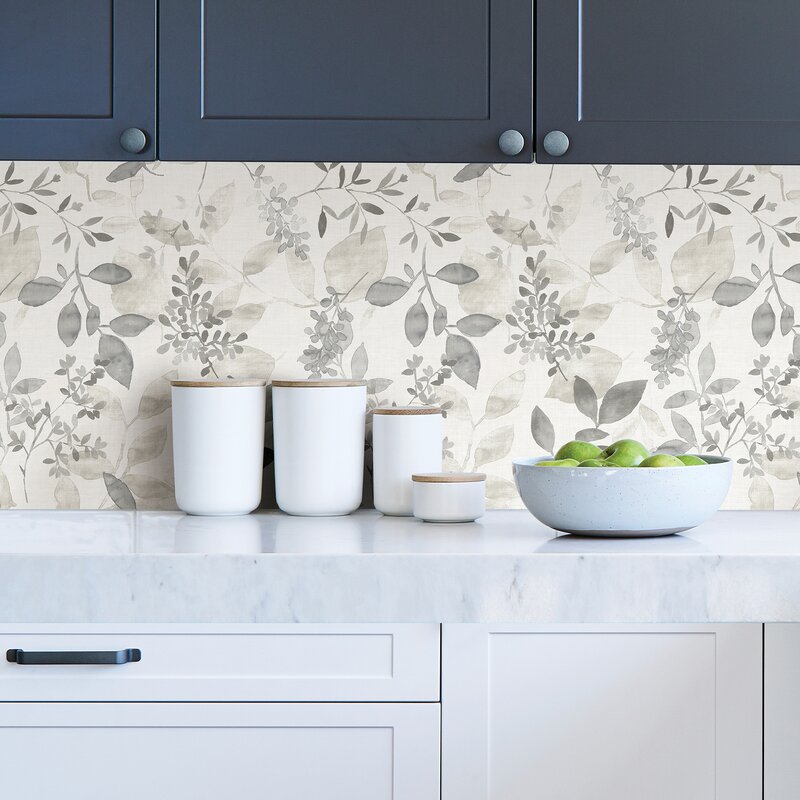 Toile kitchen wallpaper ideas will lend a touch of femininity in your kitchen, softening the overall look of what can otherwise be an industrial feeling space. The great thing about toile wallpaper is that it comes in so many colors and designs, enabling you to choose one that is perfect for your kitchen space and personal décor style.
Choose a color scheme that contrasts against your kitchen units or go for kitchen wallpaper ideas that are in keeping with the current color scheme of your kitchen. Think a neutral wallpaper against a cream and wood kitchen, or a yellow wallpaper against a white kitchen, for example.
Botanical Wallpaper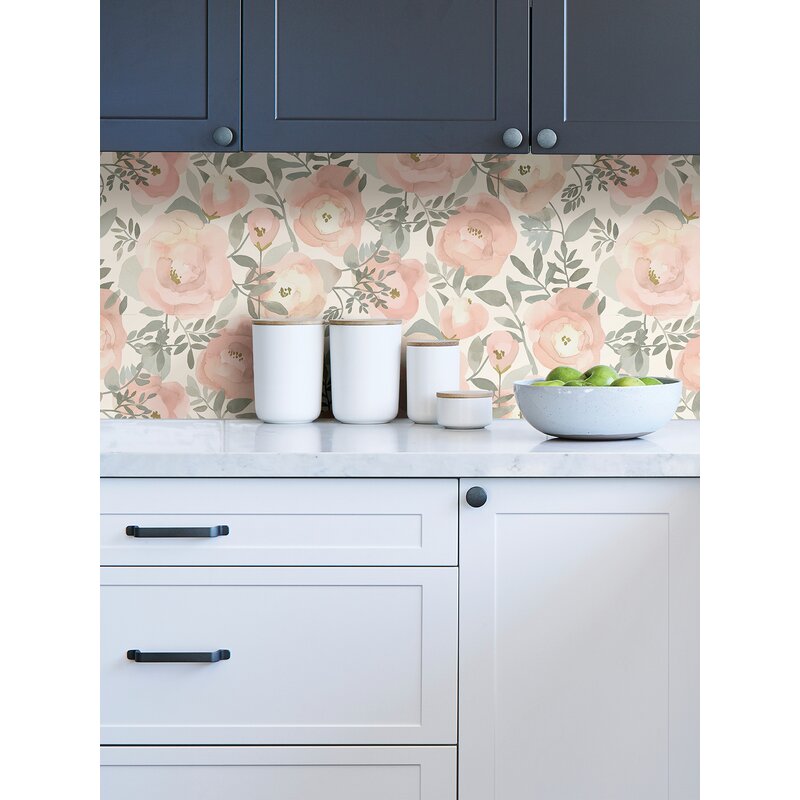 Where better for botanical wallpaper than in the kitchen? Botanical wallpaper will add a natural and vibrant splash of color to your kitchen and it's a great option if you can't manage to get enough natural light for plants in your kitchen.
A vibrant wallpaper with bright oversized greens and multi-color botanical blooms will energize a white kitchen and a botanical wallpaper with a dark background will give you a wonderful contrast. A natural feel when it comes to kitchen wallpaper ideas makes for a bold and irreverent idea for your next kitchen update.
Vibrant Geometric Wallpaper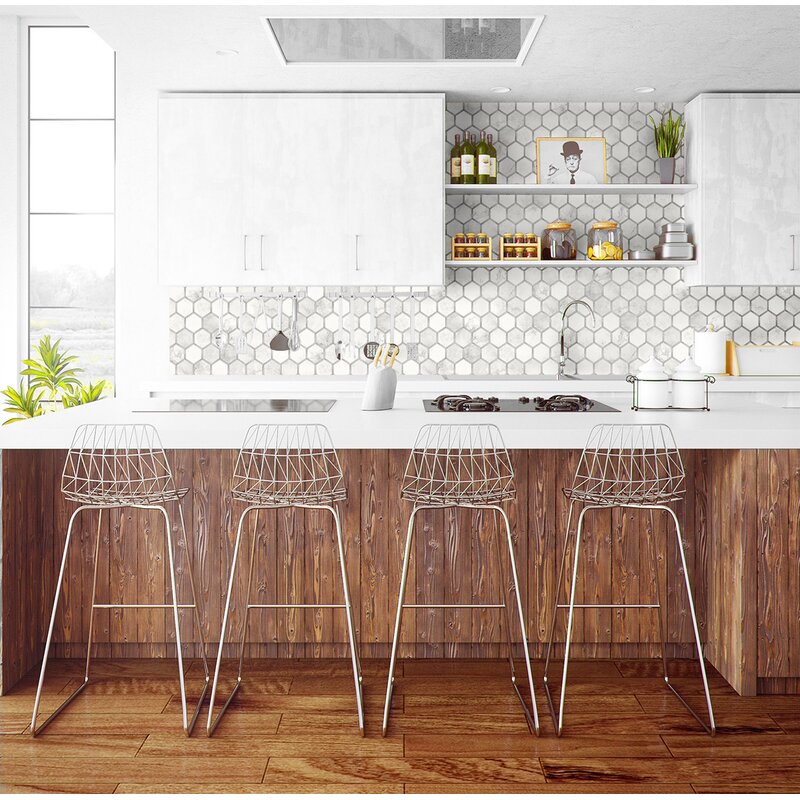 Geometric designs are great for kitchen wallpaper ideas as they add a bold design element to an otherwise straightforward space, and they can be as vibrant and heady as you want them to be. You can go for a monotone design to make the best of modern kitchen wallpaper ideas, allowing the pattern to speak for itself.
Or you can go for the unexpected by selecting something with a bright and bold color, to give you a vibrant effect. Whether it's one accent wall you choose to cover, or if you're covering all of your wall space, a geometric pattern will create a memorable impact in your kitchen that's timeless to boot.
Black And White Wallpaper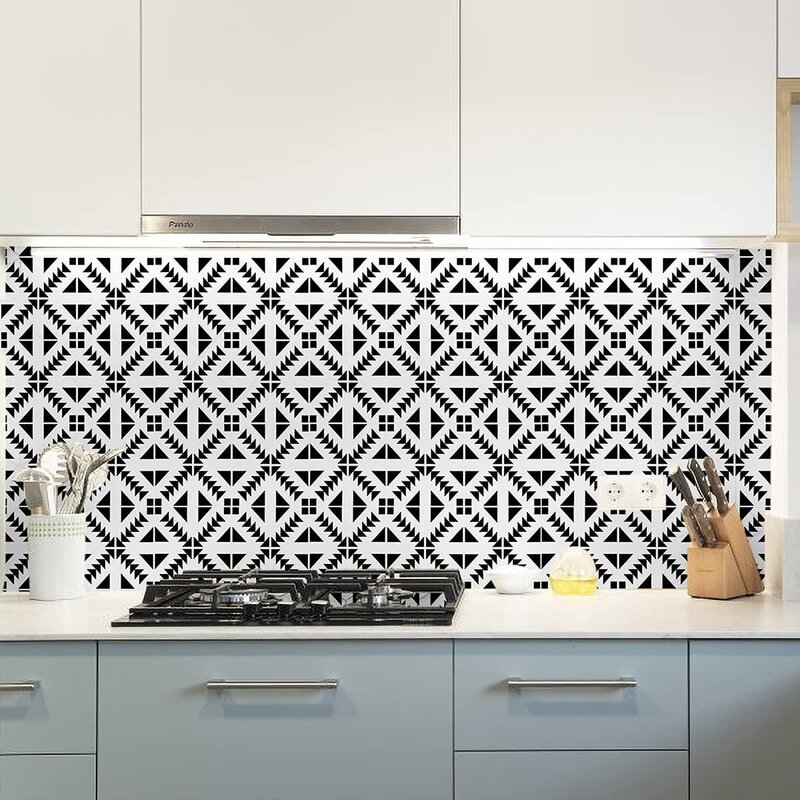 Black and white graphic wallpaper ideas will give you a bold contrast in your kitchen, looking great against dark wood countertops or ebony surfaces. Gold accessories and metalwork such as lighting, fixtures, and fittings will add an additional touch of play to your kitchen wallpaper ideas 2019.
Black and white wallpaper is bold and striking, and it pairs well with just about any design style, especially in a Scandinavian kitchen. Go for a minimal pattern to create beautiful yet interesting simplicity in your kitchen.
Neutral Striped Wallpaper
If you are looking for kitchen wallpaper ideas that are a little more muted and easy on the eye, then a neutral stripe will make for the perfect option. They will look great in a more traditional kitchen with wooden cabinetry or traditionally styled elements.
Choose a wallpaper with neutral stripes of varying sizes for a little extra depth and something a bit more visually interesting or go for stripes of one width for a look that is more consistent looking. Neutral stripes also make for perfect country kitchen wallpaper ideas as well, as stripes evoke the simplicity of country and rustic styling.
Pink Floral Wallpaper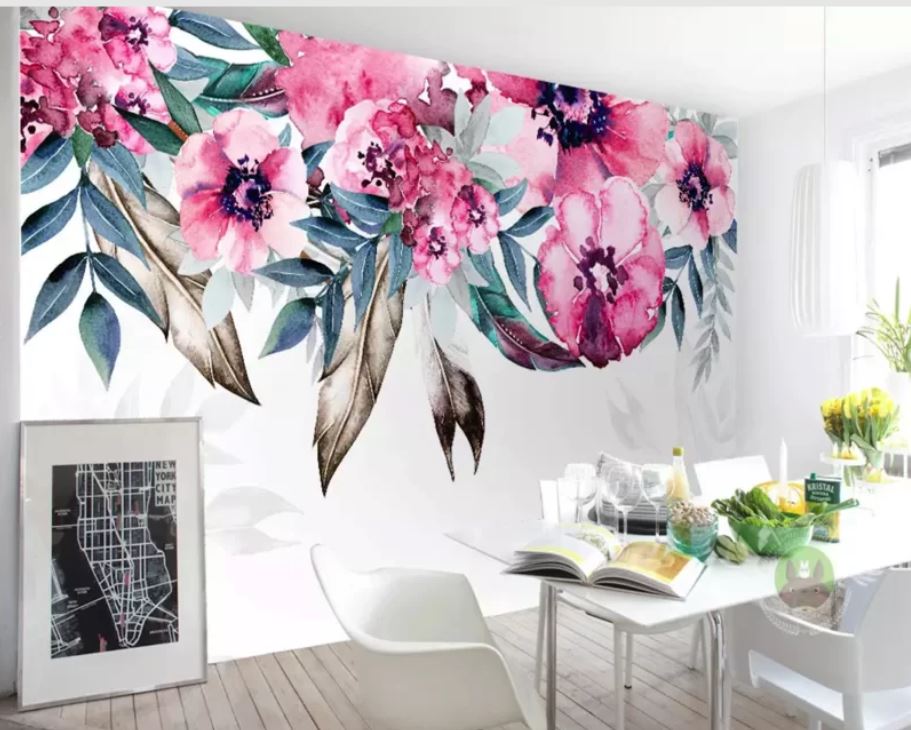 Wallpaper in pink floral is another great option for a kitchen as its a soft color that can help to create a relaxing atmosphere in your kitchen. Pink floral wallpaper will soften up bright white kitchens and add a feminine touch to a kitchen in a moodier color palette.
Whether it's a soft striped floral wallpaper, an oversized floral design or an elegant toile wallpaper, pink wallpaper will add a sweet and familiar vibe to a kitchen and will look stunning accessorized with a statement-making chandelier, some crystal glassware on display, and just about any other high-shine materials.
Zesty Orange Wallpaper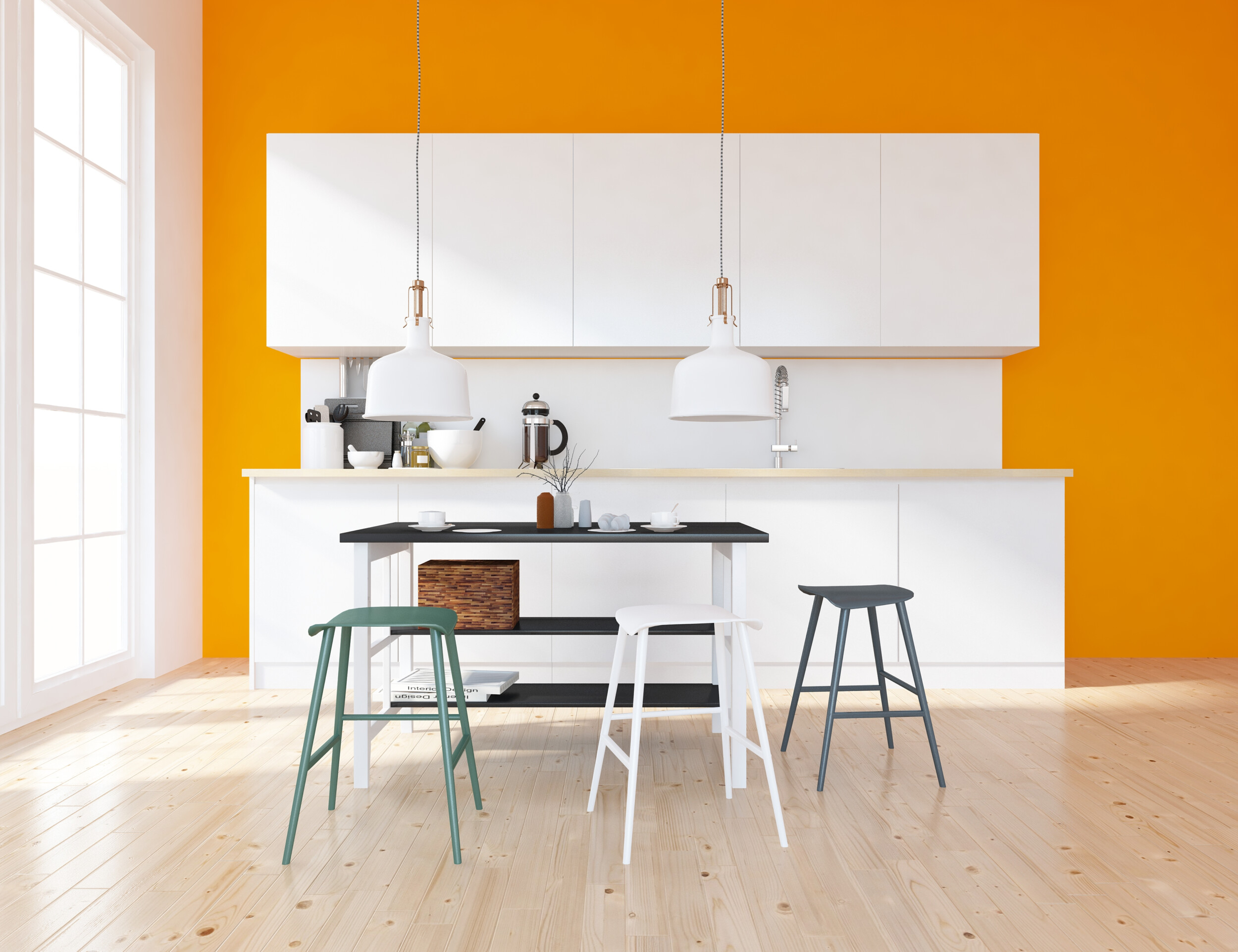 There is no better color to add a hit of eclectic in a kitchen with, than with a bold splash of orange. A vibrantly patterned wallpaper with punchy orange splashes of color will liven up any kitchen space.
From a traditional kitchen to a modern kitchen, kitchen wallpaper ideas like this will make a seriously delicious impact, helping to make your space feel completely unique to your home. A vibrant style like this will also be great for small kitchen wallpaper ideas, as it will take your space from a normal, small kitchen, into a more vibrant and energetic space.
Gray Striped Wallpaper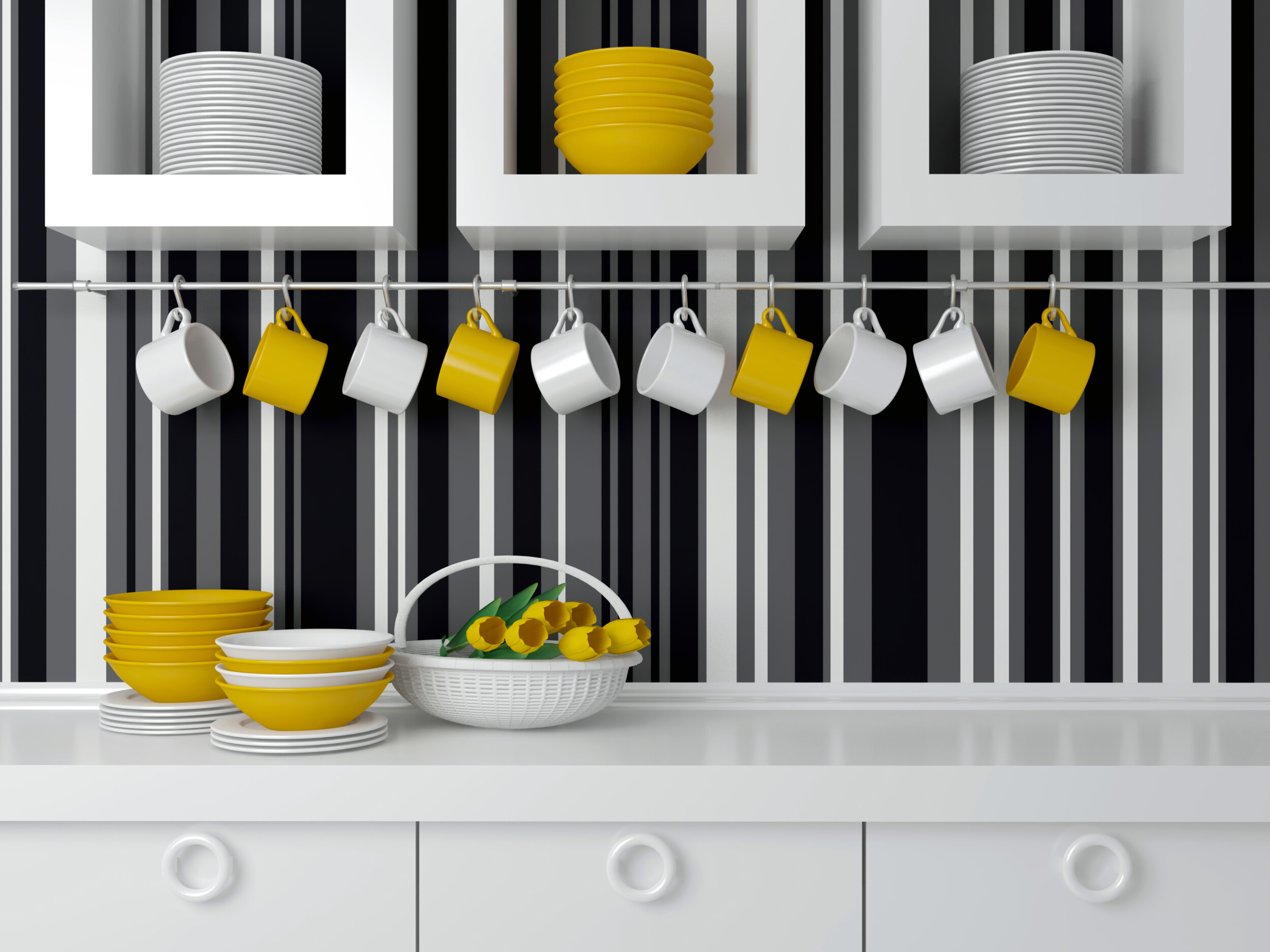 A simple grey stripe will make for one of the best kitchen wallpaper ideas when looking to add some texture, without being overbearing in your room. Soft gray stripes like these will add a more masculine feel to a kitchen and will look great in a modern, glossy kitchen with sleek lines, as well as with a more traditionally styled kitchen – a Shaker kitchen style, for example.
Gray striped kitchen wallpaper ideas also look great paired with white kitchen units as the extra color will create a nice contrast. Plus, if you with vertical wallpaper, you'll make your ceilings look higher, which will, in turn, make the entire space feel larger than it really is.
Art-Deco Wallpaper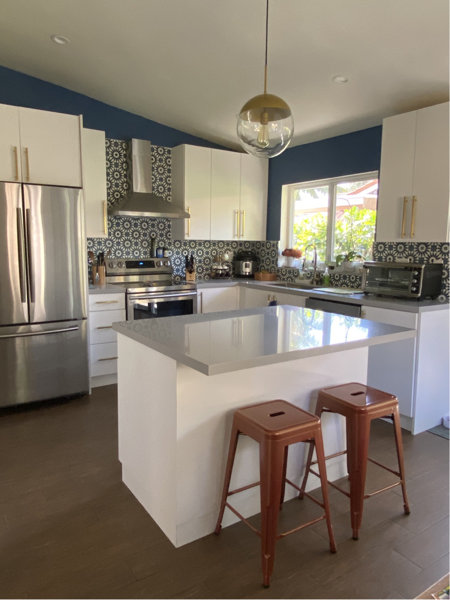 Art-deco-inspired wallpaper will add a distinct touch of luxury and glamour to any kitchen space. From fan designs to diamond designs, art-deco wallpaper brings with it a desirable symmetry.
Visually interesting and different, it'll lend your kitchen a timeless yet unexpected note while upping its elegance factor endlessly. Kitchen wallpaper ideas like this will make your kitchen feel memorable and will be sure to add an old-school and striking touch in your kitchen that you'll enjoy for years to come.
Marble Effect Wallpaper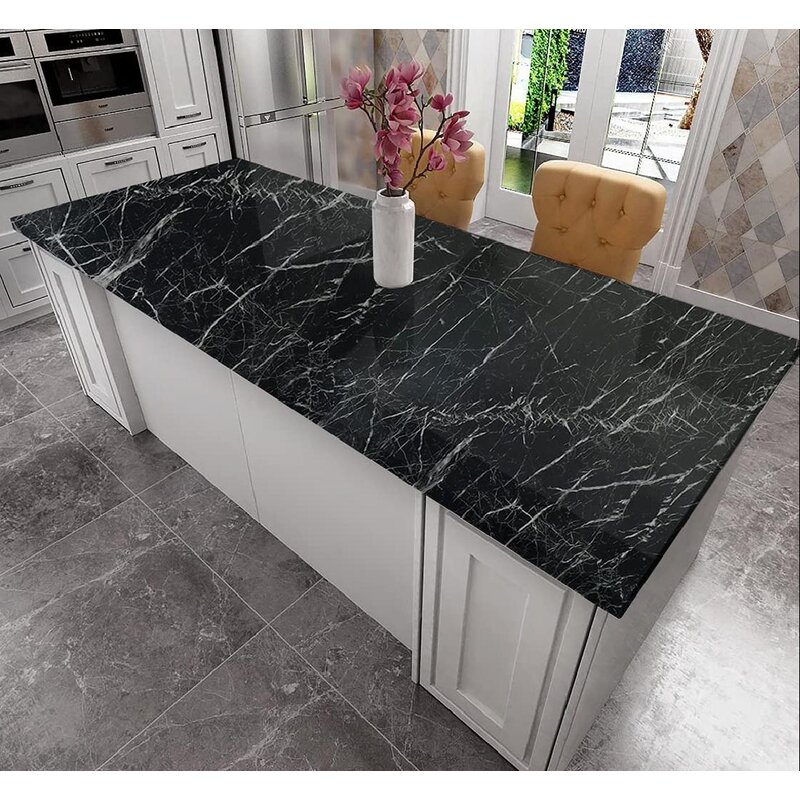 Natural marble is gorgeous, but it can be a costly luxury item. Meaning that not everyone can afford to have marble tiles or marble surfaces in their kitchen, so why not fake it? Marble-effect kitchen wallpaper ideas will add that decadent feel that you get from marble, but without the high price tag or the extensive and laborious care required.
Available in all sorts of colors and styles, you will be able to decorate your kitchen in modern kitchen wallpaper ideas that lend it that heady sense of everyday glamor. You can also opt for marble-effect contact paper to save even more on getting the look right.