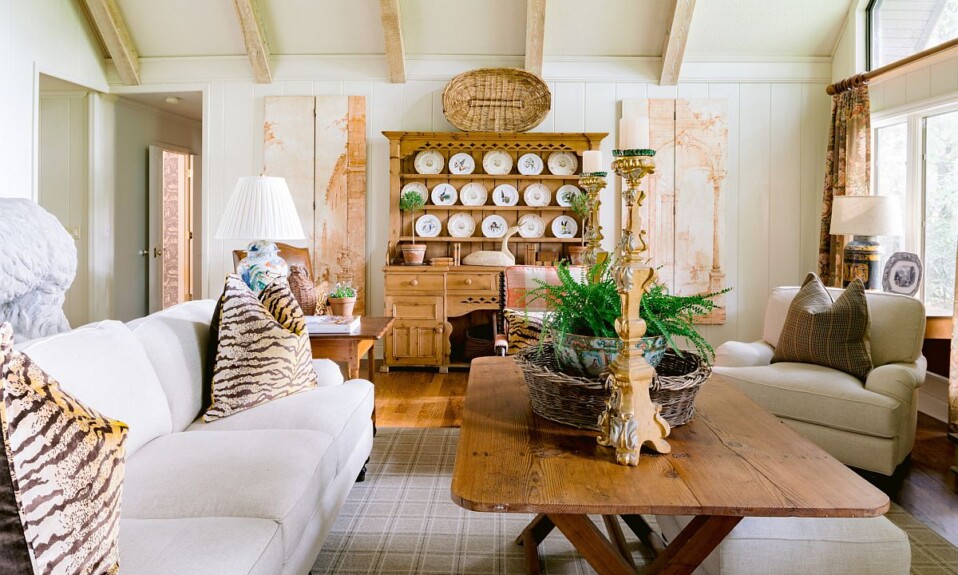 Modern farmhouse living rooms are all about bringing an air of casualness with a rustic flair in a way that's contemporary and effortlessly cool.
These 30 modern farmhouse living room ideas showcase contemporary spaces that go beyond ship lapping on the walls or rustic wood details. Sure, those types of style features can certainly be incorporated, but you can also bring in organic and natural elements in new and inventive ways.
Modern farmhouse is more eclectic as well, so you can modernize the fabrics and textiles in your space as well as add contemporary characteristics to your room's true centrepiece, like the fireplace or windows.
Lastly, modern farmhouse is slightly more stripped-down, so you can fully appreciate hardwood flooring but still opt for sophisticated accents, like with your lighting or artwork.
A textured and refined contemporary living space with lots of windows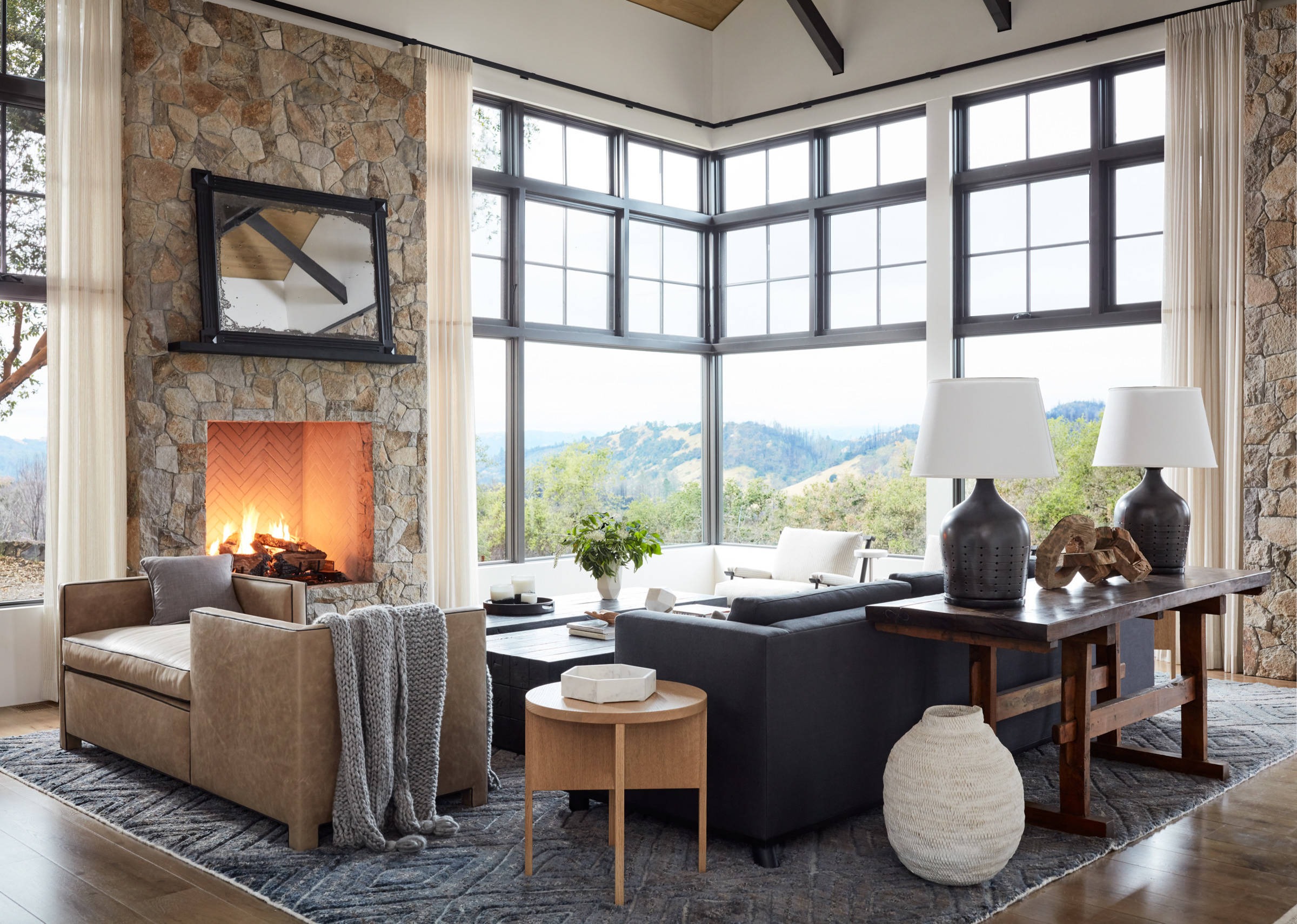 For those looking to achieve a modern farmhouse living room idea that effortlessly brings the outdoors in as well as gives a nice mix of eclectic and refined options, this design aesthetic is for you.
You can accomplish a similar aesthetic by utilizing a mix of furniture, accessories, and carpeting that play with color and texture.
Also, don't be afraid to focus on those exterior elements you can bring inside, like an expansive stone fireplace or wall feature.
A modern farmhouse living room can feel bright and airy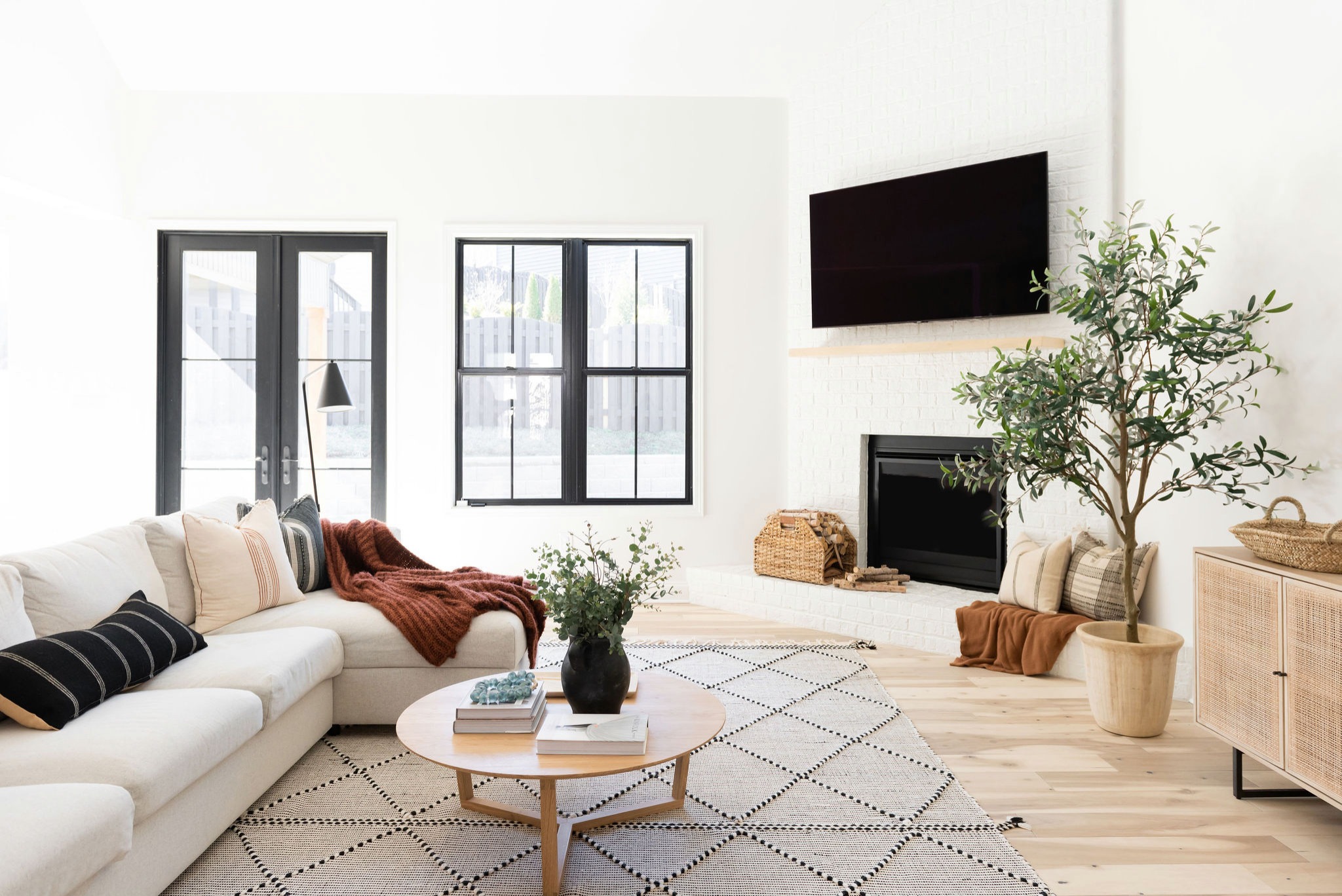 Don't underestimate the power that bright white paint and stripped-down light-washed floors can have on a living space.
If you're looking to pull off this modern farmhouse living room idea, simply start with the paint and go for a white on everything from the walls, ceiling, and fireplace to brighten the space up.
You can play with textures that feel contemporary and comfortable as well with a super soft and neutral couch or cool print carpet that feels nice underfoot.
High arched ceiling and neutral furniture offset with textured details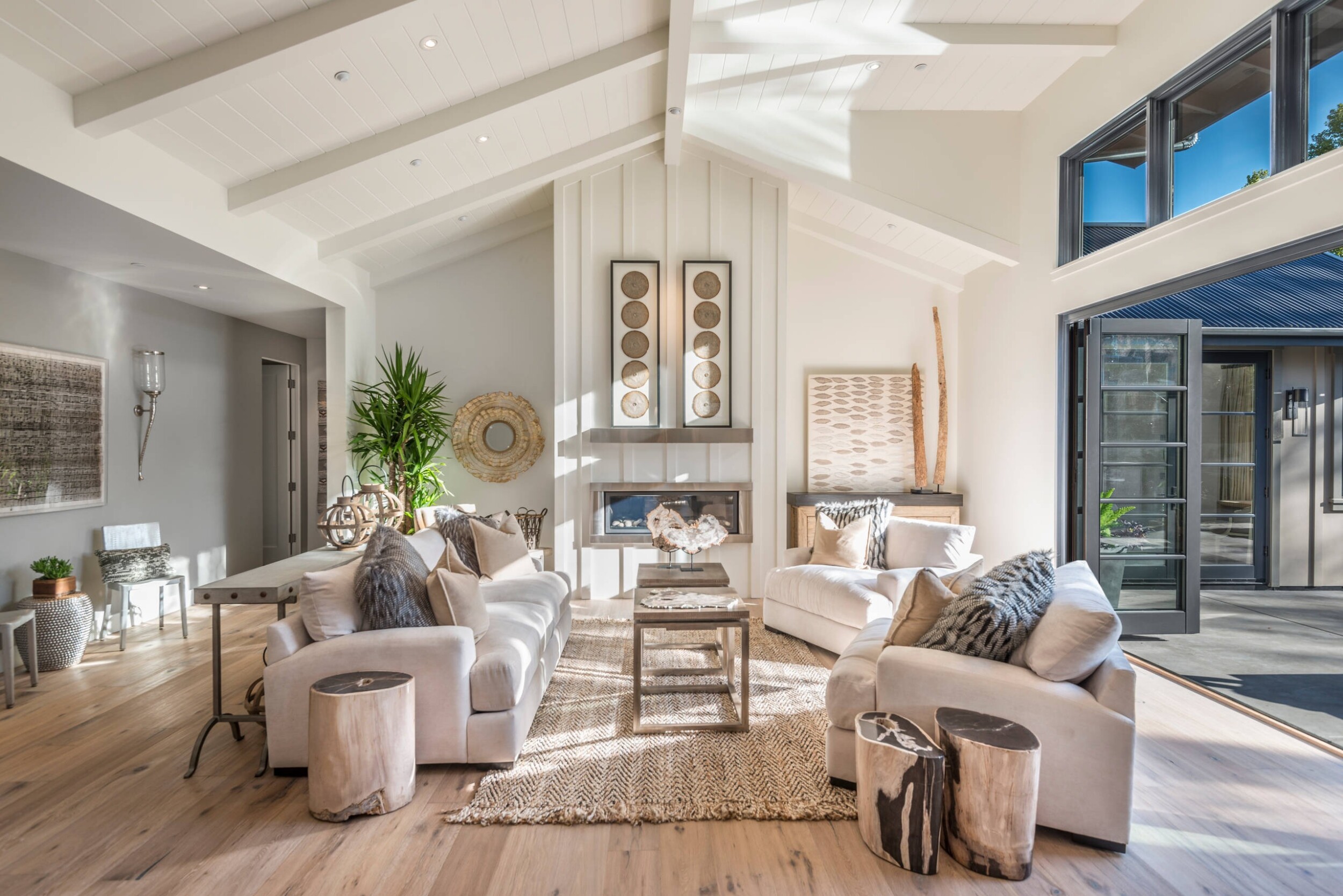 This modern farmhouse living room idea allows for an open concept feel that literally brings the outdoors in with a removable wall that feels very contemporary and cool.
You can achieve a similar look with your decor by keeping your furniture choices neutral with creams and whites and really introducing texture with your side tables, artwork, and carpeting.
If you have the luxury and unique space, a panelled white ceiling or fireplace really adds to this modern aesthetic that feels comfortable yet refined.
A cosy modern living space that makes you want to curl up with a book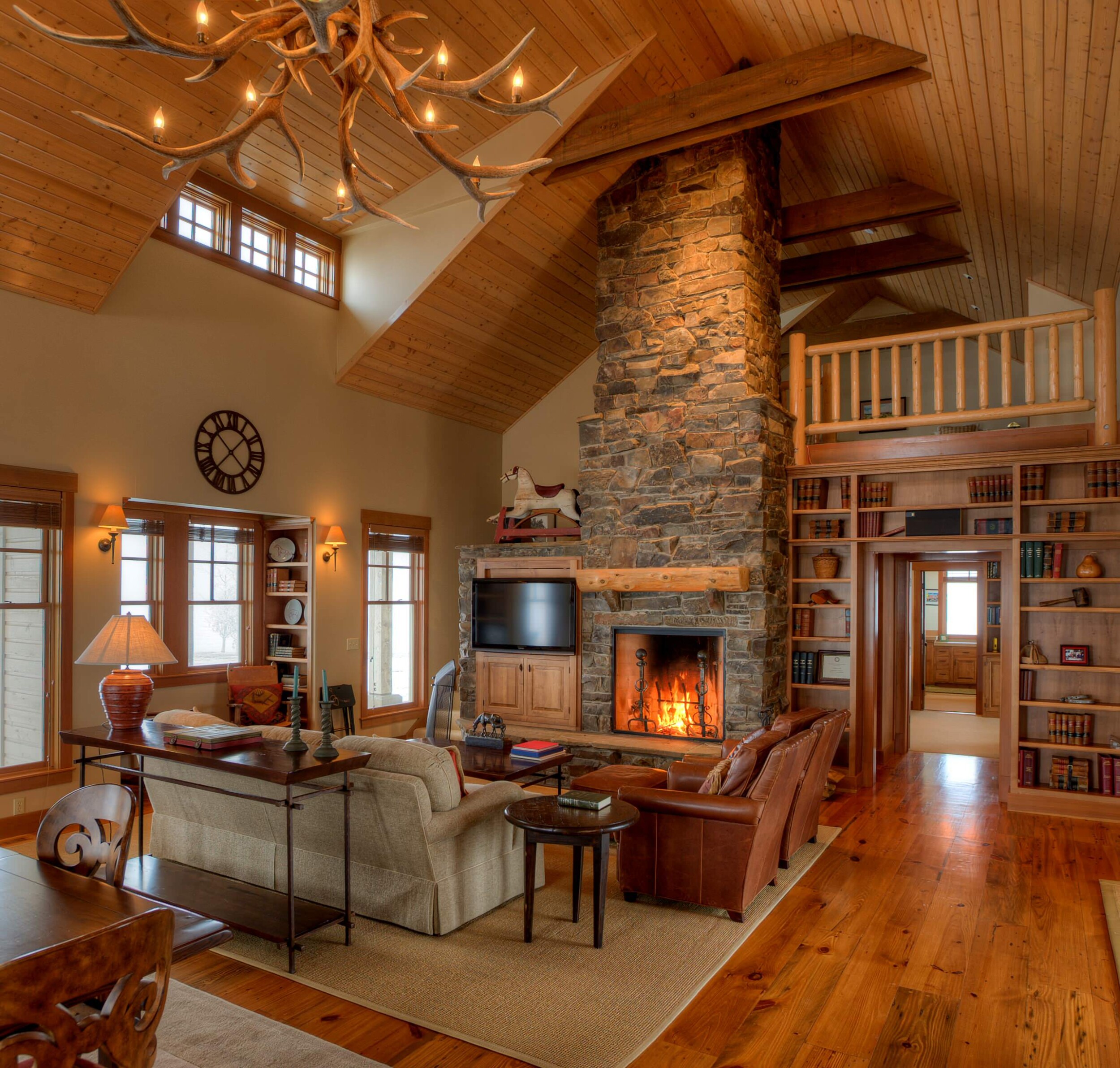 This modern farmhouse living room idea seamlessly blends the duality between contemporary and traditional rustic features that make you feel like you're in a wood cabin deep in a lush forest.
The key to this design aesthetic is to showcase those raw and organic elements at every turn and that means lots of wood features, like incorporating wood-slatted ceilings or natural hardwood flooring, with a stone fireplace.
Bring in an eclectic mix of furniture to complete the look.
A contemporary blending of rustic and stylish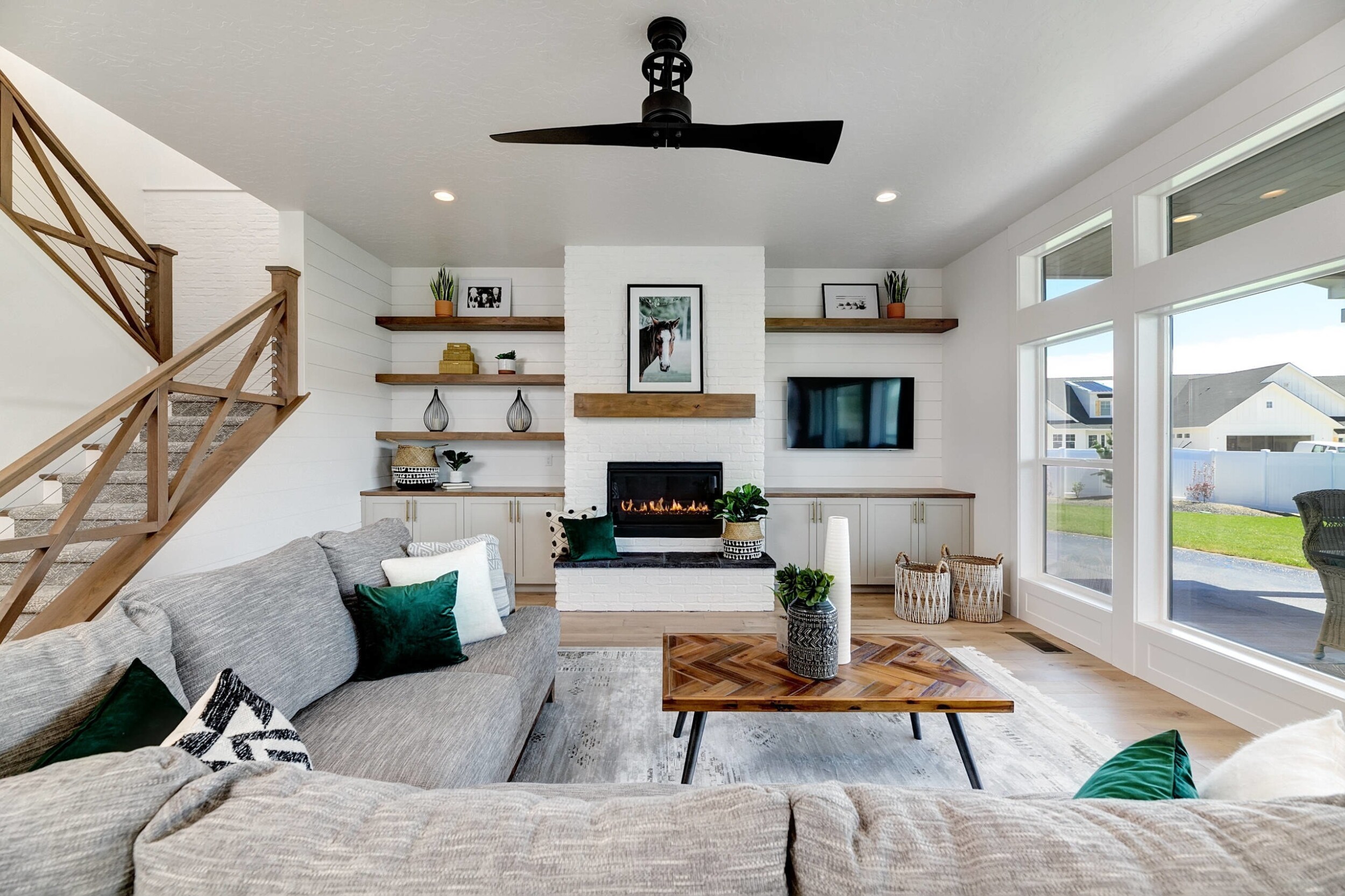 Ideal for entertaining with the family, this modern farmhouse living room takes things back to the basics by incorporating a very neutral color palette with a few key details.
To achieve a similar look, simply go for a muted paint color and bring in those organic and natural details, like with the raw wood shelving and mantle over the white brick fireplace.
In order to keep things feeling cosy, opt for a large sectional or L-shaped couch in a plush but muted hue and add some texture with your throw pillows.
A unique textured rug and muted palette work to make this space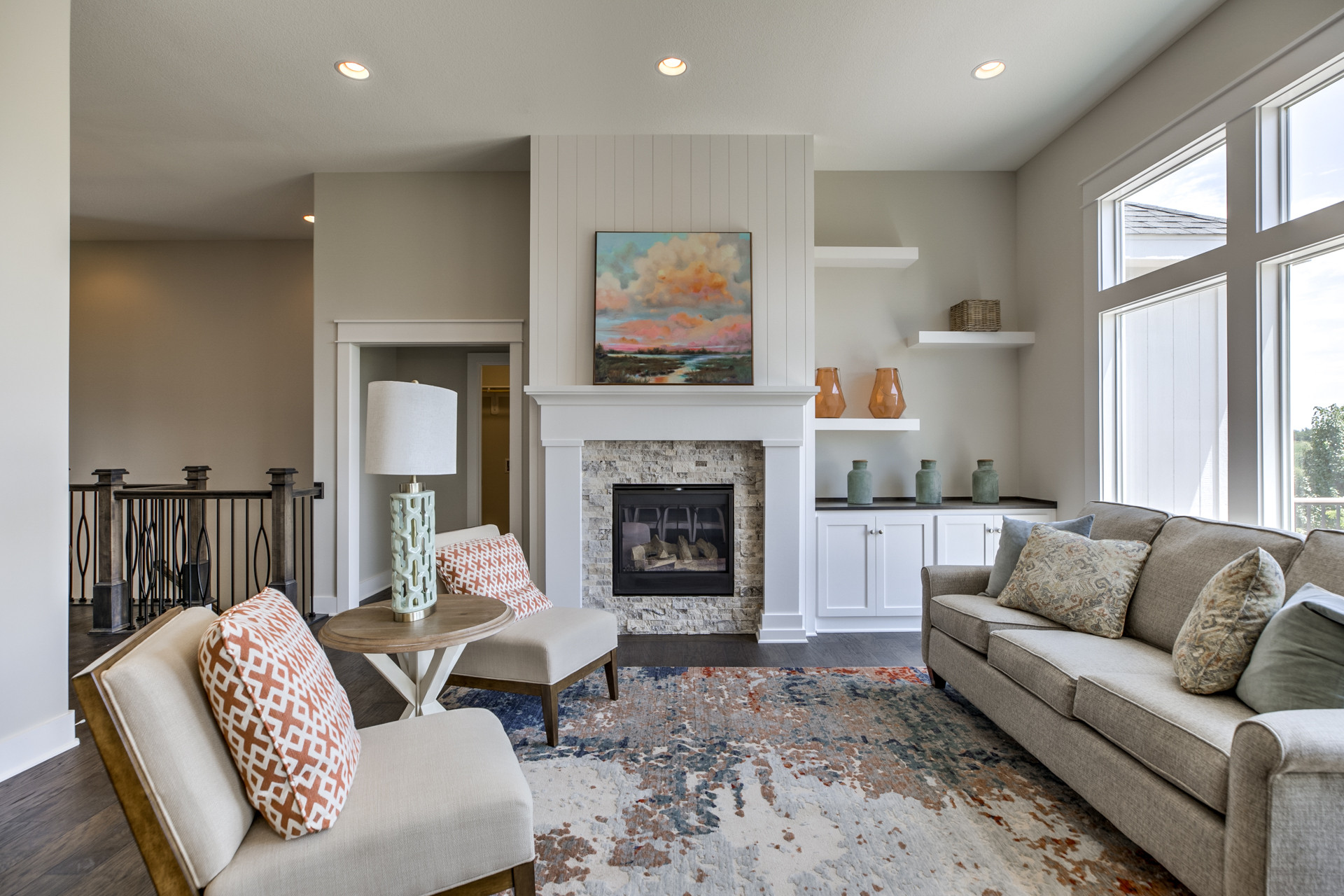 This modern farmhouse living room idea flexes its design muscles by taking more traditional features and spinning them on their head in a contemporary manner.
For instance, you can achieve a similar interior aesthetic by bringing your fireplace into modern times by incorporating a wood-panelled feature and painting the entire thing a bright white.
Add in sumptuous textures with your rug or seating options and turn a built-in unit more contemporary by utilizing open-style shelving.
Add a contemporary feature to your fireplace for sophistication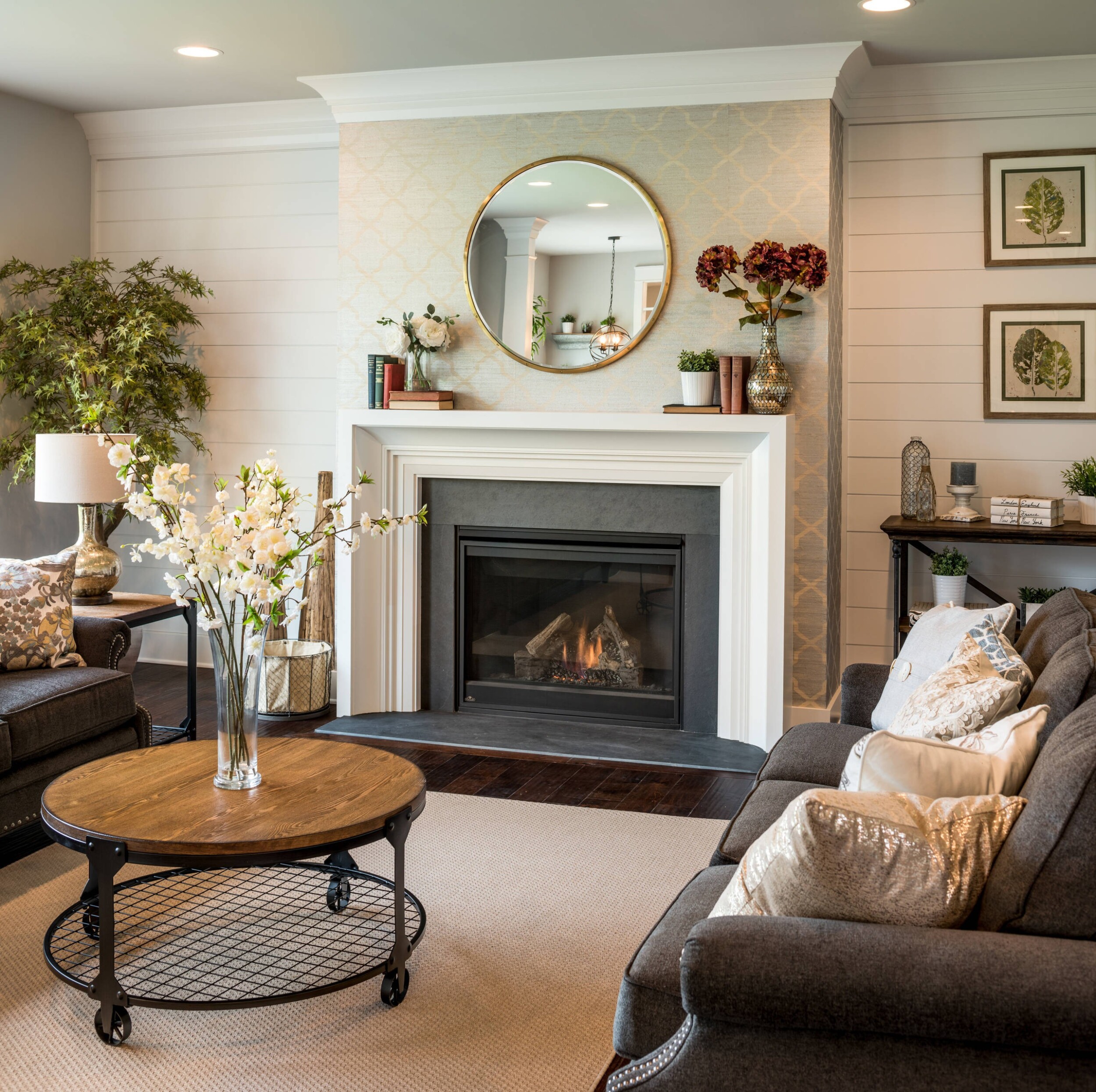 Playing with a slightly contrasting color palette in a soft manner, this modern farmhouse living room idea is completely doable, especially if you appreciate adding a touch of character.
For instance, you can keep your color palette neutral but work to keep things feeling very contemporary by adding a cool panelling feature to one wall.
And to bring your fireplace into modern times, you can always opt to incorporate an interesting patterned wallpaper that feels textured and lived in.
Keep everything white and bright with a pop of color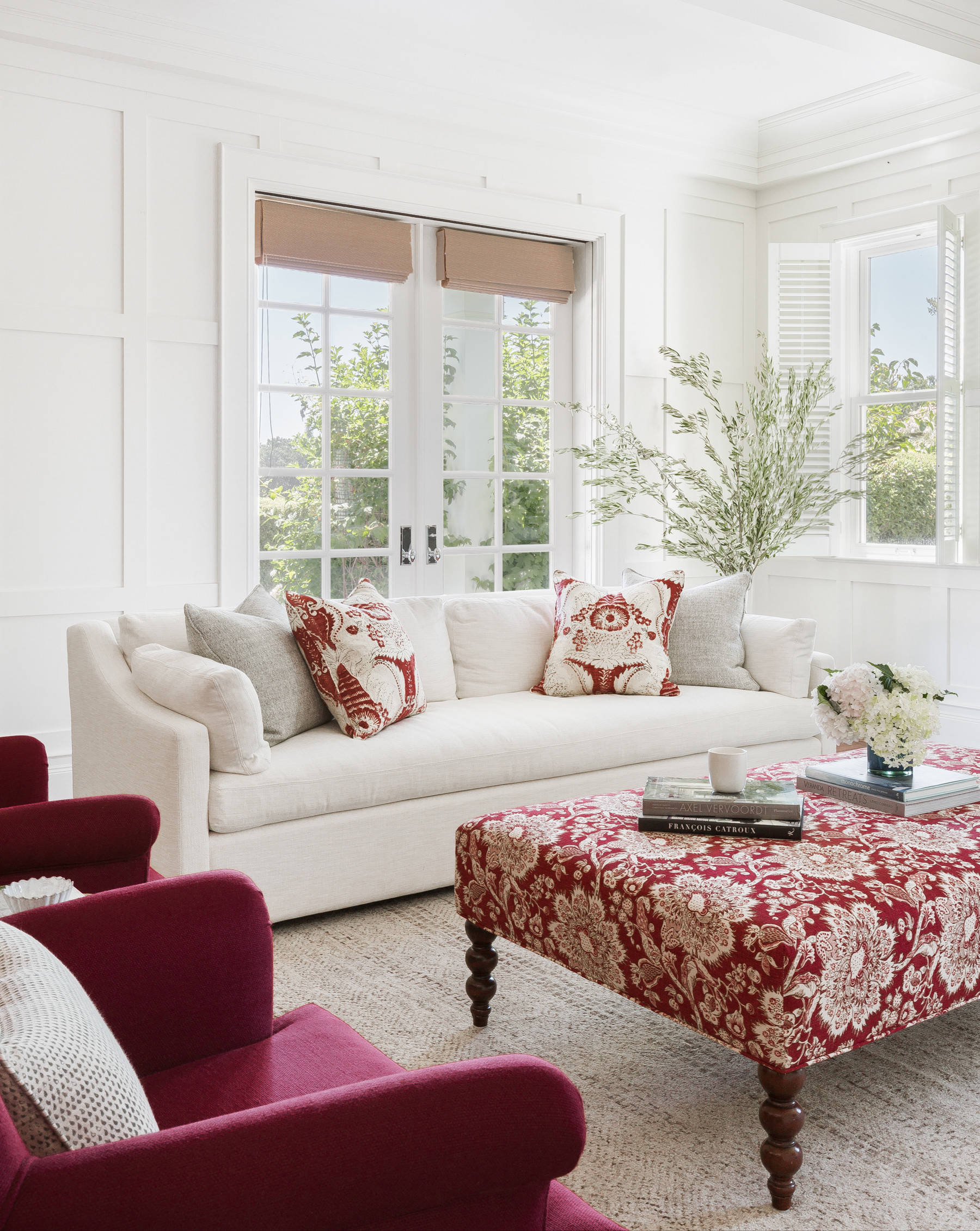 This modern farmhouse living room idea can be easily duplicated for those that possess a love of a milky white palette with an unexpected splash of color.
You can add wood wainscotting to the walls and even paint all the window fixtures and treatments white to create a streamlined and sophisticated look.
A plush texture that features your accent hue can be incorporated through items like an upholstered patterned ottoman, throw pillows or armchairs.
A contemporary farmhouse vibe that feels homey yet elegant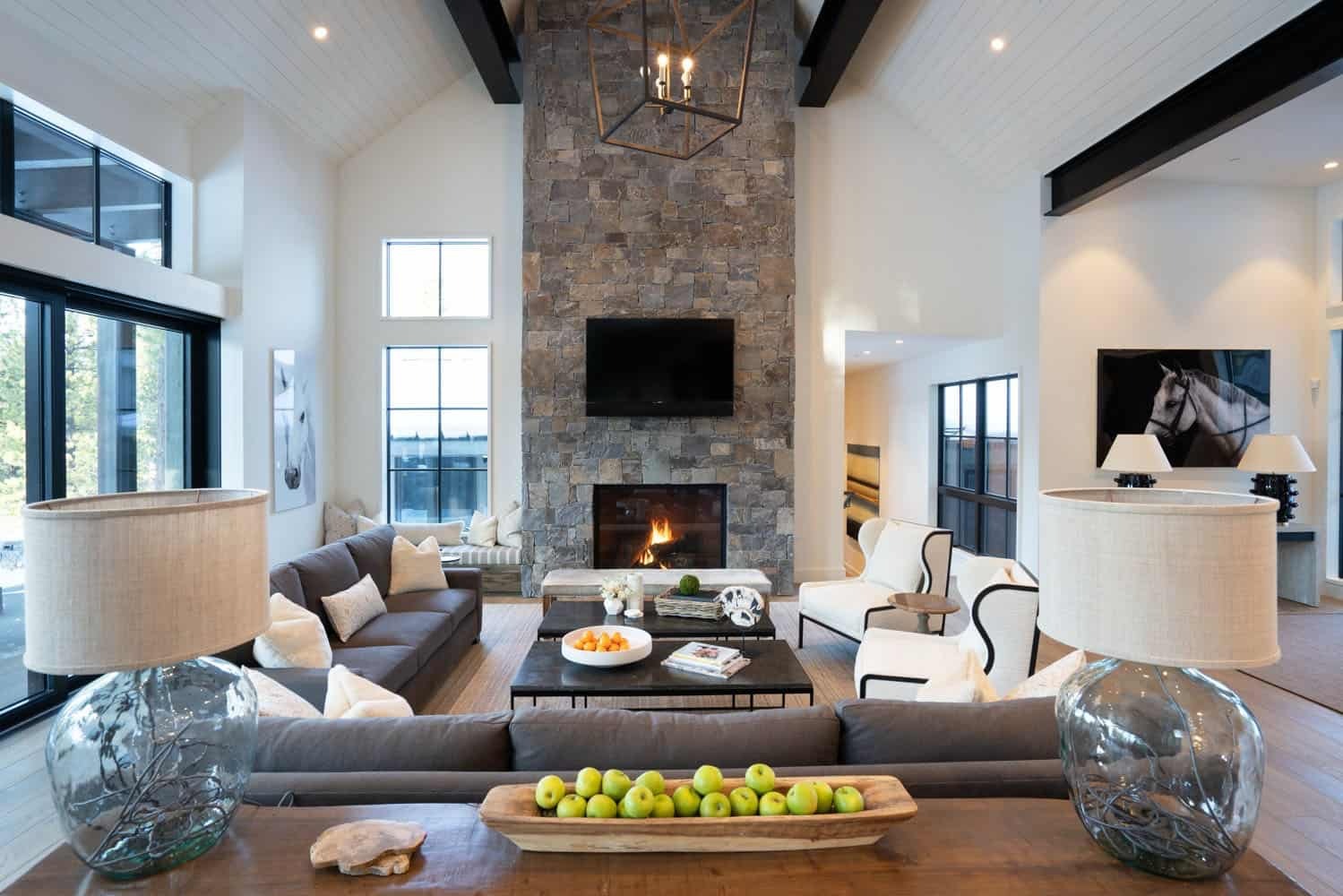 This modern farmhouse living room idea really works because it allows a neutral palette to be slightly broken down with darker accents.
For instance, to keep things feeling regal and more contemporary, you can incorporate dark black beams in the ceiling or opt for darker window fixtures for a splash of sophistication.
You can offset a room set up with lots of symmetry, from the matching armchairs to the tables and lamps, with a super grand stone fireplace that brings in an element of nature.
An eclectic mix of cosmopolitan furniture and long curtains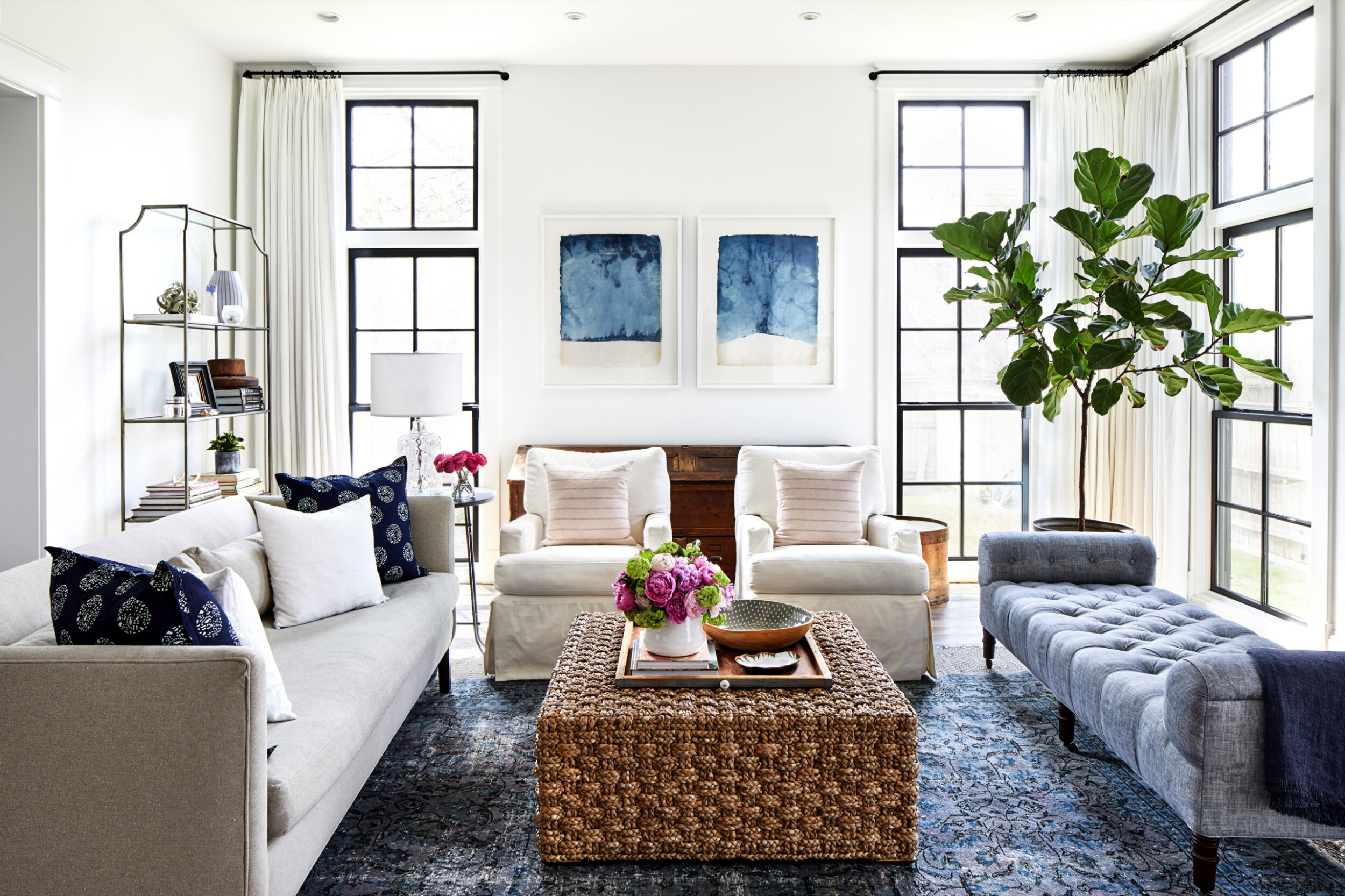 Inviting and warm, this modern farmhouse living room idea is quaint and ideal for those that have entertaining in mind.
It's vital to remember that with a modern farmhouse aesthetic, you can bring a contemporary feel to fabrics and textiles, like with these long creamy linen curtains that are showcased around the windows.
A natural element can be brought into the space with something like this box-style wicker coffee table. Place your furniture around it to create a point of interest.
A modern farmhouse vibe that's comfy enough for the dogs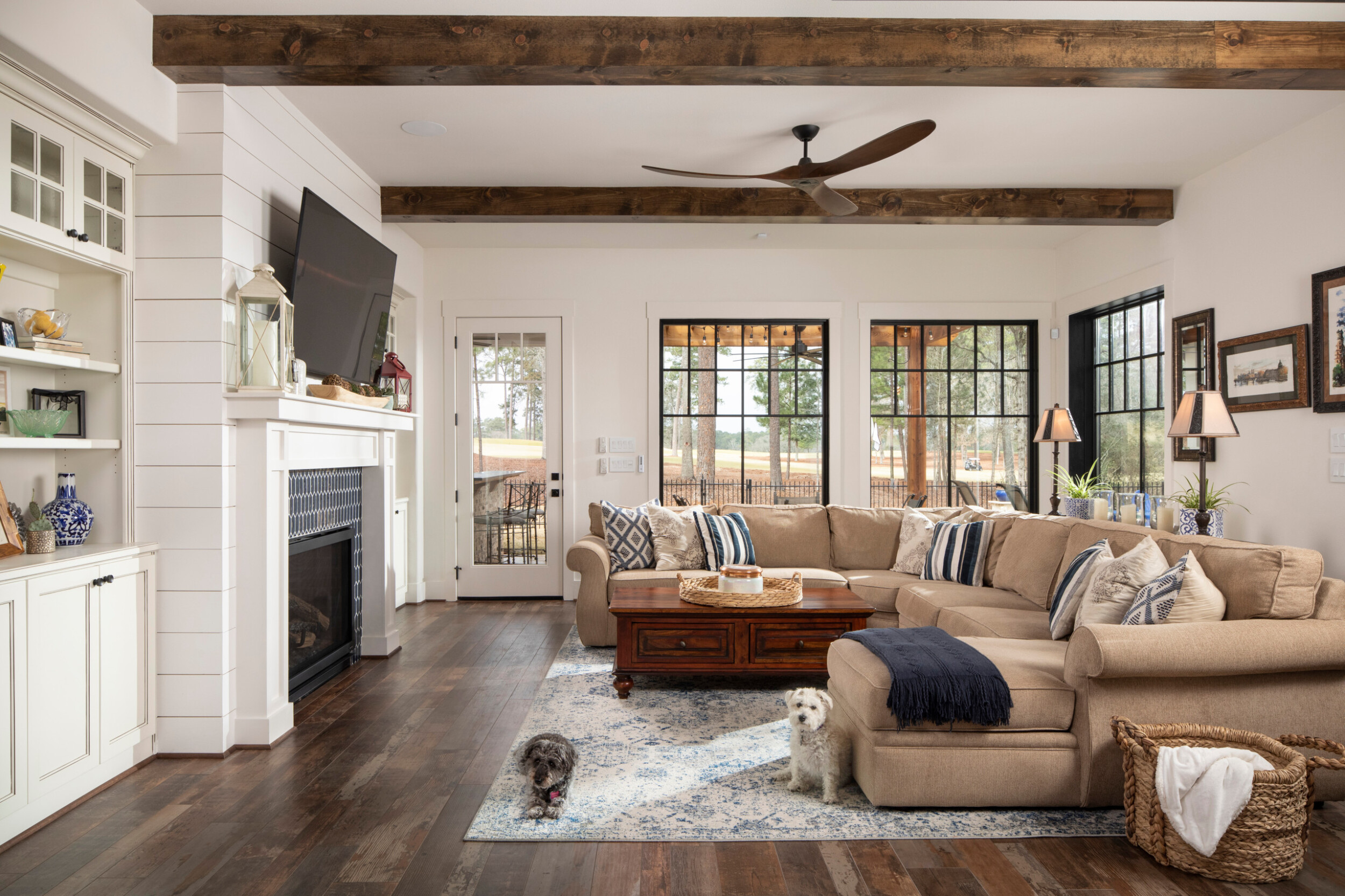 Tasteful and welcoming, this modern farmhouse living room idea focuses on comfort, simplicity, and updating some of those design features that were perhaps slightly outdated.
You can bring a similar look into your home by starting with your fireplace. Think about making it a real contemporary feature by adding white panelling or even a tile component.
There can be organic elements added into the space to keep a rustic feel, like raw wood beams in the ceiling or wicker baskets for storage.
A contemporary little haven filled with sumptuous textures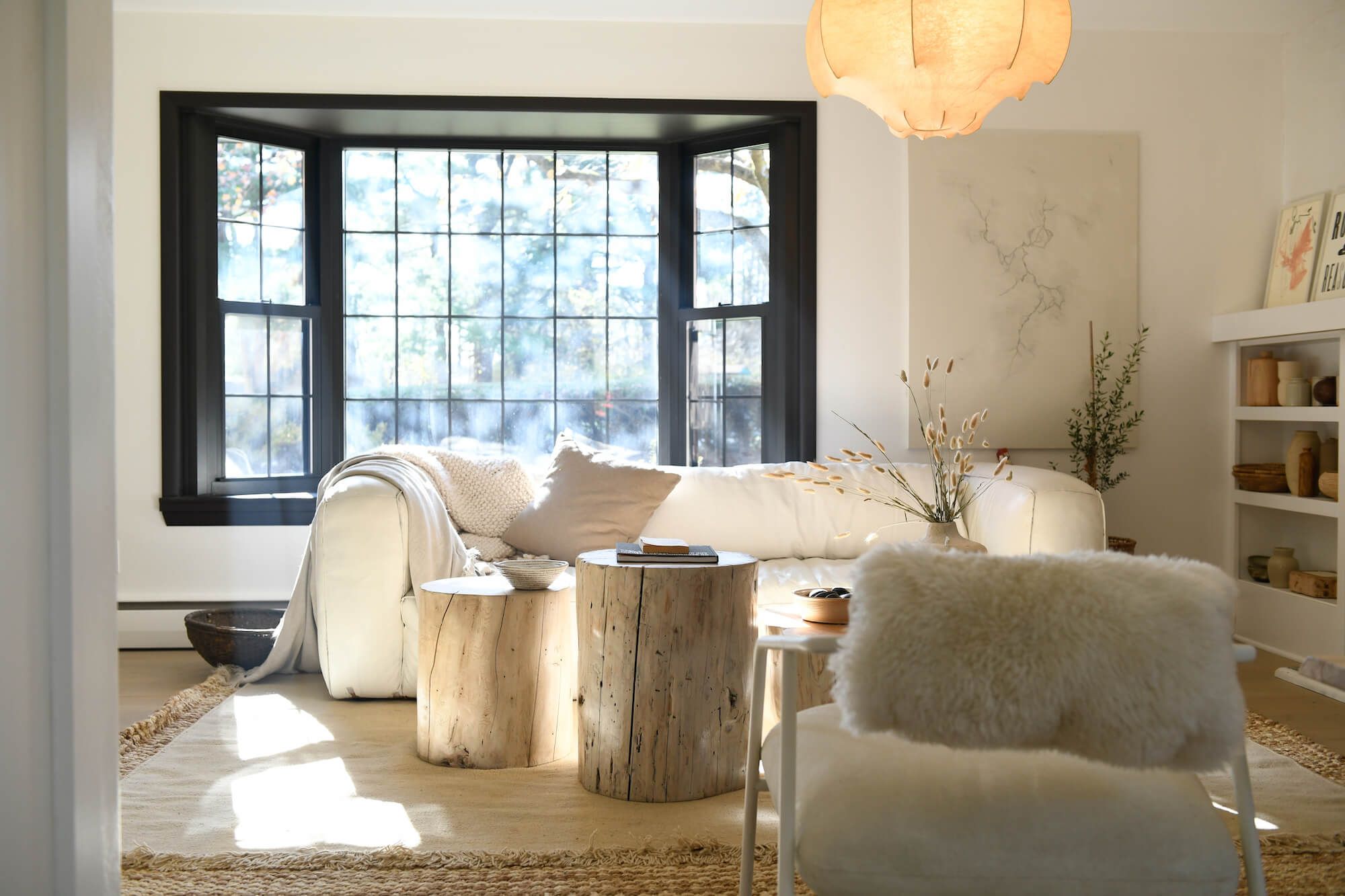 Nestle in with your favorite book or friend in this modern farmhouse living room.
You can take inspiration from this design aesthetic if you paint your walls a soft hue, like cream or muted pastel and give your windows an update with matte black paint.
The rest of the space can come together by playing with textures. The log-style tables give an organic and raw feel while the plush couch and chair bring a softness to the room.
This modern farmhouse living room has a raw and organic feel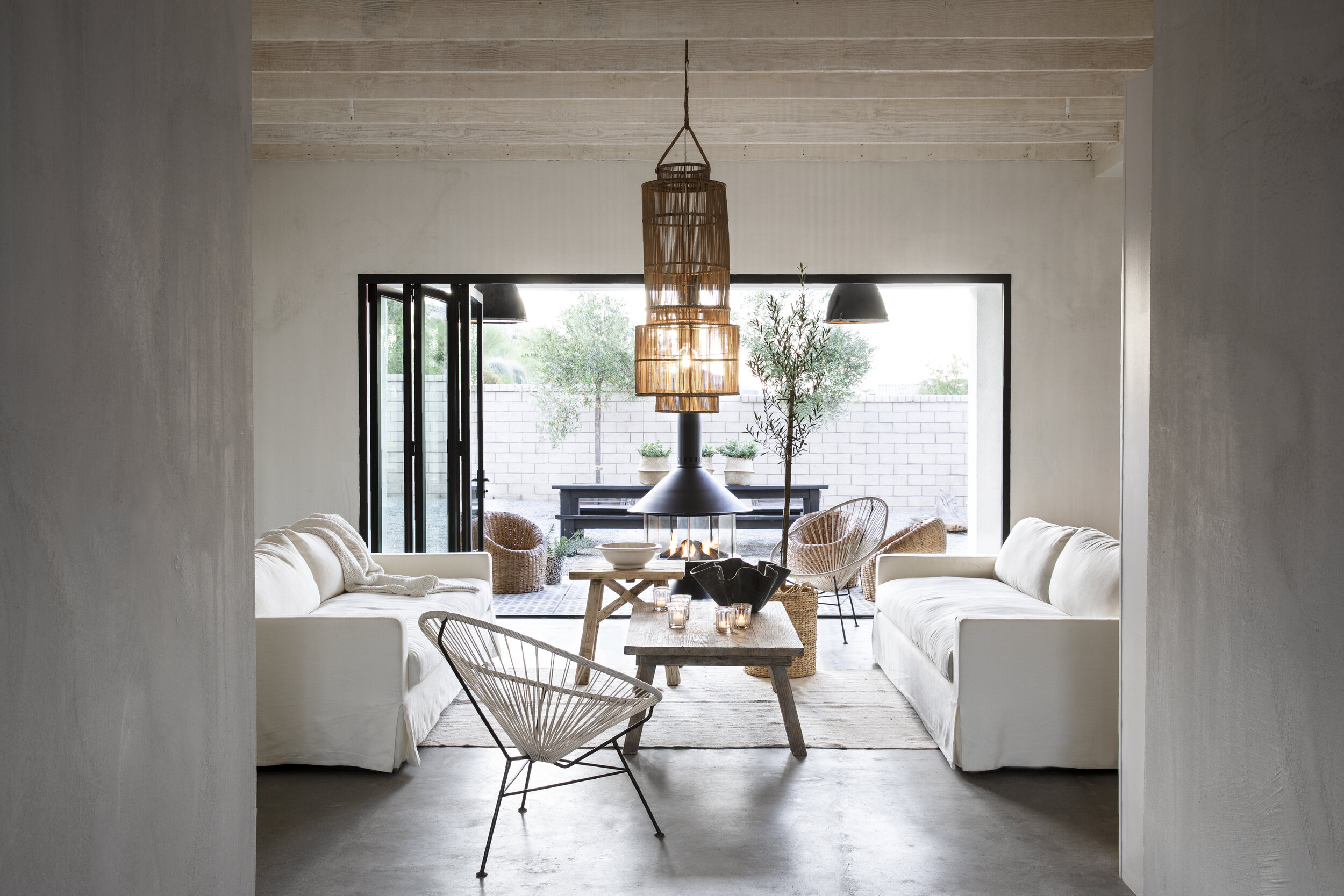 This modern farmhouse living room acts as an extension of the outdoor living space, so everything feels very raw and natural.
The walls feel very plaster-like which adds to the organic aesthetic and the raw wood ceiling beams allow for the space to appear cosy.
You can opt for fresh fabrics with your seating options, like linen slipcovers or even wicker or rattan chairs to complement the outdoor furniture.
Stone cottage inspiration for this modern farmhouse living room idea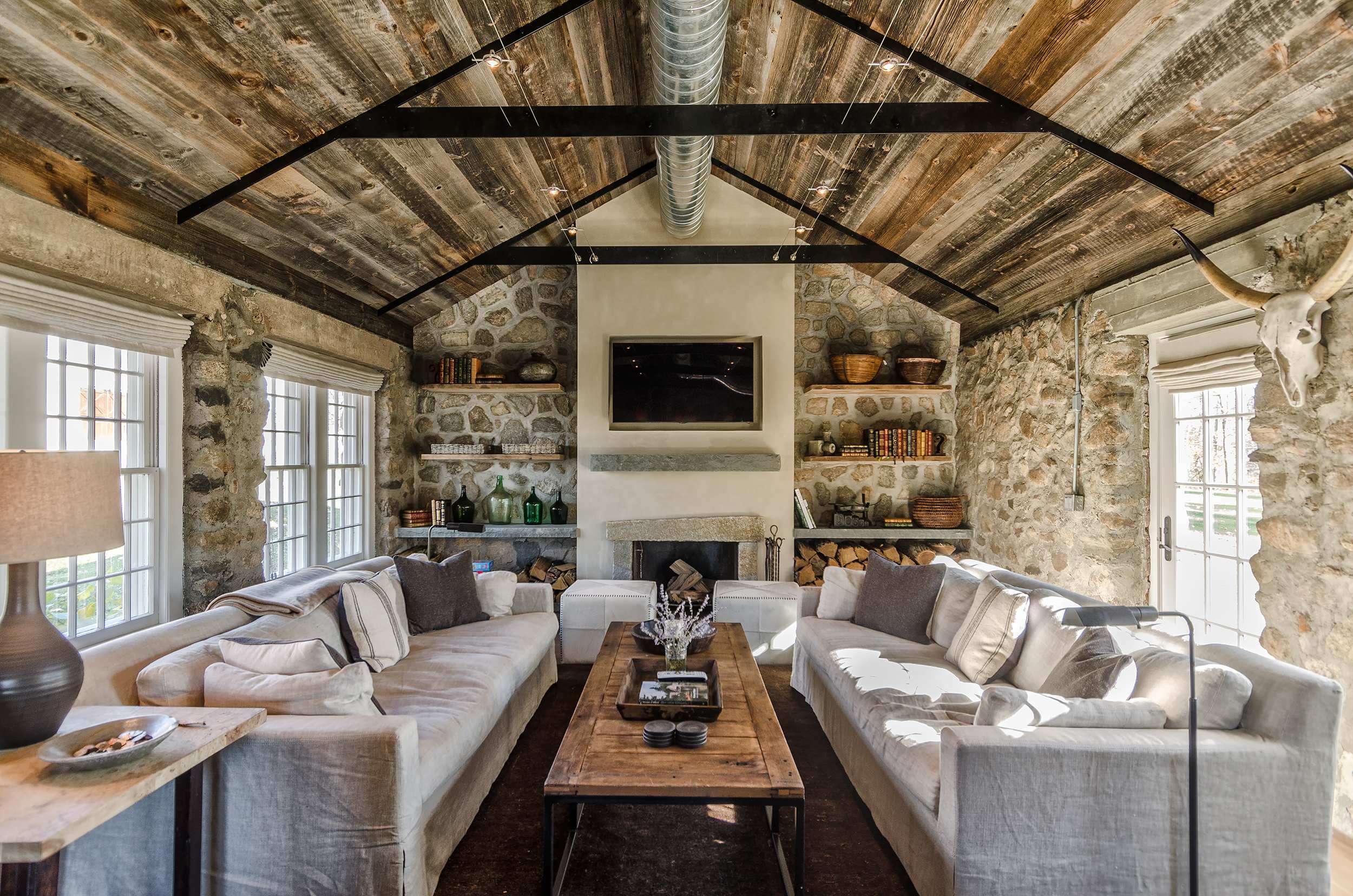 For those that love the idea of a modern farmhouse living room that feels super rustic like a cottage but still offers those contemporary design details and amenities, this look is for you.
Reclaimed wood, as well as natural stone walls, are completely your friend here because you can utilize these organic textures on the walls and ceiling to make the space feel warm and snug.
Update the fireplace area by painting it a soft white and adding some open shelves on either side.
A wood stove and built-in window seats make this space charming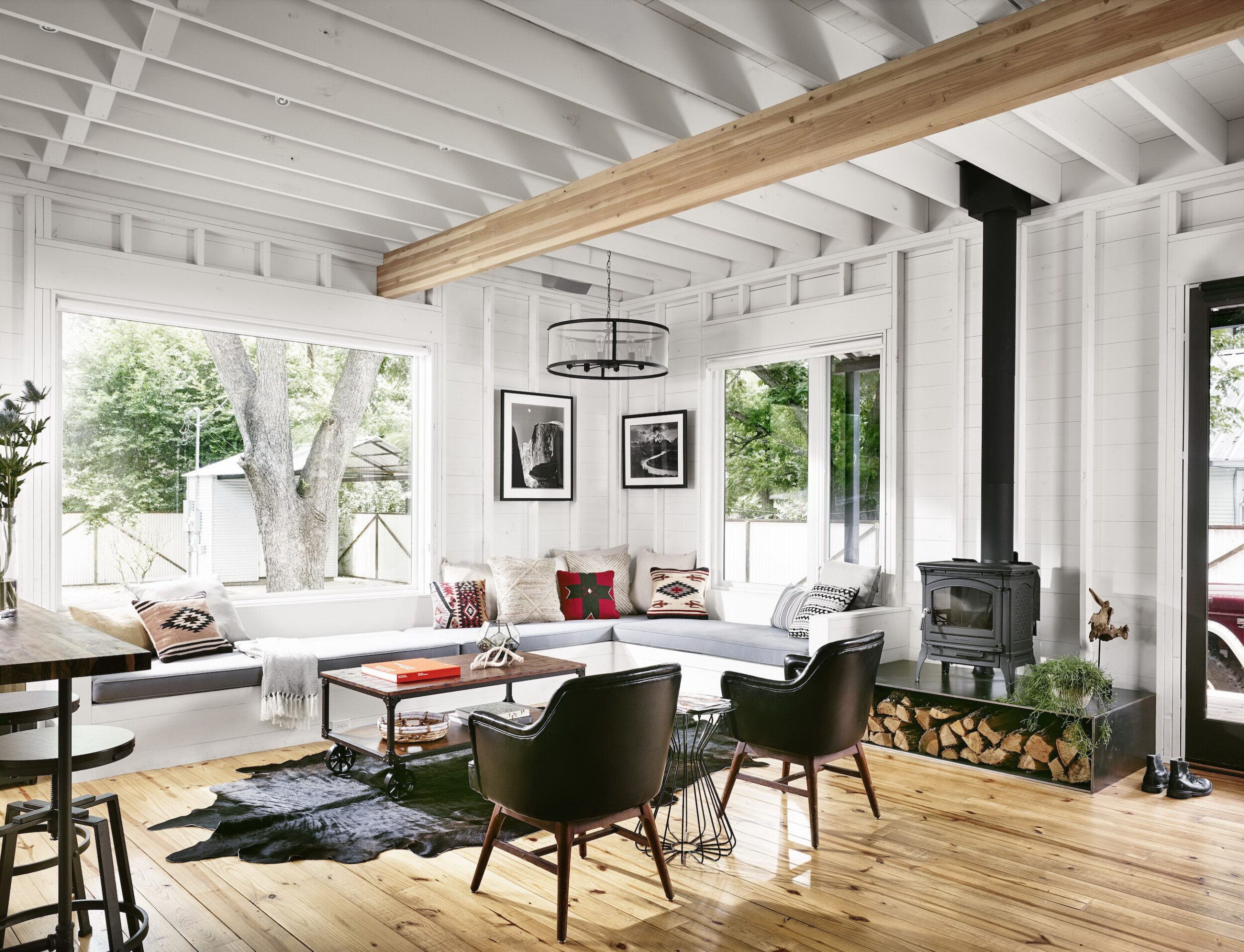 Featuring a charming and eclectic mix of furniture, this modern farmhouse living room idea focuses on effortlessly blending natural outdoor design elements in a contemporary manner.
For instance, the rustic wood cabin feel is updated by painting all of the wood walls white and letting the original hardwood floors shine to bring in a sense of naturalness.
To incorporate a cool seating option that offers loads of storage, opt for wraparound window box seating and a mix of vintage chairs.
Don't be afraid of giving your space a makeover with shiplap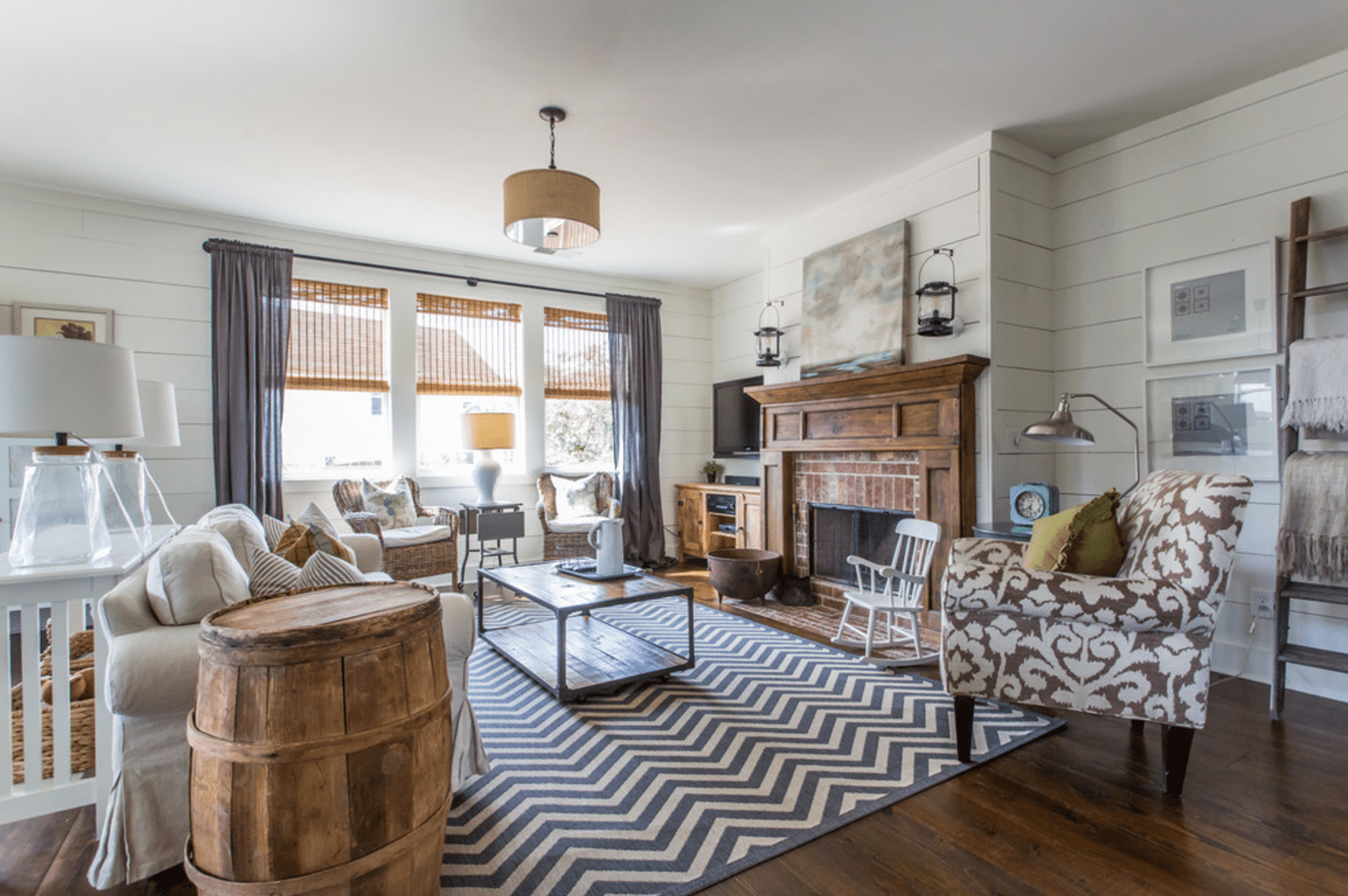 Add those contemporary rustic vibes to your living room by putting together a wide-ranging collection of furniture that fits into your space seamlessly and adds some personality.
In order to modernize the walls, you could go all out and use ship lapping and paint it a creamy white.
Bring in your favorite art pieces and choose carpeting with texture to keep things feeling warm and inviting.
Playing with symmetry, bookshelves, and artwork makes this living space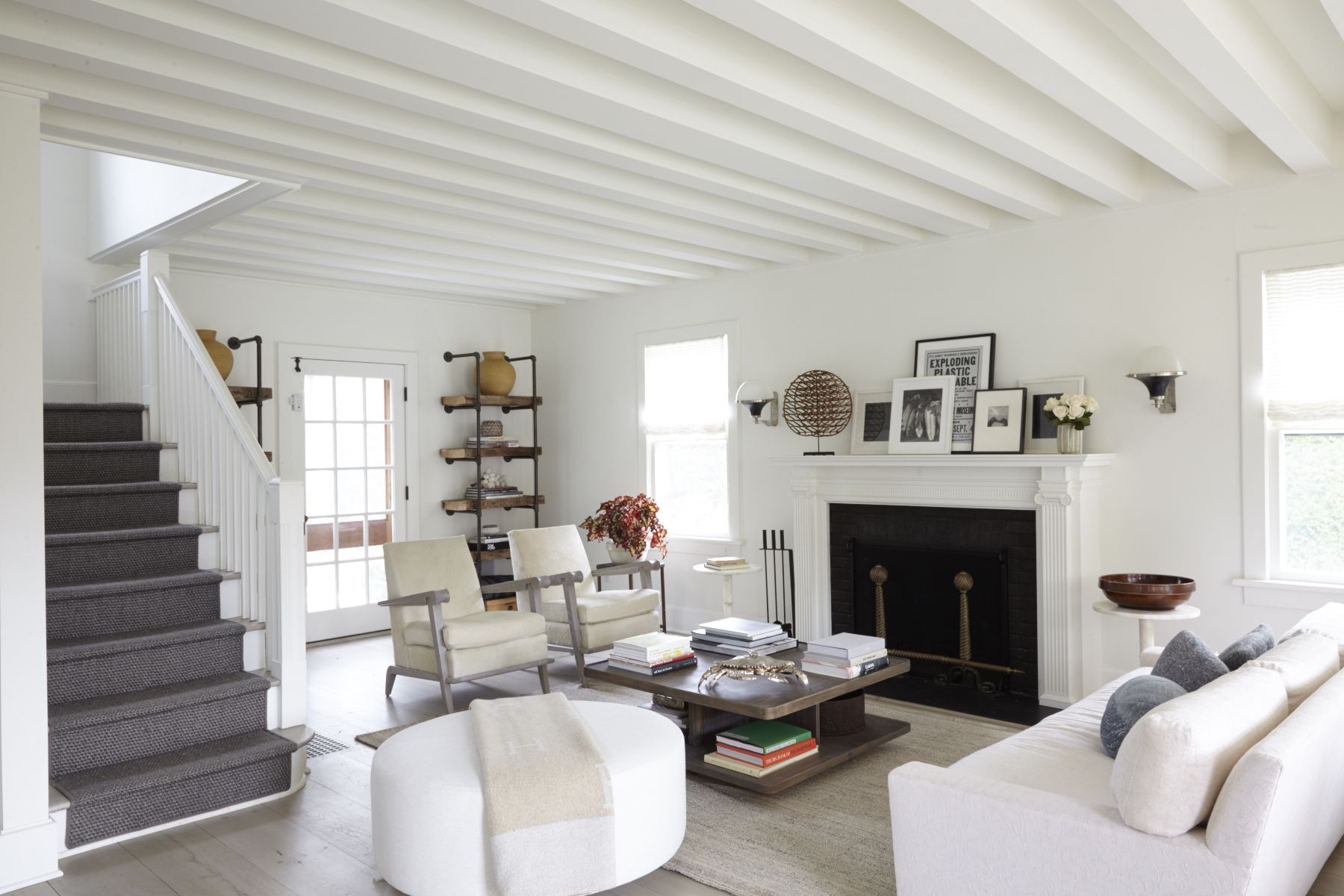 Neutral yet bright to the eyes, this all-white modern farmhouse living room idea feels relaxed and sophisticated at the same time.
There's certainly a sense of symmetry in this space with the matching ladder-style bookshelves on either side of the door as well as the matching armchairs.
For a little texture and charm, feel free to add in some accessories, like an ottoman or even a small sculpture, that feature irregular shapes and feel tactile.
Showcase exterior materials and update key features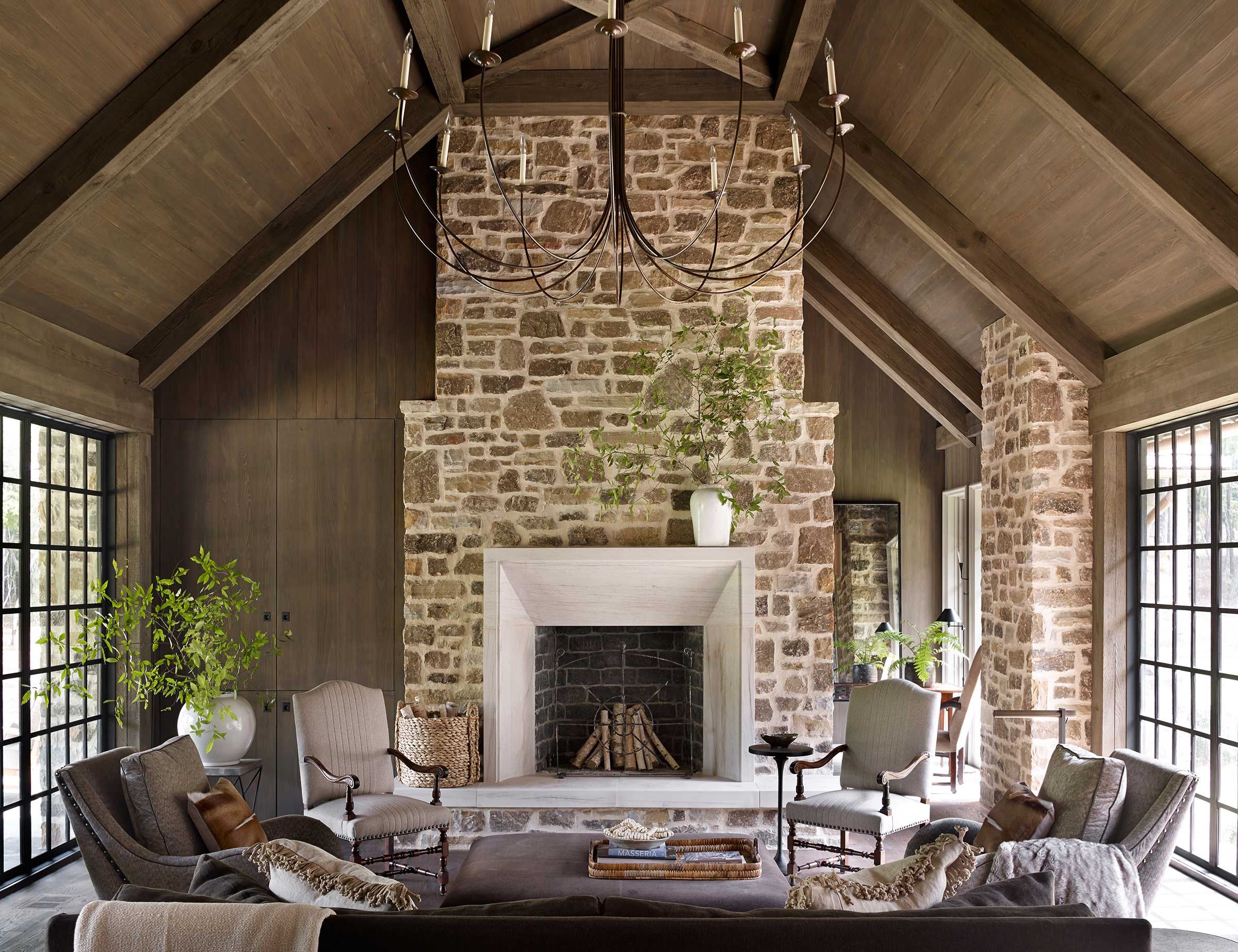 A surefire way to make an impact with your modern farmhouse living room idea is to bring in an element of the outdoors to contribute a rustic flair.
This living space utilizes a grand stone fireplace in muted brown tones which is perfectly complemented by a wood-slatted ceiling and build-in unit.
To keep things feeling contemporary, you can update your windows and paint them black or play with texture with your furniture and include soft fabrics like velvet or linens.
A bright and sophisticated space that showcases unique accents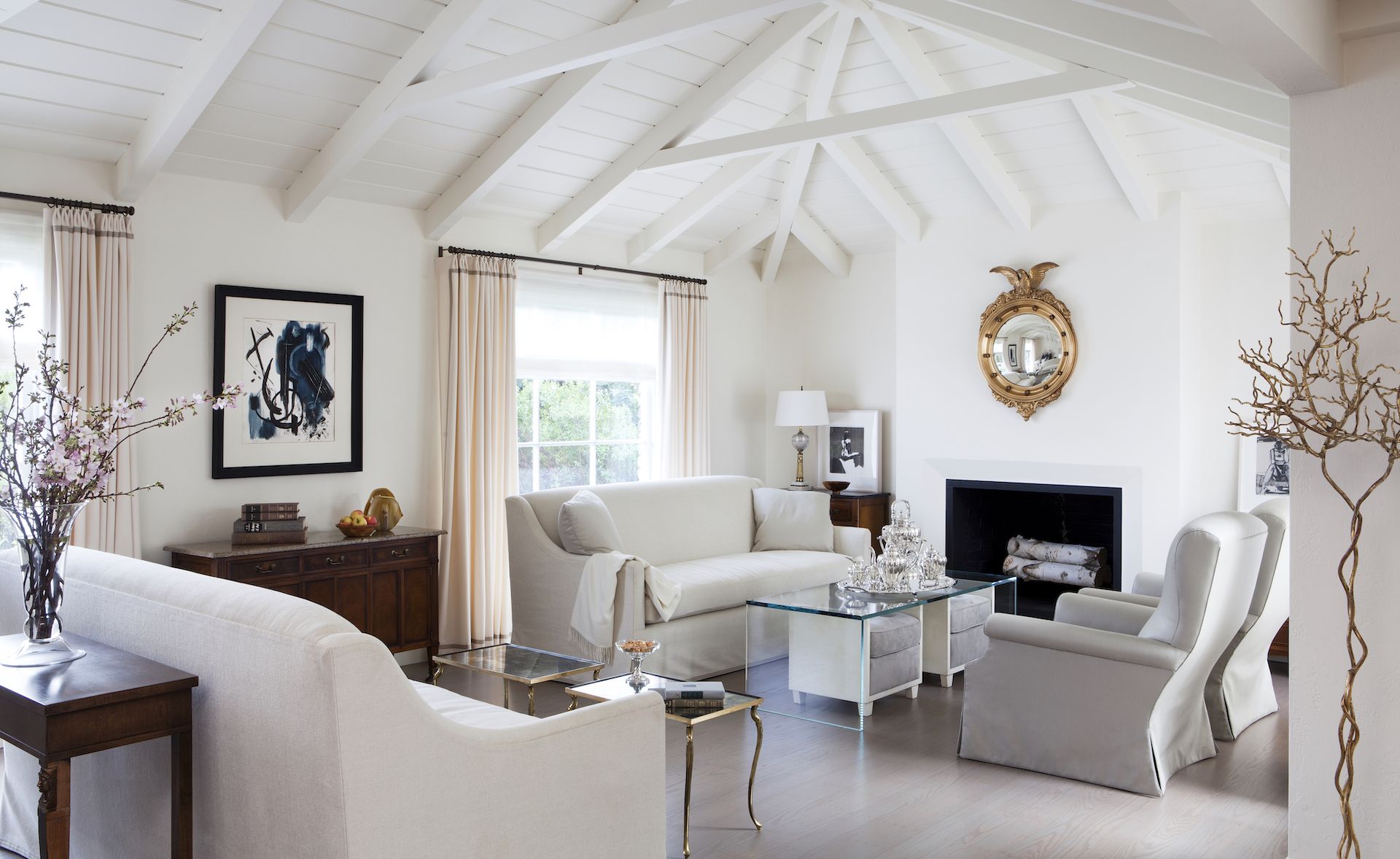 This modern farmhouse living room idea rests upon setting things up in a refined and elegant manner while still leaving room for interesting accent pieces.
For example, the entire space is painted a bright white, including the vaulted wood ceiling and fireplace, but this contemporary living room is still broken up nicely with things like cool artwork, an antique mirror on the wall, as well unique side tables that add an eclectic feel.
A modern farmhouse living room perfect for the family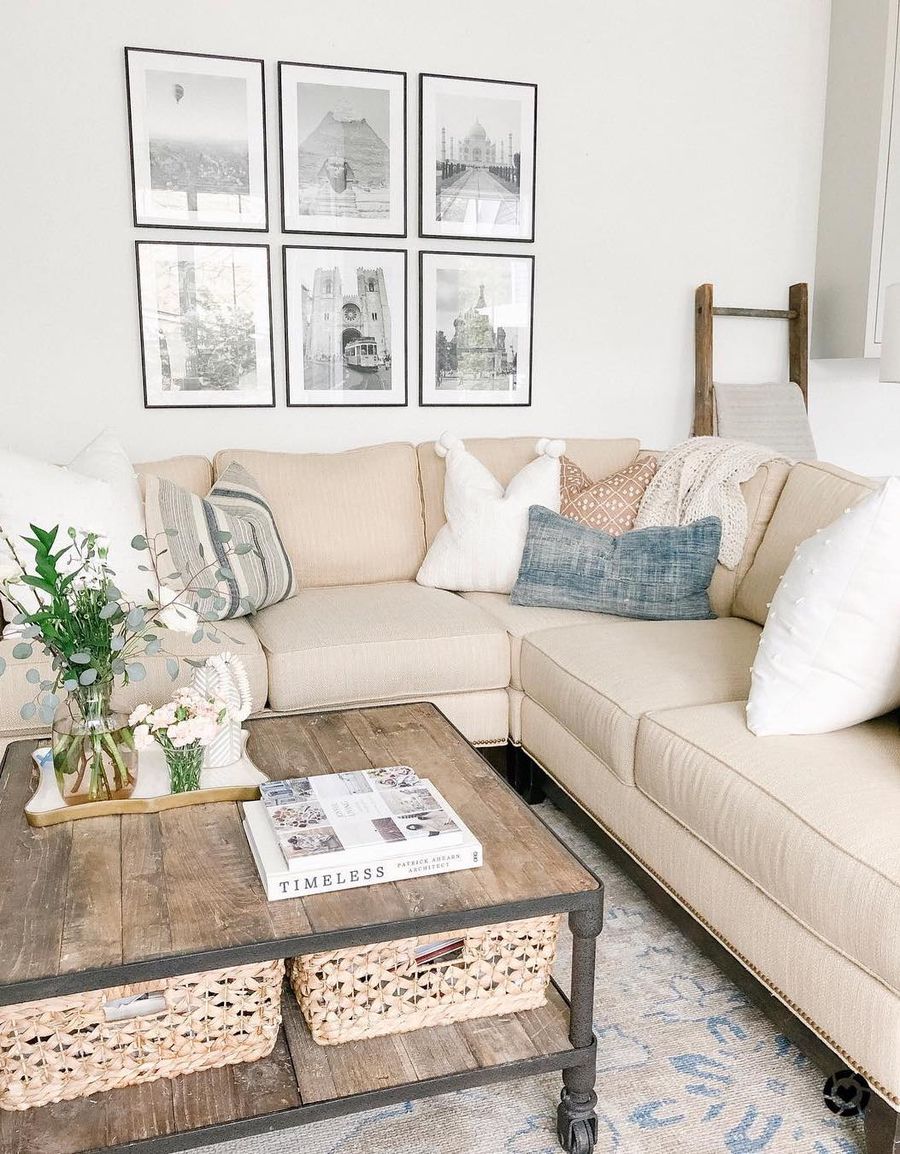 Showcasing a beige sectional couch that's able to fit all of your family and friends, this modern farmhouse living room idea is completely cosy and warm.
You can achieve this look by keeping your paint colors neutral and highlighting a large piece of furniture like a sectional sofa with hits of texture in a variety of throw pillows.
Bring in an element of naturalness with a cool two-tiered rustic wood coffee table that can showcase flowers and even has room for extra storage with wicker baskets.
Don't be shy about incorporating something harsh or bold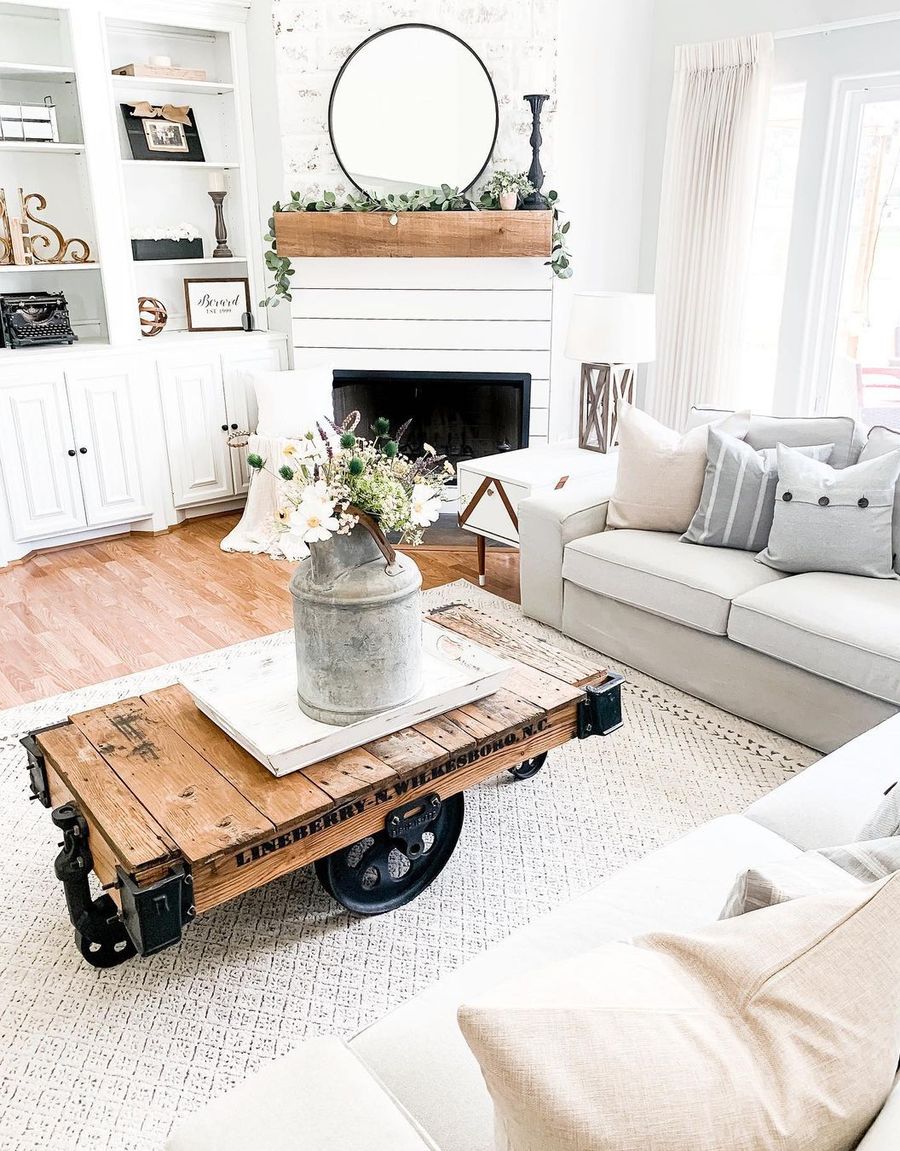 Light and comfortable, this modern farmhouse living room feels very streamlined yet is still able to bring a universal feel with some inspired furniture pieces.
For instance, the white built-in unit and neutral couches are both practical and family-friendly while the industrial coffee table incorporates a contemporary harsher design element that also matches up nicely with the raw wood fireplace mantle.
Feel free to update your fireplace even further by opting for ship lapping or even a white-washed brick finish.
Modernize your space by experimenting with patterns and shapes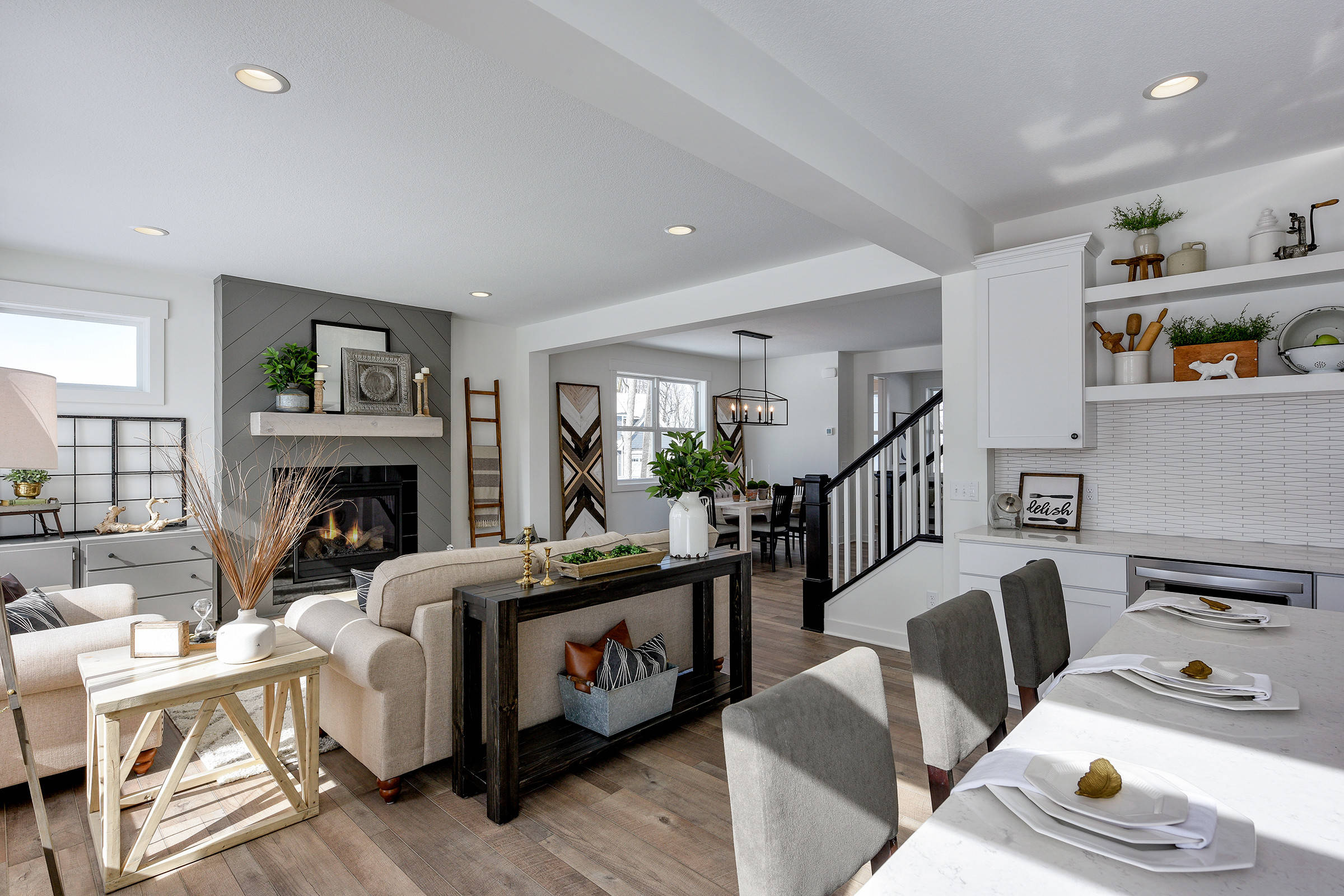 Add a true sense of distinction and whimsy to an open concept living space and kitchen by incorporating a design scheme that utilizes similar shapes and silhouettes throughout.
For example, this modern farmhouse living room showcases a cool multi-color chevron art piece and those same lines are then replicated in the wood-slatting around the fireplace to bring a more contemporary look.
The kitchen is even included with a streamlined chevron backsplash.
Modern farmhouse design elements are possible in larger spaces too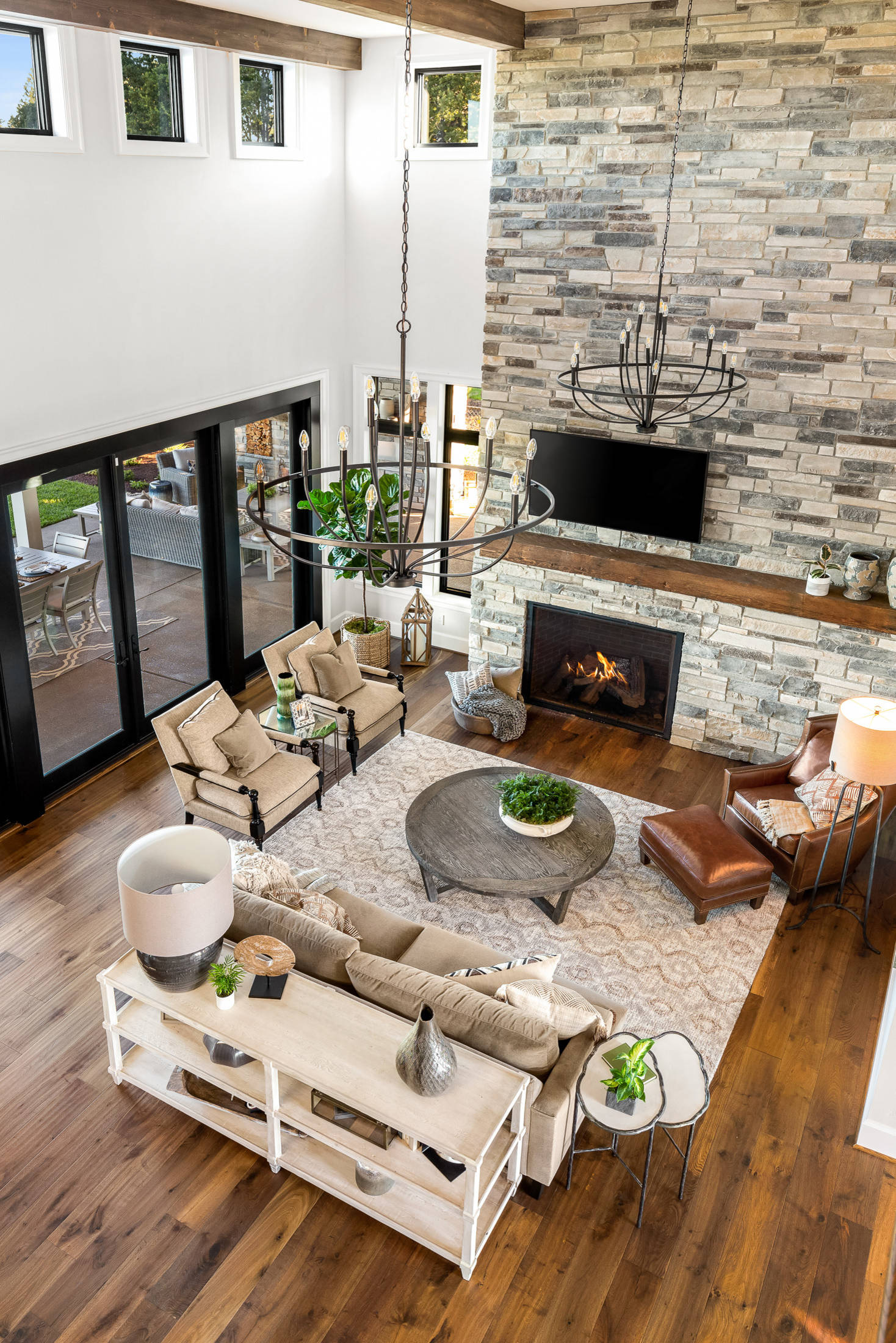 This modern farmhouse living room idea allows for a few key natural design elements to truly shine with one of them being the expansive stone fireplace in neutral colors.
Secondly, the super high ceilings feature a raw wood-beamed effect to break up all the white and add a sense of warmth.
Also, the brown hardwood floors pair seamlessly with a mix of eclectic furniture that you can liven up with fun accessories like unique lamps and plants.
A modern farmhouse design can also mean showcasing darker hues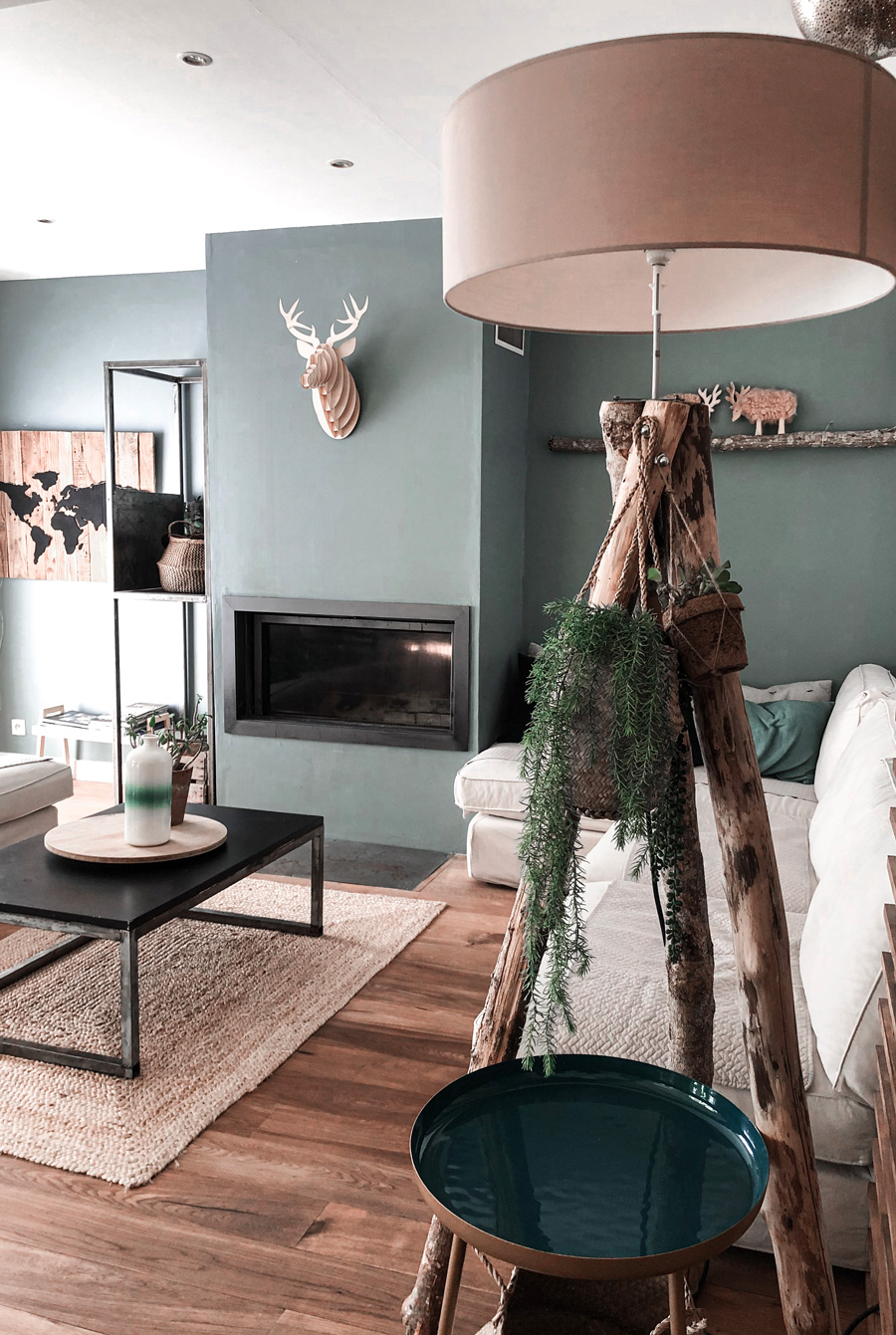 In order to keep a contemporary feel to a space, you don't necessarily have to paint everything white or cream.
This modern farmhouse living room idea showcases a dark focal wall which houses everything from a cosy fireplace to rustic art pieces.
To contrast the dark wall, you can keep your seating options a creamy color and super comfortable and add in something like this three-piece raw wood-style lamp for a hit of personality.
Keep things bright and add in natural wood details for charm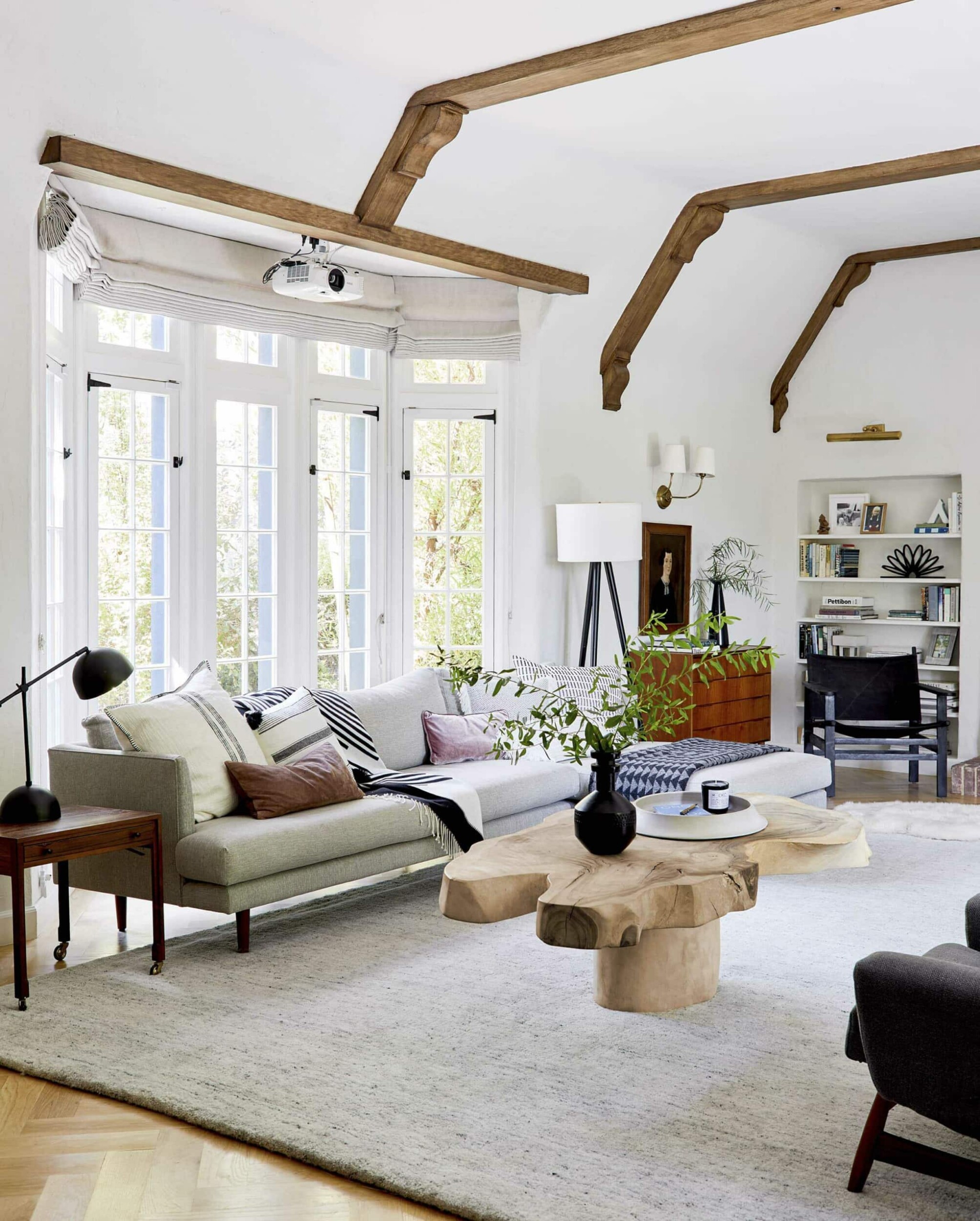 Charming without an ounce of gloominess, this modern farmhouse living room idea can be achieved for those that are willing to paint their room a neutral shade and incorporate rustic beams with bridging joists across the ceiling.
You can opt to keep your furniture and window treatments in an easy natural fabric like organic cotton or linen and showcase a timber-style coffee table as the ultimate conversation piece.
A black leather sectional brings a different texture to this neutral space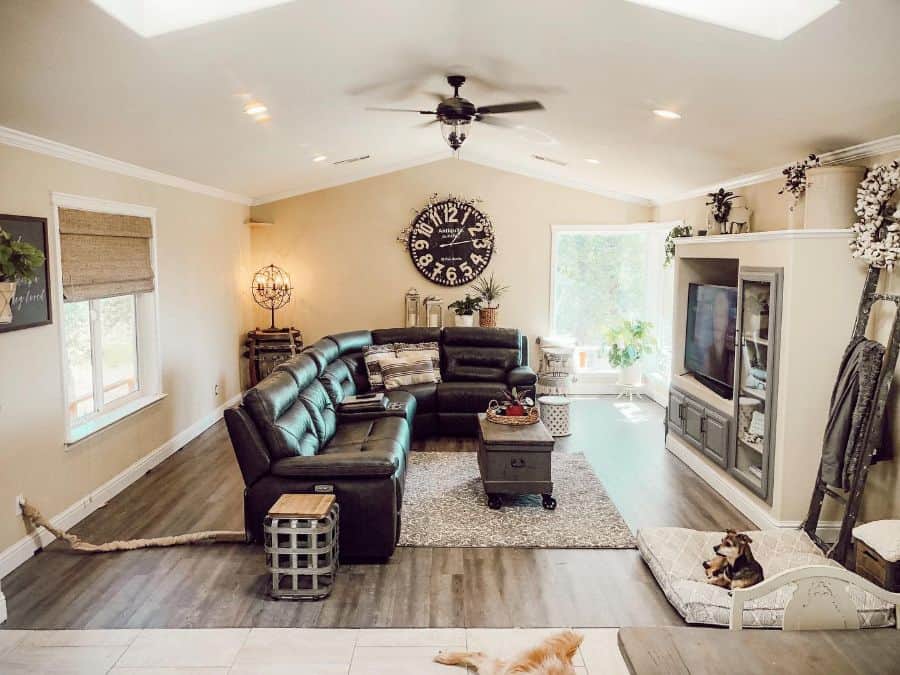 Painted with a lovely muted tan with crisp white trim work, this modern farmhouse living room doesn't shy away from quirky home decor accents and darker features.
You can achieve this design aesthetic if you pair a dark-colored leather sectional with hardwood flooring and a shaggy throw rug for added texture.
Spice up the space by incorporating interesting accessories, like a cool clock or distinct lamp.
Keep the paint a bright neutral white and play with texture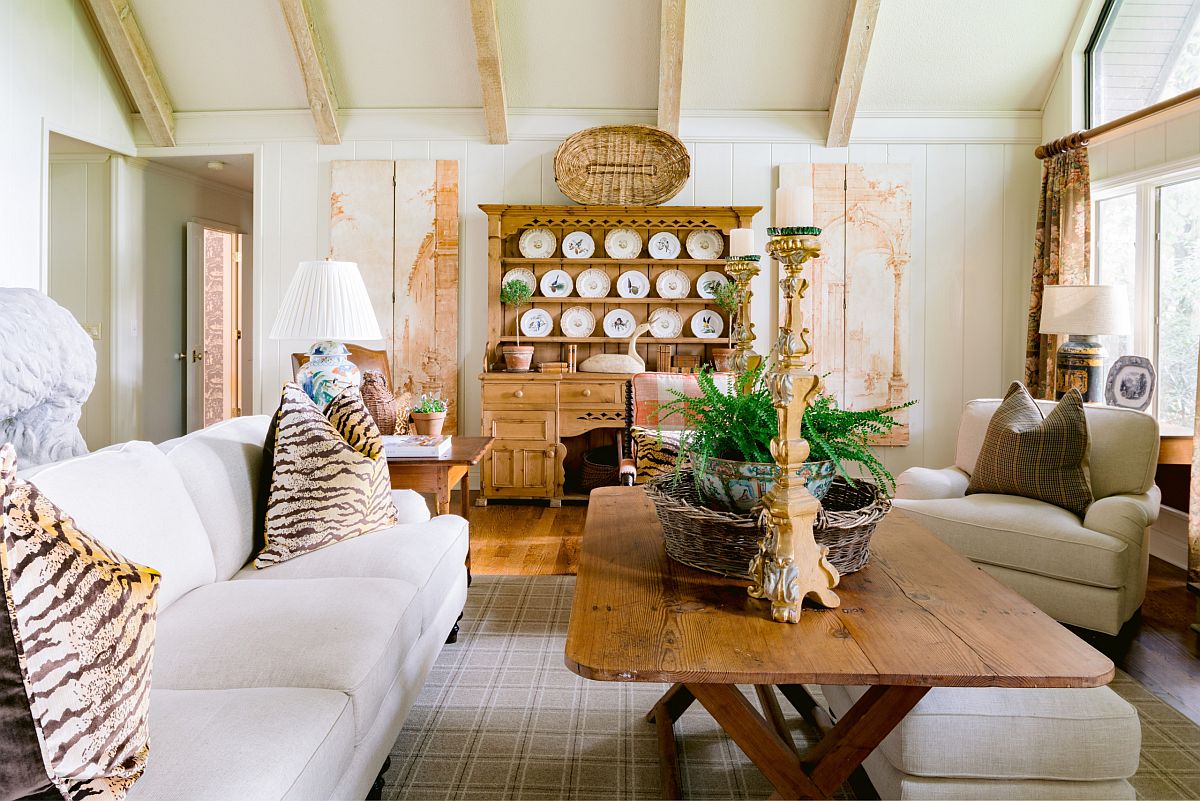 This modern farmhouse living room idea rests upon the idea of a neutral palette with bright white paint everywhere from the walls to the panelled ceiling.
For those looking to bring a sense of naturalness to the space, opting for a jute rug adds the perfect amount of organic texture.
You can also go more eclectic with some of your side tables, hutches, and storage units and play with various colors, sizes, and heights.
A high angled ceiling is complemented by eclectic cosy home furnishings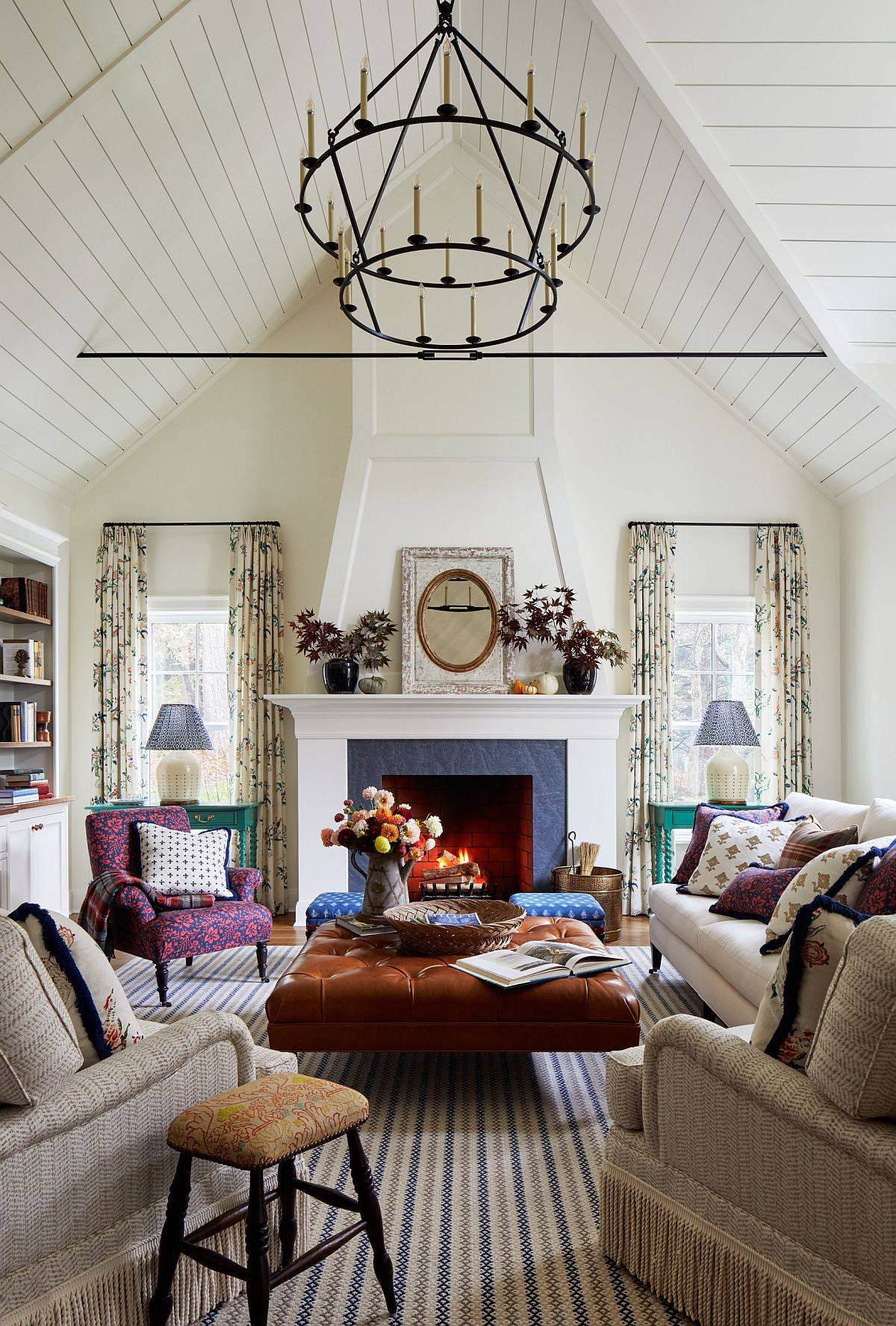 In a contemporary living space that possesses a high angled ceiling such as this one, you can choose to highlight that by making it a key design feature with white panelling and a grand old-fashioned chandelier.
Allow the rest of the living room to feel comfortable and inviting by opting for lots of different textures and patterns with your sofas, chairs, and pillows.
Play even more with the height of the room by showcasing long cascading floral curtains.
Modernize a creamy white space by opting for natural accents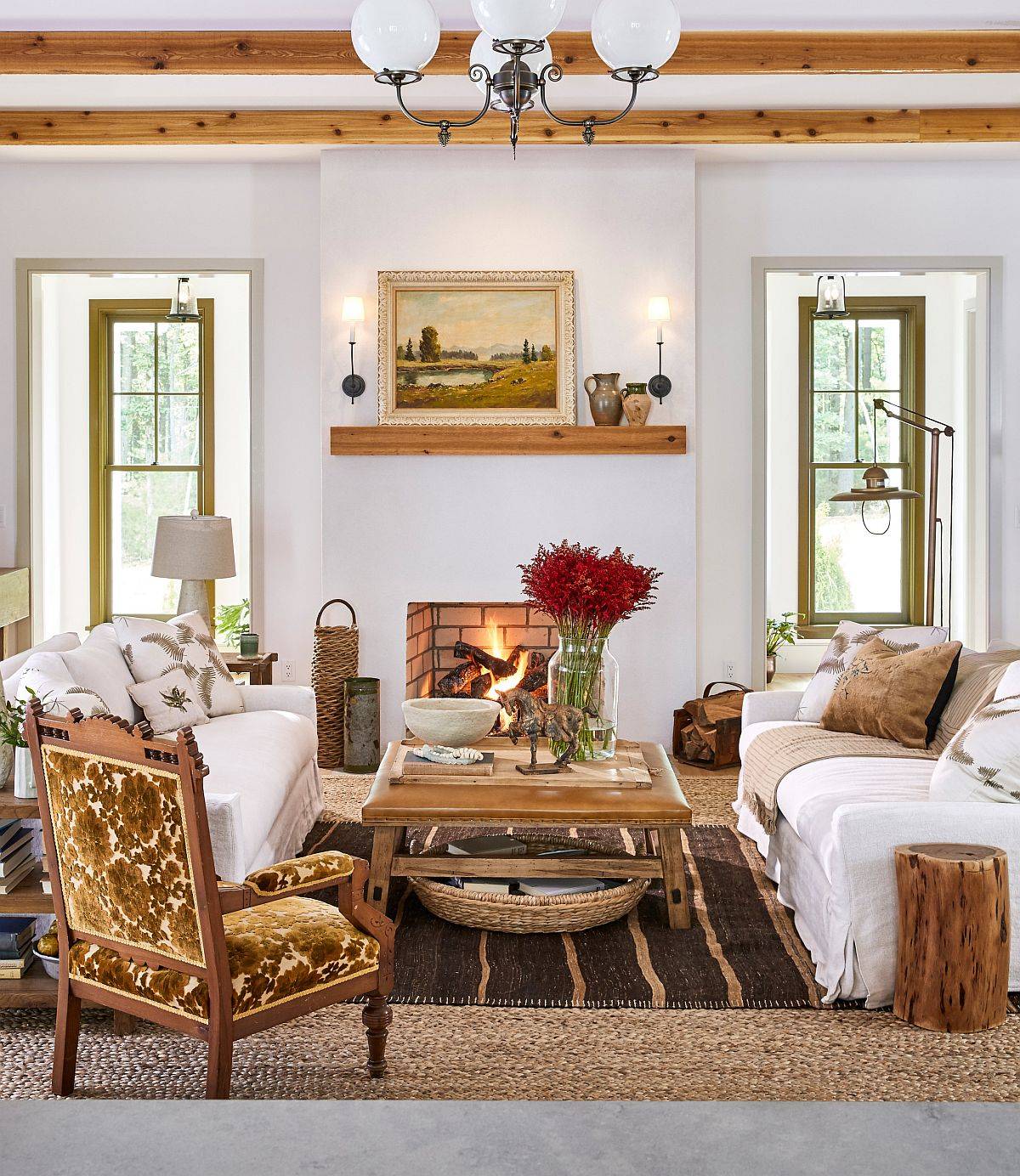 This modern farmhouse living room feels like you're getting a nice warm hug from someone you love due to all of the organic and natural details.
For instance, even if you paint your entire living room space a creamy white, you can still add some raw texture by incorporating wood ceiling beams and replicating that aesthetic with your fireplace mantle.
You can also double up your rugs in textured jute and opt for a cool mini log side table.
Bring in that hit of color with your furniture and rug options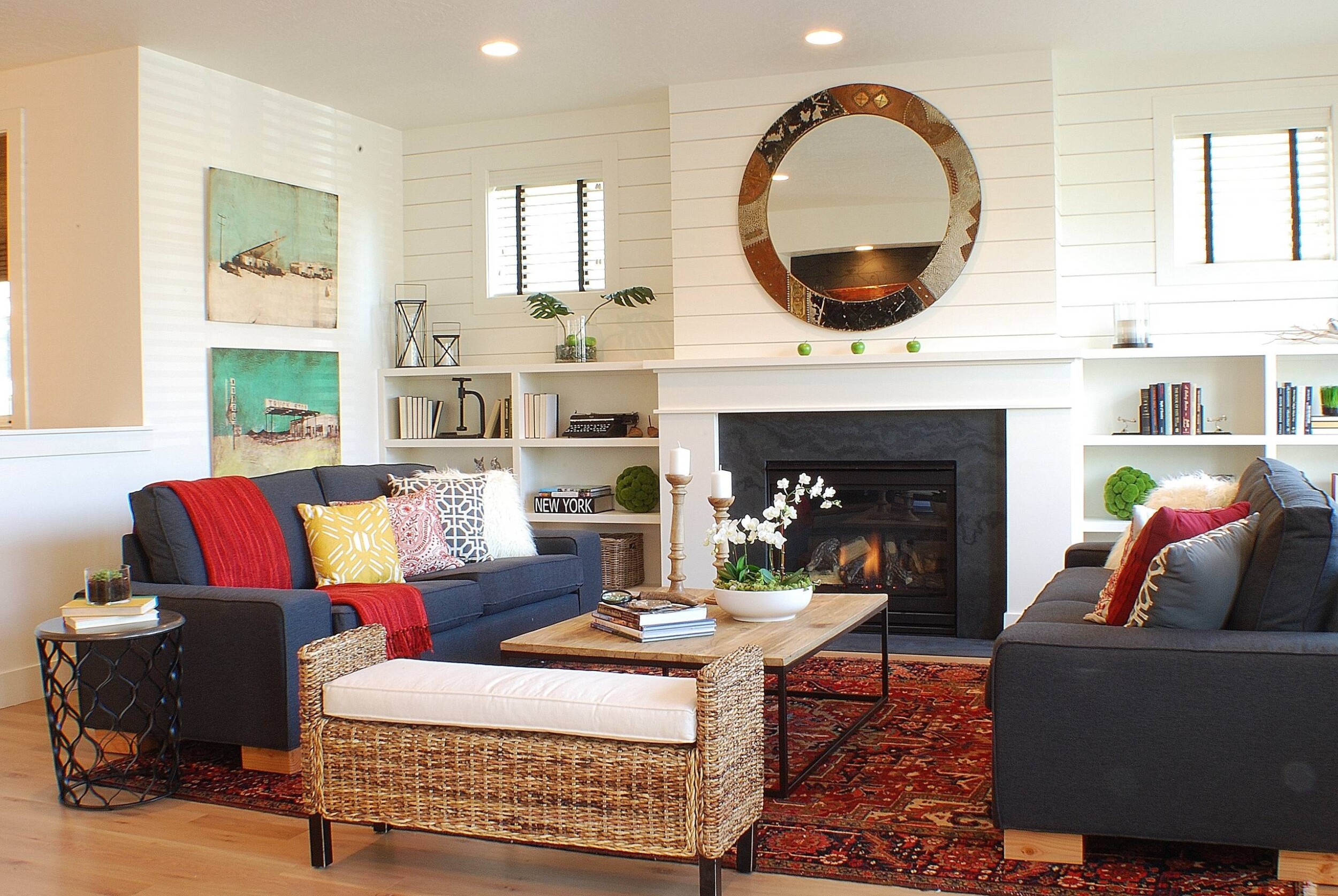 One key thing to remember about designing your modern farmhouse living room is that you can have function, style, and color.
For instance, you can pick a feature wall and add some ship lapping to bring it to a contemporary place. If you're someone that needs the extra storage space, opt for some built-in units in white to complement your feature wall.
You can fully go for some colorful options in terms of sofas, carpeting, and even artwork if you want to add some character.