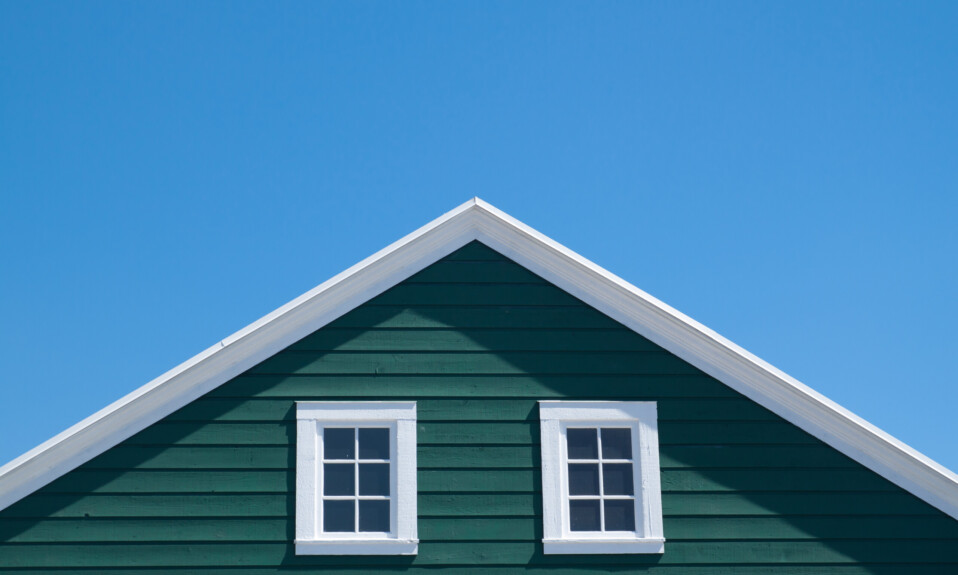 In need of a serious home exterior update or are you looking to sell your home and are on the hunt for inspiration to elevate its curb appeal? Maybe you're bored of traditional exterior tones? Or you've had enough of your home simply just blending in with the rest of the homes on your street? Is it time for an exterior re-vamp? Whatever the case is for freshly painting the outside of your home, there's transformative home exterior color ideas to take note of when looking for update cues that'll benefit your everyday life.
In fact, Décor Aid renovation and construction experts think it's time that you moved away from the traditional and tired colors expected, as 2019 is the year to take the plunge and make your home exterior stand out. From modern colors to retro-inspired hues, discover the top 2019 exterior house color trends that are sure to make your home feel all the more unique, and modern.
Dark Blue And White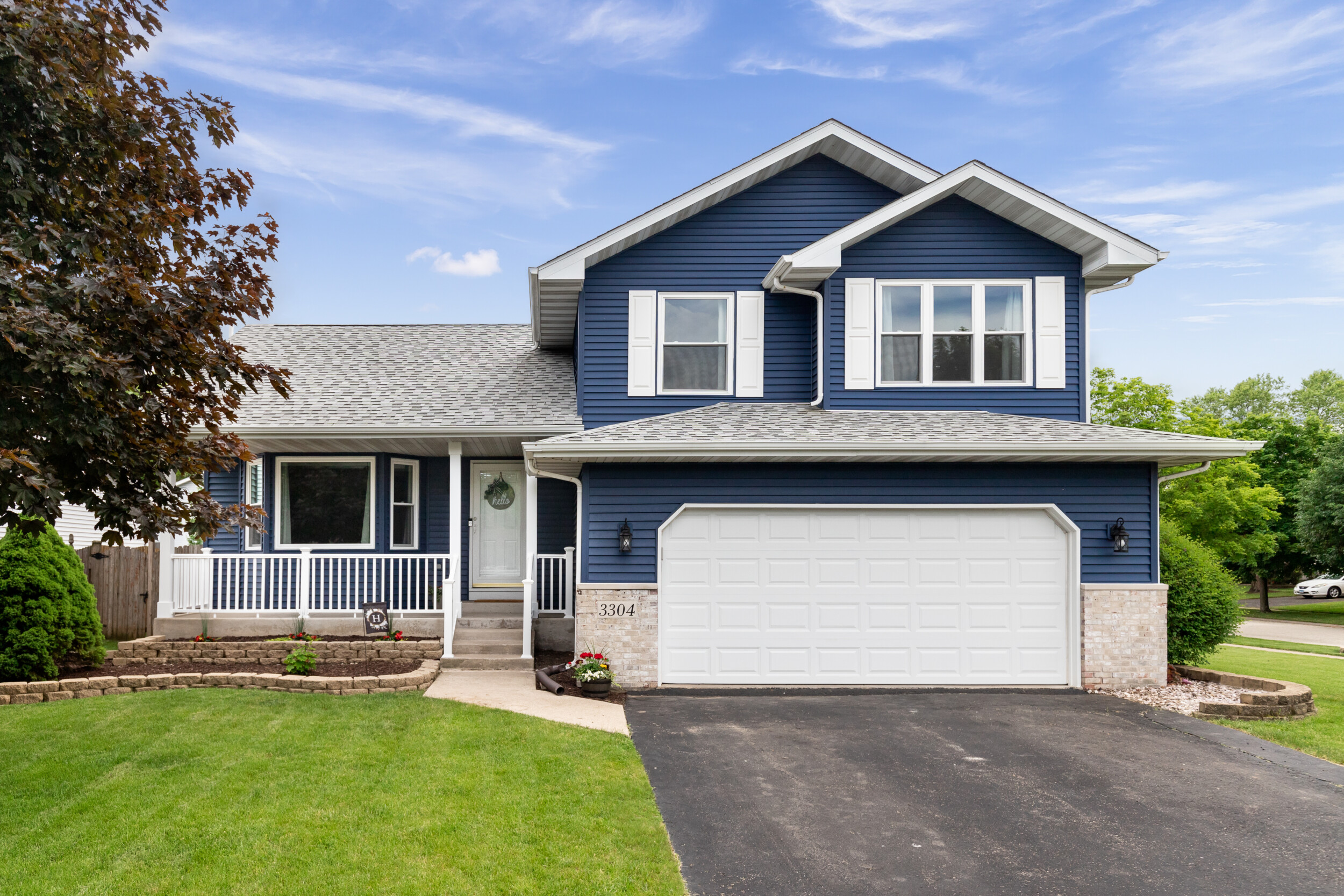 Channel a coastal and nautical-inspired feel with an alluring dark blue and white home exterior color combination that will bring with it a timelessly refreshing feel. This color winning combination has been a favorite of homeowners s for decades on end and there's no exception for exterior house colors 2019. Even our own clients can't get enough of the stunning contrast between the dark and the light, the fresh feel it gives a home and the fact that it's just a little bit different from the usually expected lighter home exterior color ideas.
Keep it fairly traditional with white painted window frames, shutters ,and any trim and woodwork. This will make for a dramatic makeover for your home, and it will be sure to make it stand out from the rest on your block handsomely.
Gray And White
Another home exterior color idea that is both traditional at the same time as being right on trend, white and gray makes for a stunning proposition. A white and gray combination is an endlessly elegant and timeless look that will serve your home well for years to come. Gray is one of the best exterior house paint colors if you are looking for longevity, and when paired with white, you can't go wrong.
The contrast between the two colors will give your home exterior an aesthetically pleasing edge – the more contrast the better. Darker colors like gray also put a wonderful emphasis on the architectural details of your home, creating a huge amount of curb appeal. And while the combination is minimal in spirit, there's nothing cold or clinical about it.
Traditional Tudor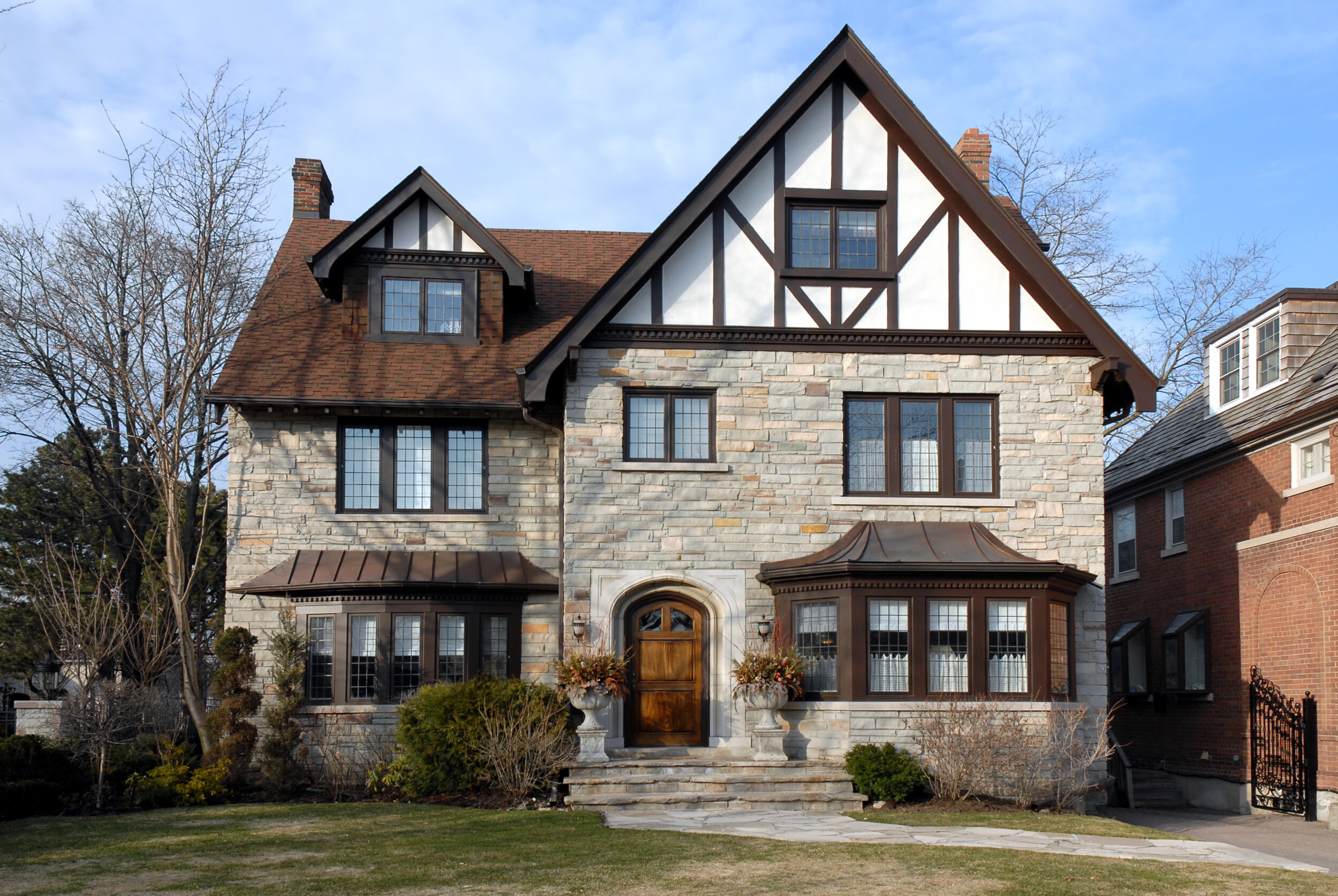 You might be noticing a running theme here – contrasting colors are stealing the show when it comes to home exterior color ideas worth giving a go. Tudor-style facades are instantly recognizable by the contrast between the dark wood effect strips and the light background color. You don't have to go for the traditional dark brown and cream look, you can choose pretty much any color combination you like for this styling cue.
Take the traditional home exterior color ideas and go for the bold and unexpected. Consider a striking dark blue and an off-white, brown and pink, or turn this style completely around and choose a light color for the wood effect and a dark color for the background shade. 2019 exterior house colors trends are all about subtle, glorious surprises. That said, just be sure that you'll enjoy the look and feel of your pairing for years to come
Retro-Inspired Brown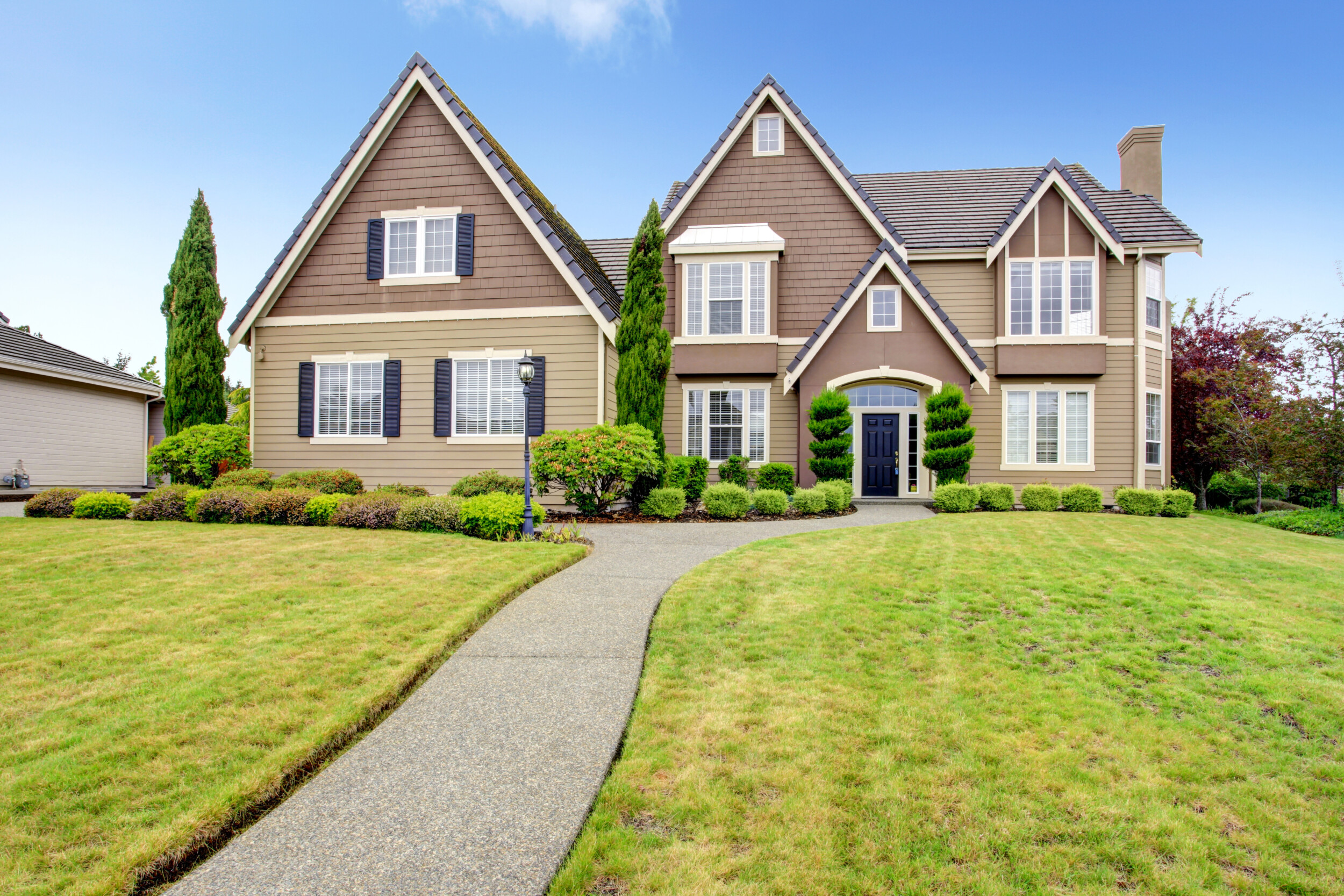 With retro-inspired styles continuing to trend year after year, there was no way that home exterior colors ideas were going to escape the momentum. The '70s were all about every shade of brown and that includes home exteriors. For a Mid-Century Modern feel, a luxurious shade of brown for your home exterior paired with brighter complimentary colors will help you nail the design style on the head.
Pair it with an off-white for the trim around your home for a needed visual break. There is something wonderfully comforting and cozy about a brown home exterior color palette and your home will look timeless with it.
Sage Green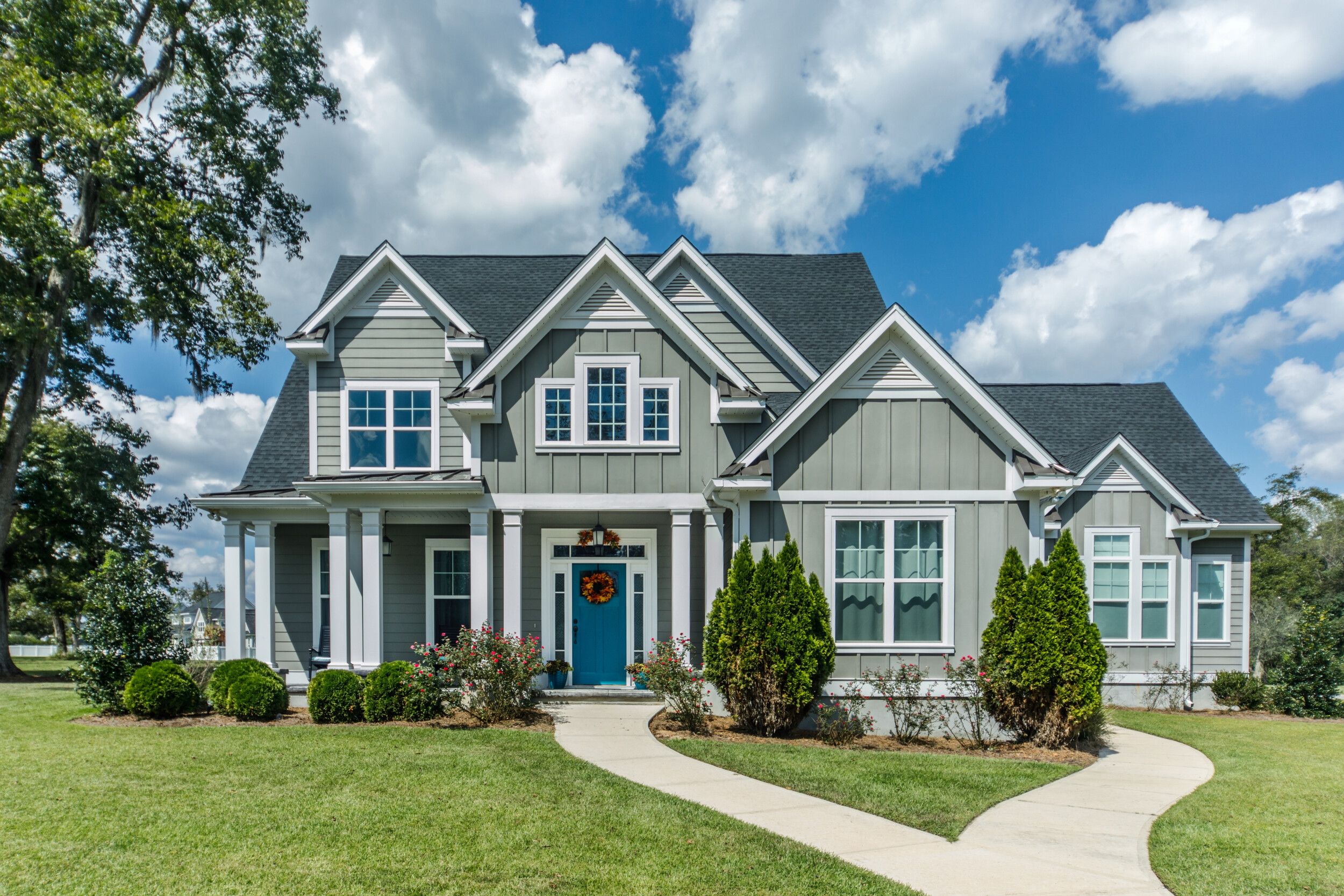 The return of sage green popping up in popular exterior house colors 2019 comes as no surprise thanks to its instantly soothing look. Sage is a glorious color and it provides both a wonderful depth and a stunning light with it, making it a great choice for pretty much any home. Sage green is energizing and modern in spirit and will give your home both a glamorous and down-to-earth feel.
Team a stimulating sage green with off-white trim and shutters (or even dark brown shutters, if you are feeling adventurous). The depth of these shades will contrast and complement one another to create the perfect modern home exterior.
Sunny Yellow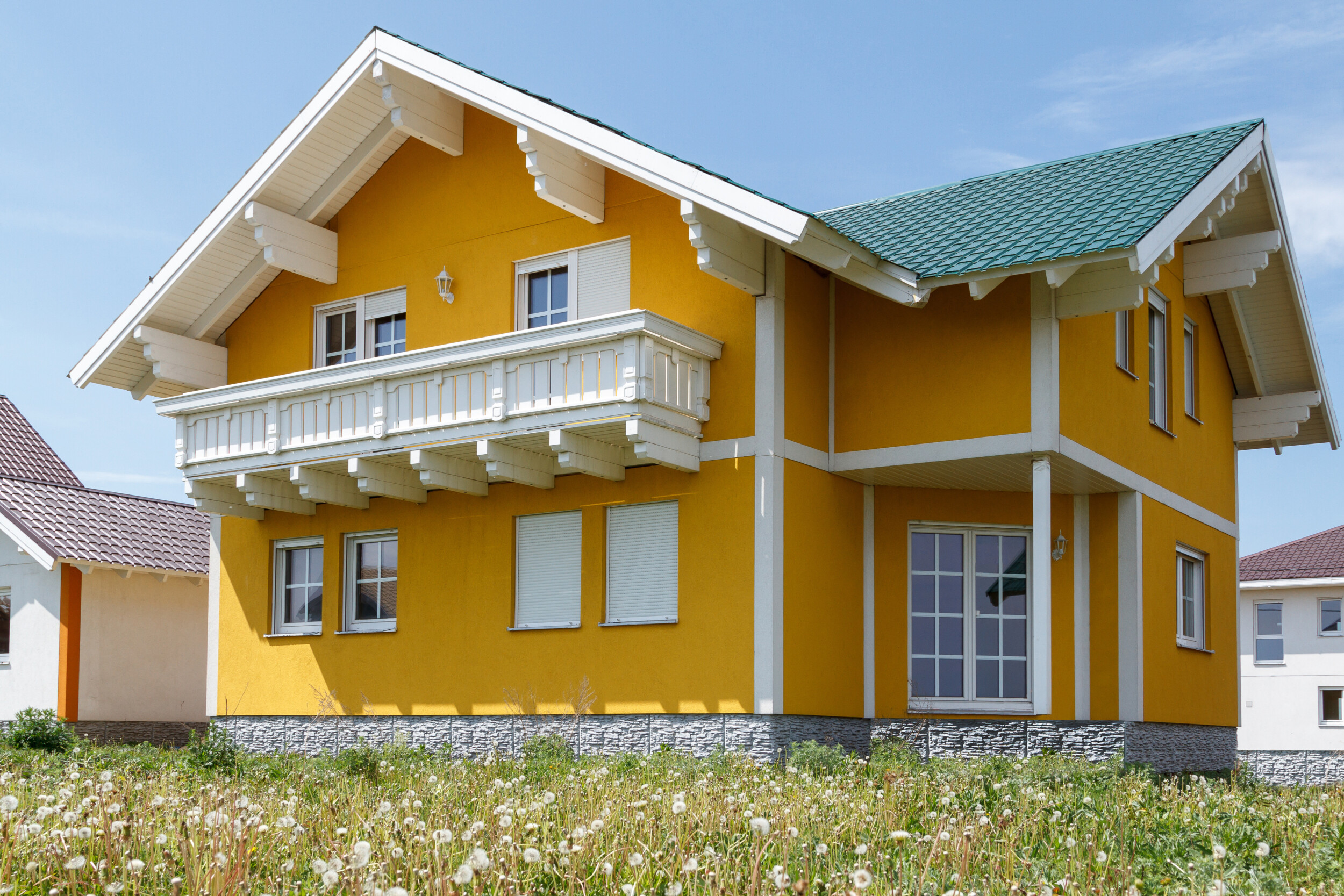 There is no better color to brighten up your home than a yellow in any tone. Dark home exterior color ideas have nothing on a lively yellow when it comes to enlivening your home and making it stand out. With a color like this, you'll feel instantly charmed whenever you pull up outside of your home. If oversaturated yellow is too risky for you, keep your home exterior color ideas simpler by going for a more toned down yellow hue paired with white trim for needed contrast.
If you are after something a bit bolder, paint your shutters and trim in a deep, dark red, blue or green, for something slightly different. The best exterior house paint colors are all about the unique and the unexpected.
Breezy Blue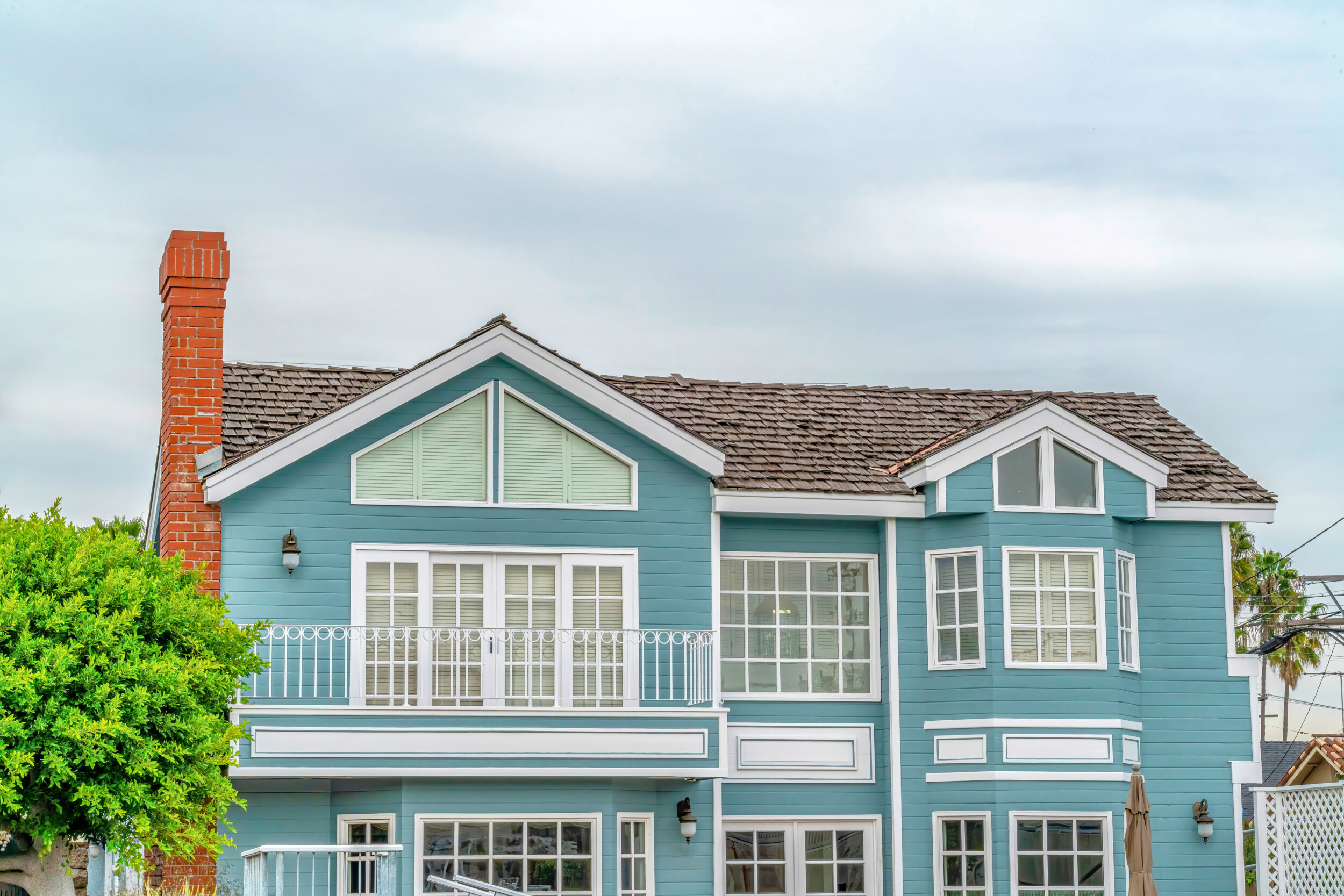 If darker colors aren't for you, a breezy seaside-inspired shade of blue could make for an invigorating route. Balance a pale aqua blue with white trim, adding to the light and airy feel of your home exterior. This color combination boasts a nautical feel to it and it makes one of the best exterior house paint colors for a home near the beach or along a coast.
Create even more of a nautical vibe with some dark blue accents or go for a punchy color pop by way of a red front door to keep your home exterior color ideas looking lively.
All-White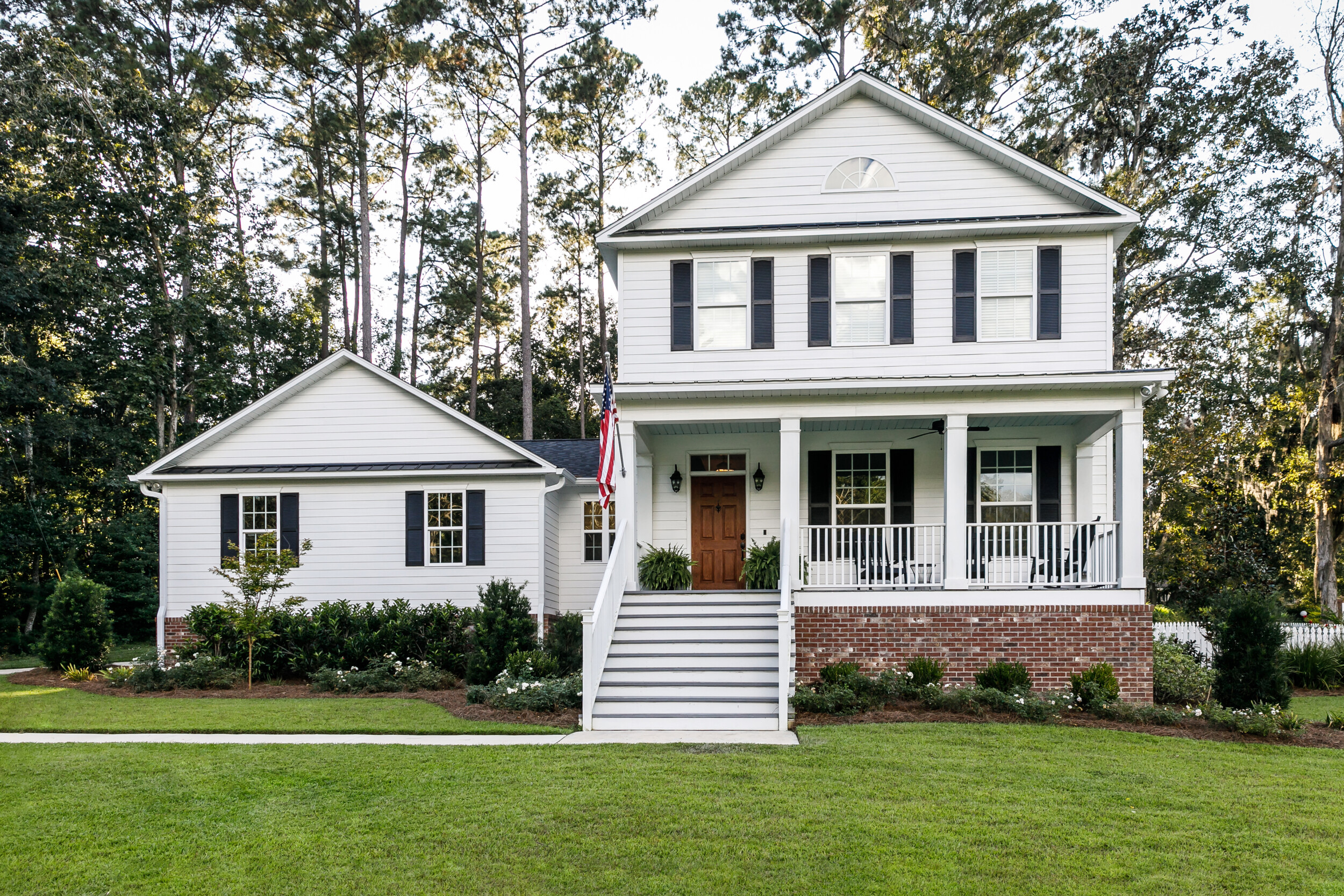 Some homes just lend themselves to being painted in an all over pure white and no popular exterior house colors of 2019 are going to change that. If you have one of those homes which simply looks stunning in white, embrace it. Go all-white, all the way up and create a contrast by painting your front door.
This doesn't have to be a bold and bright color – painting your front door a deep brown will create the same contrasting effect as a bold, bright red or pink, for example. As home exterior color ideas go, this is one of the most classic, timeless, and understated colors to consider, and one of the best house paint colors (in our opinion) for that reason.
Black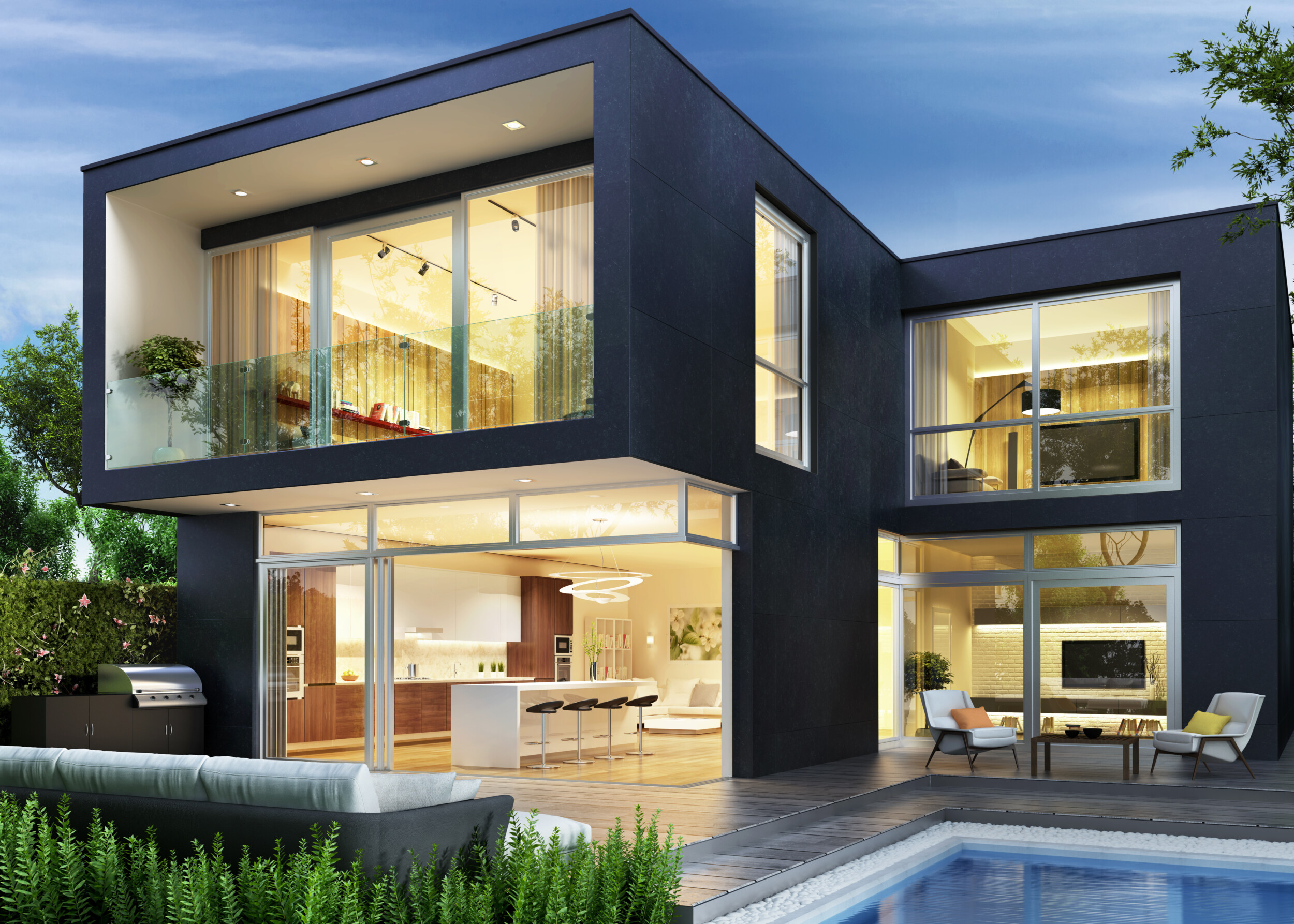 A timeless color yet completely unexpected when it comes to exterior home color ideas, matte black is certain to make any home feel grander, and more modern as well.
They key here is to pair it with a bright optical white for a striking contrast. To make the color work to your benefit, keep the look clean by reducing the amount of color in your front garden to just a few shades. By doing so, you'll keep all eyes on your home exterior color and your home will be all the more memorable and unique for years on end. Do, however, keep in mind that a black exterior home color may highlight architectural blemishes, so make sure that you address those before applying a fresh coat of matte black paint.
Warm Red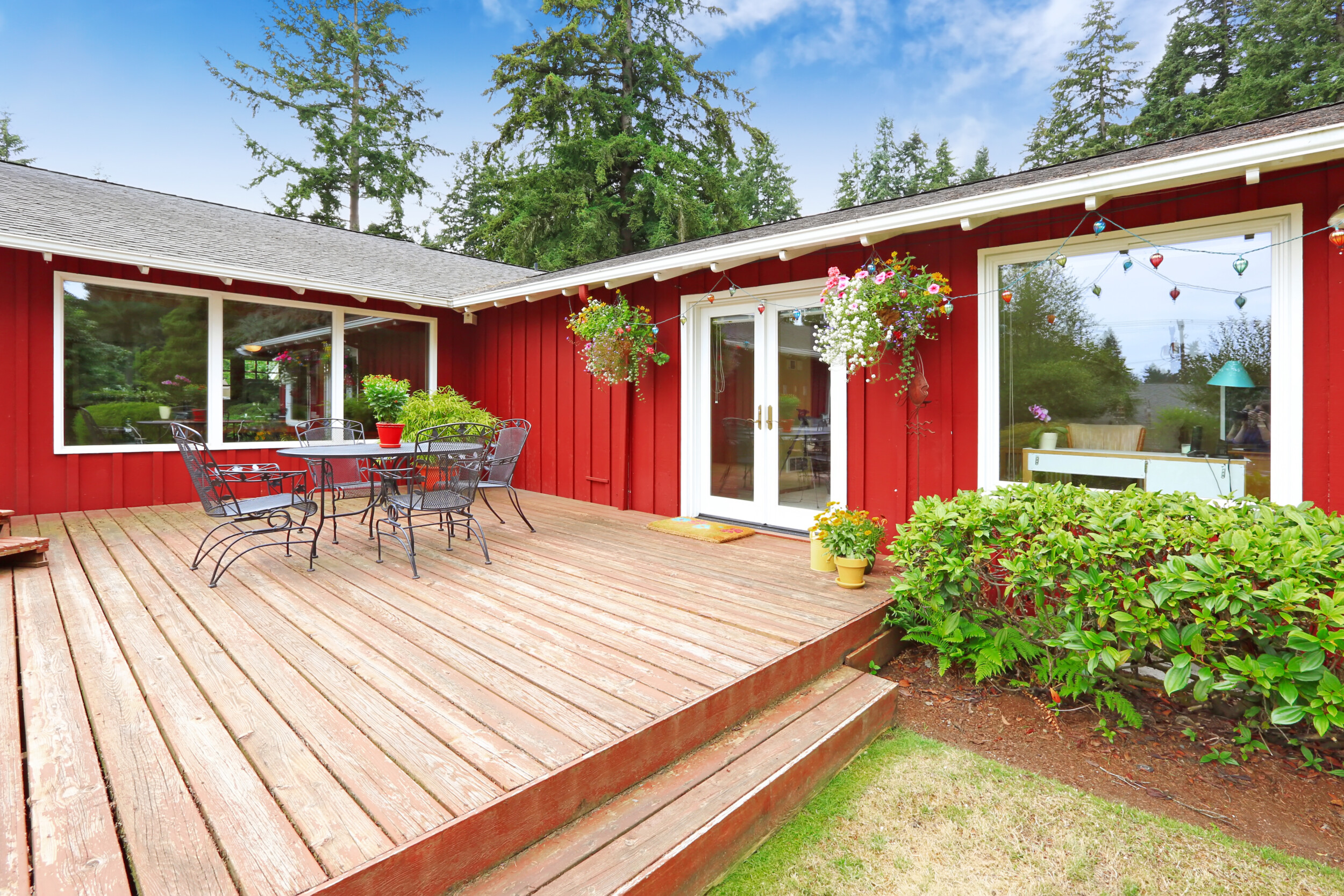 A warm and modern red house exterior color has a futuristic feel to it while emulating the color trends of the past. A passionate color, red is sure to make your home feel unique and ahead of its time. Go for a more muted variation so the look isn't too loud so it'll be soft and welcoming.
If you've got them, paint your shutters in a deep color for further contrast and an inviting feel – home exterior color ideas like this will make your home feel endlessly captivating. The contrasting hue will help your home feel at one with surrounding structures while highlighting trees and plants on your plot. Red makes for a beautiful, alternative to traditional home styling cues and is one of our top exterior house paint color ideas for those on the hunt for something unexpected yet not over the top.
Deep Green and White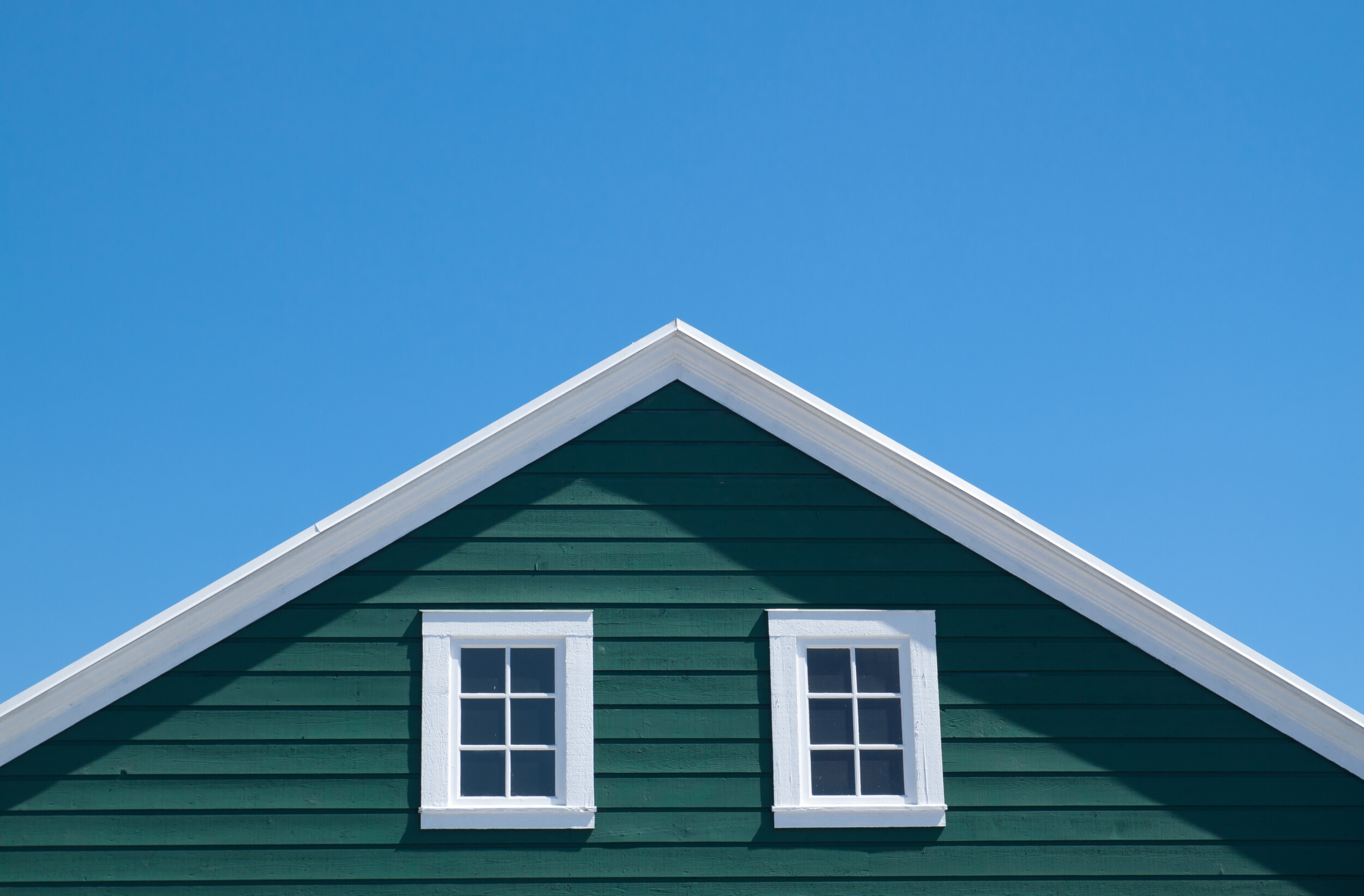 Again, color contrast is key here. Whitewash your home exterior and then accent it with dark green trim here and there. Go for deep green shutters, a deep green door, and white trim, or mix it up with deep green trim and a white door. White is always going to be one of the best exterior house paint colors, but it doesn't have to be boring.
A deep, luxurious tone such as this will work wonders for sprucing up your curb appeal and playing around with the combination of white and green for your trim will make your home stand-out without looking out of place.
Dark Gray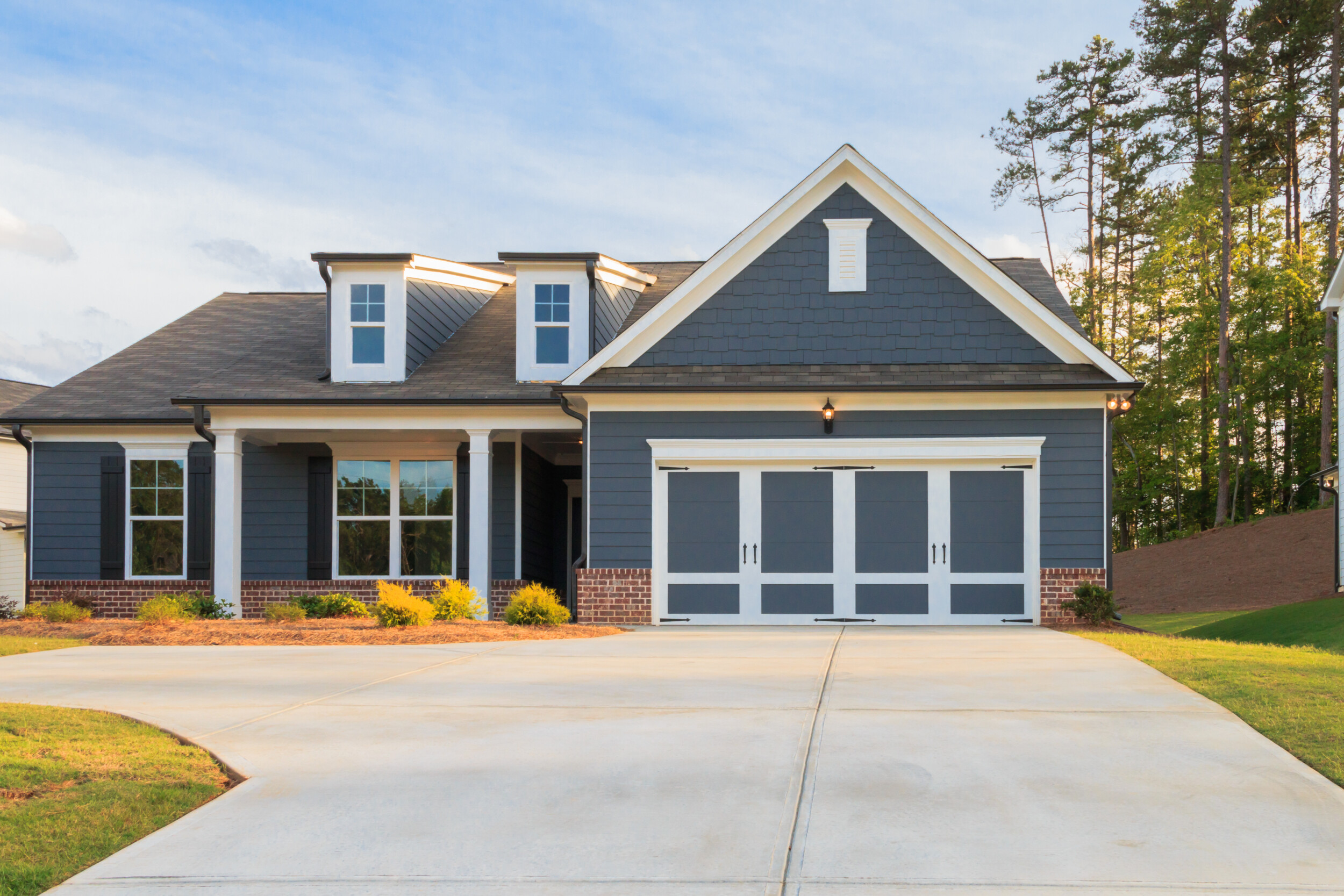 No matter what kind of design style and architectural features your home exterior boasts, a minimally minded classic dark gray will lend it a powerful sense of strength while remaining timeless in appeal for years to come.
But if a dark gray is too moody for your home, you can either pair it with lighter color detail work or you can go for a lighter gray tone altogether. The best thing about gray exterior paint is that it'll easily hide everyday wear and tear that lighter colors simply can't do.
Then There's The Unexpected…
Sometimes thinking outside of the box and taking a risk can yield fruitful returns, especially when looking to create a home that is completely unique. Here are some modern home exterior colors and ideas to consider for your home:
A Reclaimed Wooden Facade
With all eyes on the organic in home design, refitting your home exterior with reclaimed wooden planks may not exactly be a color, but it'll be sure to make your home appear warmer and more inviting, as well as unique.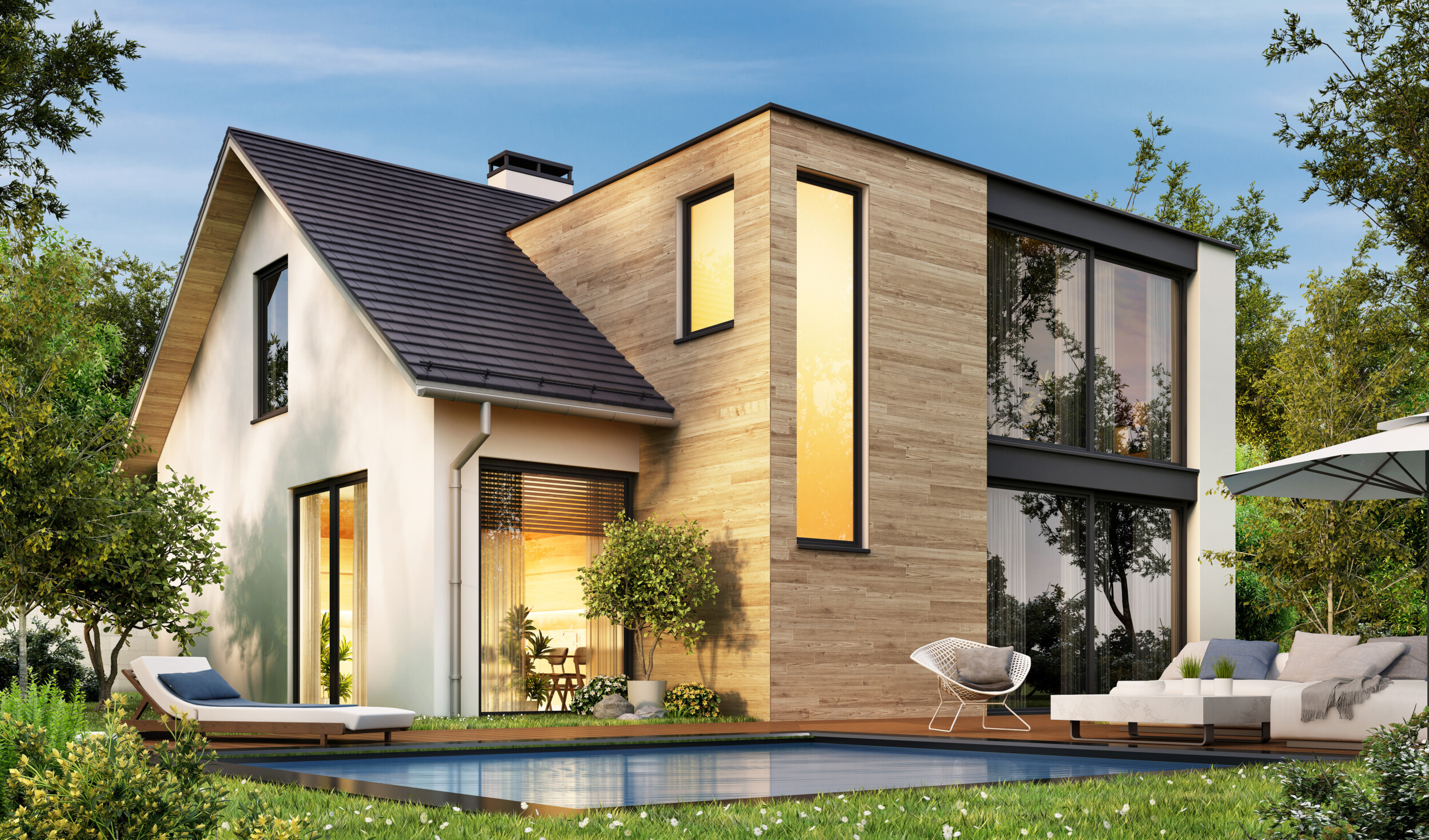 To avoid an overtly rustic look, be sure to juxtapose the wooden additions with clean, modern surfaces and finishes for needed depth and a visual break that'll keep it from looking heavy-handed.
A Stark Contrast
Imagine the loss of depth and dimension the home pictured above would suffer from if it were say, all black, or all concrete. In fact, the combination of wood, concrete, and black panels help the home to look larger than it is while highlighting it's architectural prowess.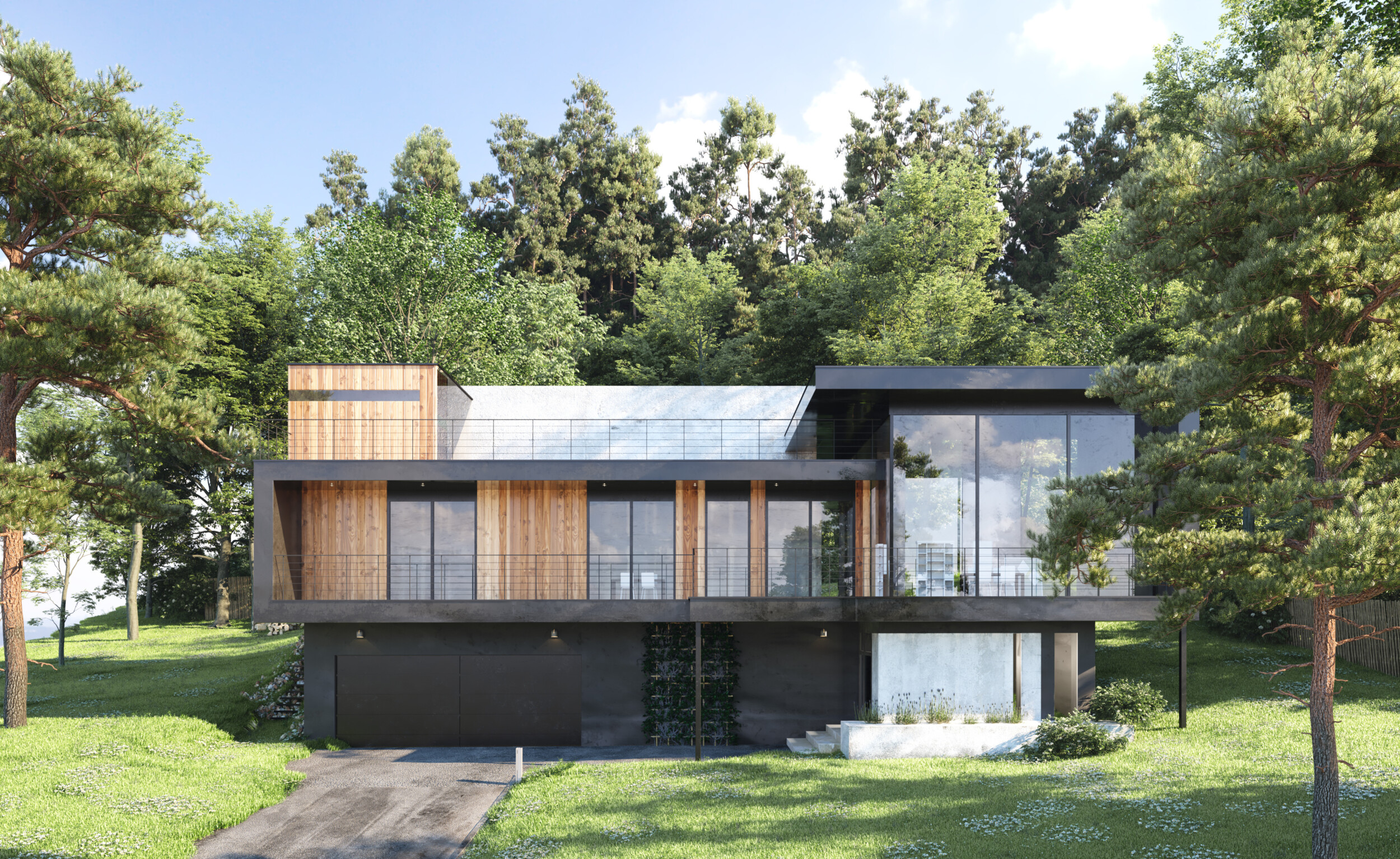 Follow suit and look into ways to create an effective mix of materials and color, just keep in mind to stick to the classic design rule of no more than three at one time to keep the feel modern and uncomplicated.
A Living Wall Treatment
Homeowners have been covering their exteriors with ivy and climbers since the beginning of time, and while it can take years to fully grow, the coverage it allows for makes it a refreshing alternative to home exterior colors that you'll have to reapply every few years or when needed.
To keep the look modern and less idyllic, our interior designers suggest opting for grass and more streamlined greenery to keep the look sleek and clean in appeal.
A Graphic Take On Home Exterior Colors
While the facade of the residential building in Berlin featured here boasts graphic brickwork worth taking note of, use it as a source of inspiration when looking to bring in visually interesting home exterior ideas for your own home.
Instead of brick, us exterior house paint to your advantage by exploring ways to create stunning painted panels to elevate your home with a completely unique, one a kind feel that'll make it memorable for years to come. Just be sure that you go for a classic, symmetrical graphic take that'll keep you, your neighbors, and potential home buyers happy for years to come.