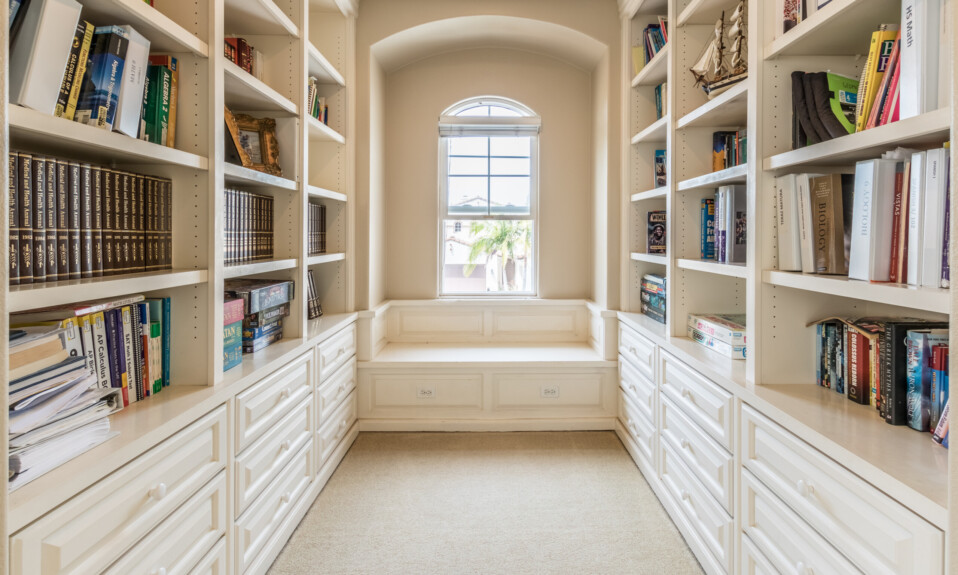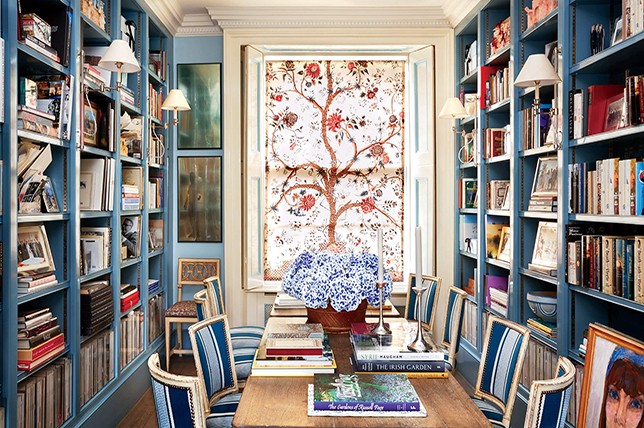 Have you always dreamed of having your own home library? In all honesty, who hasn't? Home library ideas are often something fantasized over but never executed and it's a shame that homeowners with dead space don't use that space to their advantage.
And contrary to what many misconceive, you don't need to have a mansion of a home to make a home library a reality in your own home – there are scores of innovative home library ideas to consider that easily allow any home to house a spectacular personal library that will be unique to you. From designs that fit around door frames in the smallest of spaces to expansive wall-to-wall home libraries to opulent and glamorous options to home library ideas for cheap, there's plenty of viable routes to consider that will help you relax and take in your favorite reads.
ELEGANT NEUTRAL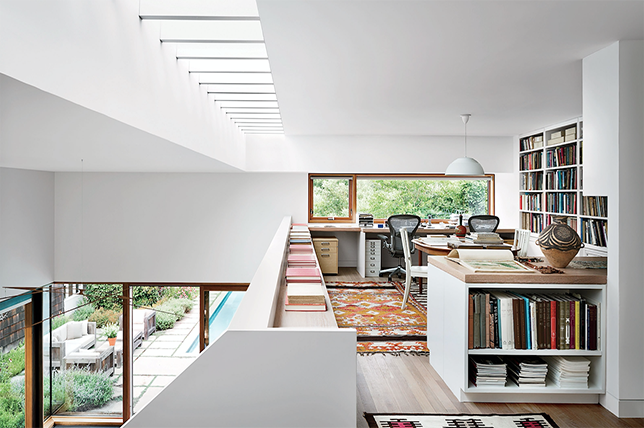 By going for a colorless palette, neutral home library ideas will easily blend in with the design style of your home with no trouble. They will add a touch of minimal style to your space, allowing you to display your books without taking away from the serene and calming effect of an all neutral space. Even better if you color coordinate all of your books or have them covered for a clean and organized feel.
Choose furnishings with a timeworn and distressed look for a more modern, shabby chic feel or go for glossy neutral tones for a fresh, yet well-judged feel. And by going for a light color scheme you'll also be able to ensure that the space feels bright all day and night long.
CREATE A COZY ALCOVE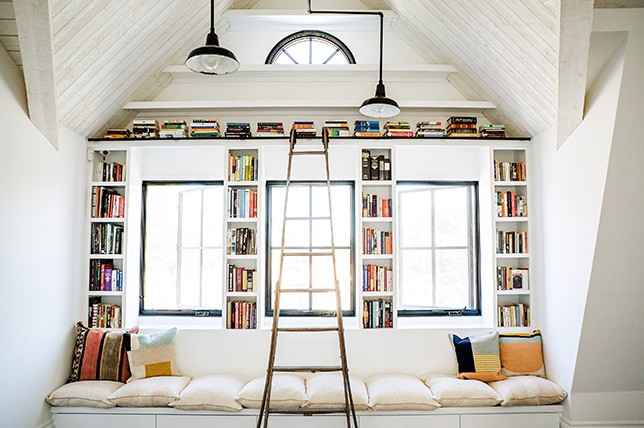 Create a cozy alcove in your home library by running library shelving up along one wall towards the top and down the other side. This will help you create a comfortable reading nook where you can add a plush comforting sofa or chair and a floor lamp so you can easily read and relax in style.
Home library ideas like this are inspiring and are great for updating the purpose of a space in a really beneficial way. And if you've got a budget to work with, Décor Aid interior designers suggest having a custom alcove feel built-in to really make the best use of the space while boosting the resale value of your property and making your every day all the better – especially if you have children. Just imagine how fun an alcove home library will make reading time for years to come.
MOODY BLUE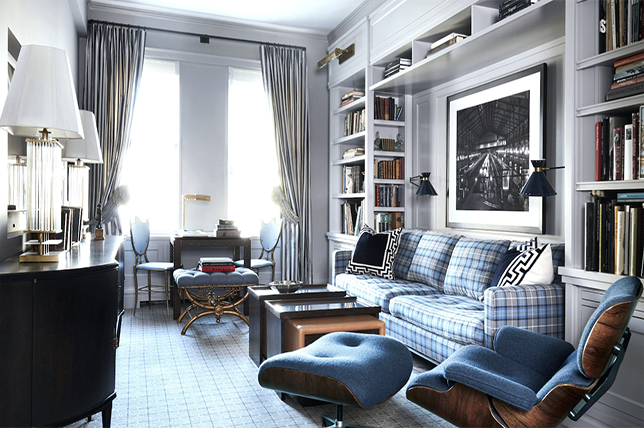 Home library ideas in a moody blue will add a dramatic and elegant touch in your home that'll instantly set the tone for the space. Team moody blues with luxurious wooden features, high-shine finishes, and glamorous gold and crystal accents (such as lamps, door knobs, hardware, and handles). These along with mirrors will help to catch and reflect light while elevating your home library with decadent touches.
If you want to give your room the feel of pure opulence, then this is one of the best home library ideas for nailing the look with a timeless spirit. Your home library will feel cozy and comfortable like a traditional library in a stately countryside home. And go for traditional fixtures, fittings, and moldings to top off the look. You can also get the same look with a classic subtle gray color scheme for the ultimate timeless feel.
STEP LIBRARY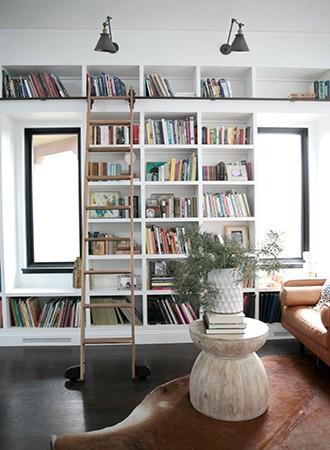 Home library ideas in a step formation will give you the added bonus of additional surface space, possible bench seating, and shelving. If you have a small space and you want to use your home library as a method of installing additional shelving in your home, then this is a great way of doing so without having to spend a small fortune while adding to the potential resale value of your home.
Go for shelving features that blend seamlessly into a room, so as not to close off the space or go for something bold and bright to make a memorable impact. The best part, however, is that by adding those additional surfaces, you won't be wasting valuable floor space with benches and chairs.
WARM WOOD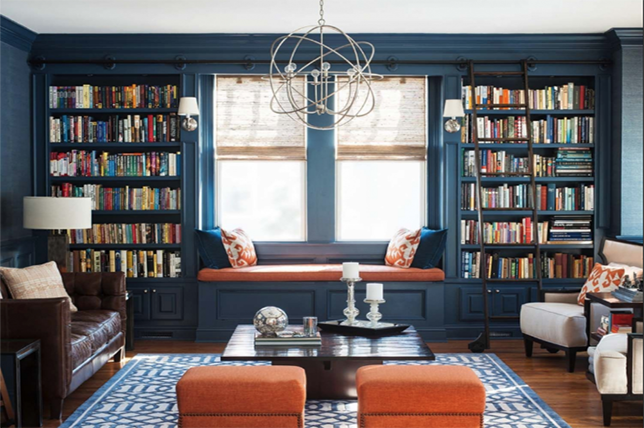 We couldn't talk about home library ideas design without talking about a traditionally styled warm wood home library. Wall-to-wall shelving will provide you with plenty of display and storage space, so you can keep all of those books easily on hand while taking in the comfort that a warmer wood can provide.
The warm wood will help to create a cozy space and you can balance this out with light wall coverings or keep it feeling plush with a dark and opulent hue. And install light dimmers to really set an intimate mood in this otherwise personal space.
BRIGHT AND GLOSSY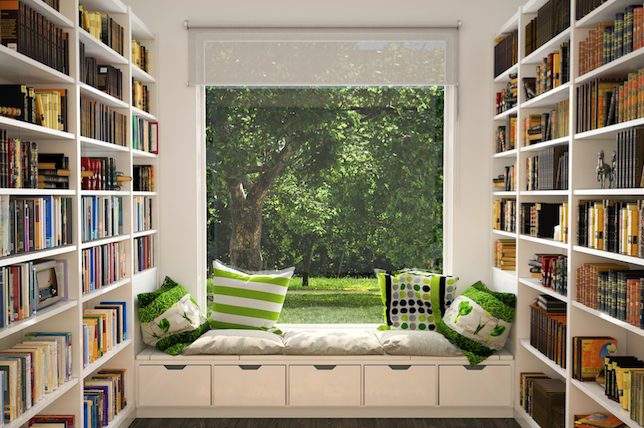 Be bold and go for home library ideas that make a real impact with room-defining color and print. Go for a color that is bold and bright and that is completely different to your traditional home library ideas decor for striking juxtaposition. You don't have to go for natural wood and light colors if you don't want to, you can be as brave as you want and go for a blue, a green, and even a yellow.
Go for a glossy high-shine paint so your home library reflects plenty of light, and if you already have a home library in your home, then update it with a bright and glossy fresh coat of paint. This way you'll be on-trend when it comes to affordable home library ideas that are easy enough to execute.
USE SMALL SPACES TO YOUR ADVANTAGE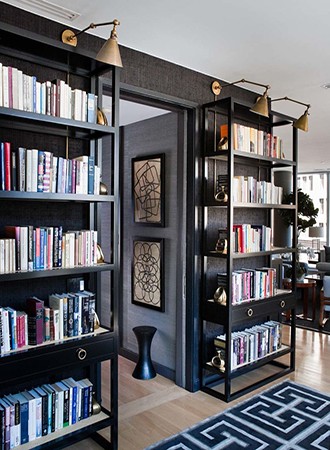 Make the most of small spaces with some clever home library ideas that allow you to really make an impact in even the smallest of spaces with smart shelving units. If you have dead space in your home which you aren't using, surely you can fit some shelving in the area? Whether it's a part of a room that is an awkward space, or space around a door that doesn't really fit any furnishings, then make the most of it and think about constructing a stylish and useful home library.
Innovative home library ideas like this are perfect for making the most of difficult spaces in your home, freeing up space elsewhere. Plus, they are great for creating an intimate and cozy reading nook in small apartments as well.
UNDER STAIRS SPACE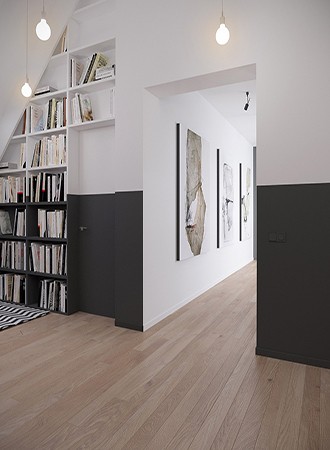 Got some extra dead space under your stairs? If so, why not make the most of the area with some stylish home library ideas? This will make for a cool feature that your guests will see whenever they come into your home, rather than hiding your books away in a back room where no one sees them.
Deck out your under-stair space with plenty of shelving and a comfortable place to sit if the space allows for it. This home library ideas design is something a little bit different from the norm, which is why interior designers and homeowners alike absolutely love it. After all, what else could be better under your staircase?
RETRO WOOD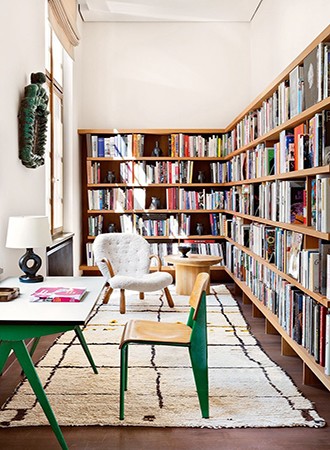 Retro wood is known for its medium brown coloring, making it unmistakably vintage in feel and perfect for a Mid-Century Modern-inspired home library. If you are a fan of retro chic, then home library ideas like this are great for emphasizing the look.
Team a retro wood up with some charming wallpaper to create a truly timeless feeling home library – imagine oranges, creams, browns, and golds coming together to create a vibrant '70s print. Top off your home library ideas design with vintage accessories and art to create a perfectly stylish Mid-Century Modern home library that will look great for years to come. And since you're working with retro finds, use texture to your advantage to soften the look, like a plush shag rug and macrame touches.
DARK WOOD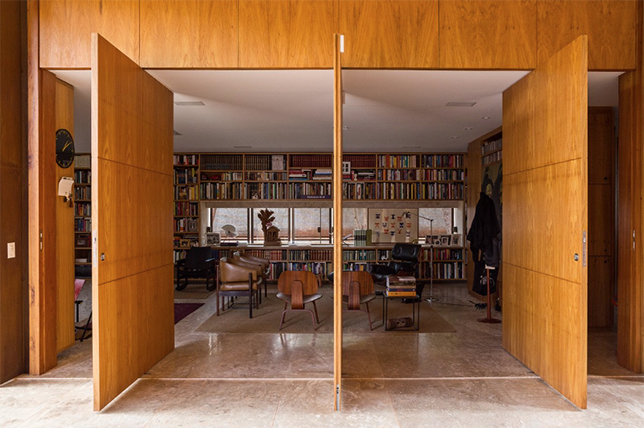 If you want to go truly traditional with the feel of your home library, then it's time to consider some classically dark wood. Dark wood makes for the best home library ideas, as we know the style will withstand the test of time, and that it will feel delightfully cozy. Something this grand will never go out of style – you can change the rest of your interior and furnishings as trends and styles change and your home library will remain an untouchable classic.
Dark wood home libraries are more flexible than you can imagine, allowing you to create a luxurious home for cherished books to reside that you will always be proud to take in. Plus, since dark wood pairs well with every design style, you'll find decorative freedom in its flexibility.
WALL-TO-WALL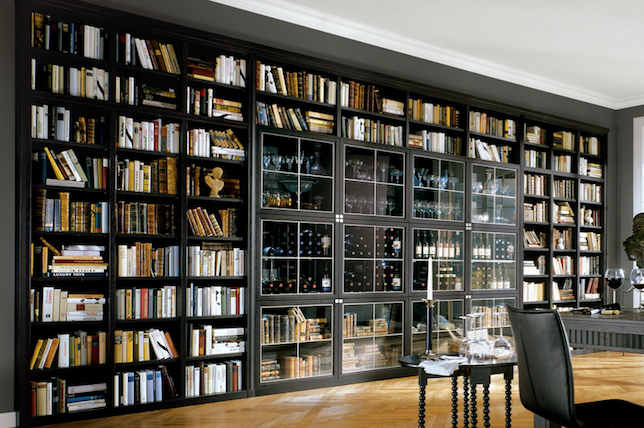 If you are looking for dramatic home library ideas, then a wall-to-wall home library will evoke that decadent feel in an instant. This is one of the best home library ideas when looking to create a real wow-factor in your space and if you have enough books to fill it with, then it's definitely a great route to consider.
Make sure you have plenty of books to fill the space with, as wall-to-wall home library ideas don't come inexpensively and collections don't get amassed overnight. This way you'll avoid ending up with loads of empty space on your library walls while lessening the look and impact of your home library ideas.
FILL A RECESSED AREA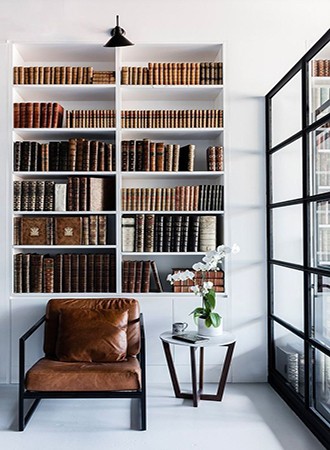 If you have a recess in your home that isn't getting much action and has been laid to waste for ages, then maybe it's time to consider using it to your advantage when considering the best library ideas for your home. You can easily make use of a recess with handsome shelving (it doesn't have to be anything extravagant or made to measure if your budget won't allow for that), and you can even DIY it and create a lovely home library at the fraction of the price of a made-to-measure option.
Recesses lend themselves perfectly when constructing a home library and work as a wonderful alternate use of the space. Best of all, they don't take up extra floor space as sometimes the units in a home library can be too large in scale.
AN ARTFULLY STYLED DISPLAY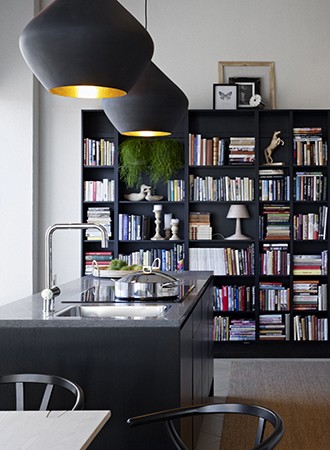 Maybe you love art as well as books or maybe you just don't have enough books to fill up your grand home library ideas just yet. If you do have any free space on your shelves, introduce art and decorative objects to your home library ideas decor, filling the space with joyful finds and pieces with character while making your home library truly unique.
Inject some personality into your home library with your favorite prints, photos, sculptures, album covers, and paintings. And if you've still got empty shelves to work with, you can also paint or cover the interior to lend your home library ideas needed energy and to keep the eye moving.