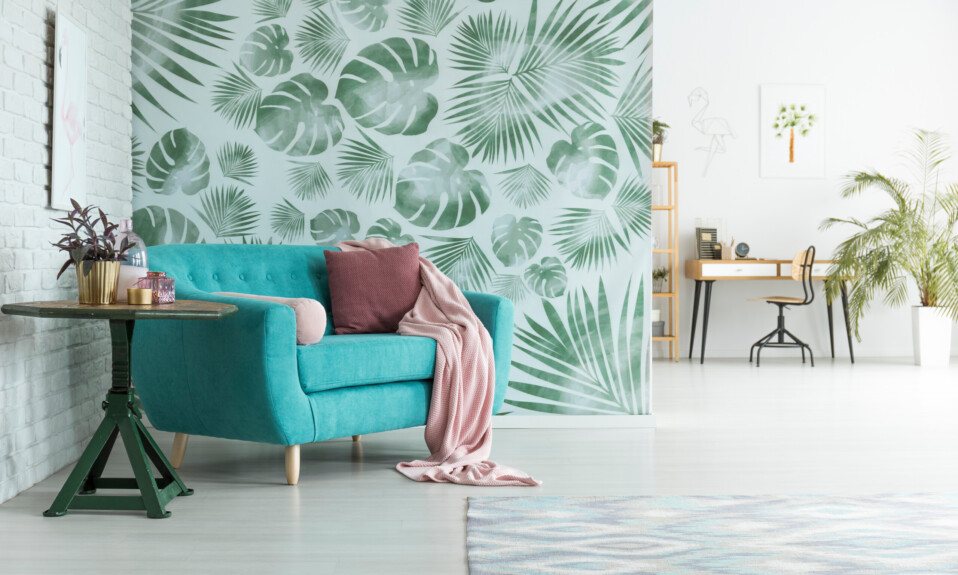 When it comes to bringing your living room to life with an irresistible spirit, nothing beats the room-defining appeal of a wallpaper full of personality and a joyful print. And since living rooms lend themselves well to wallpaper, you'll have no problem creating a warm and cozy environment that family and guests alike will find endlessly inspiring. But with so many intriguing living room wallpaper ideas easily available at a variety of price points, how do you find the right one for you since it can be an investment?
Whether you're looking to create a feature wall for an added sense of bit of color, are looking for on-trend living room wallpaper or to add some needed texture for extra visual impact, here's everything you should consider about traditional and modern living room wallpaper ideas to help you navigate your way to a decision. And since there are so many wallpaper designs and styles to take in, we turned to Décor Aid interior designers to provide you with some inspiration with the best living room wallpaper.
Wallpaper Options
Removable Wallpaper:
Removable wallpaper living room ideas allow you to change the style of your living room with ease and the comfort of knowing that your new addition is less permanent. You can easily peel off removable wallpaper (without damaging your walls) and switch it out for a different style, color or pattern of wallpaper. You can even peel off and re-stick your wallpaper, so if you decide you want your feature wall at the other end of the room, it's not a problem and this makes adhering it to the wall much easier as well. If you get bored of your selection and want to update the interior design of your living room quickly, this will be a great option when it comes to smart living room wallpaper ideas, as you can switch it up as often as you want.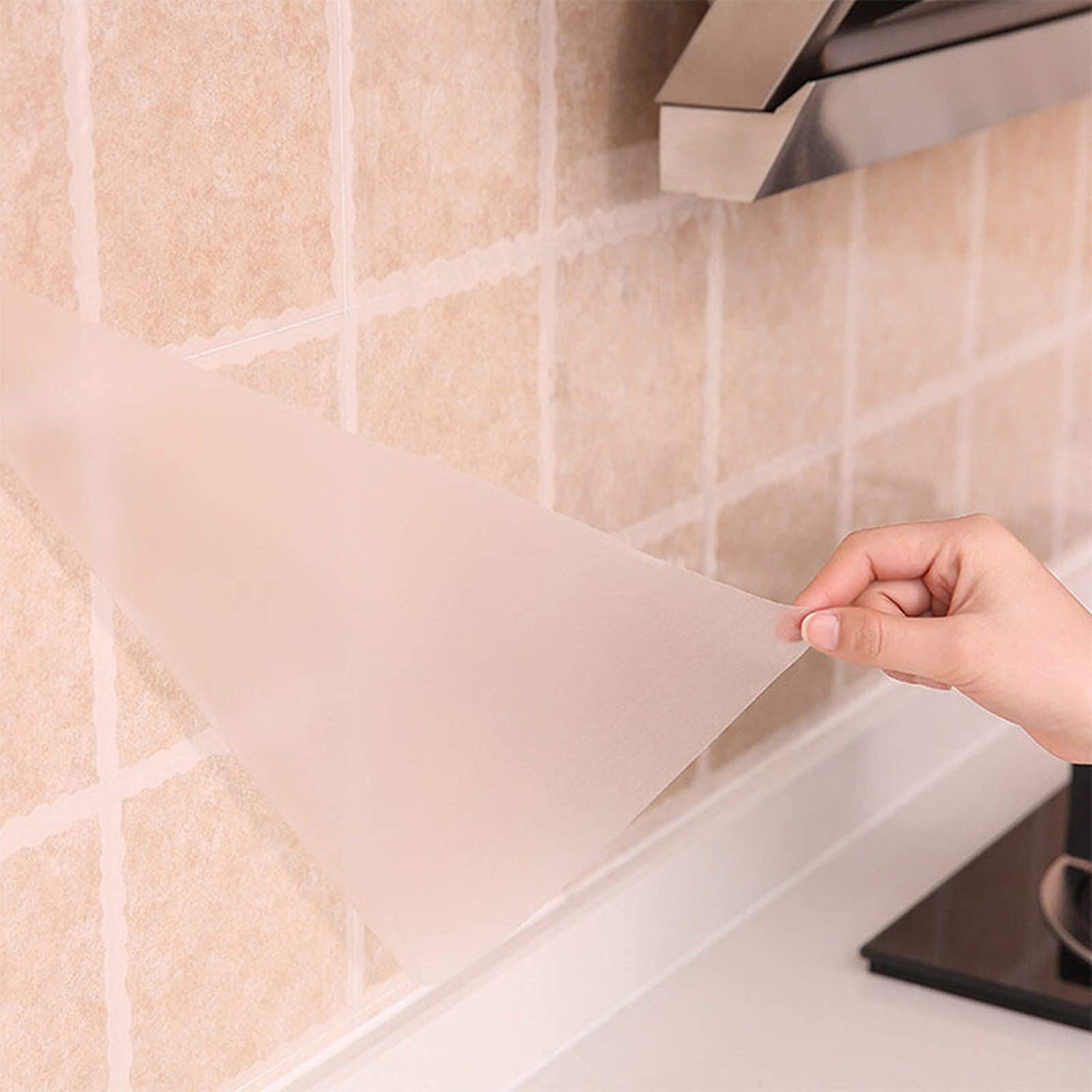 Standard Wallpaper:
Never forget the power of standard wallpaper as you consider living room wallpaper ideas. If you want some longevity with your design selection, then standard wallpaper will make for the ultimate addition. It's available in as many colors and styles as you can imagine and as long as you know what you are doing, you can install it yourself, especially with the new 'paste the wall' technology. Wallpapering your home has been made much easier by the advent of 'paste the wall' wallpaper, saving you from the laborious task of hanging wallpaper the traditional way. But unlike removable wallpaper, you should be confident in your choice as it can be an ordeal to update or remove.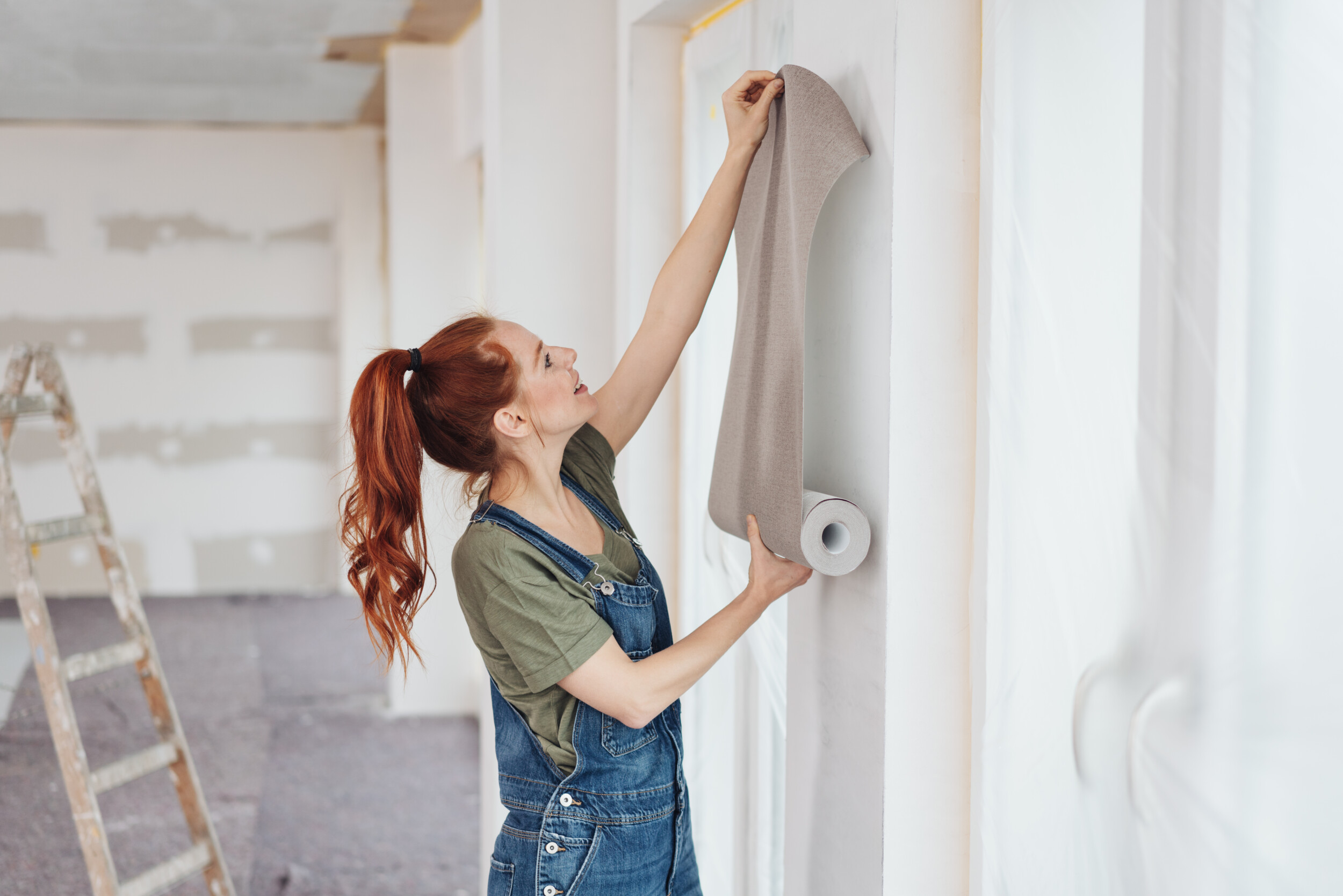 Living Room Wallpaper Ideas
Tribal
Just because you've got a theme-oriented wallpaper idea, doesn't mean that you have to extend it throughout your décor scheme. Instead, use it as a definitive anchor to define the tone of the room without being too literal or heavy-handed.
And when it comes to a graphic tribal-inspired print, use its statement-making tones to your advantage in small doses, as seen above. Note how everything seems to work together effortlessly without blending in too much to keep the eye moving.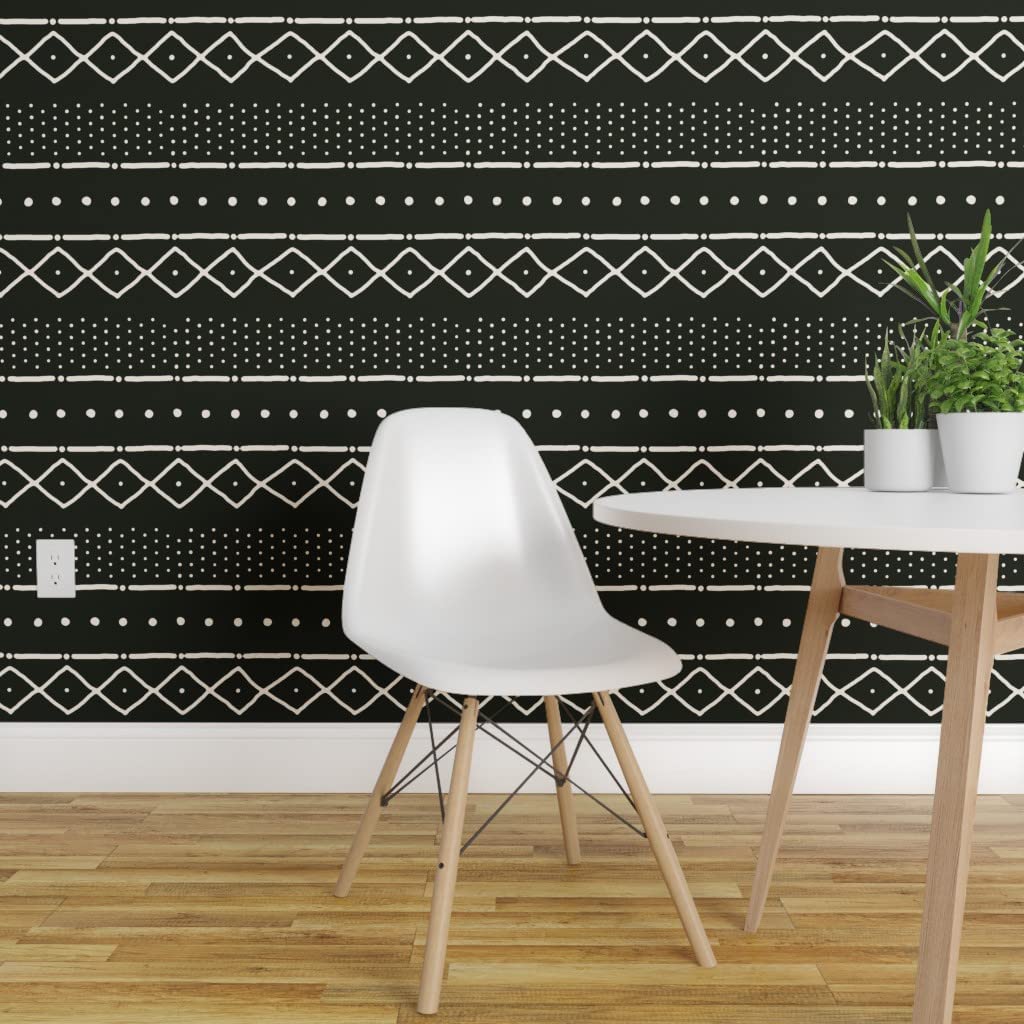 Bold + Eclectic
Like a tribal print, an eclectic print will be certain to lend your living room an unmistakably heady air with a rich sense of play. And instead of taking everything over the top, stick to just a few personality-filled pieces to keep the look light and endlessly appealing.
We love how the living featured above boasts a partially wallpapered ceiling for a look that even more unique and indulgent. After all, since we're talking about eclectic prints, why not have as much fun as possible?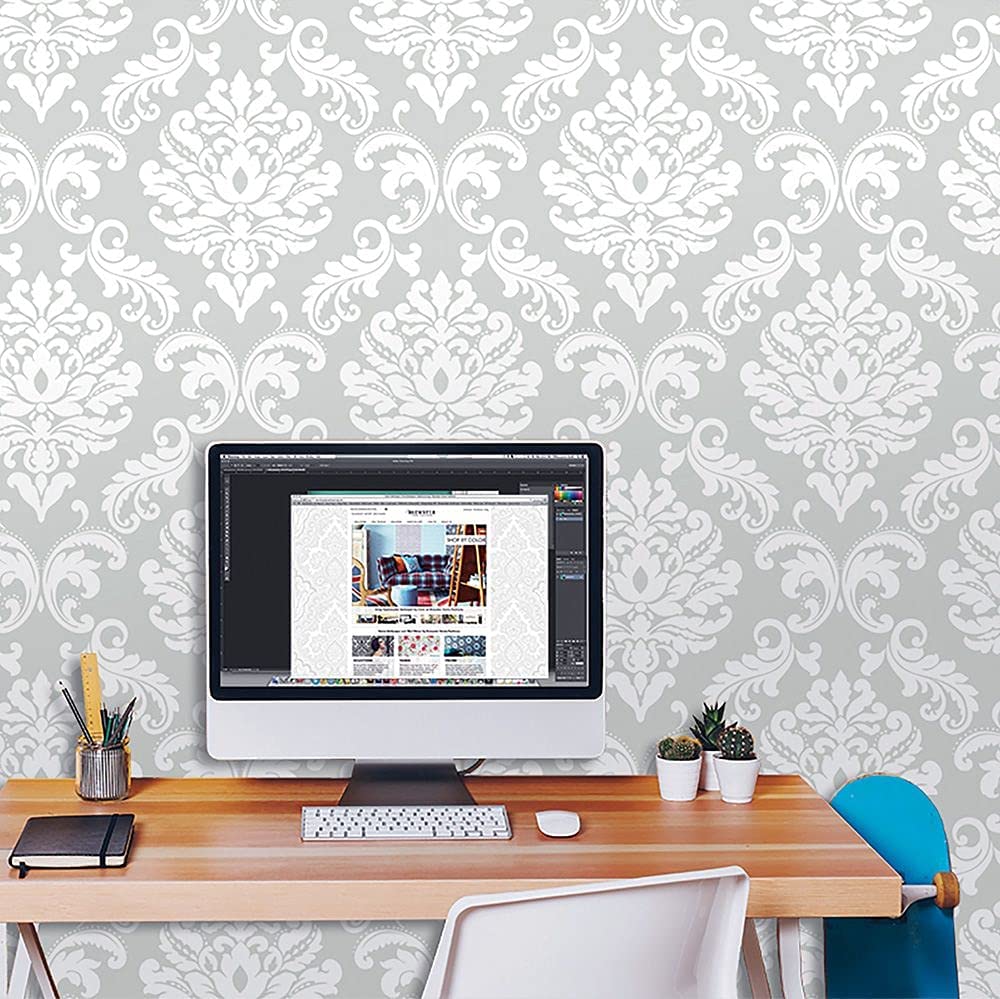 Surrealist
If you're on the hunt for lively living room wallpaper ideas that are full of personality and play, consider a surreal trompe l'oeil print as the ultimate way to redefine a room while tricking the eye endlessly.
From Salvador Dalí-inspired homages to faux doors and windows, a surreal wallpaper has to be one of the most fun living room wallpaper ideas of them all.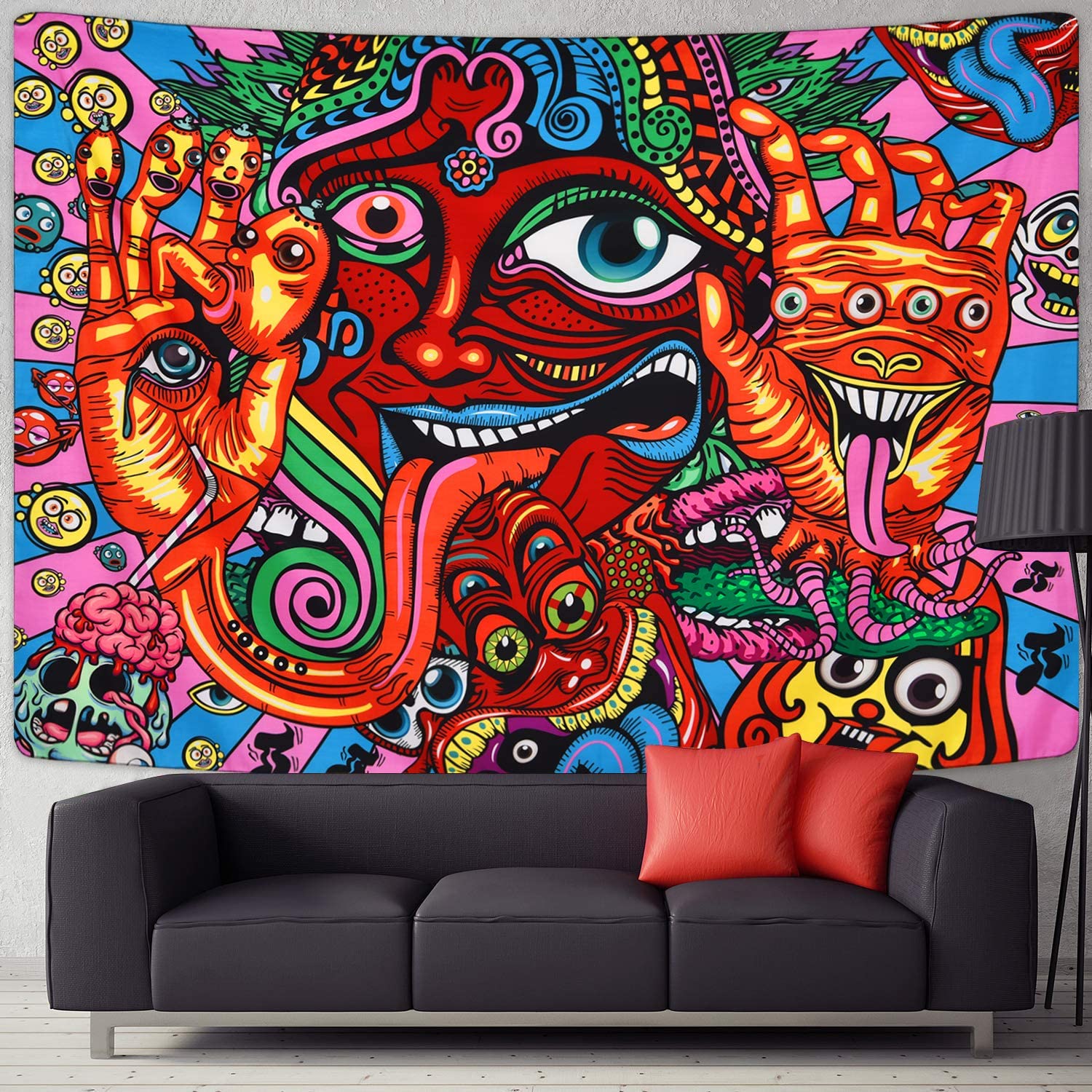 Fresh Gingham
Take a cue from regal country estates and opt for a symmetrical gingham that's both timeless and gender-neutral. And by going for a classic color, like the khaki with a hint of lavender, as seen above, you'll ensure that it will stylishly stand the test of time.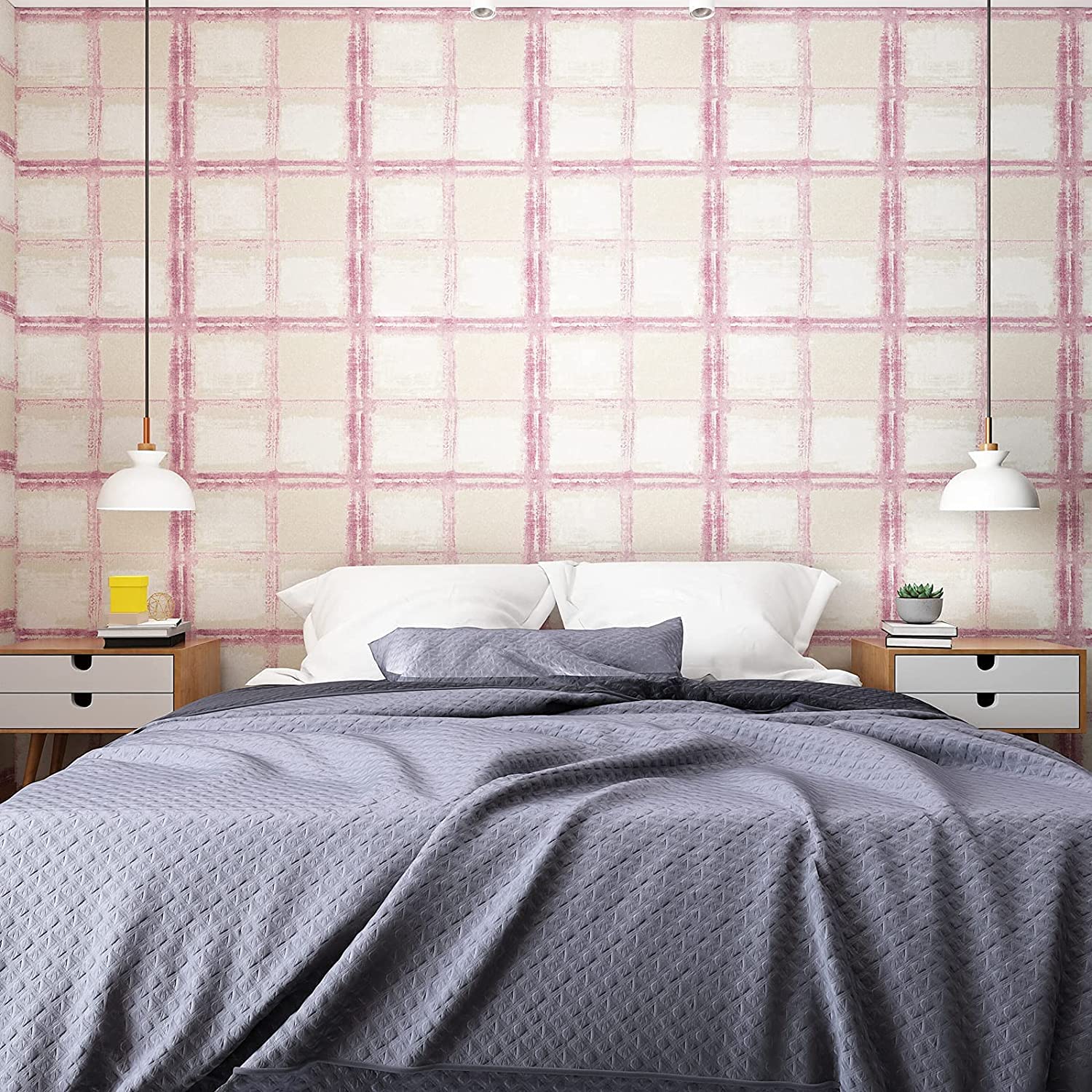 Tonal Texture
Instead of blank neutral walls, make the most of unique living room wallpaper ideas with a tonal covering that boasts texture to make the space feel larger than it is, and cozier at that.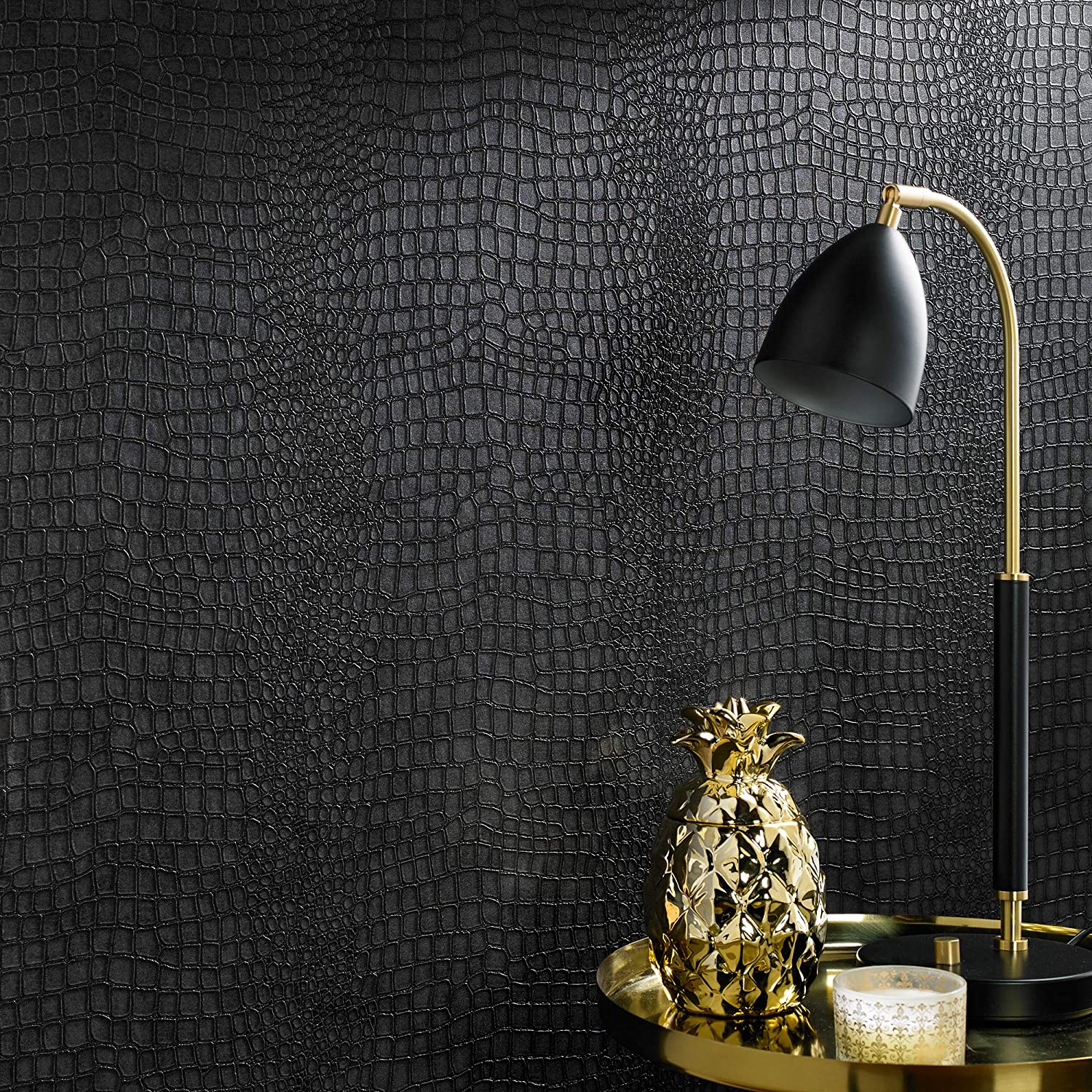 Batik Prints
Similar to the look and feel of a tribal print, a batik wall covering will lend your living room a delightful sense of the organic and cultural while remaining beautiful in appeal, and unique to boot.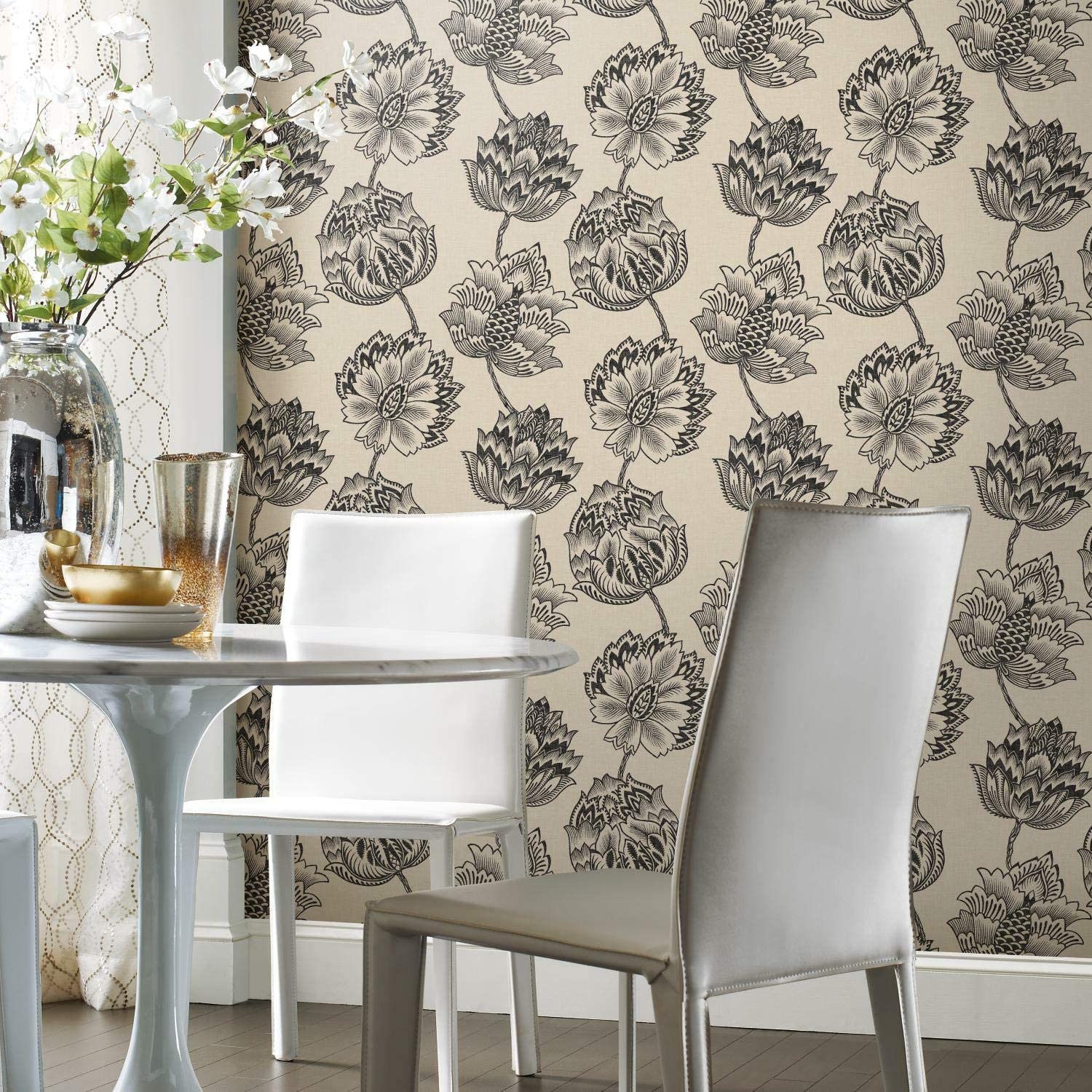 Graphic Black + White Stripes
Because you can never go wrong with a black and white color combo, create striking visual impact with a bold black and white striped wall covering that will remain a classic until the end of time.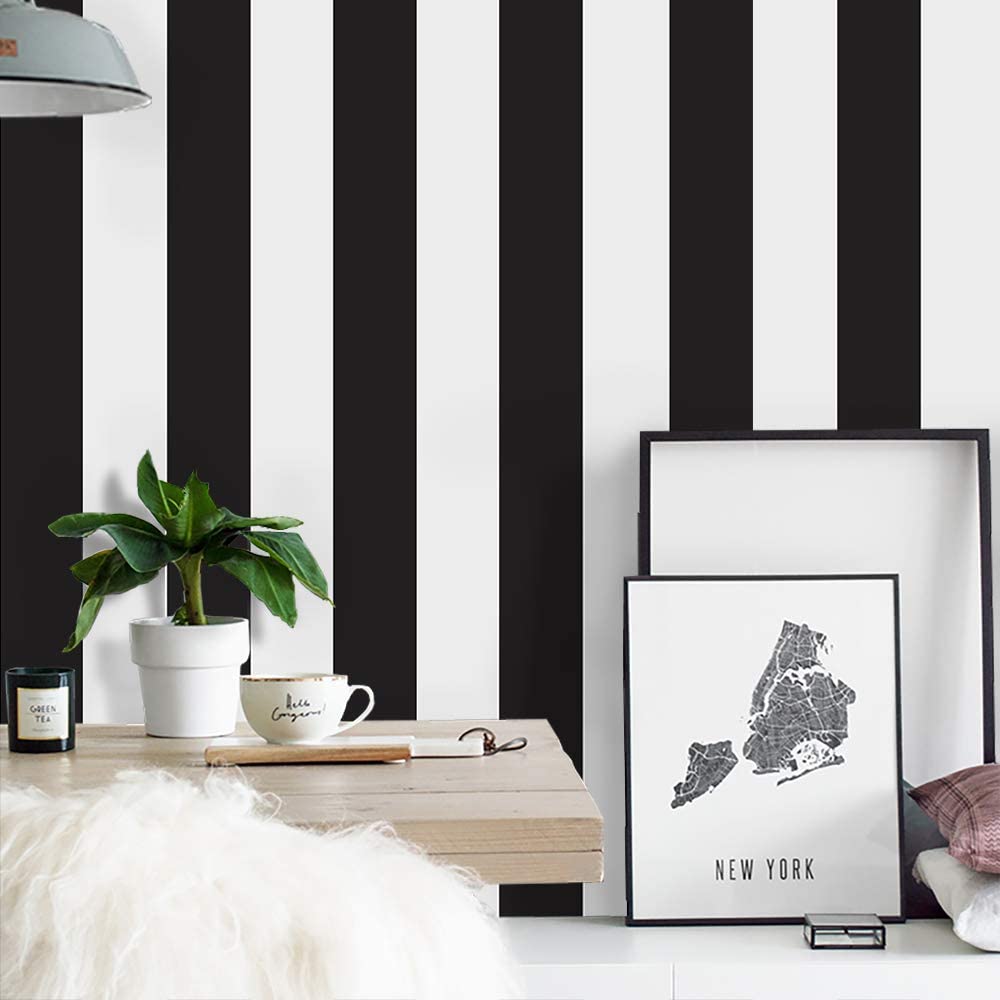 Accent Wall
Maybe covering all of your walls is too much of a commitment for you, or your budget doesn't allow for it. Whatever the case, living room wallpaper ideas don't require a fully covered area, and an accent wall is a great alternative.
It will lend your living room extra depth while punctuating it with great design.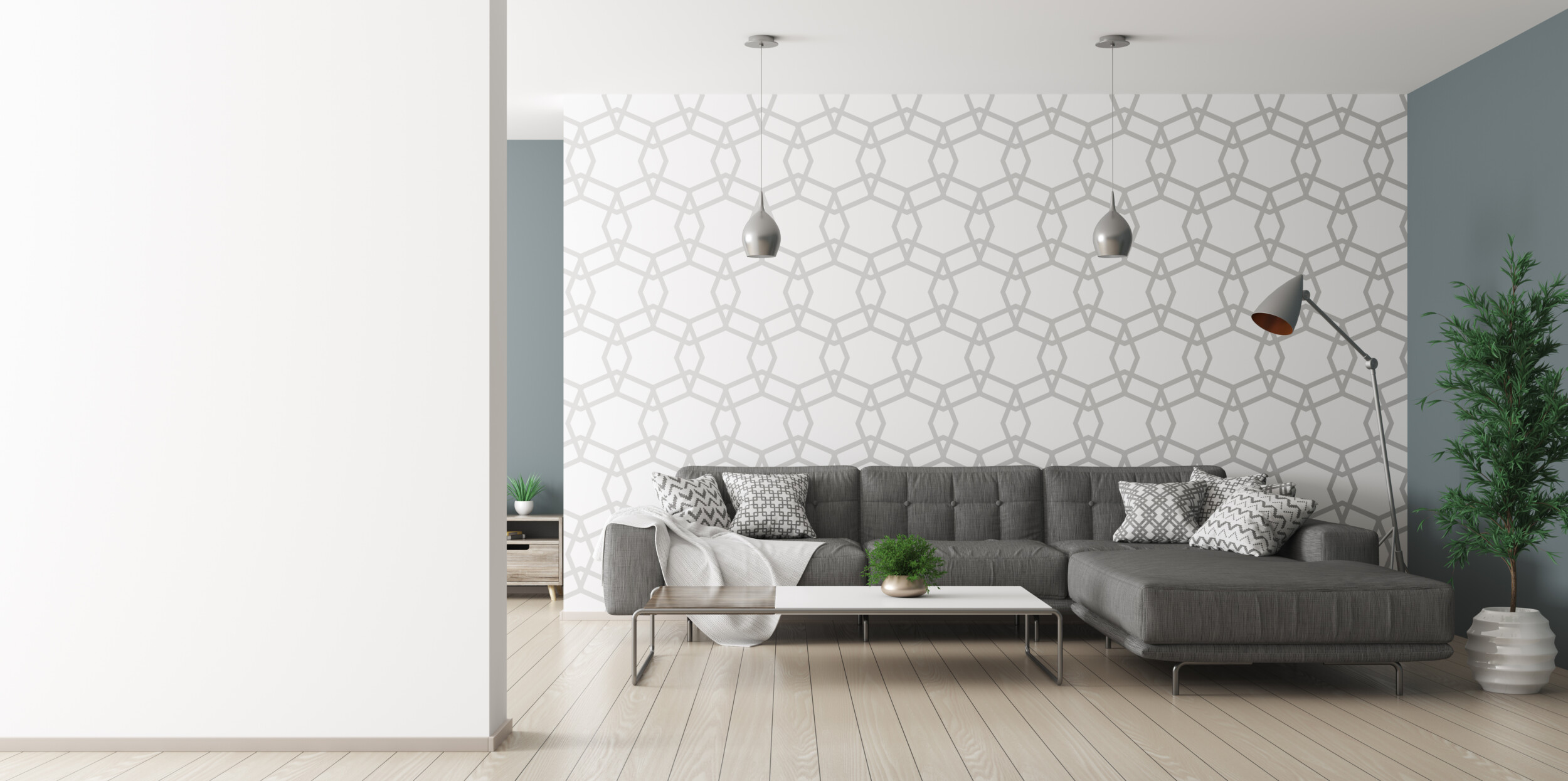 Far-Flung
Create a sense of wanderlust with an evocative print that channels another era or an idyllic provincial scene from the past for an intriguingly decadent feel.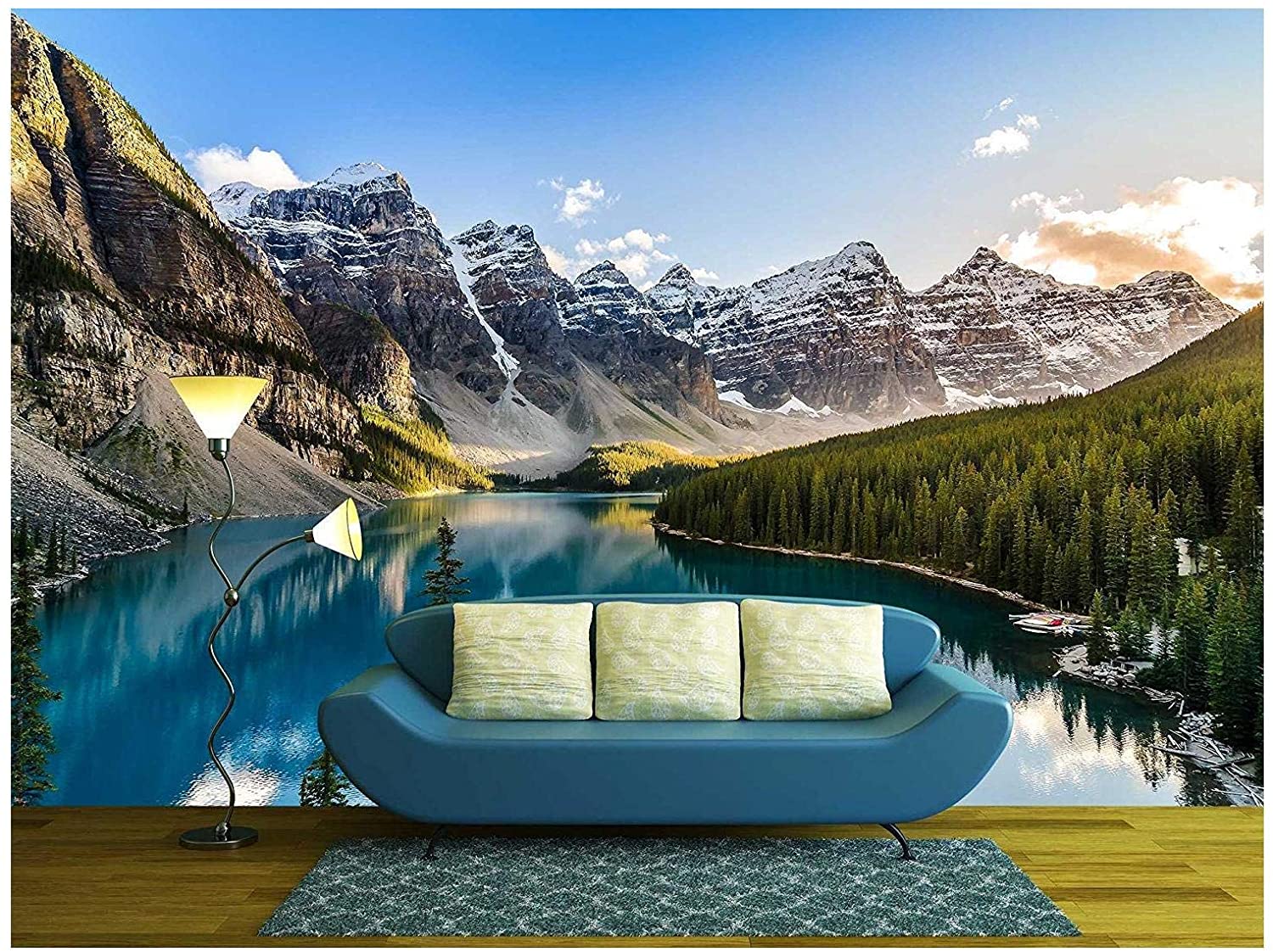 Artful
Get expressive with a bold and statement-making wallpaper that boasts a watercolor feel that will have guests wondering if that's paper they're looking at, or if its a custom painted wall.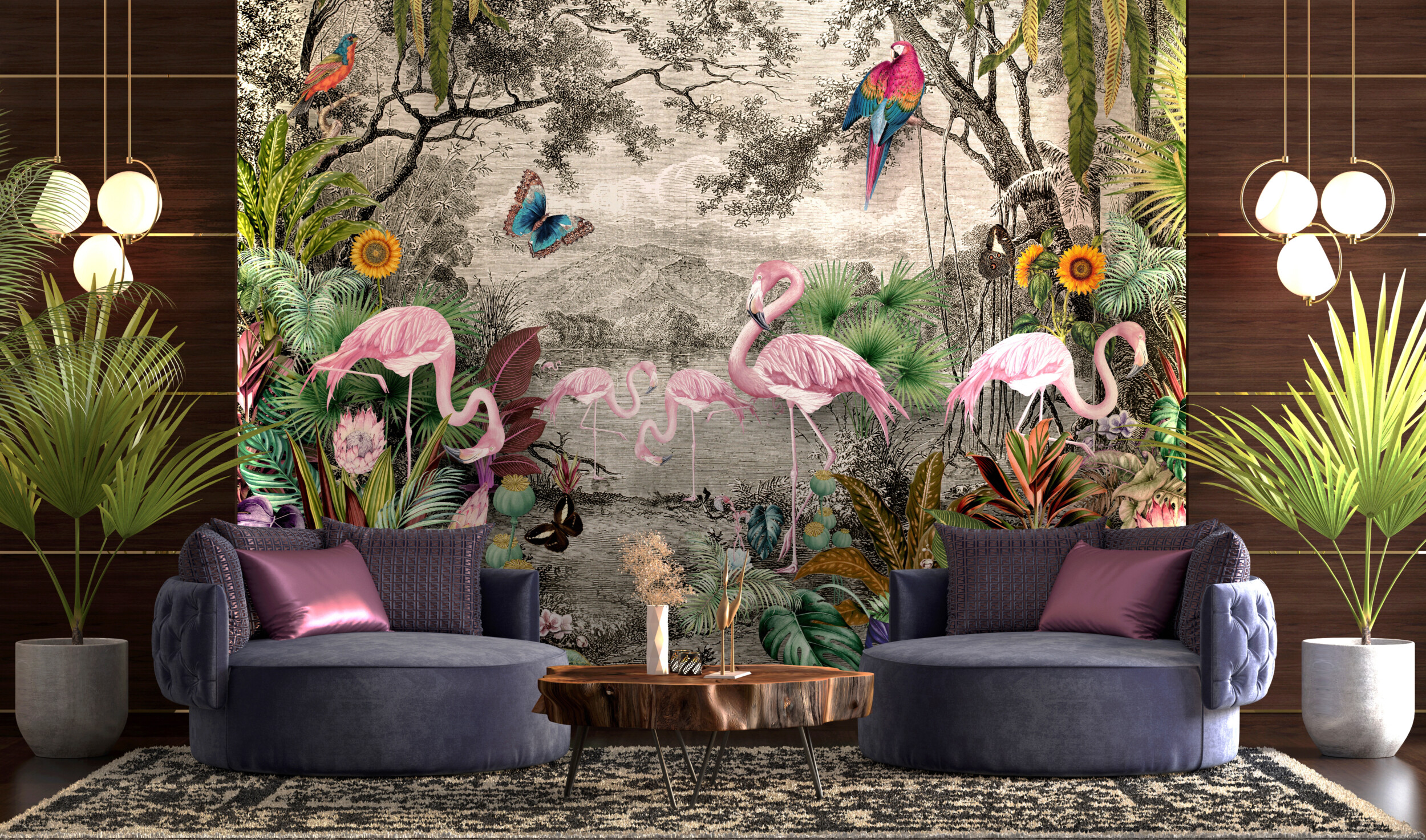 Abstract Floral
Another painterly pattern, an abstract floral will lend your living room a laid back spirit that'll pair well with just about anything.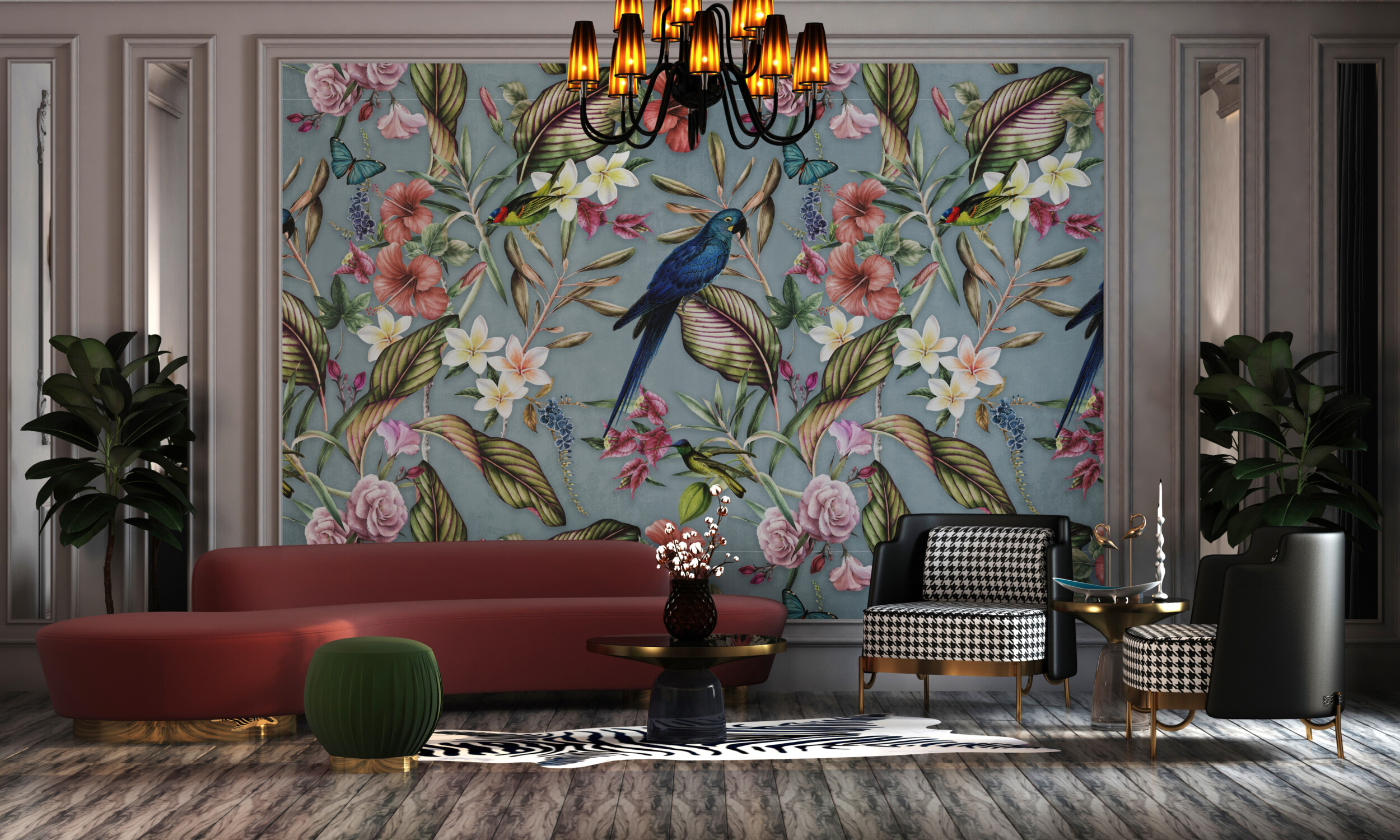 A Bold Floral
On the other hand, for a more powerful take on living room wallpaper ideas, a bold floral in an energizing color will also be sure to inspire for year's to come.
Textural 3-D
Any room in a home should have texture, and a 3-D wallpaper will be sure to inject more than enough while working as a stunning addition.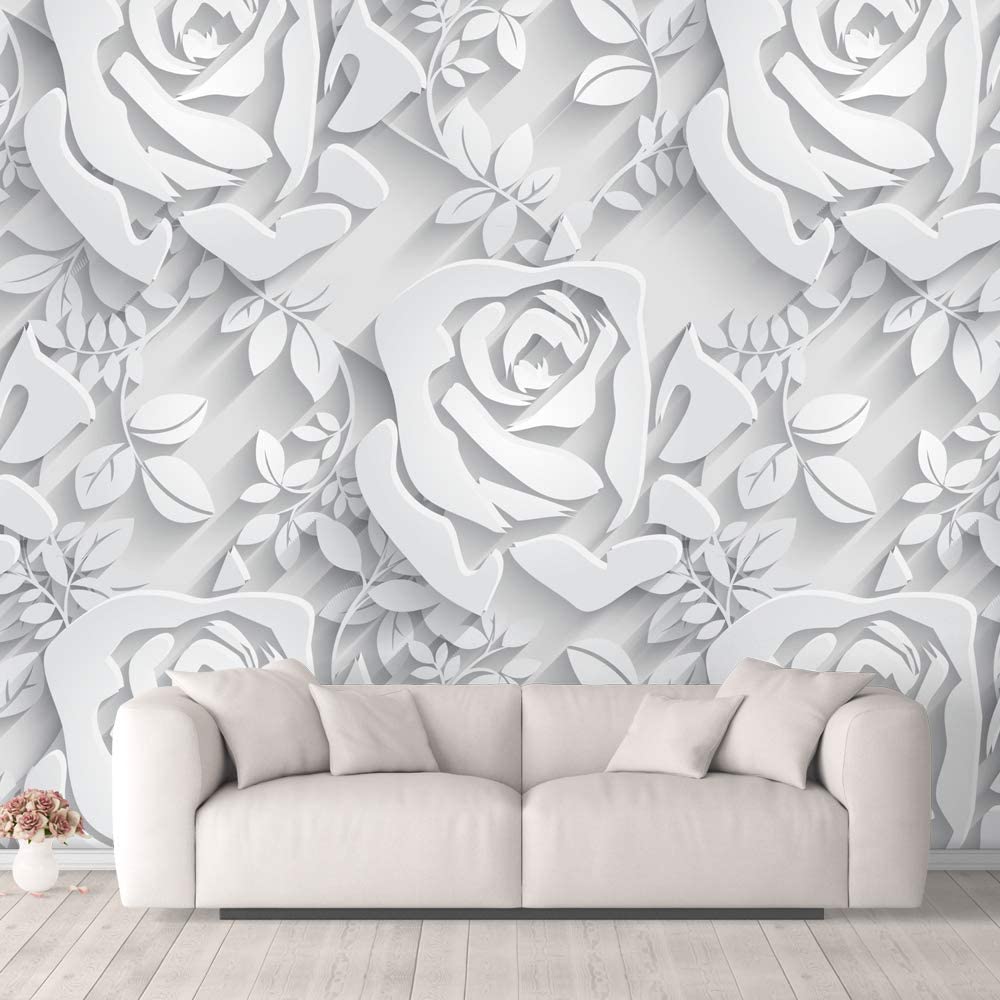 Traditional Floral
When you think about wallpaper, often the first style you picture is a traditional floral wallpaper. The good news is that traditional floral wallpaper is back on trend and it looks more compelling than ever.
For a soothing, comforting, and familiar feel in your living room, choose a neutral color palette or a soft blush-toned floral print wallpaper. If you want something bolder and more vibrant, consider a brighter base shade, like a vibrant blue or even an energetic orange to add zesty color to your living room wallpaper ideas.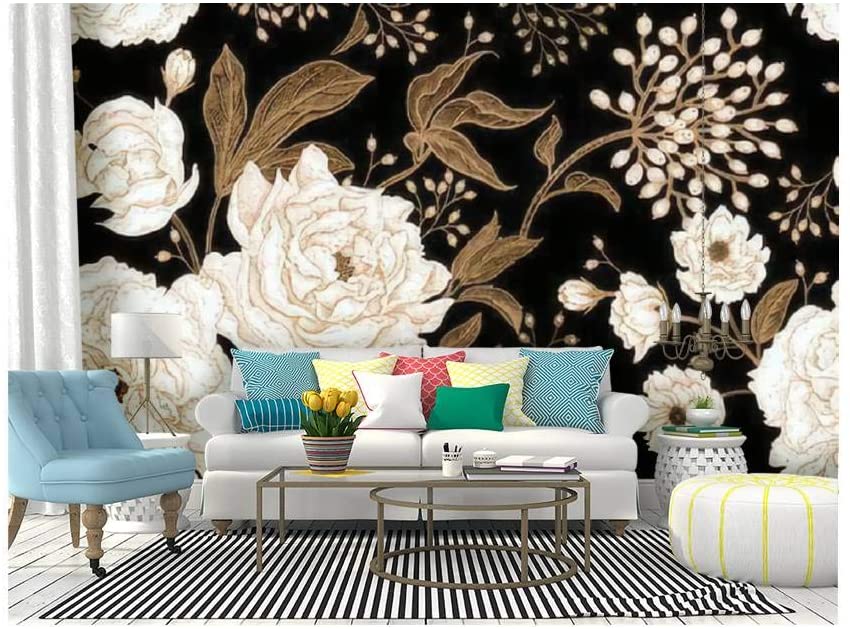 Smart Pinstripes
We love a striped wallpaper for a living room – it looks timeless and it can make your ceilings appear to be higher than they really are. Moving away from the traditional large stripe to a smaller and more varied pinstripe will firmly plant your living room wallpaper ideas in 2019.
And instead of the classic mix of neutrals, think evenly spaced stripes and opt for a slightly heavier pattern. With thin symmetrical stripes. you'll create a stunning and visually graphic effect. This will look brilliant in period and modern homes alike, allowing you to create a soft, yet masculine feel with ease. An array of grays and chalk colors will look fresh forever, helping the entire look feel tailored and well-judged, especially when finished off with a splash of saturated colors.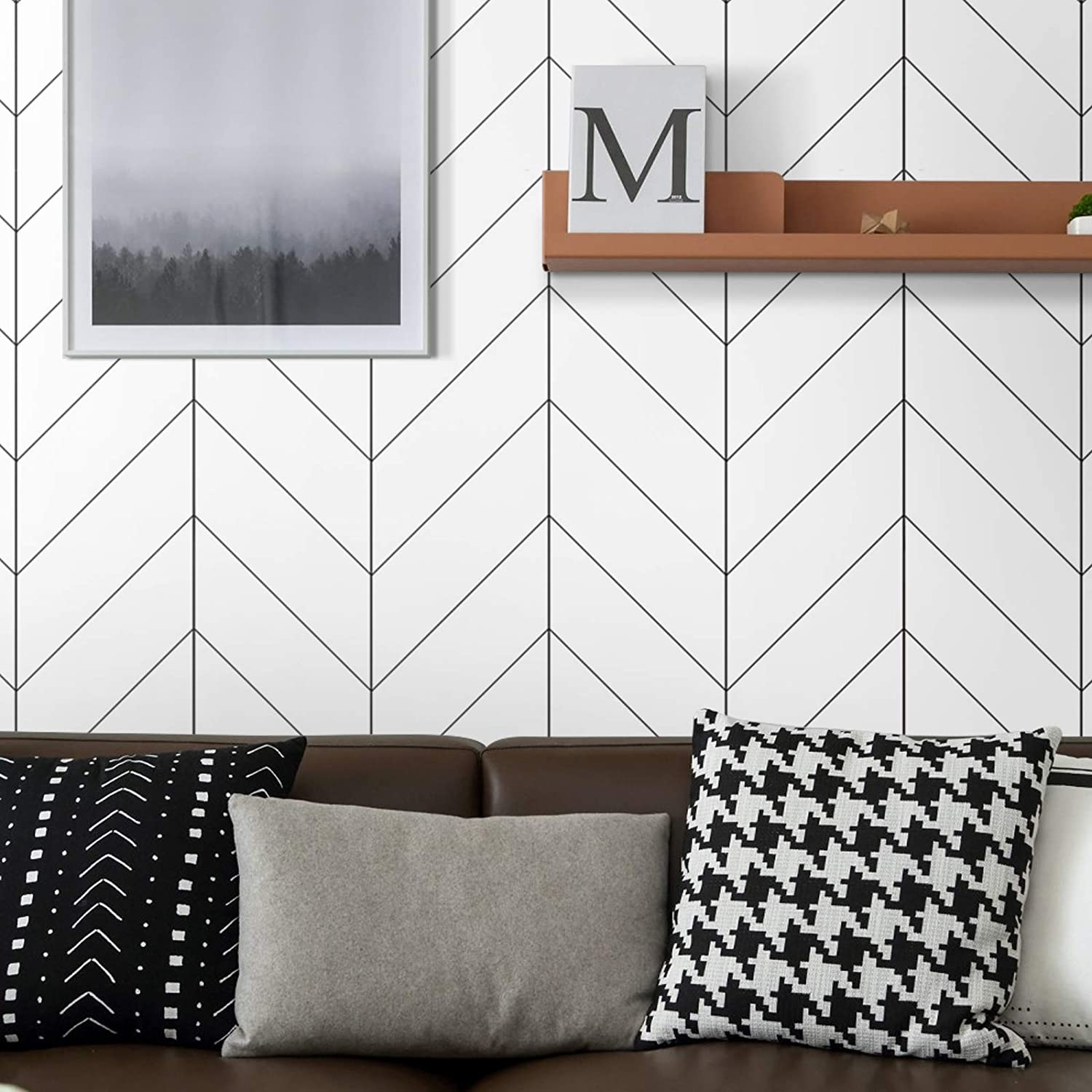 High-Shine Metallics
If you are looking to add a touch of glamor and luxury to your living room, then wallpaper with gold detailing is a foolproof approach to really make your walls sing. Whether it's a floral wallpaper with gold detailing on it or a geometric design with gold worked into it, gold and other high-shine metallics will be sure to provide your living room wallpaper ideas with a sumptuous feel and a sense of everyday elegance.
If you're looking for something with a more traditional feel, go for a damask style wallpaper, and for more modern living room wallpaper ideas, how about a striking pineapple print or a graphic hexagonal design? But if a bold metallic is too much for the look of your home, you can also go for high-shine wallpapers in any color that will catch light just as beautifully.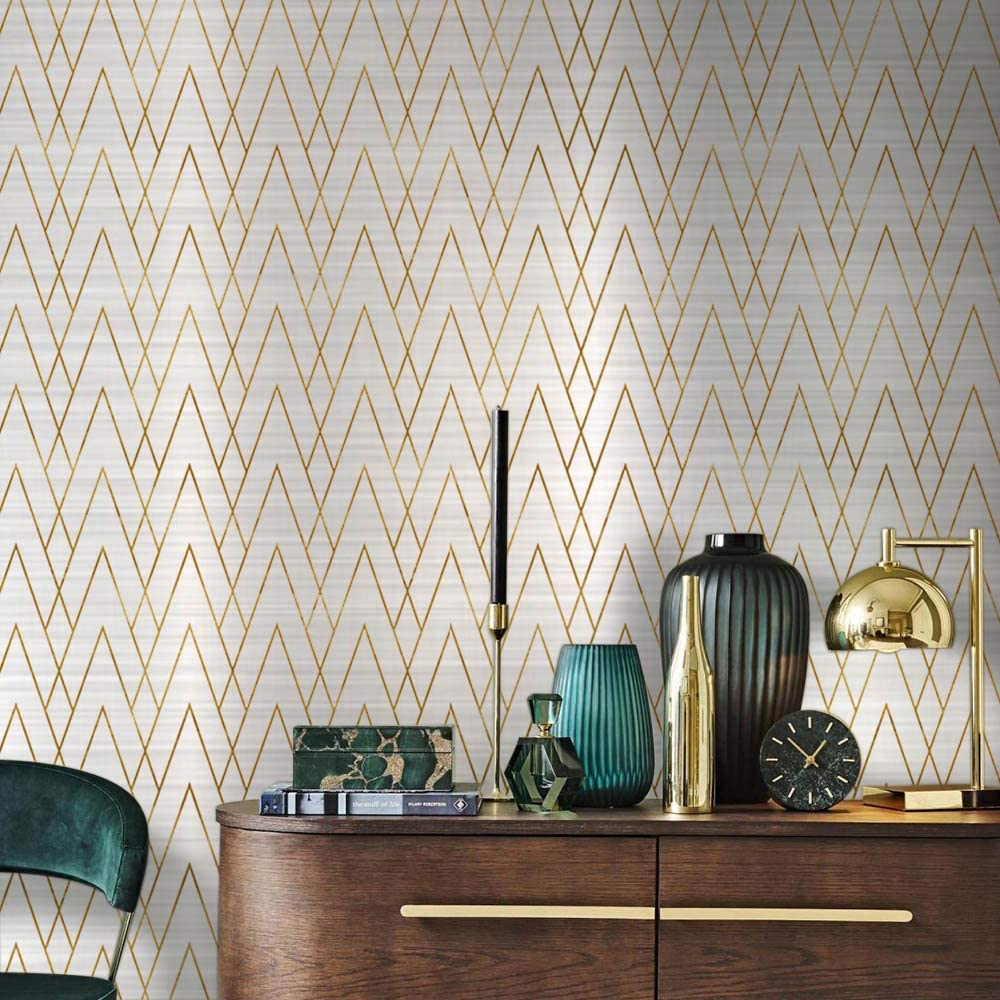 Colorful Tropics
A bright and vibrant tropical wallpaper will bring the heady feel of the outdoors to your living room. Tropical wallpaper is playful, colorful, and unexpected and will brighten up the walls of your living room in no time. Greens, blues, pinks, oranges and yellow will come together to create a lively scene and the essence of the beauty of nature.
Team it with whites and light wood furniture to balance out all of the riotous color (balance is very important when it comes to perfecting living room wallpaper ideas). The contrast between the light white and the soft wood tones and the bold, punchy, tropical wallpaper will leave your living room feeling fresh for years on end.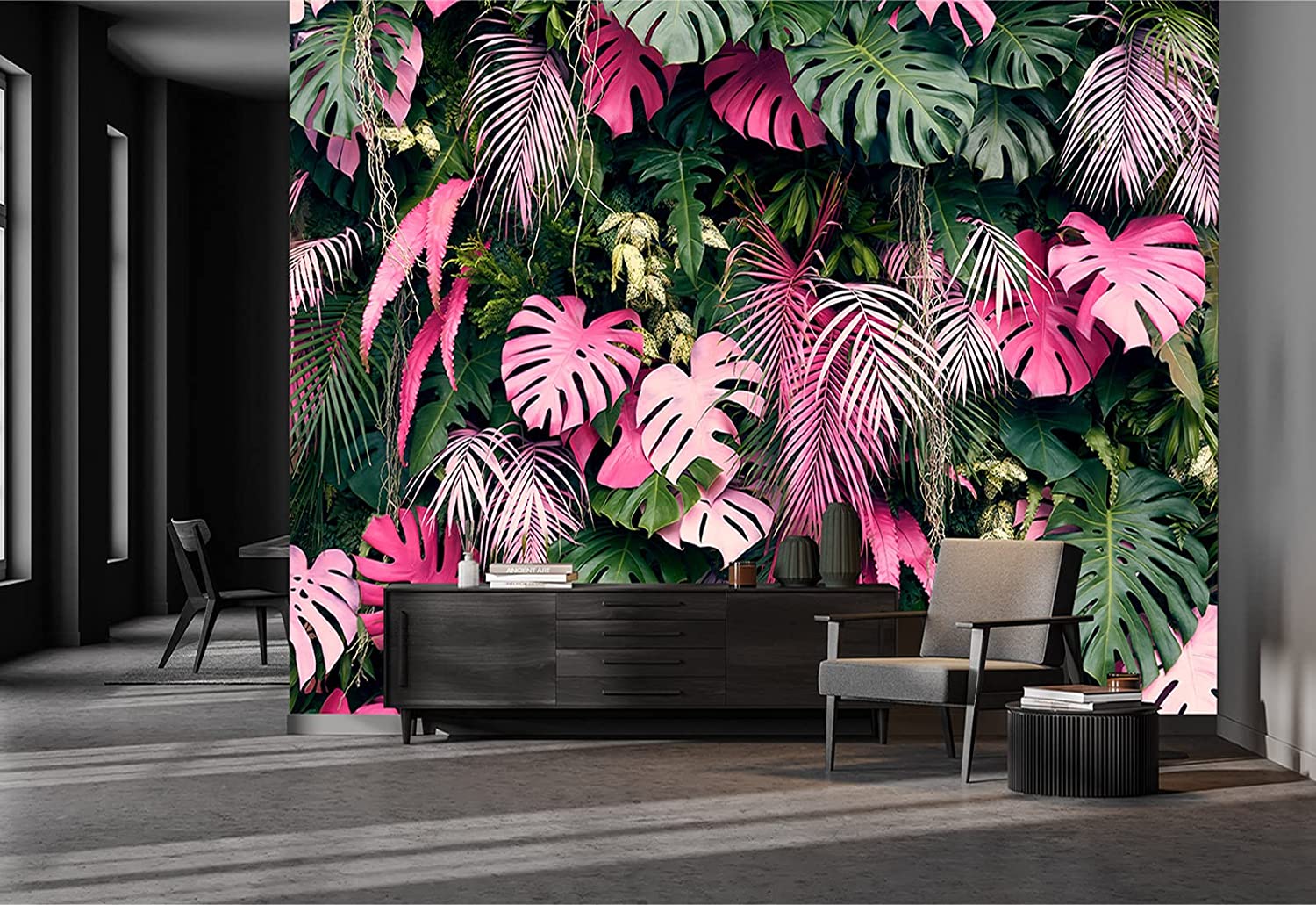 Statement-Making Monochrome
Looking to add some drama to your living room? A statement monochrome design is a firm favorite when considering the best modern living room wallpaper ideas. To add drama, you don't have to add color, it can be all about the pattern and the contrast between your grays, whites, and blacks.
Monochrome has the amazing ability to look modern, contemporary, traditional, and classic all at once and you can add pops of color with furniture and accessories to keep the room feeling lively. Wood features look great up against a monochrome wallpaper, adding a natural and timeless element.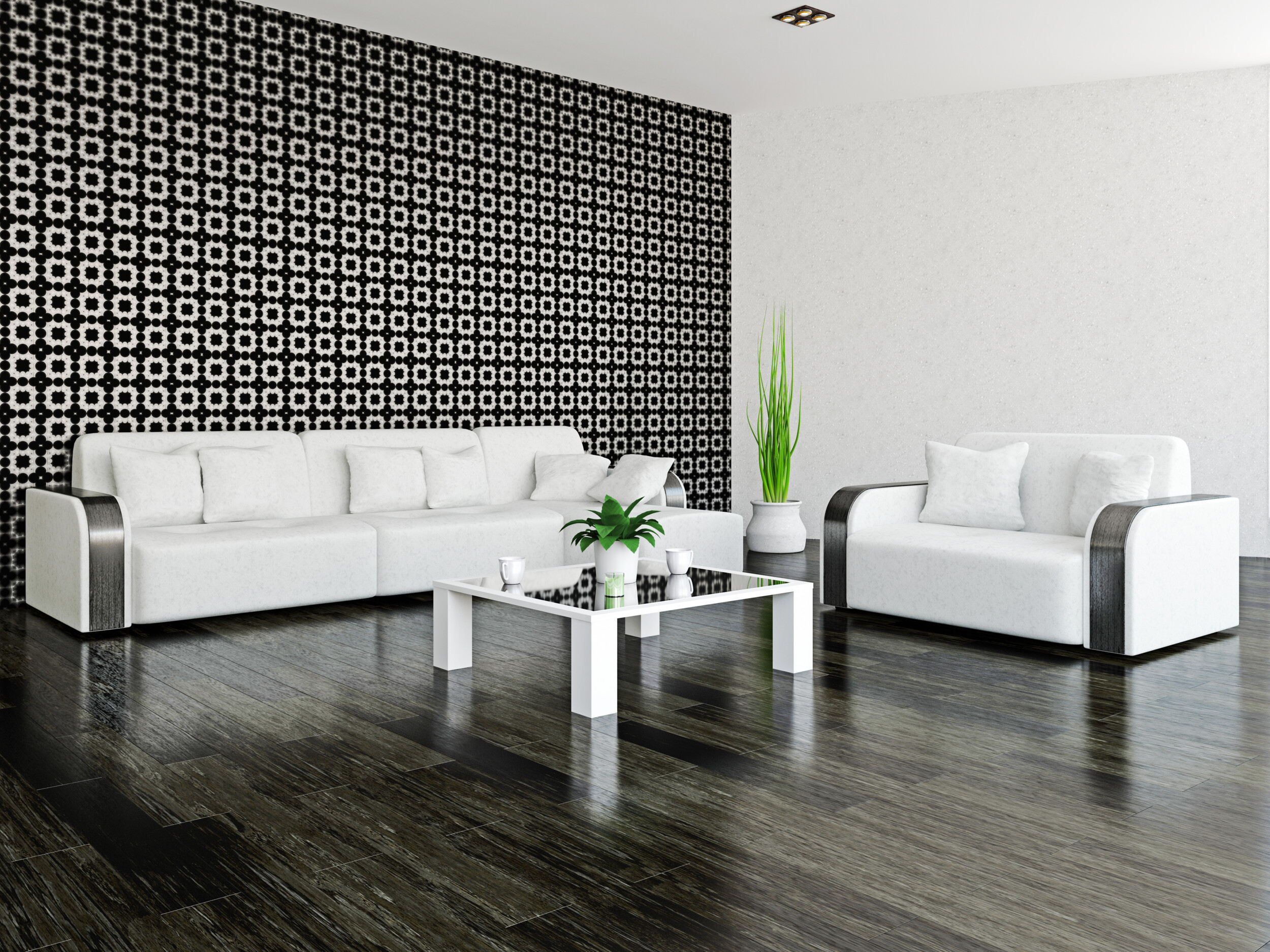 Nature Prints
Nature print living room wallpaper ideas are a stunning idea for a feature wall. A natural landscape of a forest with trees and delicate clouds will be a real attention grabber in your living room.
It doesn't have to be bold in color, as it can be a simple wallpaper with limited coloration. Here, it's the design that makes the impact and does all of the talking. Furnish your living room however you want paired with your nature print wallpaper, allowing it to stand out and speak for itself.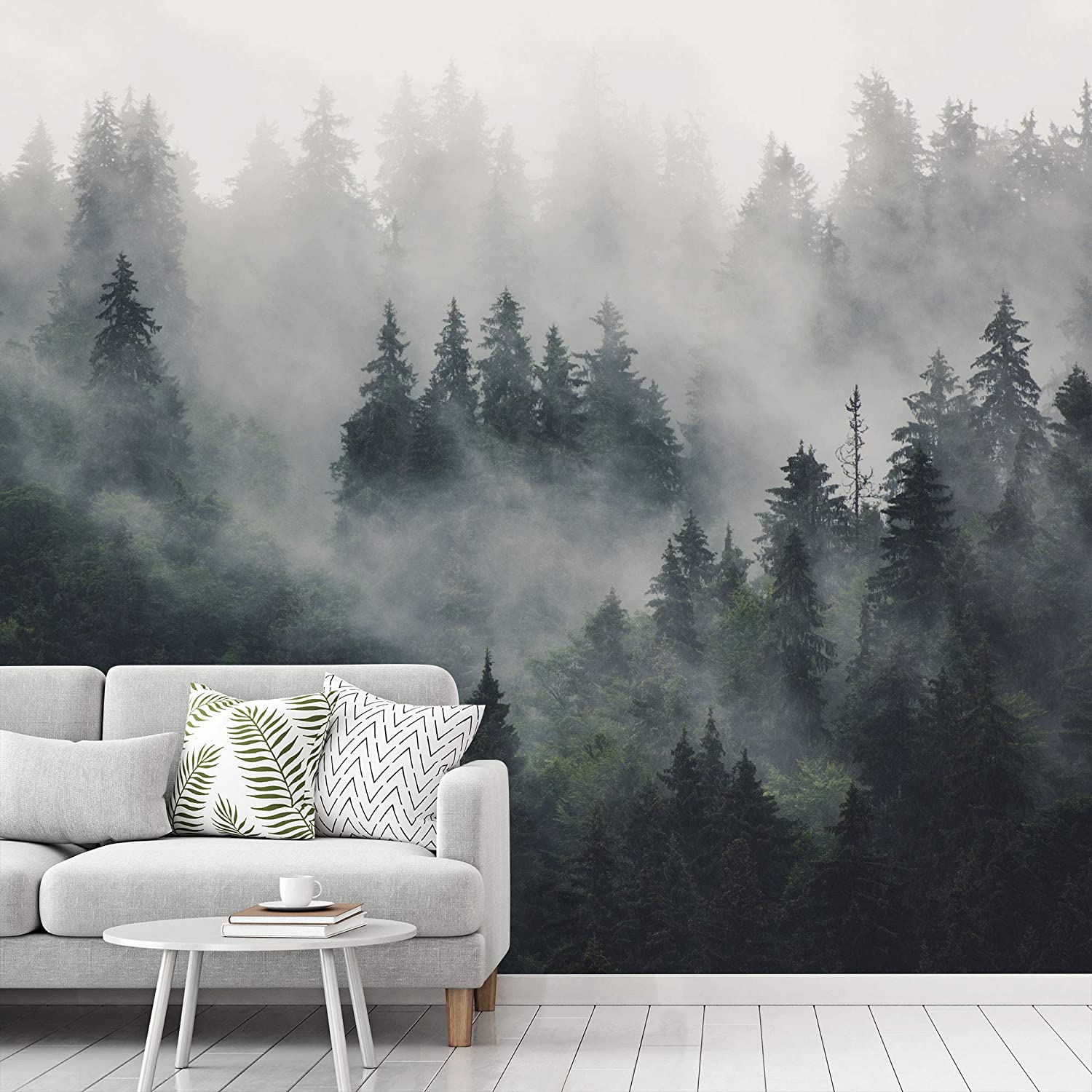 Fresh, Modern Florals
If you love a floral print but you aren't a big fan of the traditional oversized floral wallpaper, then you can't beat a fresh, modern floral design. Fresh floral designs afford you the same comfortable and classic style that you know and love, but with a more vibrant color scheme.
Imagine vibrant greens and soft neutrals with splashes of blue, yellow and pink coming together to create a pretty floral design. With white backgrounds, these living room wallpaper ideas look great paired with light woods, dark woods, and whites, enabling you to create a fresh or cozy feel. A wallpaper like this with plenty of white space is great for small living room wallpaper ideas, as the white stops the pattern from closing off the room.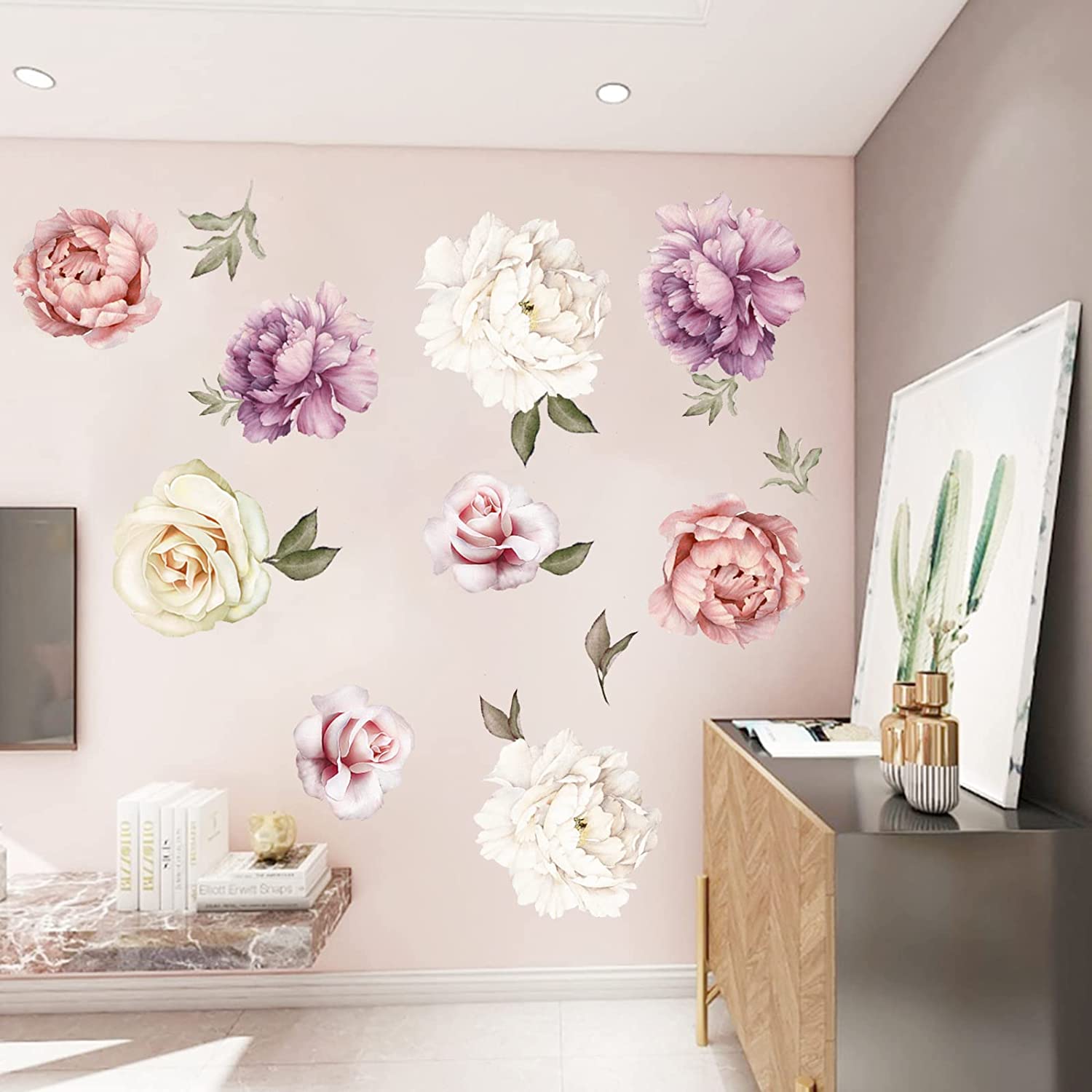 Striking Retro-Inspired
Throw-back to the exuberance of the '70s with a retro printed design for your living room wallpaper ideas. Retro prints are bold and striking and the warm tones lend themselves perfectly to living rooms.
Team yours with light brown furniture and gold accessories for a classic retro feel and create a transitional mix with furnishings. If you want a more modern look, pair your vintage-inspired living room wallpaper with modern furnishings and blocks of color to bring the look.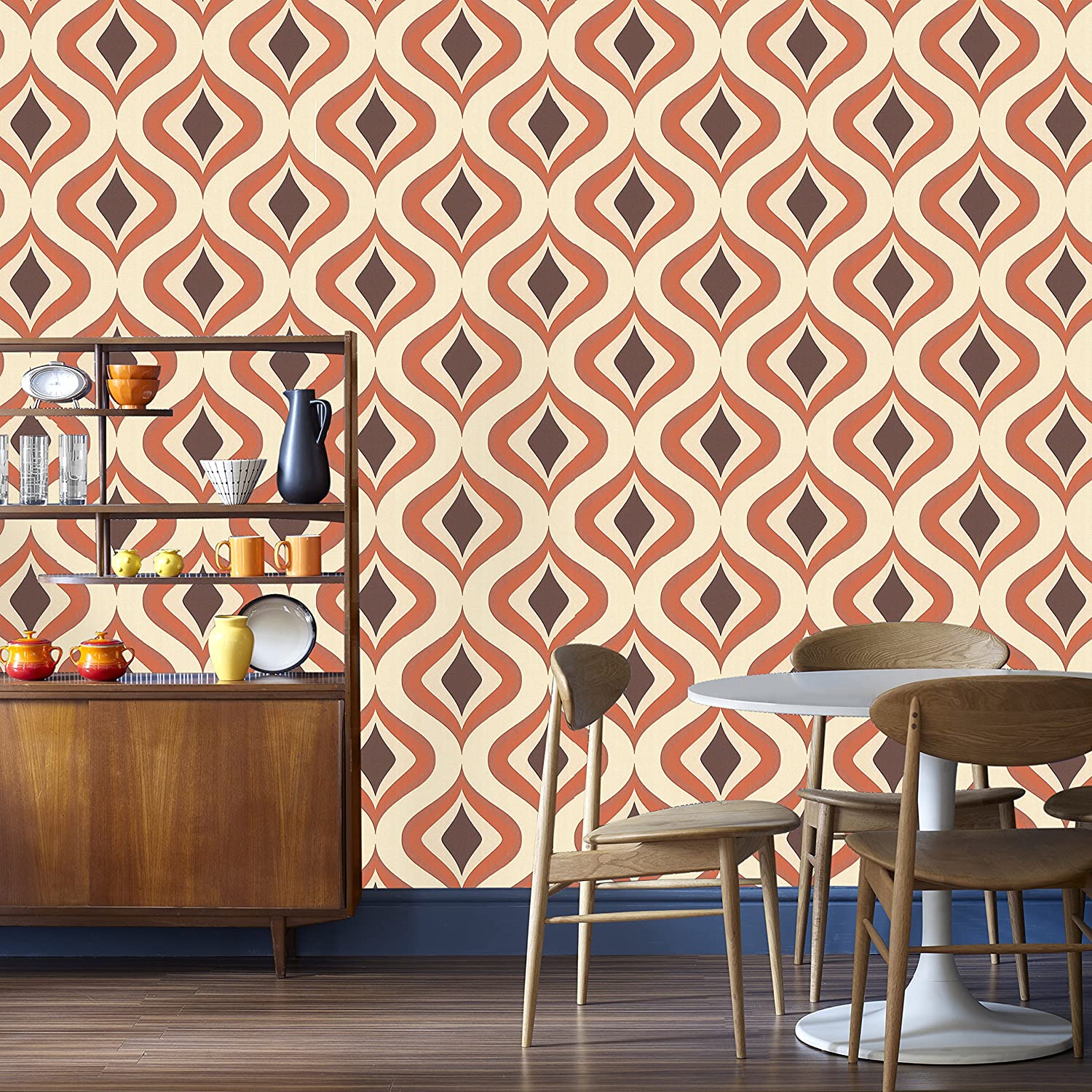 Wallpaper Your Ceiling
Living room wallpaper ideas don't have to be all about the walls. Wallpapering your ceiling in your living room will be sure to create an impact and add something really special to your space. Go for a bold paper to make a vibrant impact in your living room or go for a simpler look to add some room-defining texture.
Often overlooked and now consider by interior designers as a valuable '5th' wall, papering your ceiling can prove to be endlessly elegant and innovative and it could also make your living room appear much grander in scale than it really is.