If you're lucky enough to have a pool and space for a pool house, you're already envied the world over – so why not go for the gold and build a stunning pool house? A gorgeously rendered pool house is certain to evoke elegance and is a great way to compliment your home and create an enviable backyard.
Unlike your main home, a pool house can be as large or small as you'd like to see fit and can lead to many inspired design directions. You can use your pool house plans to juxtapose a differently styled structure in the mix while ensuring that it brilliantly compliments your pool. And if you're lucky enough to have ample space, you may be just able to include essential elements that you feel like you're main living structure has been missing.
To design your dream pool house, you need to know what direction you want your pool house plans to go, and by that, designers suggest you need to know exactly what you're going to be using it for. As you aren't just designing a pool house solely for the purpose of lounging around the pool. Do you need there to be a changing area? Do you need a bedroom? A bathroom? An entertaining area? Maybe even a bar? Pool houses are often used as guest houses too, so thoughtfully chosen and placed furnishings and décor are vital in creating a relaxing and livable space. To inspire your pool house direction here 15 mesmerizing pool houses sure to get your creative juices flowing.
The Glasshouse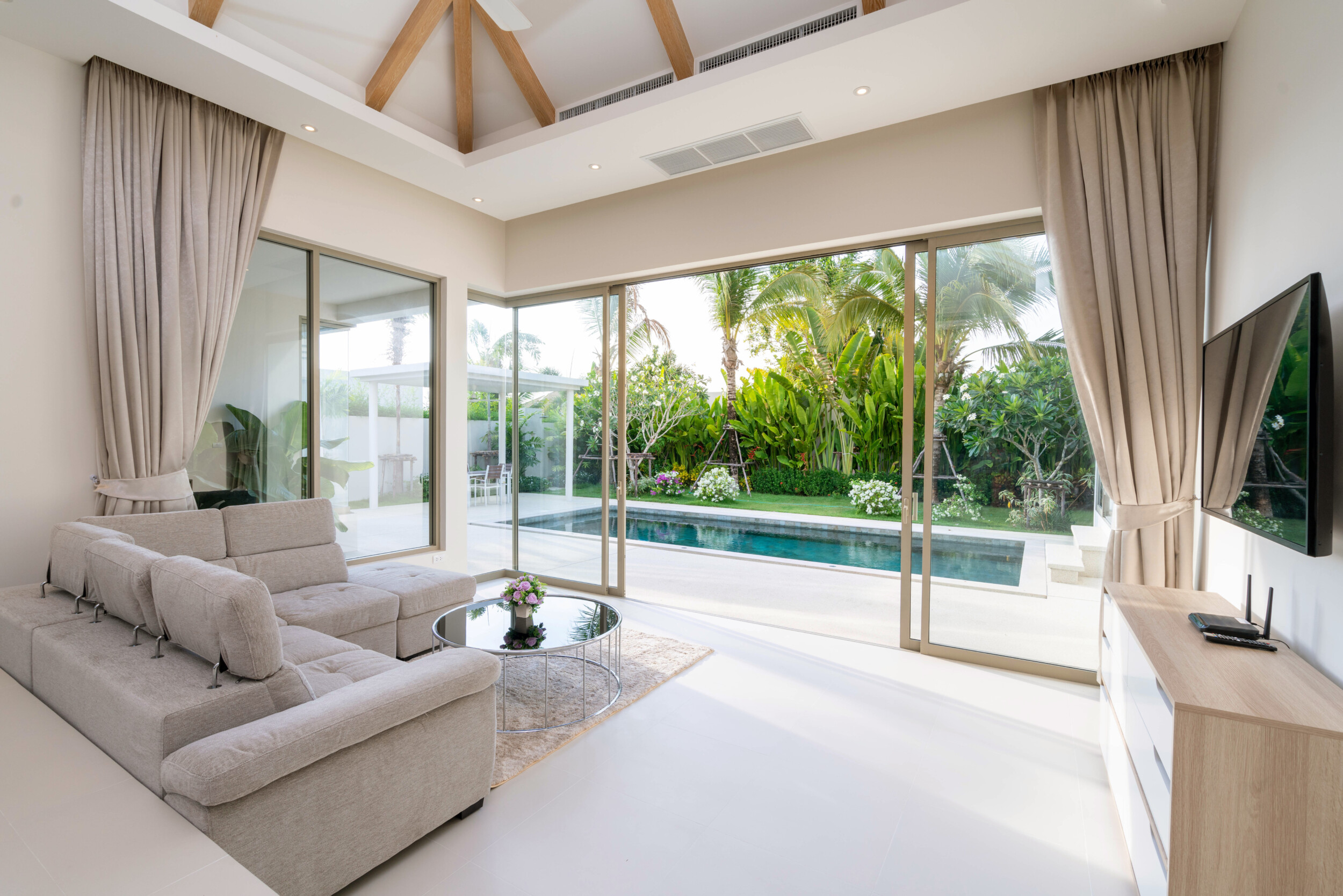 A take on the greenhouse – design your pool house to let in as much natural light as possible, especially if you love to catch the sun. Fill your pool house with plants and you'll soon feel as if you're lounging by the pool in the tropics.
For tropical pool house interior ideas, furnish it with comfortable wicker garden furniture so you really bring the outside in. A large sofa would also be perfect for star-gazing through your glass ceiling, and lanterns will make for the perfect glow in this space.
Rustic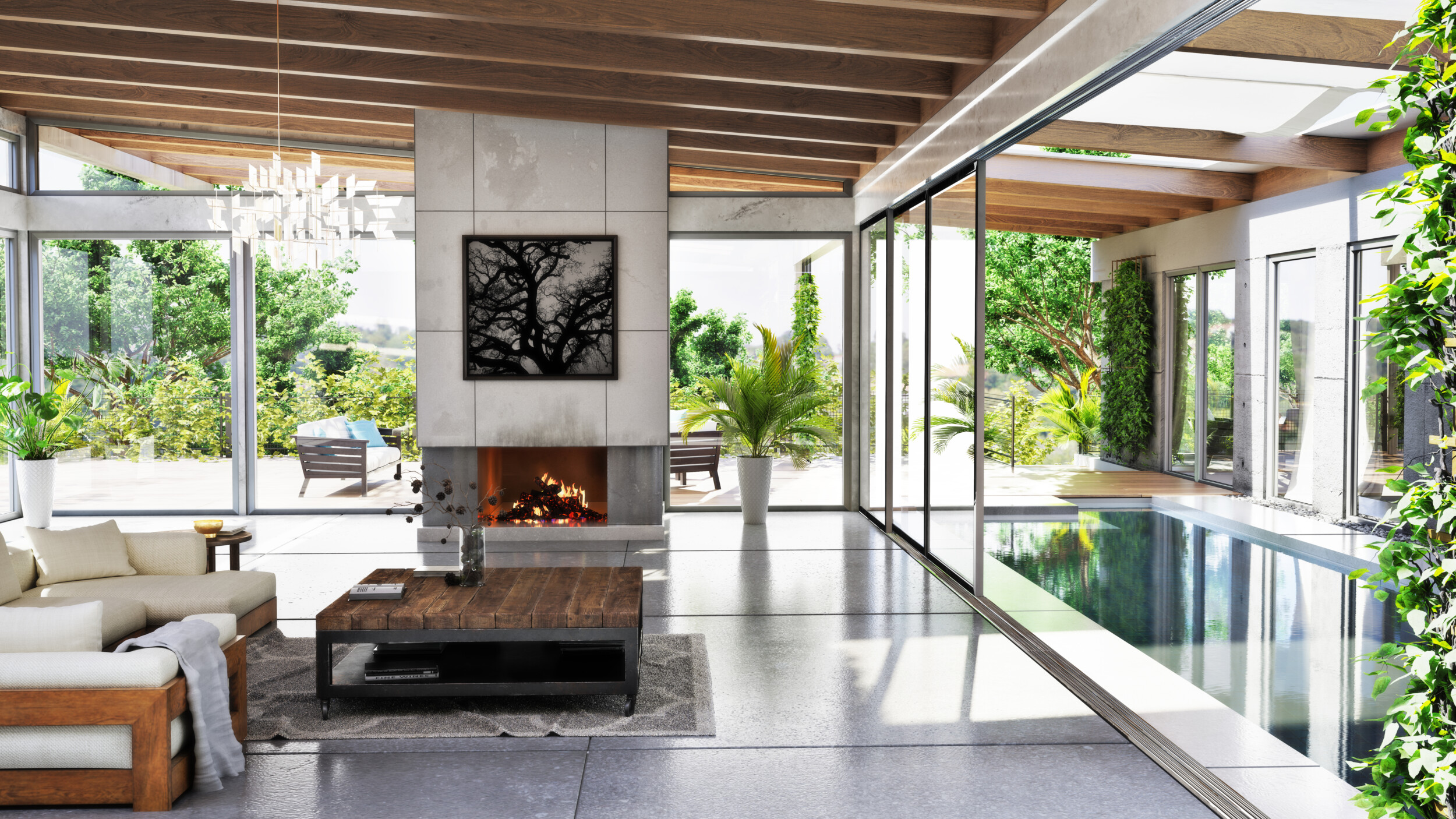 If your idea of the perfect pool house is a little less fancy and a little more lived in, how about pool house plans with a more rustic feel? Think wood, a comfortable setting, and a room centered around relaxing with family and friends.
A large table for you to guests to relax at and eat with a view of the pool would be perfect, and large, wide doors so your family can have the run of the pool house. You could also consider pool house plans with a loft – so your entire family can relax together after a long day of swimming in the pool.
Luxury Resort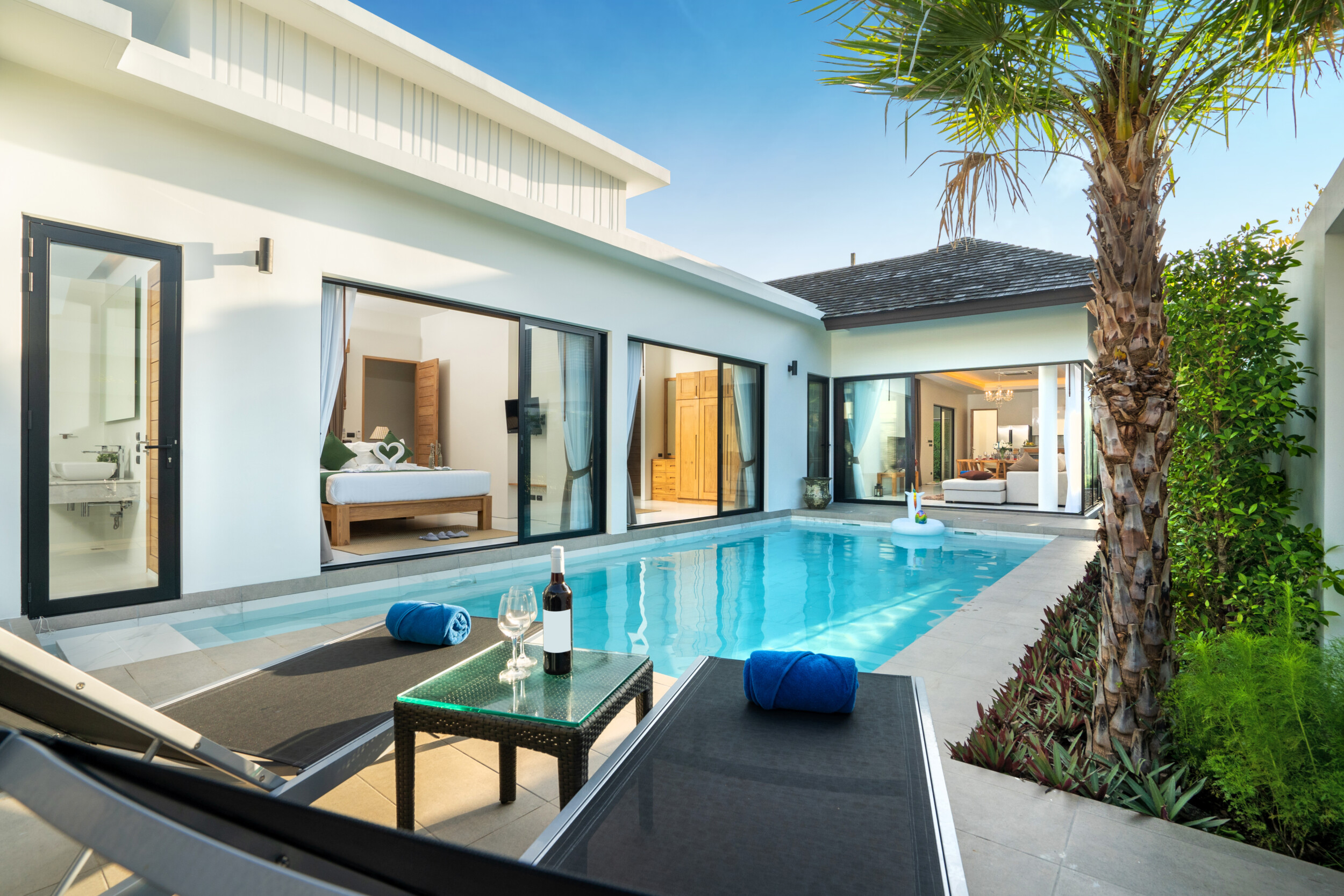 Make your poolside afternoon feel like a holiday with pool house plans fit for a mini luxury resort. Think billowing white curtains, white walls, and minimal furnishings and you'll feel like you're in a 5-star poolside villa. Pool house plans with a bar are absolutely necessary here.
And a cocktail station wouldn't look out of place so you can sip cocktails on your sun deck by the pool, the only things missing will be your own personal waiter and some canapés.
Classic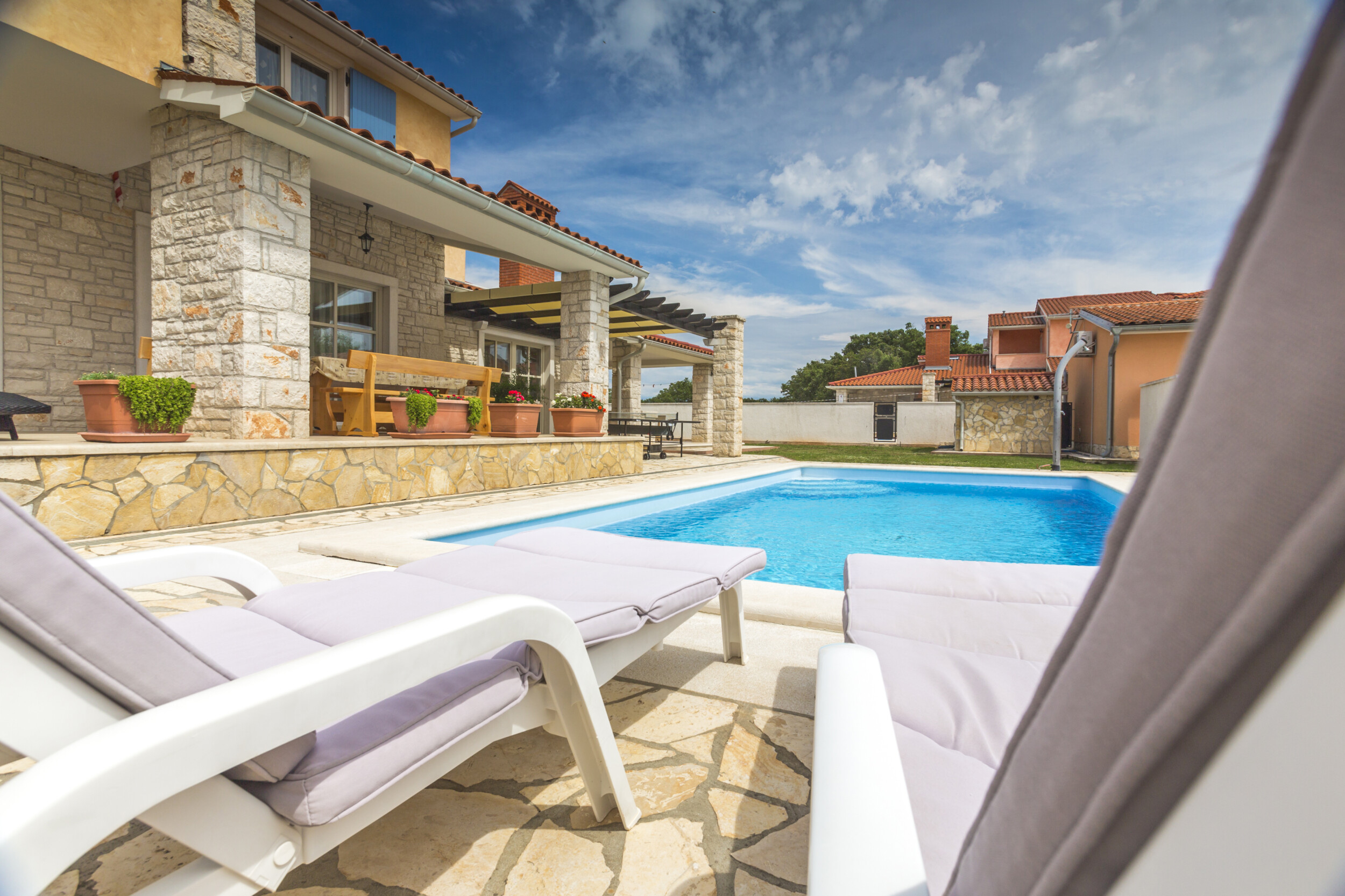 Think dramatic columns and symmetry, French doors opening out onto the pool, and floor to ceiling windows. If you have the space for a pool house in a classic style, go grand with a big, airy space to entertain your guests in. Luxury pool house interior ideas are a must here – you want the inside to do justice to the outside. Think of Versailles for inspiration, and go regal with a gorgeous classic style pool house.
Up the romance factor with lanterns outside to bathe your pool in a warm glow. Frame the entrances with greenery and considering investing in a dramatic water fountain for an even grander statement.
Mediterranean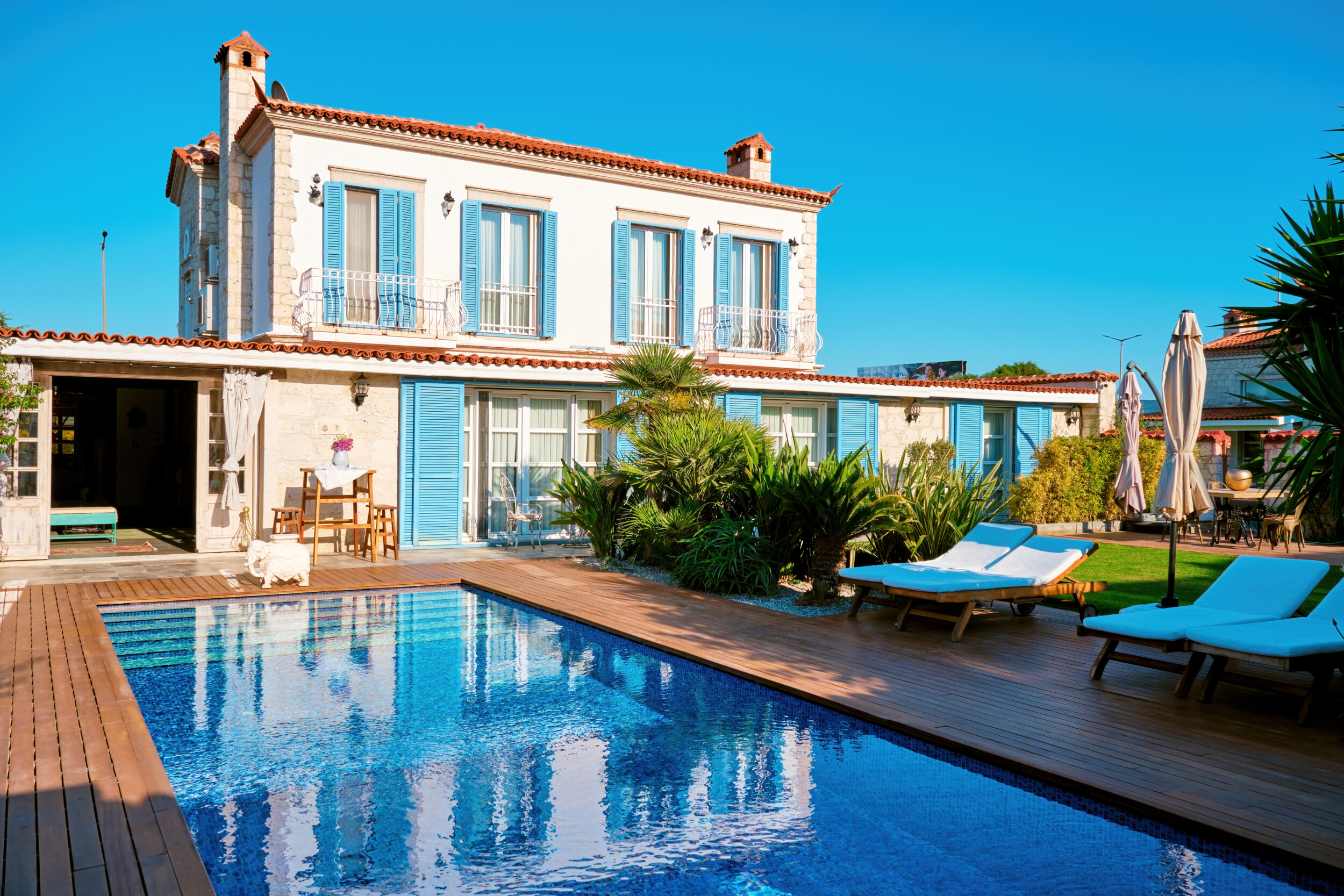 A Mediterranean pool house is perfect for entertaining guests in a relaxed atmosphere. Think gorgeously open planned pool house plans with a large kitchen area so you can serve up delicious snacks to go for an evening by the pool. Fill your pool house with relaxed eclectic Mediterranean décor, pops of color, and plenty of neutrals to make it feel like a calming oasis.
And if you have the space, consider pool house plans with bedrooms to serve guests after a day by the pool. Plus, this will be a great addition to your home if you're keen on having guests stay over as your pool house can double as an elegant guest house.
Go Boho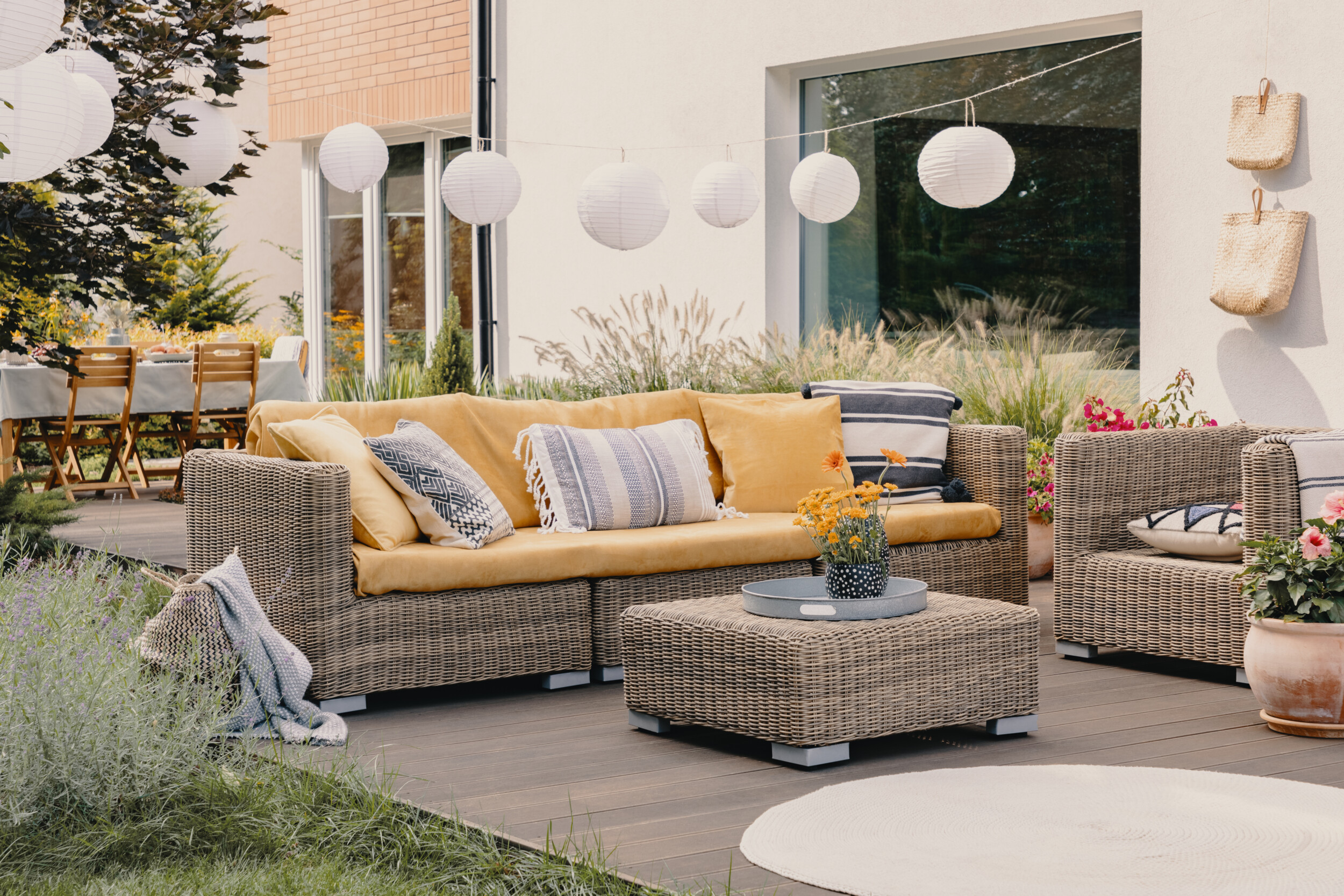 Relaxed boho vibes are perfect for a pool house; whether you need small pool house ideas, pool house plans with living quarters, or pool house plans with a bathroom. Luckily, a boho vibe is flexible when it comes to what you make of your pool house.
For boho pool house interior ideas, don't hesitate to bring in lots of color, texture, and multi-cultural juxtapositions, as well as plenty of space to relax and hang out.
Traditional Country Cottage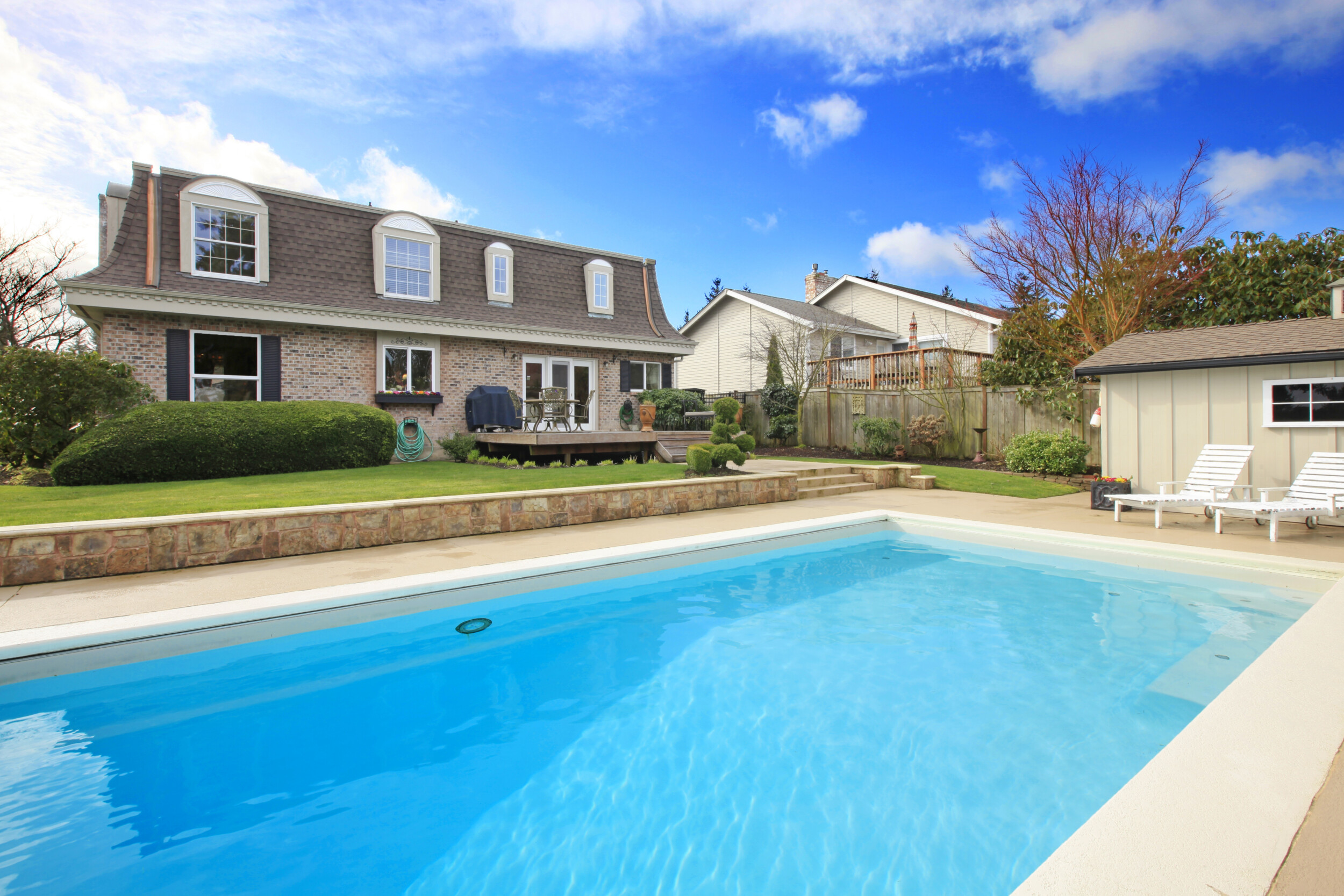 A quaint little country cottage at the end your garden next to your pool is one of the coziest pool house plans if comfort is key. This is a great idea if you are thinking of pool house plans with living quarters for guests to stay. Make it feel like a home away from home for guests by introducing warm, comforting color schemes into your pool house plans with bedrooms.
And just think about how quaint flower beds filled with cottage garden plants surrounding your pool and pool house will look for a quintessentially British cottage feel.
Open To Elements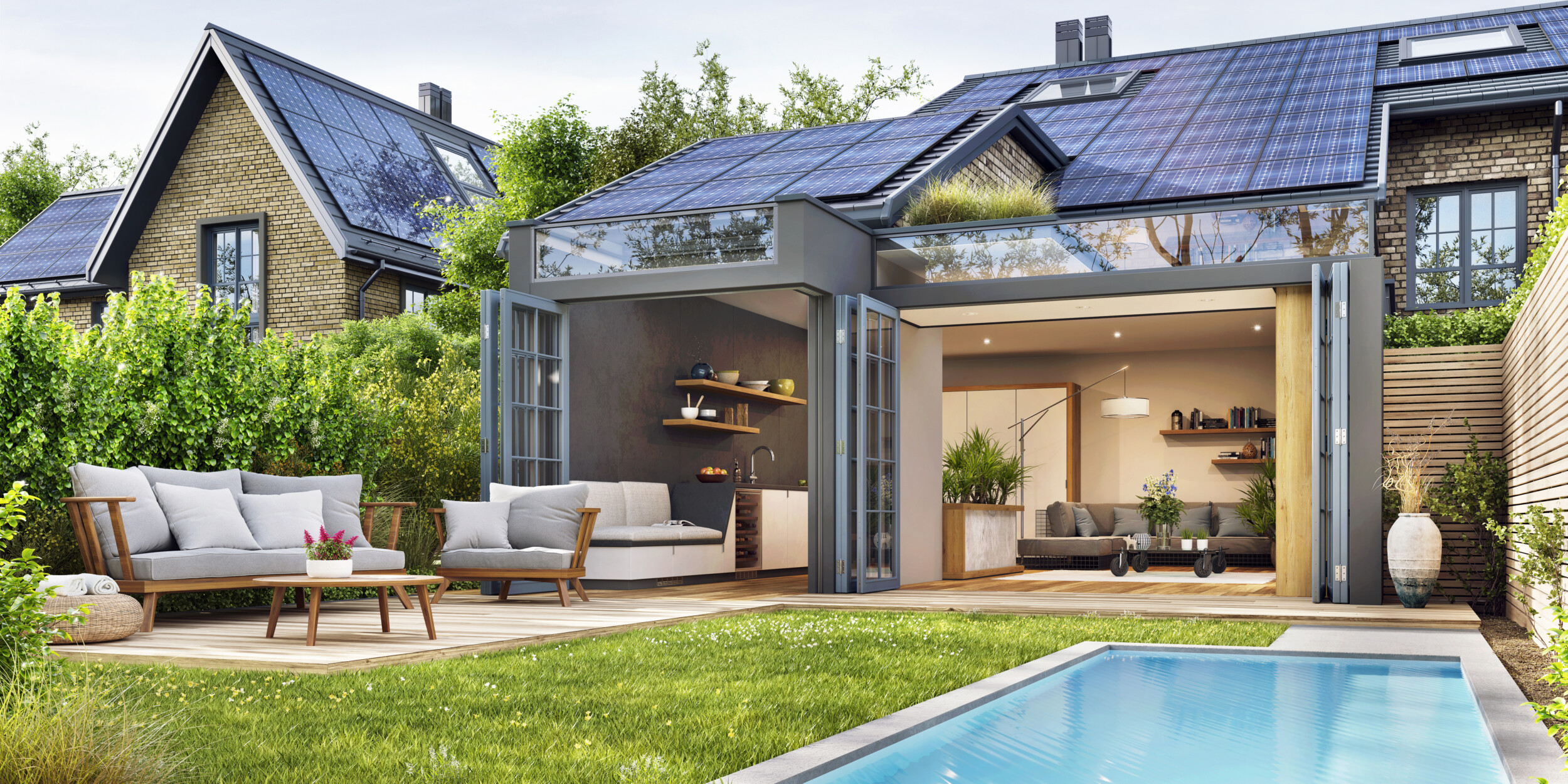 A pool house open to the elements is great if you have room for small pool house ideas, or if you're focused on having more space to entertain. Keeping the sides open allows you have a great constant view of the pool and plenty of entertaining space for evening drinks.
Though an open floor plan won't work if you're considering pool house plans with bathrooms, it is perfect if you're on a budget. You can also create a stylish wooden structure covered with climbing ivy to seamlessly blend into your garden for the perfect indoor/outdoor space.
Small But Perfectly Formed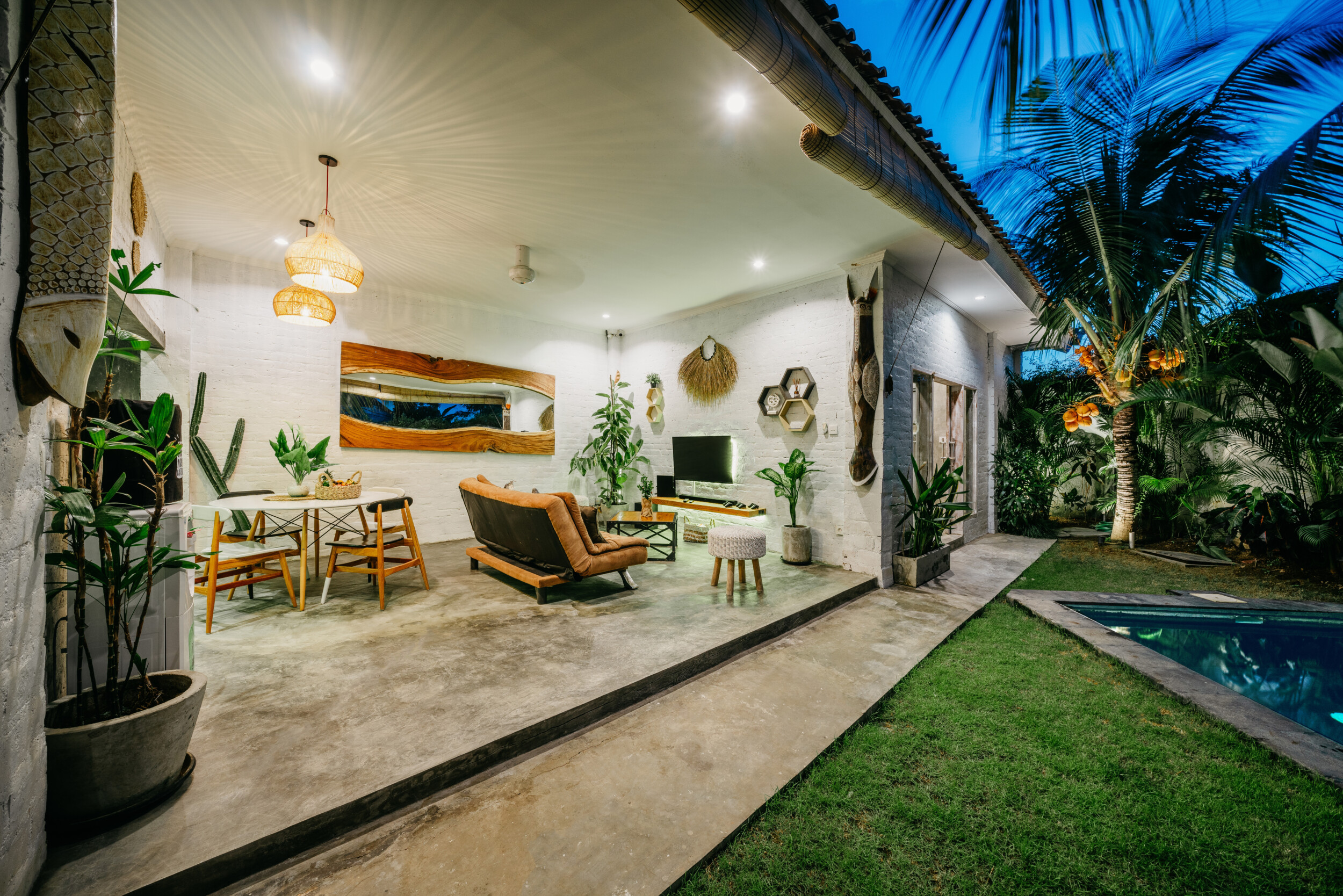 If your pool house plans are petite, don't worry. There is loads you can do with a small amount of space, whilst still ending up with a great, functional pool house. Pool house plans with living quarters aren't going to work if you only have a small area to work with, but there's no reason you can't create a space with a bathroom and changing area along with seating and storage.
Glass doors will also open up a small space, as will light colors and cleverly thought out furnishings. You might even be able to work small pool house plans with a bar – albeit a micro one.
Corner Pool House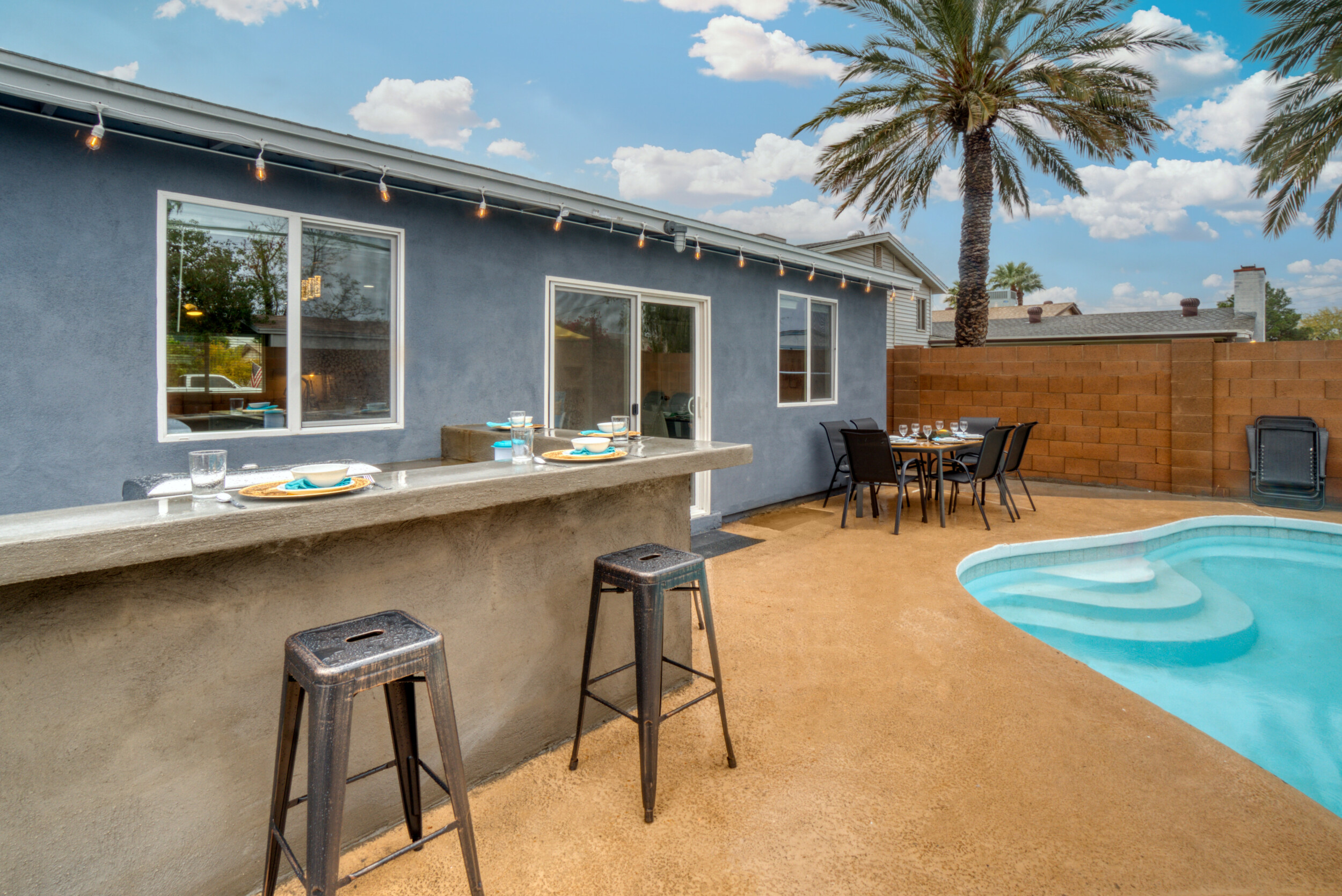 Pool house plans that spread around the corner of your pool, rather than on just one side are great if you're into entertaining. Being situated on the corner, your pool house will have a stunning view of the pool and the space will lend itself to pool house plans with a bar.
You can center your bar in the middle of the space and have areas to lounge, eat and relax around it. Pool house plans with a bathroom at the back will do well here as well, as your changing area will be right around the way. If you are big on BBQ's, why not consider pool house plans with an outdoor kitchen?
A Multi-Functional Hub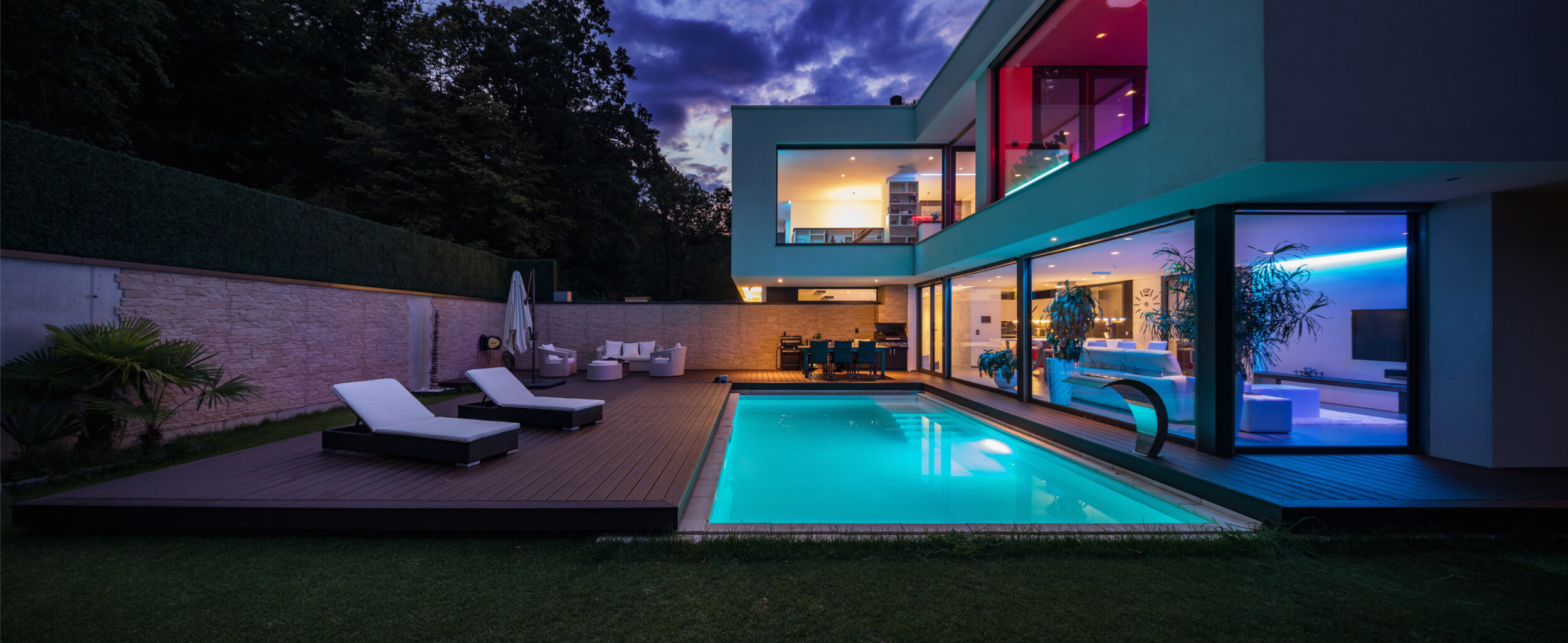 When it comes to dynamic and thoroughly modern pool house plans, sure, the sky's the limit, but in reality, the best takes on pool house living are the ones with the most flushed out design concepts that are certain to benefit daily life.
While the lighting of the pool house featured above may be a tad too heavy-handed, our interior designers noted that it has probably the best concept of them all thanks to its multi-wing feel that allows for specific activities in a beautifully realized zone. Here, you have ample areas designated for cooking and eating, conversing and lounging, and game playing. And with an open floor plan, everything flows together beautifully. When it comes to your own clever pool house ideas, follow suit and flush out areas that will stylishly house whatever activities you're looking to introduce outdoors.
The Source Of Water Features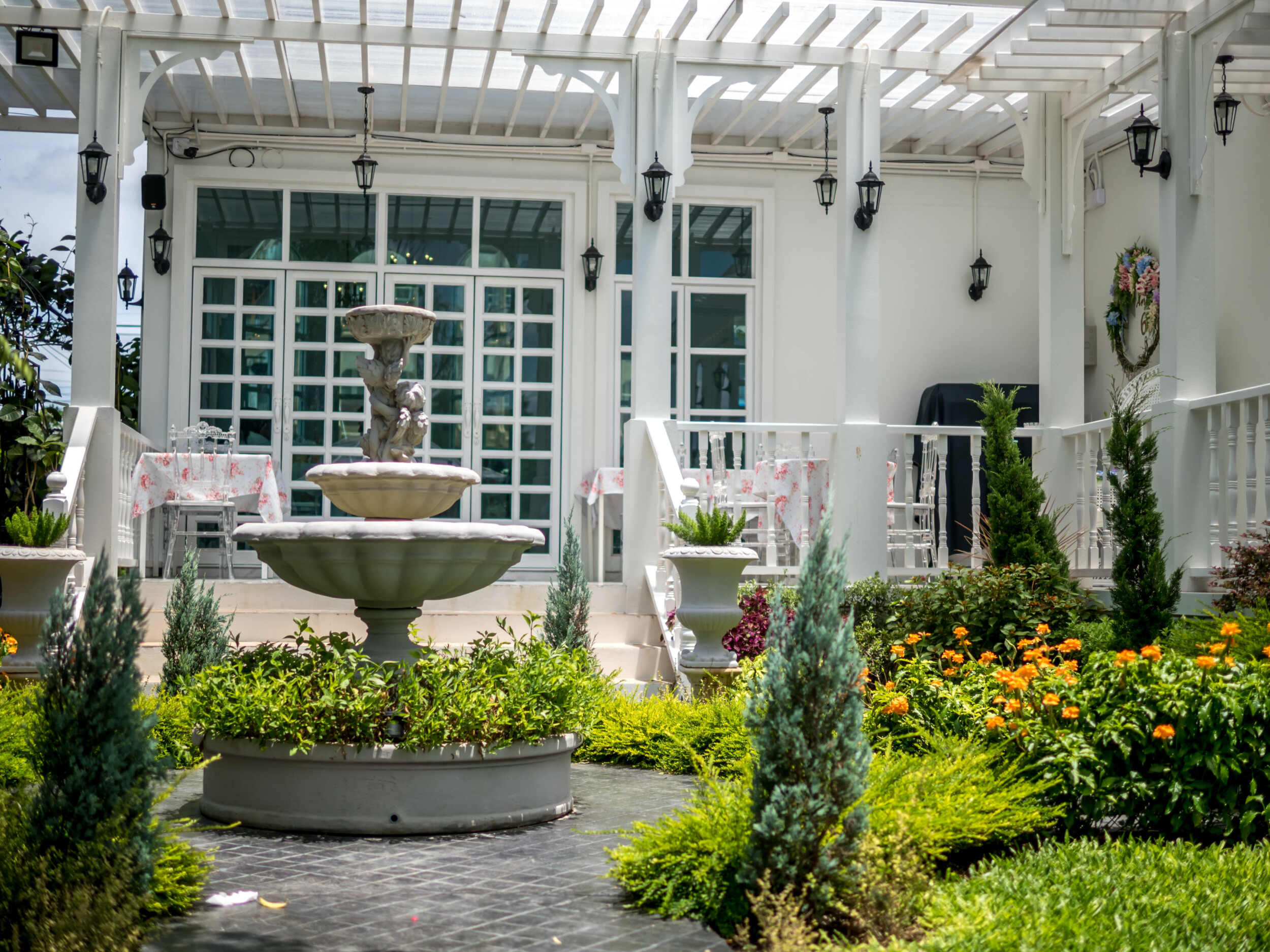 For the ultimate in modern pool house designs, boost the value of your investment by adding in some extraordinary water features that'll keep guests mesmerized by their stunning beauty. To get the look, study historical water feature landmarks for inspiration and explore what kind of features will benefit your everyday life without requiring too much maintenance or overall cost.
Whether you're looking to add pool houses or the ilk like a simple gazebo or pergola, a water feature like a fountain, a spout or a dramatic waterfall are certain to make your backyard and pool house all the more memorable.
A Repurposed Shipping Container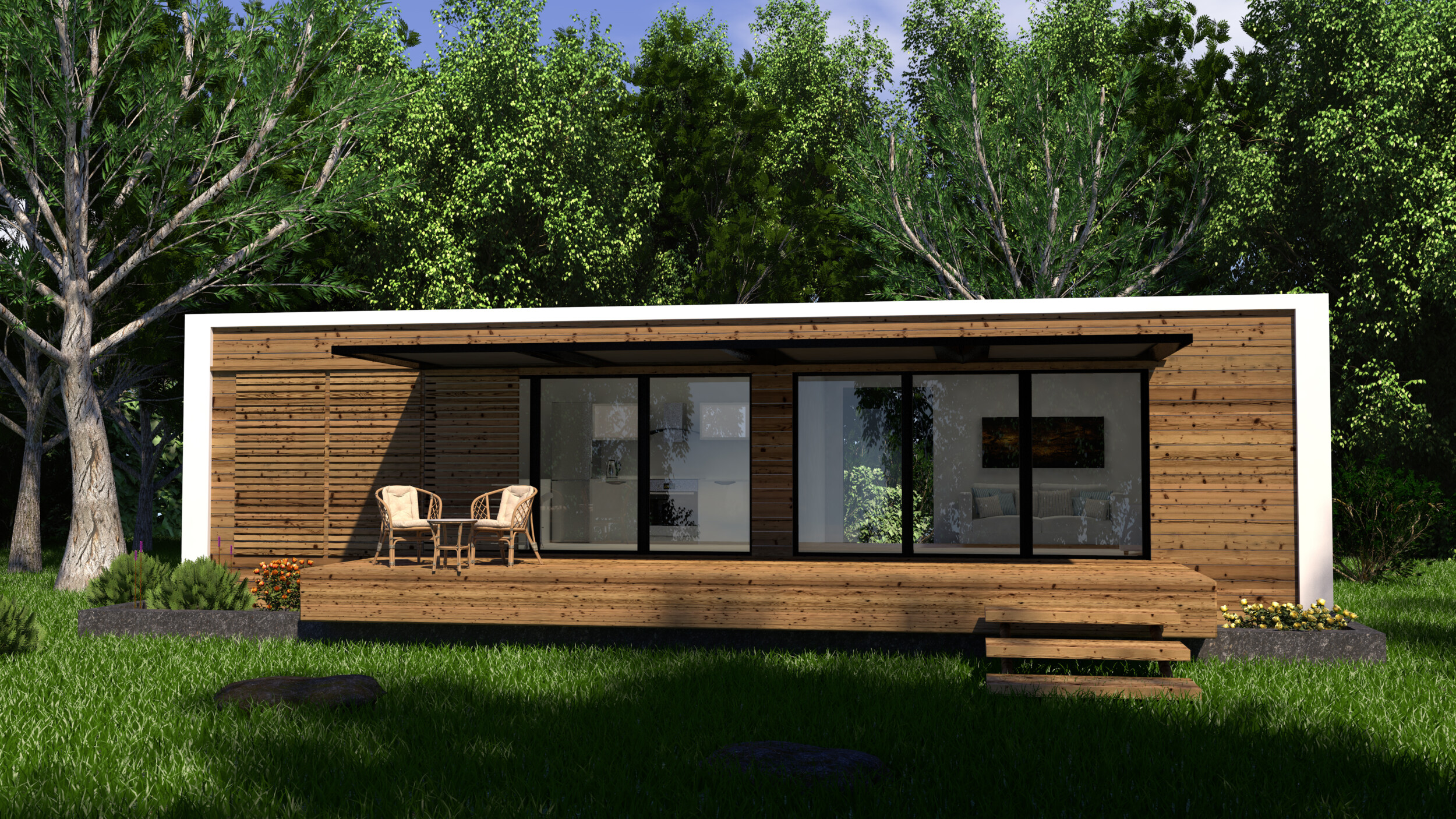 If you're looking for affordable pool house plans that are sure to be unique to your house, why not consider repurposing a shipping container for an ultra-modern take that will leave less of an environmental impact when it comes to installation.
Repurposed shipping container pool house ideas make for a great forward-thinking design addition to even the most traditional of homes, are cheaper to create and construct, are quicker to work with than regular construction services, and best of all, more often than not house an enormous amount of extra space to make your pool house plans large enough to boast guest quarters while doubling as a guest house.
A Petite Pool House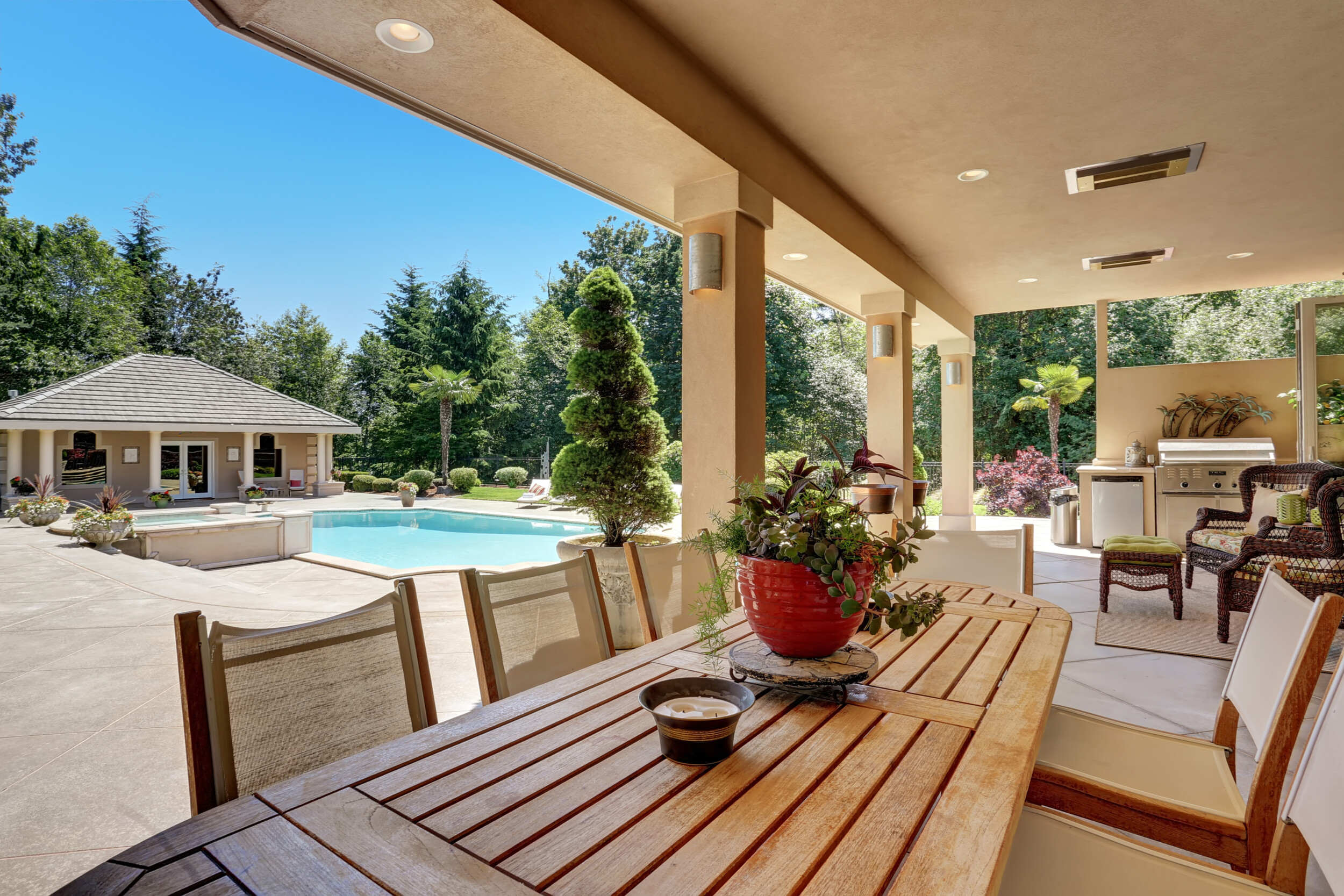 While our team of interior designers finds no merit to the nonstop talk of tiny homes taking over traditional ones, they do make for exceptional pool house designs when working with smaller yard space. Note how the one featured above is just the right size for the scale of the pool it edges while boasting enough space to work as a covered sitting area and guest suite.
Take a cue from it and explore savvy ways to ensure that any style of pool houses work for your yard and home. We also suggest you take note of how the exterior of the pool house mirrors the rest of the main house as well the walkway circling the pool for a consistent look that in total, makes everything appear much more larger than it is, while remaining sophisticated to boot.
Flanked By Pergolas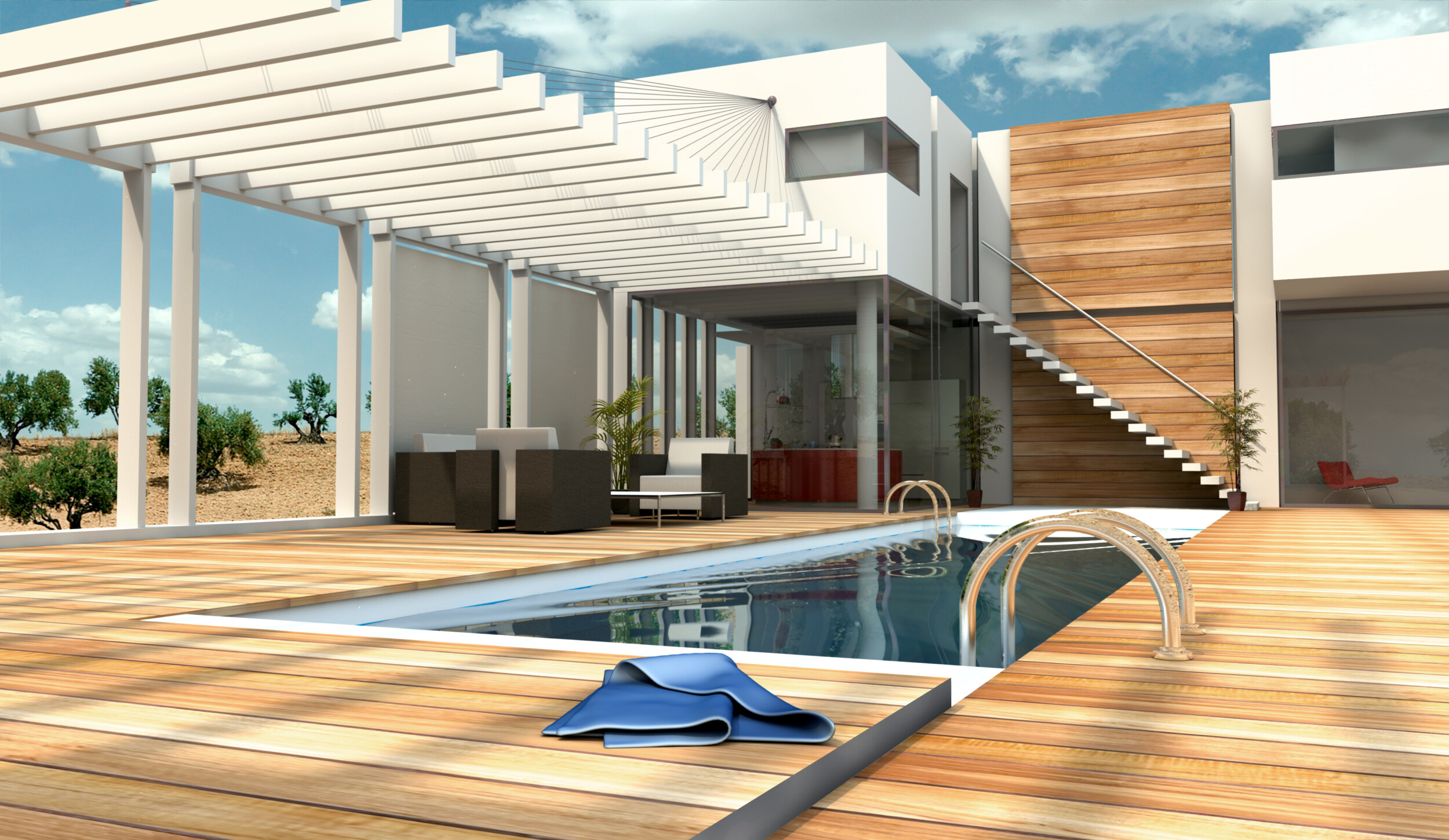 If you're looking for stylish pool house plans that have an air of romantic, old-world everyday elegance, adding a pergola or two is sure to make all the difference visually.
By adding two pergolas to your small pool house designs, you'll instantly add needed symmetry while creating the perfect area to bring in overhead vines for a true nod to the glamor of the Mediterranean.