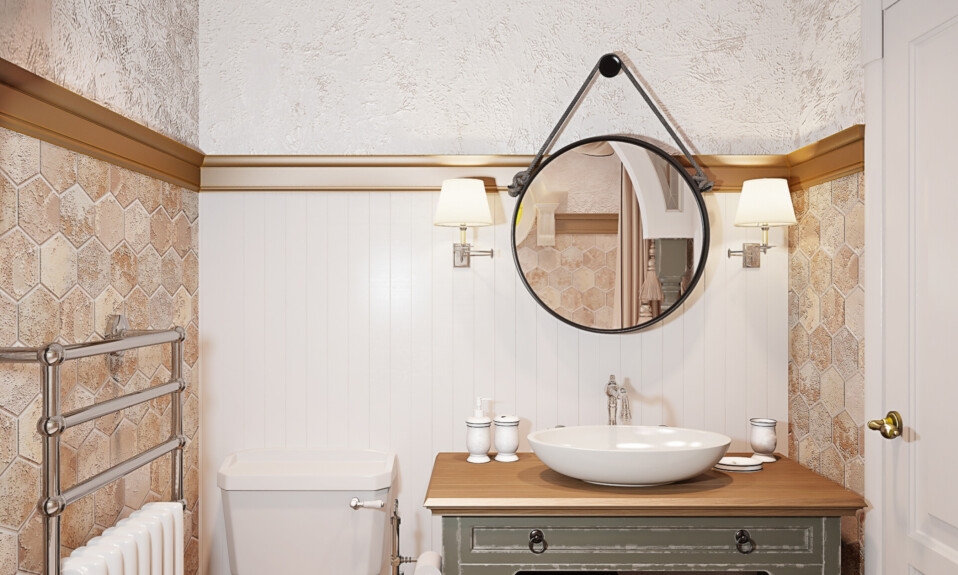 A warm and inviting rustic spirit never goes out of style thanks to its distinct charm and timeless appeal, but how do you get the look right in an otherwise small and challenging space – like your bathroom? As when it comes to rustic bathroom ideas, there's a surefire way to master the design style that's easier than you think.
To help you bring in rustic bathroom decor, we tapped Décor Aid interior designers for advice and inspiration to help you turn your bathroom into a rustic oasis with confidence. From rustic vanities to affordable bathroom accessories that'll evoke idyllic notes, here's everything you need to know to nail the look for your next bathroom makeover.
Sweet Symmetry

If you've got a completely modern home to work with, that doesn't mean you can't inject a dose of the rustic in it without it coming off as random or ill-informed. It can be the complete opposite in fact, when it comes to rustic bathroom ideas.
The key to remember is that bathrooms are often the smallest rooms in any home, and since they are so, you can go for unexpected design directions that won't throw off the direction of the rest of your home. To make it work, think about adding just a few rustic notes in your bathroom and stick to symmetry to keep the look minimal and endlessly pleasing to the eye.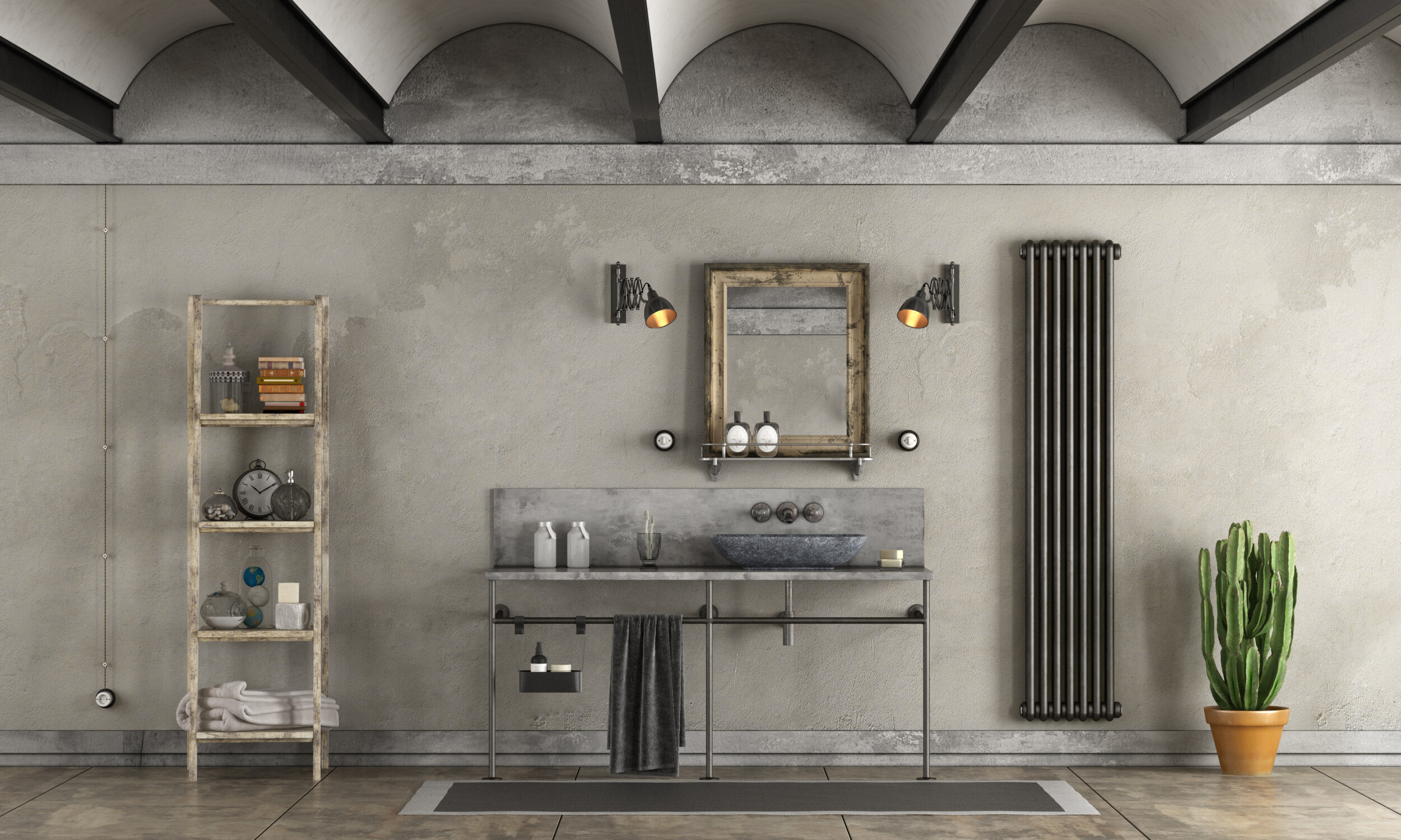 Clawfoot Tub

Because nothing evokes the romance of chic country living more than a glamorous clawfoot bathtub, our renovation experts were quick to point out that they should be considered an essential investment when looking into rustic bathroom ideas.
And since they are classic and increasingly rare, they'll also never go out of style while increasing the value of your property.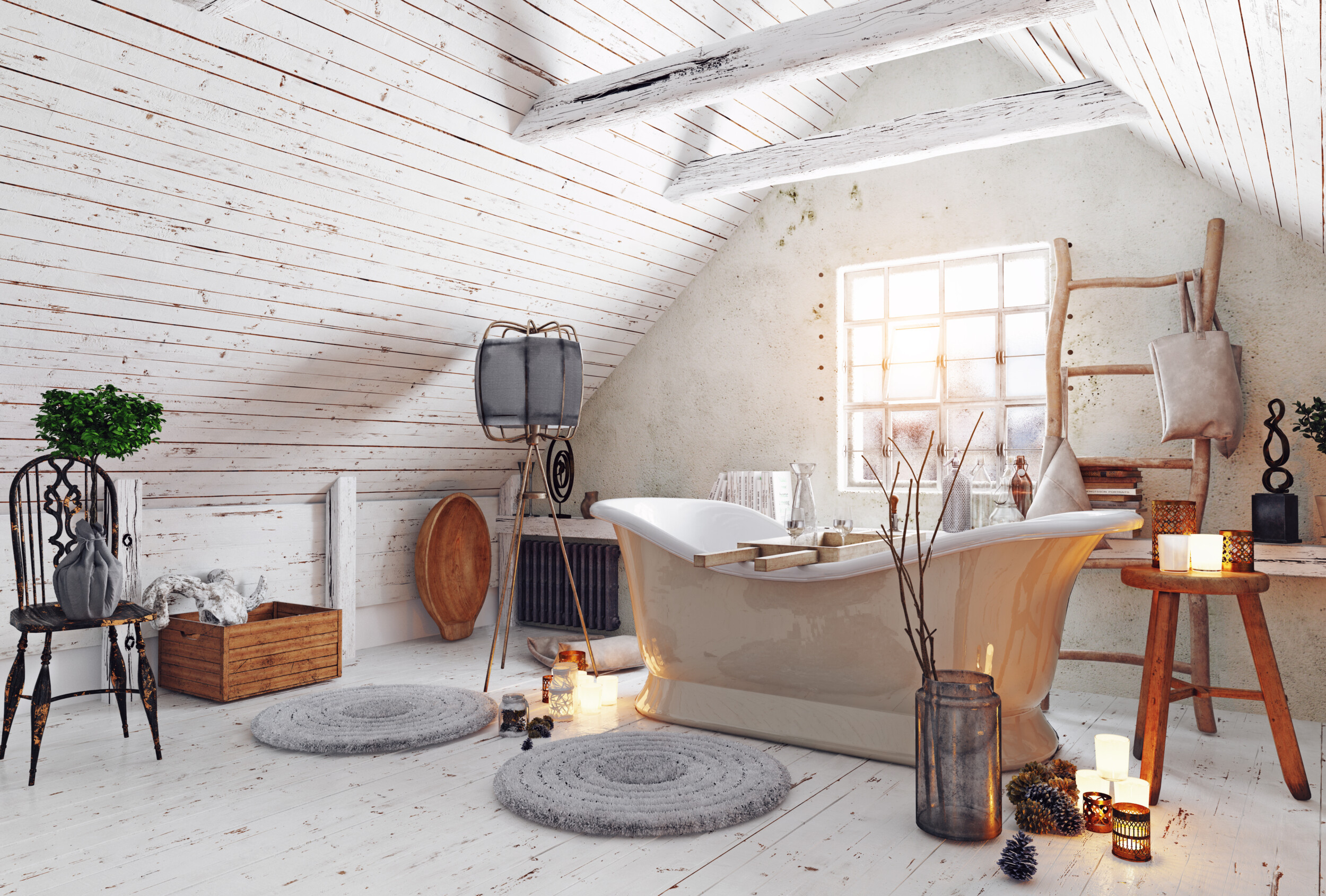 Black And White Rustic Bathroom Ideas

Just because you're looking into bringing in a rustic spirit in your bathroom doesn't mean that you'll be finding yourself stuck with predictable colorways.
Instead, like when decorating any room, go for what instinctively feels right to you. And when it comes to timeless bathroom styling ideas, an almost all white approach will keep things modern and fuss-free. We especially love how fresh the bathroom featured above looks thanks to its elegant black and white flooring that'll never go out of style while it works to highlight the rustic bathroom vanity beautifully. And as you can see, again, symmetry and clean lines make for a clever way to make even the most random of finds work together harmoniously.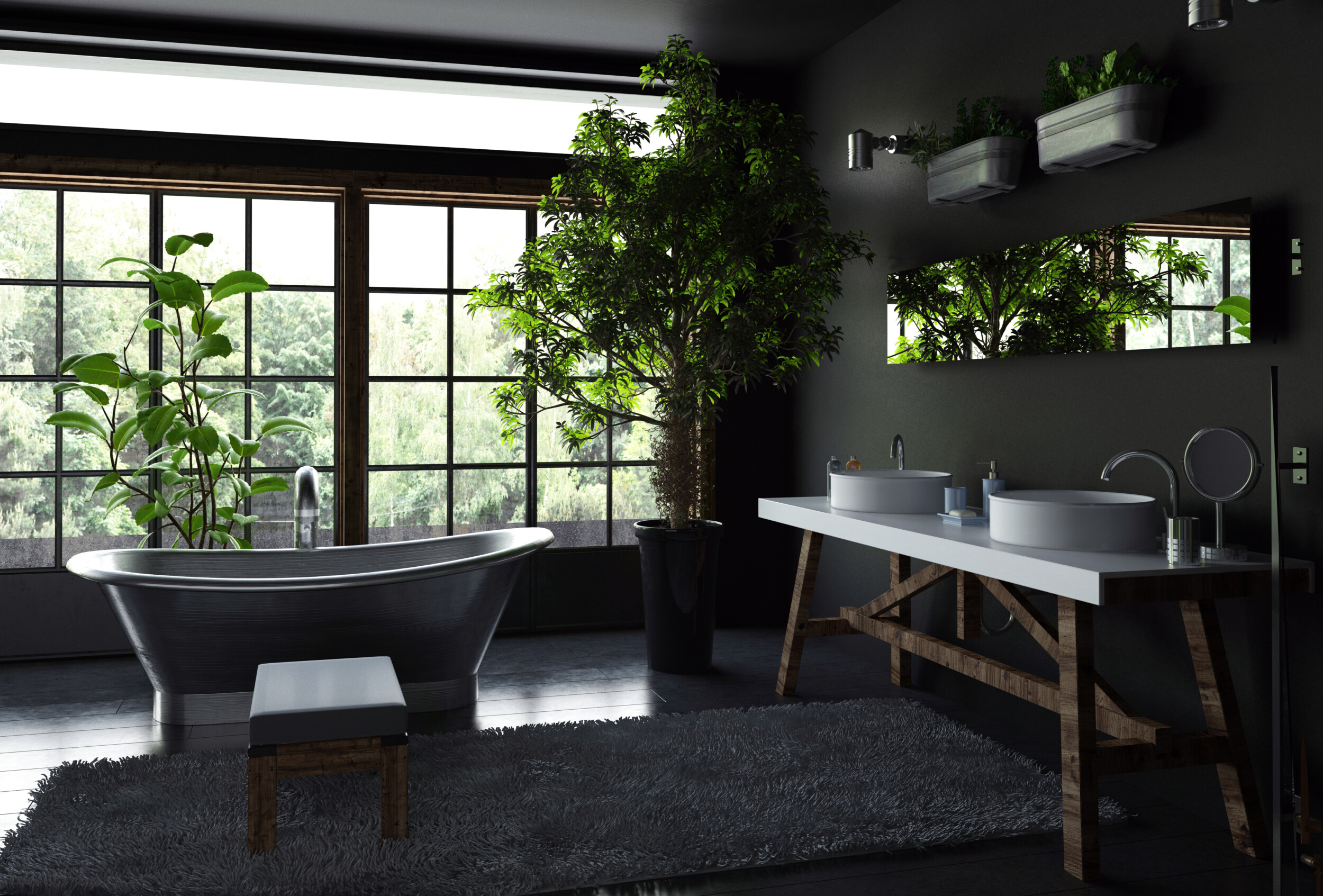 A Minimal Spirit

Though you may be looking into rustic bathroom ideas, keep in mind that it only takes a few elements to properly evoke the design style – meaning that you don't have to go full on into themed territory.
On the contrary, we suggest sticking with a clean and serene look to get longer wear from your rustic inspiration. By doing so, you won't tire from it as fast as you would from say, a floor to ceiling take on rustic bathroom ideas. Keep it simple and sparse, timeless and elegant.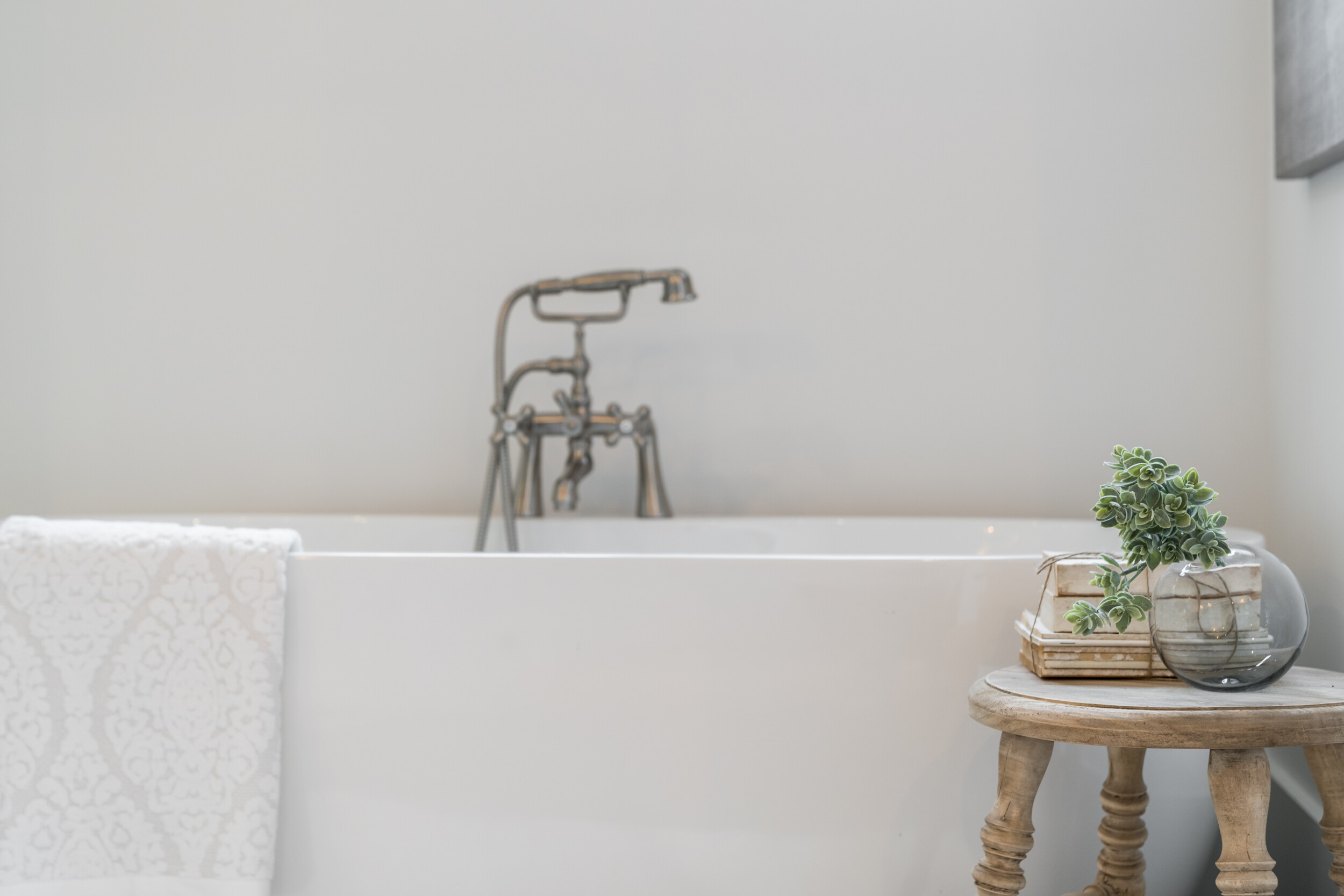 A Unique Mirror

To punctuate rustic bathroom decor, an affordable and easy to source mirror can do unbelievable wonders instantly. Note how the mirror above boasts a classic silhouette, yet its tarnished metal frame gives it a timeworn edge that completely channels a rustic spirit with ease.
Even in a thoroughly modern bathroom, a rustic mirror like the one above can work as a source of juxtaposition to bring in spirited country charm.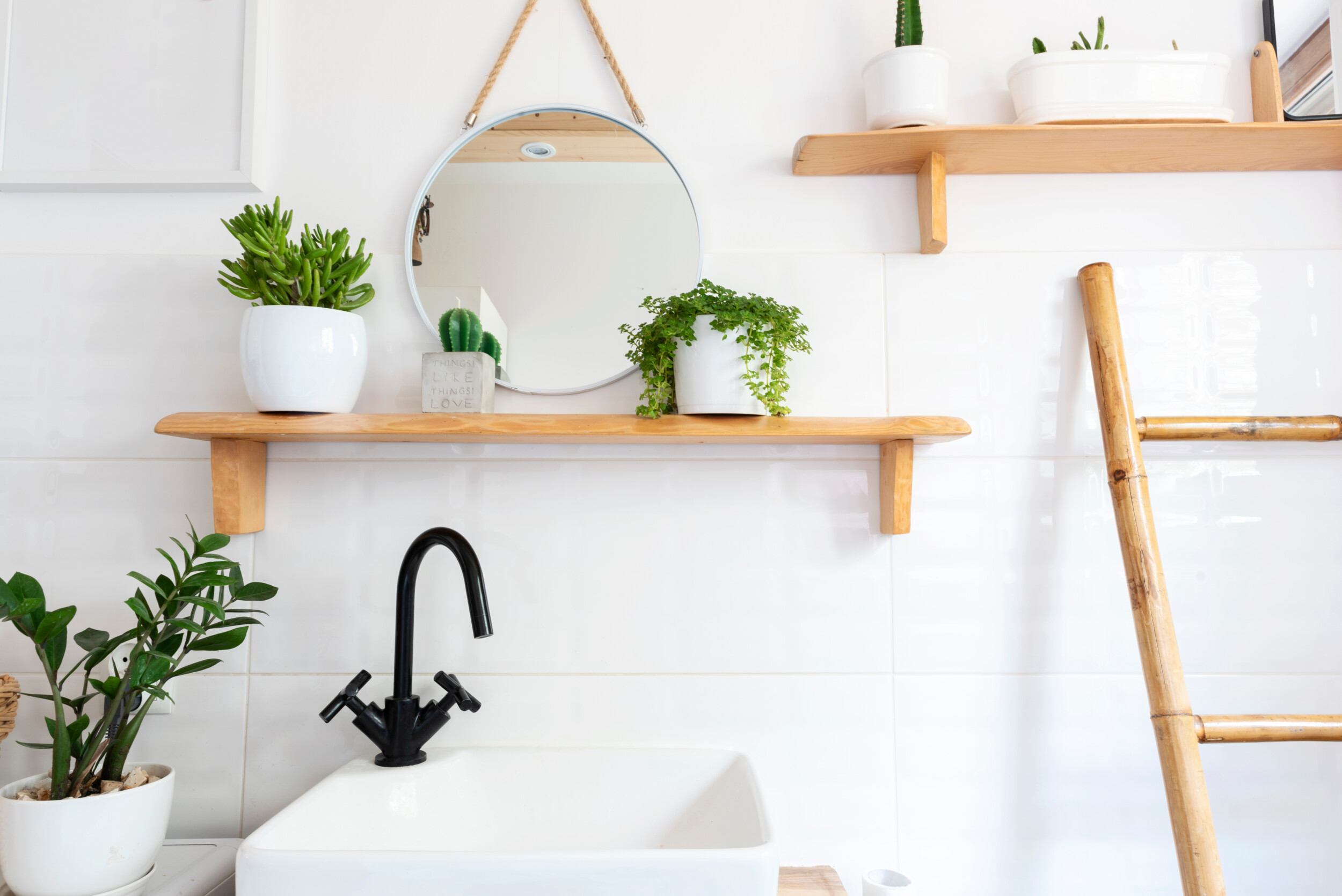 Open Wood Shelving
Open wood shelving is a stylish way of adding some extra storage to your bathroom, in an enviable warm and rustic manner. It's a casual storage option for a rustic bathroom and it's a great way to store your towels so they are within easy reach.
Open shelving units are also something you can easily and affordably build and install on your own, even if you aren't the most skilled carpenter in town. To get the look right, all you need to do is to get ahold of charming aged wooden planks and wrought iron brackets to secure them to lend the space the feel of beautifully realized, rustic bathroom decor.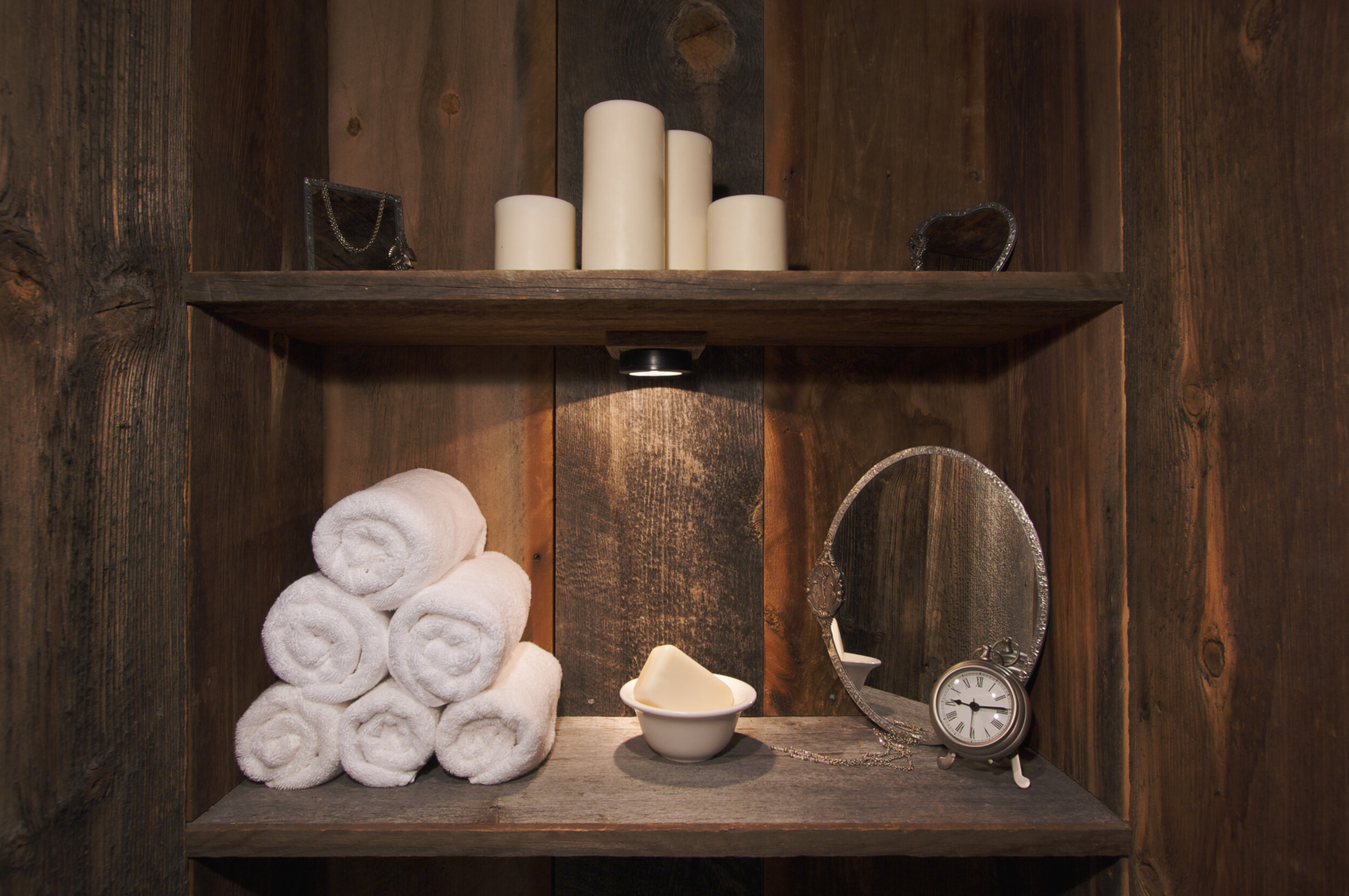 Wood-Framed Mirror
Every bathroom needs a mirror, and when you are creating a rustic bathroom, we suggest opting for a wood framed mirror to complete the look. Look for a timeworn bathroom mirror that looks as if it has a story to tell – rustic, aged wood is perfect for evoking this.
There are plenty of wood-framed mirrors available at affordable prices to be found, but if you are struggling to get your hands on one which is in keeping with your rustic bathroom decor, our interior designers often find stylish and unique ones at local antique shops for something a little more offbeat in spirit. But if you've got a flexible budget to work with, we love how the bathroom wall above was outfitted with an accent wall boasting planks of raw wood to really emphasize a rustic sensibility.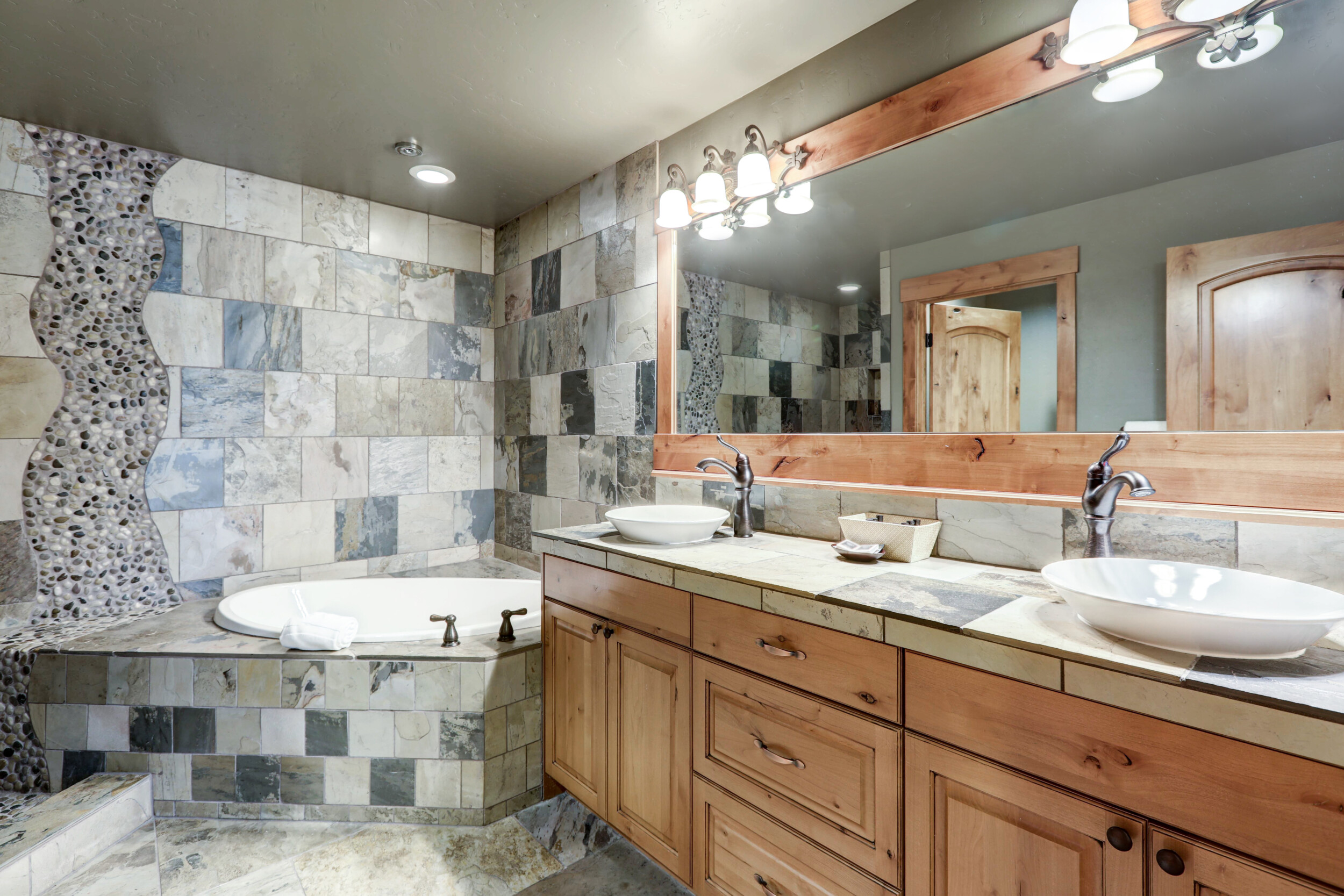 Rustic Bathroom Vanity
A rustic bathroom vanity will top off the look of your rustic bathroom in an instant – bringing your entire bathroom together seamlessly. Rustic bathroom vanities can be painted in white and cream, even a light blue, green or gray if you want a more modern, unexpected color.
For something a bit more authentically rustic, go for an aged wood or stripped wood look as rustic bathroom vanities like these are certain to add a sense of pleasing charm to your rustic bathroom decor.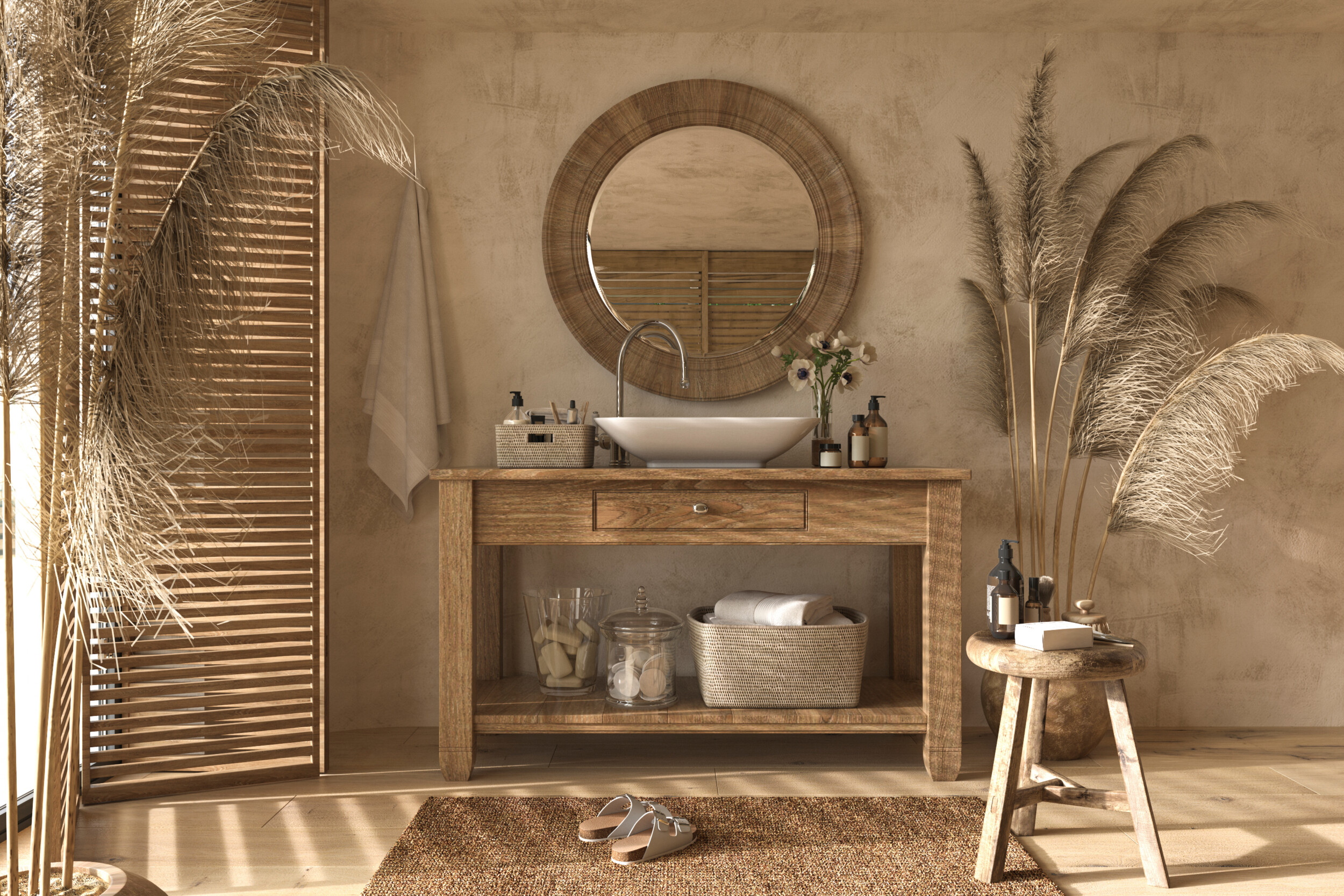 Barn Door
The perfect way to set the tone for a memorable rustic bathroom is with the entrance, and in a bathroom this means the door. Switching out your current bathroom door for a barn-style door is the perfect way to set the tone before anyone even enters.
Not only will a barn door add an extra level of elegance to rustic bathroom decor, but it will also add needed warmth and a sense of the unexpected that you can only get by thinking outside of the box for unusual notes. Plus, it makes for a playful idea that you aren't going to see in anyone else's home. The key here is to look for modern and minimal sliders and hardware to not come off as too literal.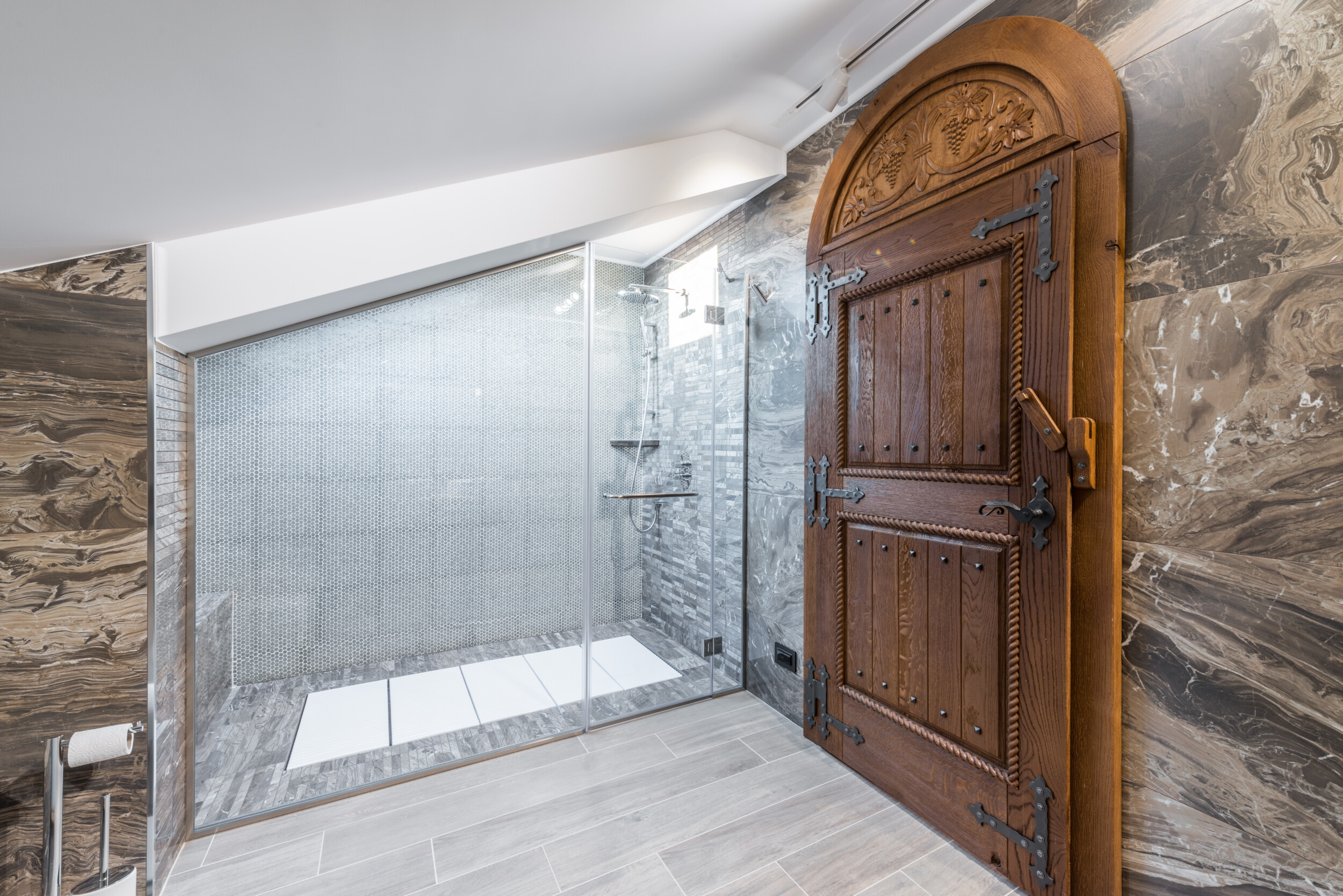 Floral Accents
What is it about florals that add an extra touch of country spirit to any room? If you are looking to create the perfect rustic bathroom, you can't forget the finishing touches. A rustic design isn't all about being modern and minimal, touches of femininity can be added here and there to create a truly inviting feel.
Whether that's via a floral wallpaper on one wall, a floral mural on another wall, or fresh cut bathroom flowers by the sink, we think that a rustic bathroom comes into its own when it's afforded some cozy touches like this.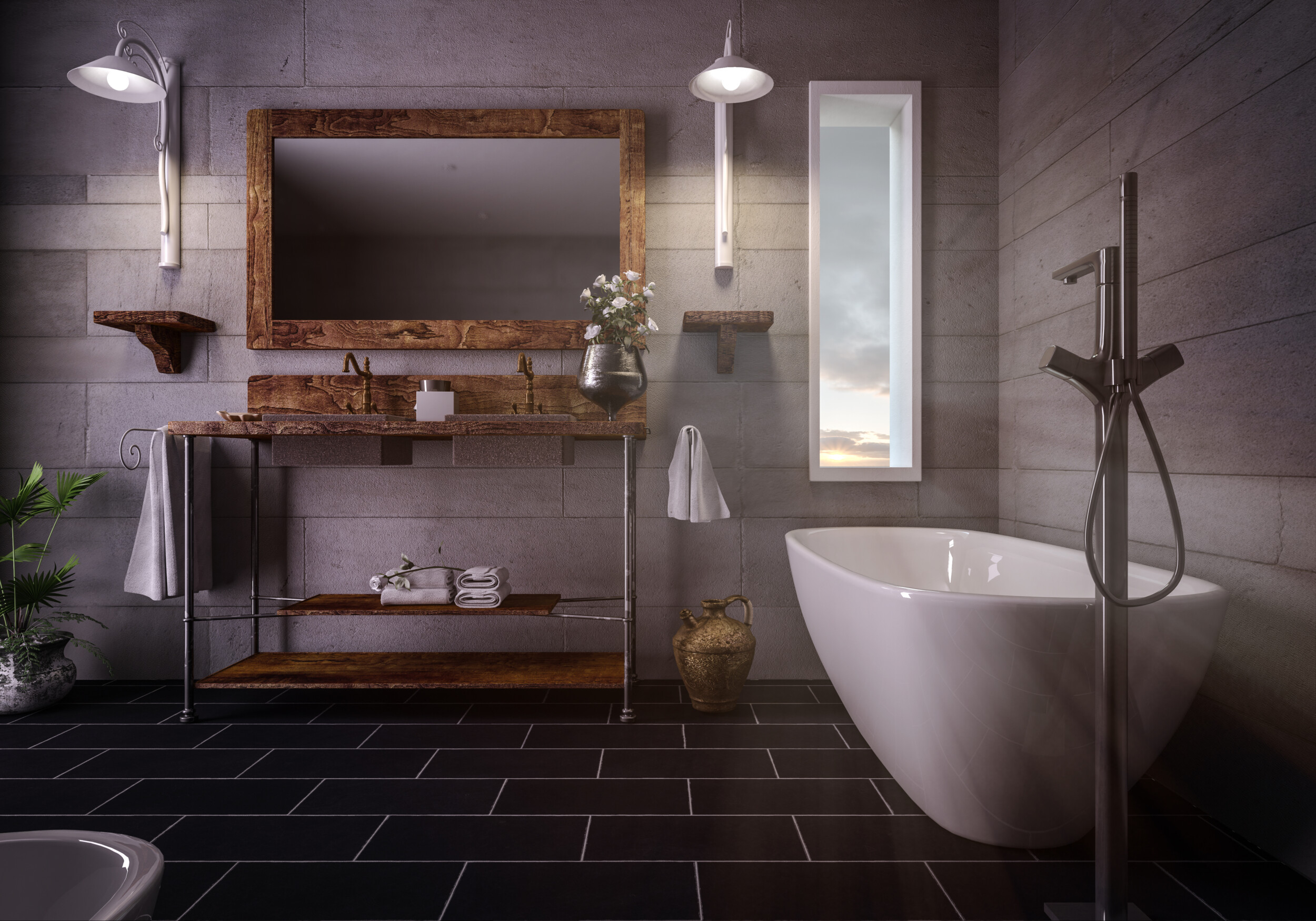 Shiplap
You may have always thought of shiplap as an outdoor material, used only for cladding the external walls of your home. Well, think again, because shiplap makes for a perfectly affordable way to lend your bathroom a spirited rustic feel. Rustic bathroom decor doesn't have to be overstated and obvious, you can choose a white option which gives you a hint of luxury that will look stunning behind rustic bathroom vanities made out of wood.
If you want to go for even more of a country feel, then choose a treated wood in a warm tone; perfect for rustic cabin bathroom ideas, as you will feel like you have just walked into a logger's cabin in the forest.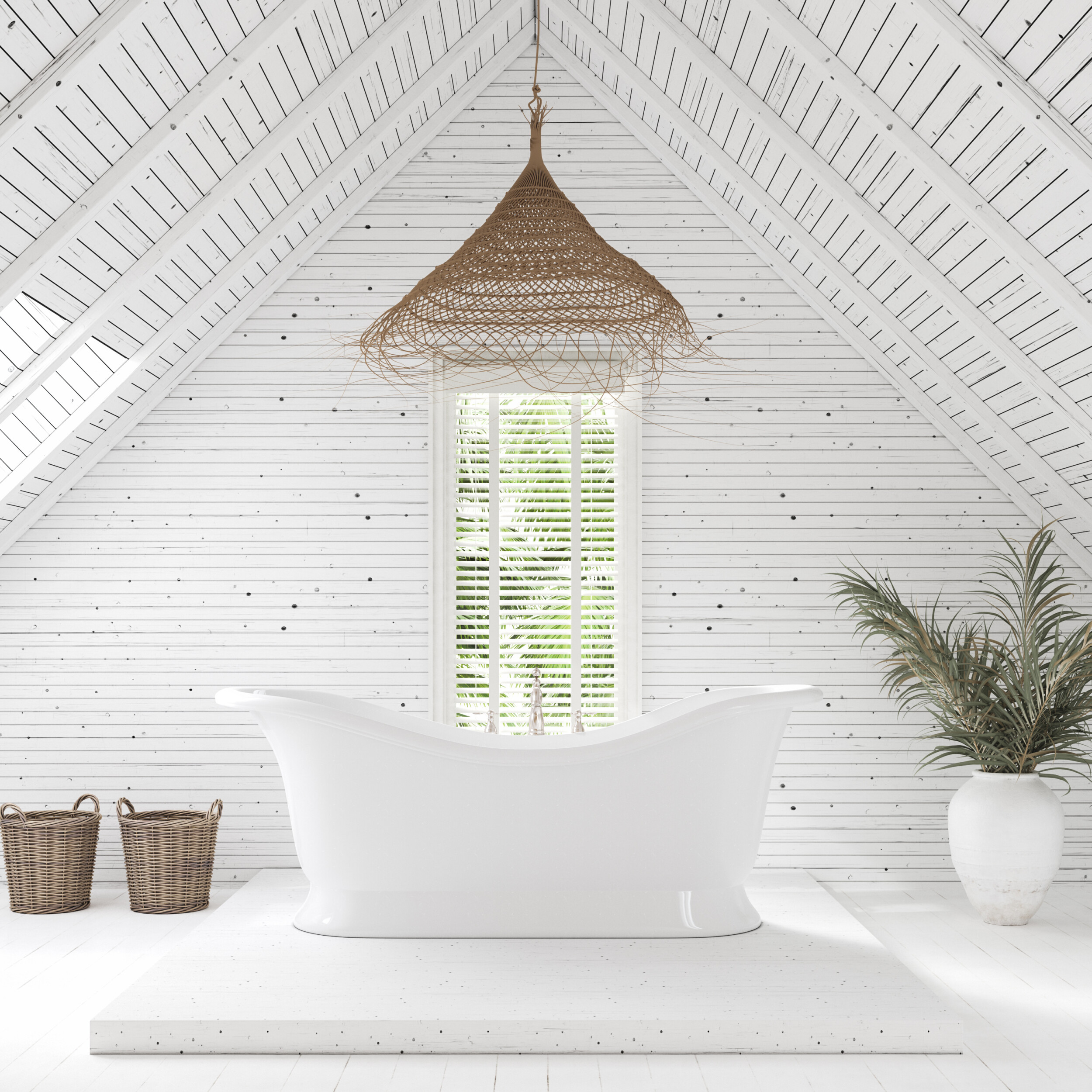 Converted Vanities
What better way to add some charm to your bathroom than with rustic bathroom vanities? A clever way to do this is to convert something with some rustic charm to it into a unique vanity.
We've seen old fashioned dressers converted into vanities, along with barrels and pallets and plenty of rustic, timeworn hardware being used for handles and fixtures and fittings. Ideas like this make your space one of a kind and where better to show off your creative skills than when dreaming up your own rustic bathroom.
DIY Rustic Shower Curtain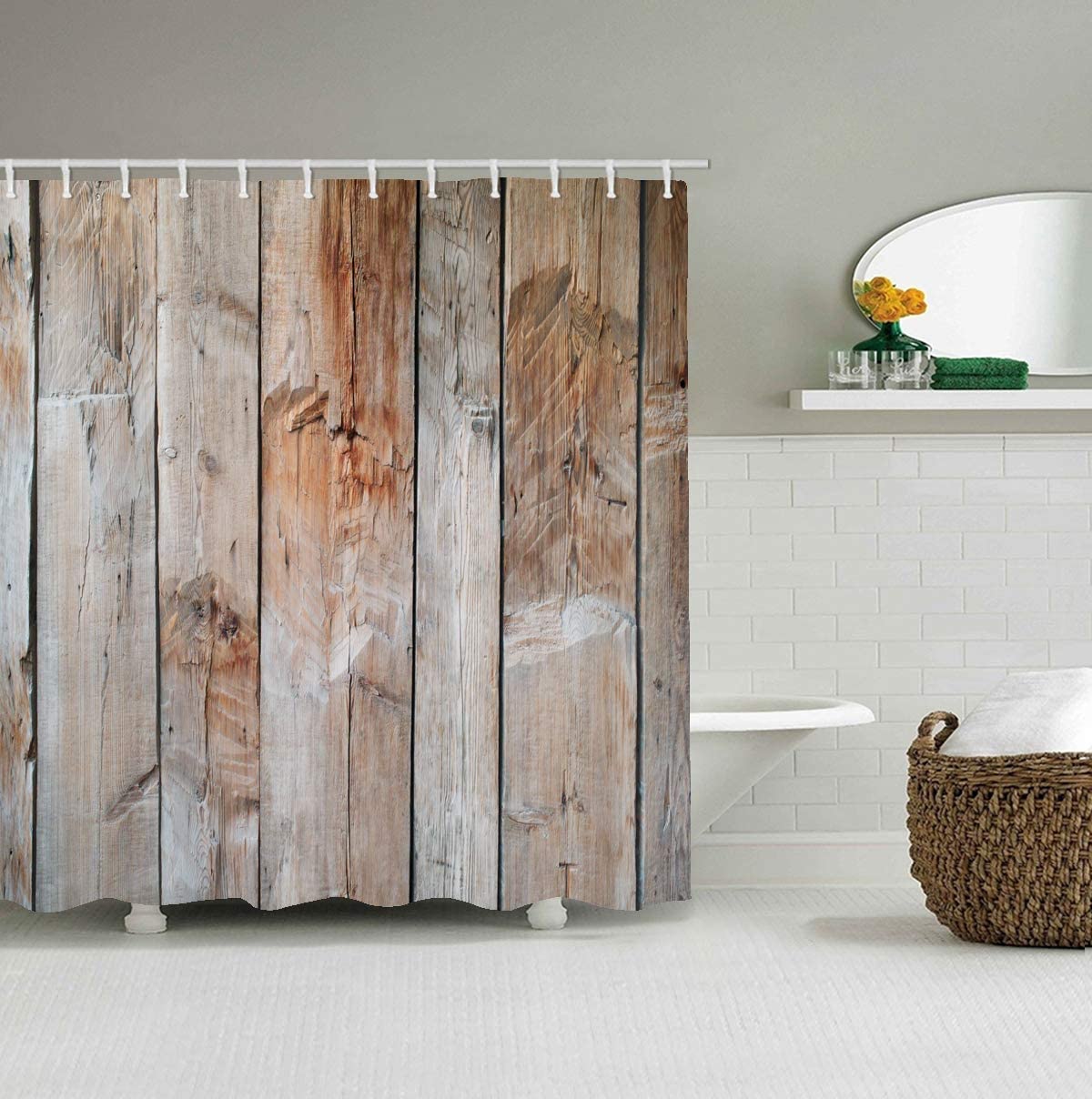 A shower curtain printed to look like a barn door might not be your style, but if you are looking for something more personal, then creating your own custom printed shower curtain is a great and affordable way to master the look. Finding a design you like on a waterproof fabric can be tricky, as vinyl and polyester don't always offer you the best, desirable options.
Choose a fabric that you love, like a deep red check and back it in a waterproof fabric to protect it from daily moisture and use. From there, you can create your very own rustic shower curtain that will be in keeping with the spirit of your rustic bathroom.
Plank Shelves
Open shelving in a bathroom is a great way to display your bathroom accessories and must-have's alike. Rough, industrial wood is a great choice when you are considering stylish rustic bathroom ideas – you'll feel just like you are bathing in a cabin in the woods.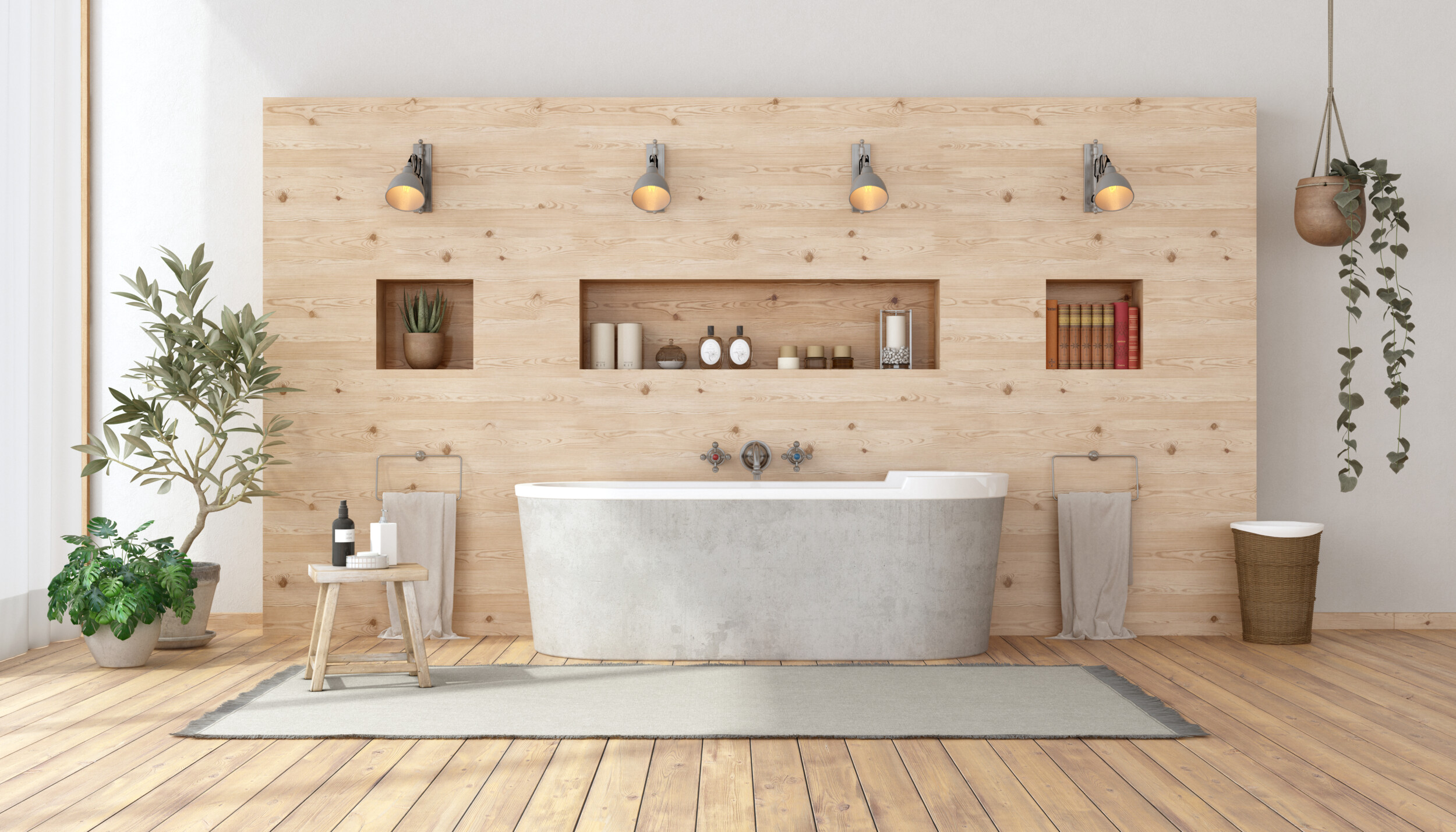 Choose some vintage or vintage-inspired metal brackets to install your shelving against the wall with, as anything too modern could run the risk of looking off.
Ceiling Cladding
We often forget about the ceiling as a part of a room that can be used as an important element of your design. Don't let your rustic bathroom ideas stop at the walls, as rustic bathroom ceiling ideas can be a great way to introduce the organic in even the most modern of homes.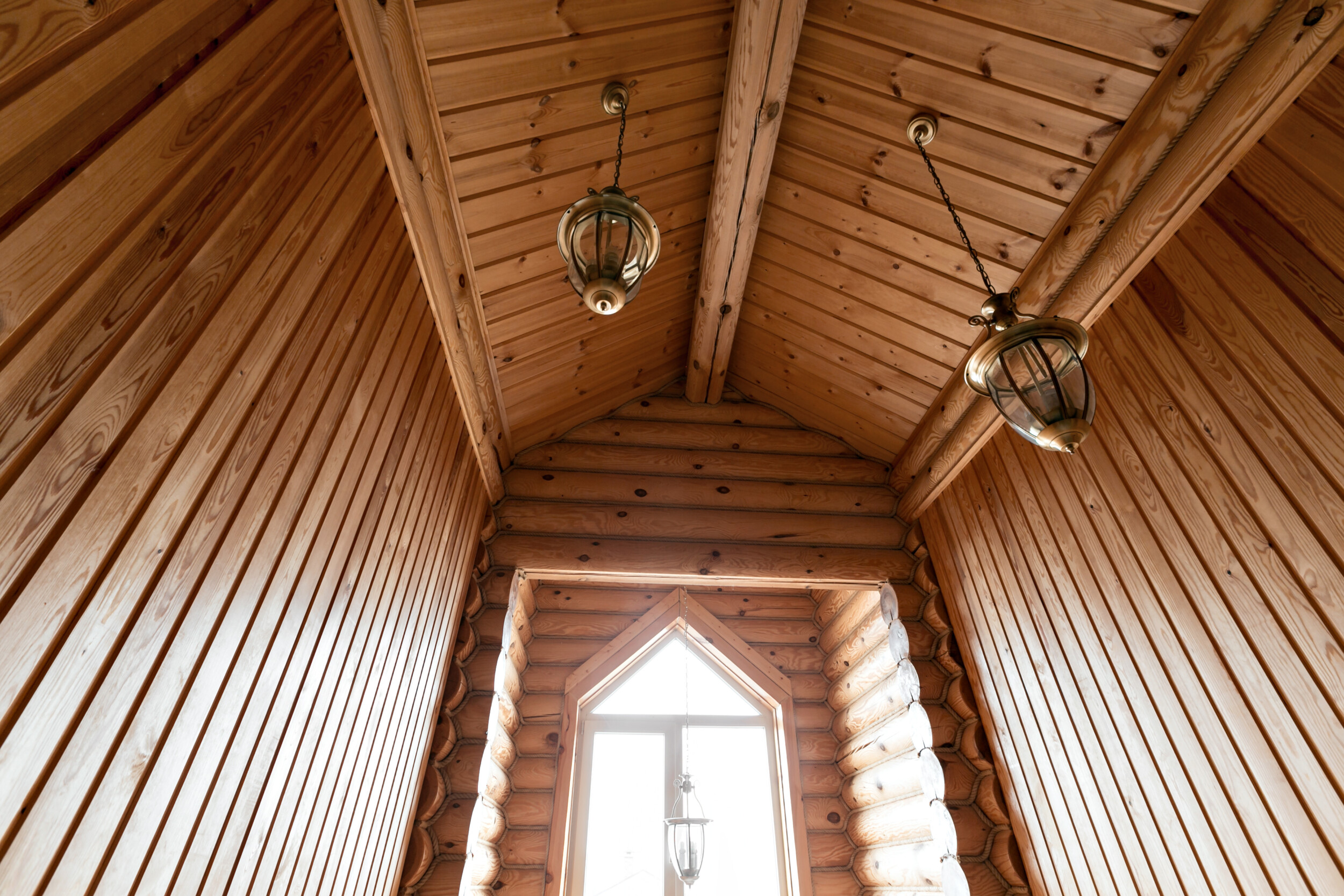 Create a completely rustic bathroom by cladding the ceiling as well, so your entire bathroom will give off that rustic, cabin-like feel, from top to bottom. White cladding will give you a more modern look with a hint of the nautical about it, whereas wood will give you a completely traditional, classic feel.
Basket Storage
Basket storage is a charming and cost-effective way of adding extra storage and organic details to your rustic bathroom. You can choose from wicker, woven, wire or even cleverly formed plastic (if you want something more durable) for your storage baskets and any number of different basket liners to top off the look(especially great when you go for gingham).
Chic storage baskets can be used to store toiletries, towels, linens, and necessities in a stylish manner, turning your rustic bathroom into a well-judged and organized space.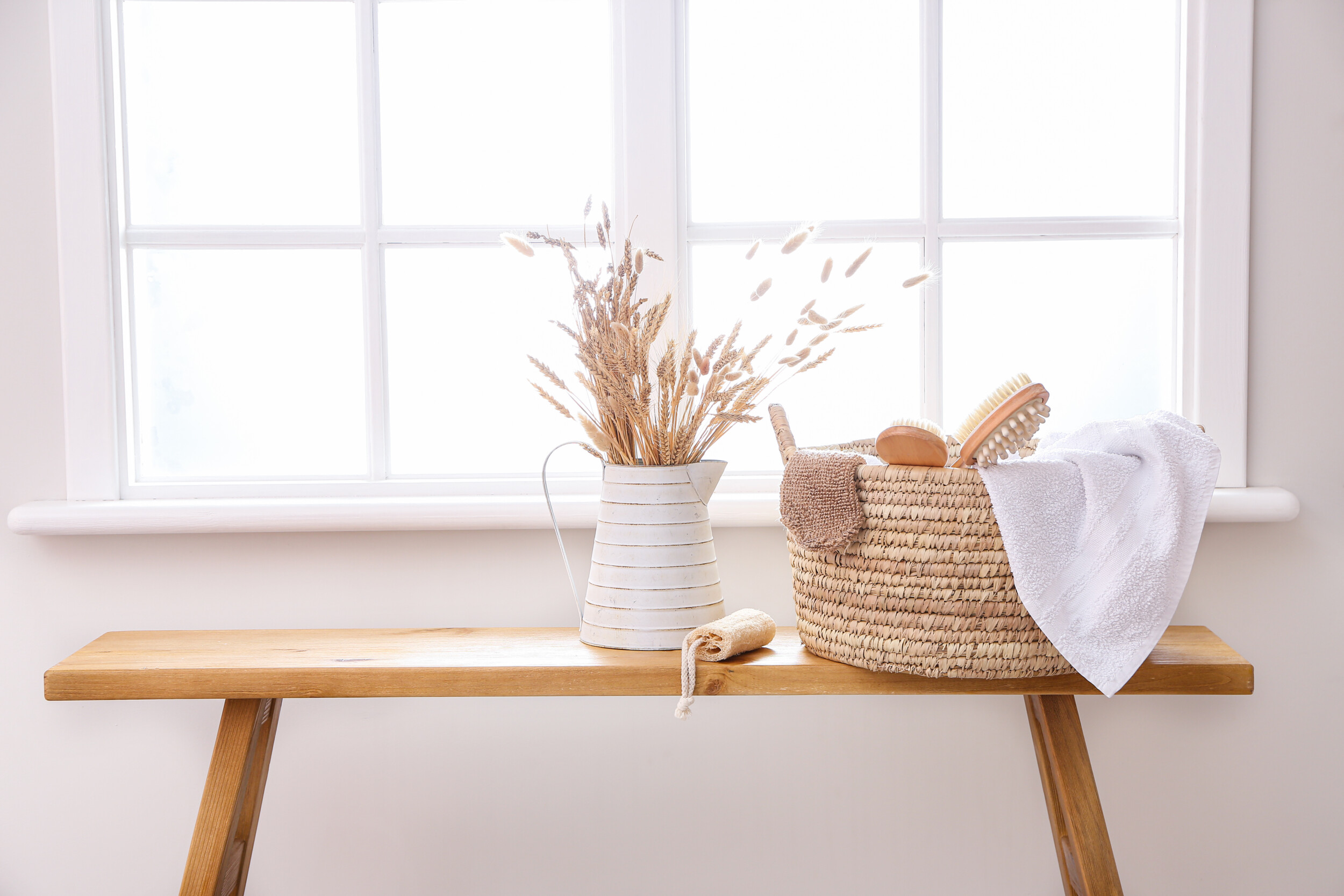 Glass Storage Jars
Glass storage jars are also a clever way to store bathroom products like soaps, bath salts, and cotton pads. They'll make your rustic bathroom feel all the more charming and quaint and will add a comforting and familiar touch to the space.
Choose mismatched jars and jars in different styles to achieve a thoroughly rustic look.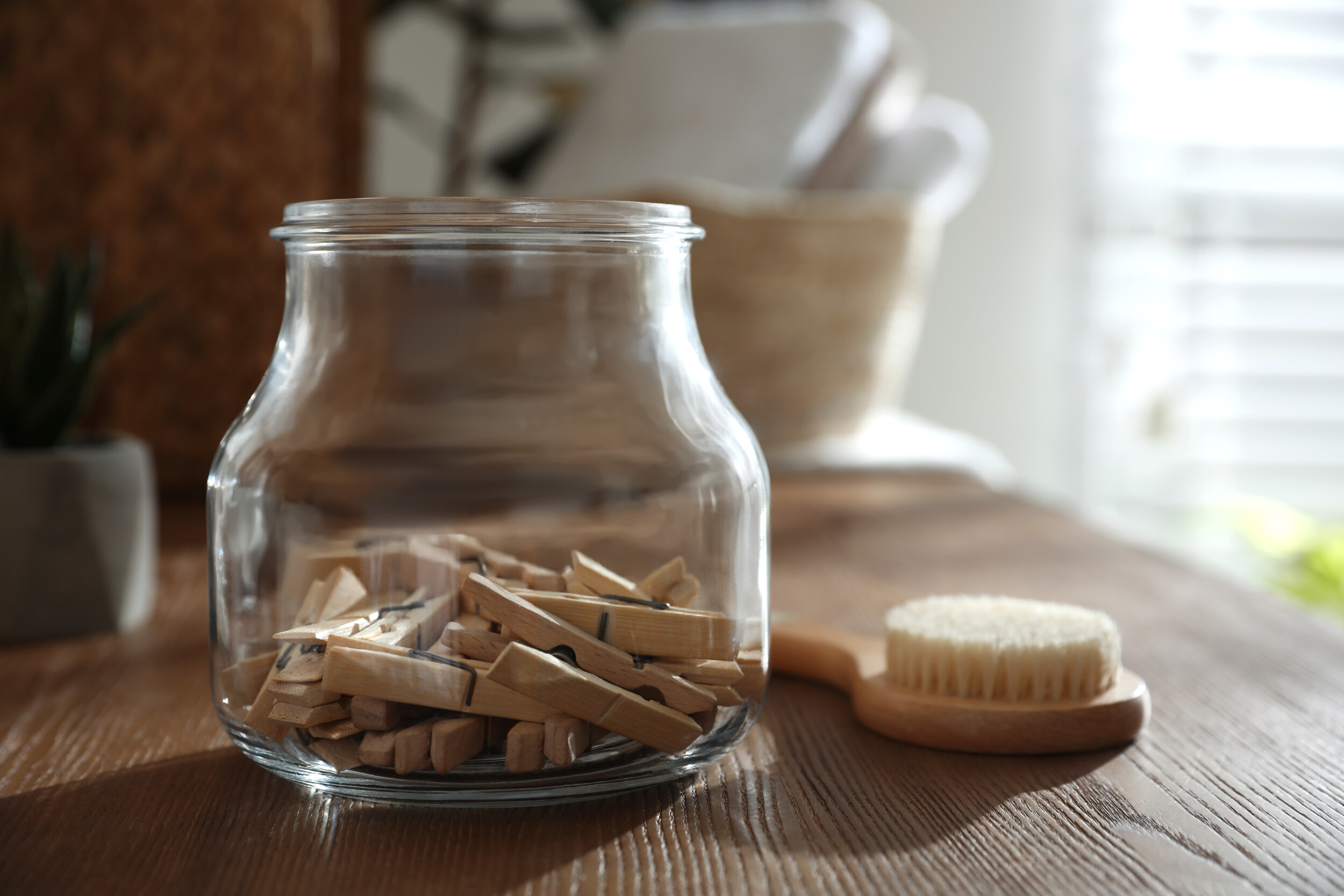 Exposed Brick
We love the idea of exposed brick in a rustic bathroom and we think this makes for a more up to date take on 'rustic'. Exposing the brick in this manner creates the feeling of a bare and minimal space and adds a distinct feature to your bathroom as well. If you don't have the means of exposing bricks in your bathroom, then wallpaper can make for a great alternative.
You can some very convincing trompe l'oeil wallpaper printed to look just like exposed brick – perfect for modern rustic bathroom ideas and accent walls alike.