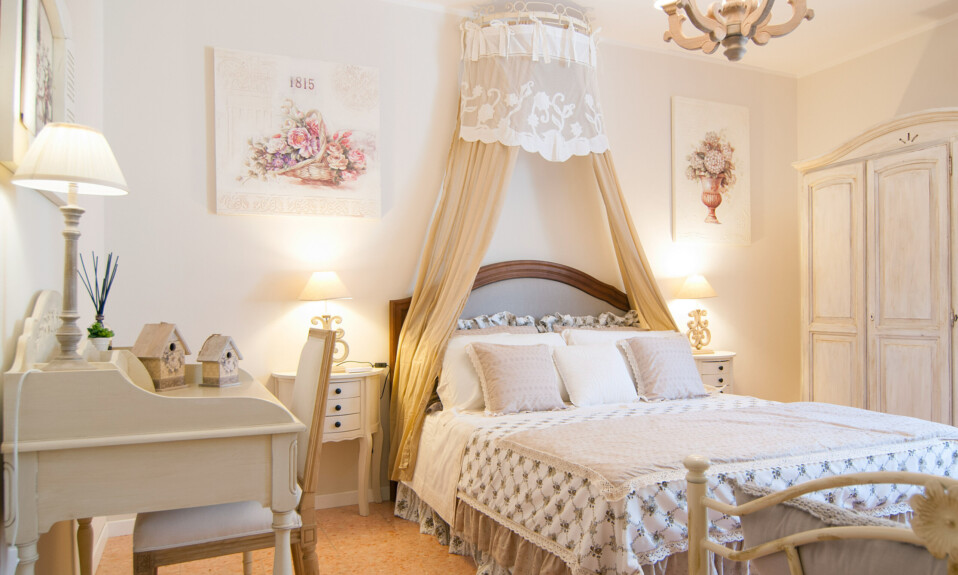 In the past decades, the decorative term 'shabby chic' was used commonly as a go-to when considering trendy bedroom styles for households across the country while evoking a casual feel with subtle feminine notes. However as the years rolled by and design trends came and left, shabby chic styling became less viable among the plethora of more modern design options available and it went out of favor for looks that placed focus on Mid-Century modern decor.
But today, thanks to a return to distressed furnishings the design style is back in vogue, and the shabby chic look is trending once again albeit in a more minimal way. Although it has undergone several transformations to reflect modern tastes and decor styles, the warm and comforting look of the design style remains the same in feel for a look that's universally appealing and more gender-neutral. So if you are on the hunt for fresh shabby chic bedroom ideas for your home, you'll be sure to find inspiration from this comprehensive list of shabby chic style ideas and suggestions culled from Décor Aid senior interior designers.
Perhaps, you already have a grasp on what shabby chic style is and need unique decorating ideas and styling cues that will get your creative juices flowing; you have come to the right place. If you are working with a low budget, the ideas revealed here could also help you create some affordable DIY projects to make the look your own without having to spend a small fortune. And if you love floral prints, whitewashed furnishings, vintage pieces, and the look of French country interior design elements, then you'll find inspiration with these shabby chic bedroom ideas no matter your style and sense of decor. Here, you will find bedroom decoration style and ideas that will add more character to your shabby chic bedroom without having to spend a fortune or take too much of your time. Without further adieu, these are the best shabby chic bedroom ideas on a budget.
The headboard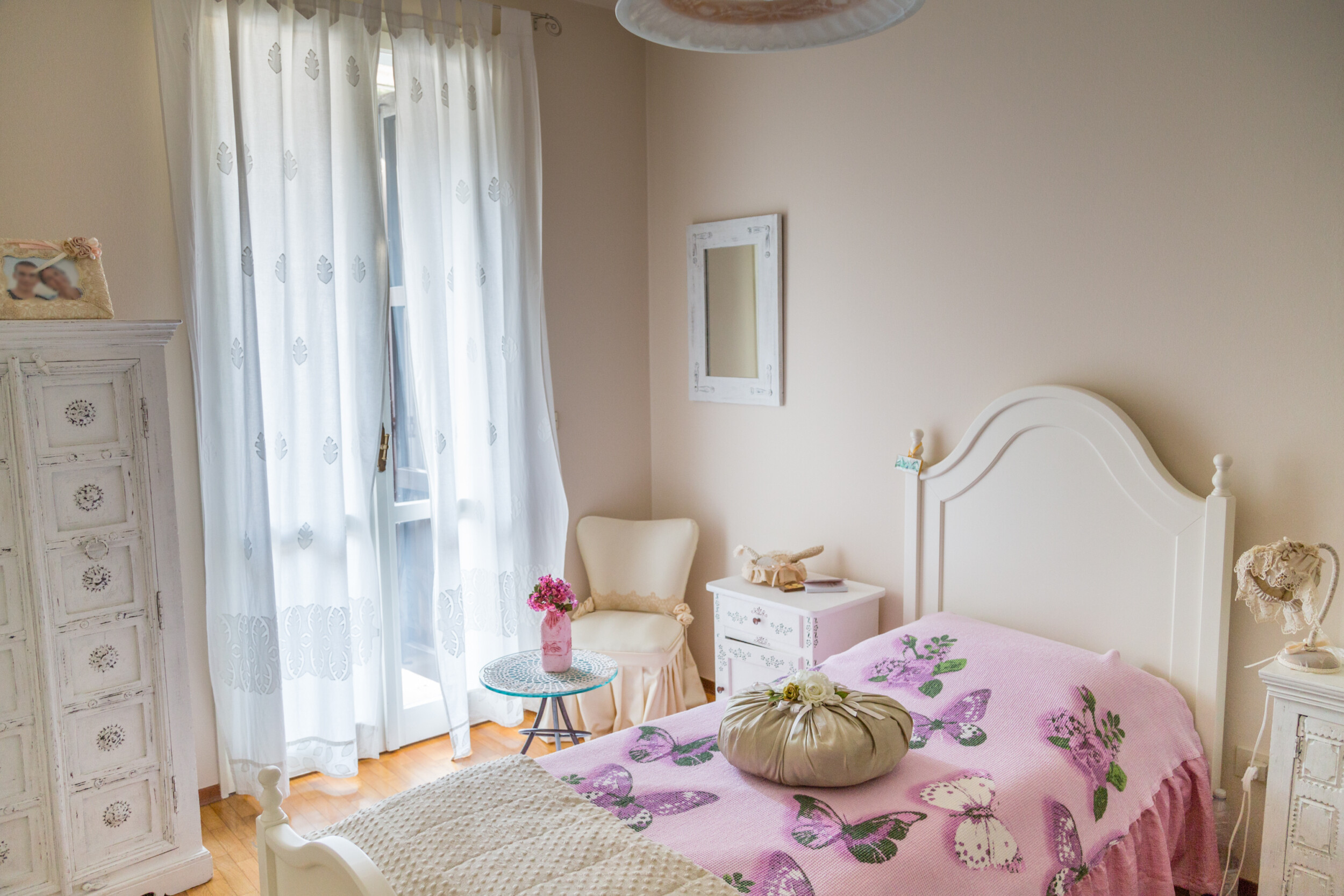 Since shabby chic calls for dusty pale colors and makeup tones, complement your pastel bedroom with a light-toned headboard that rides just below the surface of the darker-hued textures that you bring into your bedroom for tonal plays. Use your headboard to create balance if you are into patterns rather than an all-white color scheme.
A stylish headboard design will add to the romantic ambiance that you want for your shabby chic bedroom. And you can go for just about any silhouette and material that catches your eye – but even better if you go for a tufted fabric headboard to make the look all the more comforting.
Shabby chic bedsheet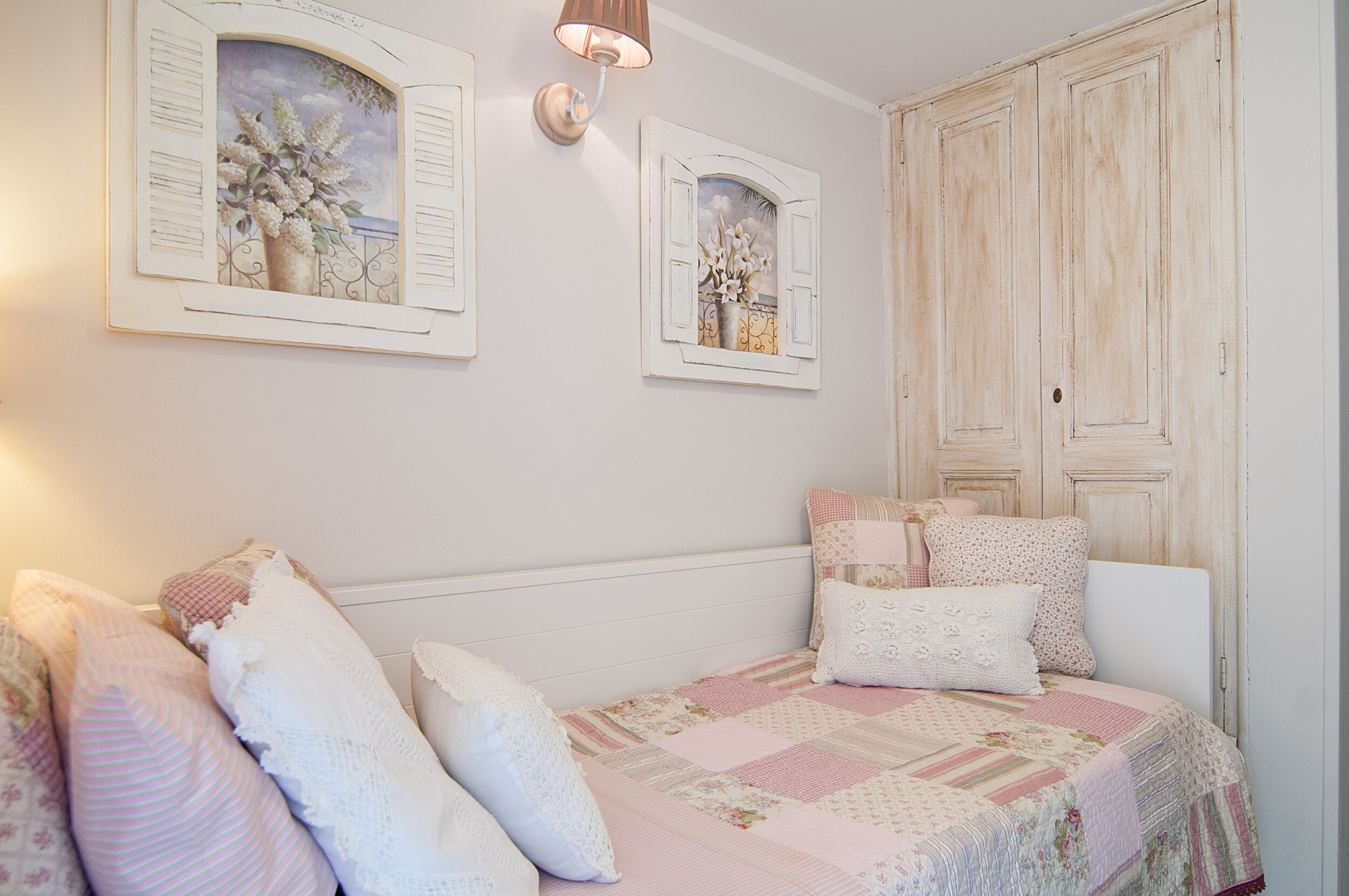 Add a playful touch to your shabby chic bedroom decor with crisp floral and polka dot bed linens that have a pre-washed look and feel. This shabby chic decorating idea is a great way to introduce color and print while keeping the look easy on the eye and the feel comforting to the touch. Go for shades that are subtle with a faded time-worn feel and watercolor floral prints that are slightly abstracted to keep the look effortlessly romantic for years to come.
Ultimately, you can go for floral designs of your choice. However, they are best when they boast a subdued spirit to lend your bedroom extra character and visual interest that feels far from heavy-handed. And do go for plush, sumptuous, and languid fabrications like velvet, silk, linen, and knits of any kind.
Painted wooden bed frame
Use a vintage bed frame to elevate your shabby chic style bedroom with the refinement of Victorian-inspired silhouettes and designs. A vintage bed frame updated in a milky white color should be distressed to a soothing soft-hued finish. Using a vintage bed frame is great for mastering shabby chic style on a budget as you can resourcefully find one at second-hand shops, vintage furniture outlets, estate sales, and even via hand-me-downs from friends and relatives.
Make the look feel updated by installing a mirror above your shabby chic bed frame for a modern twist that will also help your bedroom appear larger and brighter than it really is.
Hope chest bed style
When it comes to shabby chic style ideas, don't overlook the need for smart storage solutions as you can easily find ones that will feel at home with the design styles for a consistent feel. Bring in a small chest of drawers bearing the dominant hue of your bedroom while enhancing the soft palette and fabrics that you've introduced in your shabby chic bedroom.
If pink, other powdery pastels, or neutral paint shades are your preferred choice of color, repaint a shabby chic hope chest with a distressed tone in a matte finish that will help you create that feminine feel that shabby chic bedroom ideas call for.
Embrace a simple style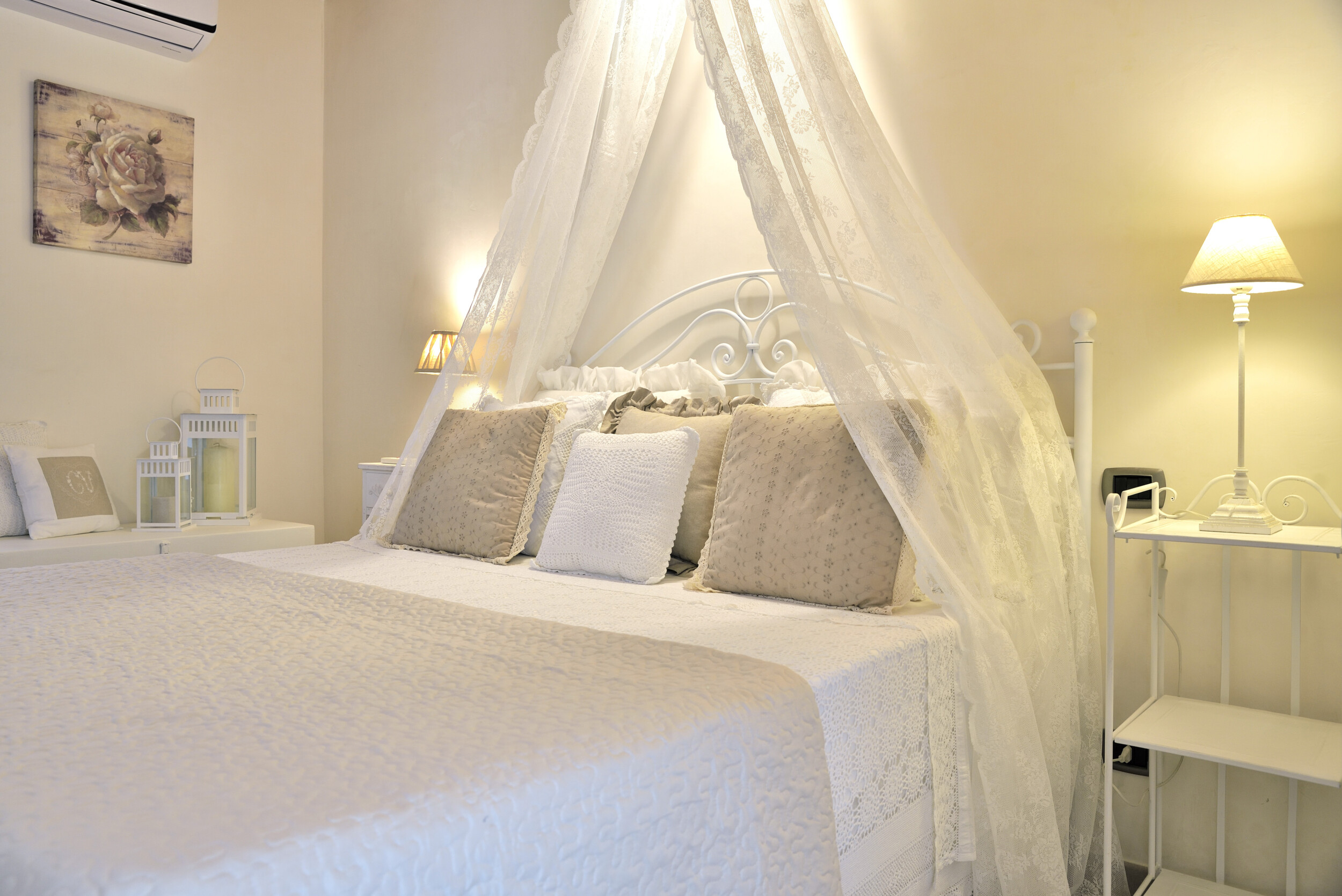 Today's take on shabby chic interior design patterns features a less cluttered feel and a much more simplified, slightly minimal look. When searching for the right bedding, throw pillows, and decorative accessories, try as much as you can to embrace simplicity rather than quantity for an edited, well-judged feel. Narrow down these items to the things you cherish, and you will find it easier to organize them into a cheery looking shabby chic room that will also be easier to keep tidy without distracting the eye with too much to take in.
Create an ample space between the bed and other furnishings and accessories in your shabby chic bedroom. Although this might take up more of your room space than you had anticipated, you will be left with a shabby chic bedroom that radiates coziness while creating the perfect place to relax when you retire at the end of a long day.
Vintage furnishings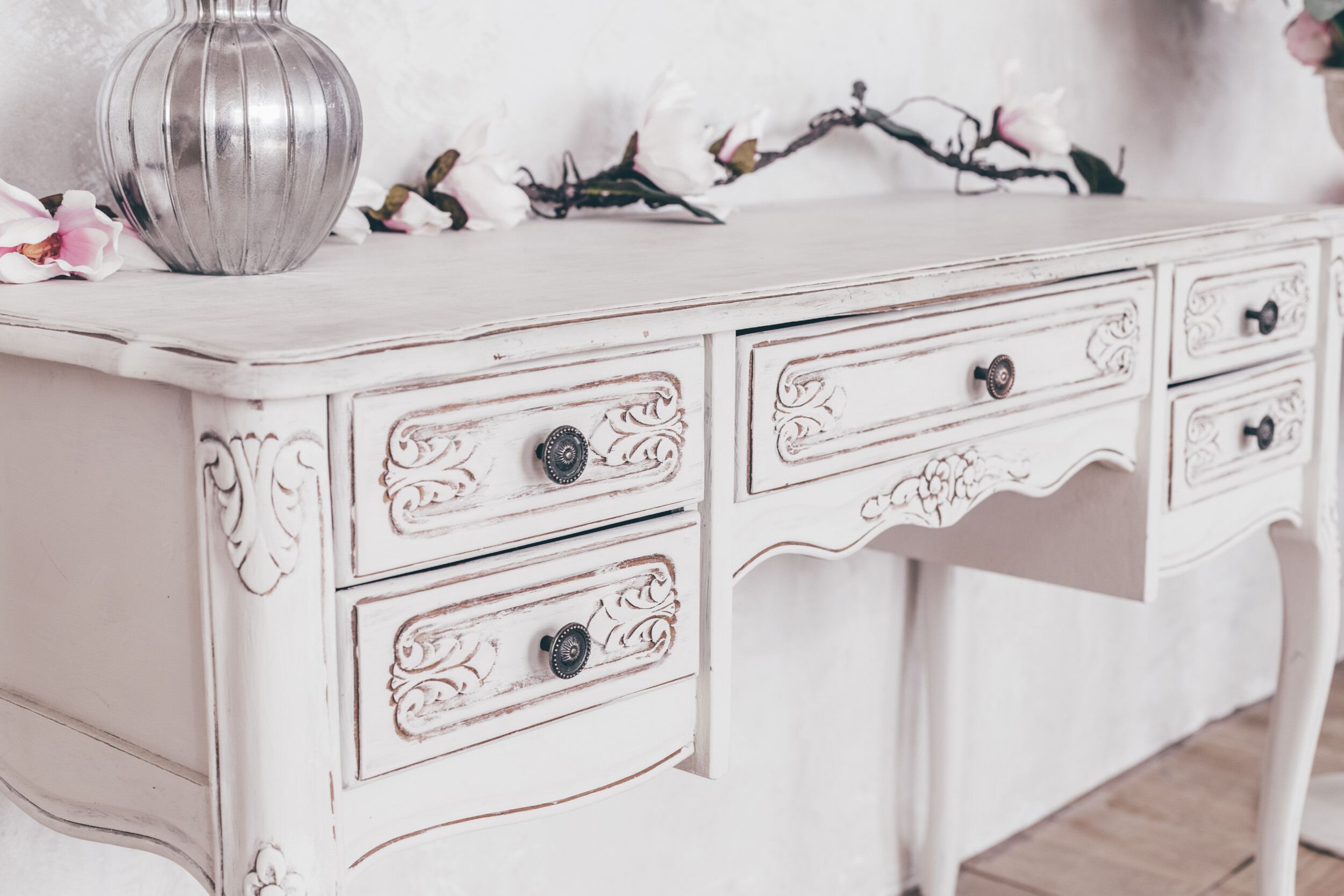 For many decades, shabby chic bedroom ideas were characterized by vintage furnishings for a heavy over-stuffed look that gave the eye a lot to take in – too much in fact. Today, the idea hasn't changed much as the use of repurposed items and vintage furnishings make it far easier to personalize your shabby chic room so it radiates with a warm feel and distinct personality.
For instance, you could use a bass drum in the place of a bedside table, and old shutters instead of a headboard. The goal is to reflect a glimpse of contemporary vintage decor style without shattering the abundantly cheery look the design style calls for. So, as we said before, get creative with your sources and do peruse local vintage stores, thrift stores, antique fairs, and even online outlets like eBay and Chairish to get the best deals you can bring into your home for a one-of-a-kind feel that will keep your shabby chic bedroom ideas unique to you.
Shabby chic vintage curtain tie backs
Does your bedroom color scheme use white as the rooms dominant color? Classic all-white is a standard color option when it comes to modern bedroom color schemes though it can be a challenging color to keep clean and comforting for many since it basically highlights stains and everyday wear and tear instead of concealing them. The best way to soften a white color scheme and add a little coziness to your bedrooms white accents and furnishings is by adding detailed vintage tiebacks to your window treatments.
Your choices of curtain tiebacks can be just about anything and the best colors for them could range from green to pink to dark blue or you could go for something more classic like wrought iron, brass, chrome or even a handsome braided silk rope in just about any color. Get the look right by ensuring that the color of your tiebacks has a neutral base combined with a colorful look that elevates their vintage feel while lending your white bedroom room-defining character. Although gorgeous curtain tiebacks can easily fit into any room in your home, this type of decorative extra is also perfect for a little girl's bedroom or a children's nursery since its also a bit more playful.
Whitewashed decor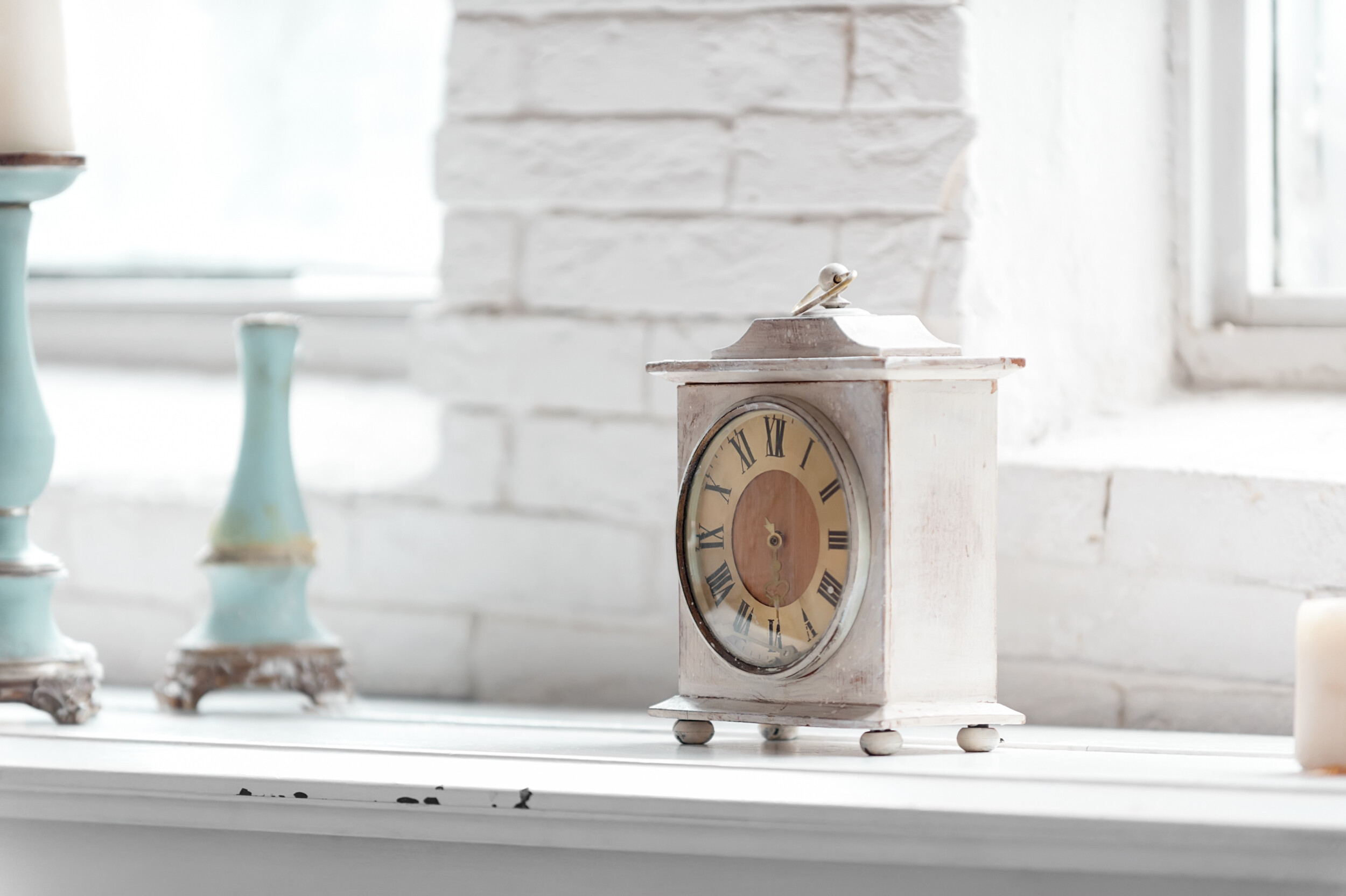 Shabby chic bedroom decorating ideas don't come down to white and white alone. Although a white is color is ideal for many shabby chic decor styles, it gives less room to personalize and tweak your decor style to reflect an ambiance of character and uniqueness. Thus, you'll need to introduce a few other colors to energize the deep neutral tone that an all-white color scheme evokes in a shabby chic bedroom.
Mix soothing pastels and calming neutrals for a spin on shabby chic decor that will give you a perfect blend of color without coming off as jarring or heavy-handed. These colors will work to help you create a spurn of individuality and character that will be sure to highlight your twist on the shabby chic design style.
Lace, toile, burlap, and rattan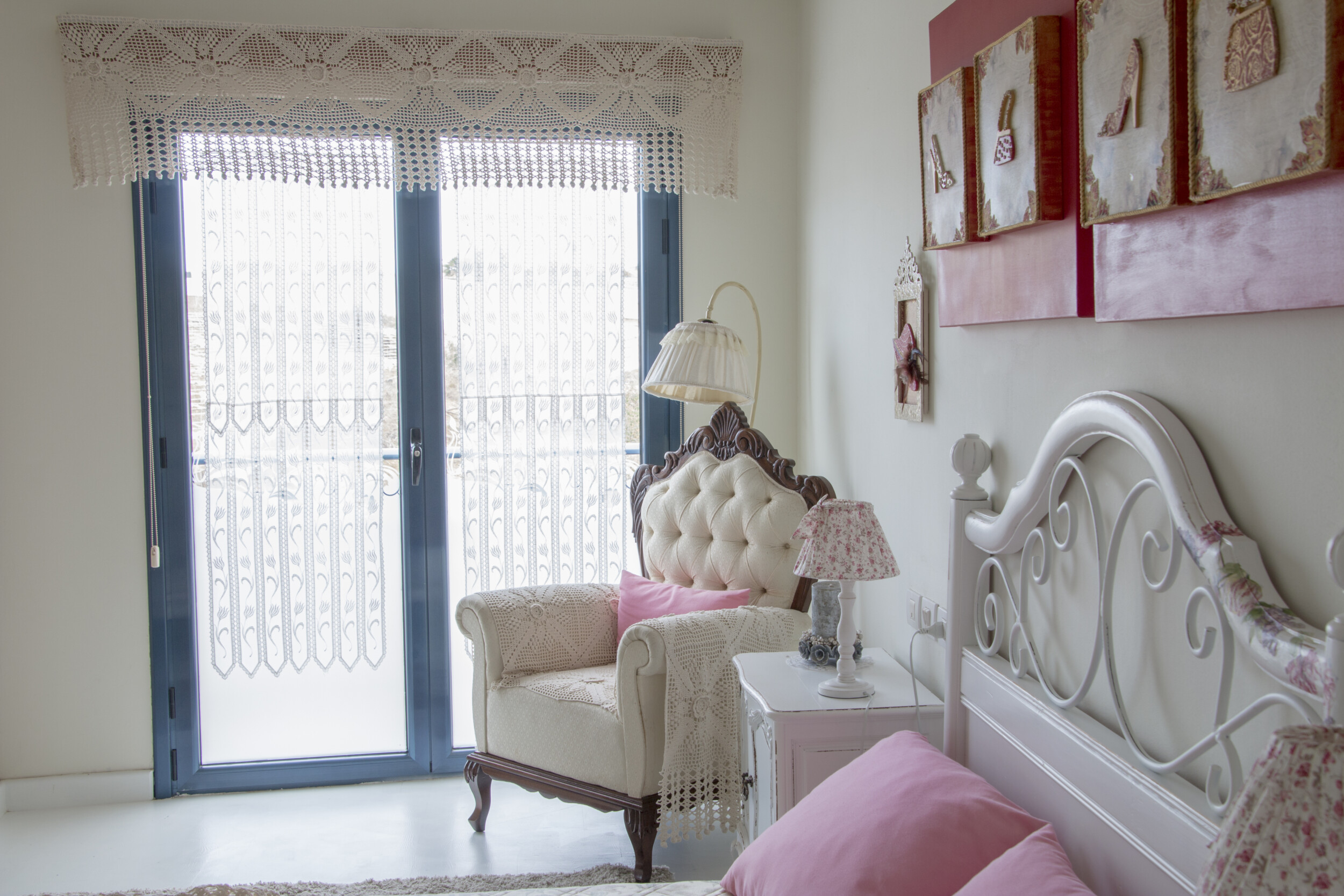 When it comes to materials and prints in getting the look and feel of shabby chic right, think of lace, burlap, rattan, and toile materials as go-to's. They are a must-have when it comes to shabby chic design ideas as they have a certain softness and timeworn feel that's perfect for shabby chic interior design.
Create a play on soft textures by swiftly combining lace, burlap, rattan, and toile for a charming feel that relies on the tried and true while remaining classic. The best thing is that these materials are easy to work with, can be inexpensively sourced, and are easy to come across. And they'll keep the eye intrigued and moving about which is exactly the kind of effect you should be looking to create.
Antique picture and art frames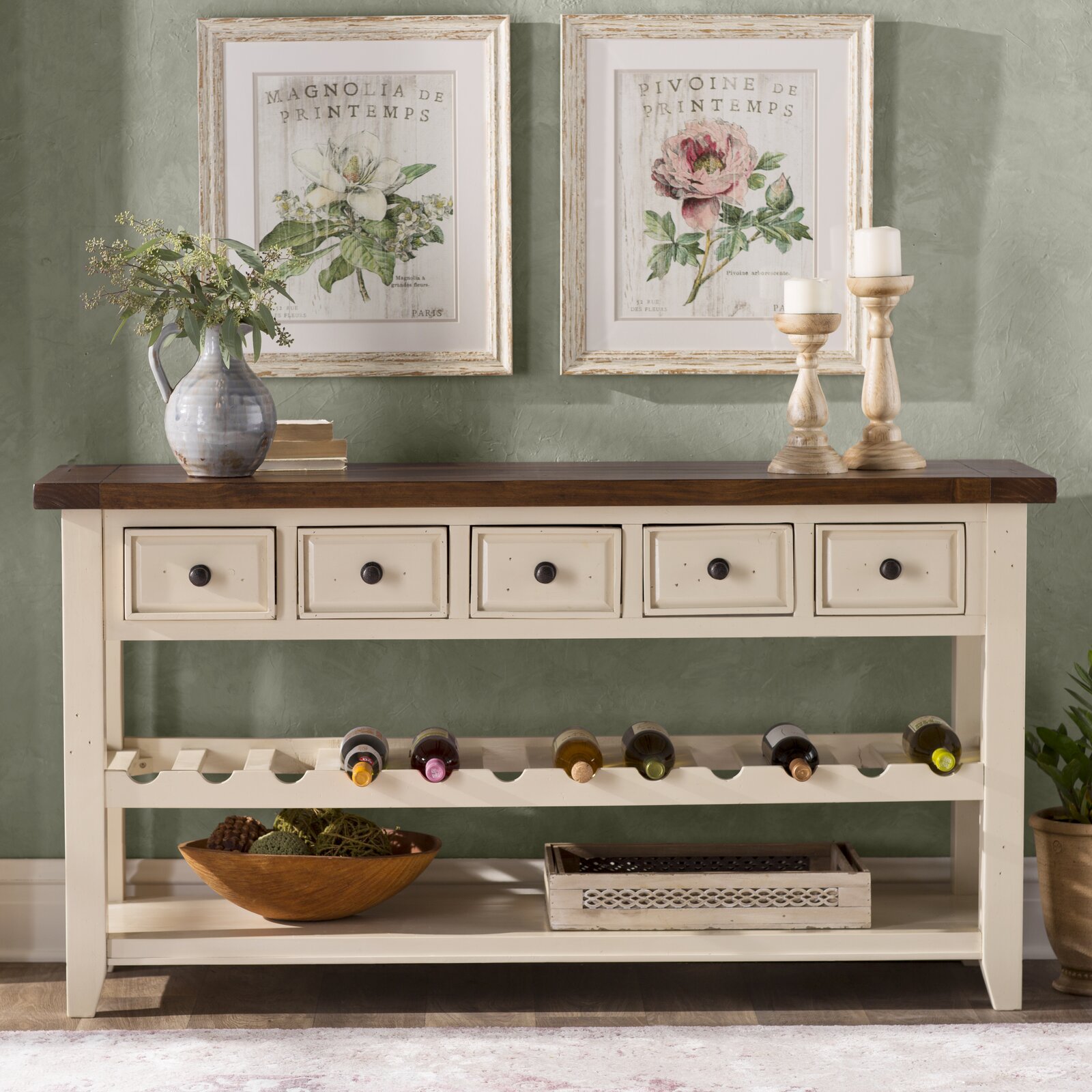 Antique photo frames are requisite in a shabby chic room as they are small and affordable ways to bring in beautifully crafted vintage finds without having to go for a floor-to-ceiling look. You can use them to create a gallery wall cluster and go deeper into vintage design elements when you paint your vintage frames with a coat of light almost no-color pink and watery white paint.
This will give them a colorful yet distressed look that will make them all the more desirable. Hang them on the wall above your bed along with other cherished finds and collectibles for a look that is rich with history and personality to boot. Or if you'd like to convey a more powerful message in your shabby chic bedroom, consider bringing in one large-scale vintage framed piece of art and leave it as if for a natural statement that will be sure to spark plenty of conversations.
Blend in a tone of romance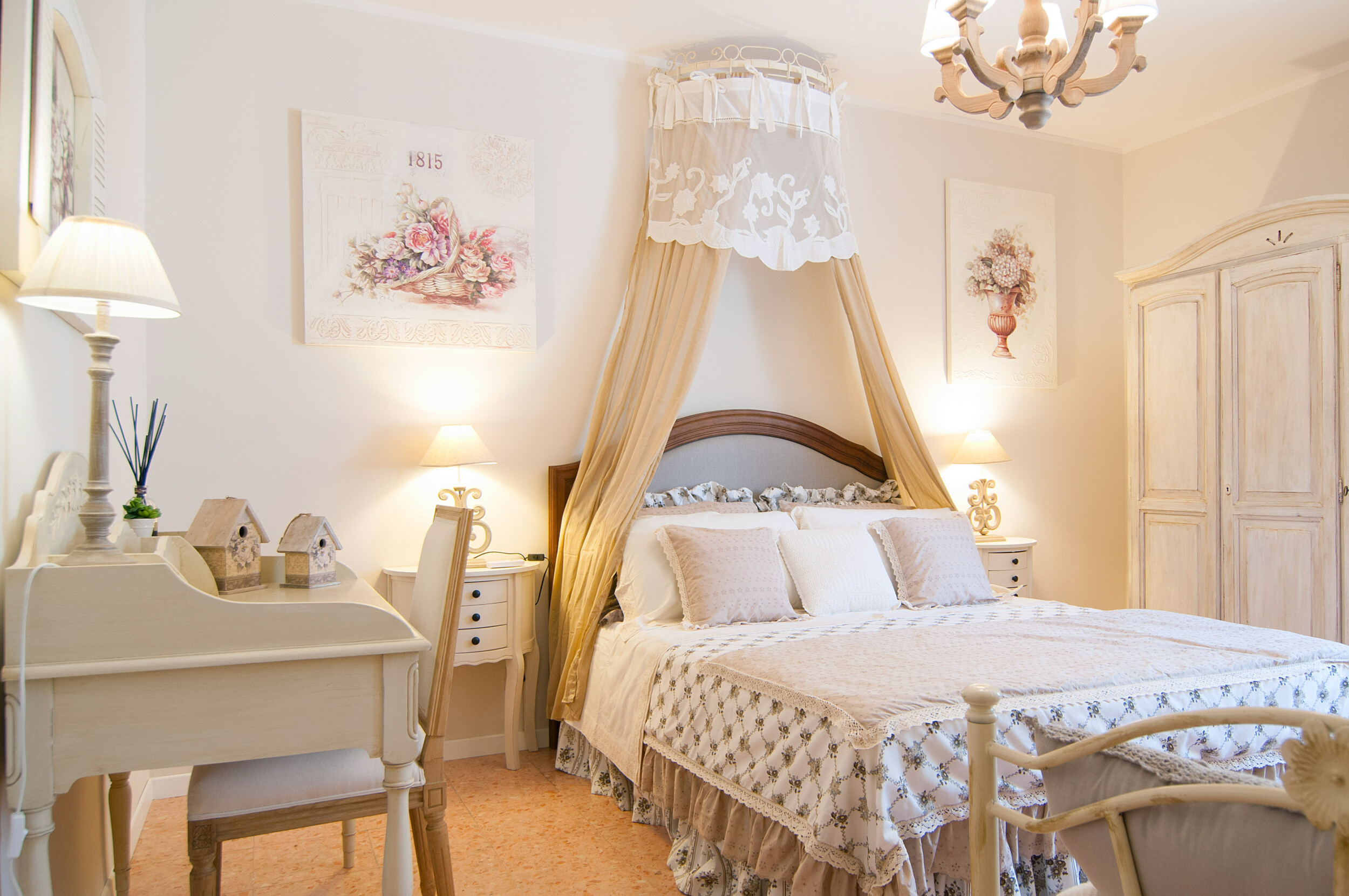 Your shabby chic room ideas shouldn't be devoid of antique elements and fabrications and a distinctively romantic tone. Going all-white can create a calming and comfortable feeling as well as making your bedroom space look larger and brighter. If you love an all-white shabby chic bedroom, you should use bedroom accessories and decorative extras to create a heady mix of textures with a romantic feel to give your bedroom a warm and inviting look free from a minimalist approach.
You can get the look with faded and muted floral prints and a general timeworn patina covering most surfaces in your bedroom for an antiquated look that will stand the test of time. While doing this, don't forget to keep simplicity in mind and remember that the less cluttered your shabby chic bedroom looks, the longer it will remain appealing and feel on-trend.
We hope you can draw some inspiration from these shabby chic bedroom ideas. In all decor reality, a shabby chic bedroom isn't for women only – in fact, consider it gender-neutral. Even though they create a more feminine and sophisticated feel using whimsical accessories and vibrant colors such as pink, rose red, and a range of florals. The look it creates can be when done well, an excellent design direction for both genders.