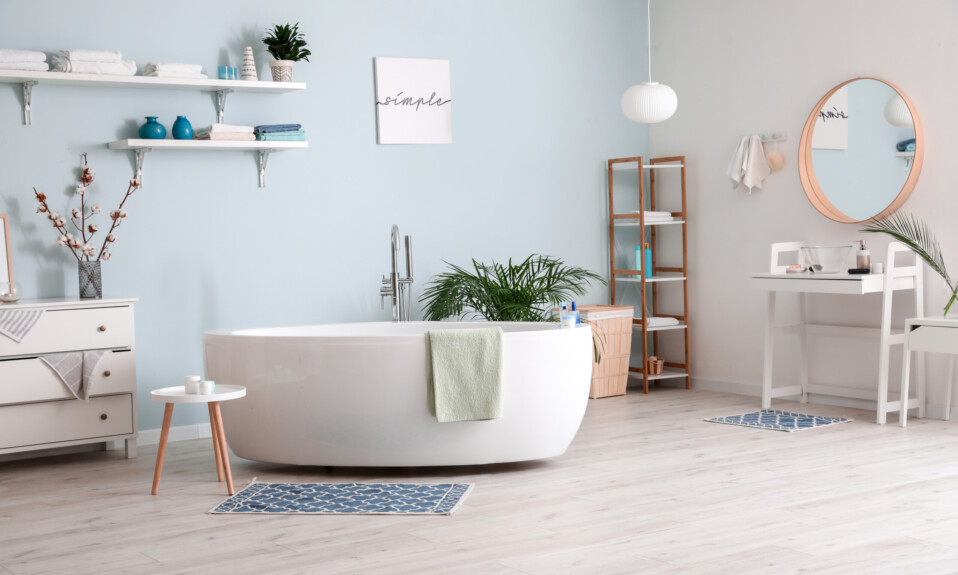 Are you updating your bathroom and are on the lookout for the top bathroom mirror trends for 2019? To illustrate the endless options, we're considering mirror ideas for every style of bathroom to inspire your interior design process, from the best types of framed bathroom mirrors, to traditional bathroom mirrors, to entire walls of bathroom mirrors – here's our take on essential options to elevate your bathroom in style.
FULL-LENGTH BATHROOM MIRRORS
When it comes to beneficial bathroom mirrors that are aesthetically pleasing to boot, if you've got the space, our interior designers always suggest going for the largest mirror options you can fit into your space without them coming off as heavy-handed.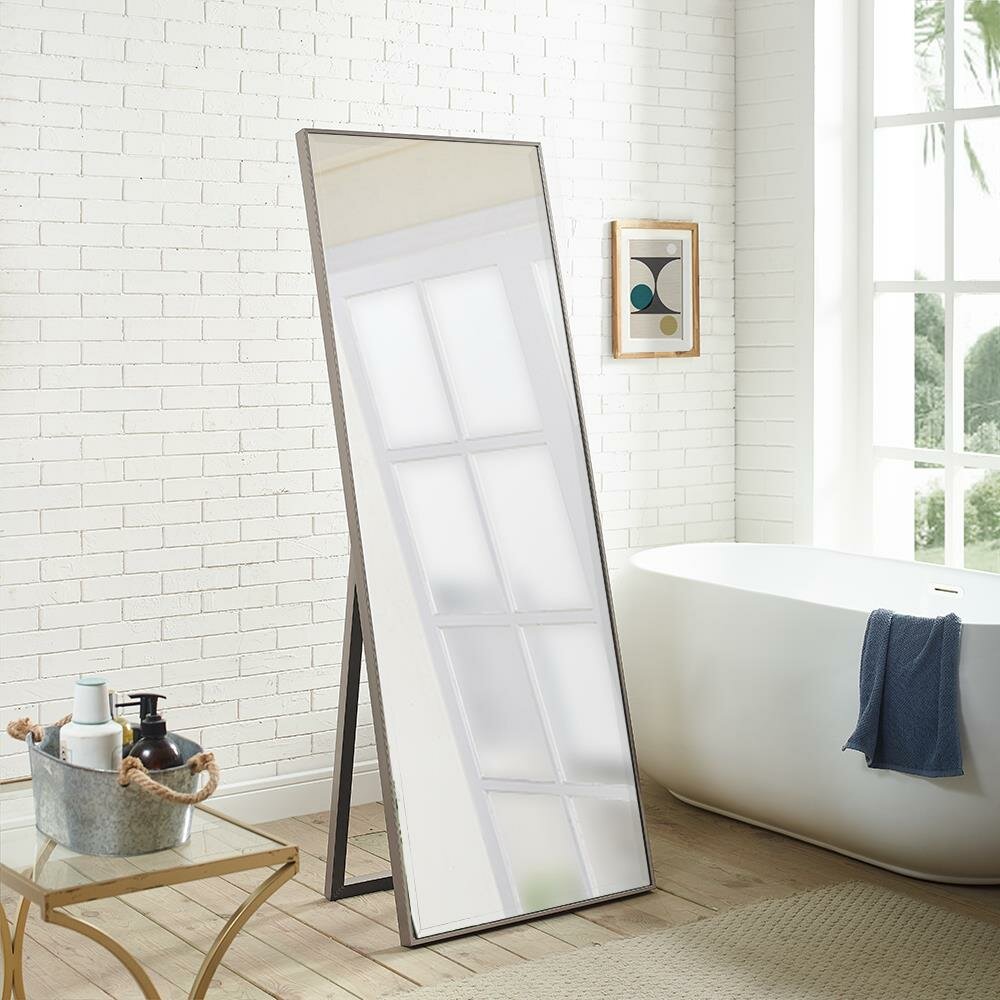 Note how the bathroom mirror above works to tie the smaller elements of the room together thanks to its super-sized scale and matching white frame for equal measure. As when it comes to bathroom wall mirrors, its essential that you get the most use you can out of them without them taking a ton of extra floor space.
A FULL MIRRORED WALL
An elegant alternative to traditional bathroom vanity mirrors, a full mirrored wall like this one will up the glamor factor exponentially for a grand statement. Best of all, again, full wall bathroom wall mirrors take up zero floor space. Plus, as mirrors are relatively inexpensive, most of your budget will go to installation – which should take less than an hour, depending on the expanse of the wall.
When it comes to bathroom mirror ideas, the more you think outside of the box, the more unique your bathroom will look and feel. The only downside here is that it offers no storage and if you cover an entire major wall, you'll miss out on the opportunity to mount additional storage along that wall.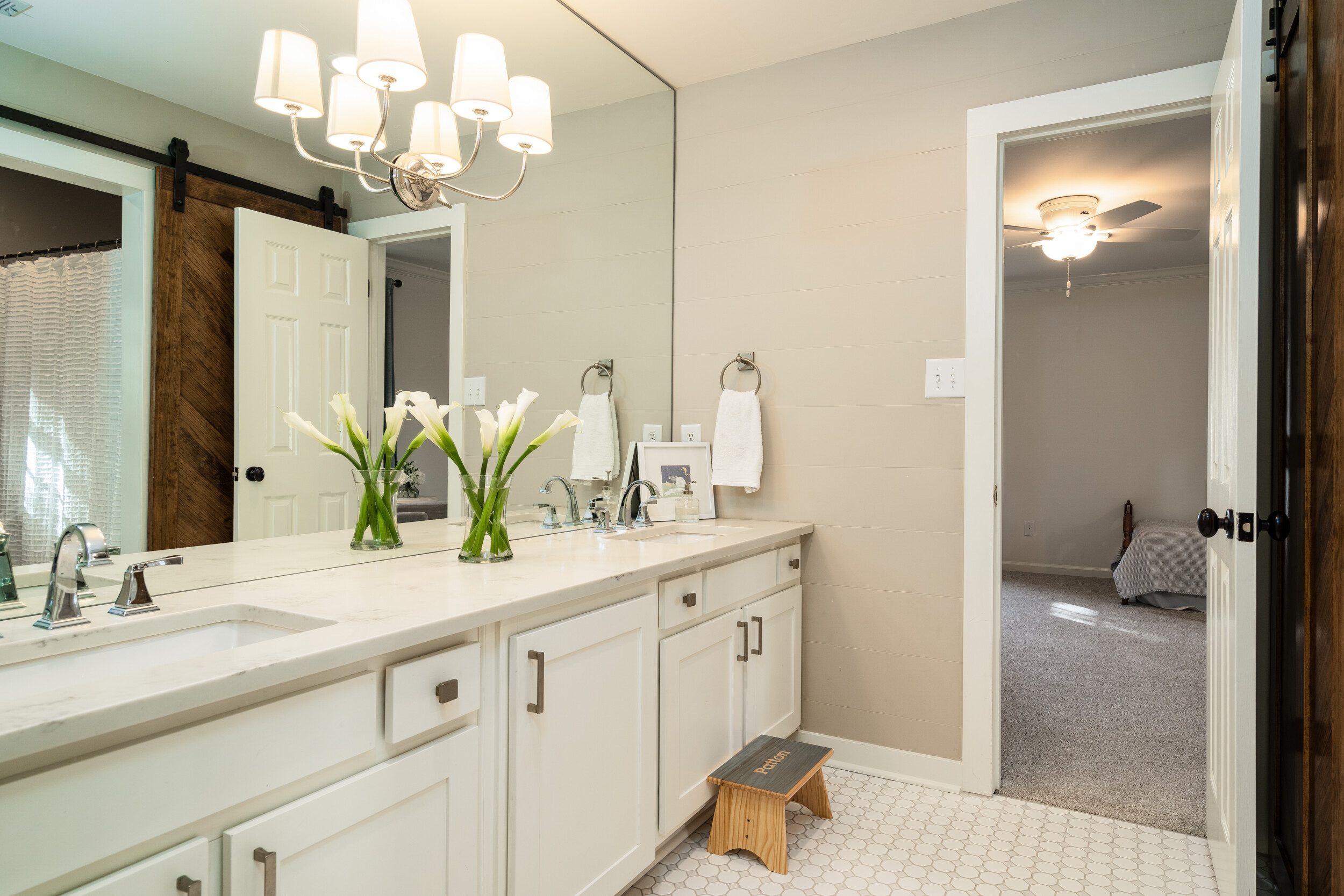 REPURPOSED DRESSER MIRROR
Looking for one-of-a-kind bathroom mirrors that absolutely no one else will have that are also inexpensive and easy to source? Repurposed vanity framed bathroom mirrors will do just that while adding a retro-inspired nuance to even the most modern of bathrooms.
And since they are so easy to find and affordable, you can switch them out for a quick room refresh. That said, repurposed vanity mirrors lifted from dressers can also add a distinct touch anywhere in your home with ease.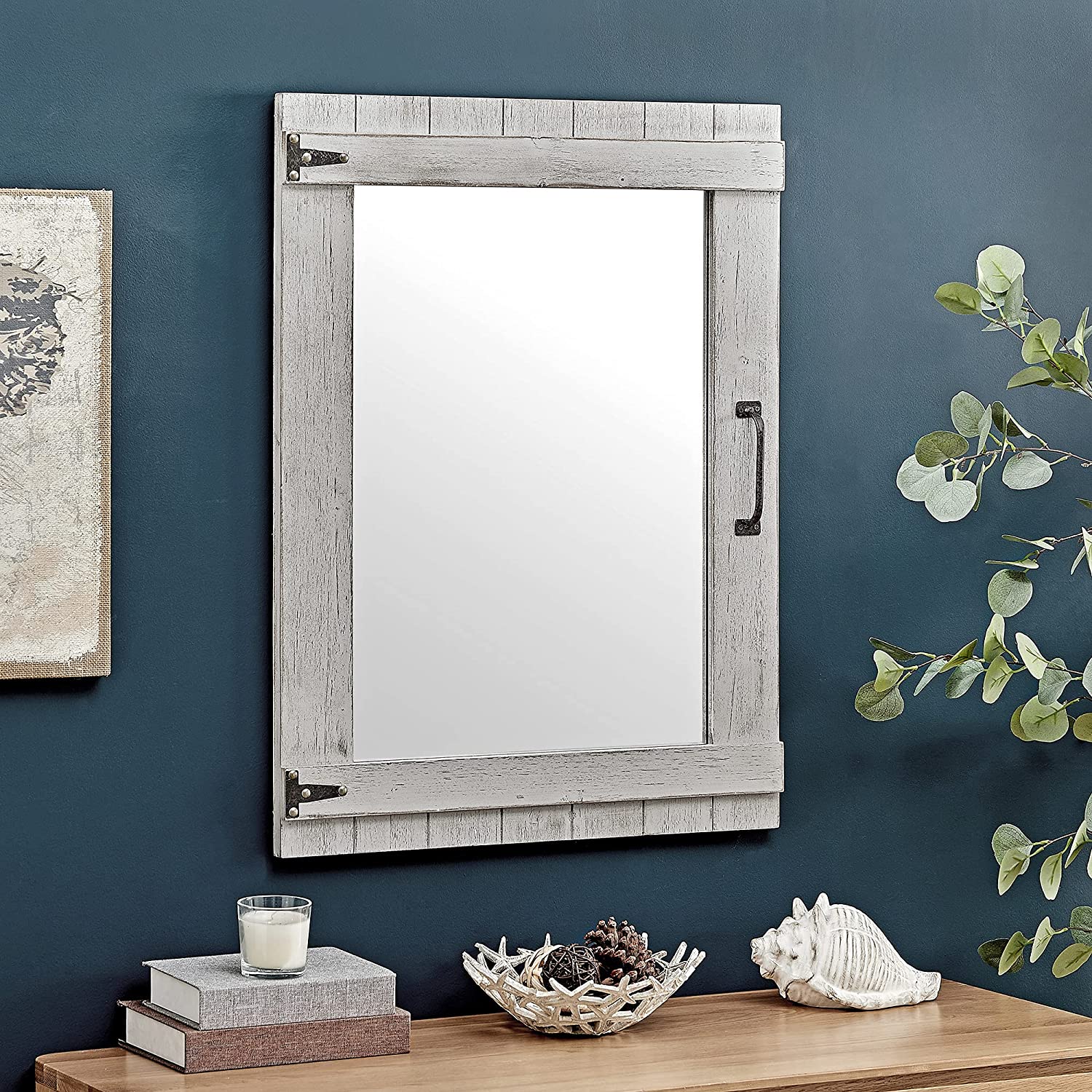 ULTRA-SLIM BATHROOM MIRRORS
If you're on the hunt for bathroom vanity mirrors that take little space while leaving a subtle impression on the eye, consider opting for an ultra-slim, minimal style that will always look timeless and tasteful.
Ultra-slim bathroom wall mirrors also compliment the straight and strict lines so commonly found in modern bathrooms and pair well with contemporary cabinetry and hardware. And best of all, they take only minutes to install. Just look at how beautifully simple and elegant the setting above looks for inspiration.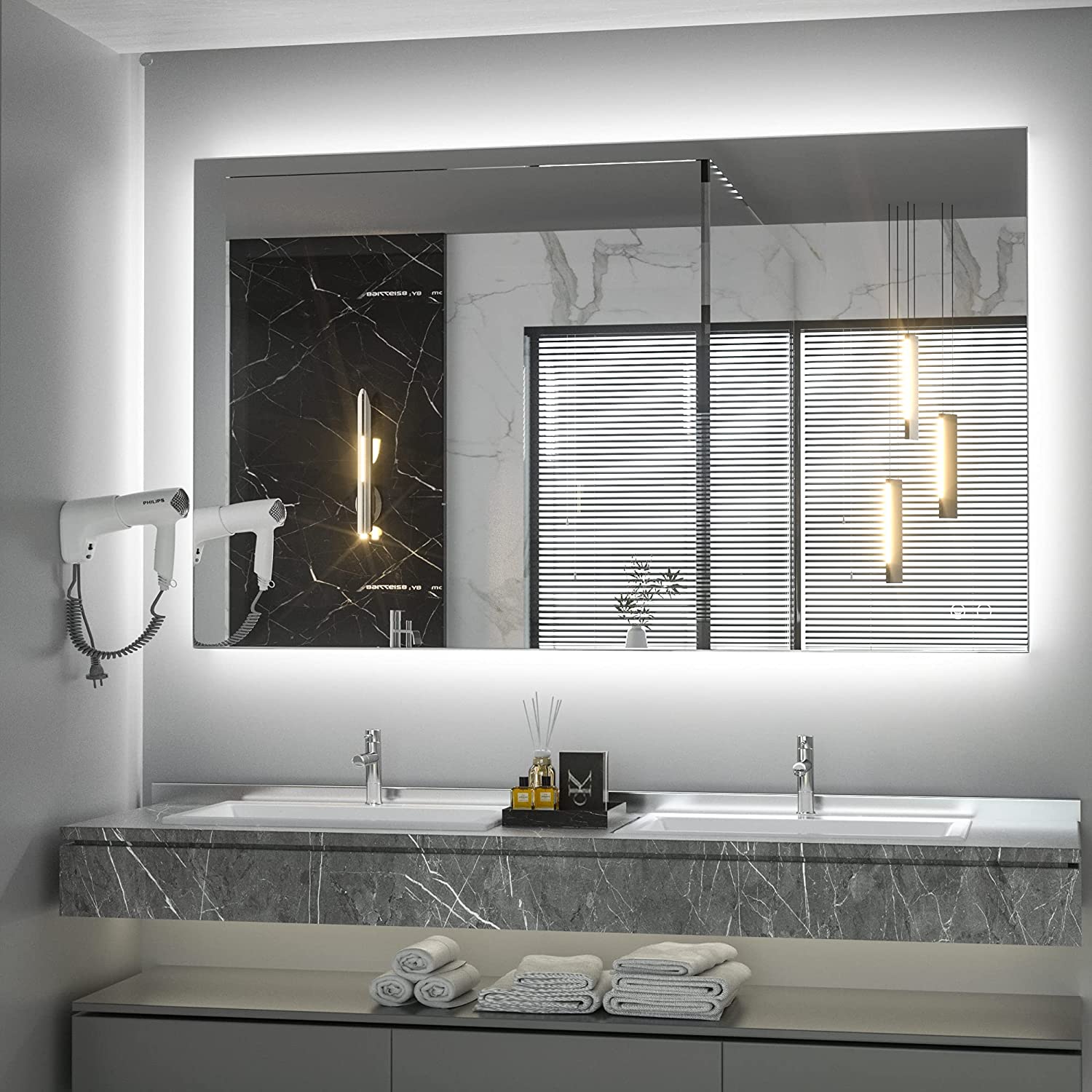 EXOTIC BATHROOM MIRRORS
Another way to make a unique statement with bathroom vanity mirrors is to source pieces that look like they were found on a far-flung journey in an exotic locale, as again, no one in town will have anything even remotely similar.
Our decorators loved how these curved gold framed bathroom mirrors are simple and slim, yet boast a tinted matte gold frame that's curves evoke a Moroccan doors arch for a chic eclectic touch. Even better how they've been paired as a trio for the ultimate impactful statement. If it were just two, the gesture wouldn't feel as grand. Unique mirrors like these would also pair well juxtaposed with just about any design style, from traditional to art-deco to transitional.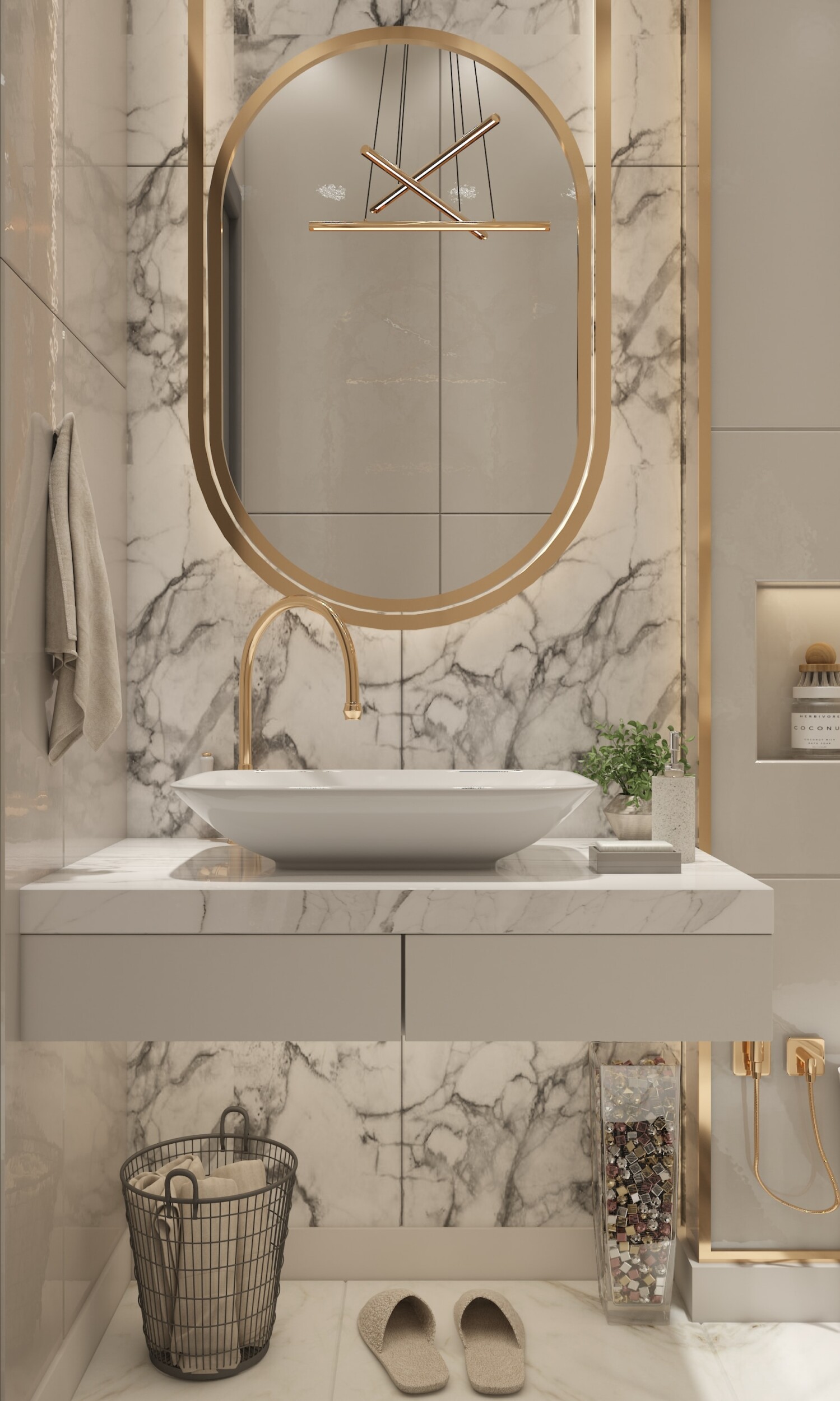 UNIQUE SHAPES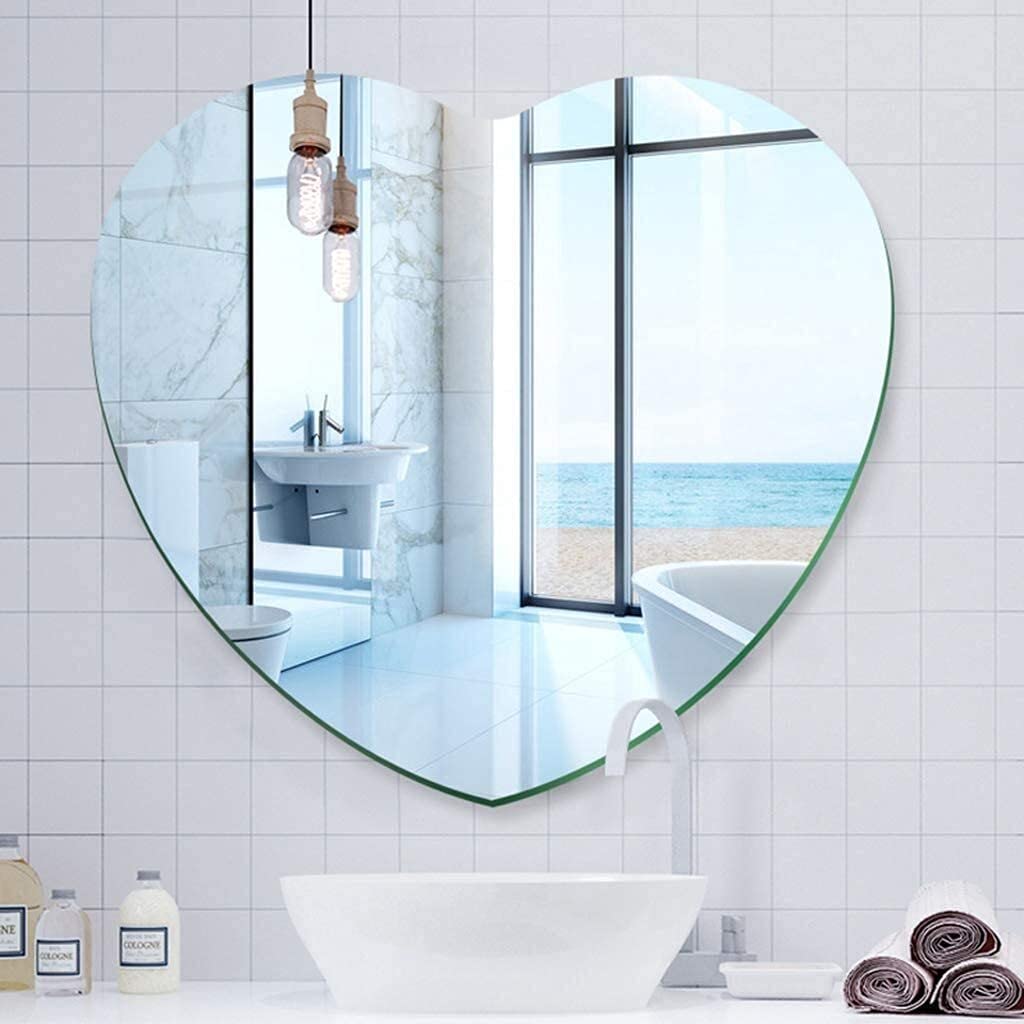 The bathroom featured above may read as classic thanks to its substantial clawfoot tub and floating basin, but its hard not to miss the stunning effect of the unique heart-shaped bathroom mirror installed at just the right height to boost its appeal.
Though bathroom mirrors are primarily installed to serve a daily purpose while helping you get ready for the day when it comes to savvy bathroom mirror ideas that are certain to add charm to even the most basic of spaces, no matter how small, a unique shape will punctuate it in style. If you're on the hunt for stunning decorative bathroom mirrors, our interior designers suggest a unique shape to bring your vision to life.
MINIMAL DOUBLE MIRRORS
If you have two sinks in your bathroom, our interior designers suggest going for simple symmetry to keep the look light. Pair minimalist white sinks with white tiles and dark vanity for an unexpected pop. Top off the look with a pair of rectangular bathroom vanity mirrors with a dark frame. Rectangular subway tiles, sinks, and mirrors will keep the look super minimal, timeless, and elegant.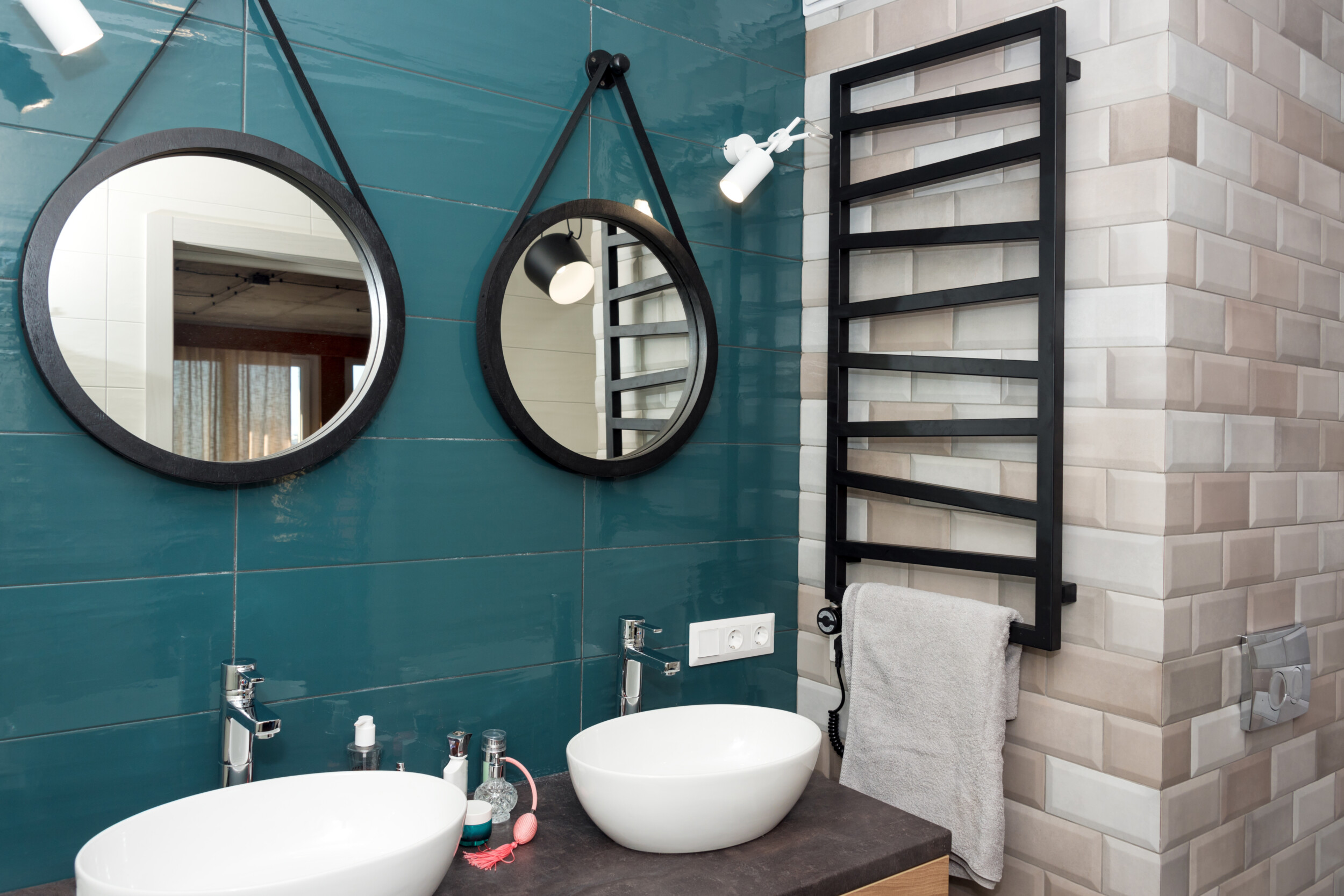 ART-DECO MIRRORS
Art-Deco bathroom vanity mirrors are a glamorous and refined addition to any bathroom. You can style them as part of a bathroom with an art-deco vibe, or you can use them as a feature in a more modern-styled bathroom. Simple, yet ornate and richly detailed at the same time, art-deco mirrors give you the best of both worlds when juxtaposed with modern finishes. Even better if you can source an original 1920's era art-deco mirror for authenticity.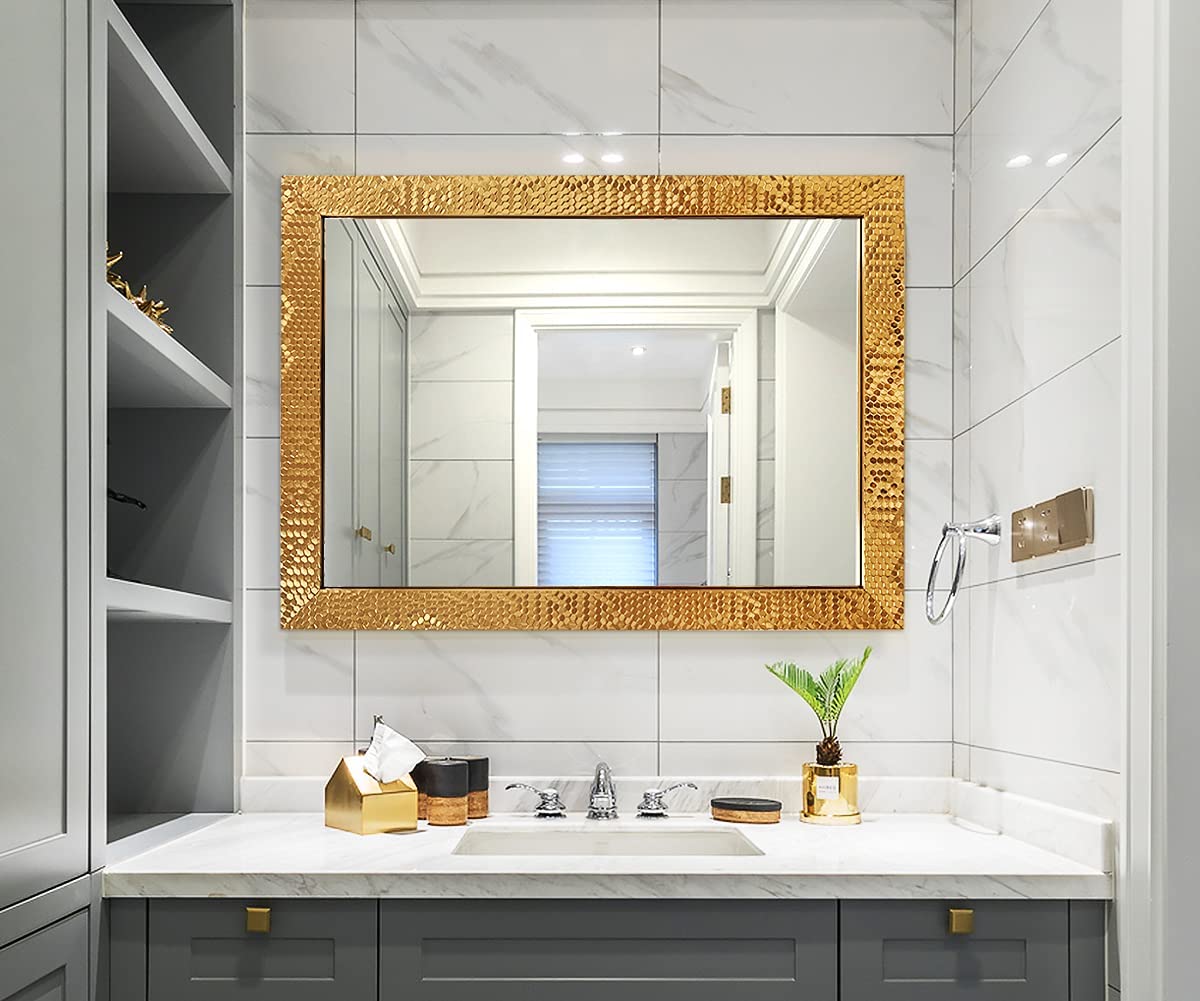 ANTIQUE GOLD FRAMED MIRROR
If you want to add a touch of antique allure and elegance to your bathroom, then antique gold-framed bathroom mirrors are an excellent option. They make for beautiful and ornate decorative bathroom mirrors and are sure to become the focal point of your bathroom design. The gold will warm up the feel of your bathroom and pairs well with a simple or maximal design. Don't shy away from pairing an antique mirror like this with bold patterned wallpaper and plain white tiles alike.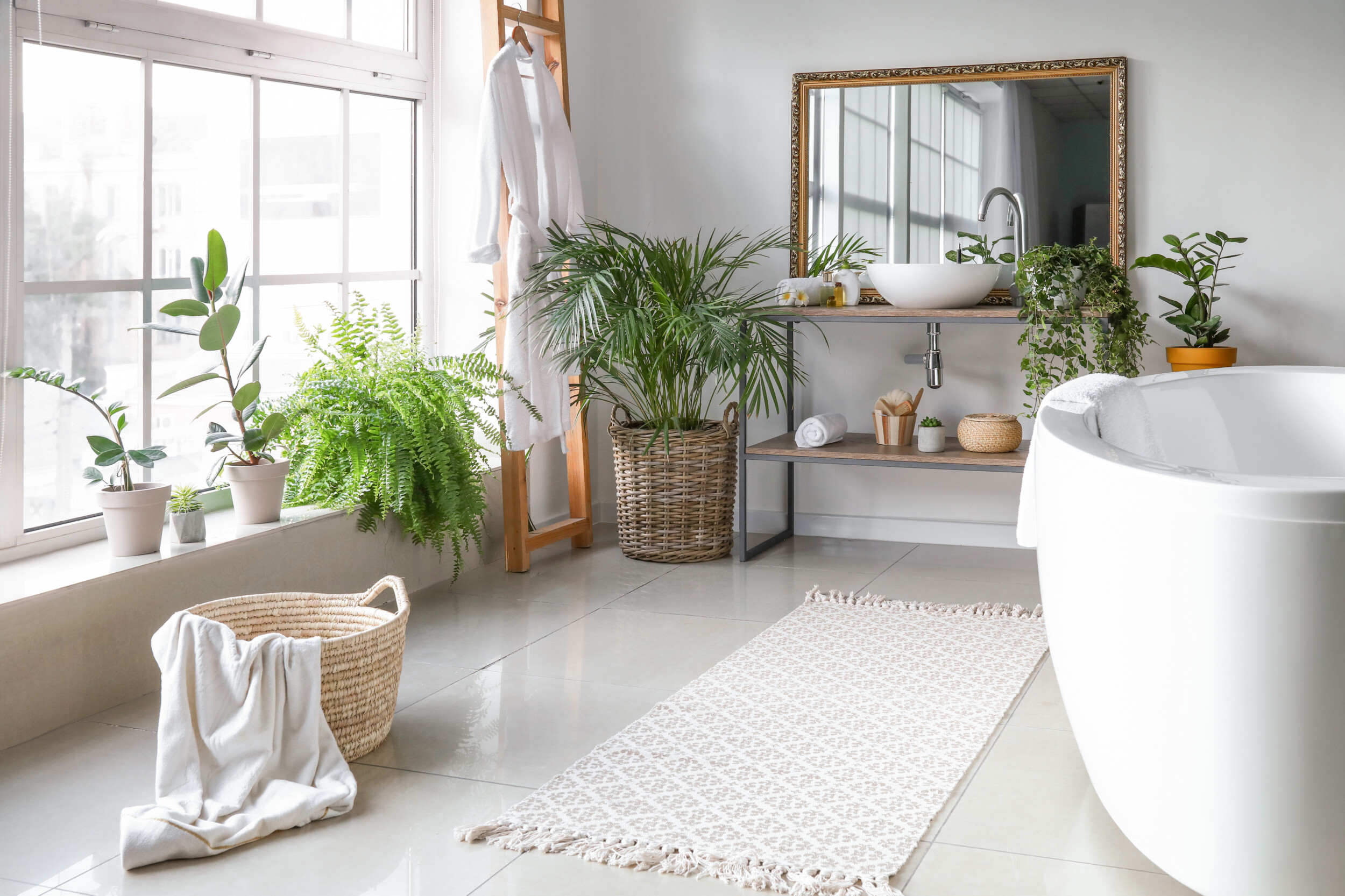 ANTIQUE SILVER FRAMED MIRROR
If gold is a bit much for your tastes, then silver may make for a great, glamorous alternative. An antique silver-framed mirror will be less imposing and obvious than a gold one but will still look completely stunning. This may suit you more if you lean towards monochromatic designs and are looking for additional elegance and visual interest. Paired up with black, grays, and white, a mirror like this will sing, adding a regal touch to an otherwise practical space.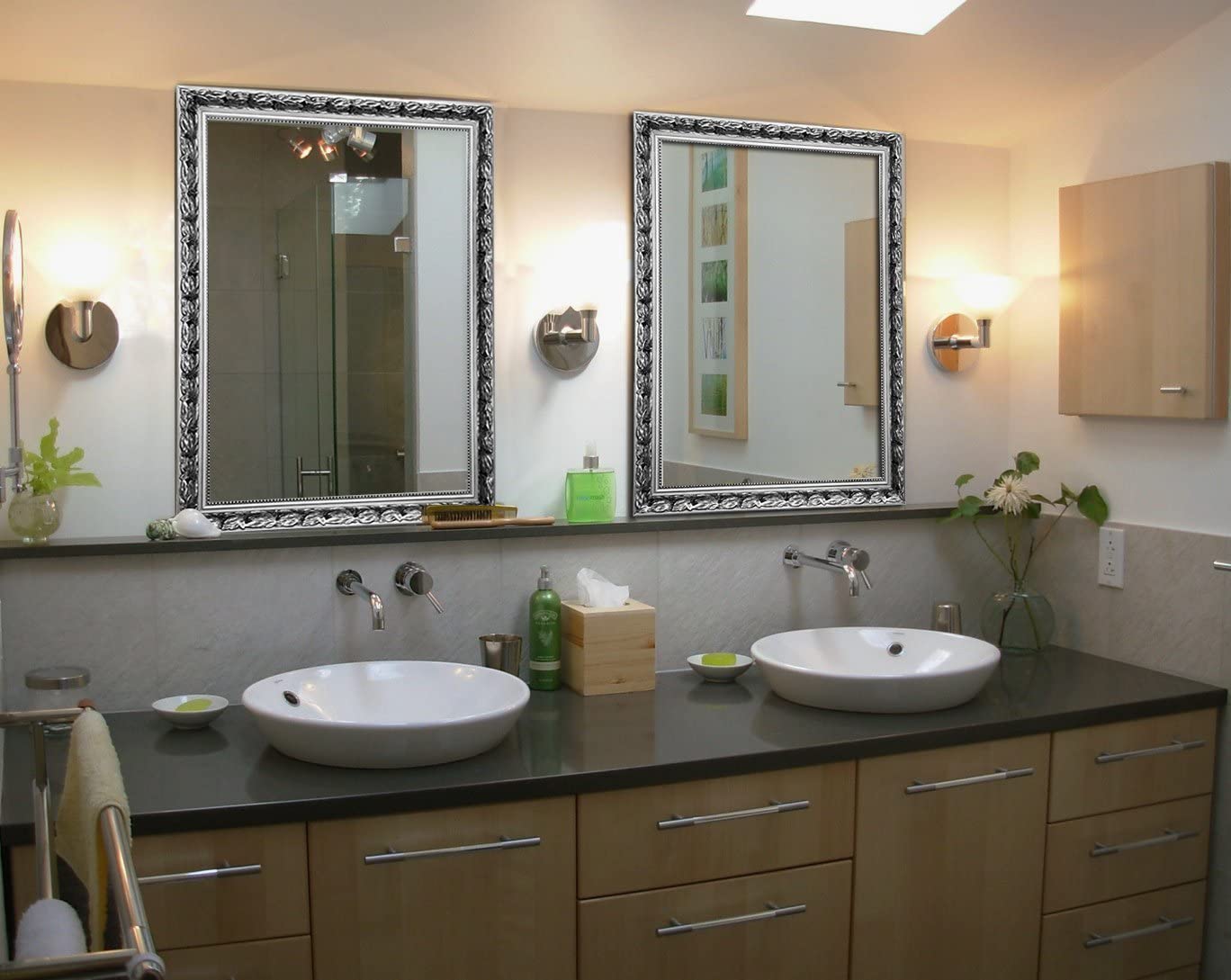 LARGE CIRCLE MIRROR
A circular mirror makes for a great contrast to the usually hard lines of a bathroom as they'll go a long way to softening up your design. Big, circular, modern bathroom mirrors lend a dramatic impact in a subtle, minimalist way (without all the fuss of an intricate design). A mirror like this won't take away from the rest of your design, but it will certainly add to it.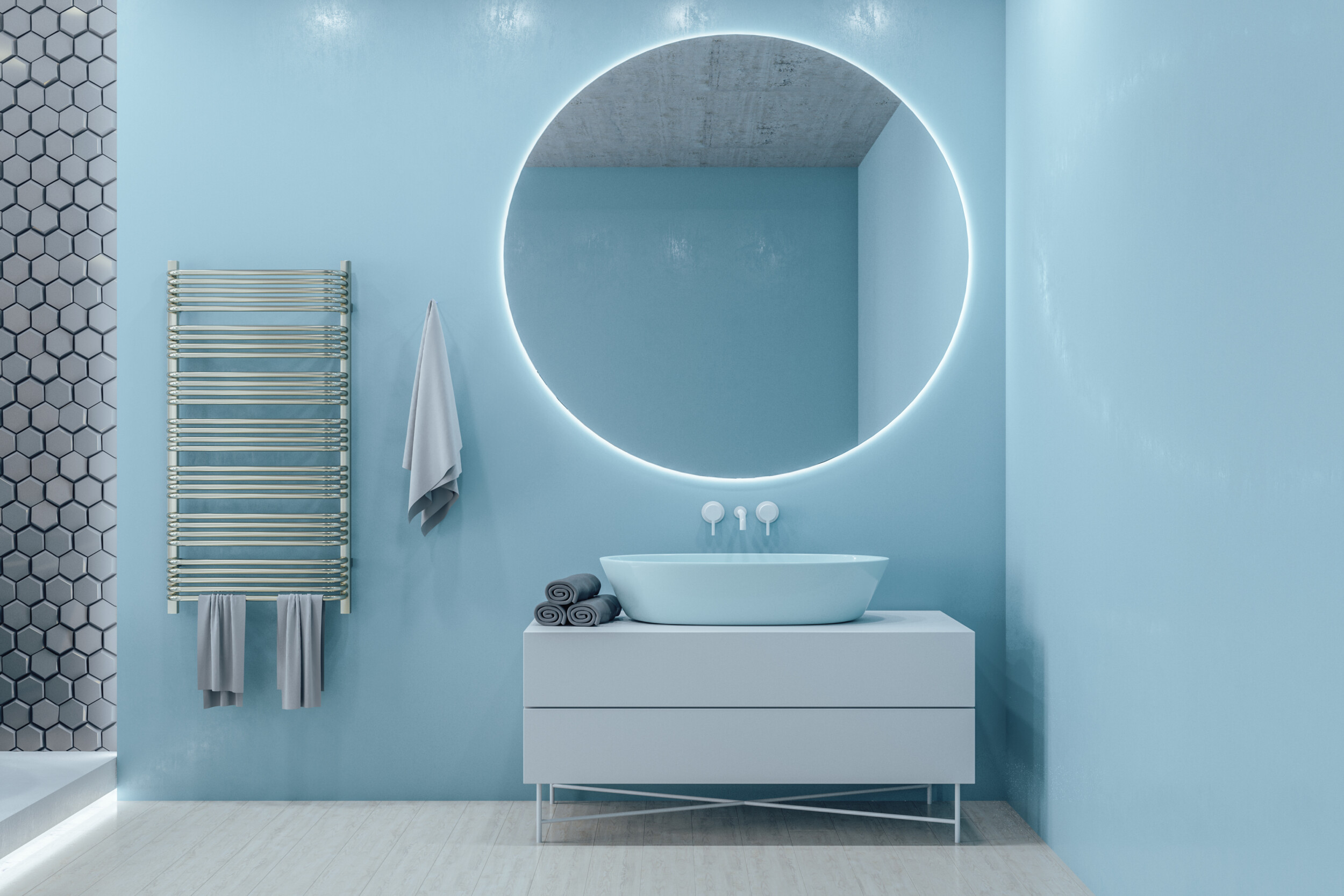 WINDOWPANE MIRROR
A mirror designed to look like a window pane is the perfect way to add some unexpected interest to a bathroom design. It will open up your bathroom, making it appear as if you have an additional window and it's also a stunning and eye-catching idea, perfect if you want something different from common framed bathroom mirrors.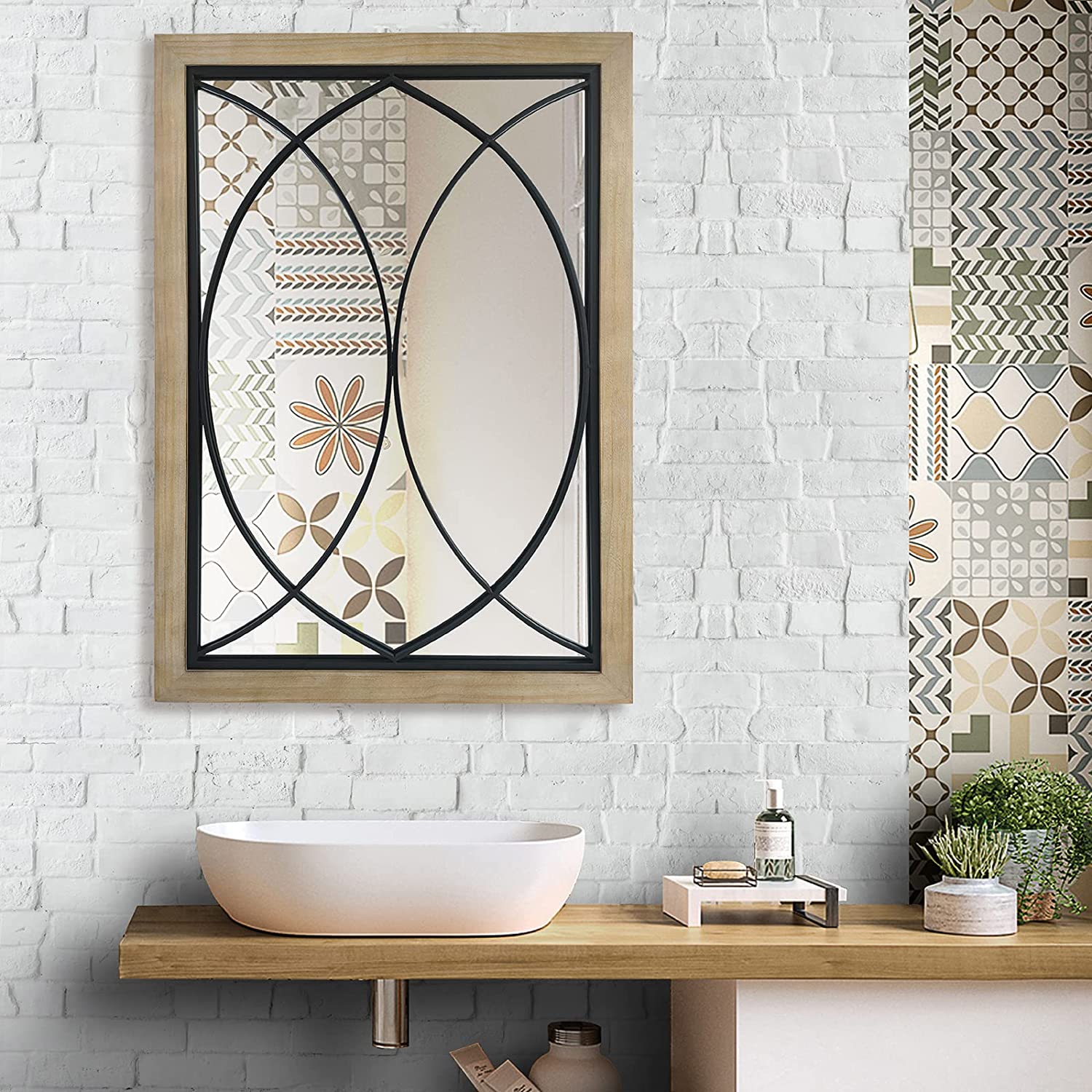 PORT HOLE MIRROR
Porthole bathroom wall mirrors are perfect for punctuating a nautical theme that is so popular for bathrooms. You'll feel like you are cruising on a ship, rather than standing in your bathroom at home. A mirror like this adds an element of fun to your bathroom while looking stylish. You can team it up with white paneling for an airy, beachfront feel.
DARK FRAMED MIRROR
If you have a white or light bathroom, then a dark-framed bathroom mirror is a great way to add a touch of drama and depth to your bathroom. Take a step toward the dark side with an ebony framed mirror with a thin or thick frame, depending on how imposing you want your mirror to be.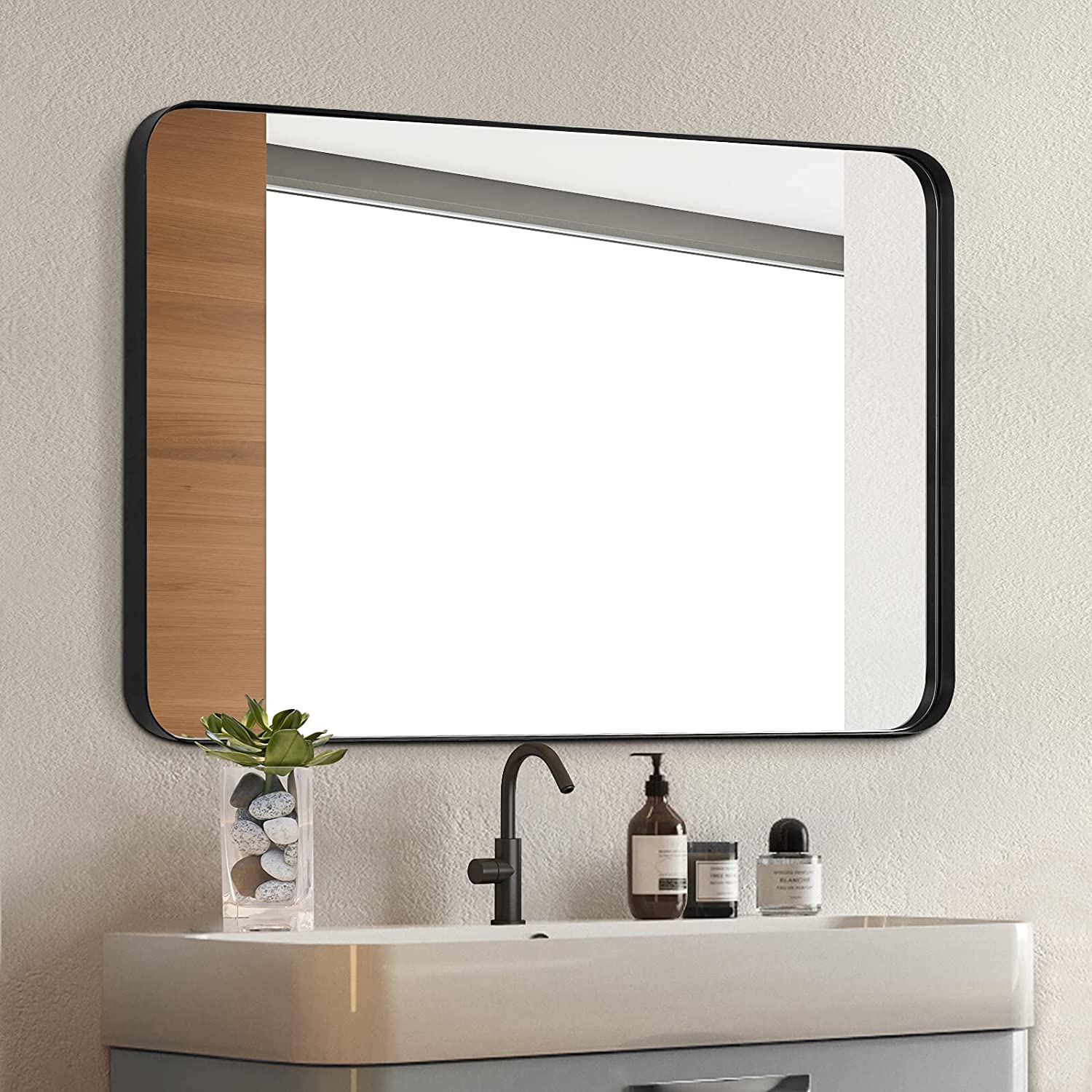 MIRRORED GALLERY WALL
A gallery wall doesn't have to be restricted to art in your living room or hallway, you can use the exact same principles to create a stunning gallery wall of mirrors. Experiment with mirrors in different shapes, sizes, and designs to create a mirrored gallery wall with plenty of personality and your bathroom mirror ideas will be worth the effort.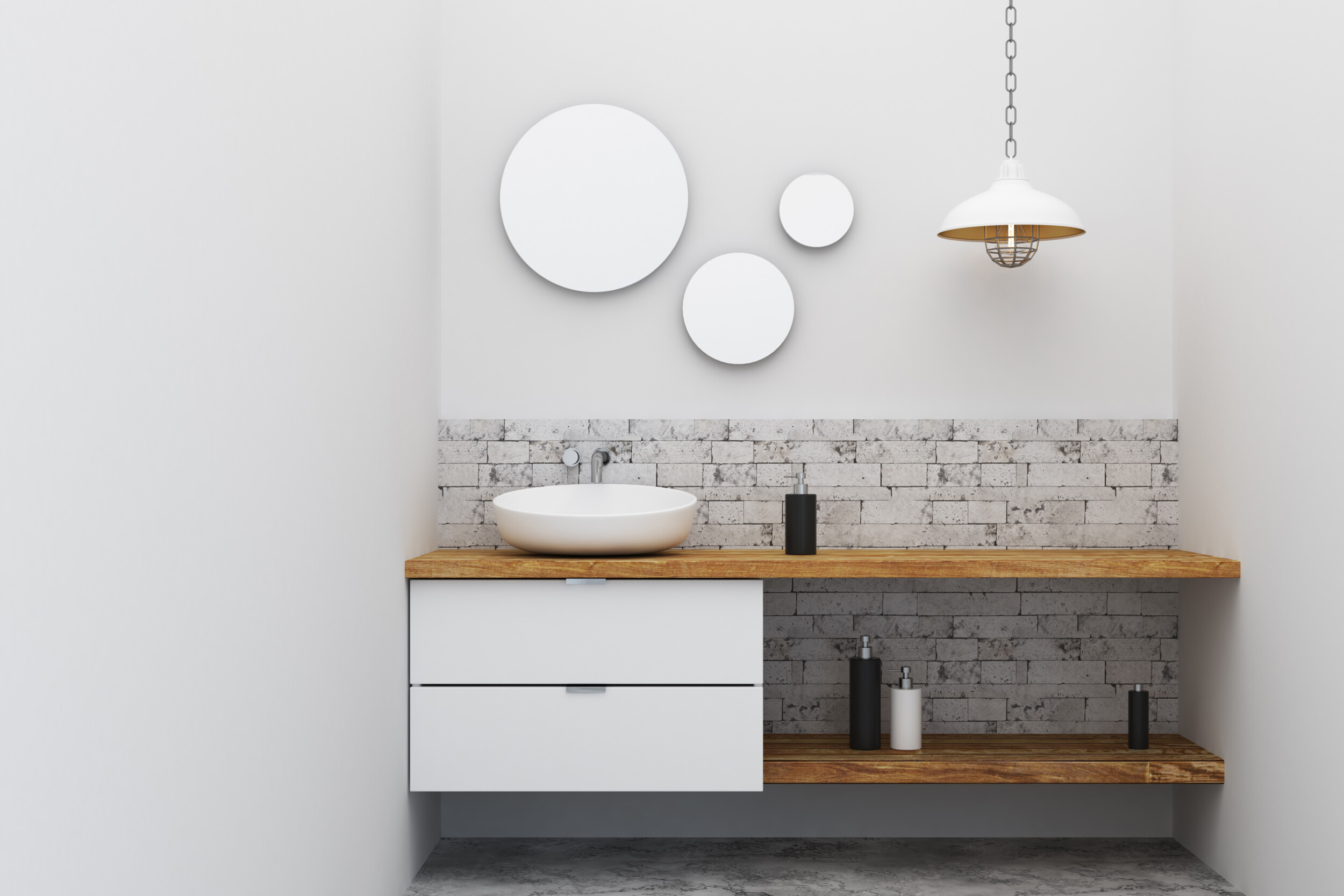 SMALL HANGING MIRRORS
Small suspended bathroom mirrors buck the trend of large mirrors in bathrooms. They give much more of an industrial feel and pair well with subway tiles and an industrial basin and lighting for a stylish nod to the 1960's mod-style.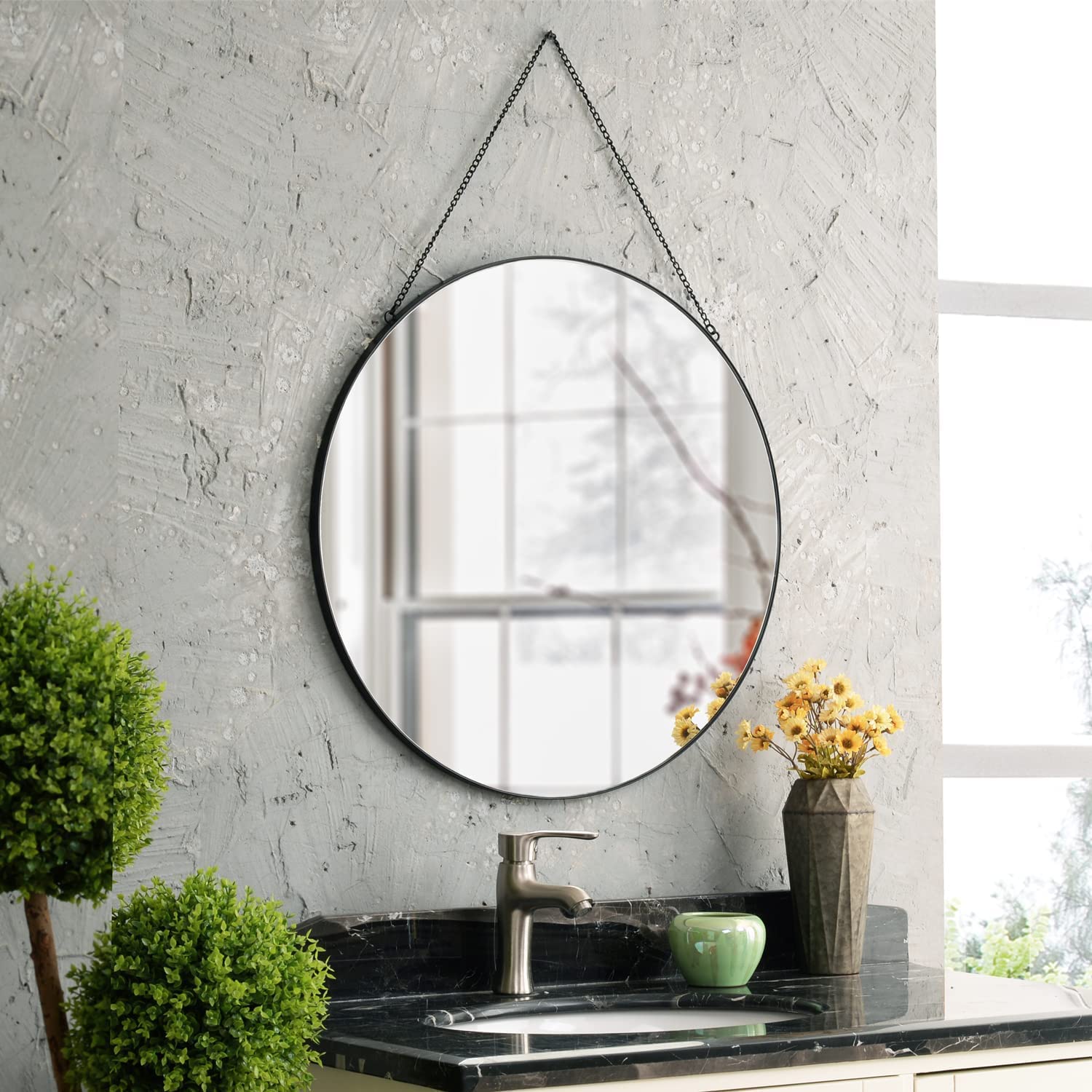 RUSTIC SUSPENDED MIRROR
A wood-framed mirror suspended by rope from hooks on the ceiling will make for a gorgeous rustic addition to your bathroom. Pair this bathroom mirror with a rustic wooden vanity and plenty of plans, so you will feel more like you are trekking through the Amazon than brushing your teeth in the suburbs.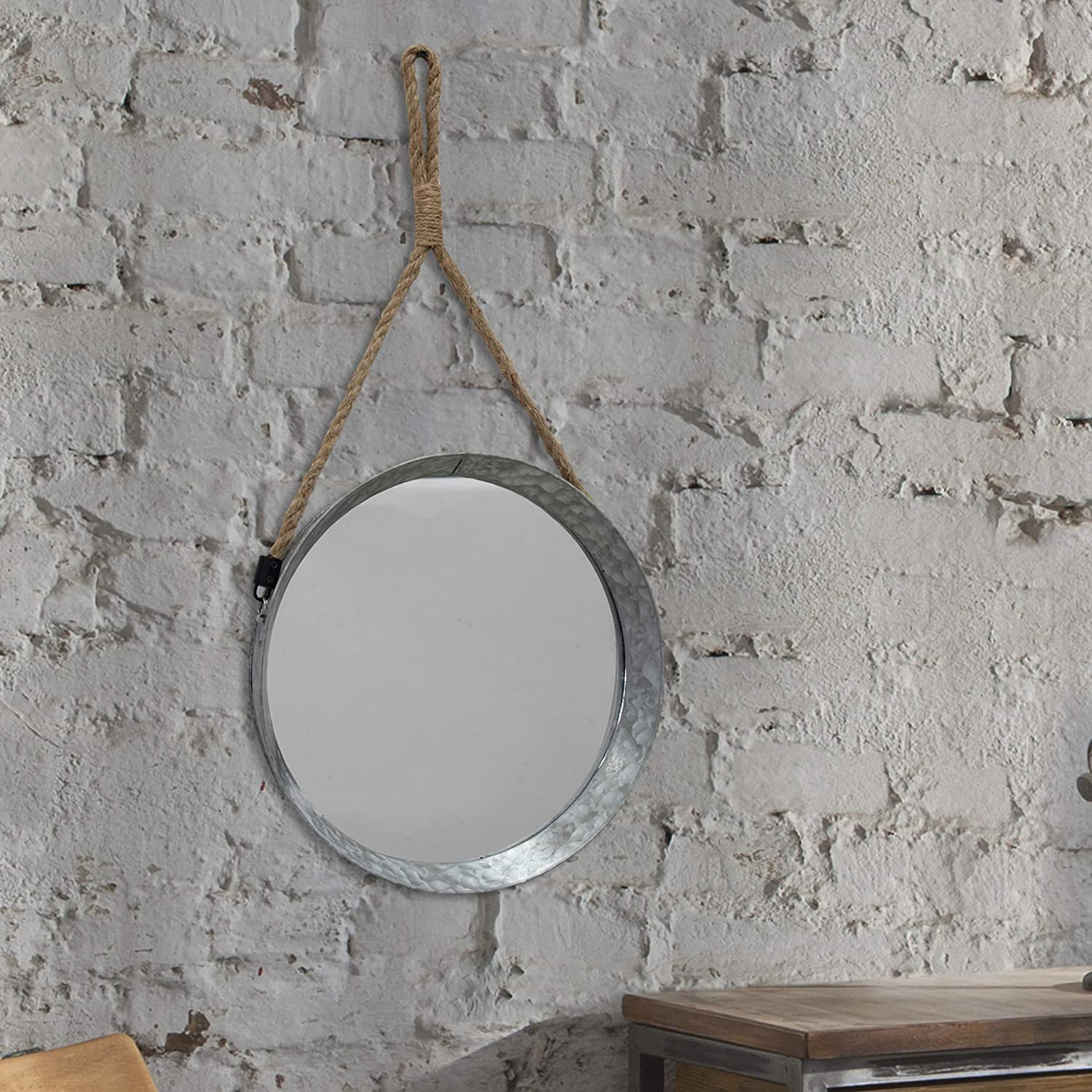 BLACK SUSPENDED MIRROR
A gold suspended mirror will make your bathroom the envy of everyone who enters it. Suspended mirrors are dramatic and daring (not to mention, gorgeous). A gold mirror suspended on gold fittings will work perfectly in an elegant and more traditional home and is perfect for grand master bathroom mirror ideas. Suspended mirrors are also great if you want to have your mirror in front of a window in your bathroom, to make the most of natural light available.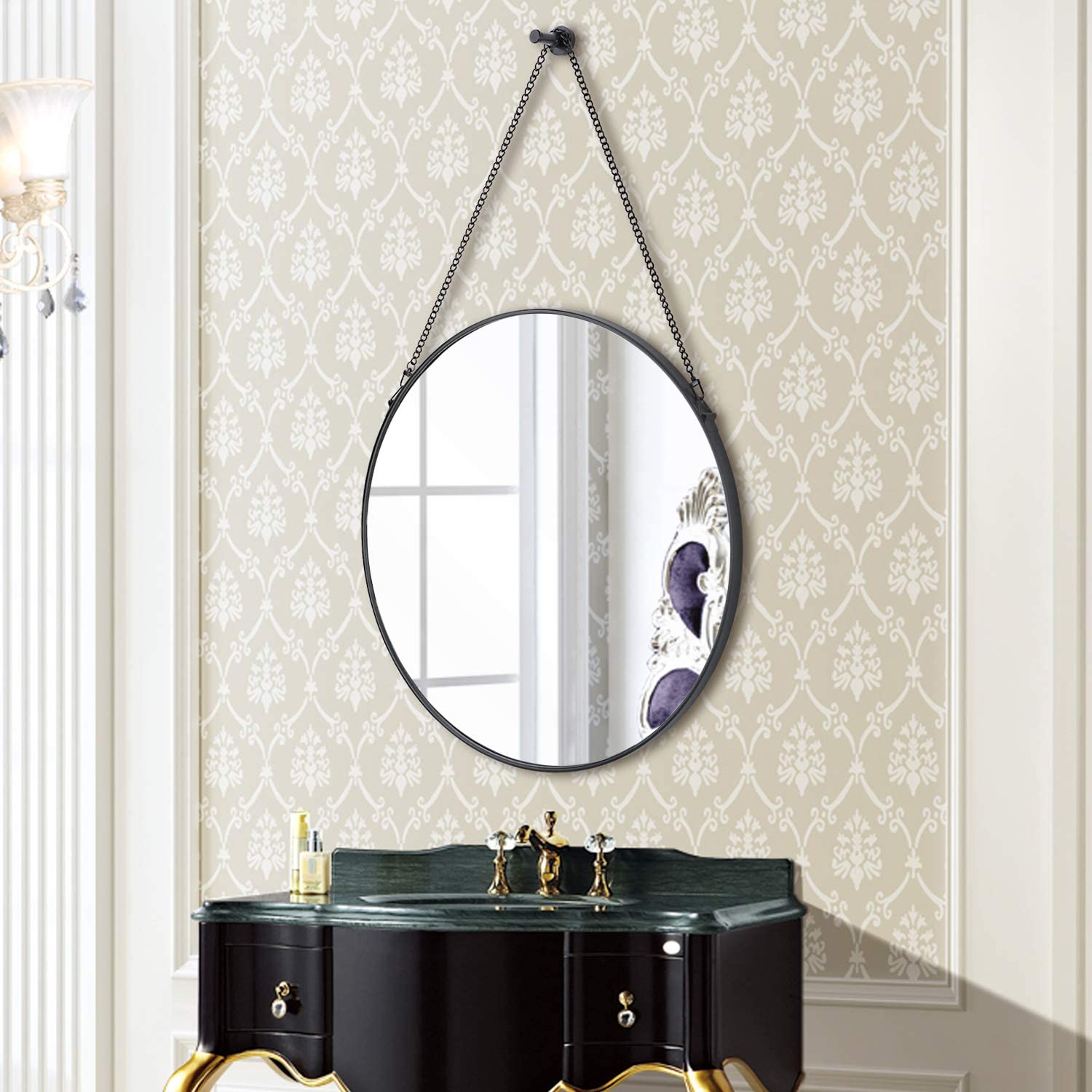 RECESSED MIRRORS
If you have a recess in your bathroom, make the most of it by filling it with a mirror, not only will it make your space look larger, but it will almost feel like an additional window in your bathroom. Plus, who doesn't love the idea of a huge mirror when it comes to bathroom mirror ideas?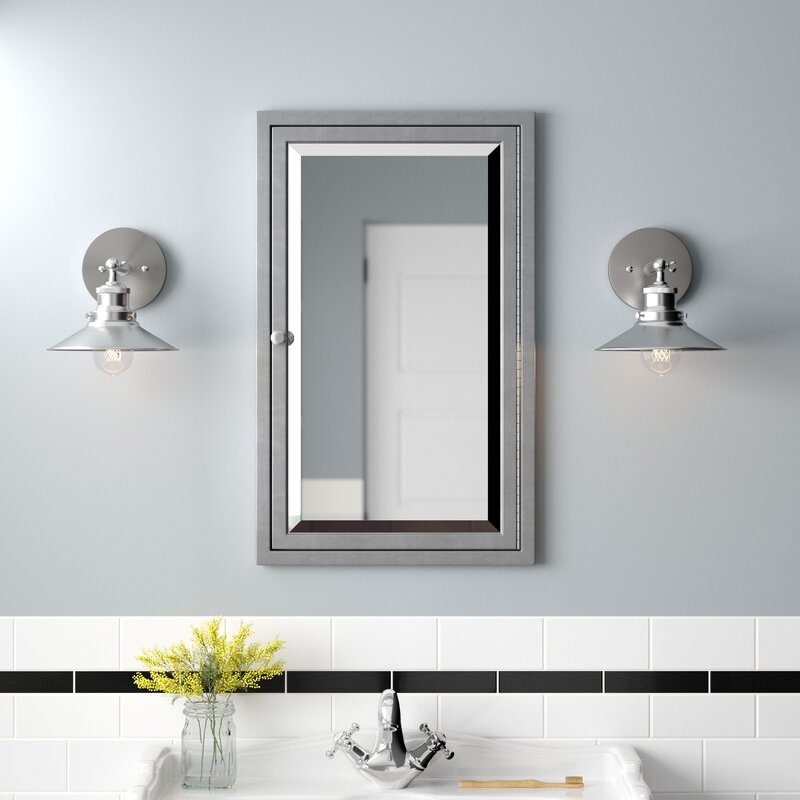 INDUSTRIAL SUSPENDED MIRROR
If you want to introduce a little industrial chic into your bathroom, do it with a bathroom mirror suspended by chains. Team modern bathroom mirrors like this, with subway tiles and a moody and masculine color scheme for an impactful bathroom design.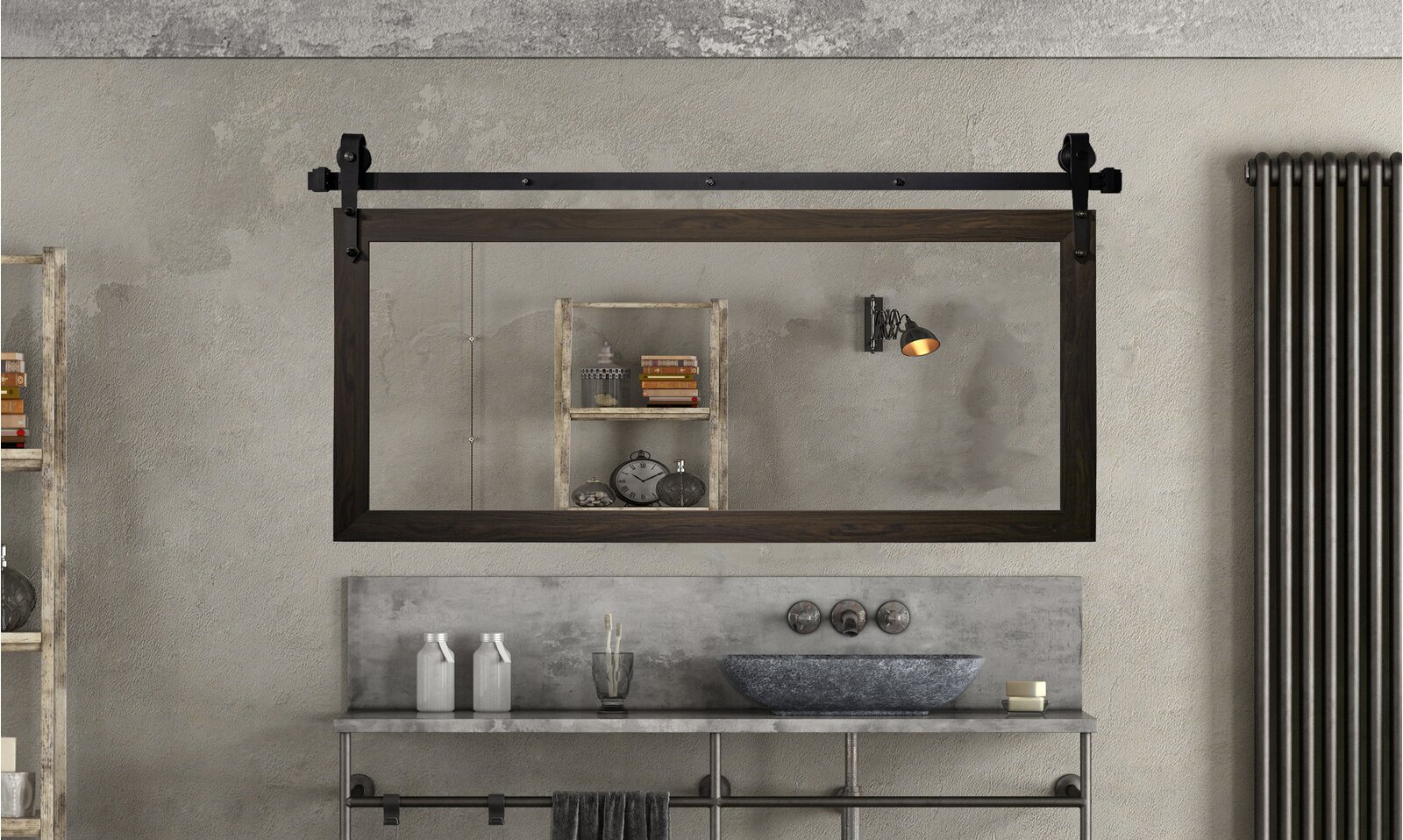 SPLIT MIRROR SHELF
If you want to elevate your overall bathroom design while keeping it clean and minimal, a mirror with a shelf cutting through it will do just that. It's something different and it makes for an eye-catching alternative to usual bathroom vanity mirrors.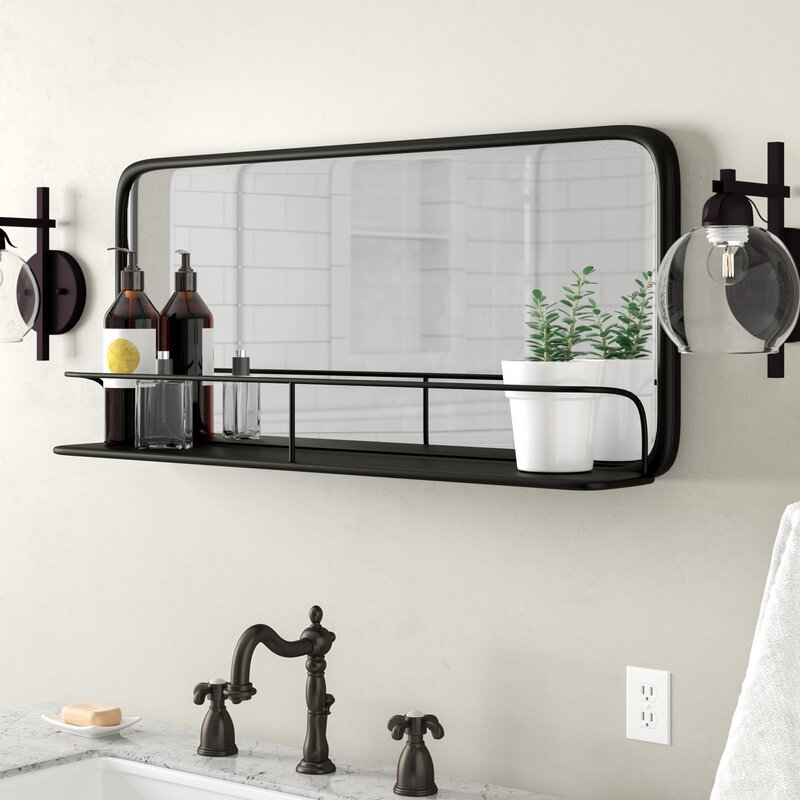 MIX AND MATCH MIRRORS
If you have space for two or more mirrors, why not mix up your bathroom wall mirrors with different designs or shapes. You could keep the overall design of the mirrors the same, and just choose a couple of different shapes, or you could go wild and select completely different designs and styles of mirrors for something more eclectic.
HAND MIRROR COLLAGE
If you want something unique in your bathroom, how about creating a collage out of a collection of vintage hand mirrors? This is something a bit different and no one else will have anything quite like your decorative bathroom mirrors. You'll enjoy the challenge of sourcing different mirrors and arranging them on your bathroom wall. Arrange them upside down, on their sides, and the right way up to create an interesting arrangement.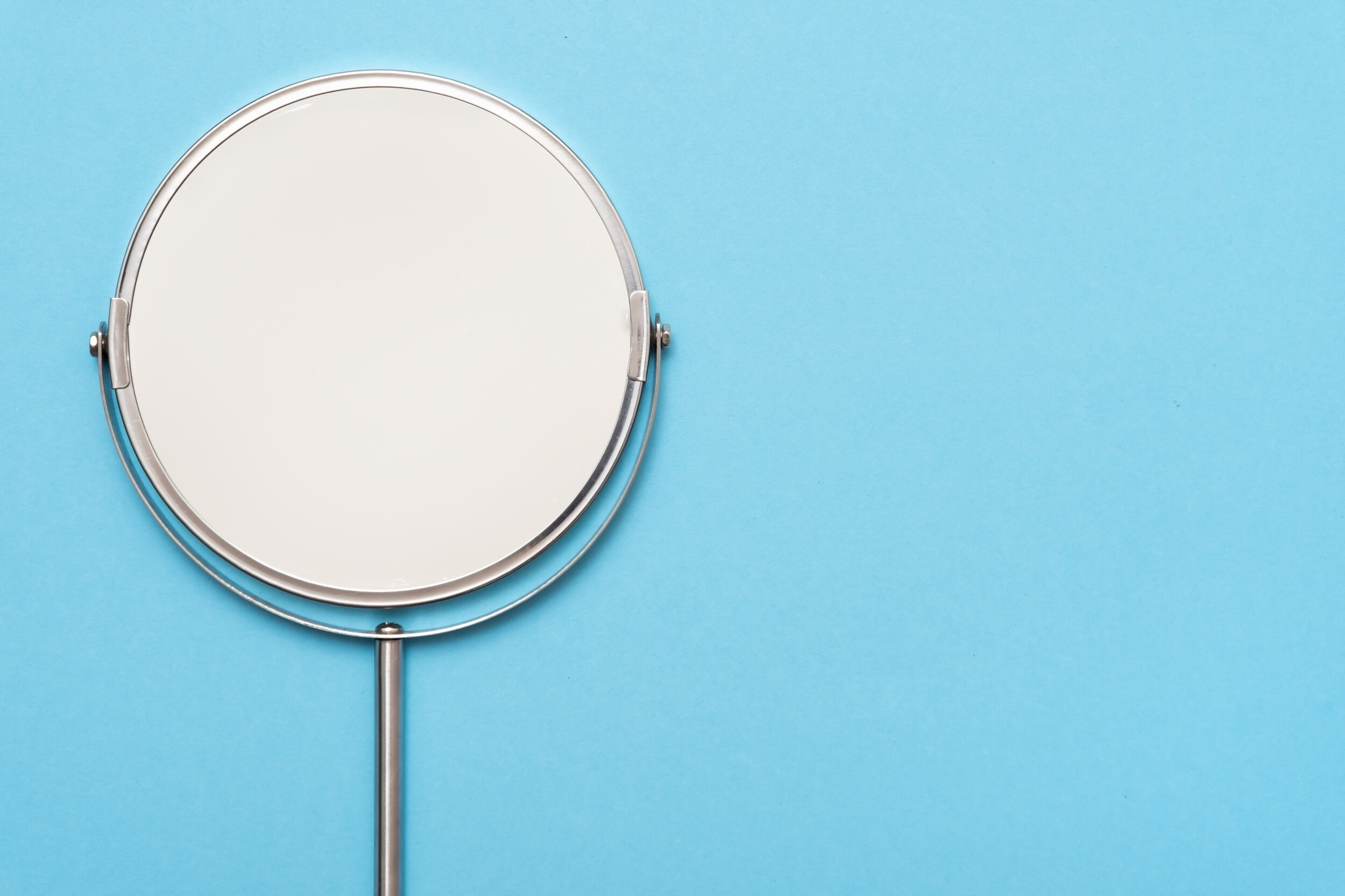 MIRRORED TILES
Tile a wall entirely in mirror for an interesting feature in your bathroom and for an extra sense of everyday glamor. Mirror tiles are available in all varieties of shapes and sizes, from small mosaic tiles to subway tiles, to large square tiles. Personally, we think the hexagonal ones are the best, as they are unusual and wonderfully geometric; upping the game in the world of bathroom vanity mirrors.