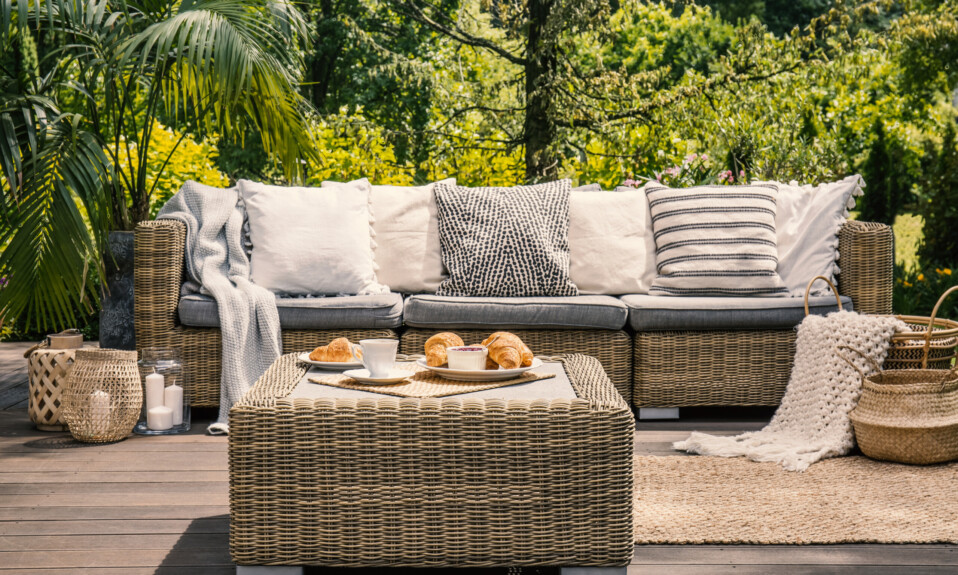 If you're lucky enough to boast an outdoor space of any size and are looking to update your deck and are on the hunt for inspiringly stylish deck ideas, there are plenty of savvy design directions to consider.
From back deck ideas that'll ensure privacy to covered deck ideas that'll lend your outdoor space an idyllic sense of charm, Décor Aid interior designers were keen to share their takes on effective strategies and solutions. Plus, we've even included savvy ideas for small deck spaces to help you make the best use of the space with enviable style.
A Living Wall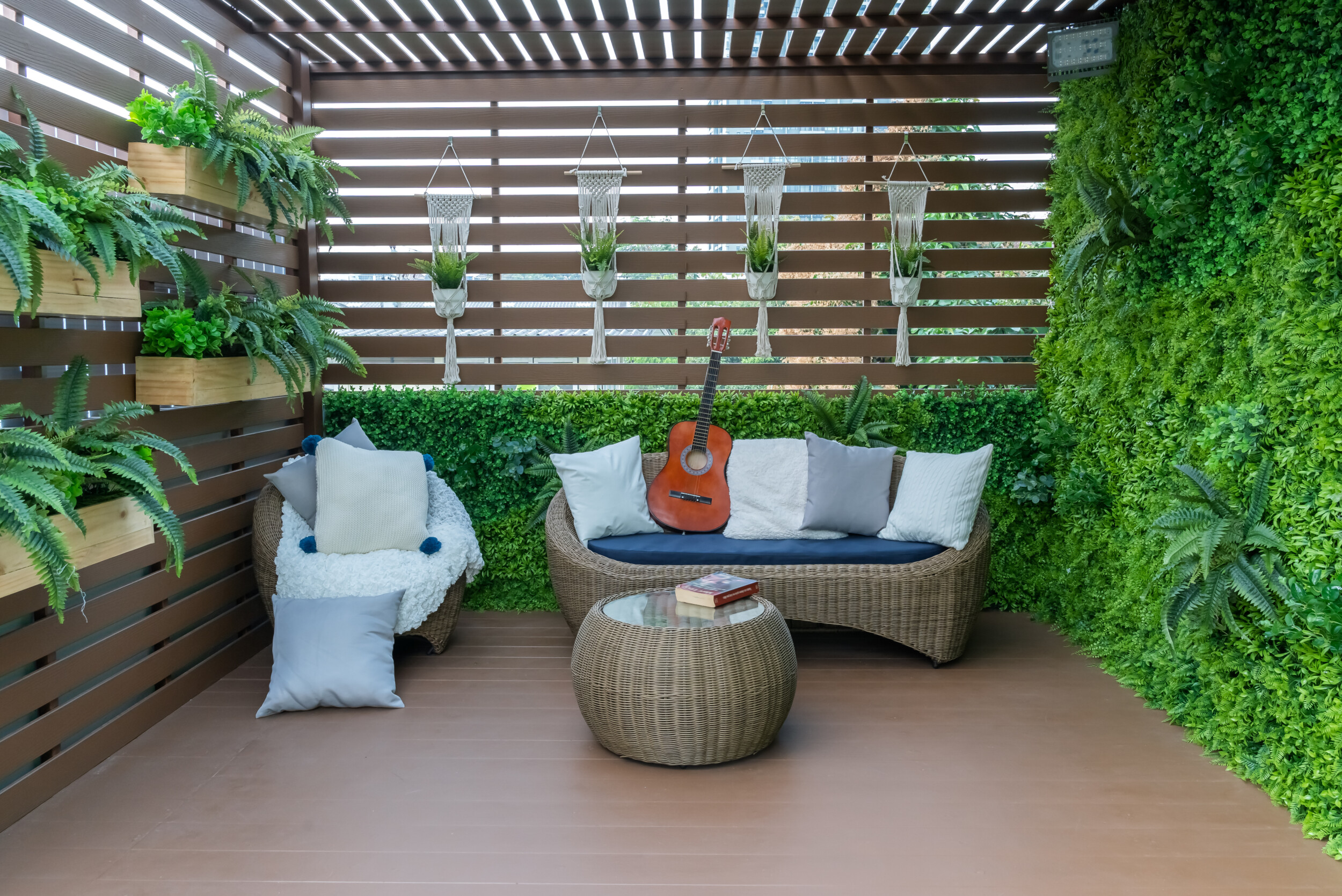 For instant drama and a timeless sense of beauty, an outdoor space will lend itself well to a sweeping living wall complete with languid blooms for a relaxed look. Use it as a statement-making focal point that's charm will delight for years to come.
Just be sure that you keep your living wall away from traffic flow and seating arrangements so it won't be hit with everyday wear and tear as people pass by.
A Well-Judged Dining Area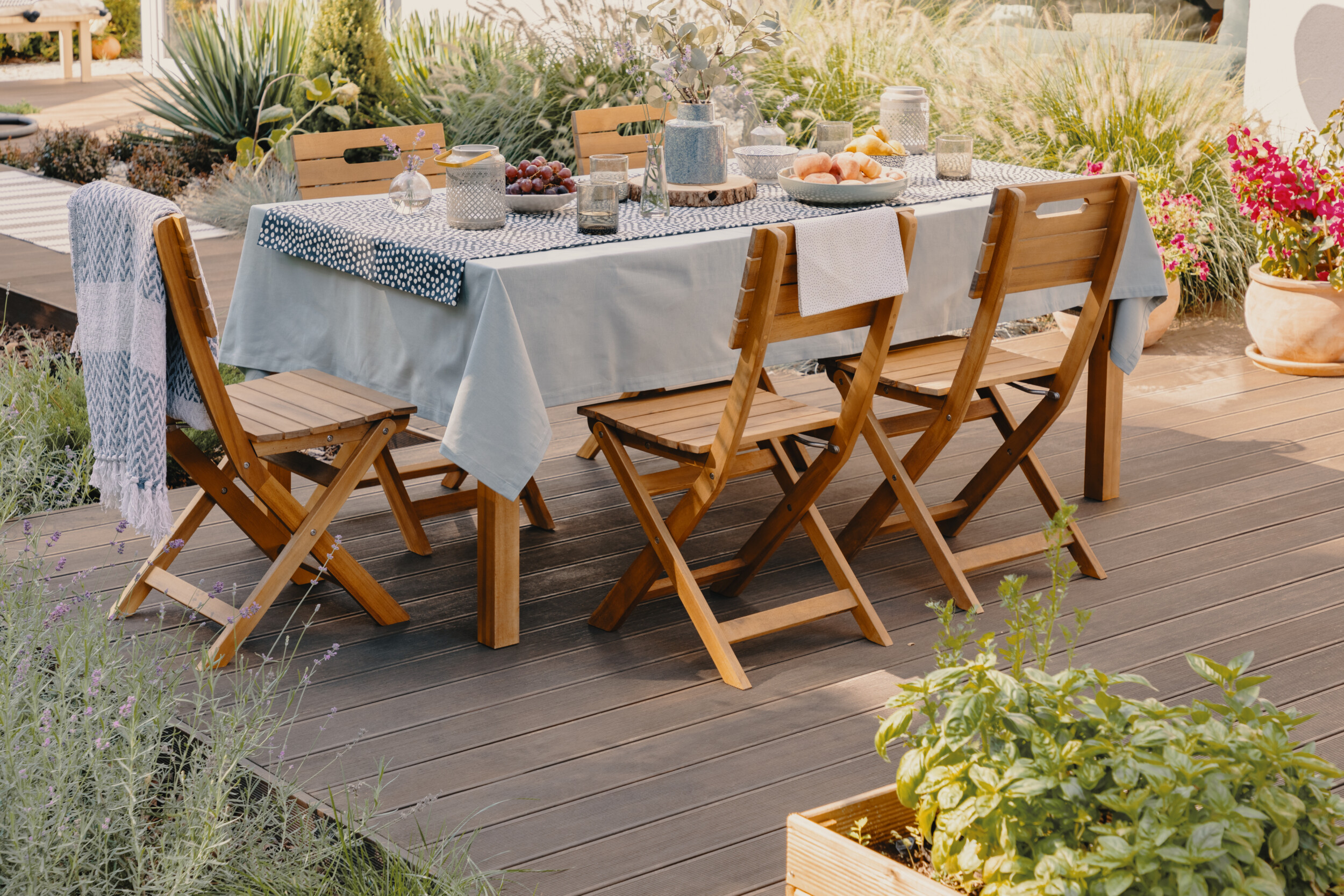 When it comes to relaxing deck ideas, nothing beats the joy of dining al fresco. For a romantic look, create a symmetrical set up that boasts a larger outdoor table complete with seating and bring in additional accessories to finish the look.
This could be a handy bar cart, cushions, an outdoor fridge, a set of string lights – whatever makes outdoor entertaining all the more glamorous, the better.
A Comforting Fire Pit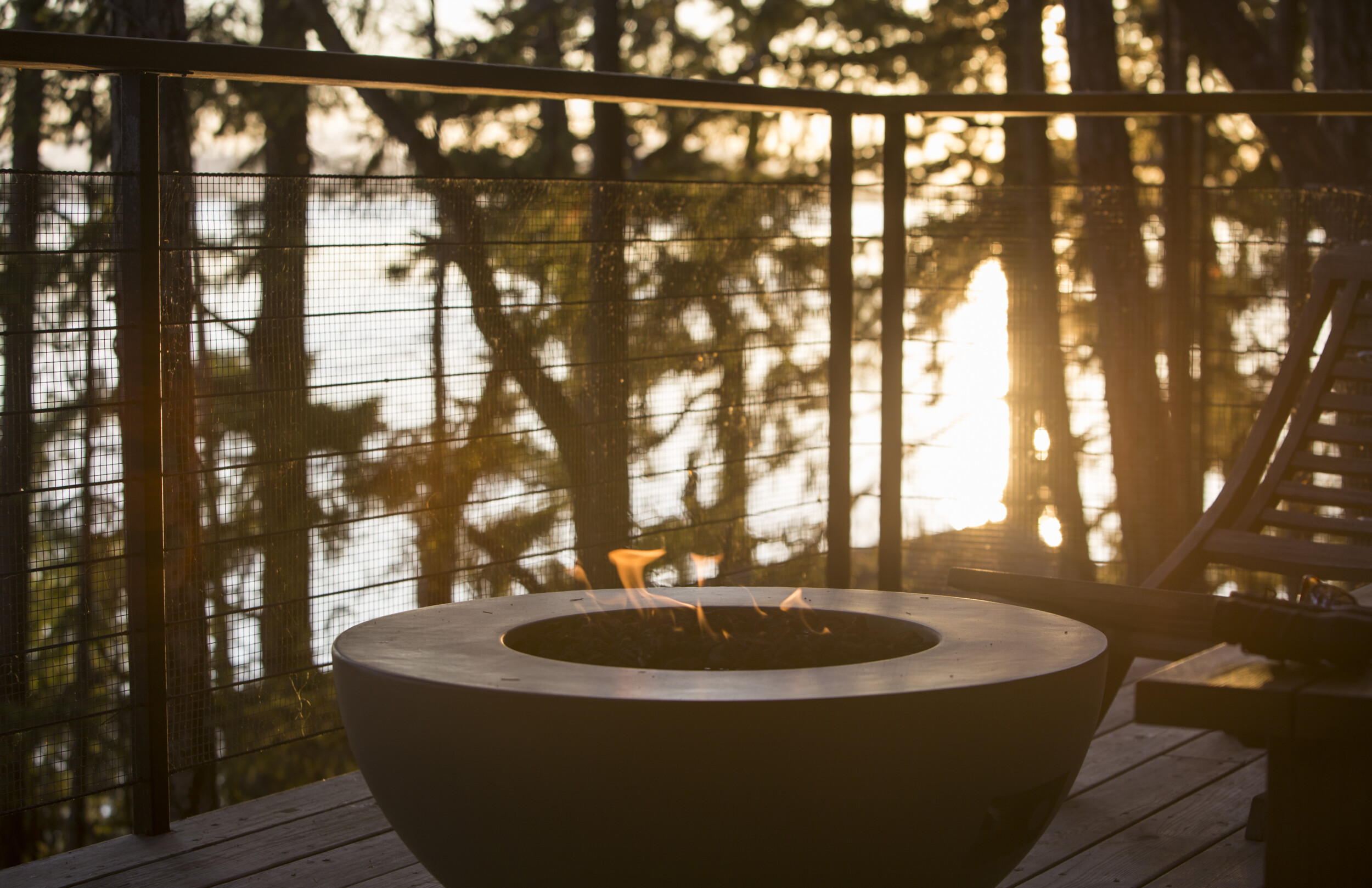 Just like dining al fresco, nothing beats the feel of being outdoors surrounding a warm fire. But since we're talking about open deck ideas, our renovation experts were quick to point out that a gas fire pit will be a much safer bet than a wood burning one.
Plus, if you move, you can easily bring it with you to your next home.
An Outdoor Kitchen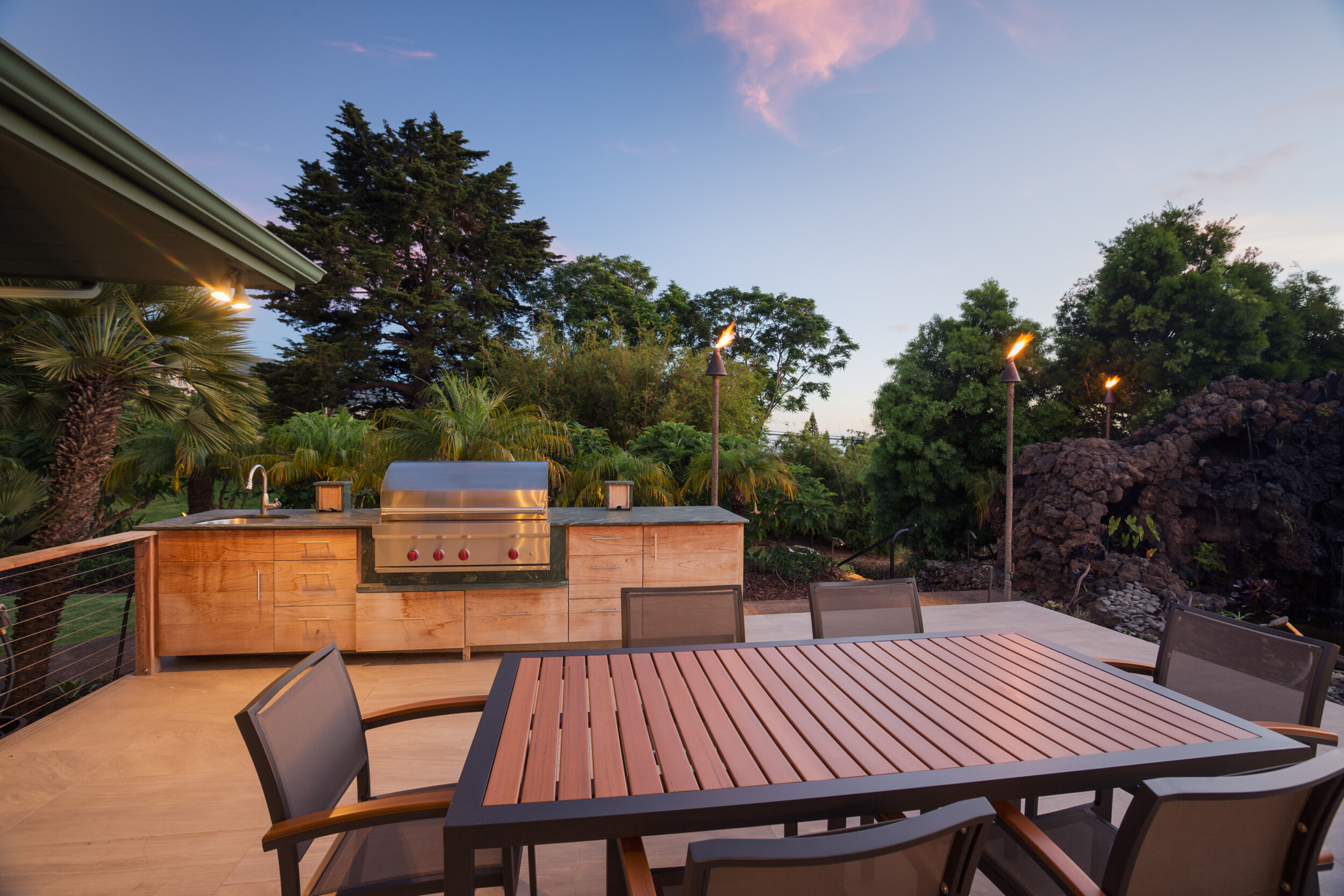 When it comes to modern deck ideas that are certain to boost the resale value of your home, nothing beats a well-made, custom outdoor kitchen complete with a range, a sink, and a fridge.
The key here is to design your outdoor kitchen so that all of it's features are concealed to keep them safe-guarded against year-round elements outside, like rain and cold seasons.
A Striking Water Feature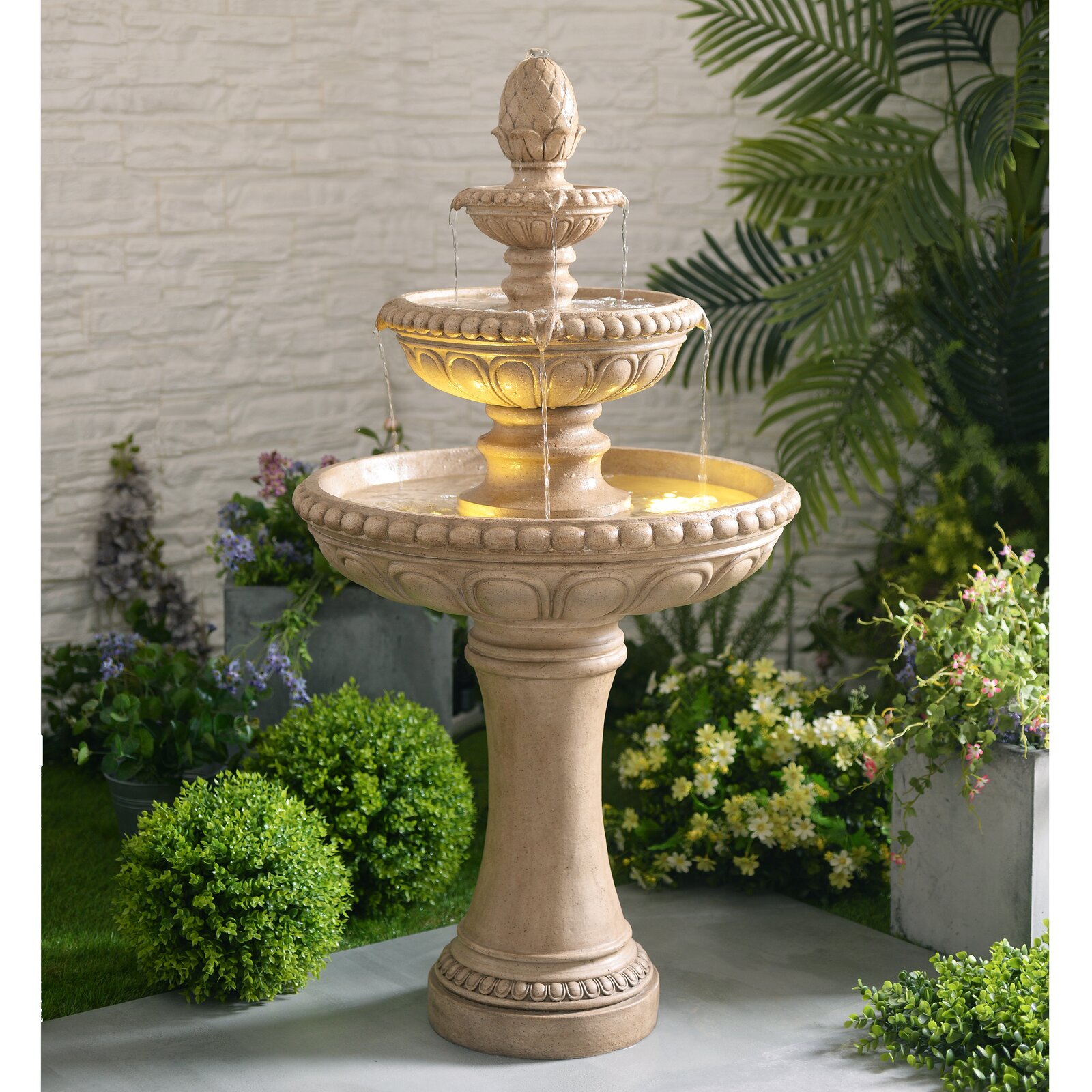 If you've got a flexible budget to work with, consider having a well-designed custom water feature created exclusively for your outdoor space to make it all the more unique. The trick here is to go for a large-scale sculptural piece as since this is an outdoor space, a small store-bought unit will simply look out of place.
A Hanging Swing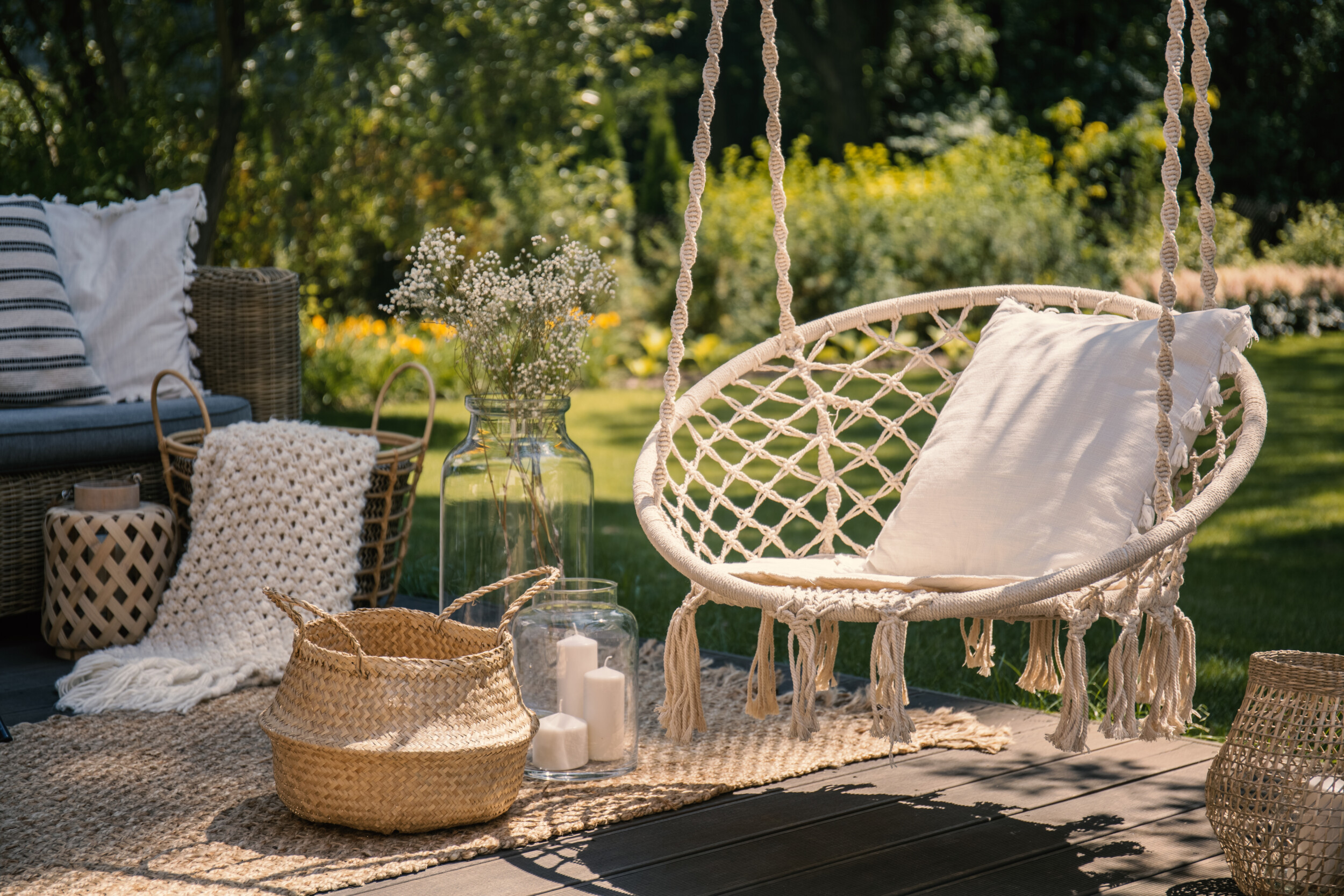 Create a sense of play with modern deck ideas that celebrate the freewheeling spirit and energy of spending time outside. This could be done via a relaxing hammock or a strikingly contemporary hanging swing that you can store when the seasons change.
An Illuminated Walkway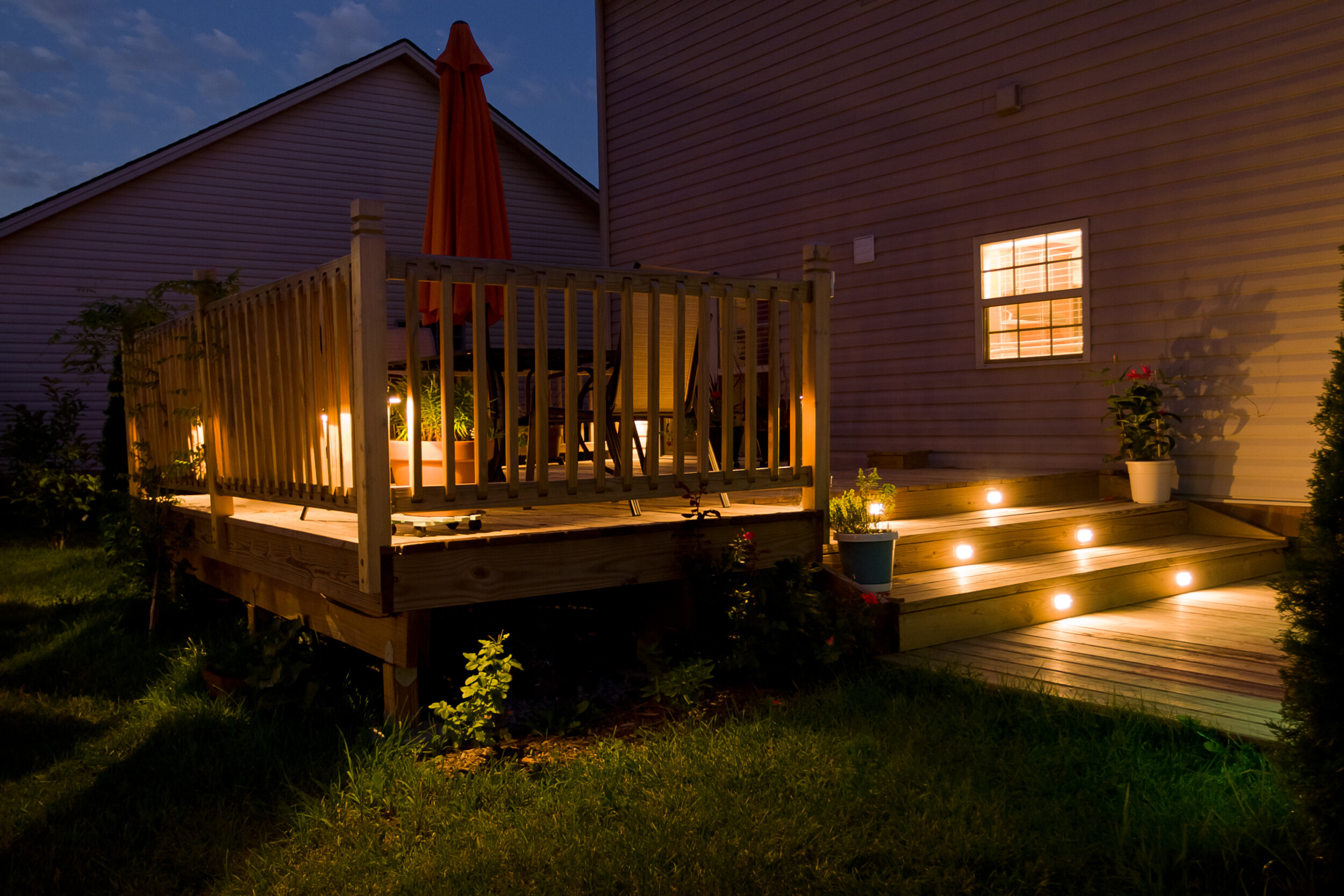 Another home value-boosting deck idea, an illuminated deck will make spending evenings outside all the better while giving the night an indulgent, calming glow.
Boasting A Glass Railing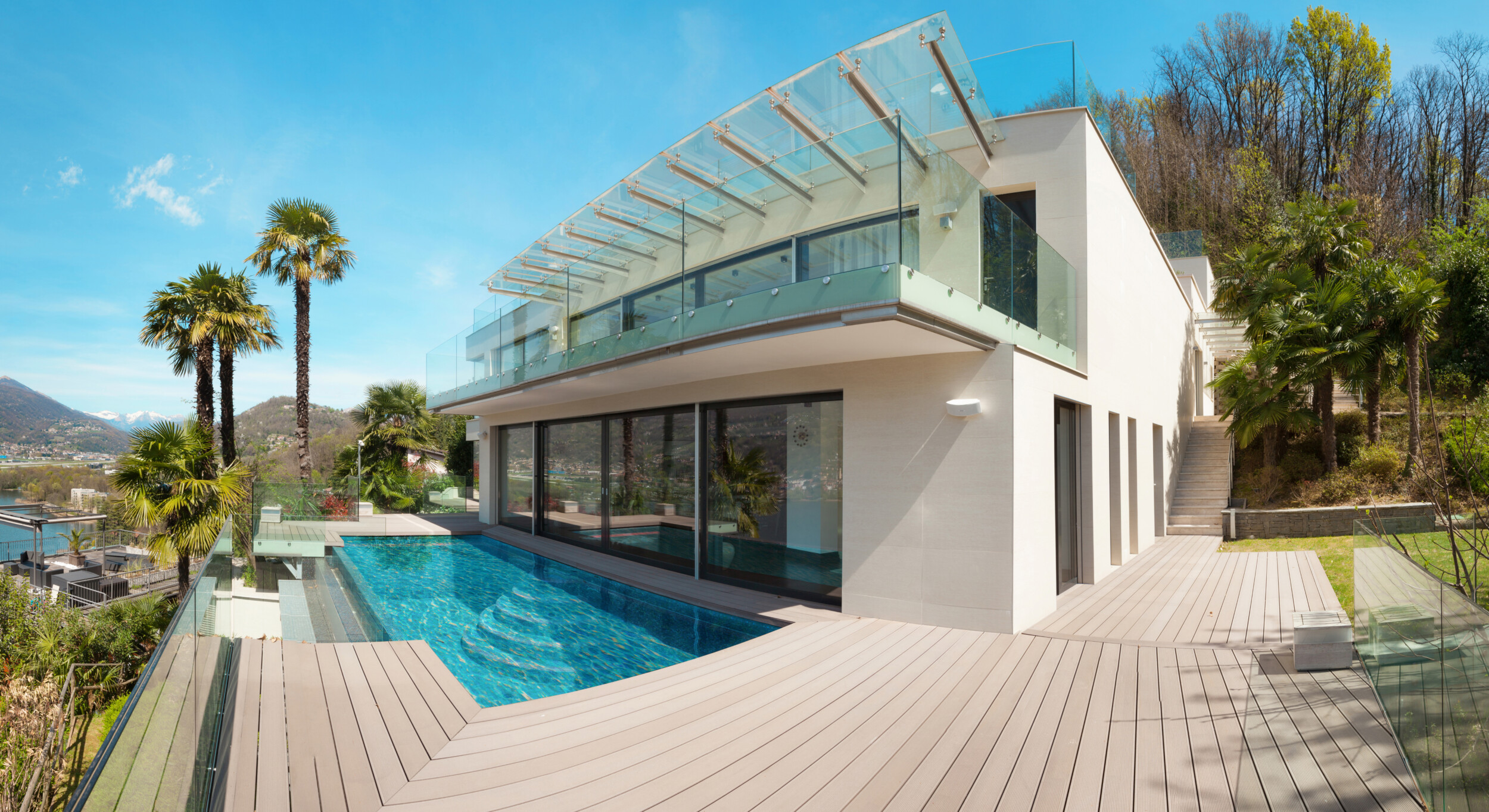 When it comes to modern deck ideas, thinking outside of the box will give yours a one of a kind feel, and nothing beats the cool allure of glass railings that keep the eye moving.
A Connection Between Structures
Over the pool bridge makes an enviable case for using your deck as an extended walkway to connect different structures around your property together.
Cover It With Potted Plants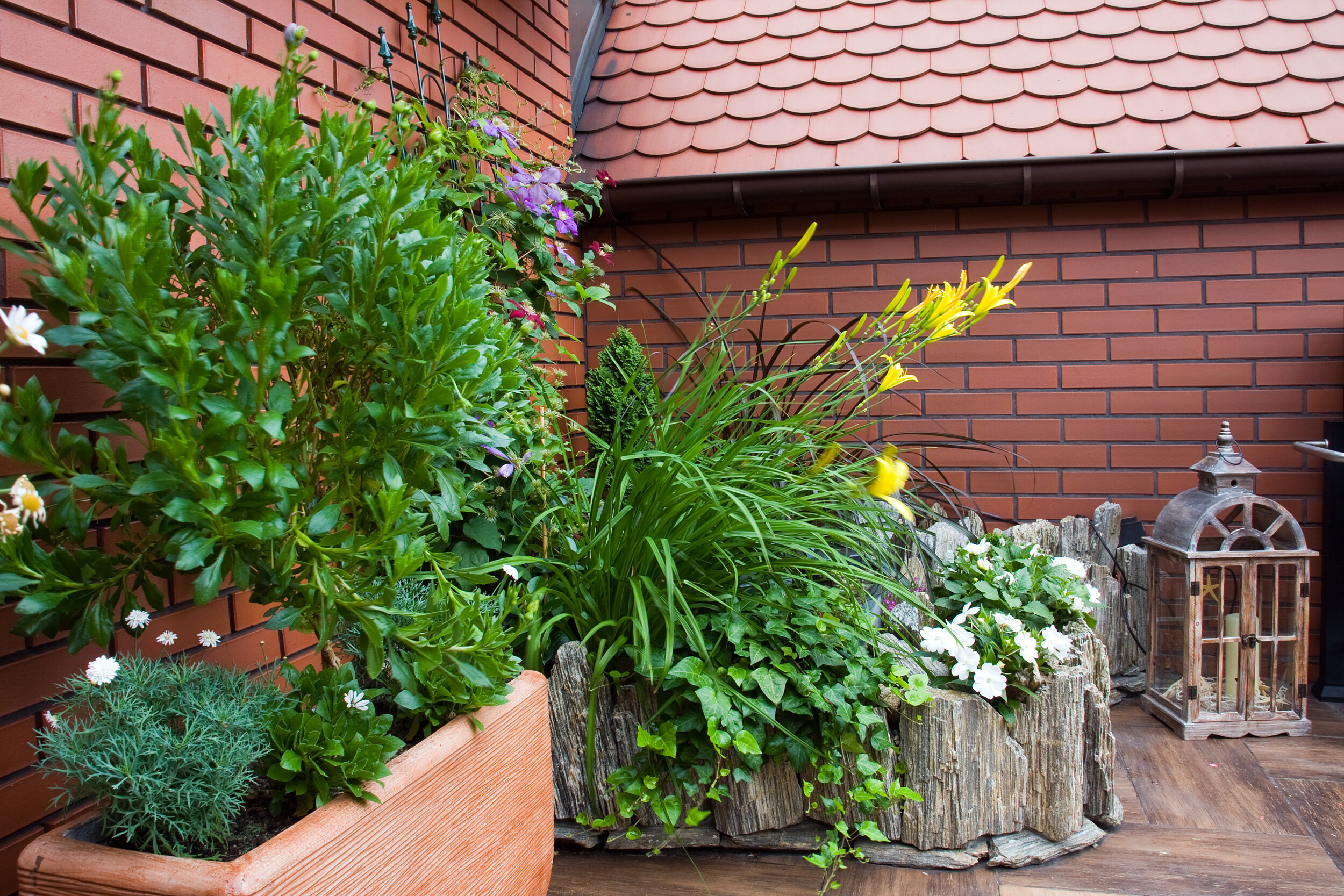 Potted plants are, of course, great for deck ideas – they'll thrive outdoors, making them easier to maintain. Select plants of various heights to add height and depth to your outdoor space and go for a variety of colors, textures, and scales to create just the right amount of depth. The great thing about potted plants is that they come in a variety of shapes and sizes, from the oversized to the miniature, making them great for small outdoor deck ideas, as they won't take up that much space.
Colorful, patterned pots in different shapes and sizes will add interest to your deck, and the foliage brings with it the added bonus of canceling out noise around you.
Put Up a Pergola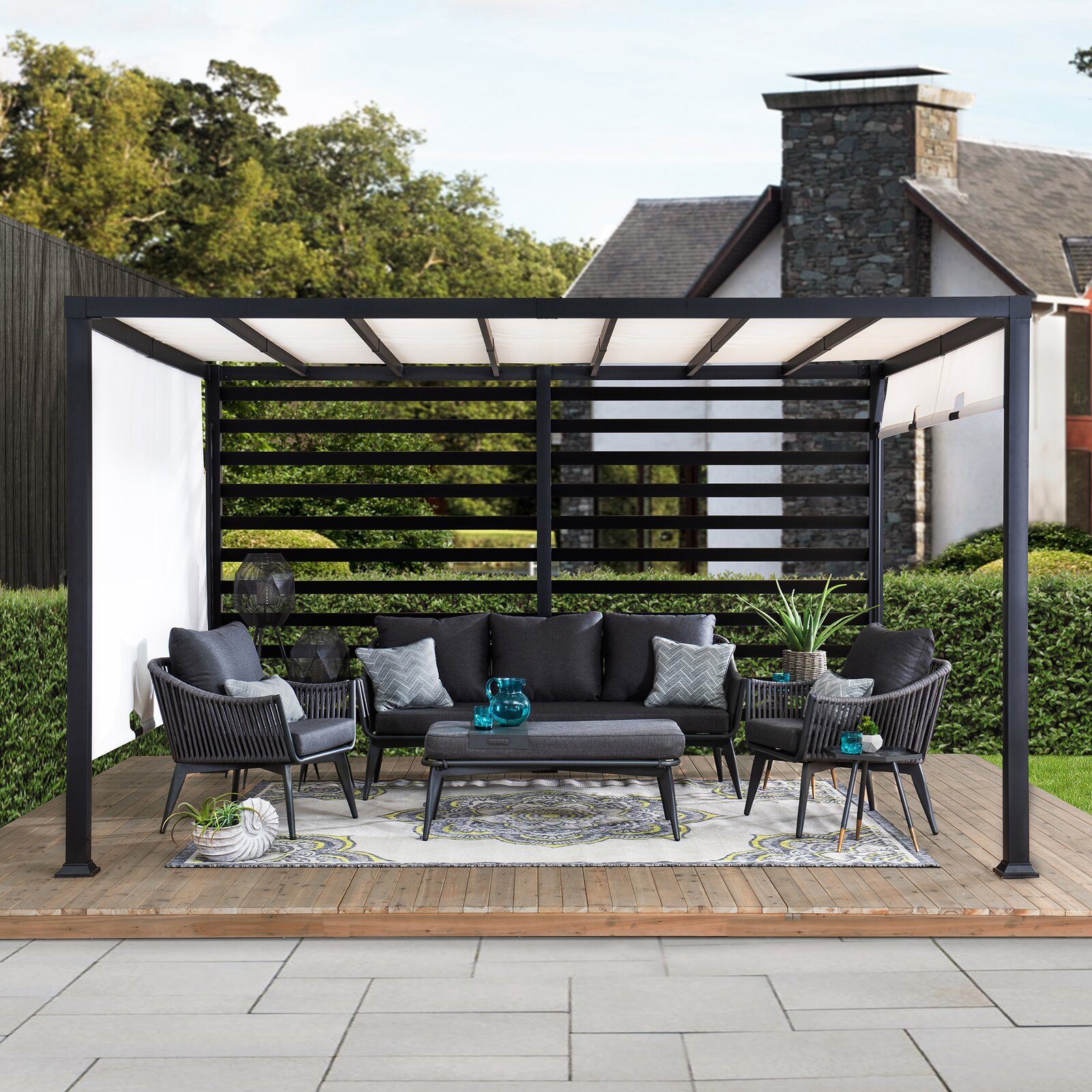 If you're looking for effective and simple deck ideas to block out the sun and create some shaded privacy, then a pergola or outdoor structure will instantly do the trick year-round. Pergolas can be erected at one end of your deck, in the corner or across the entire width and length of your deck.
Growing climbers over your pergola will afford you natural shade in the summer, protecting you from the sun. Not only are they practical covered deck ideas, but they look stunning and will also boost the value of your home. Paint or stain your pergola a contrasting color against your deck, to really define the space.
A Living Room Look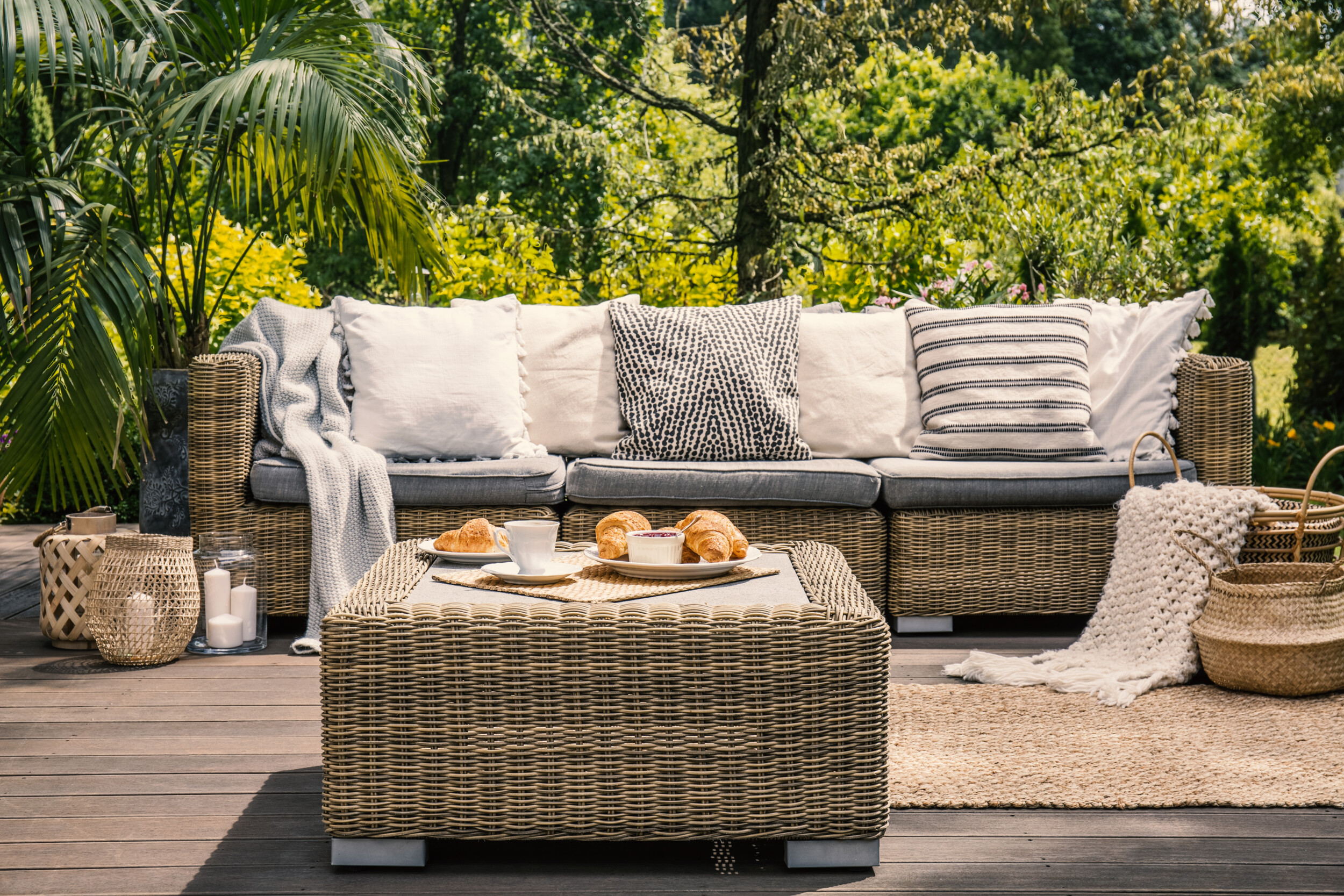 When the weather is good, a well-judged and sturdy deck can almost be like having an extra room in your home when it's decorated for entertaining. Embrace the idea and create a functional living room in your covered outside space. Bring out weatherproof furnishings like sofas and chairs and place them around a coffee table for conversation, just like you would inside.
Dot the area with potted plants scattered about and accessorize your outdoor space so it feels just as intimate, relaxing, and cozy as your living room does. Of course, it should go without saying that outfitting an outdoor space with plush furnishings will make for a great space for entertaining and relaxing. Make the most of it and install wall mirrors to open up the space and make it feel just like home.
Modern Dark Wood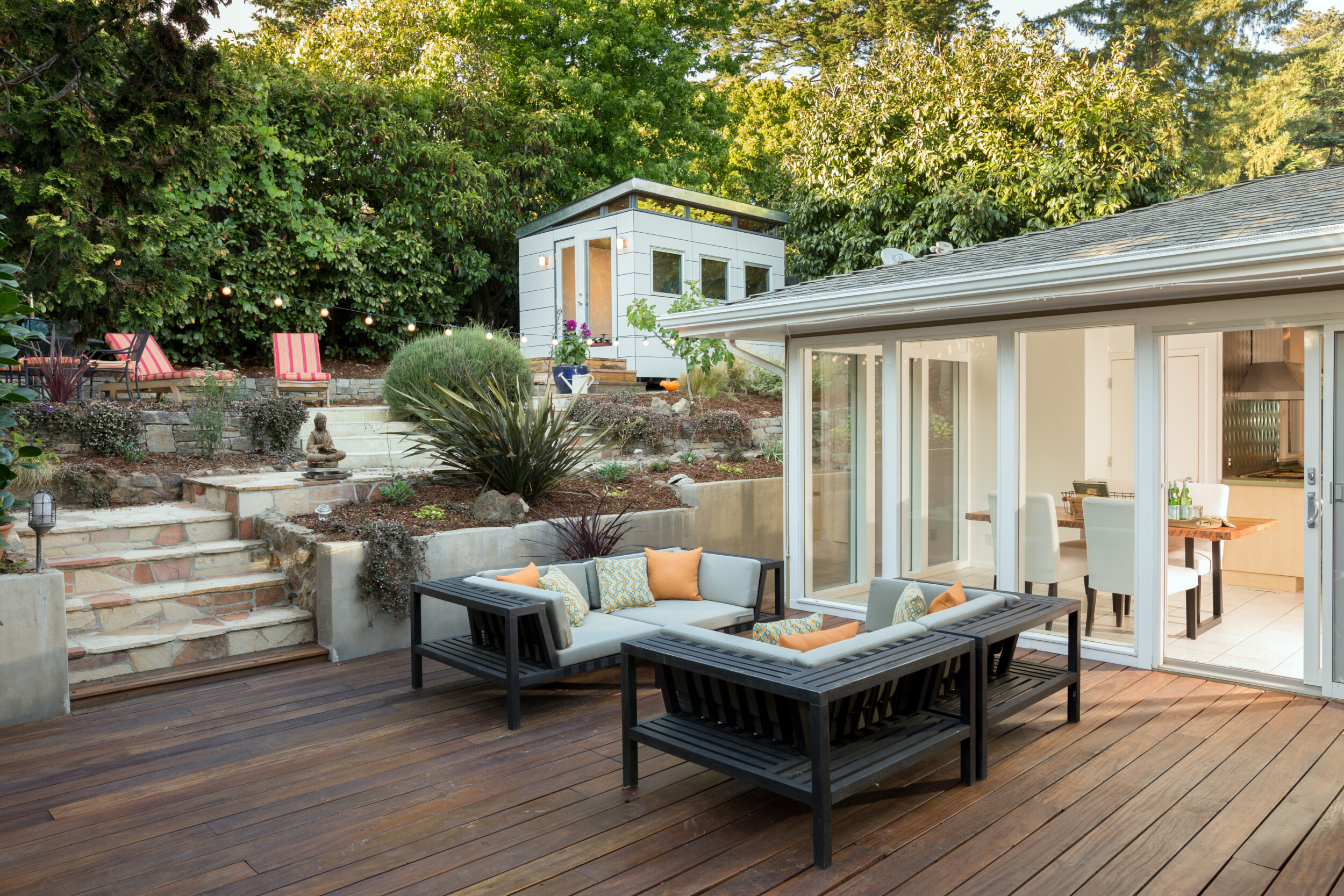 Deck ideas in all dark wood will add a modern and minimal feel to your deck, without it feeling too cold. A warm toned wood will keep your deck feeling inviting and welcoming and simple deck ideas like this are easy to achieve. If you already have a deck and you are looking to update it, then opt for a dark gray charcoal or black finish that will also make the space appear larger than it is.
Go ahead and choose a deep, warm-toned stain and use it all over your deck and any railings that you have for a consistent feel. By finishing your deck and railings in the same wood tone, you'll master a soothing minimal feel that'll be perfect for relaxing outdoors with.
Wooden Roof Deck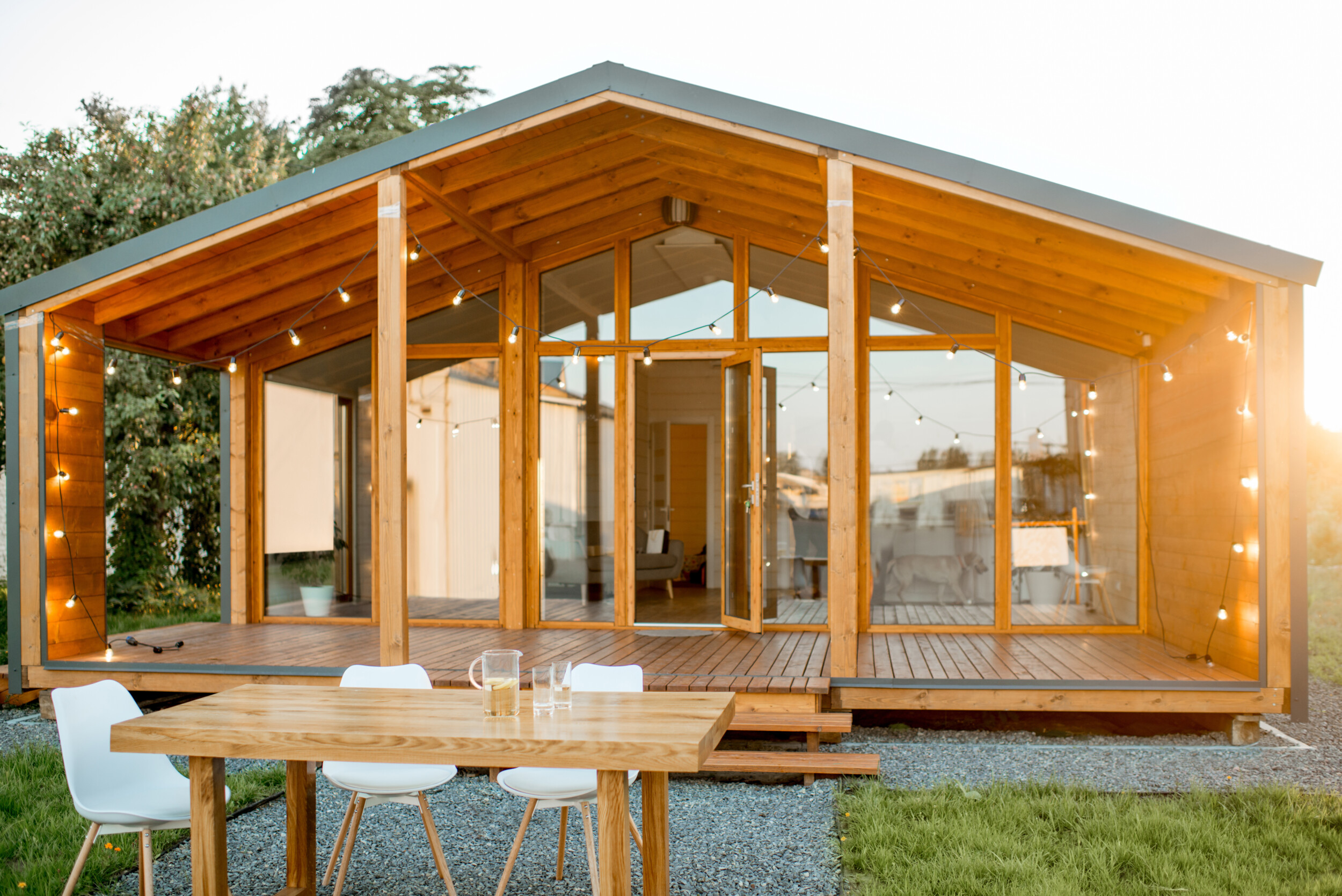 If you are lucky enough to have a roof terrace with unbeatable views, cover the concrete or asphalt with mid-toned wood to keep it feeling warm (the perfect deck material if you have a pool on your roof). Paint the railings white so they stand out and are easy to see while adding needed contrast between them and your deck.
Keep your deck ideas modern in feel and select light grey or bright blue chaise loungers and chairs, accented with a colorful cushion or two. A strikingly modern deck like this will lend your urban outdoor space a charming and relaxing vibe away from the noise of the city.
Tiled Deck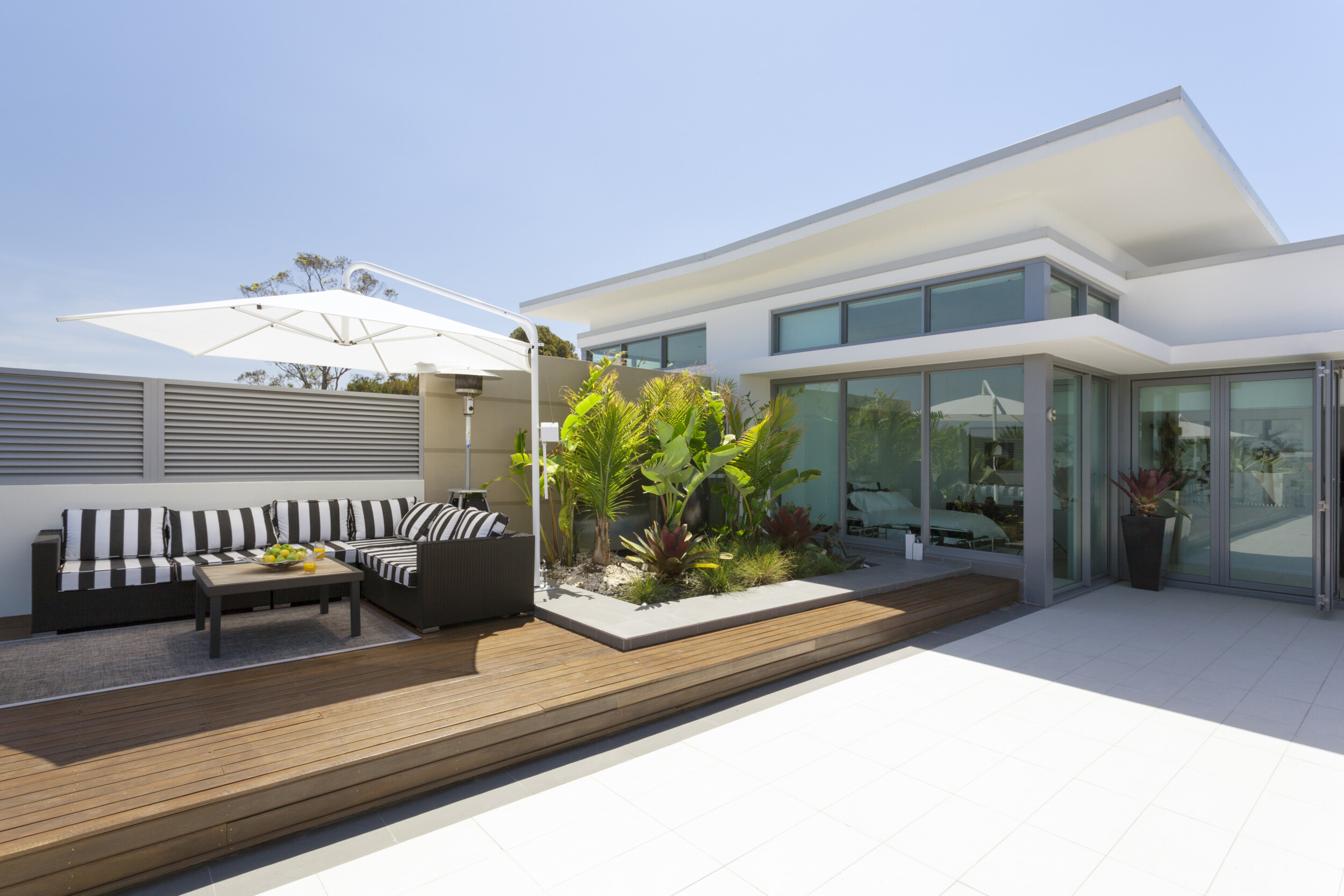 For something different, consider a thin stone or tiled area as a viable material surrounding your deck. This will allow you to add some vibrant color and or energetic pattern to your garden deck ideas. It also gives you the chance to create a solid contrast between your deck, your home, and the rest of your garden or backyard.
Classic blue and white tiles are a great option as they are perfectly graphic and will stand out against the green hues often found in a garden. Simple deck ideas like this are effective and it will also help you avoid some of the more expected issues that come with an all-wood deck, like the wood rotting, cracking, and fading. This is also great for making small outdoor deck ideas feel more energetic and lively.
Painted Stripes
Elevate your outside space by painting graphic stripes across your deck. Choose bold contrasting colors to make a striking impact, or neutral tones for a more subtle, laid back feel. Deck ideas like this will add an extra dimension to your deck and when teamed with neutral outdoor furnishings, you'll take pride in mastering one of the more unexpected modern deck ideas that no one else has tried.
Painted stripes or just about any custom graphic silhouette will work well for small outdoor deck ideas, large decks, and covered deck ideas alike. Plus, since it's a DIY project, it shouldn't cost more than $150 to get the look right on your own.
Filled with Foliage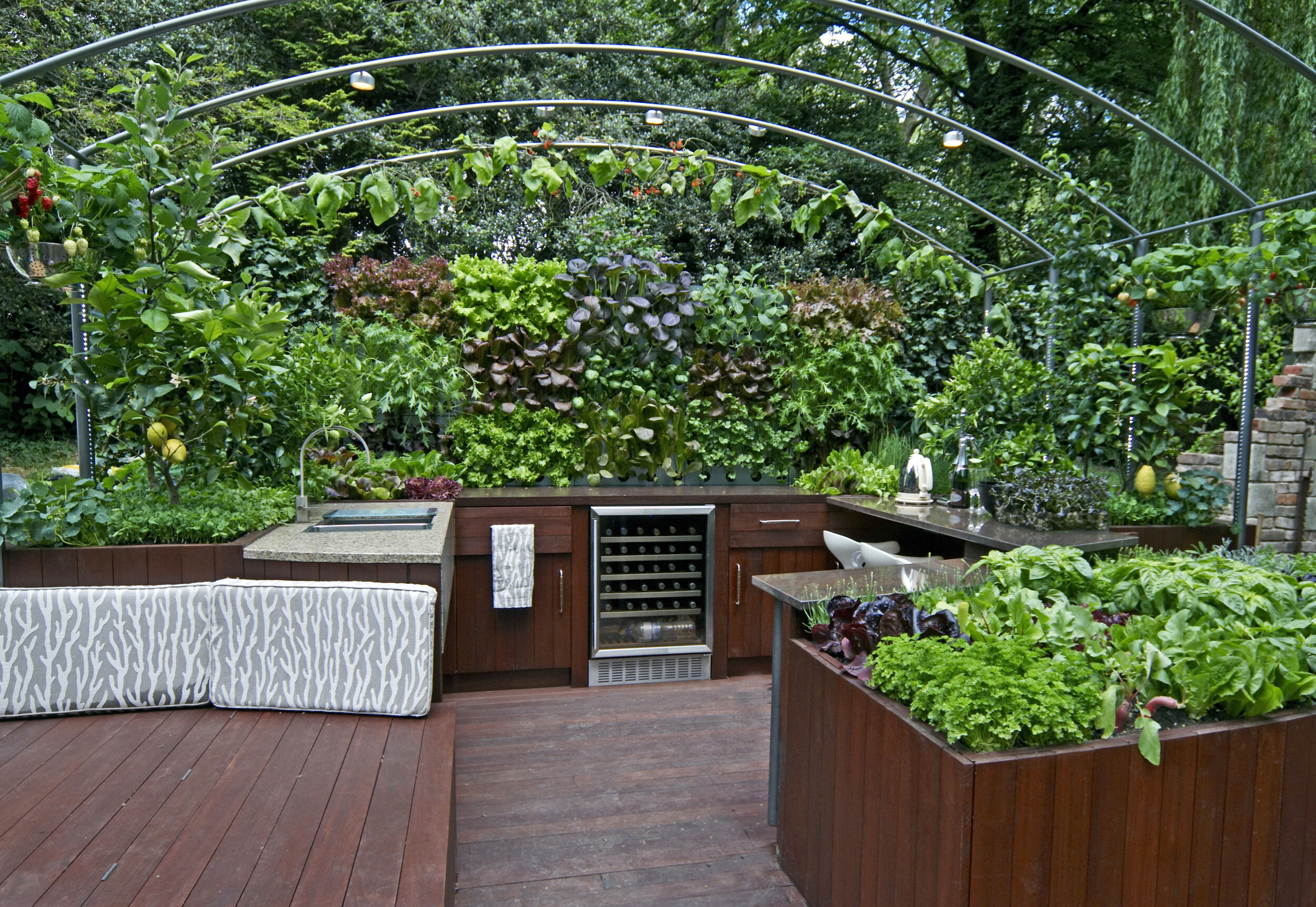 If you've got a green thumb and are passionate about flowers and gardening or if you're all about finding the easiest plants to take care of, bring your deck ideas to life with an array of outdoor plants. Install a trellis around the outside of your deck in place of railings, and grow climbing plants around the perimeter of your deck.
This will bring add endless energy to your deck when everything is in full bloom. You can bring in climbers that bloom at different points throughout the year, so you are never without luscious greenery and vibrant florals. With a trellis blending seamlessly into your garden, deck ideas like this will make your space feel well-judged and will help your garden and deck blend together to keep traffic flowing as best as it should.
Consider A Greenhouse Effect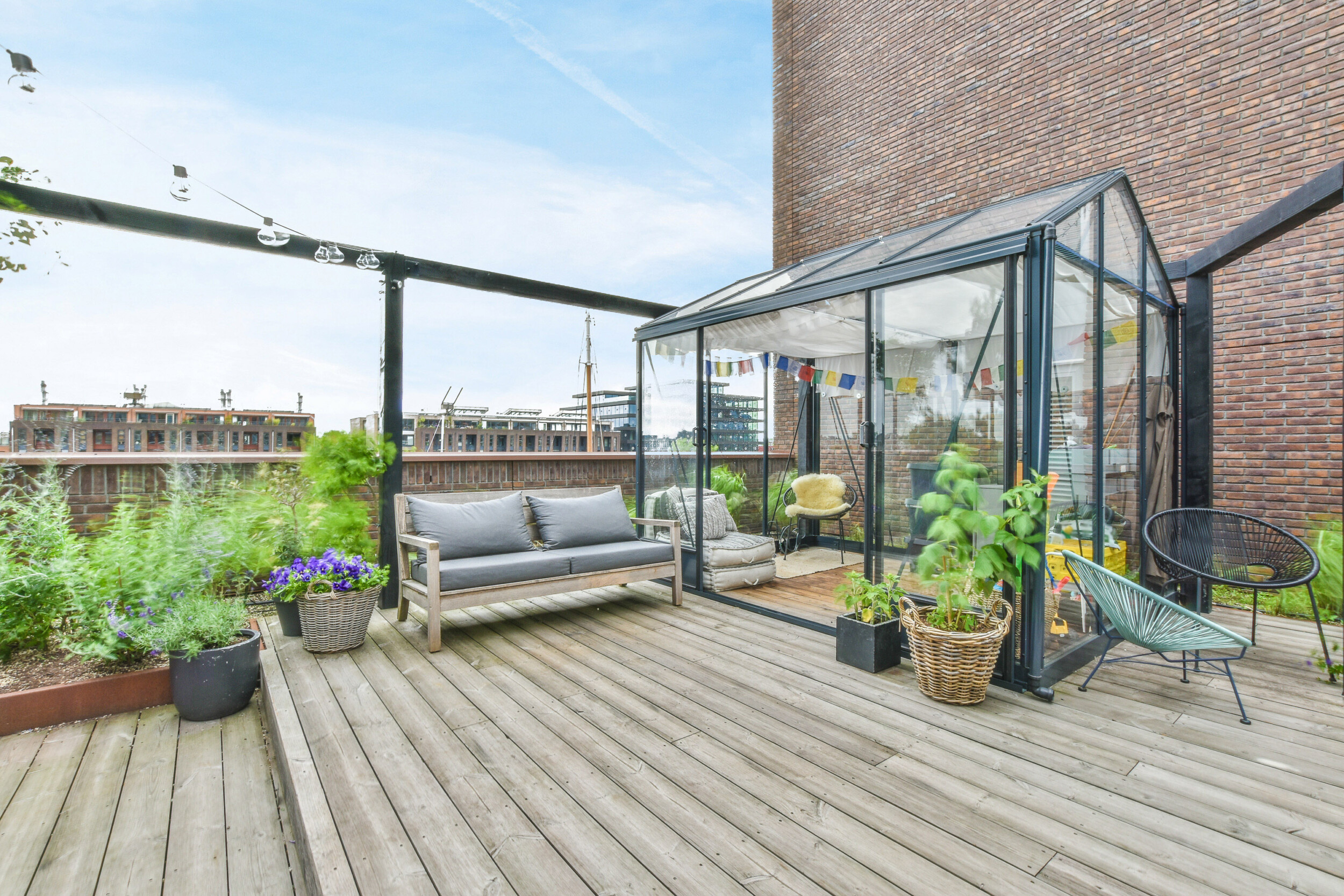 Your deck should always be considered a relaxing and entertaining space – a place where your friends can join you on a beautiful day or a warm summer's evening. But to make your deck the ultimate entertaining space year-round, you'll need to create some cover above. A smart way to do this is by channeling the feel of a sturdy glass greenhouse.
Usually, greenhouses are put up to house plants and help you grow your own fruit and vegetables, but here, we are repurposing the look of a glass greenhouse to help you make the most of your deck ideas. A greenhouse effect can life-enhancing and when teamed with some comfortable sofas, soft furnishing, and some effective lighting, this take on covered deck ideas will help you make the most of your space no matter what the weather is. And it will be helpful in keeping your outdoor deck garden healthier throughout the year.
White And Natural Wood Pairing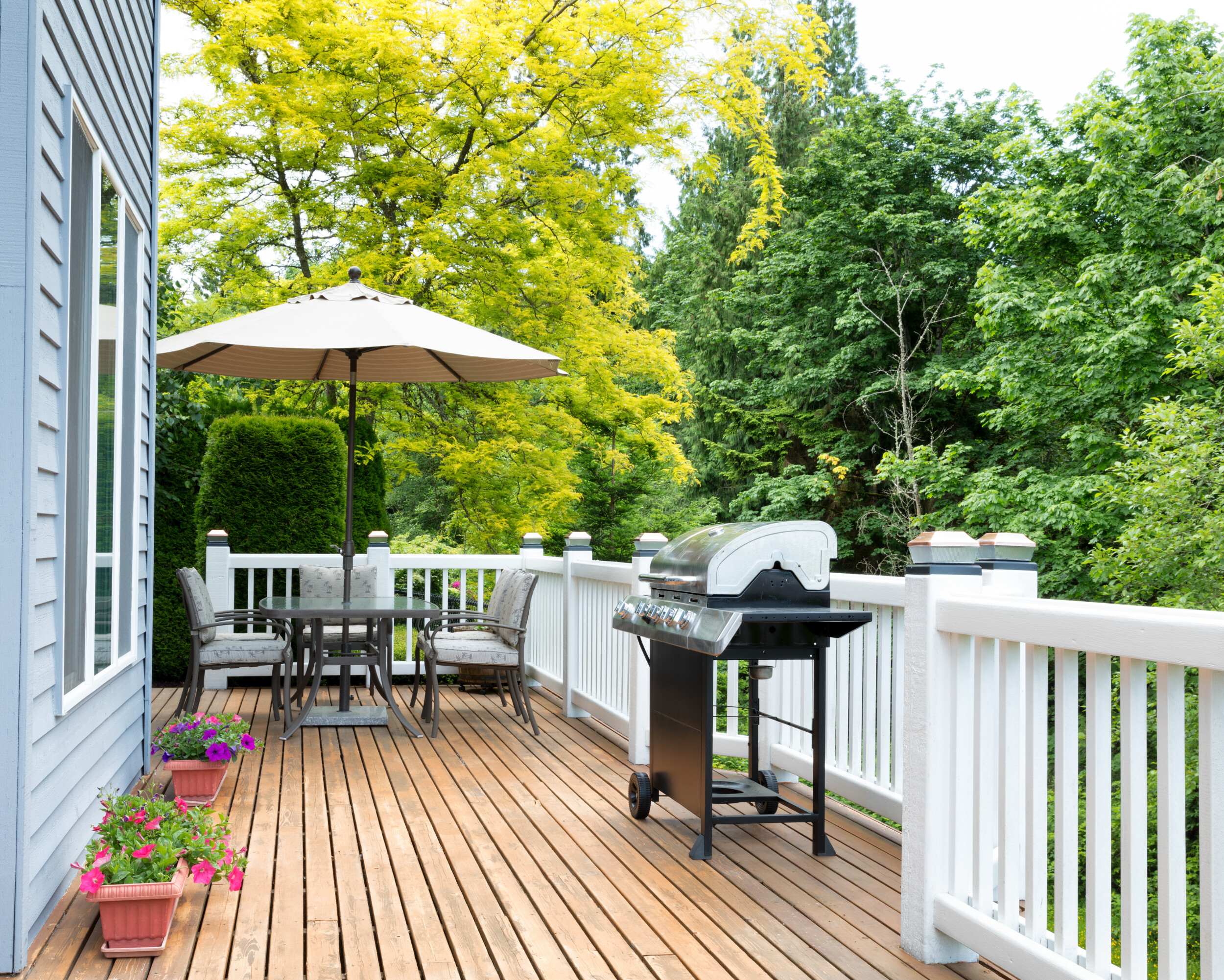 White finishes and dark natural wood are a striking combination, with the contrast of the tones creating a warm and comforting effect. Stain your deck with a delicious dark brown finish and add a high-shine glossy coat to give your outdoor space a rich feel. Paint the surrounding railings white to provide a stark color contrast that will look modern as well as timeless and traditional.
Bring in white outdoor furniture to tie your color scheme together and pepper green plants and floral blooms around to soften the look. This update doesn't have to break the bank either, as all you need is time, stain, and paint to get the job done. Making it a great option if you're on the hunt for backyard deck ideas on a budget.
A New Lease On Life
If you're already lucky enough to have an existing deck, you might not need to completely replace your current deck with a brand new one – you might just be able to salvage your current one depending on the condition. If your deck is looking a bit worn and torn, take some time to revamp it and give it the tender-loving-care it desperately needs. One of the most simple deck ideas is to re-stain or repaint your deck to freshen it up and make it look as good as new.
If there are any planks or details that have seen better days, see if you can replace them without having to replace the entire deck platform. Don't give up on your old deck just yet. Explore what you can salvage from it and what you can update it with so you can continue to enjoy it for years to come.