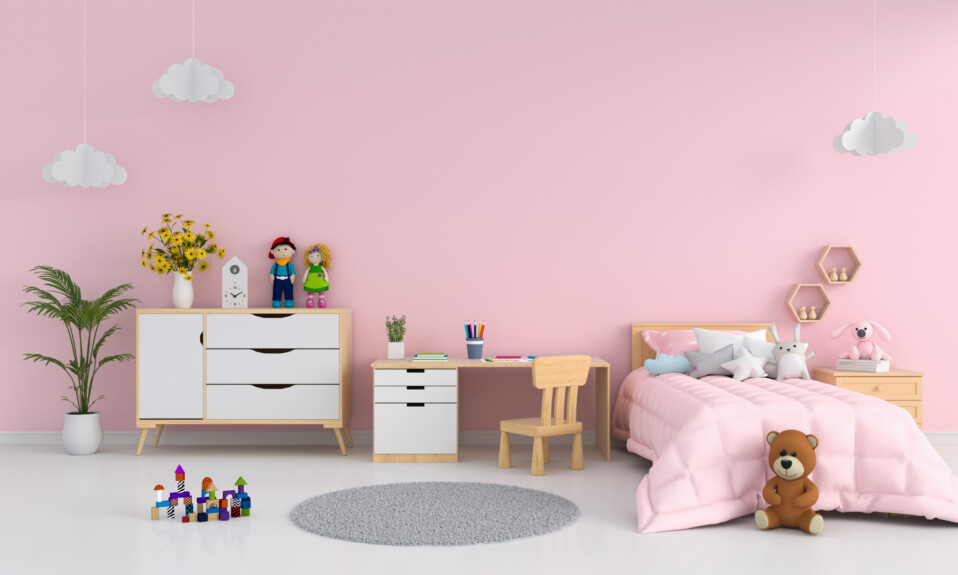 When it comes to the trendiest takes on girls room decor, there are plenty of inspiring new style directions that took our team of interior designers by surprise, and for good reason. And not just because of a simple new hue or an increasingly requested print. Instead, it seems as if the world of interior design has finally caught up to the tastes and lifestyles of a younger generation armed with the benefits of an open mind, and a curiosity for the unexpected.
From the classically pretty and pink fit for a princess to soft, cozy, and comforting décor with a completely independent spirit, there's a lot more freedom to be had when exploring girls bedroom decor ideas than you may have expected. To give you a better command of all the top girls room decor trends, we're highlighting the best takes while illustrating savvy routes to make the most of the best girls room decor trends that they'll love for years to come.
Go Scandinavian

For a modern approach to girls room decor that'll never go out of style, an all-white Scandinavian inspired bedroom will keep the space inspiring, and tidy looking for years to come. Plus, if their room is short on space, it will look all the bigger finished in a tonal color palette.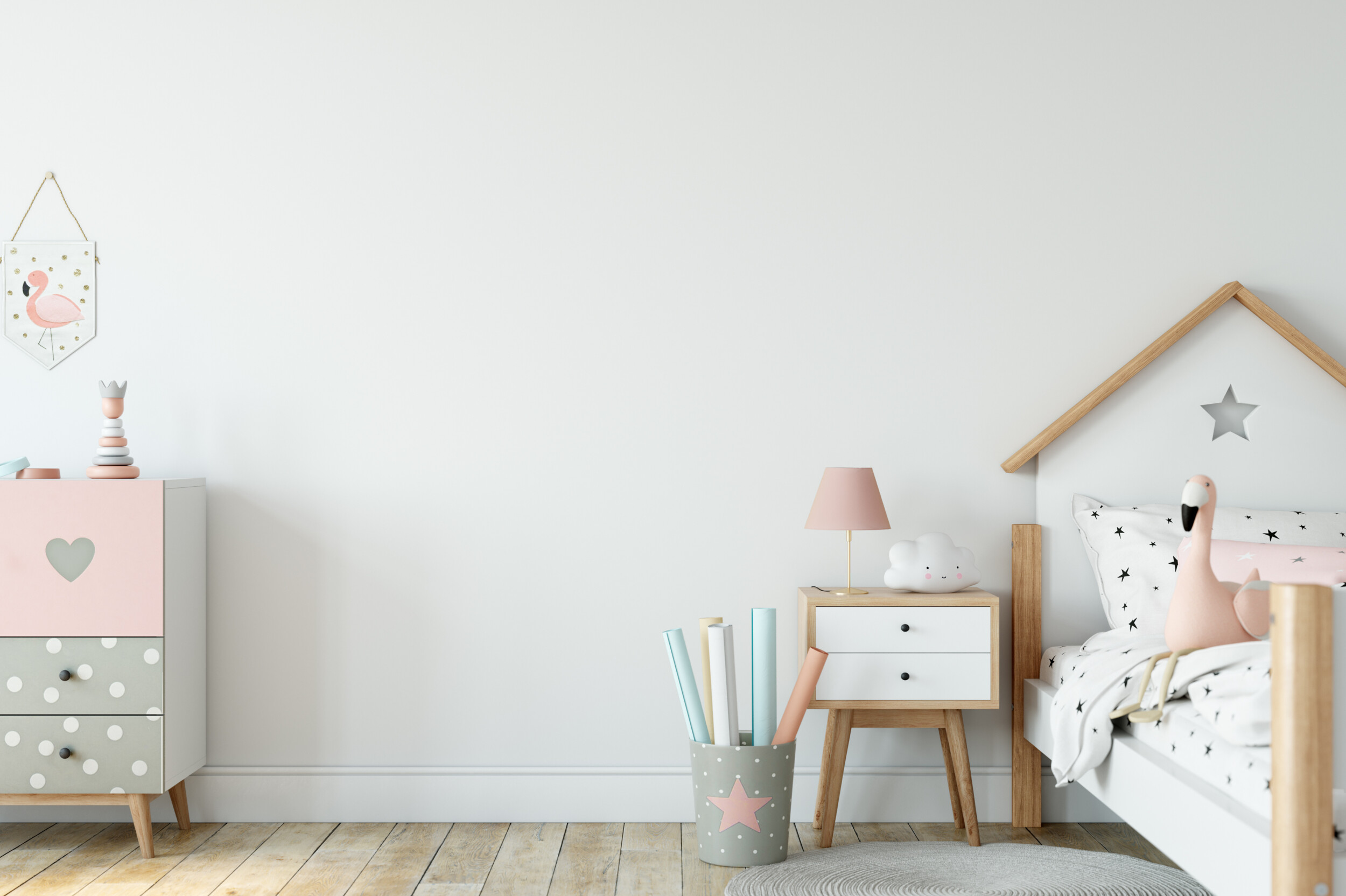 The key here is to keep the look minimal and simple with hints of the unexpected like contemporary graphic prints and plays on comforting texture. Imagine how different and smaller the narrow room featured above would feel if it was imagined in a bold color, and overstuffed with prints and patterns? It would instantly come off as small and heavy-handed, instead of clean and serene like it does now.
Add Intriguing Wallpaper
Even if it's placed on a single accent wall, do bring in intriguing wallpaper that'll keep them curious, informed, and explorative like the graphic world map pictured above. As when it comes to modern takes on girls room decor, there are plenty of clever approaches that will help open their minds to the possibilities of the world outside.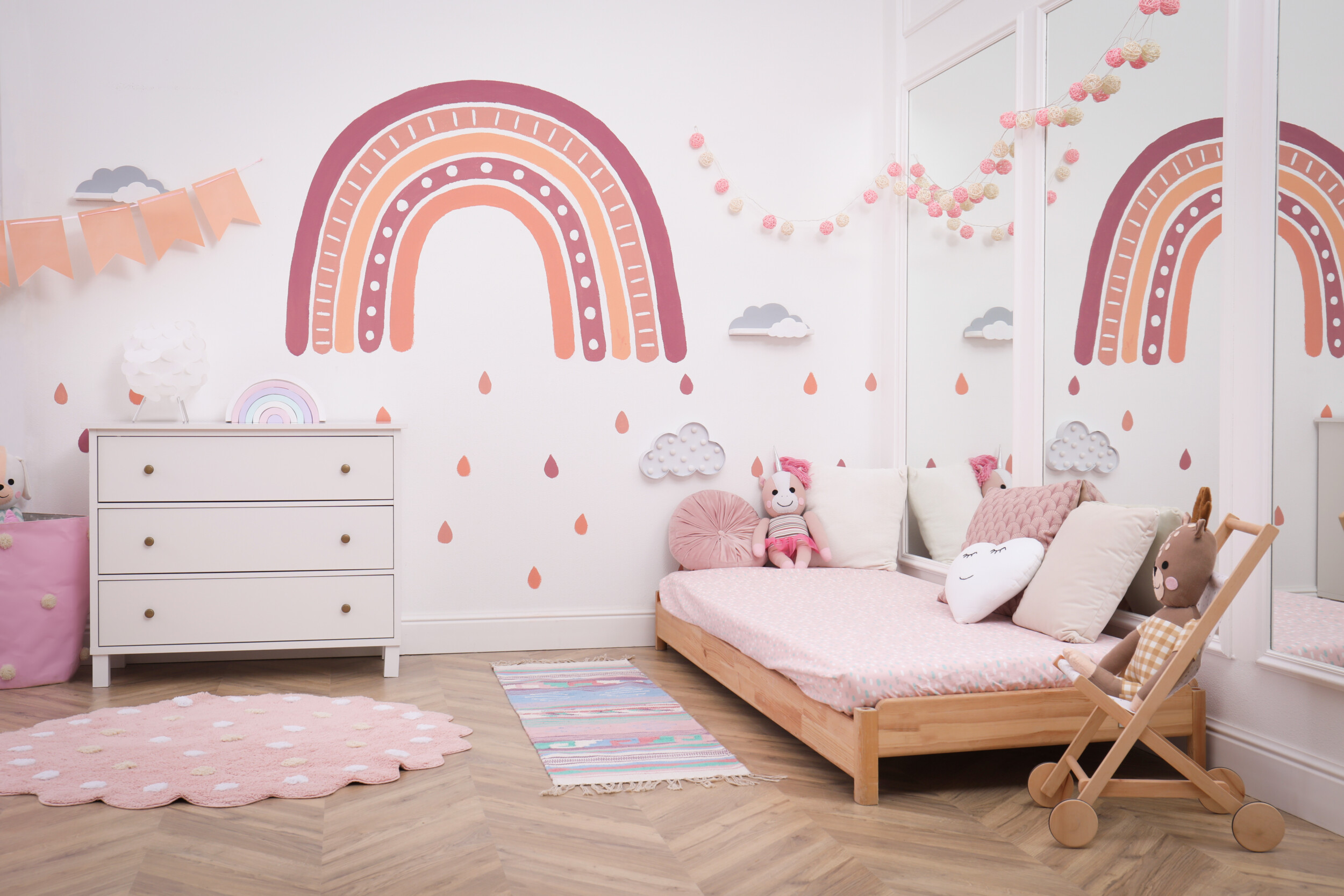 We love how the interior designer of the room above used that visually weighty wallpaper to juxtapose even more print and color play for a truly rich eclectic feel. Plus, take note of those two simple cameos above each bed. They're easy to make on your own, won't break the bank, and best of all, your children will cherish them forever.
Go Gender Neutral
When it comes to modern takes on girls room decor trends, who says everything has to be pink and ultra-girly? Instead of outfitting their bedroom in overtly saccharine garb, go for a gender-neutral setting that will keep them happy for a longer time than a totally pink palatial feel ever will.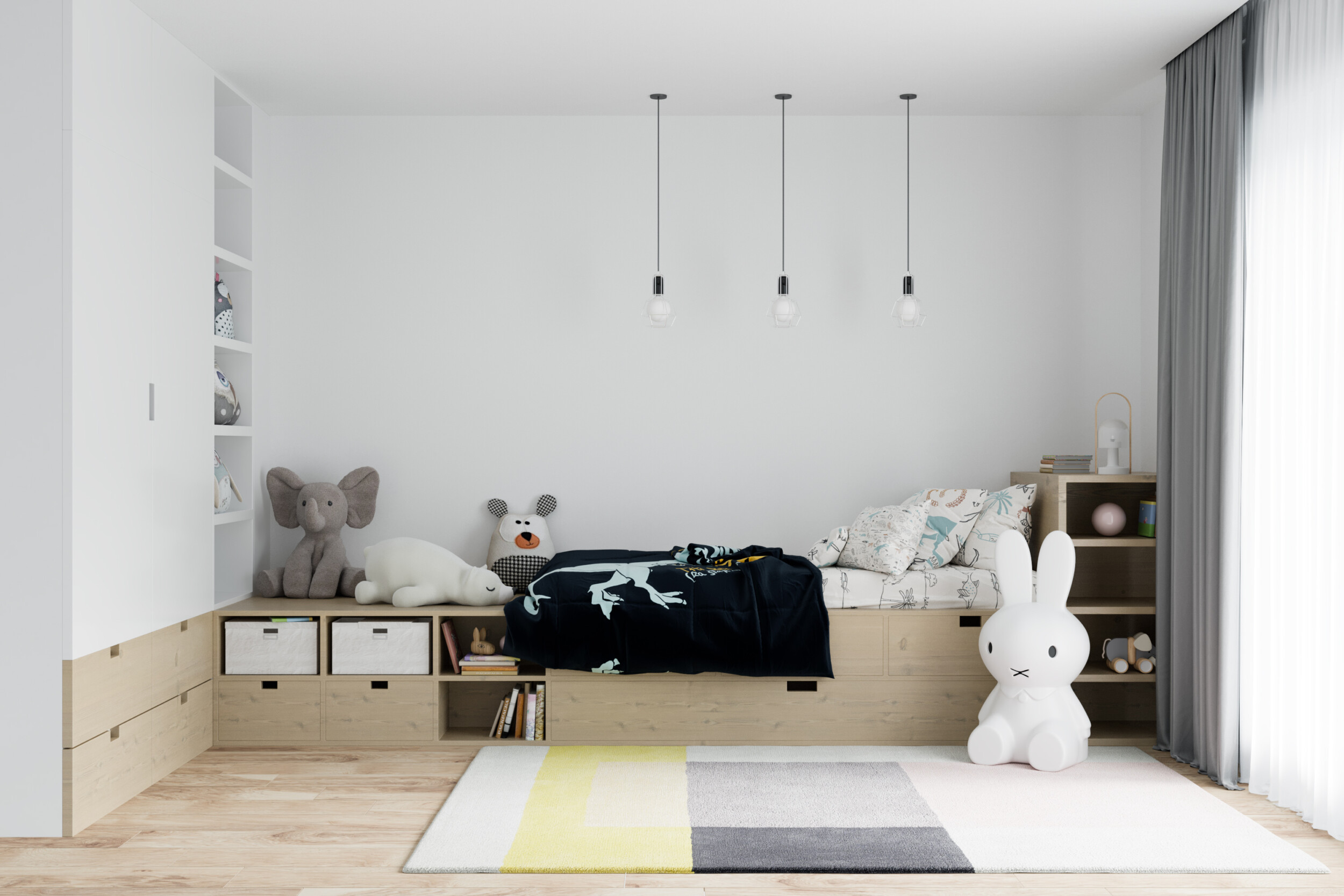 The key here is to keep the look ambiguous as there's nothing specifically masculine about grays and plaids when the rest of the furnishings have a traditional design style spirit.
Highlight Their Hobbies

Perfect for girls bedroom ideas for small rooms, using bare wall space to highlight their passions makes for a savvy way to personalize their room with cherished items they already have and adore.
Whether it's paint brushes, drumsticks for a drum kit, or a collection of vintage ukulele's, get graphic and install them in a prominent and easy to reach area like the delightfully colorful arrows featured above. They take little visual space and best of all, were not an extra decorative feature that you had to go out and splurge on.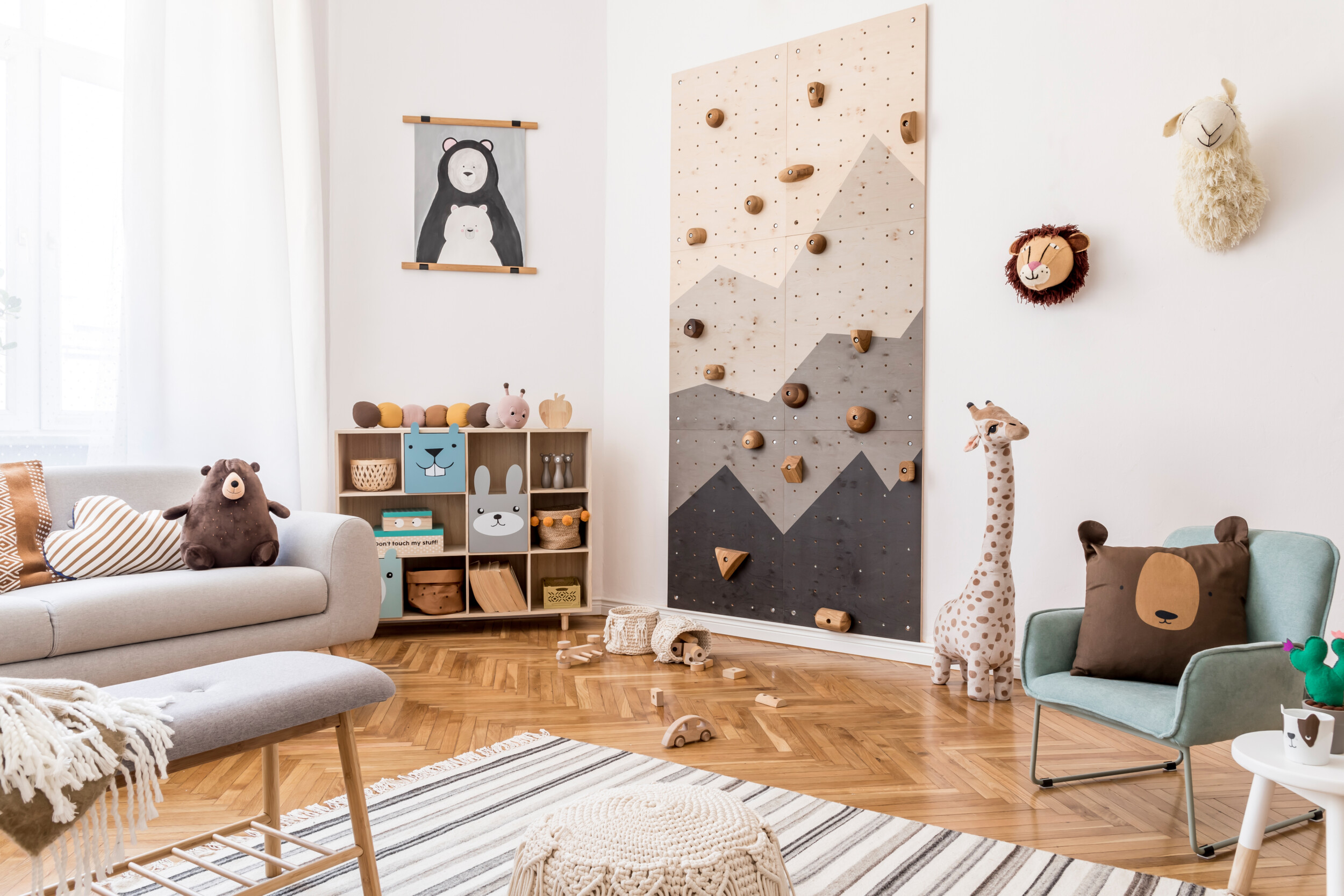 Be Playful

Just like you would in any room in your home reserved for adults, think of sophisticated ways you can make your girls room decor unique to your home for a memorable experience all around.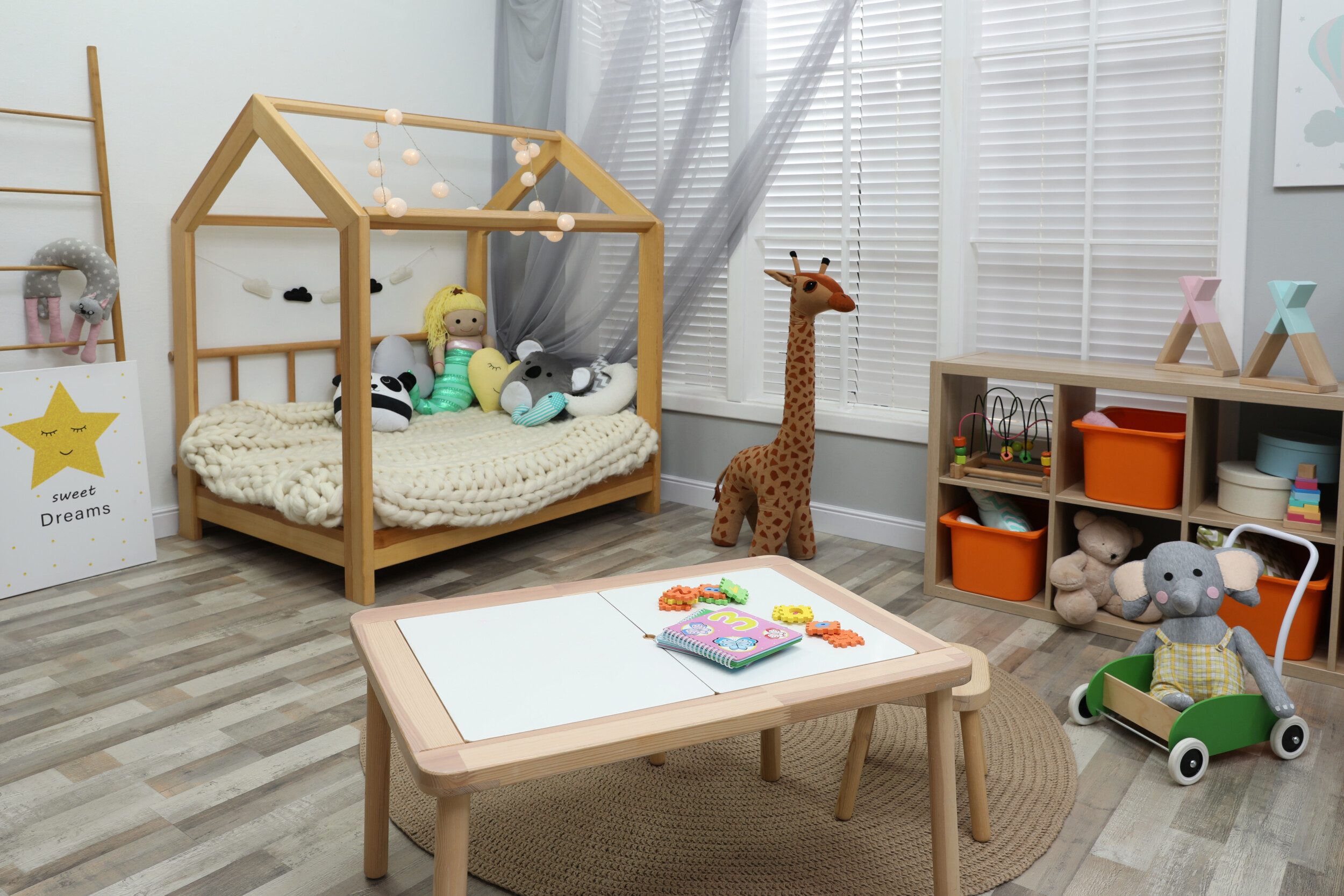 Take the room featured above for instance with its bold yet elegant wallpaper, oversized stuffed giraffe, and plush sofa as everything comes together to give off the effect of a well-judged girls bedroom. Just think about how different and lifeless the girls bedroom would feel without them. Follow suit and bring in the unexpected for the ultimate in conversation-starting decorative extras.
Create A Music Area

Champion their passions when it comes to girls room decor trends with a modern sensibility, as you'll be certain to give them a much-needed boost of confidence when you use their hobbies to inform their bedroom design direction.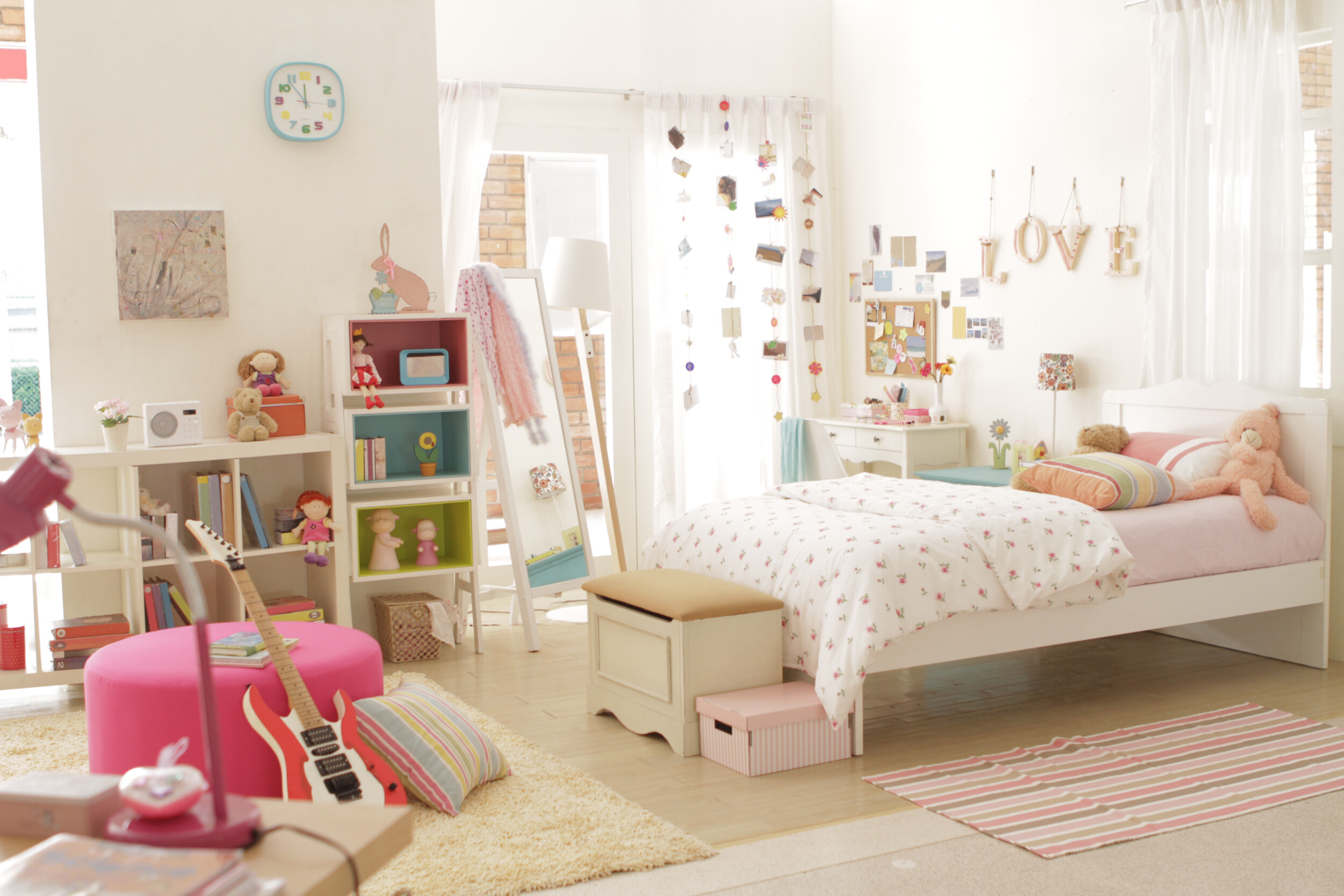 We love that the bedroom above features both an inspiring chalkboard wall that will keep them busy for hours on end, but also a mini in-home studio that their friends will love to come over for an impromptu jam session with.
Keep It Grown Up

To get the most use out of their girls room decor, do collaborate with them on the best routes to keep it timeless while remaining kid-friendly. We're not saying to control every aspect or dictate your own design style, but rather than decorate their bedroom with juvenile finds they'll get over in no time, why not think ahead and work with what they imagine seeing themselves enjoying for more than just a fleeting moment?
To get the look right, work with them on color schemes, furnishing selections, and furniture placement so everyone will be pleased with the final outcome. Even better if you all see them enjoying the look well into their adult years. Plus, you'll teach them the joys of appreciating grown-up sophistication and great design at a young age.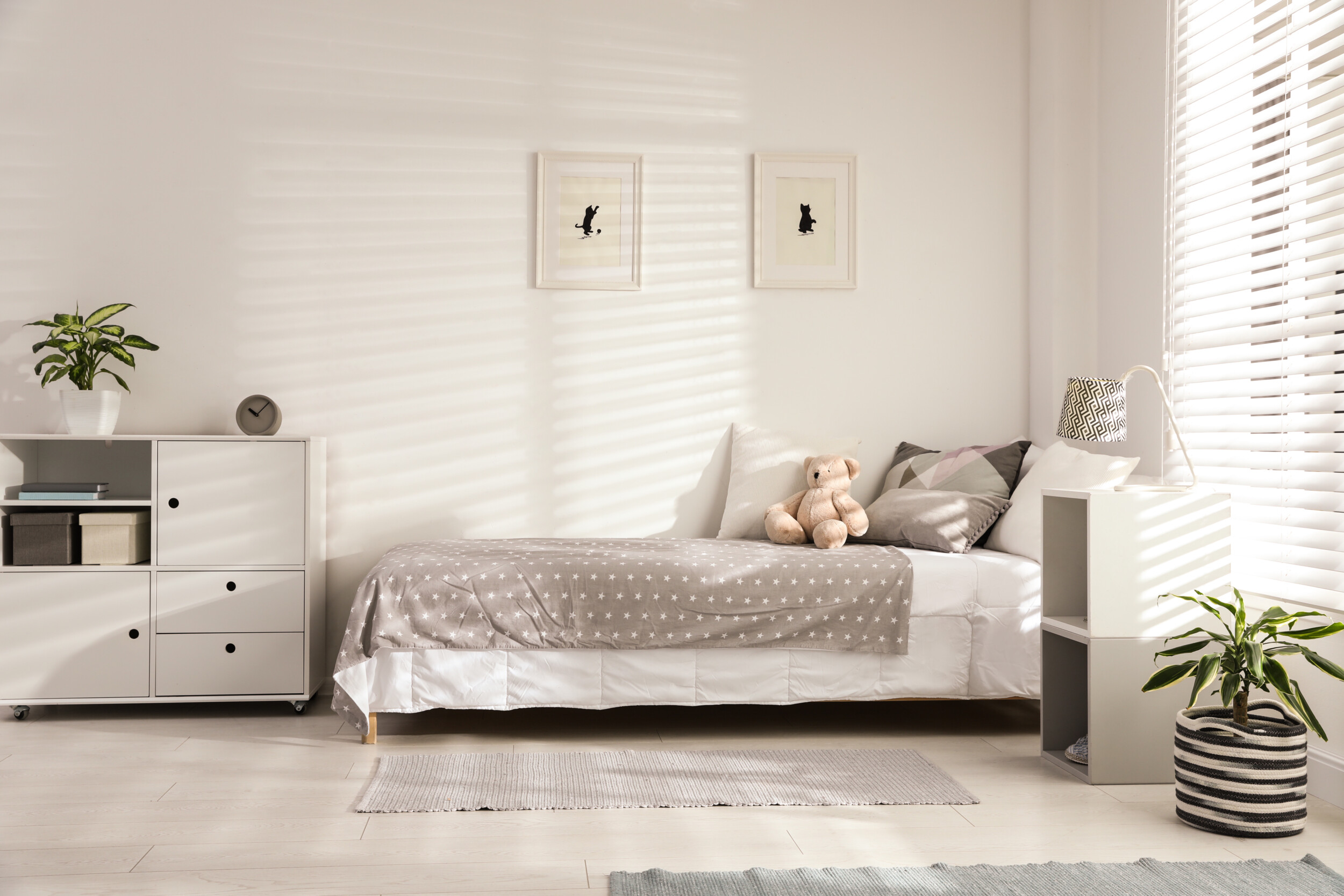 Treehouse-Inspired Bed
Remember how much fun you'd have building forts with friends as a child? For the ultimate in fun bedding concepts, a treehouse-inspired bed will remain the height of serious coolness. You can have a treehouse-inspired lofted bed which looks authentically wooden or go for something a little more minimal and Scandinavian, in white. You can go for a bed which is high up off the ground with a cute little treehouse ladder leading up to it – this is a neat idea as you can incorporate some additional storage into your girls room decor below.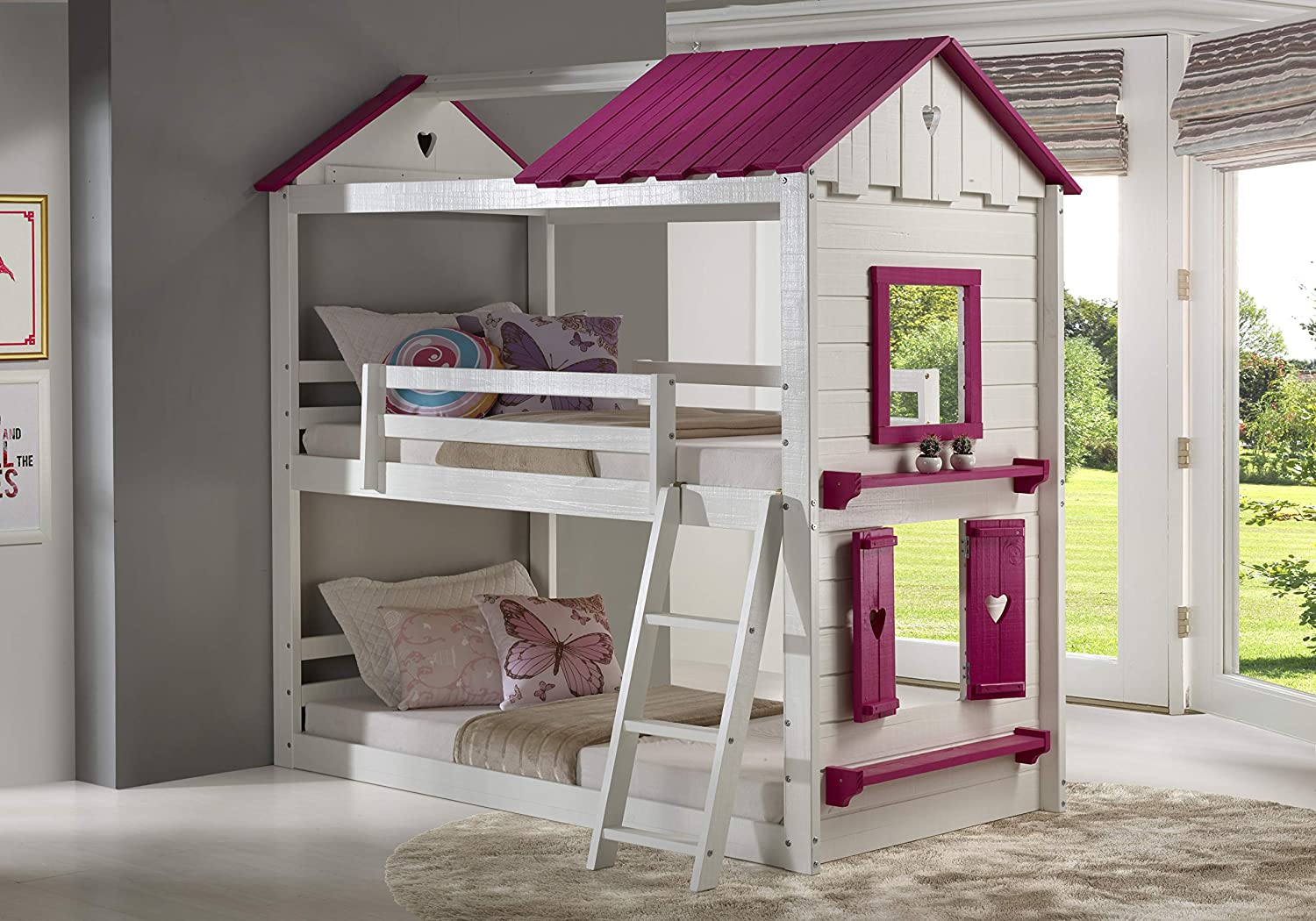 Alternatively, go for something closer to the floor, but still with a cute woodsy vibe too it. To set off the whole look, add some nature-themed bed covers to add to the natural feel.
Upholstered Headboards
Upholstered headboards are always a smart investment and there's no exception when it comes to girls room decor trends. Upholstered headboards come in all shapes and sizes and are perfect for a girl's bedroom of any age as they instantly add everyday elegance to any bedroom.
Velvet headboards are also all the rage at the moment, and they will make for a stunning focal point for any girls bedroom. Even better in sumptuous jewel tones up against a wall in a contrasting color, for a subtle yet sophisticated impact.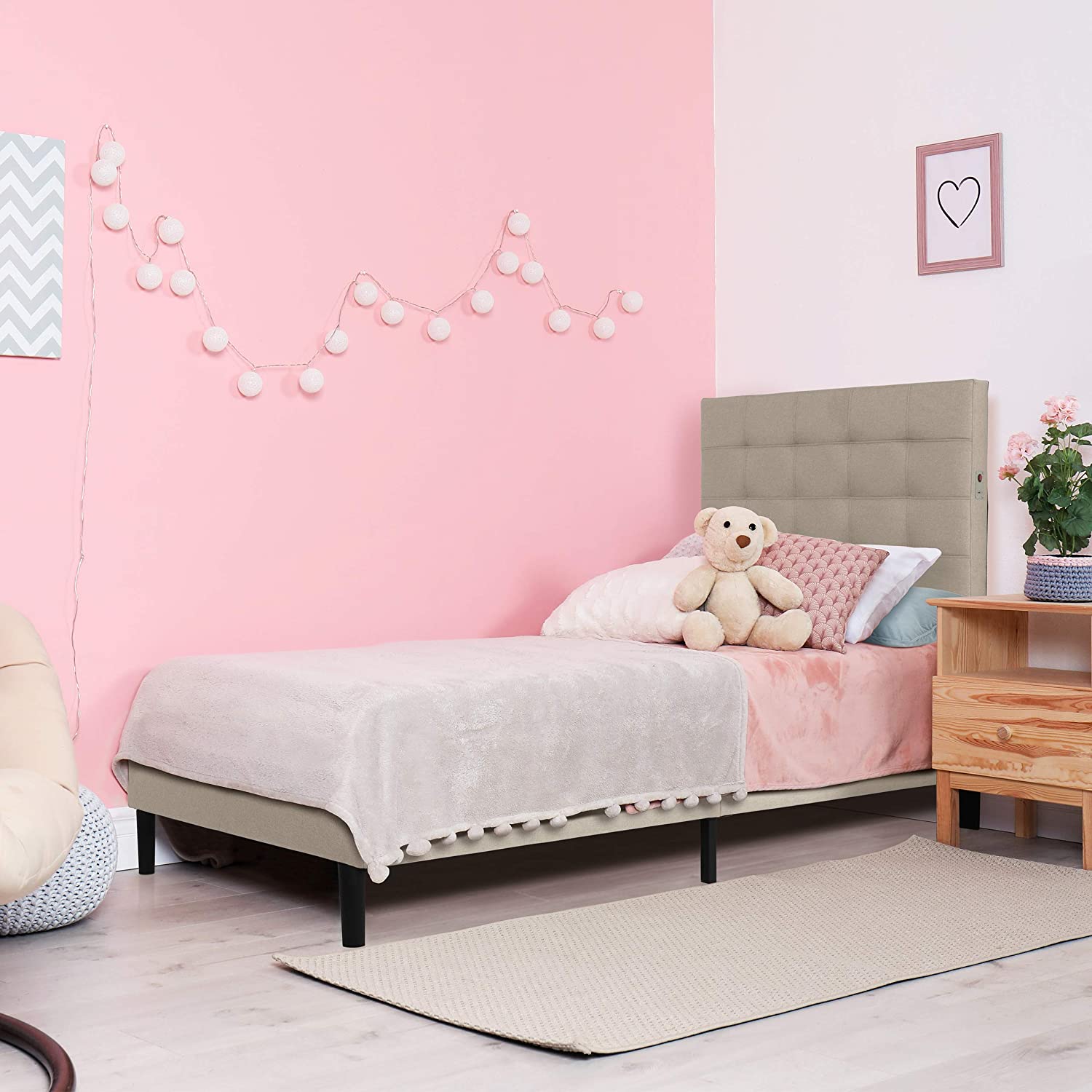 Papered Walls
Brilliant wall coverings are back in and they make for a stunning take on girls bedroom decor. The more vibrant the better when it comes to bringing girls room decor trends to life, with small, abundant patterns ruling the roost.
Pastels are also featuring heavily in patterned wallpapers at the moment, with the bold and brighter prints of the past taking a back seat.

Canopy Bed
If you are designing a room for a little princess, then a dramatic and romantic canopy bed is a must-have. There are loads of different types of canopy beds you can invest in, from luxury four-poster beds with swathes of material hanging from them to crown canopies, where you just have a cute crown-style canopy frame with some gauzy, sheer material draped from it to create the princess bed of their dreams.
Canopy beds are always perfect for girls bedroom decor ideas, especially as they evoke a sense of unexpected elegance and won't cost a fortune.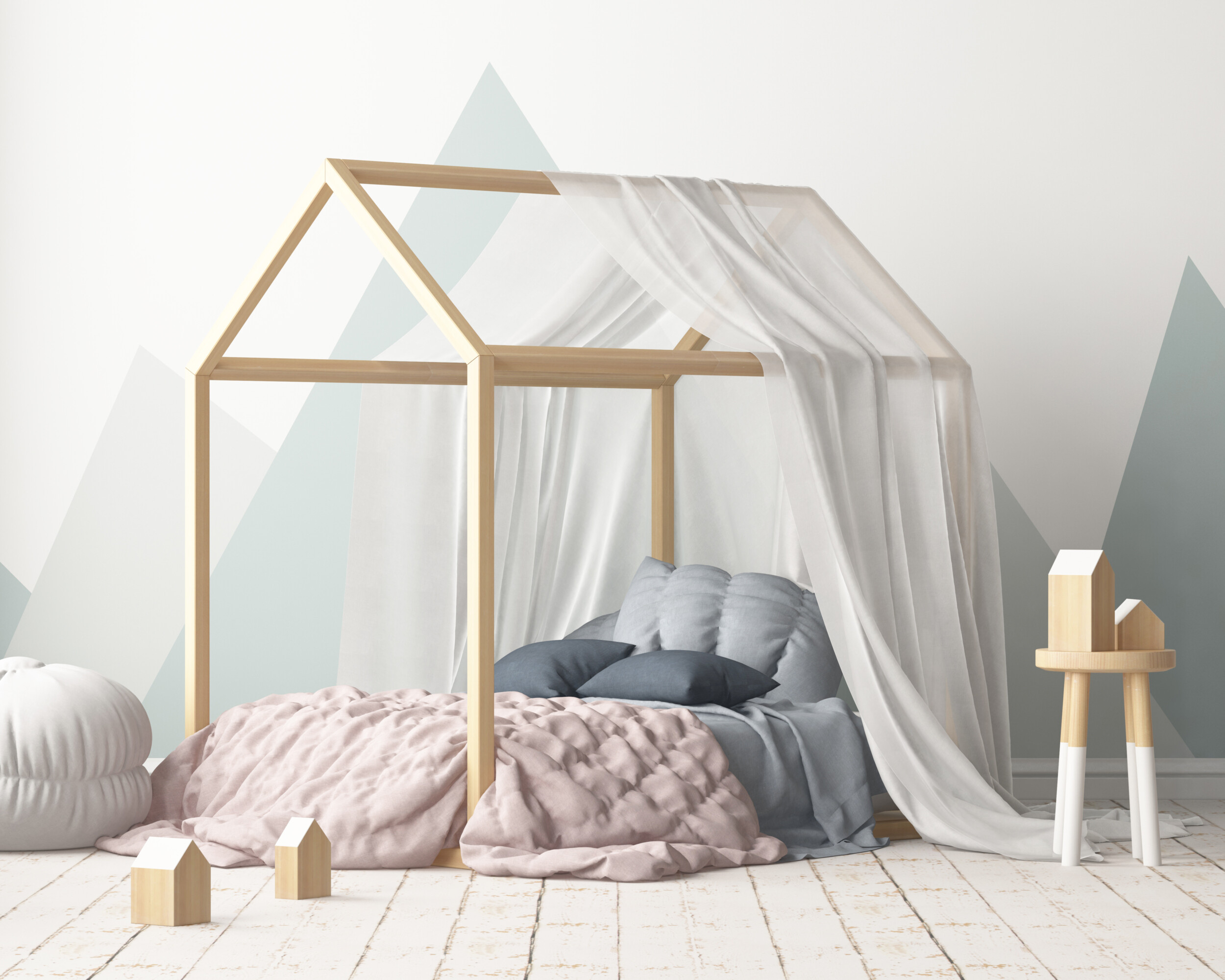 Tee-Pee Area
If you haven't seen a tee-pee bed, then you've been missing out. Tee-pee beds are such a fun addition to any room and they can be as pretty or as playful as you want them to be. Add floral bed covers and fairy lights for a relaxing and girly space or add bold or geometric patterned bed linens for something a little more modern.
You could even wrap some cute faux flowers around the top support beam, or some colorful bunting to brighten up your girls bedroom decor. Plus, lots of tee-pee beds have trundle beds installed underneath them, making them perfect for sleepovers.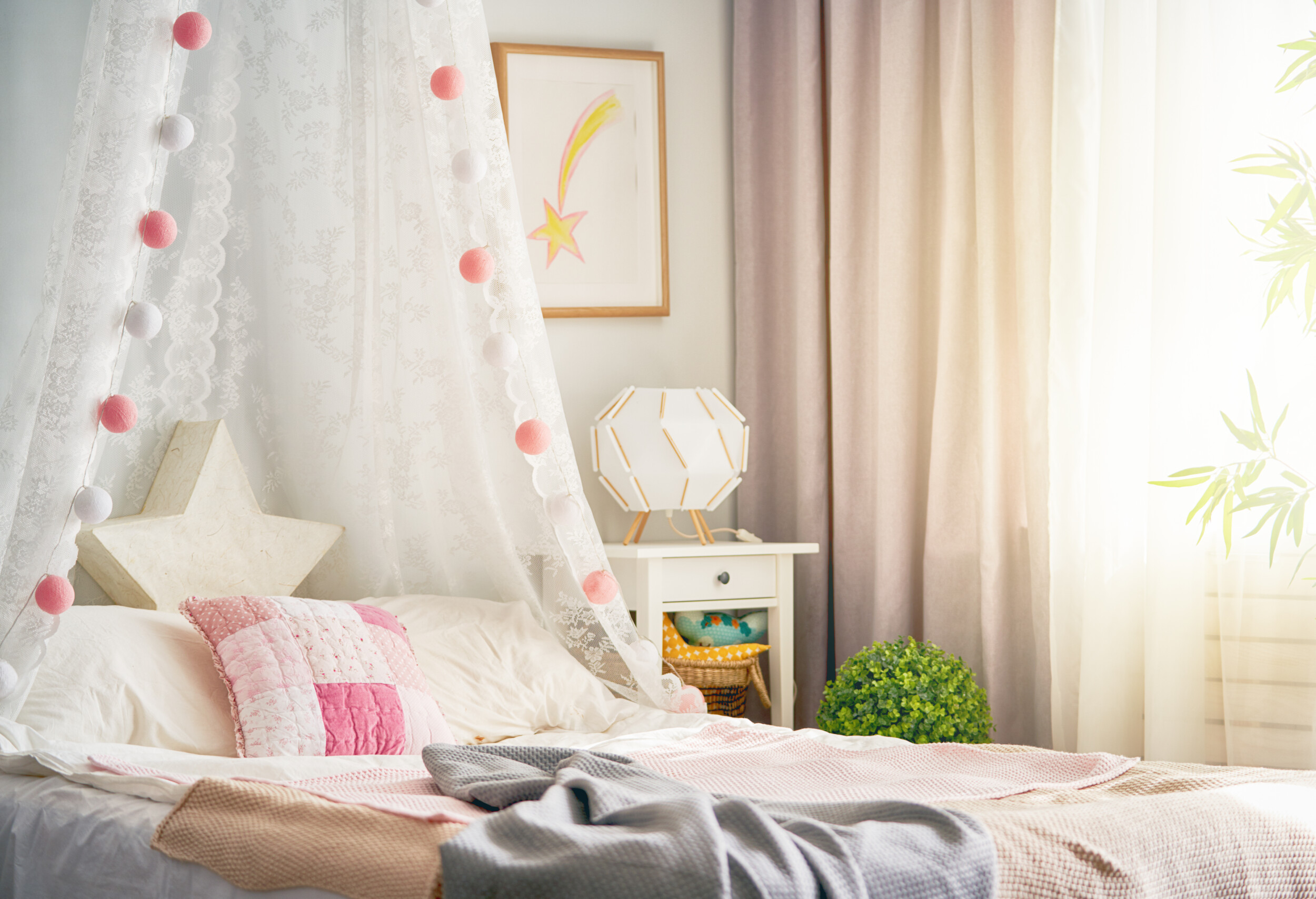 Geometric Pastels
Pastels are perfect for girls room decor and what better way to incorporate pastels than in a geometric pattern? Use it on one wall (so it's not too overbearing) and choose a pretty pastel color scheme, like pink, lilac and gray – we are loving the wall coverings with gold metallic details on them right now.
Wall treatments like these will be perfect for a girls room decor who is a bit older and is looking for something a little more sophisticated.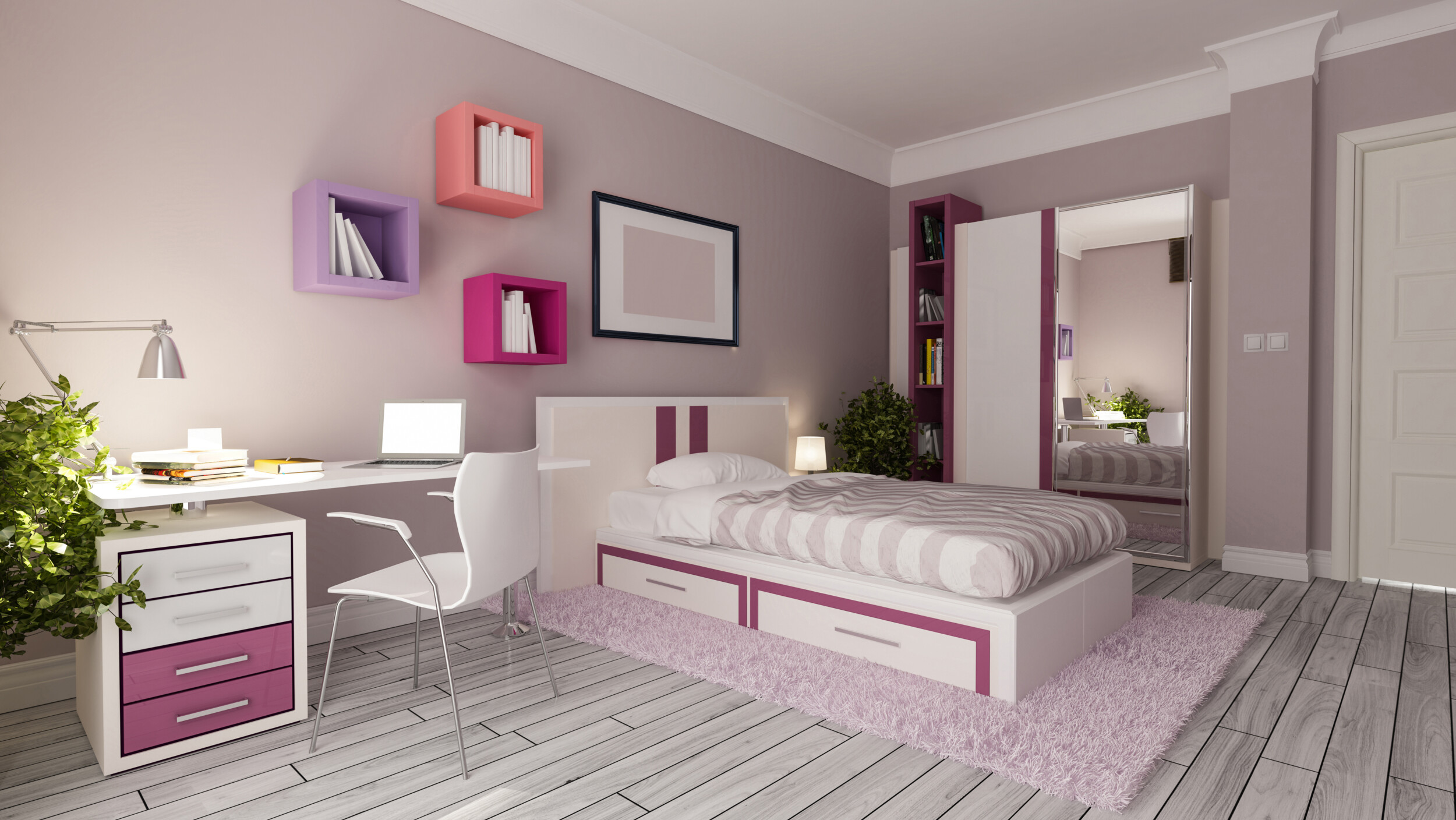 French White Furniture
If you are looking to create pretty girls bedroom decor, then French-style white furniture is always a timeless winner. They boast an elegant feel about them, at the same time as being pretty and romantic, so they'll work well in their room as they grow up.
They can be styled up, with plenty of pinks and florals for a truly soothing bedroom or modernized with cool grays and white for a room with a bit more understated elegance.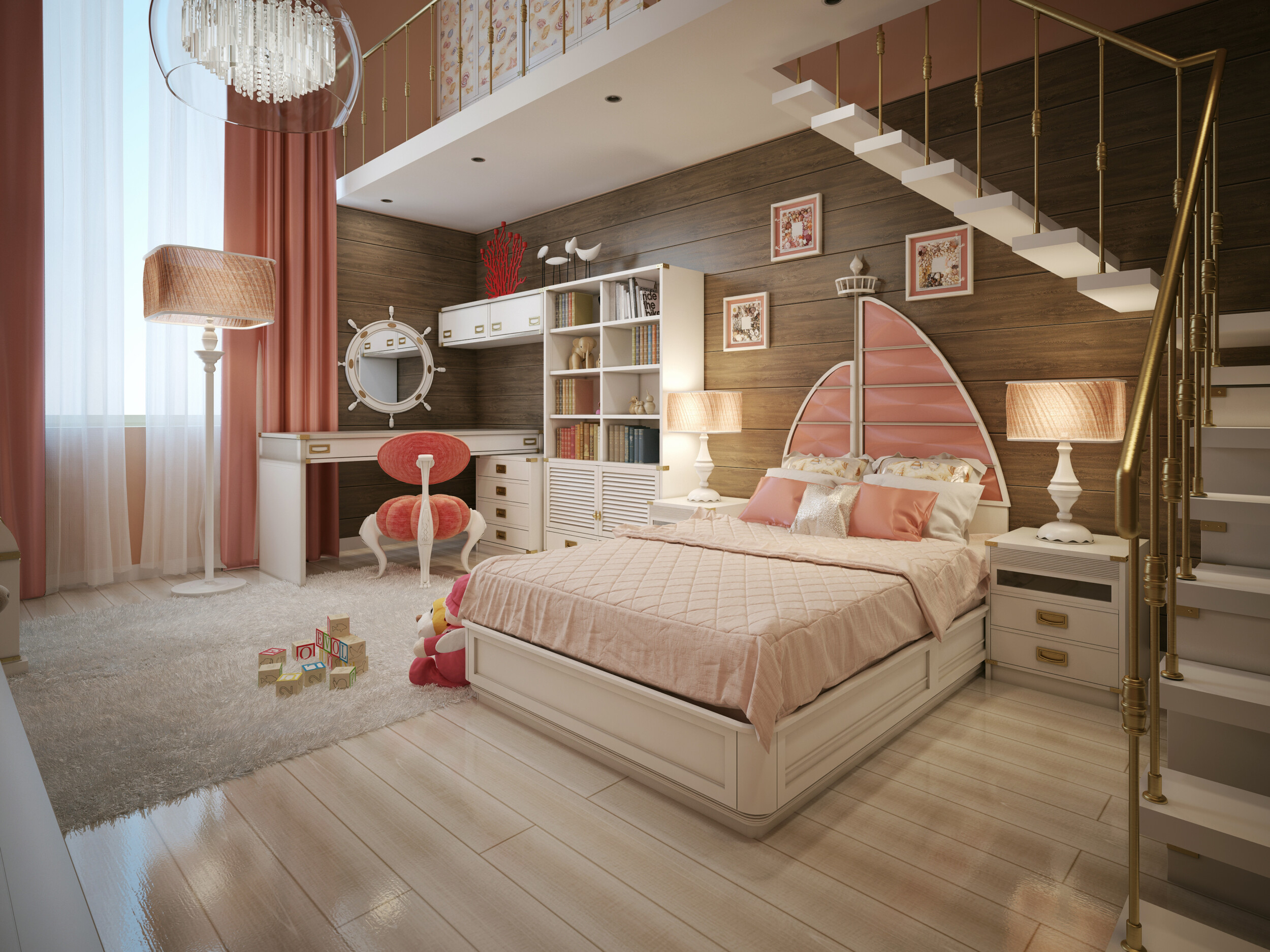 Fluffy Rugs
Having a fluffy rug underfoot makes any room into a paradise when it comes to girls room decor. A small addition of a fluffy rug in a girls room decor will make all the difference, making it from a standard issue bedroom, into something more comforting and cozy. They look plush and luxurious and will lift a dull bedroom floor.
No matter the size of your bedroom, there is a fluffy rug to suit your needs, so they are perfect for girls bedroom ideas for small rooms. If you have a bit more space, then how about layering rugs for a homely feel with that added extra oomph?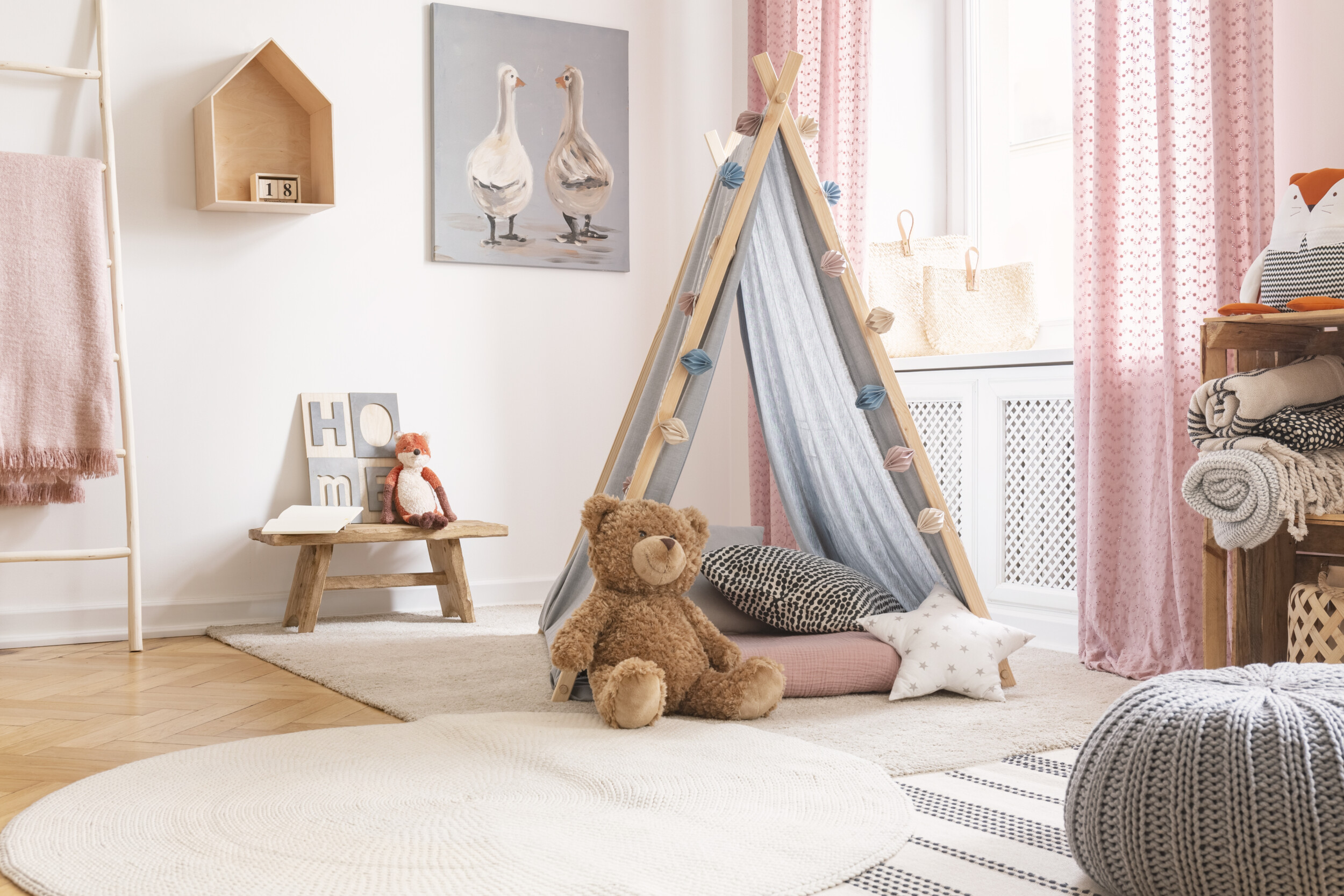 Bold Stripes
Stripes are a great way to add a graphic feature to a room, whether you want bright and sunny colors to brighten up your girls bedroom decor, or something softer and more in keeping with current girls room decor trends.
Horizontal stripes are great for making a room look wider and vertical stripes are great for making a wall look higher. Use grays, pinks, and whites to be on trend, or a pretty aqua blue white for something fresher and brighter.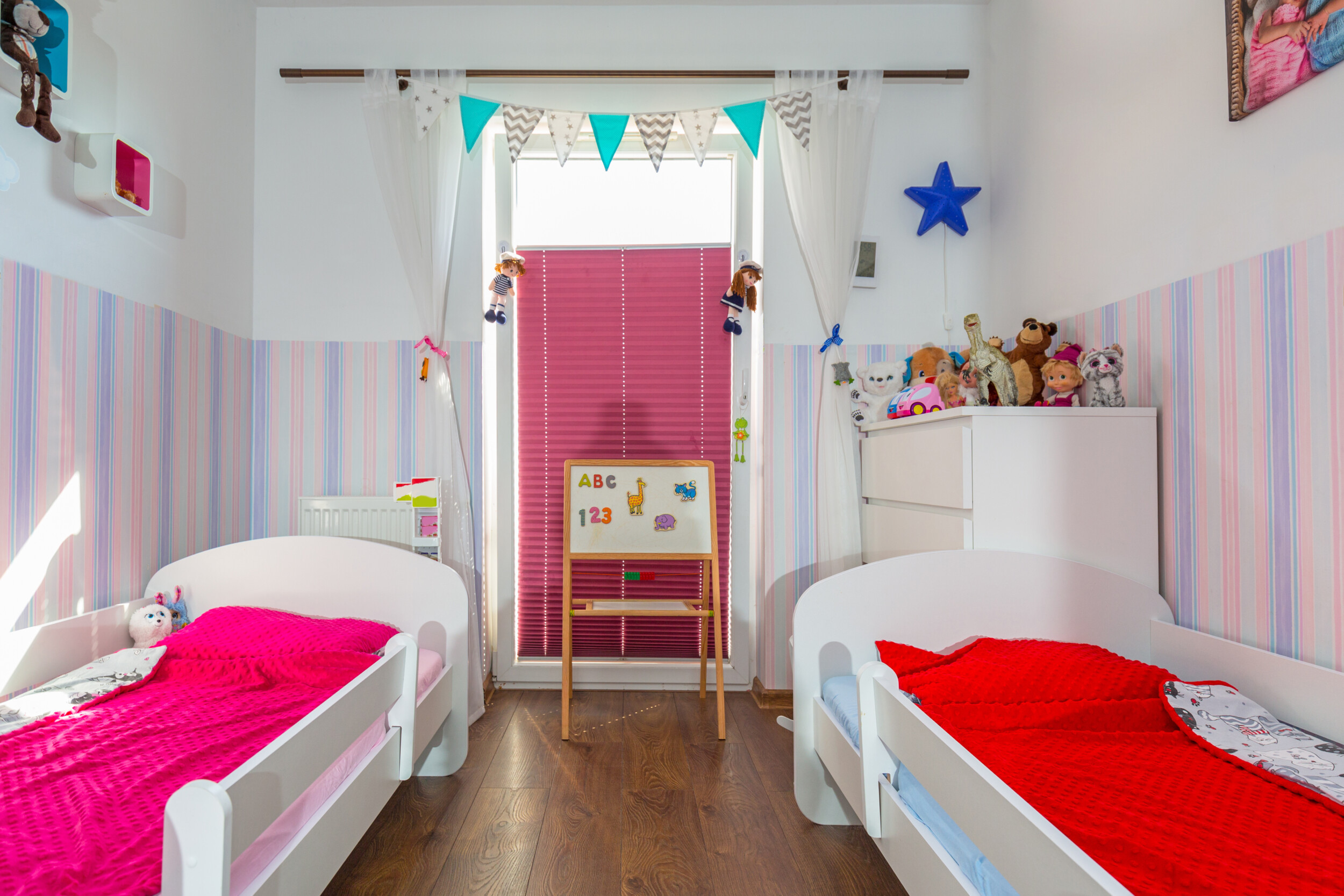 Cute String Lights
Who doesn't love a string light? Fairy lights add a lovely soft, girly feel to any room and will mellow out any harsh colors, like white. They look great paired with soft and neutral colors, adding a cozy element to your girls room decor.
They look lovely used for making a cozy reading corner with a comfy chair, or for draping around your canopy bed to make it look as if you are sleeping under the stars.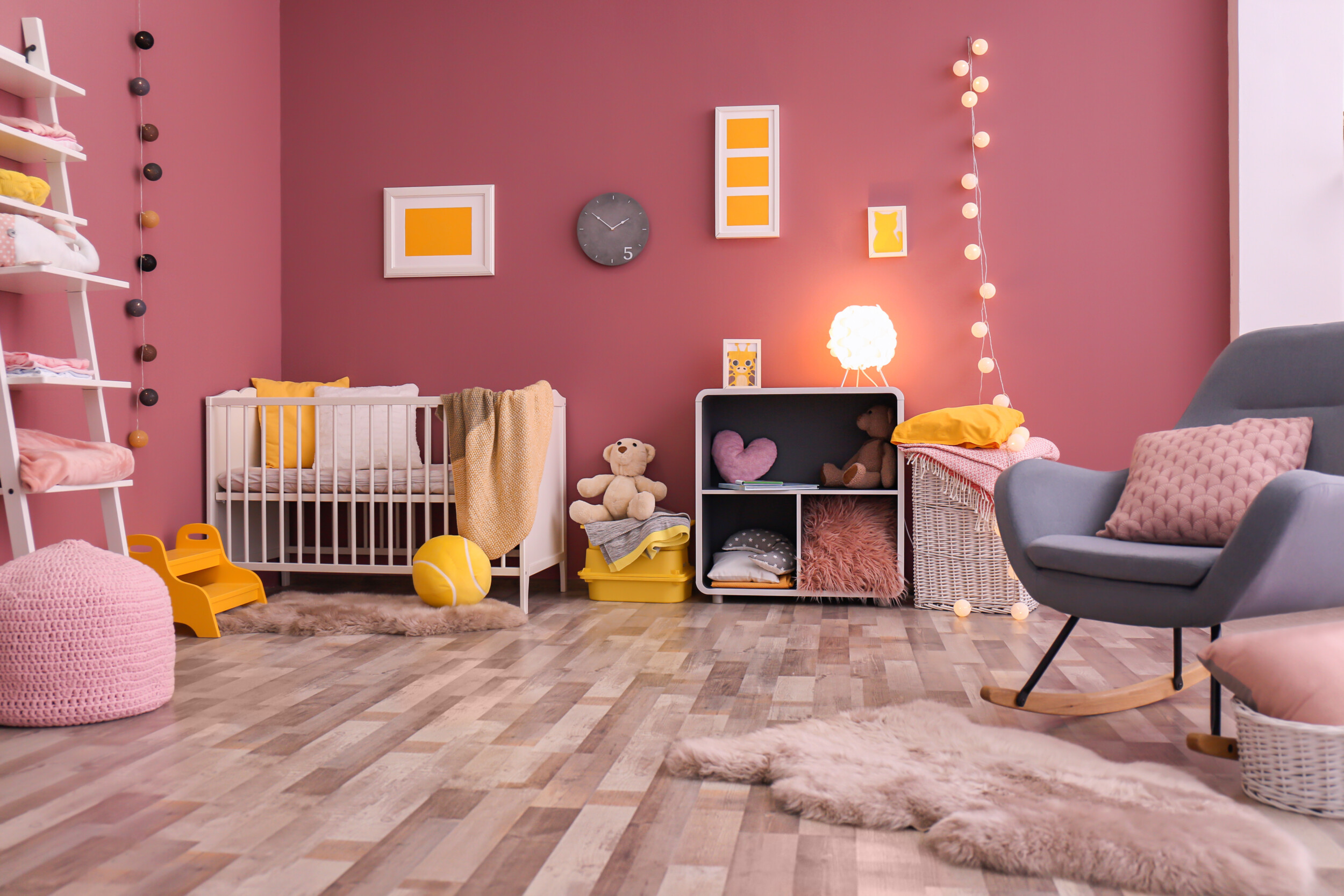 Gray and Pink
Grays and pinks are such a cool color combo, making them ideal for girls room decor. Gray and pink look great with white furniture and light woods – especially if you are going for a more minimal Scandinavian vibe.
They also make for a stylish alternative to the traditional pink of a girly bedroom. Girls bedroom decor can have the tendency to be overly girly (which isn't to everyone's taste) and this takes some of the 'pinkness' away from a traditional girls room.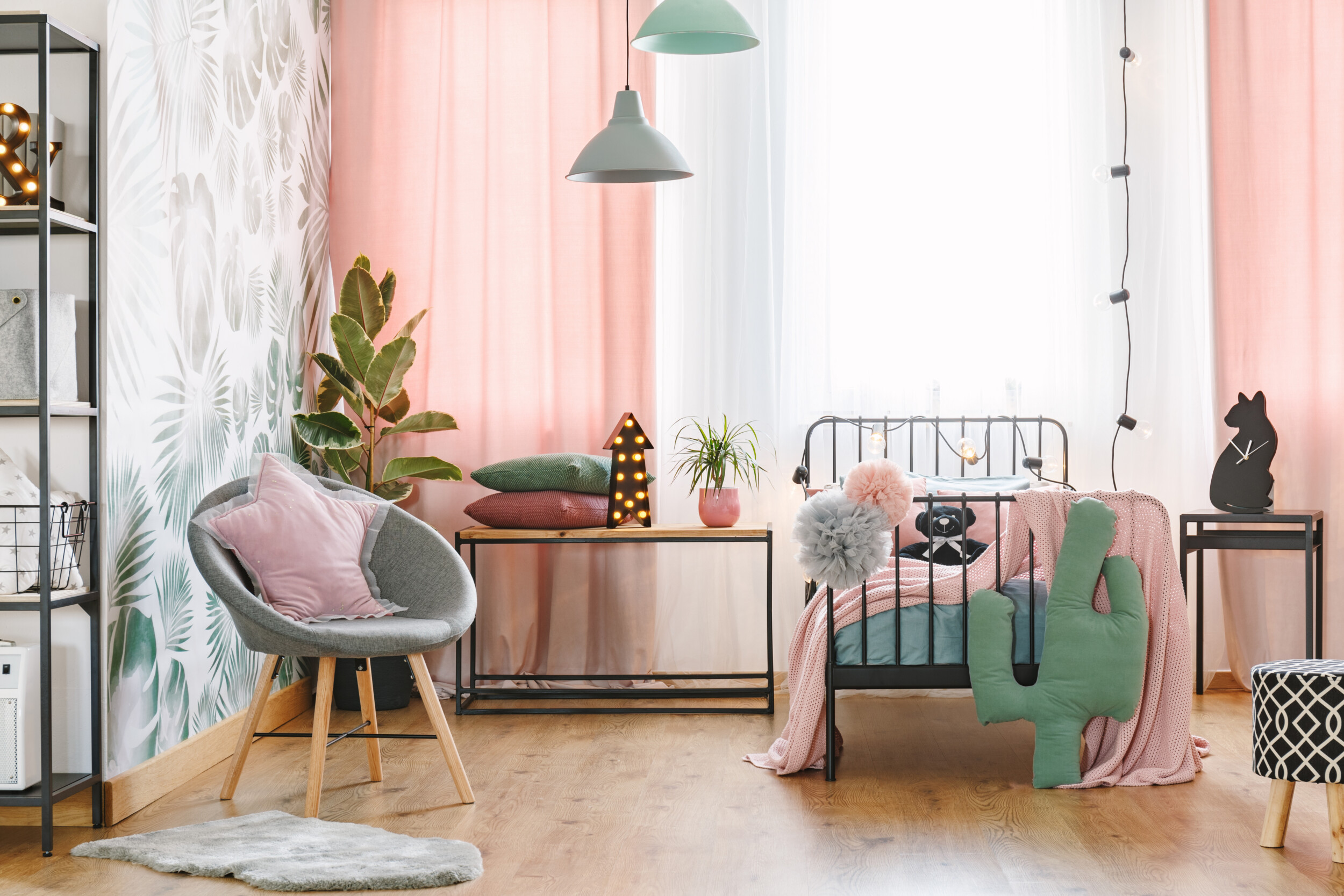 Crown Headboard
If a canopy bed is too imposing for you, then how about a crown headboard to satisfy those girls room decor needs? A crown headboard will make a serious impact in a bedroom and you can go as big or as bold as you like.
Go all in with your girls room decor with a glamorous gold crown headboard or go for something slightly more understated with a grey or white transfer. Make this the focal point of your room and create the ultimate princess room which will rock girls room decor trends.