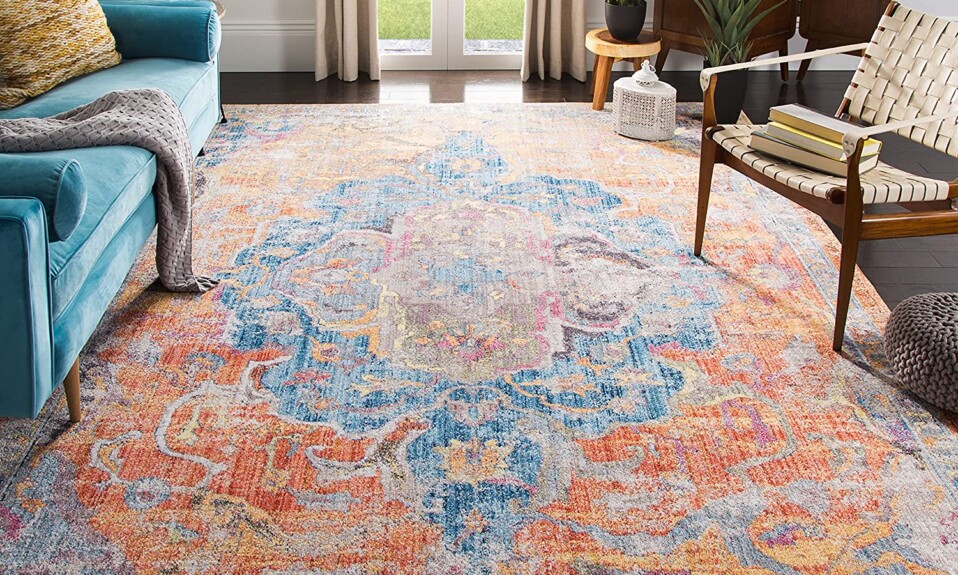 Since most interior designers consider rugs and flooring an essential starting point and the foundation of a space, it only makes sense that stylized living room rugs can completely transform any space. They can add color, texture, pattern, purpose, and function throughout your living room and this seemingly small and simple update can make a huge difference in your living room.
Use these living room rug ideas culled from Décor Aid interior designers to refresh this most commonly used and seen room in your home your room, to your advantage. They'll help you create a distinct focal point or you can use new living room rugs to soften up your space, making it more inviting and comfortable. To help you better understand the best possibilities to explore for your space, consider these the ultimate living room rug ideas of 2019 as go-to's for your home.
Tonal Patchwork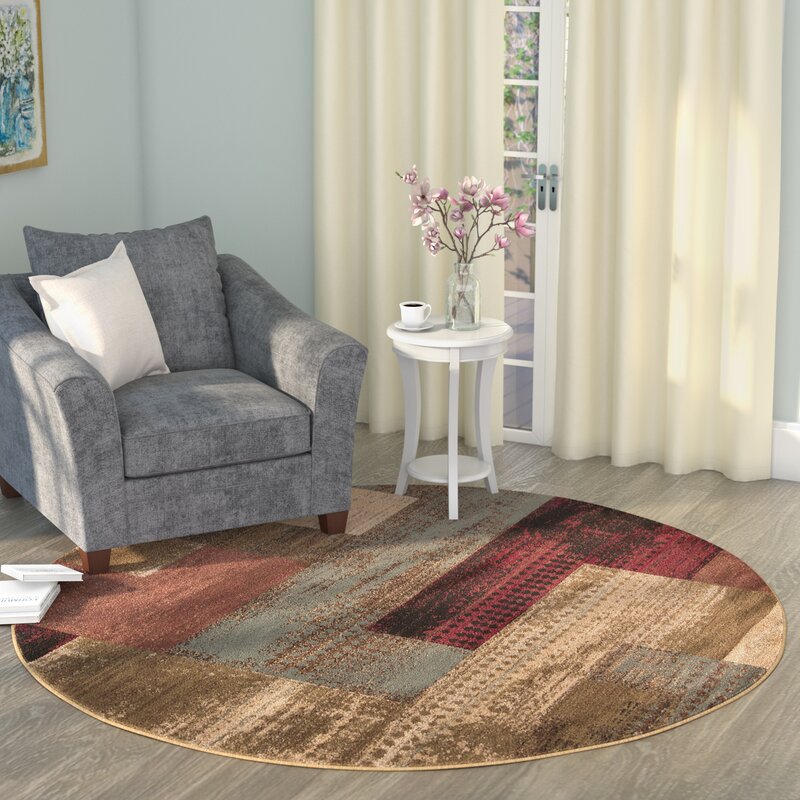 Create a handsome and alluring sense of decadence with a tonal patchwork rug that will keep the eye moving while distracting it from every day wear and tear.
Abstract Watercolor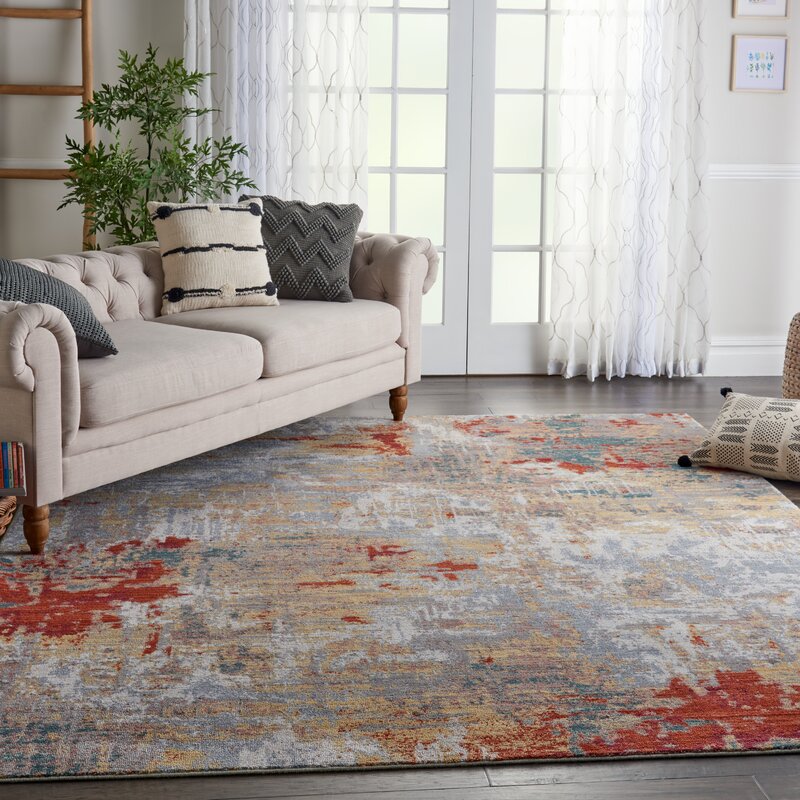 If you're on the hunt for living room rugs that boast a one-of-a-kind feel, consider an abstract watercolor pattern as a soothing go-to that'll also lend your space a delightful sense of play.
A Timeless Sisal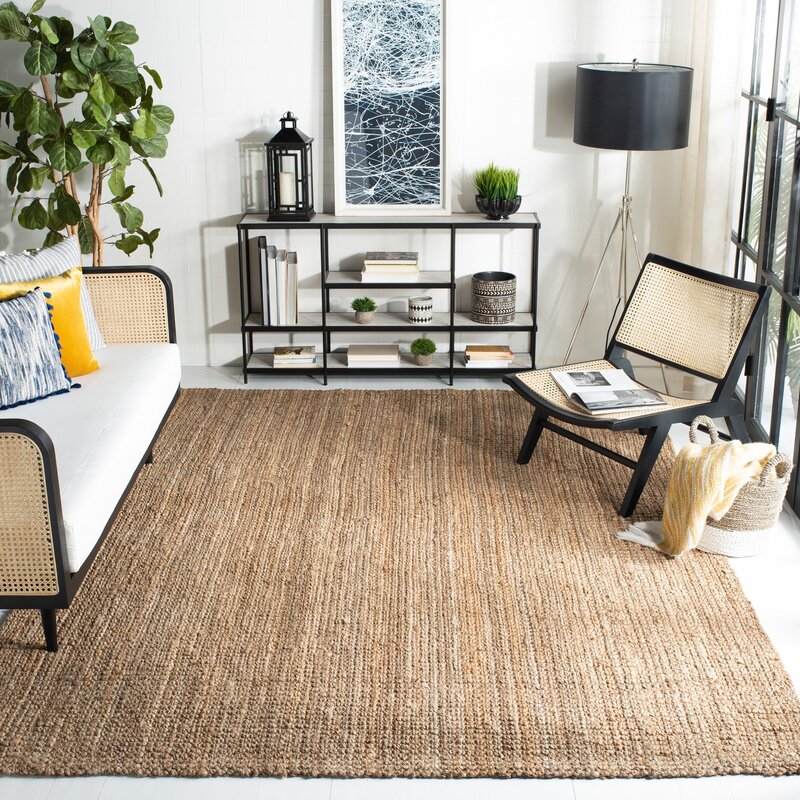 When it comes to affordable living room rugs nothing beats the enduring beauty of an easy to care for sisal rug since they're both sturdy, and undeniably attractive in any room.
Layered Living Room Rugs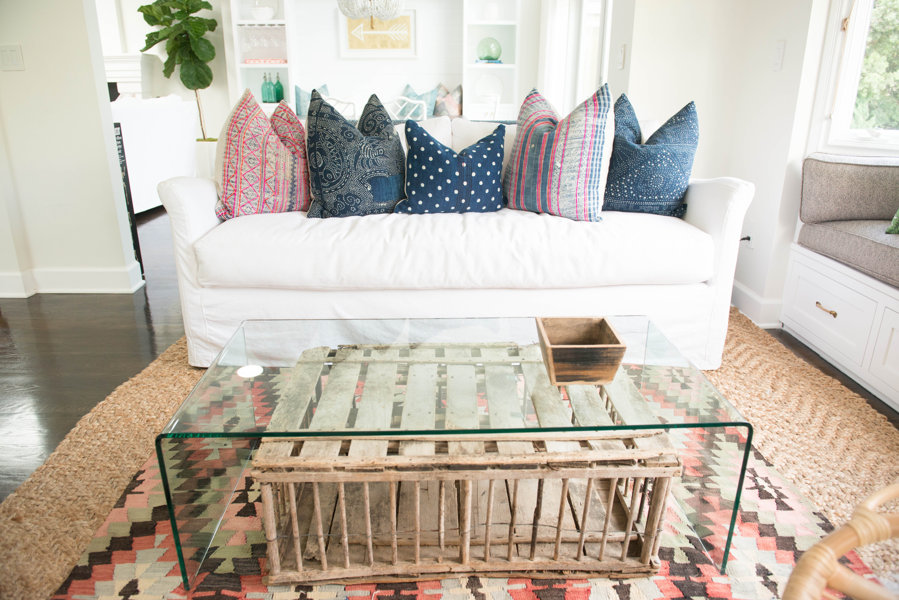 A recent trend when it comes to living room rugs is to layer several over each other for extra comfort and visual play, which is great if you've got older timeworn rugs that you still want to hold on to. And since its up to you as what combo's work best, you can use your rugs to create dramatic juxtapositions or go tonal for consistency.
Classic Cowhide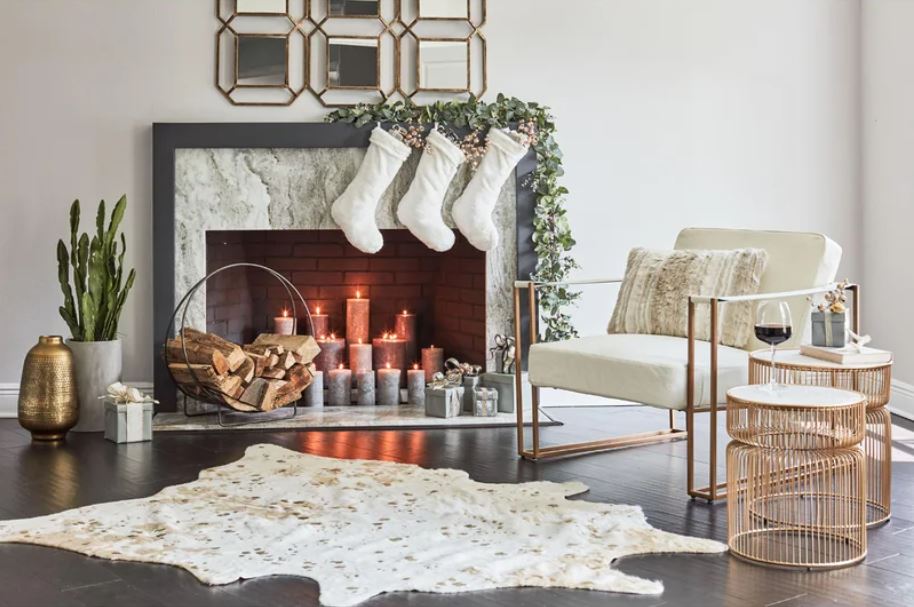 Add a decadent sense of rugged allure with a faux or authentic(vintage is best) cowhide rug that will lend the space an organic feel that will look stylish until your tastes change. Even better if you place your's diagonally to really make a room pop.
Graphic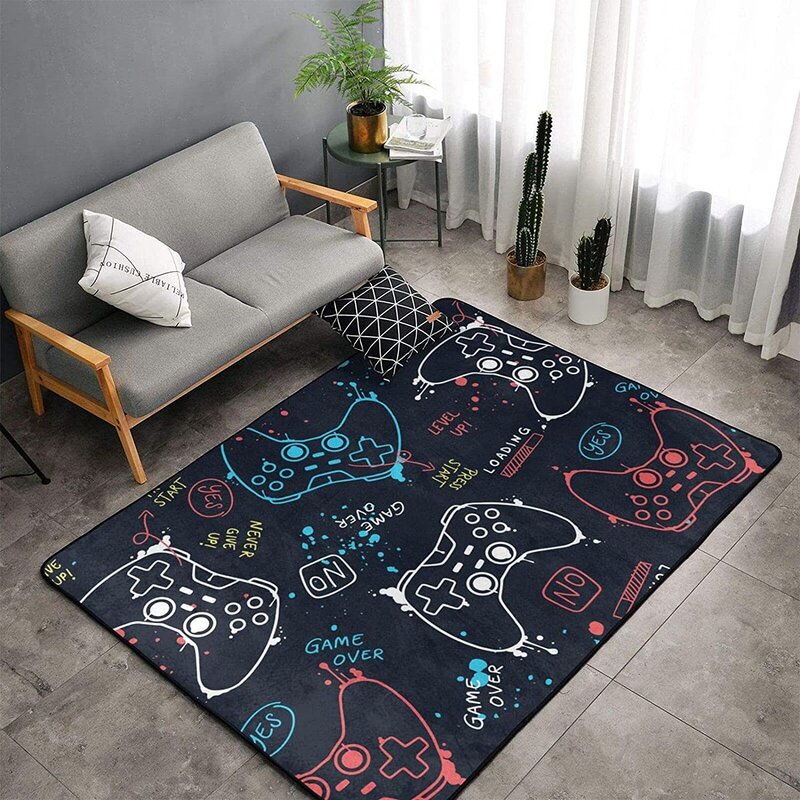 People often tend to overlook the transformative power of living room rugs which is a loss for them as the possibilities are virtually endless. And with new innovative designs easily affordably available, go for a graphic, unique rug that will double as a conversation-starter.
Mid-Century Modern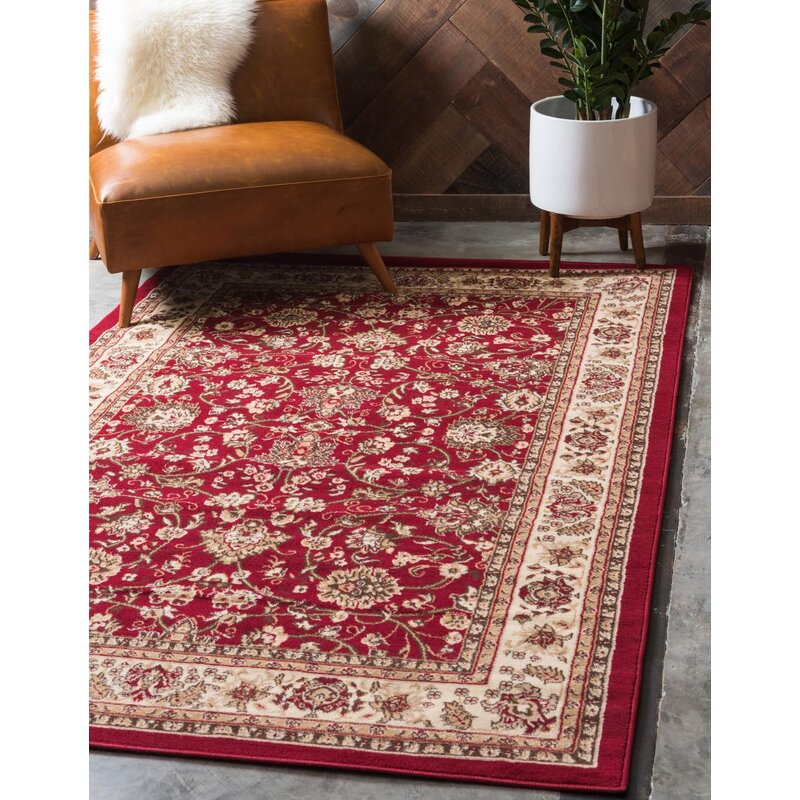 With the appeal of Mid-Century Modern furnishings continuing to gain traction season after season, bring your living room to life with a colorfully patterned rug that's vaguely ethnic-inspired and a tad classic to boot.
Textured Print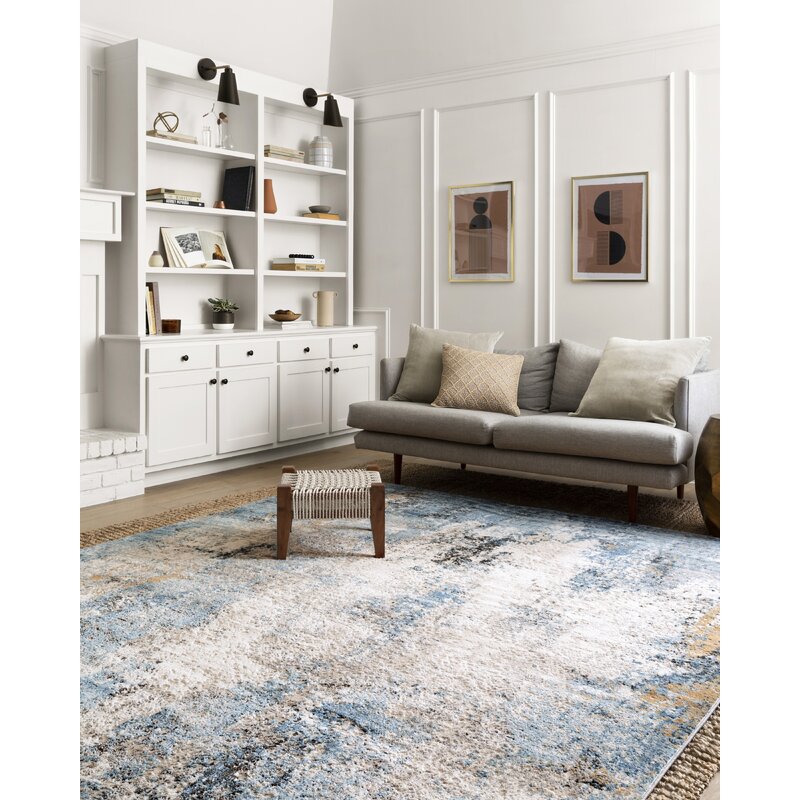 If living room rugs that are too plush won't work for this high-traffic area in your home, you can still bring in tonal texture by tricking the eye with a convincing pattern, be it distressed or designed to evoke natural elements like a wood grain or the texture of stone.
Tribal-Inspired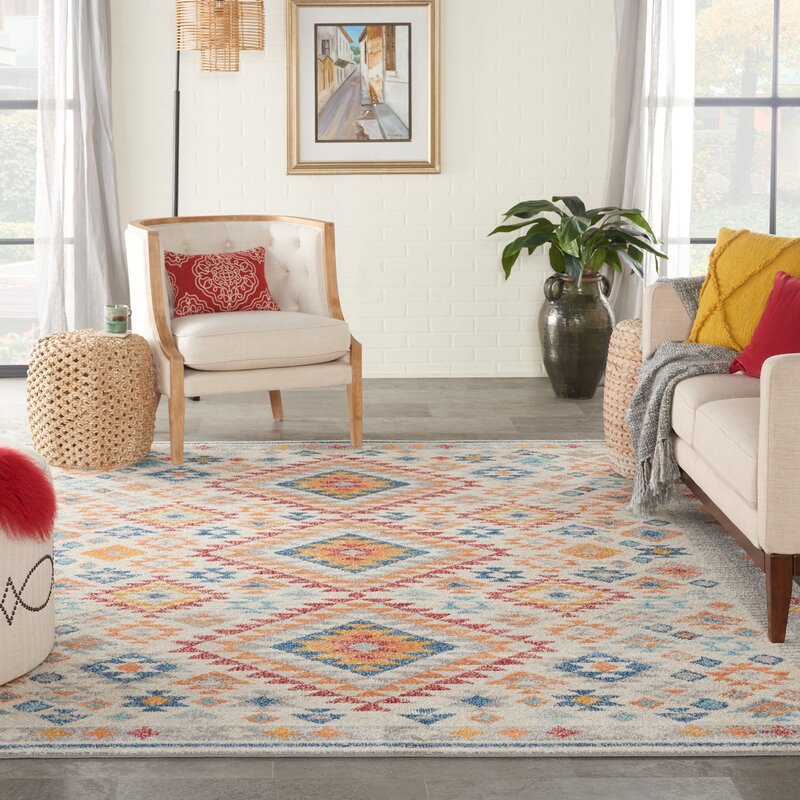 Add a touch of the far-flung with an ethnic-inspired graphic living room rug in a two-tone color way that boasts striking symmetrical graphics. This will help keep the look modern in appeal as trends and fads come and go.
Plus, since they are universally appealing, you can let yours work as an anchor in your living room as you update it with new design styles as your mood, and tastes change.
Oversized Living Room Rugs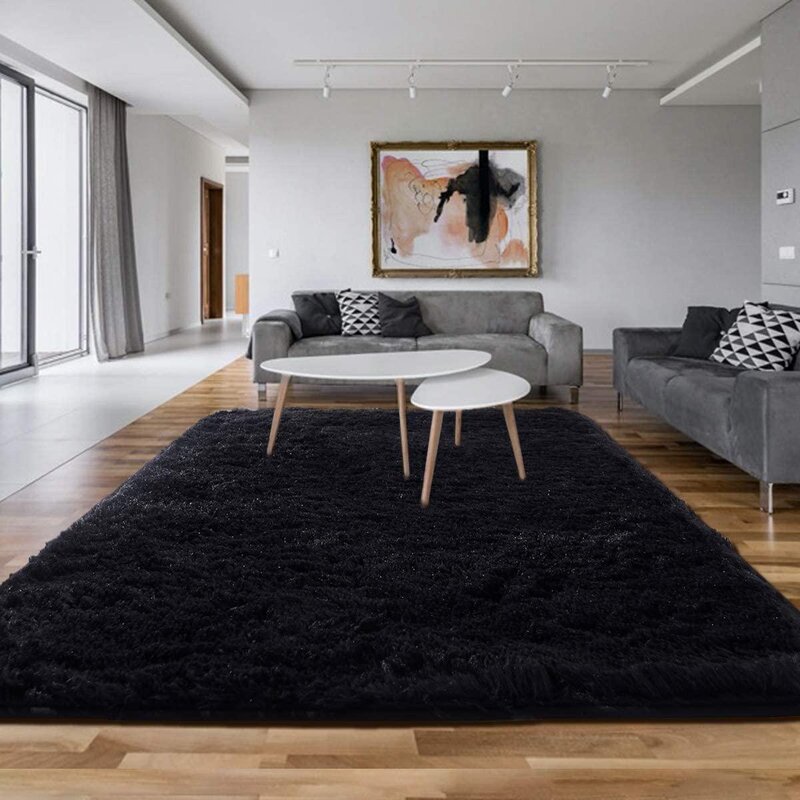 One of the most common decorating mistakes any interior designer will tell you that they see in homes time and time again are rugs that are too small. Instead, make your living room feel grander with as large of a rug as possible without completely covering your floors from wall to wall.
This will, in turn, make your living room feel extra-large and luxurious, and will help you tie all of your furnishings together with ease.
Textured Fur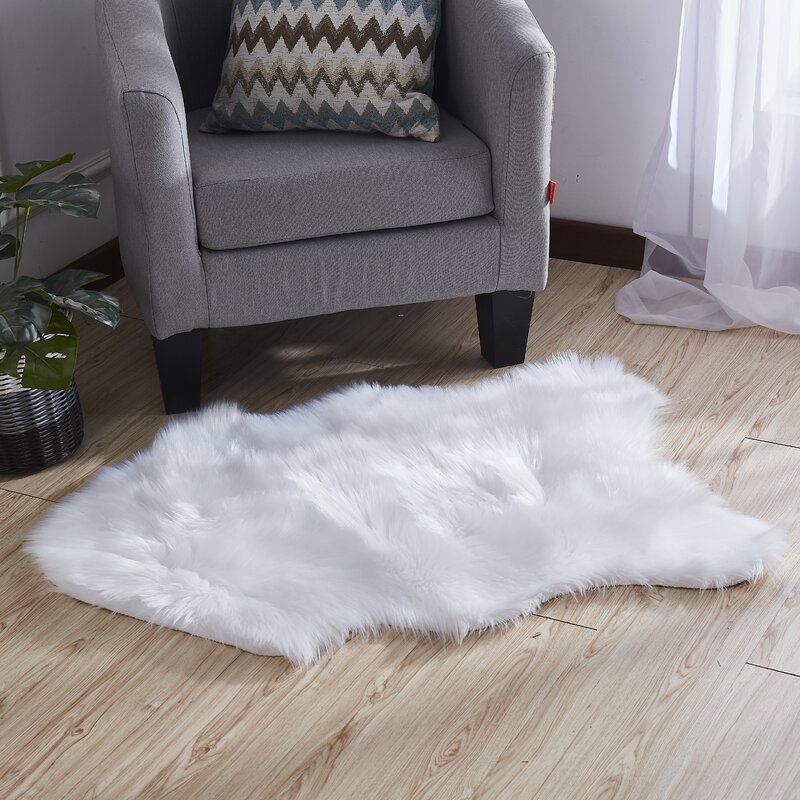 Since every space could benefit from hits of texture, use living room rugs to your advantage by opting for a thickly piled, plush furry number, whether authentic or faux. Not only will it help you bring in a large amount of texture, but just imagine how great it will feel under foot, especially during colder seasons.
Plus, its a great route if you're looking to affordably inject some every day glamor in your living room without the look coming off as heavy-handed or forced. The key here is to go for one that is easy to clean and synthetic as they can be costly to have dry-cleaned over time.
Vibrant Boho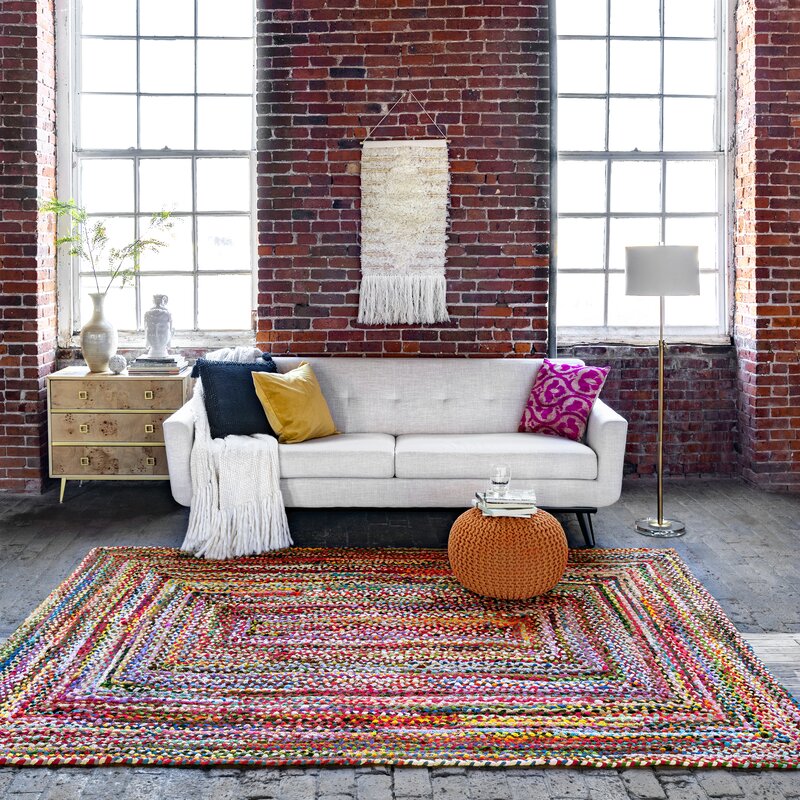 A vibrant boho rug is a great way to go for living room rugs if you love eclectic bohemian-inspired style, but you can't quite bring yourself go for delirious allover color. Choose a rug with an energizing boho pattern that will allow for you to bring in plenty of vibrant colors, like pinks, greens, blues, and oranges, without having to completely cover the entire area in an explosion of riotous hues.
If you want to create a relaxed feel with your living room rug ideas, then a boho-inspired rug is one of the best living room rugs to help you perfect the look. The playful patterns and colors will come together beautifully, even in a room with a neutral color palette to add some real vibrancy to it.
Neutral With A Bold Pattern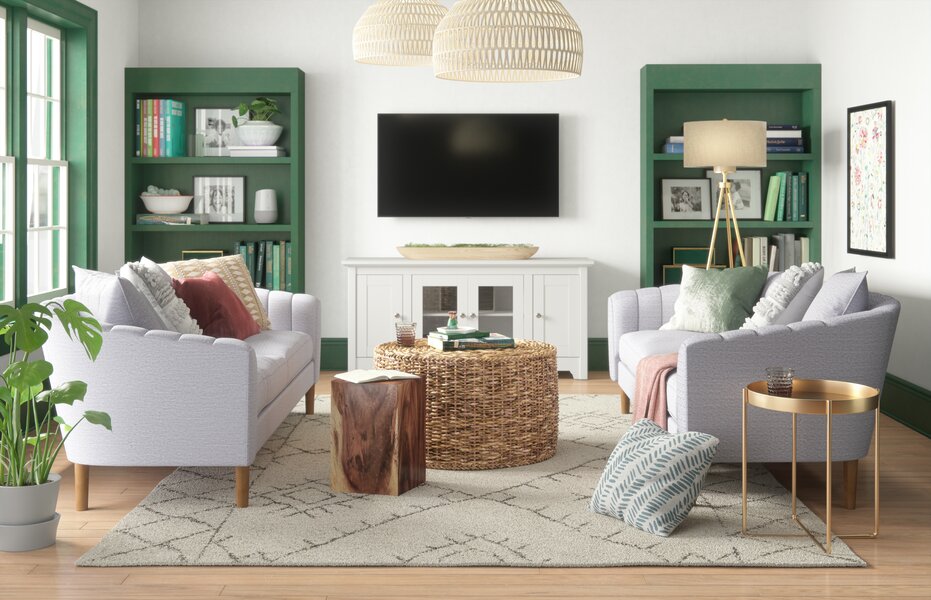 Living room rugs don't have to be all about saturated color all the time, instead they can also be all about celebrating a glorious pattern. You might want to add an inviting touch in your space, but you don't want something that is going to overpower your furniture, accessories, and soft furnishings. Maybe you want to keep your living room decorated in a completely neutral palette, but you feel it is lacking some needed texture and pattern?
This is where neutral, patterned living room rugs can come in to play to your benefit. Look for a pattern that's minimal and easy on the eye to create a calming impact without taking away from the rest of your living room design.
Bold Geometric Patterns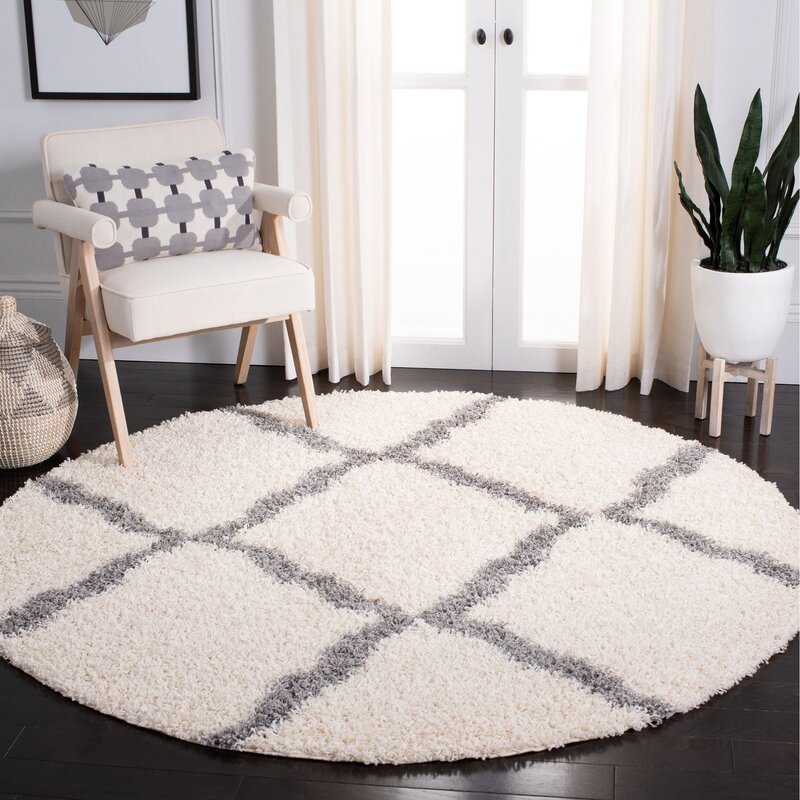 A geometric patterned rug will instantly energize your living room decor in a modern, fresh, and endlessly appealing way. Choose a color scheme that complements your living room decor perfectly while adding a bold punch of pattern with a kicky, symmetrical geometric print. Smaller geometric print living room rugs will lend the area a zesty interlude to keep the feel clean and simple, whereas a larger geometric print will tie your space together with plenty of color and defining style.
Use a small geometric print rug in a large room to draw your attention to the space, and use a large print in a small room to make your living room feel larger.
A Hint Of Gold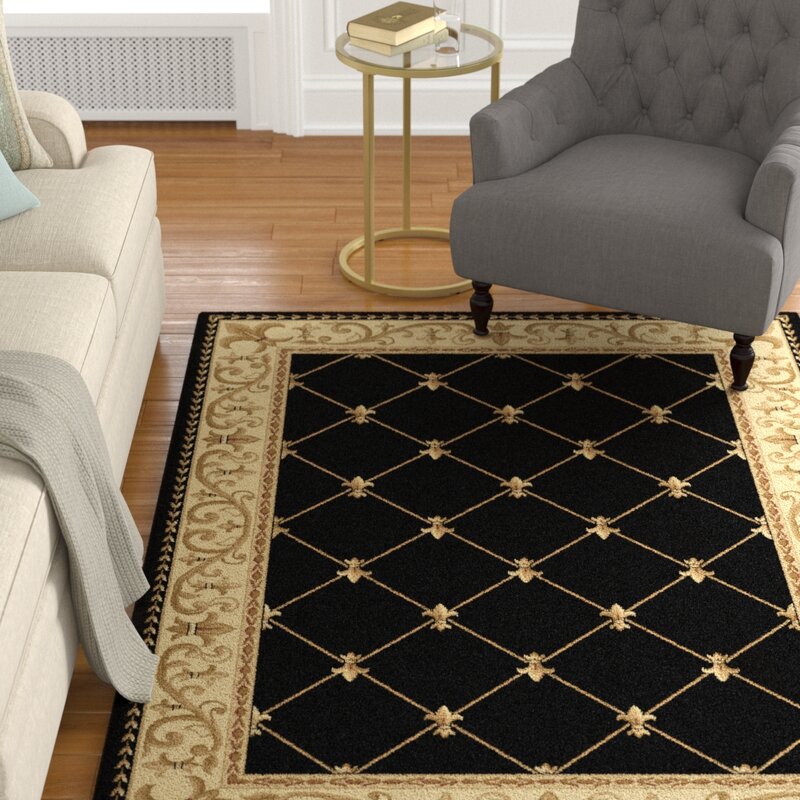 Luxurious gold tones are heavily trending right now, so why not use your living room rug to tie in your gold decorative accents and features? It doesn't have to be brash and bold, as just a touch of gold worked into your living room rug ideas will bring your entire room together seamlessly. Go for a powerful and regal patterned rug so the touches of gold will blend right in, adding a luxurious feel of every day glamor in your living room.
For living room rugs which are a bit more unexpected, consider a decadent Art-Deco-style piece that will add an energetic splash of gold in your living room, making for a luxurious and glamorous impact.
Blush Tones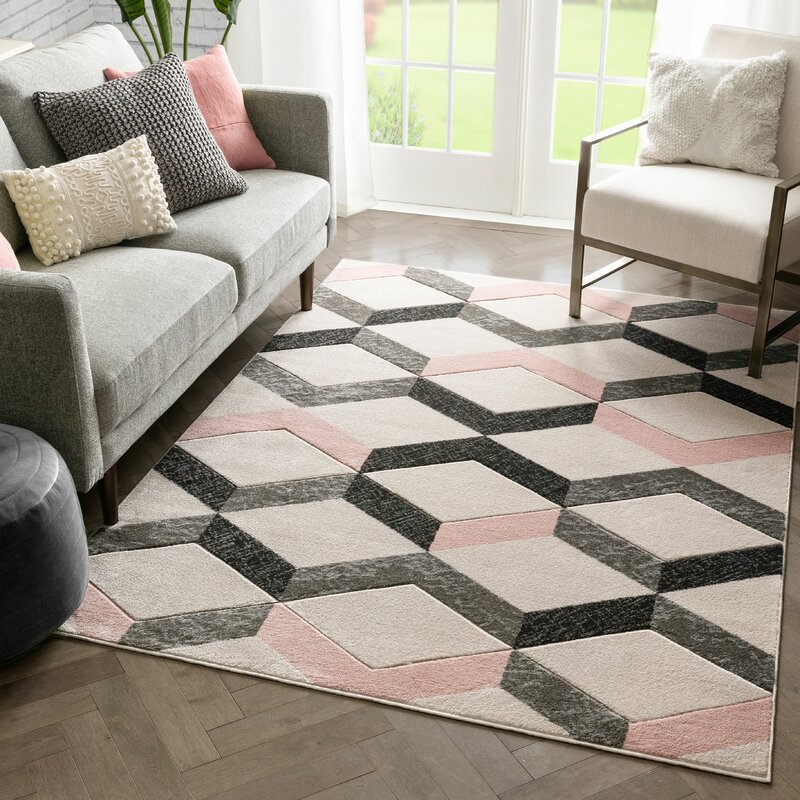 There is no better color for living room rugs than serene blush tones if you want to add a cozy and feminine touch in your space. If you already have a blush or neutral color scheme in your living room, then go for the gold and add a blush-toned rug into the mix. Choose a pink hue with a soft pattern, so as not to overpower your room with such an emotionally charged hue.
You could even go for a neutral rug with a pink pattern to bring your furnishings together in harmony. However, if you are feeling a little less bold, choose a patterned rug with pink accents, so it isn't too much of a distraction for the eye.
Black And White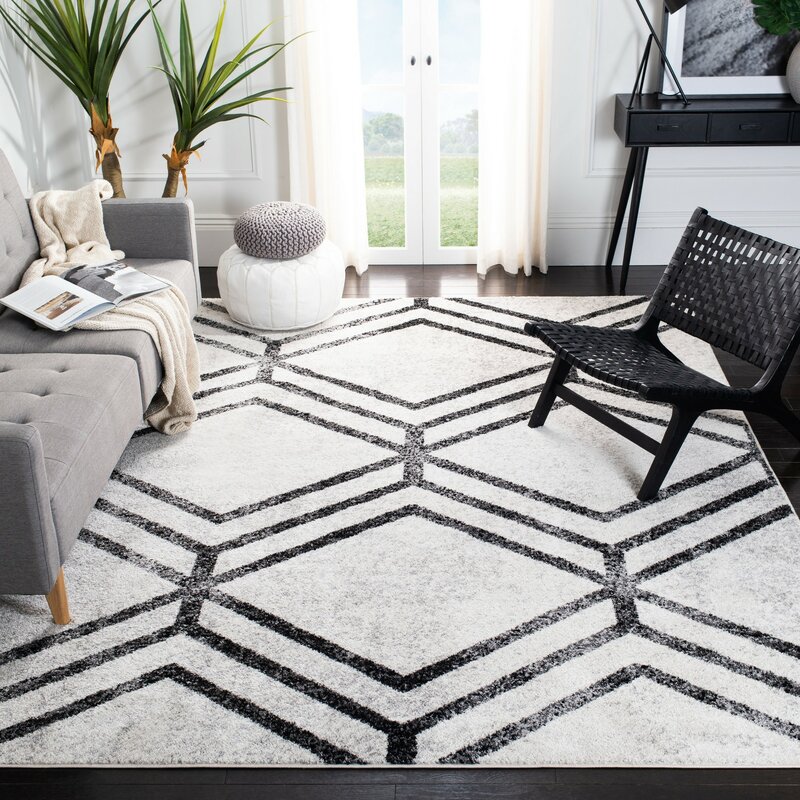 A graphic black and white rug will anchor a room firmly, in a way that no other style can. A black and white rug will add a distinct sense of drama in your living room since the contrast of the dark and light areas will catching everyone's attention as soon as they walk in the room. You don't always have to add color to create impact, and a black and white living room rug is the perfect example of making the best use of neutral decorative features.
A graphic black and white rug will look great in an eclectically styled room, contrasting against the quirky elements in a room dedicated to this spirited style.
Relaxed Stripes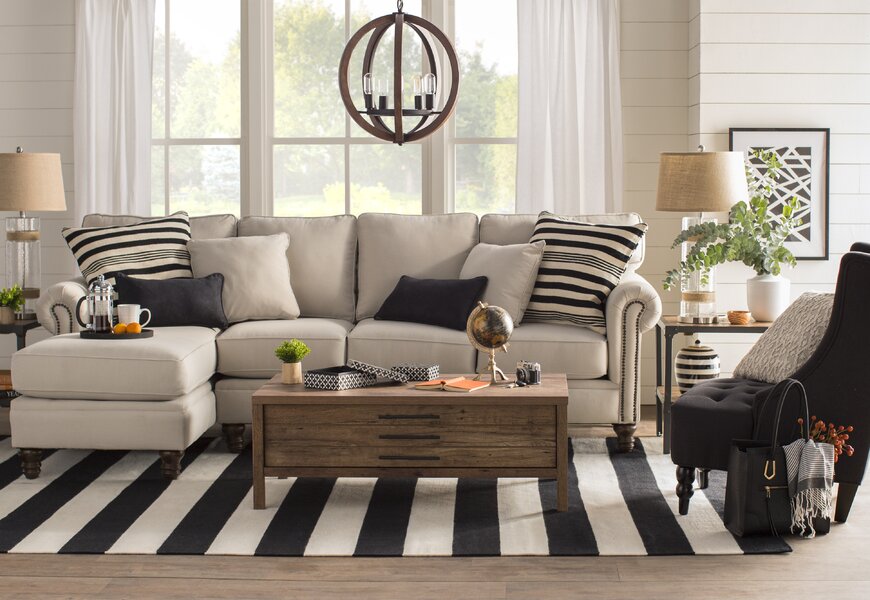 A relaxed stripe is the perfect choice for living room rug ideas to help make your space appear larger, or to change the shape of it. Elongate your space with a striped area rug, allowing the eye to be drawn from one side to the other while helping your space appear much larger than it actually is. Living room rug ideas like this are clever because they don't require anything too bold to make a noticeable difference.
Choose a casual striped rug made from a natural material since they don't need to be more formal. And symmetrically structured stripes are perfect for getting the look right. Often stripes can feel a bit too formal and linear when it comes to living room rugs, and a more toned-down and narrower stripe will give you a completely different feel.
Weathered Pattern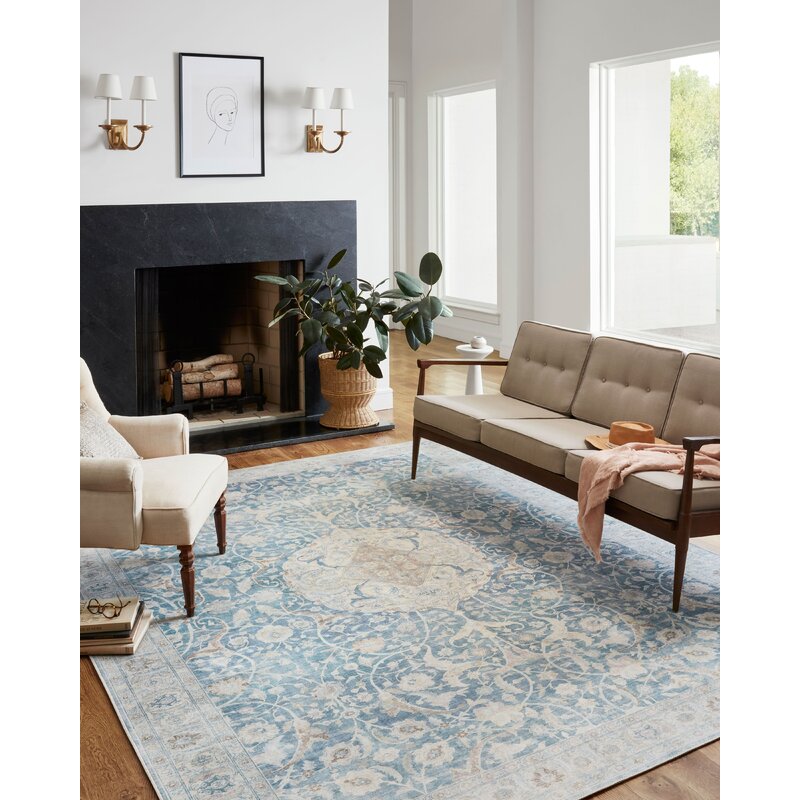 A weathered pattern is great if you are looking to craft a comforting and versatile space. Weathered living room rug ideas enable you to work them with pretty much any style of living room decor. Whether your living room is styled traditionally or you are working with something more modern, a weathered patterned rug is a stylish go-to.
Living room rugs like this are incredibly flexible and they'll enable you to change your style and design when needed, without having to replace your coveted living room area rug.
Red Persian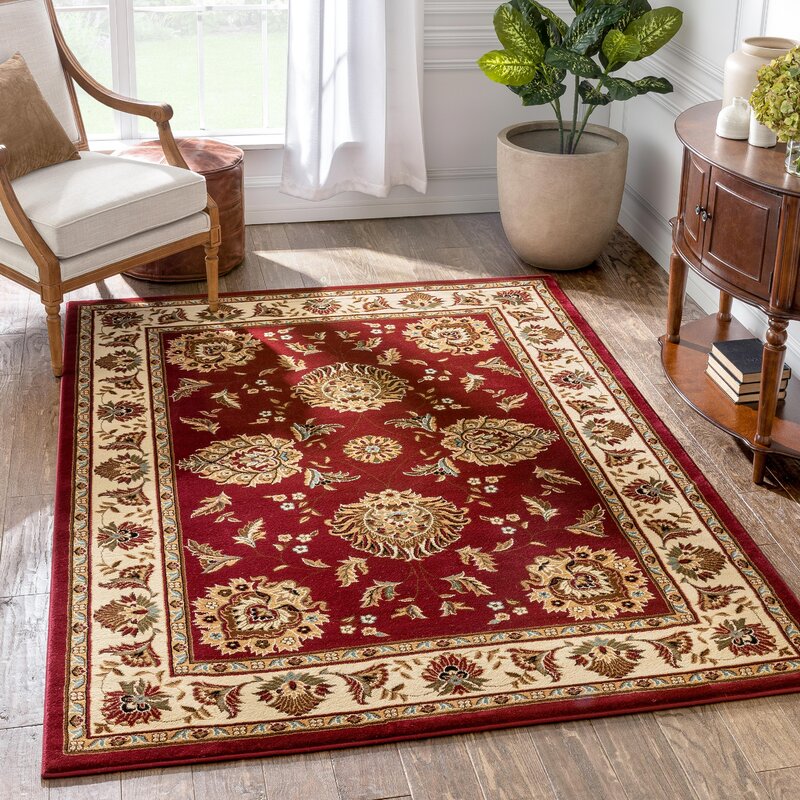 Classic Persian style living room rugs can instantly take a room to the next level. Persian rugs will give your living room a luxurious, timeless, and opulent feel that no other living room rug ideas ever could. We love red for a Persian rug as it can give a living room a daring touch of decadent color. Pairs yours with deeper tones and refined gold accents for a lavish, old-world feel in your living room.
Along with some luxurious furnishings and oversized wall coverings (in a deeper bold or neutral hues), you'll easily create some needed contrast while allowing your red Persian rug to become a room-defining feature in your living room.
Stylish Florals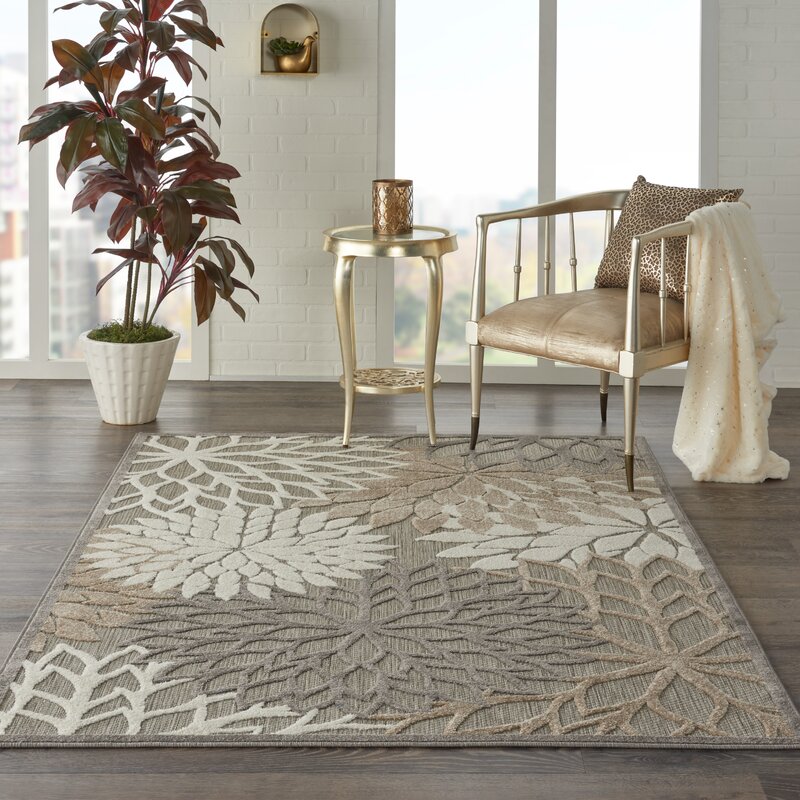 Floral living room rugs don't have to be overtly saccharine and feminine. In fact, modern abstracted floral rugs lend you the opportunity to create a stylishly dynamic room, perfectly in-keeping with the trends of today. Choose wall coverings, accessories, and other furnishings that compliment your floral living room rug ideas to keep the look consistent and easy on the eye for years to come.
Soft pastels, traditional pieces of furniture, and high-shine accessories and finishes will come together to keep all eyes on your living room rug design ideas as they'll work as the main feature.
Vibrant Blue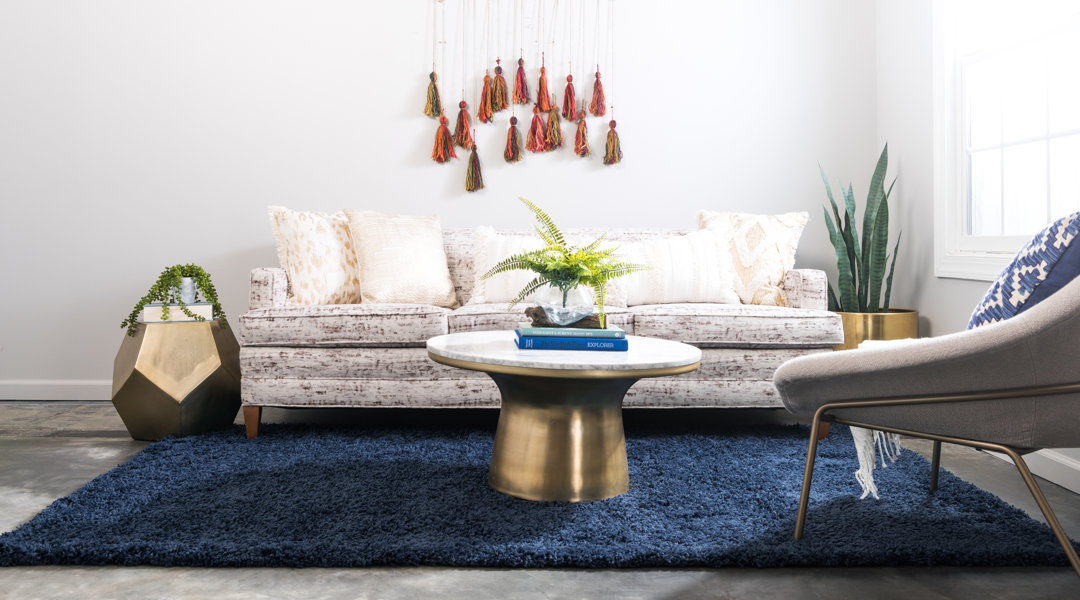 There's no need for your living room rugs to blend into the surroundings if you're looking to really make a room-defining statement. Let your living room rug design ideas work to draw all eyes within your space by introducing a vibrant yet at the same time soothing blue rug in your living room. Bright and powerful blues go perfectly with just about every color and design style, as well as and they look striking paired with soft neutrals and white.
Luxurious materials pair well with rugs in this rich shade, creating an opulent feel while the rug also lends the room more depth. Even better if you use blue living room rugs to complete a coastal-inspired space.