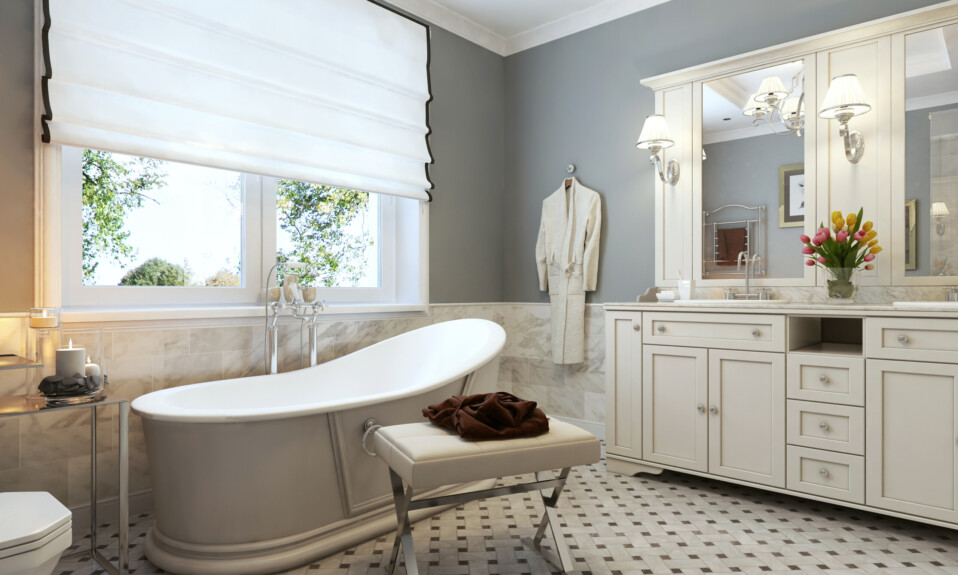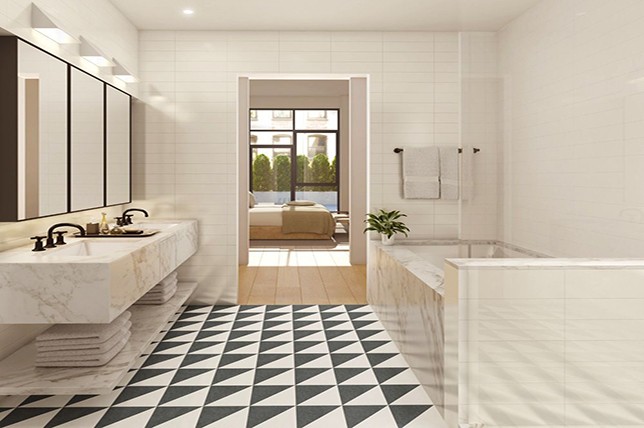 When it comes to considering the best bathroom paint colors for your home, its probably one of the hardest paint choices you'll have to make. The bathroom is a room which isn't often considered as a room where interior design is paramount. It's a room that you are in and out of, spending as little time as possible inside. Well, we think that should change and that bathroom paint design ideas should be taken more seriously as a design moment.
To get you inspired, here are the best bathroom paint colors of 2019 according to Décor Aid interior designers.
PINK OMBRE EFFECT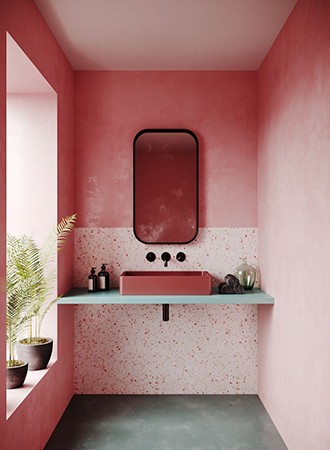 Create visual interest without coming off a too crafty by going for a delightful ombre effect that will make your ceilings seem higher than they really are. Even better if you opt for an intriguing color and buff it for added texture.
A MUTED PINK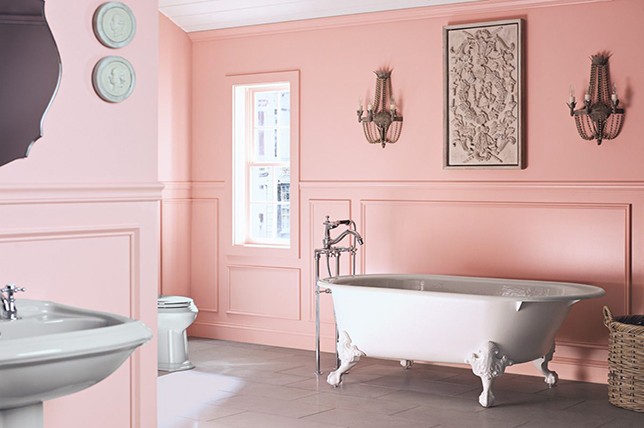 By going for a muted, watery pink bathroom wall paint, you'll save yourself from veering too far into overly sweet saccharine territory while elevating the space with a classic shade. And for contrast, our interior designers suggest pairing it with more masculine elements for needed strength.
CINNAMON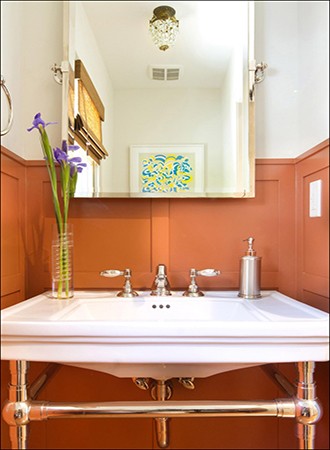 Bring your bathroom wall paint ideas to life with a refreshing cinnamon shade that will make it a standout feature in your home and will remain timeless in appeal for the long run. Even better is the fact that it almost works as a neutral since it pairs so well with all kinds of design elements.
SAGE GREEN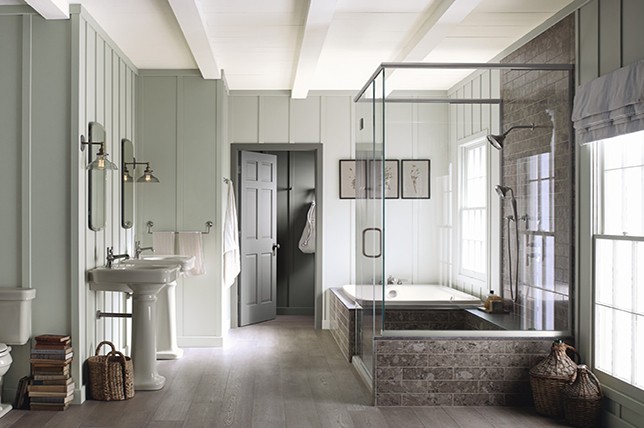 Similar to a pewter gray, a soothing sage green pairs well with just about every design style and all bathroom materials and will never go out of style. Plus, its also great for hiding everyday wear and tear and stains without being too bold of a choice.
TOMATO RED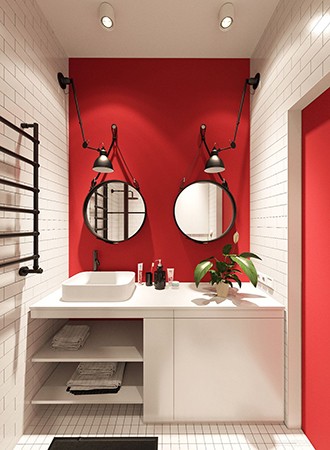 Use a vibrant red to energize a bathroom on an accent wall for added depth and a vibrant sense of play. And while there are scores of red bathroom paint ideas to choose from, we suggest opting for one with a bit of orange to it as its appeal will remain refreshing for years to come.
ROYAL BLUE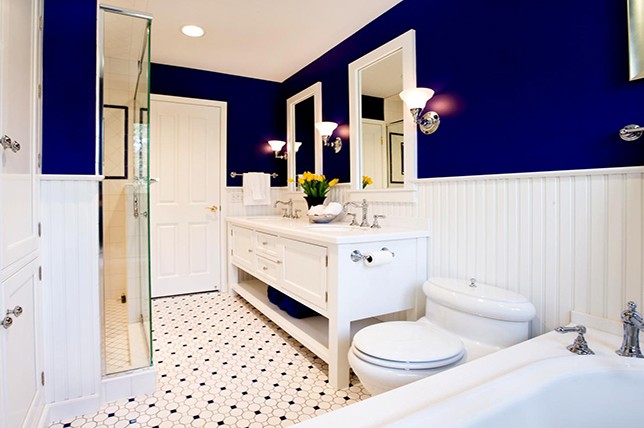 A royal blue bathroom wall color will make for a rich and sophisticated option and will work best in larger bathrooms since its so powerful. Plus, it pairs well with just about any color or finish, from prints and patterns to brass, glass, and chrome with ease.
CREATE A STARK CONTRAST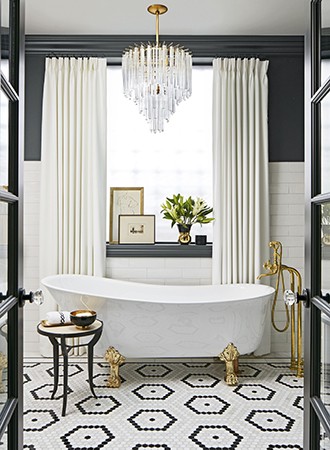 Who says that bathroom paint ideas have to extend throughout your bathroom? Making your ceilings look higher and keep the eye moving by painting only the upper half of your bathroom walls.
This will, in turn, also help you commit to a challenging color much easier since it won't take over your entire bathroom. And with this kind of application, a dark bathroom paint color will work best.
LILAC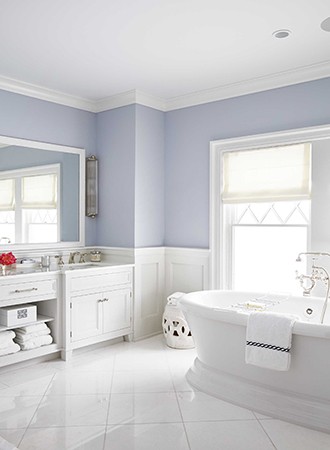 A pretty serene and soothing color, a calming lilac will never go out of style while remaining gender-neutral and an unexpected color as you don't see it too often in modern homes. And to get the look right and keep it timeless, our interior designers suggest going for a watery, subtle shade of lilac paired with white fixtures and decorative elements.
CONSIDER THE CEILING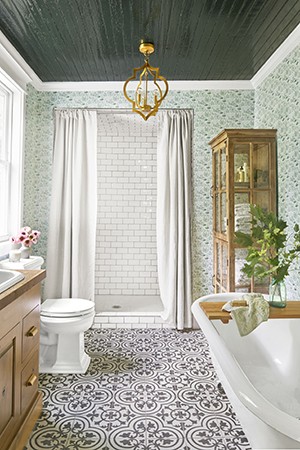 Often overlooked or completely neglected, your ceiling can be used to your advantage to make your bathroom appear larger and grander than it really is with a fresh coat of paint. Especially if you opt for a rich and indulgent color, or even a high-shine metallic to really make it pop.
You could even try your hand at a graphic DIY project by taping different segments for an op-art-inspired feel that'll ensure that your bathroom is unique to you while inspiring guests and starting conversations.
A DARK ACCENT WALL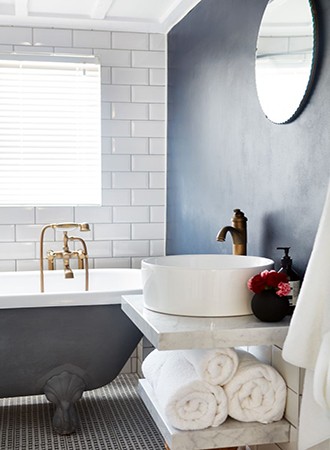 A dark accent wall is a great way to elevate the mood in your bathroom without having to commit to color all over. And since its a simple accent wall, you can also easily refresh your bathroom paint ideas as trends and your mood changes.
You can also be more daring and playful with graphic contrasting panels or a statement-making pattern for extra visual impact.
MATTE BLACK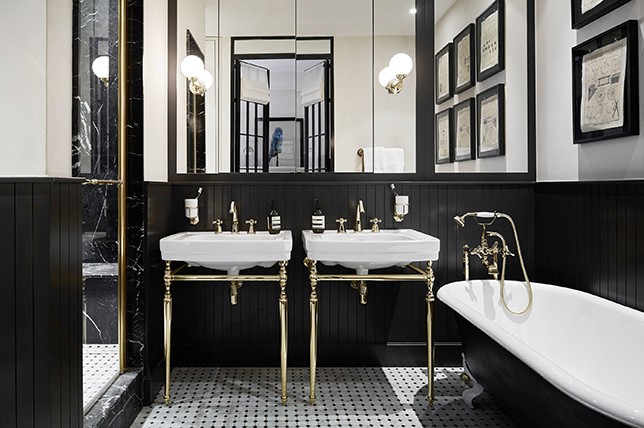 Channel an elegant Art-Deco inspired feel with a handsome matte black contrasting bathroom paint job with a modern matte finish. However, since its such a heavy color, be sure that you'll enjoy it for years to come as it is difficult to paint over and brings with it serious attitude.
STONY BLUE
This water-blue tone is nothing if not perfect when it comes to bathroom paint colors. It's a relaxing shade, with enough brightness to reflect light and keep your bathroom feeling fresh and breezy.
You could use a color like this against wood paneling for an elegant statement, against dark wood bathroom cabinetry and accessories or as a feature color for a cabinet. This is one of our favorites out of the modern luxury bathroom paint colors to consider as it looks great against marble, wood, and tile alike.
DUSTY BLUE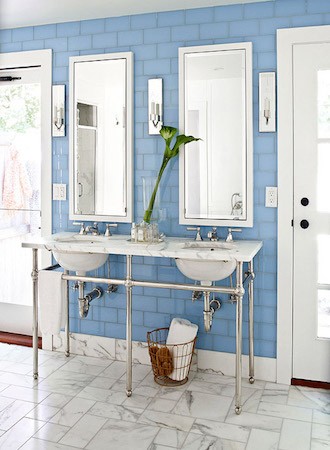 A warmer shade than a stony blue, there is less grey in this hue than in other blue bathroom shades. It looks great with white tiles, creating a relaxed and fresh look. Warm metallics and light wood accessories also look amazing against this shade.
And it pairs well with just about every design style, from the retro-inspired to the contemporary.
BRIGHT WHITE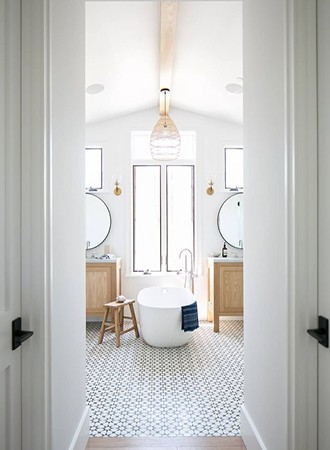 If you have a small bathroom, white is always a good paint choice since it will make any space feel larger than it really is. White is also great at helping your bathroom look as fresh as possible and teamed with all-white tiles, your bathroom will have the look and feel of a luxury spa. White paint has great light reflecting properties and it will make your bathroom feel much more expansive and luxurious instantly.
Bathroom paint colors like white keep your bathroom looking clean, encouraging cleanliness, and white paint can easily be re-painted as things start to look worn and in need of an instant pick-me-up.
SOFT BEIGE GREY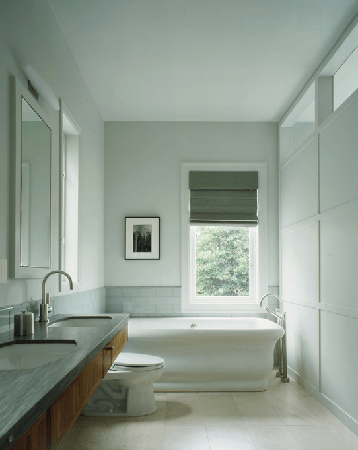 A soft beige-grey makes a wonderfully timeless bathroom paint color to consider. The soft and warm tone will keep your bathroom feeling cozy and relaxing without any bright and intrusive colors affecting the relaxing feel you get when bathing. Bathroom paint colors like this look striking paired against white, dark, and light wood tones and deeper hues, making them very flexible.
It will complement the colors in natural stone, create a contrast with darker tiles, and team up well with lighter hues.
LIGHT GREY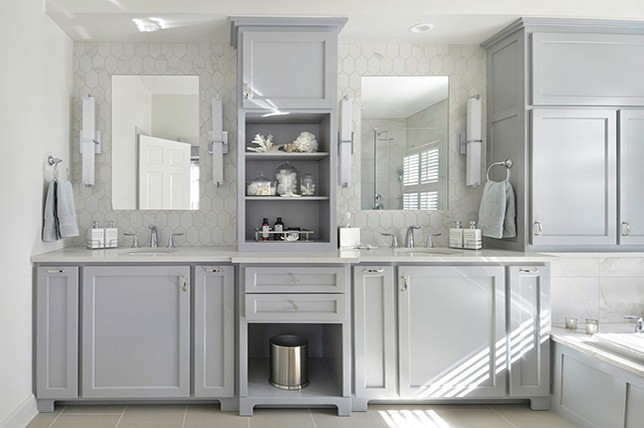 A light grey adds a masculine edge to any space and is a timeless alternative to clinical white bathroom paint color ideas. You can increase the moody feel in your bathroom with dark cabinetry, furnishings, and accessories, or keep it feeling light and bright paired with whites. This color is great for a modern bathroom as well as those which are more traditional in style.
It's a clean color which has a well-earned place in this list of bathroom paint colors as its also great for concealing everyday wear and tear. Light grey also boasts abundant light reflecting properties and it will lighten and brighten your bathroom in no time.
MOCHA GREY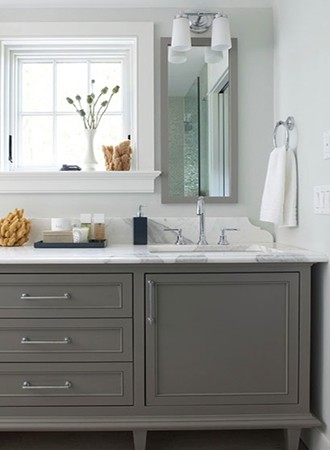 A brown-grey might not be a color you would usually associate with bathroom paint colors in 2019, but since it boasts classic rugged appeal, it only makes sense as rustic décor continues to trend. A lovely warm hue with just a touch of coolness in the paint color, a mocha grey is a comforting and relaxing color.
This color is perfect for being styled up with high-shine accessories or being styled down with more modern and clean-lined elements that are minimal in spirit.
TRANQUIL BLUE GREEN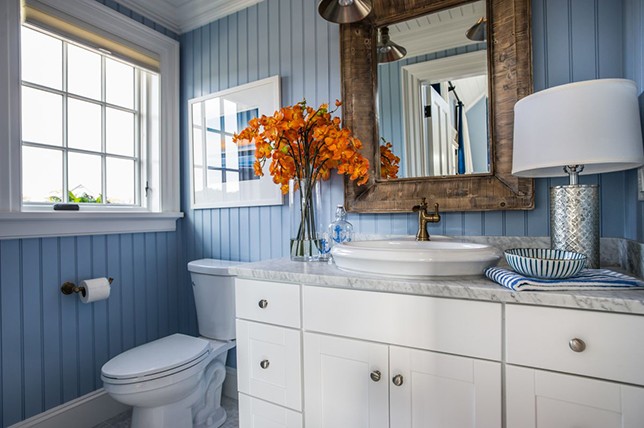 A soft blue-green shade is about as tranquil as you can get when it comes to bathroom paint colors. An inherently relaxing color, this shade has plenty of depth to it, adding to the feeling of tranquility it will provide in your bathroom.
A serene blue-green is one of our favorite bathroom paint colors of 2019 as its a pastel-based shade that will look amazing in a traditional or modern bathroom, whether you have light furnishings and accessories or dark, accent tiles or tonal white ones. Plus, when it comes to bathroom paint color ideas like this, they're universally appealing which is great if you ever plan on selling your home in the future.
DEEP NAVY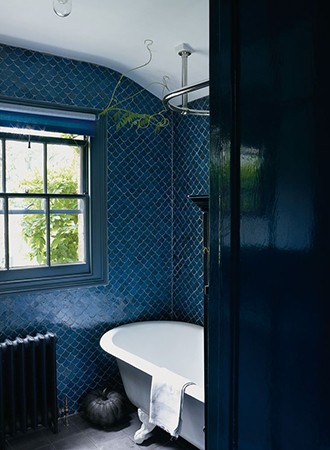 Where better for a moody blue than in a small room, like the bathroom? Make a real impact with your bathroom paint colors with a deep navy that'll set the tone for the space. Navy looks great refreshing paired against white bathroom elements (whether they are modern or classic). Style your navy bathroom with gold accents and accessories to give your home a really glamorous and luxurious feel.
Navy bathroom paint color ideas will add some serious drama to your bathroom, and they'll never go out of style.
FOREST GREEN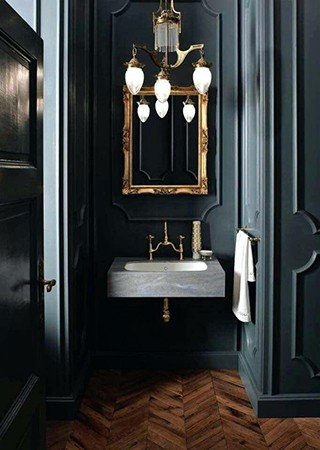 A deep forest green is great for bathroom paint design ideas as it can instantly set the mood while creating an intimate vibe. It's a luxurious color, deep, handsome, and impactful, creating a cozy feel in bathrooms both small and large alike. It looks wonderful as a feature wall against white tiles and it lends itself to being paired with darker toned woods, natural hues, and high-shine metallics.
Bathroom paint colors like a forest green will be sure to add room-defining depth to a bathroom and it's something a bit different and unexpected from your traditional pale wall colors.
PEACH PINK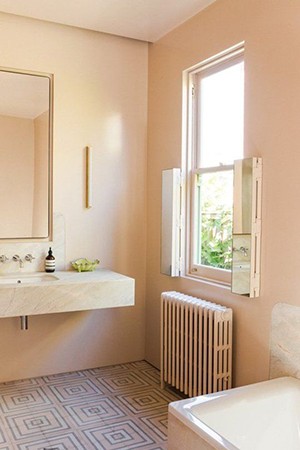 A peachy pink will lend a playful feel to a bathroom, something that these spaces are often lacking. Paired with white tiles, gold accessories, and high-shine surfaces and finishes, you'll love the look of luxury bathroom paint colors like that boast a hint of warmth.
Whether you are going to go for painted walls, an accent wall, or a pretty painted vanity to complete the look of your bathroom, a peach pink will look absolutely stunning and timeless.
BOLD BLACK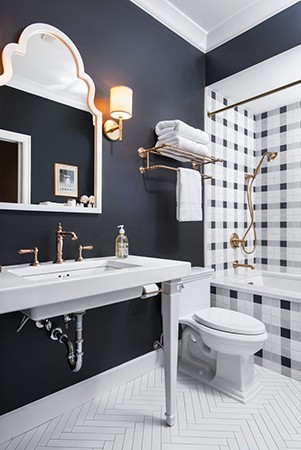 A bold black bathroom paint color might not be a style you would think of for a relaxing space, but sometimes a strong impact can make a memorable difference. Black against white creates an impressive contrast, turning your bathroom into a space that creates a real impact from the moment you walk in.
Bathroom paint colors like this allow you to also be more playful when accessorizing, imagine a chandelier and some bold accessories or even graphic tiles, as seen above.
PISTACHIO GREEN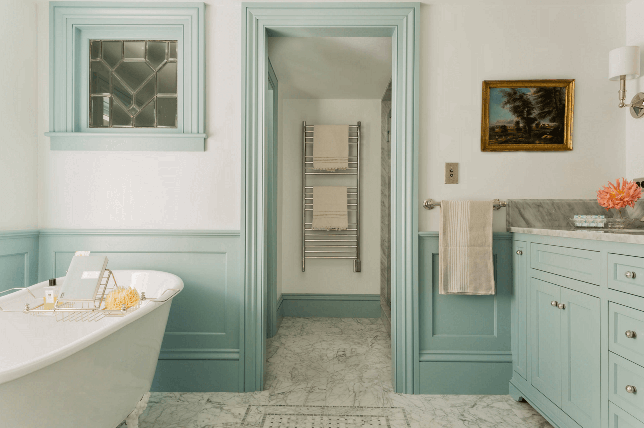 A light, bright, and vibrant green like this looks refreshing and charming in a bathroom. Its something a little different from your usual more clinical whites and grays as a pistachio green is a fun shade which will add some vibrancy to your bathroom paint color ideas.
A fresh and clean color, a pretty green like this will look lovely in a bathroom with plenty of natural light.
RELAXED TAUPE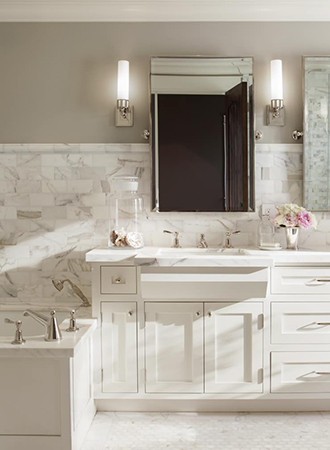 A warm, taupe tone is a great color for a bathroom, especially in a minimal home that's prone to neutrals. Its warmth allows it to be relaxing, helping you to take a break in the bath at the end of a hard day. Bathroom paint ideas like this are calming and you should accessorize minimally to allow the color to speak for itself in your bathroom.
Best of all, it will never go out of style and its great for concealing everyday wear and tear and stains.