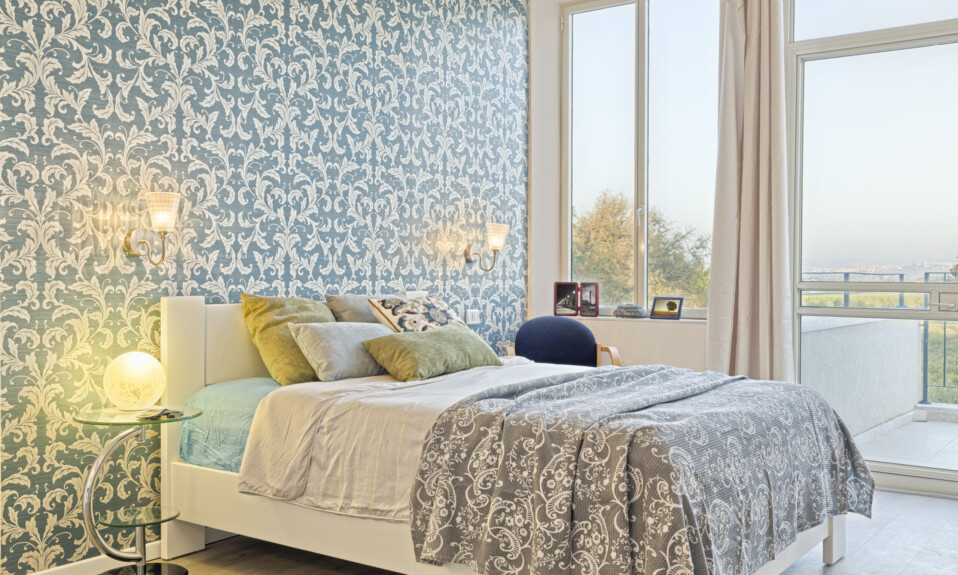 Though they haven't been in vogue since the '90s, there are scores of inspiring new wallpaper designs that are sure to lend any room in your home added visual interest for years to come. But what bedroom wallpaper? Since your bedroom is one of the most intimate areas in your home, we turned to Décor Aid interior designers to share their favorite bedroom wallpaper ideas with us.
From retro-inspired designs that'll lend your bedroom spirited charm to chintzy florals and botanical prints, there are endless options when it comes to choosing stylish wallpaper. From unique placements to updated classics, get inspired by our top 18 takes on the best bedroom wallpaper ideas for your home.
THE FIFTH WALL
When decorating rooms, we often forget about the 'fifth wall' – otherwise known as the ceiling. Sure, ceilings aren't usually covered in wallpaper, but why shouldn't they be? It might break some of those interior design 'rules' you've heard in the past but forget about those, as there's always joy to be found with the unexpected.
It's not just about wallpaper for walls; papering the ceiling makes for an interesting feature in an otherwise simply designed room – especially if you've gone for all white walls, then an interesting design up above will dramatically change the dynamic of the space. For a fun and cozy room, paper the entire space in a boldly printed bedroom wallpaper for maximum impact.
STRIPE IT UP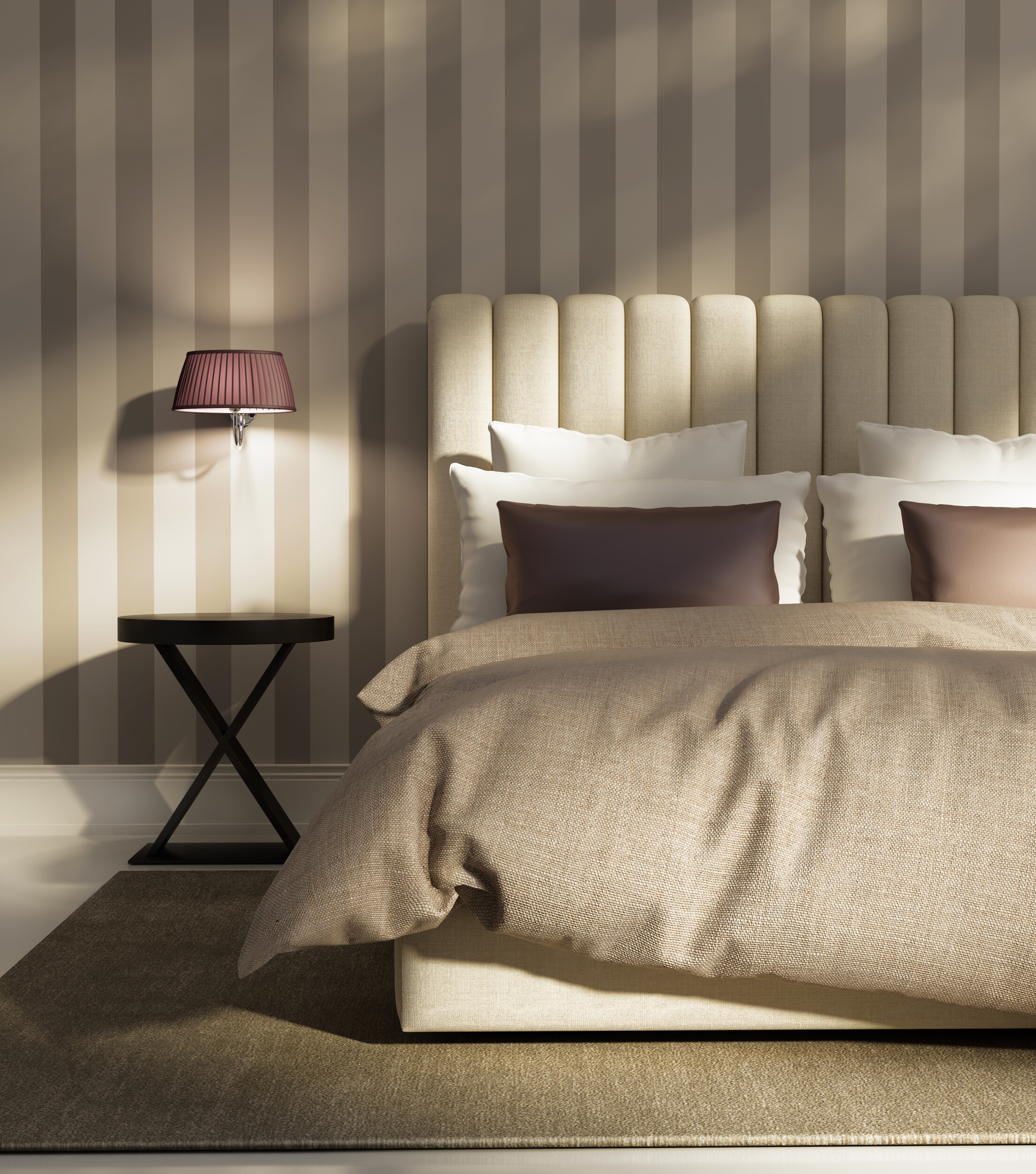 Since there's an endless amount of stunning bedroom wallpaper ideas, sometimes it pays to opt for more traditional designs to make the most of your investment. That said, vivid stripes will look forever fresh in any home paired with design styles as disparate as minimal and Mid-Century Modern.
You can also experiment by hanging wallpaper in stripes along a wall painted in a contrasting color to create the perfect accent wall. Paint your chosen accent wall in a dark color and create an interesting feature wall with some bold patterned wallpaper – deep and bright florals, for example. This is also a great bedroom wallpaper idea for the wall behind your bed, where you can create even more of a visual impact with a statement-making headboard.
TEXTURAL PLAYS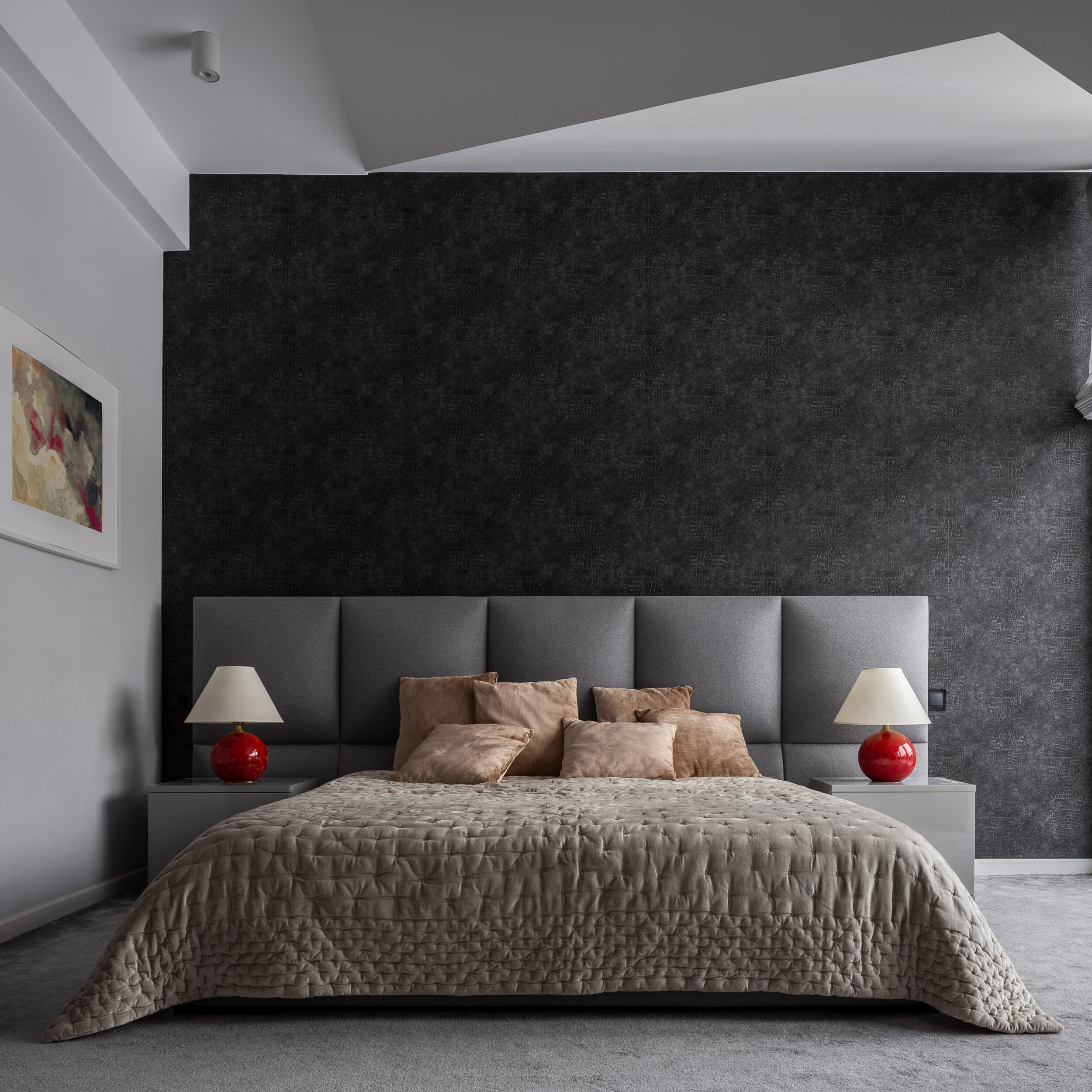 Textured wallpaper is great for adding more depth to a bedroom, but without having to use a bold color or overbearing pattern. If you have a large wall to cover and you want something less imposing, a textured wallpaper will create a stunning visual effect without requiring any floor space.
Keep it light and bright to keep a room feeling spacious and add the texture needed to make your room feel more comforting. Bedroom wallpaper like this can be used to accent a feature wall, drawing attention to it in the most comforting yet visually stimulating of ways.
GEOMETRIC PATTERN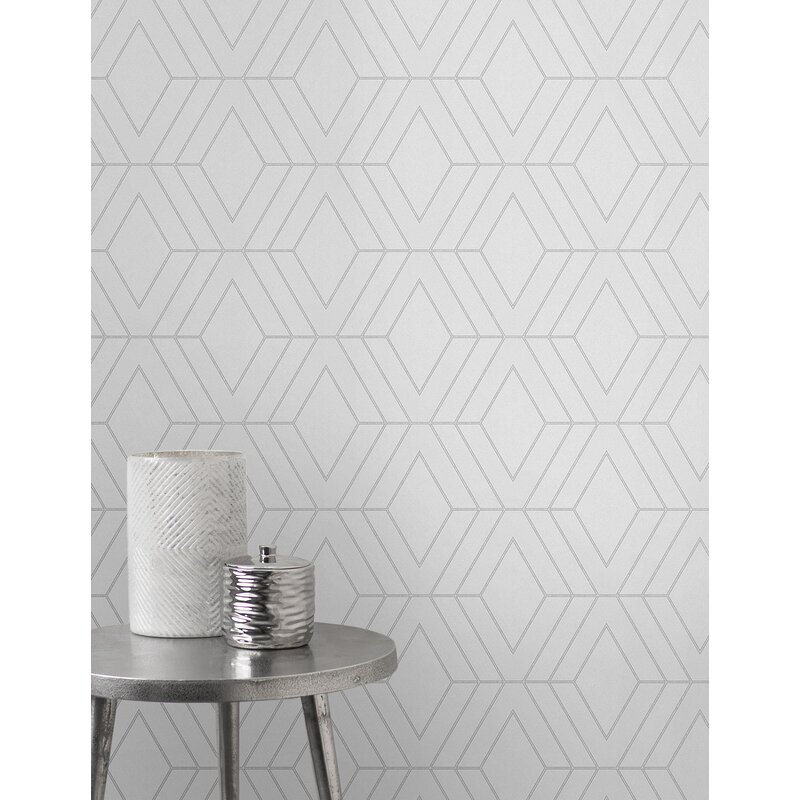 Of all the bedroom wallpaper patterns, symmetrical geometric patterns are always one of our favorite go-to's. When it comes to adding a decadent sense of everyday glamor to a bedroom, there's something intoxicating about the symmetry a geometric wallpaper will lend a room. To make your bedroom wallpaper ideas feel even more luxurious, choose a geometric pattern with metallic accents that will beautifully catch and reflect light night and day.
Team geometric wallpaper with black and gold furnishings and accessories for a glamorous Art Deco feel or warm up a minimal or rustic space with this strong take on wall coverings.
WOOD EFFECT OR FAUX BOIS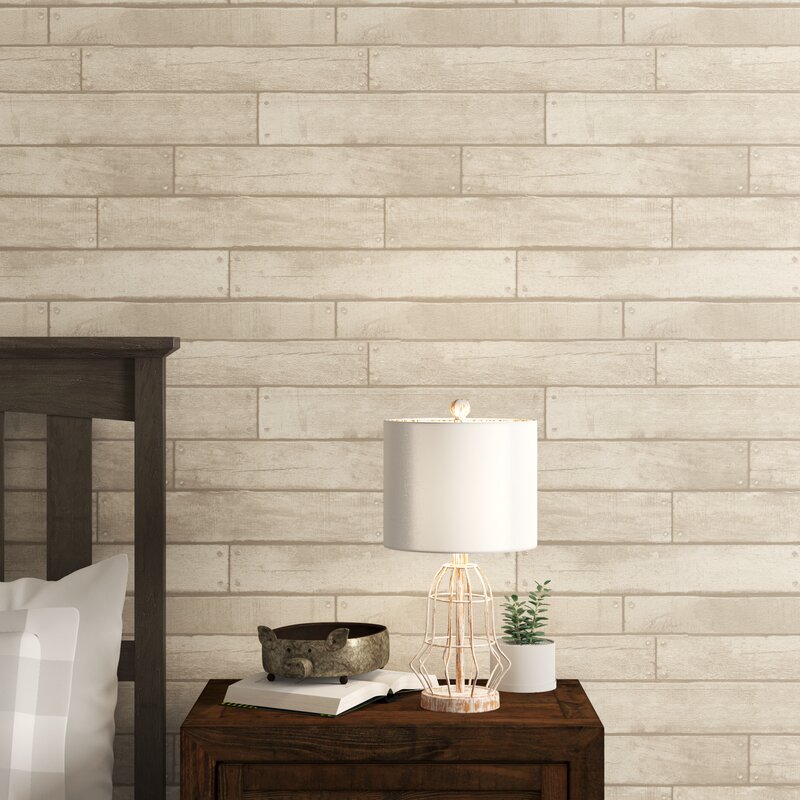 If the more sophisticated takes on wallpaper for bedrooms aren't right for your home; you can also use a faux bois or wood printed wallpaper to create a rich rustic feel in your bedroom. Wood effect wallpaper is also great for bringing in needed texture and a sense of the outdoors, without the price tag of genuine wood paneling. From dark wood effects to something a little lighter and softer; contrast your wood effect wallpaper with your furnishings for added warmth.
Pair dark wood effect bedroom wallpaper with deep jewel-toned wall paint and lighter toned fabrications to offset the visual heaviness it boasts.
RETRO-INSPIRED PRINTS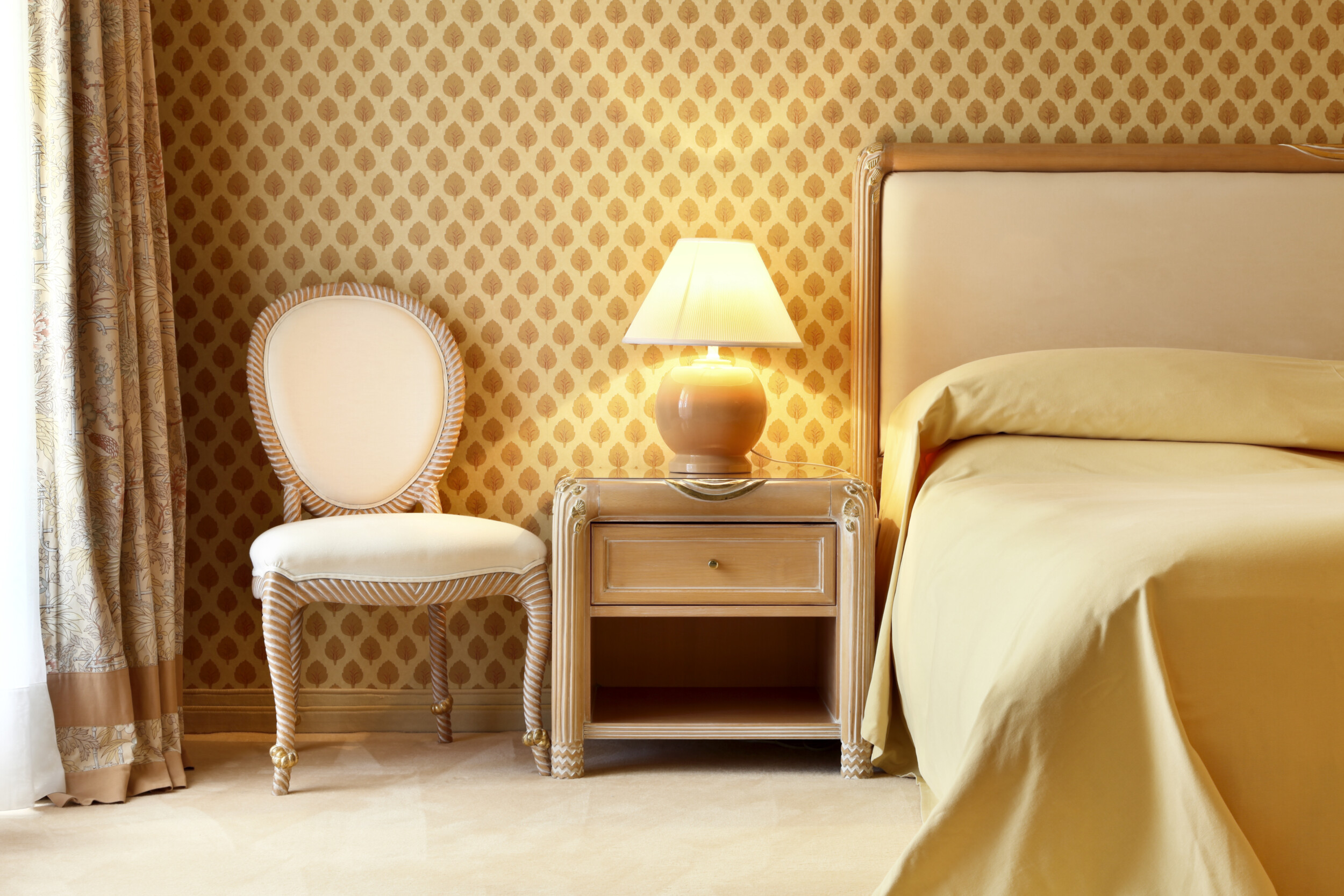 Charming, retro-inspired wallpaper is a clever way to create a spirited and unique bedroom. We love retro colors – browns, creams, oranges, pinks, and golds all feature frequently in retro styles. Wallpaper like this is a brilliant way to embrace a Mid-Century Modern feel or to create a room that has a nostalgic bent.
Team retro-inspired prints with plenty of medium toned wooden furniture and neutral toned soft furnishings to help the eye focus on the lovely novelty print you've introduced in your bedroom.
CUSTOM WALLPAPER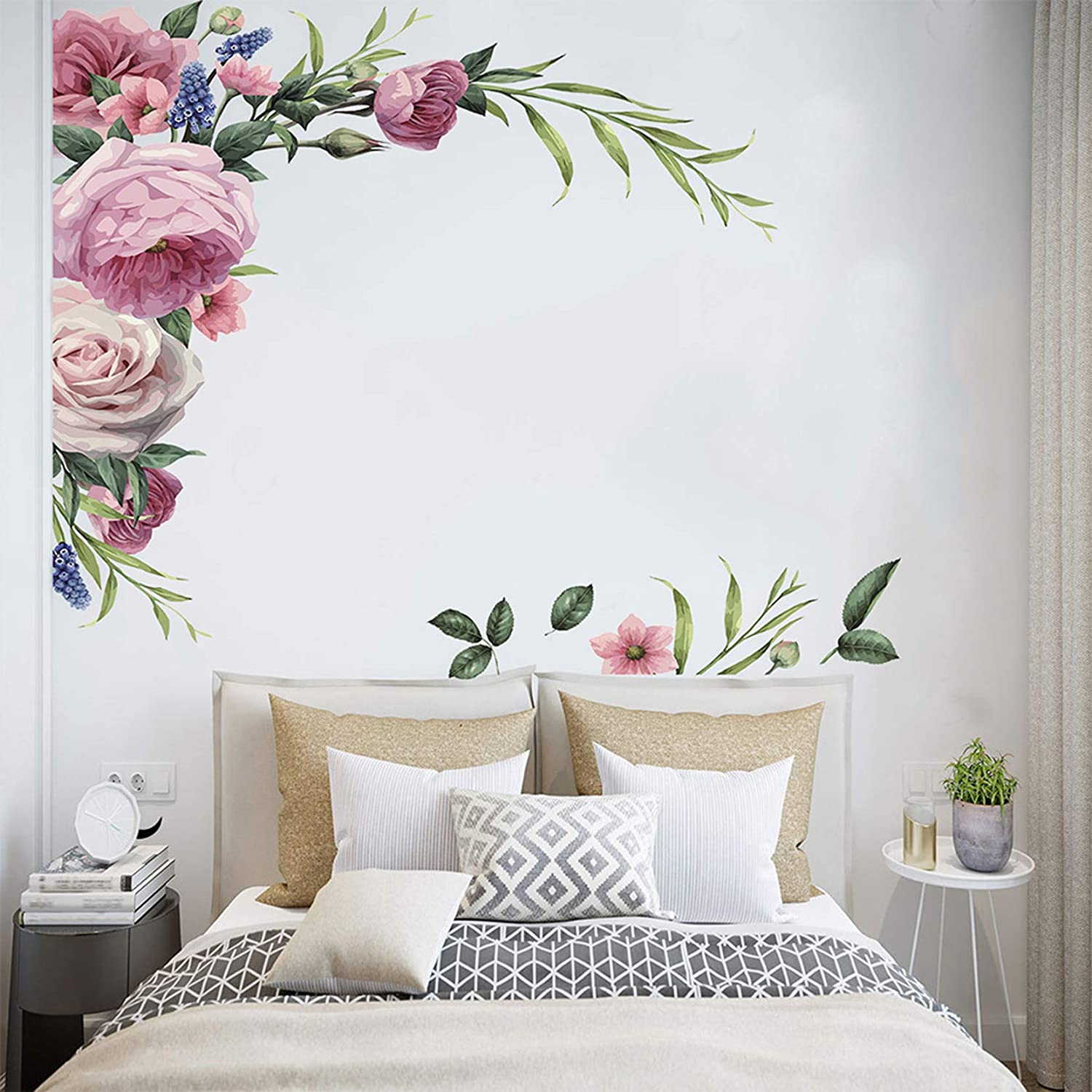 Thanks to the technological printing advancements of late, if you have a photo you love or a pattern which speaks to you or has a special meaning to it, you can now use it to create a stunning custom wallpaper design which will be forever unique to you. Where better place to have bespoke wallpaper than in the bedroom – a space designed with your peace and comfort in mind?
You'll be amazed how wonderful personalized wallpaper can look and the difference it will instantly make in your bedroom. Or you can have custom wallpaper hand painted for the ultimate in investment-worthy opulence that will only work to increase the value of your home.
OVERSIZED BATIK BLOCK PRINTS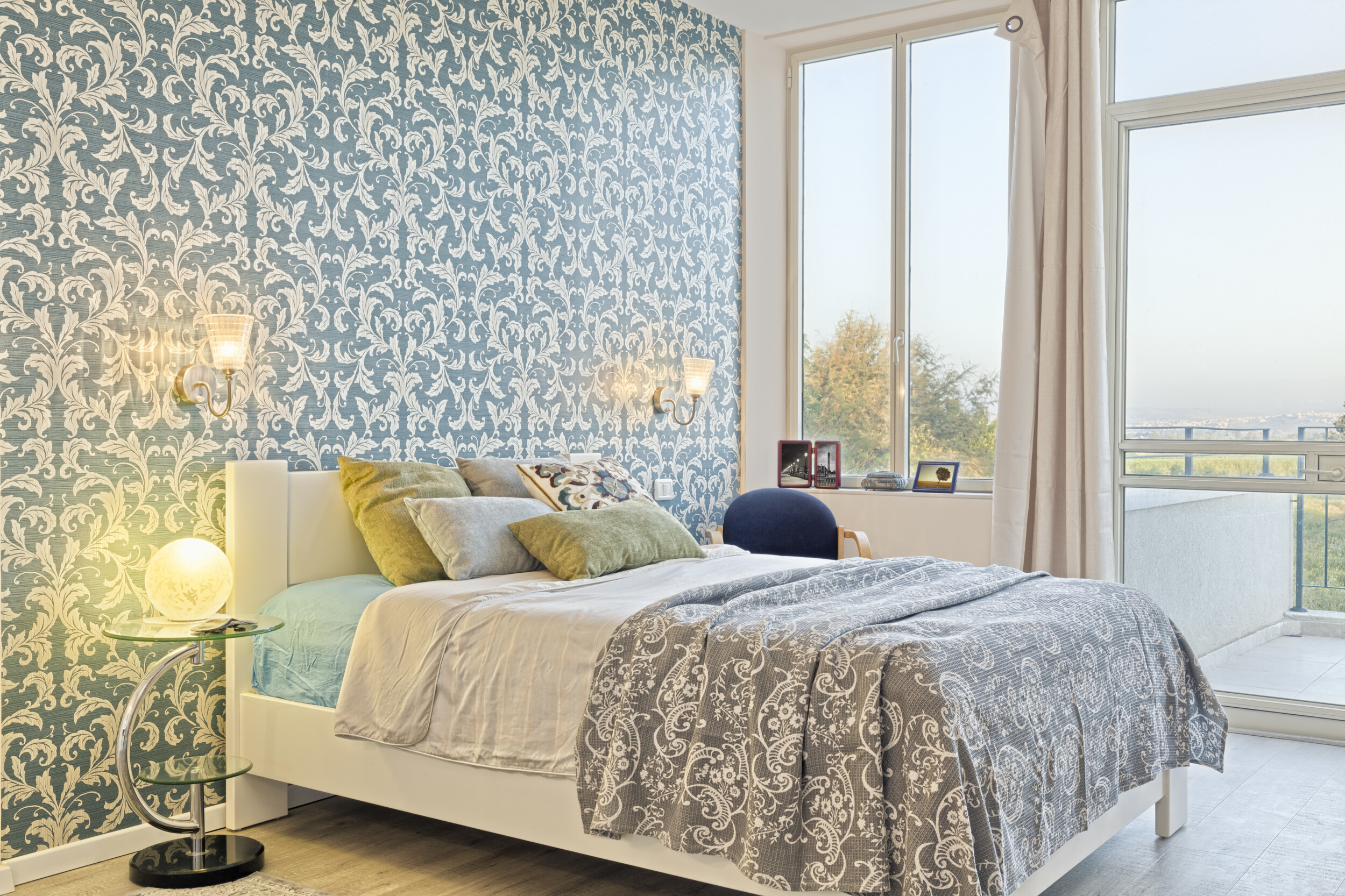 For a more organic take on modern wallpaper bedroom ideas, ethnic-inspired batik block prints are timeless yet modern in appeal thanks to their sparse pattern plays, making them timeless to boot.
To keep the look light-handed, our interior designers were quick to suggest opting for a light or neutral colored background with the batik pattern having no more than three complimentary colors to it.
DARK BACKGROUND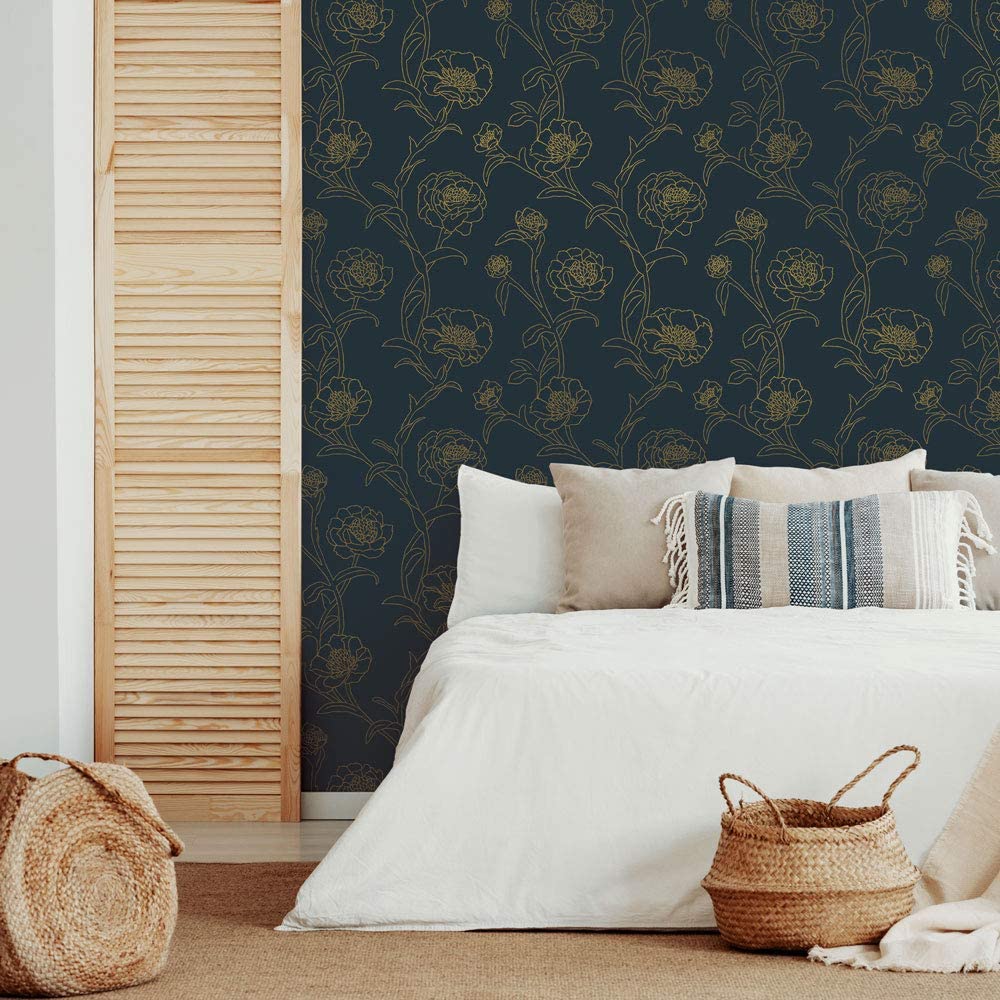 Floral wallpapers with dark backgrounds to them are increasing in popularity as we are looking at bedroom wallpaper ideas 2019. They'll add a certain moodiness and depth to a room and will work to create a more intimate, comforting, and cozy atmosphere. Darker walls are always an unexpected modern twist, but floral bedroom wallpaper like the one featured above is perfect for creating a relaxing yet indulgent space.
Pair it with the neutral, light, and blush tones in-keeping with the floral wallpaper design while adding to the soothing nature of a bedroom like this.
RECESSED WALL ACCENTS
Create a feature out of a recessed wall with graphic wallpaper. This is a great way to craft a warm and inviting nook; perfect for a kid's bedroom, a reading area, or a grand master suite. An area like this doesn't need to be filled with busy and bold wallpaper, it can be simplistic, while still giving you the desired effect of a well-decorated, cozy space.
Soft neutrals are great for an area like this, plus, it'll only work to help make your bedroom appear larger and more defined.
HEADY ANIMALIER PRINTS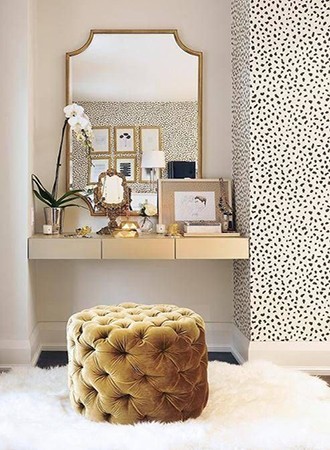 Graphic animal prints are always in fashion, but when it comes to home décor in the past, it came off as gaudy, and completely over the top. But our interior designers were happy to report that new takes on zesty animal prints had a more spartan spirit – making them feel fresh and all the more viable again – especially when it comes to intoxicating bedroom wallpaper ideas.
Animal print wallpaper will also make for a dramatic accent or feature wall and will look absolutely mesmerizing covering the entire expanse of a bedroom. The key here is to pair animal printed wallpaper with either light or dark hues to emphasize its robust spirit and gorgeous print. And you can up the glamor factor infinitely by adding high-shine finishes and surfaces, fur elements, and crystal galore. Plus, an animal print always pairs well with a home dedicated to bohemian design.
ECLECTIC SOPHISTICATION
For a recent client's project that was inspired by eclectic interior design and their world travels, our designer was savvy enough to take the maximalist approach even further by bringing in graphic wallpaper for a sense of strength and to keep the mood unified throughout the home.
And when it comes to bedroom wallpaper ideas, consider an indulgent approach a benchmark of brilliant design as printed wall coverings will only work to highlight the covetable scores you've collected over the years. And in a darker tone, it can also work to tie everything together while keeping the eye focused rather than confused.
UNIQUE PLACEMENTS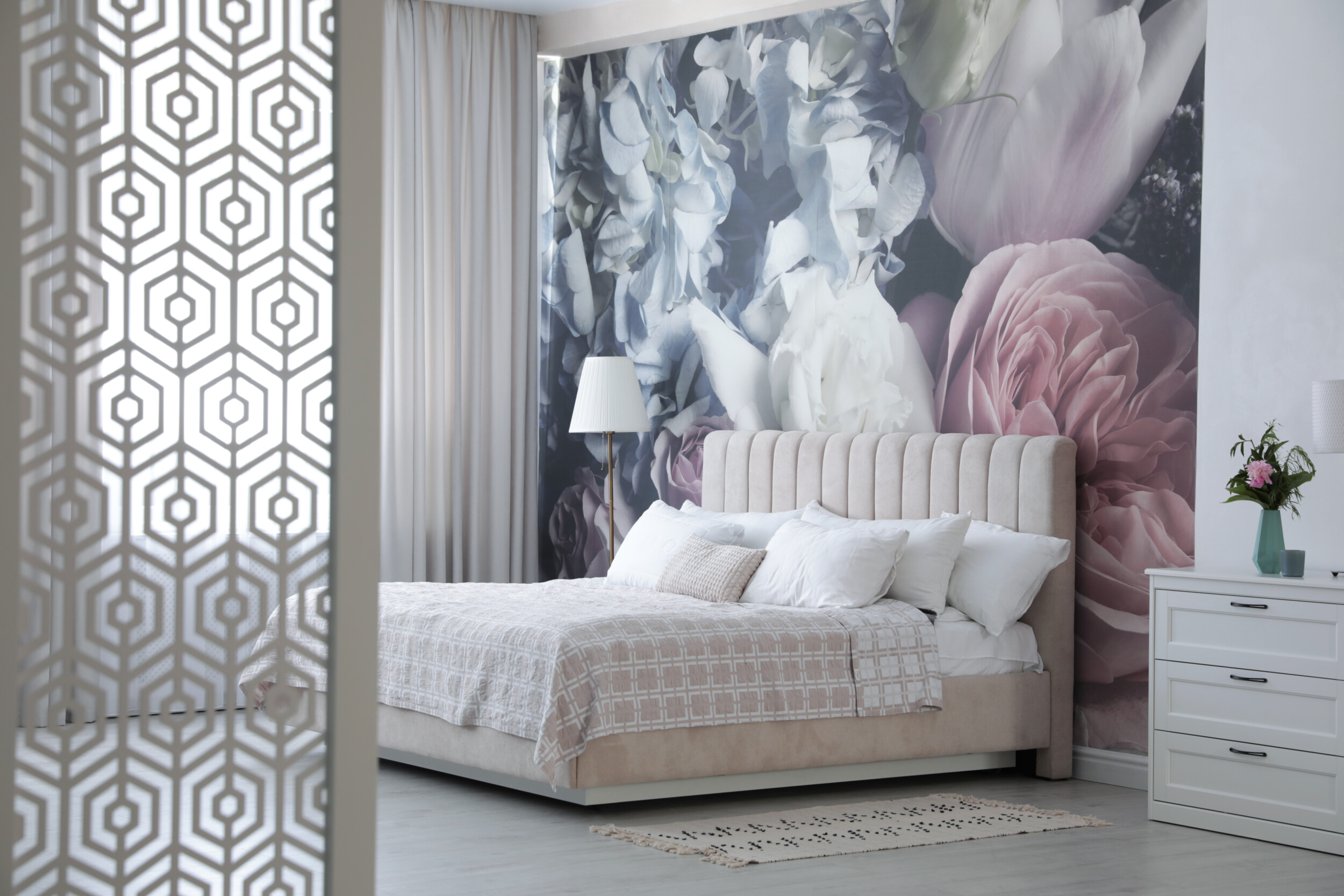 Again, being creative to your approach to bedroom wallpaper designs will only work to make your home stand out and be unique to you. We love how the bedroom featured above boasts expertly cut wall coverings that lend the space the depth of a mural, without having to compromise on everyday elegance.
In doing so, the room appears larger, brighter, and best of all, completely original. That said, however, the reverse effect on such heavily illustrated wall coverings would run the risk of overtaking the room while making the ceiling look much lower than it really is.
BOTANICAL PRINTS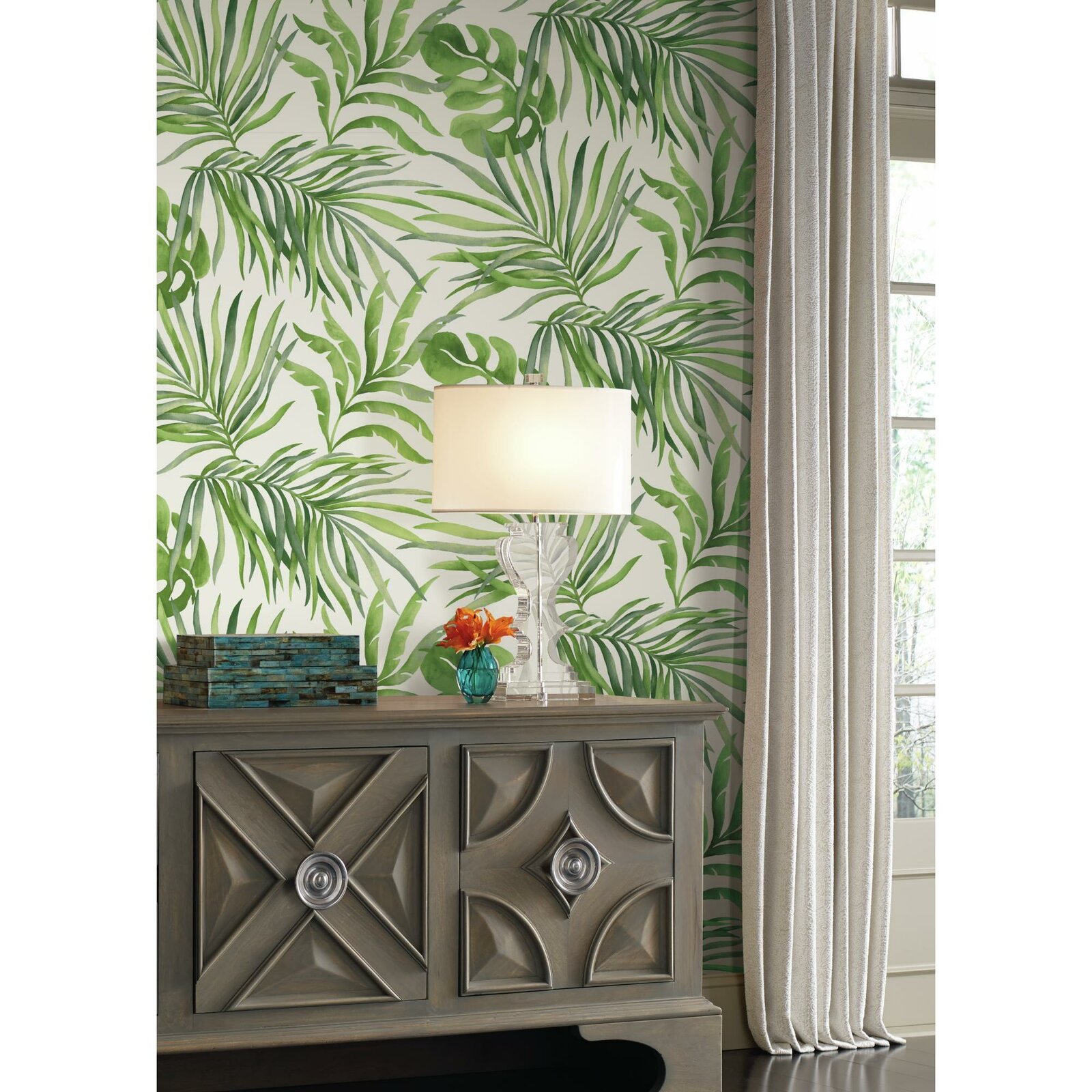 If you are on the hunt for lush wallpaper for your bedroom, oversized botanical prints are sure to add a heady sense of play to your walls. They are also a great way of bringing the feel of the outdoors in and can be as muted or as bold as you want. Big, green palm leaves on black or white backgrounds are sure to make a huge a powerful statement, whereas softer tones and smaller repeating bedroom wallpaper patterns make for a more minimal message.
Large-scale botanical prints always manage to look fresh, whatever the style and will add a dazzling sense of drama to any space instantly. Plus, they'll never go out of style when you opt for traditional colorways.
WHEN THE HEADBOARD MATCHES THE WALLPAPER
This is such a fun idea and one of our top bedroom wallpaper ideas of 2019. There is nothing more joyous than layers of matching pattern and we think one of the best places to use this, is in the bedroom. Match your headboard fabrication and wallpaper to make a serious statement and add some complementary patterns and prints to keep the look as maximal as possible. or keep it clean and let the eye focus on the drama behind with white bed linens.
You won't see quirky bedroom wallpaper ideas in too many homes – making it a totally unique take that promises to be a main attraction.
WALLPAPERED HEADBOARD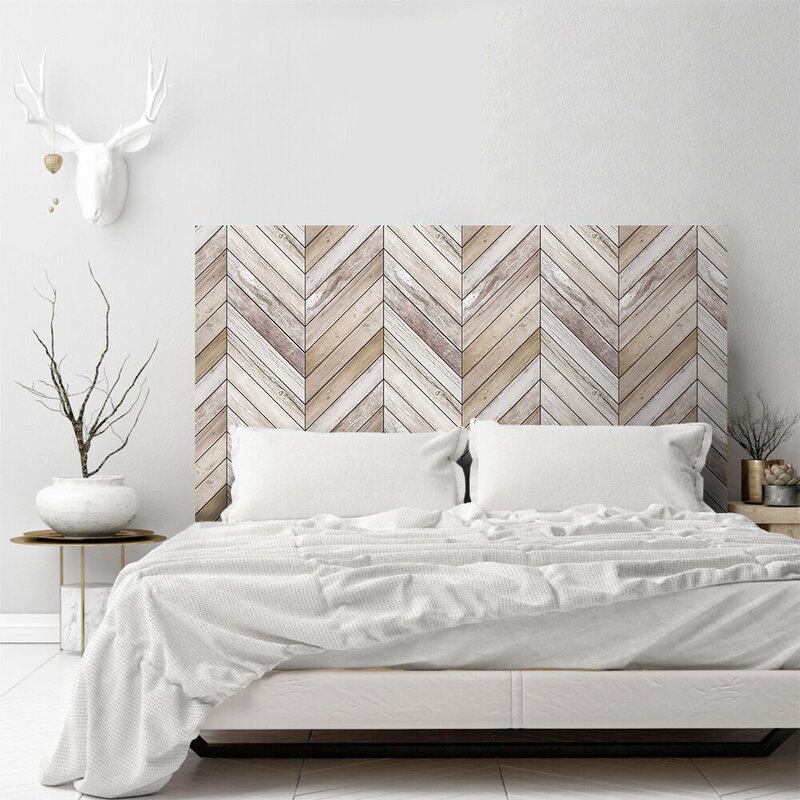 If a traditional headboard isn't for you, one of the most original bedroom wallpaper ideas 2019 our interior designers noted was the idea of a trompe l'oiel wallpaper covered panel behind your bed, mimicking a standard headboard – except for the fact that it takes up even less space. Create a headboard effect with bedroom wallpaper patterns behind the bed; we think stripes are great for this.
If you find a basic headboard just a bit too boring, you can change it up with this clever bedroom wallpaper idea. We also suggest having the rest of your wall painted in a contrasting or complimentary color to make a stylish statement.
PASTEL FLORALS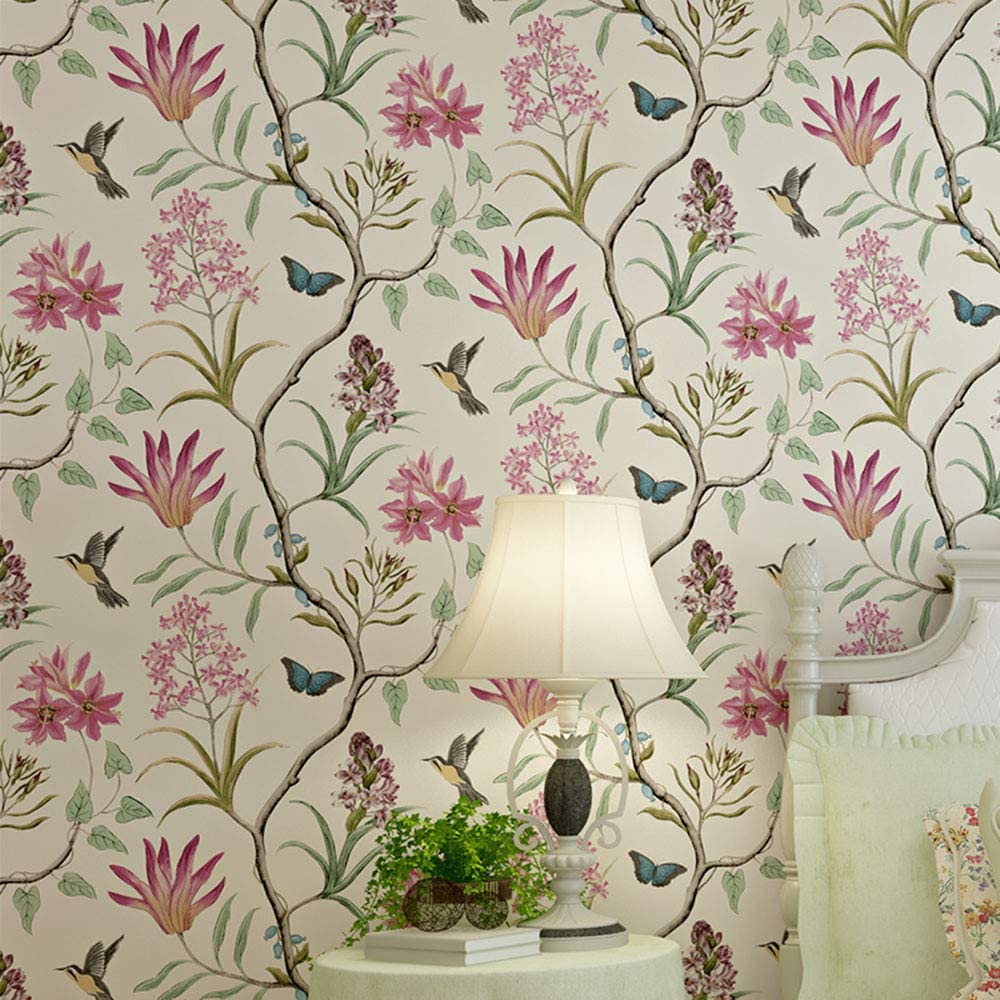 Chintzy floral prints are back in vogue and make for classic bedroom wallpaper ideas 2019 and the addition of pastels only makes them all the more viable. These fresh takes on bedroom wallpaper patterns are timelessly pretty and are certain to add a warm feminine vibe to any bedroom.
Team muted florals with a pastel headboard and bed linens and highlight the other colors featured in the wallpaper print via accessories and accent furnishings.
SHIMMERING METALLICS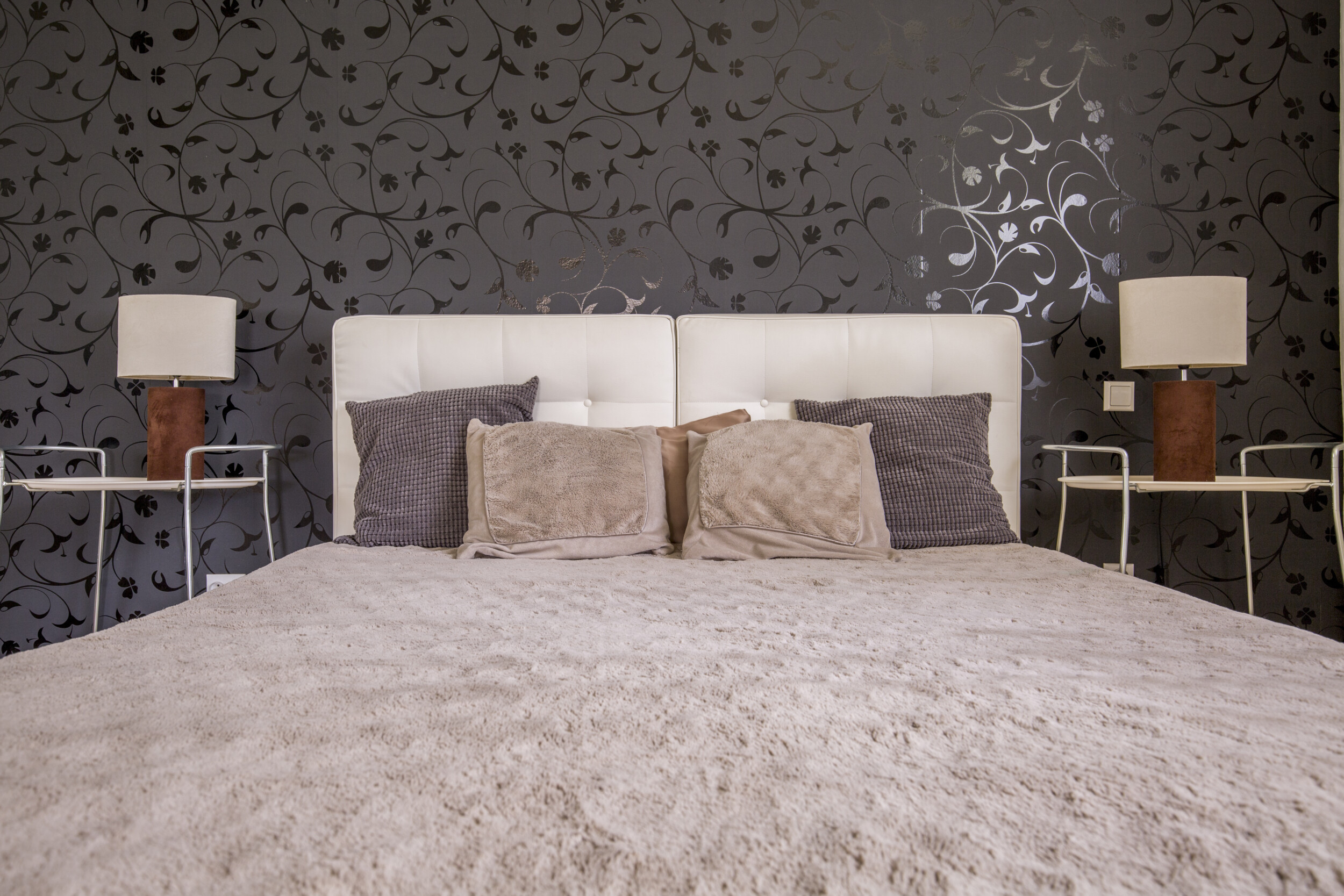 Metallics are on trend as we head into 2019 and it only makes sense as they easily lend any room a grown-up sense of grandeur while making it appear larger and brighter. Metallics are also great for adding an opulent element in your bedroom that will remain timeless and forever-chic.
Don't be fooled into thinking they look tacky; when done right, they evoke nothing but easy elegance. And take it up a notch with high-shine accessories and finishes, fur and textured fabrications, and plush white seating.